These retirement gifts for coworkers won't set you back much more than a Benjamin or two. We've scoured the web for the best coworker retirement gift ideas, and have a wide assortment of classy, funny, personalized, sentimental, and meaningful gifts.
Each of these gift ideas honor a longtime employee or coworker in a way that is workplace-appropriate, affordable, and eminently tasteful.
Retirement Gifts for Coworkers
This post contains affiliate links. See our full disclosure here.
1. Personalized Retirement Bottle Opener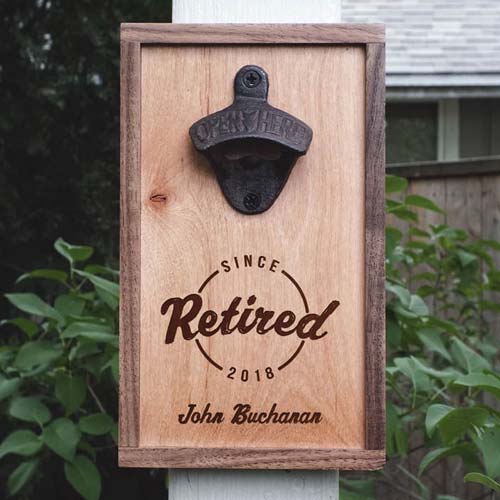 Handcrafted in Oregon from real wood and custom engraved to order, this wall-mounted bottle opener is the perfect retirement gift idea. As a beer bottle opener, it conveys a sense of casual relaxation without turning it into a big joke about drunken revelry.
At the same time, our unique bottle openers are rustic, personalized, handmade, and useful, giving your gift a sense of meaning and worth.
2. Custom Engraved Tumbler Retirement Gift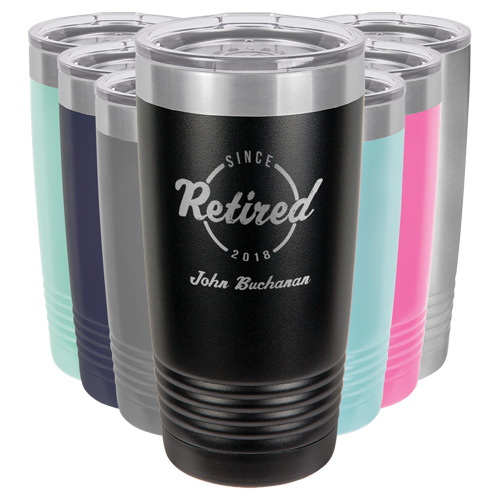 These gorgeous stainless steel tumblers come in a variety of styles and colors, affordably priced and including personalized engraving for the retiree in your life.
The Polar Camel tumblers are double-walled and vacuum sealed, keeping drinks roasting hot or freezing cold for hours on end. Our Retirement Tumbler design includes the name and retirement year of your coworker, making it a brilliant and useful gift.
3. Retirement Countdown Timer
This retirement countdown timer is a cute and fun gift for the coworker who just can't wait to hit the beaches upon retirement.
You can set it up to 999 days before retirement (about 2 years and 9 months in advance), so it works well as a birthday or holiday gift ahead of retirement.
4. Funny Retirement Card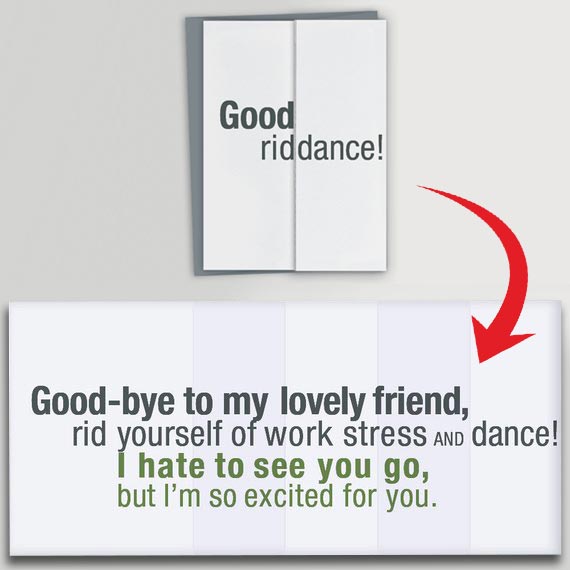 Sometimes simple gifts are best. Consider a gift card to a favorite restaurant, coffee shop, or sporting goods store tucked into a funny retirement card like this one.
The way the card is folded, when they pull it out of the envelope it will look like it says, "Good riddance!"
When unfolded, however, it will say something much closer to what's in your heart: "Good-bye to my lovely friend, rid yourself of work stress and dance! I hate to see you go, but I'm so excited for you."
Related: Retirement Messages & Cards for Bosses
5. I Worked My Whole Life for This Shirt
A retirement t-shirt is a classic, safe, affordable, yet fun and wearable gift for the retiring coworker. This one features our popular retirement design and says, "I worked my WHOLE LIFE for this shirt."
6. You're Only Old Once!
From the master of silly rhymes, subtle humor, and art in an instantly recognizable style, You're Only Old Once by Dr. Suess is "a book for obsolete children."
Ideal as a retirement gift for anyone experiencing the physical side effects of aging (so, basically anyone over 40), this is a fun retirement gift for your whimsical coworker.
7. Personalized Coffee Mug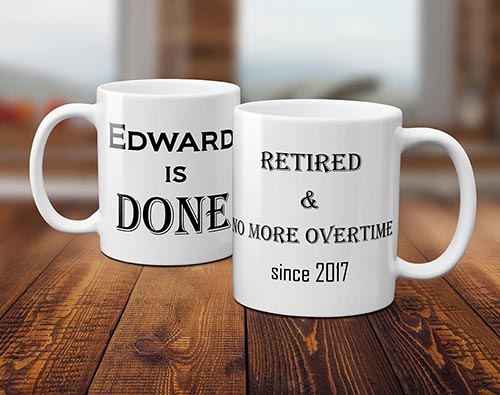 A simple but meaningful office gift that a valued coworker can take with them into retirement. Coffee mugs have long been the classic office accessory, so say farewell as they go off into the next stage of life with a personalized coffee mug in hand.
8. Personalized Luggage Tags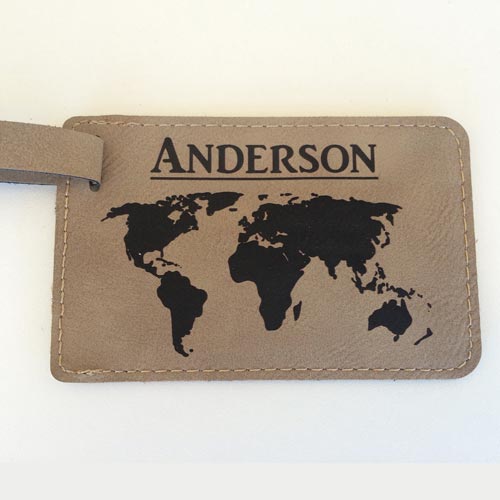 Send your coworker off to their island getaway in proper style with these personalized luggage tags.
9. National Geographic 50 States, 5,000 Ideas
National Geographic has created the perfect retirement travel companion book. The 50 States, 5,000 Ideas book is lavishly illustrated with photography and descriptions showcasing the best places to go upon your coworker's retirement.
Along the way they will discover not only where to go, but also when to go, what to do, and what to see. These are the little tips and insights that make travel around the USA so fun and glorious.
10. Old Guy Retirement Starter Pack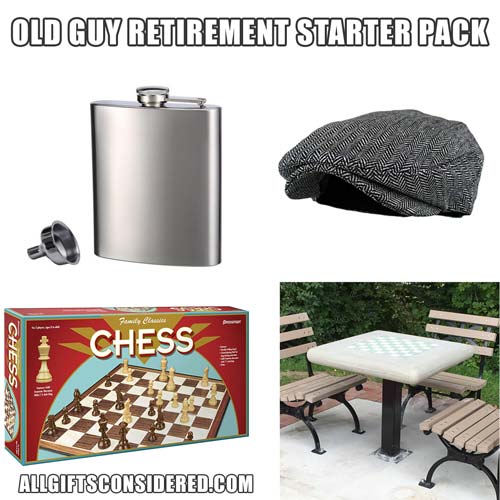 For a spot of humor, try an "old guy retirement starter pack" gift basket. Include a chess set, an old geezer hat, maybe a flask or a coffee mug, and a map to the nearest park.
Of course you'll want to tailor the gift to the individual. Maybe swimming trunks, sunglasses, and a dime detective novel are more their style. You'll figure it out!
11. Old Lady Retirement Starter Kit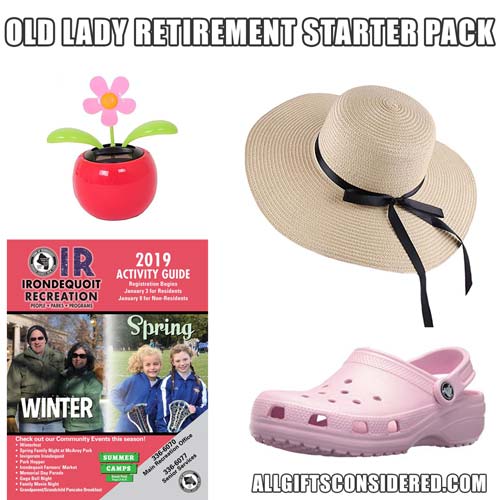 What could provide more fun than gift basket filled with a handy gardening sun hat, a dancing plant that never stops, attractive footwear, and a local activity guide with the senior's yoga and swimming classes already circled?
Solar Powered Dancing Plant
Gardening Hat
Local parks & rec activity guide
Pink Crocs
You will definitely want to adjust your gift to the personality and sensibilities of the recipient.
While the pink crocs and gardening hat may be perfectly funny (or just plain perfect) for some people, others might get more of a kick out of running shoes, sweatbands, and a pair of jogging earbuds, or perhaps wine glasses and a map to local vineyards and tasting rooms.
---
These are some of our favorite budget-friendly retirement gifts for a coworker. You can get any of these for the price of a decent lunch, or easily pool a few bucks with other coworkers to get them one of these nice retirement gifts.
For even more creative and personalized retirement gift ideas, see here!
Read Next: Ultimate List of Going Away Party Ideas for Everyone