Retirement is no time for serious quotes, inspirational words, or wise musings… No, retirement is an occasion to laugh it up, and funny retirement quotes are where it's at
Keep the dad jokes, groan-inducing puns and hilarity at an all time high during your friend's retirement party celebrations. Laughter is always the best medicine, after all!
When it comes time to roast (or at the very least, lightly sear) your pal at his/her retirement party, we've got some great one-liners, funny retirement quotes and turns of phrases that will make them belly laugh. Read on!
10 Funny Retirement Quotes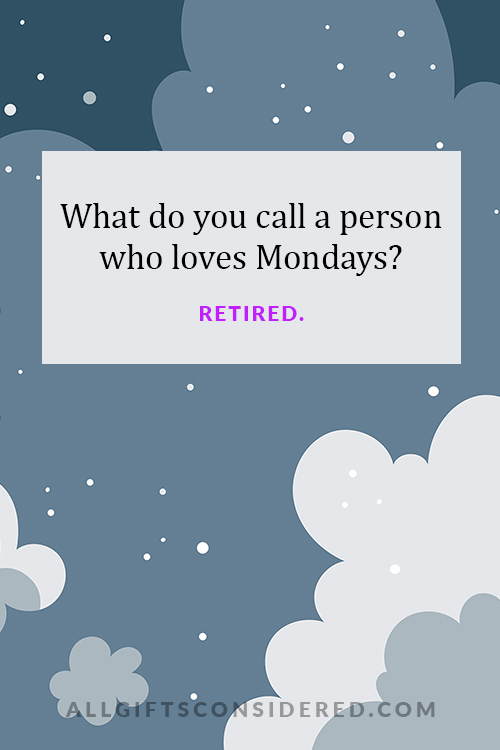 1. What do you call a person who loves Mondays? Retired.
2. "I'm not retiring… I'm graduating!" — Junior Seau
3. "You have to put off being young until you can retire." — Unknown
4. "Now you can do nothing without getting caught at it!" — Gene Peret
5. Retirement: when you can finally stop lying about your age and just lie around the house instead!
6. "If people concentrated on the really important things in life, there'd be a real shortage of fishing poles." — Doug Larson
7. YOU'RE FREE… to do what your wife tells you to do.
8. Under new management. Contact spouse for details.
9. Goodbye tension, hello pension!
10. A retired husband can be his wife's full time job.
Related: Perfect Retirement Gifts
Funny Retirement Wishes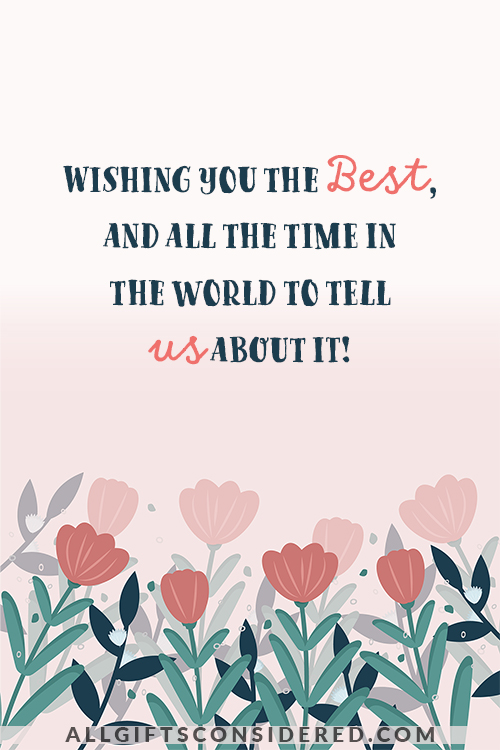 11. Wishing you the best, and all the time in the world to tell us about it!
12. We've heard the money isn't as good in retirement, but the perks sure are!
13. Enjoy never having to set an alarm again, you lucky duck!
14. It's like you've extended your weekend by five days!
15. God retired after six days. What took you so long?
16. Hoping you're not too old to remember all the good times you're about to have!
17. It's a six month holiday, twice a year!
18. Smart to retire now — before management finds all those mistakes you made!
19. Enjoy those greener pastures! Or the LazyBoy. Whatever you plan to do with your life now.
20. "There's never enough time to do all the nothing you want." — Bill Waterson
Related: Happy Retirement Wishes for Coworkers or Boss
Best Funny Retirement Advice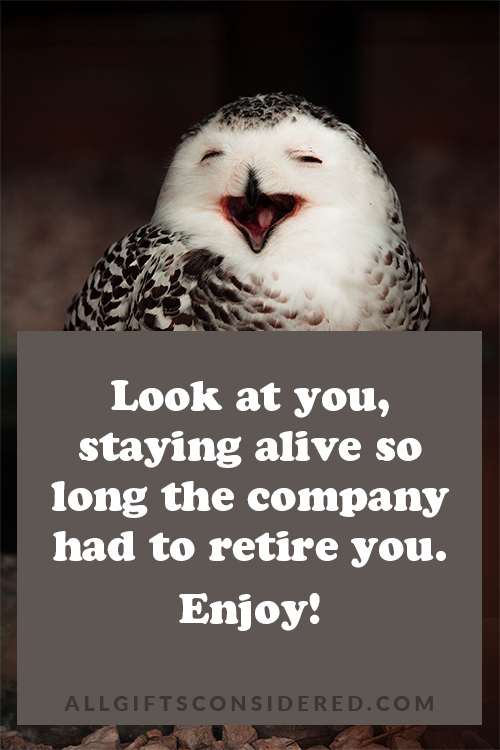 21. Look at you, staying alive so long the company had to retire you. Enjoy!
22. "My retirement plan is to get thrown into a minimum security prison in Hawaii." — Julius Sharpe
23. Retire from it all! Stress, alarm clocks, diets, schedules, pants… actually, keep the pants.
24. Best advice I can say is, don't pair your black high socks with sandals and shorts.
25. Life is too short. Seems like you're close to figuring that out.
26. Get outta the rat race — just remember you can't spend as much cheddar!
27. Don't act your age, for goodness sake! That's against official retirement rules.
28. Hope to follow in your footsteps soon, so don't walk too fast ahead of me.
29. We're all gonna miss the work you pretended to do around here.
30. Retired? You? I thought you retired years ago!
Funny Retirement One-Liners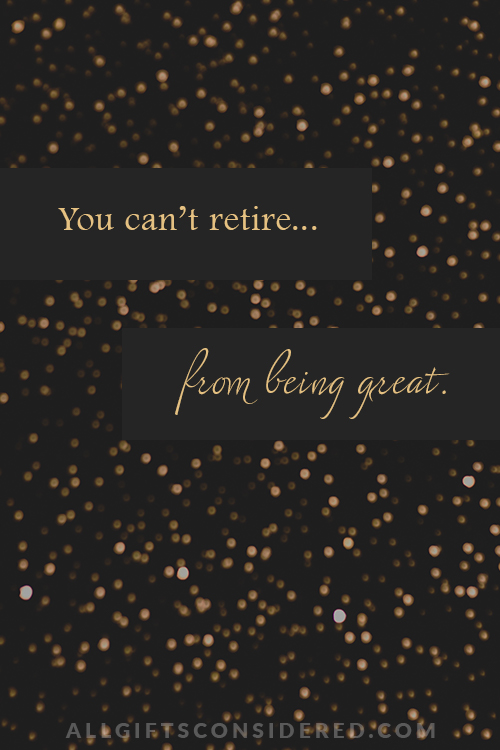 31. You can't retire from being great.
32. "Retirement. That's when you return home from work one day and yell, 'Honey, I'm home FOREVER!'" — Gene Perret
33. "You can't have the comeback if you don't have the retirement." — Chael Sonnen
34. "Some of the best memories are made in flip flops." — Kellie Elmore
35. "As in all successful ventures, the key to a good retirement is good planning." — Earl Nightingale
36. Enjoy the world's longest coffee break.
37. Jobs are an invasion of privacy!
38. "Retire from work, but not from life!" — M.K. Soni
39. "Age is an issue of mind over matter: if you don't mind, it doesn't matter." — Mark Twain
40. "Work is the curse of the drinking class." — Oscar Wilde
Best Funny Retirement Cards
Our website is supported by our users. We sometimes earn a commission when you click through the affiliate links on our website. See our privacy policy & disclosures for more information.
Oh sure, you can go to the supermarket or Hallmark like everyone else when shopping for a great card for your coworker. But therein lies the problem… You might end up with the SAME card as everyone else!
So, do what I do — buy the greatest and most personal card online. They're funnier, cleverer (is that a word?), and more unique.
Here are some that have us rolling with laughter!
41. Retirement Cod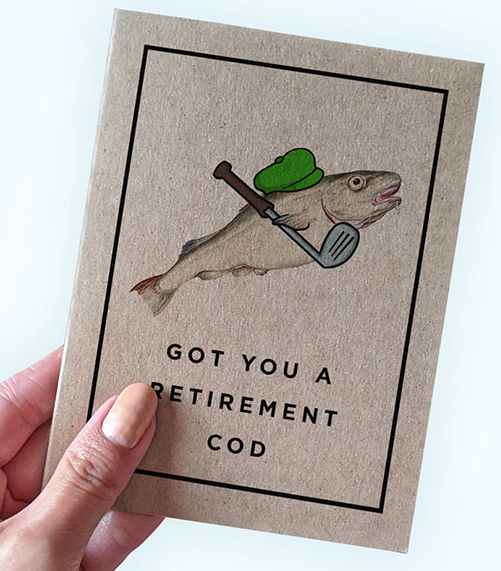 Related: Fishing Retirement Gifts
42. What Do You Call a Person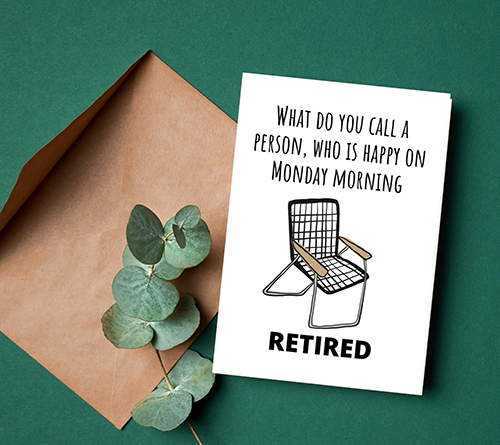 43. Here Lies Retirement Jumbo Card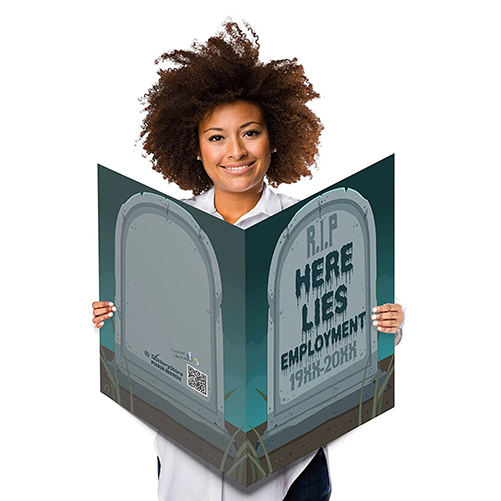 44. Retirement Dilemmas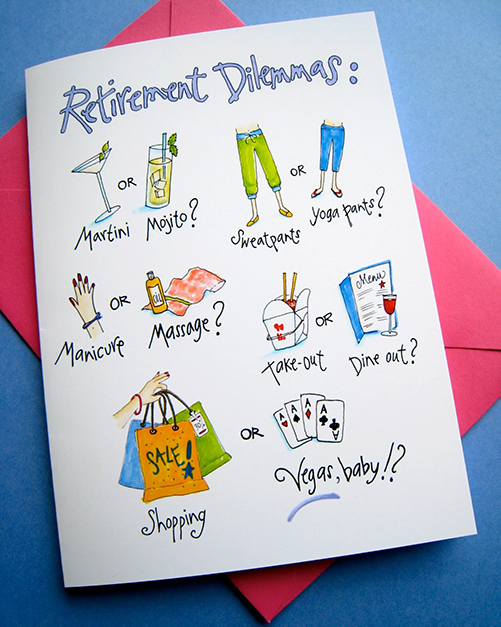 45. Worked Your Whole Life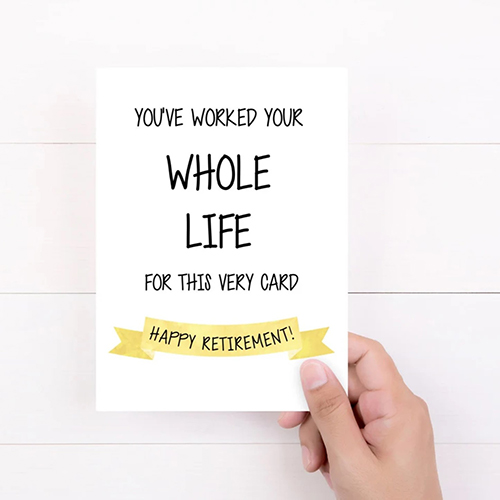 46. A Wise Woman
47. Legend Has Retired Jumbo Card
48. Retiree Alarm Clock
49. A Big Happy Retirement Jumbo Card
50. Some Quitters Really Do Win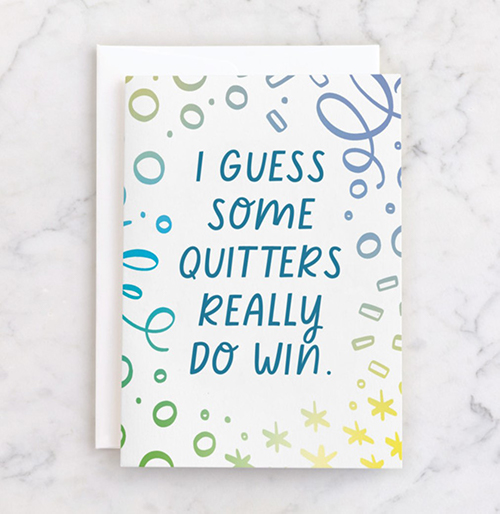 Best Retired Business Cards
What a fun idea. Just because you're retired doesn't mean you can't whip out a business card at a moment's notice for a little networking! And by networking, we of course mean finding fellow retirees who can do a little day drinking, golfing, traveling, and eating together.
These ones really take the (retirement) cake, so to speak:
51. Retirement Cards with Gold Case
52. Beach Themed Retirement Business Card
53. Permanently Out of Office
54. Retired Don't Bother Me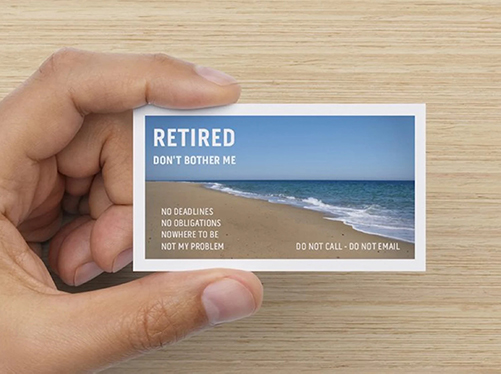 55. Kraft paper Retired Business Card
REMEMBER: once you've found a great card, written some heartfelt and/or witty one liners, and celebrated with the proud retiree, it's time to think about what's really important: Your own retirement!
Time to dream, plan, get inspired, and maybe order a few business cards of your own… It's never too early for goals!
Read Next: 55 Approved Messages for Your Favorite Coworker