Is that one special school administrator retiring? Perhaps a favorite teacher who majorly impacted your life? The beloved principal of your child's most excellent school?
Whomever it is, we have 30 great ideas for gifts for retiring principals that aren't a polished apple or a gift card!
A good school principal pours so much of themselves into the children they govern, and their dedication to having a positive impact knows no bounds.
They definitely deserve a thoughtful, perfect retirement gift when it comes time for them to clock out for the last time!
30 Best Retirement Gifts for Your Favorite Principals
We've searched high and low to find the very best gifts for retiring principals!
From unique finds that are fun and quirky, to useful items they can enjoy throughout retirement, we've got a bit of everything.
Our website is supported by our users. We sometimes earn a commission when you click through the affiliate links on our website. See our privacy policy & disclosures for more information.
1. Principal Retirement Gift Coffee Mug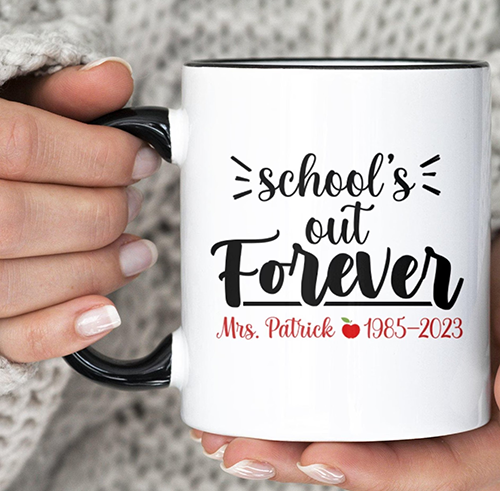 Snag one of these great coffee mugs for them, and every time they see it they'll smile. Such a fun and witty sentiment — we love it.
The size is just right for their morning cuppa joe, and we're sure it'll become a favorite go-to in no time. And now that they're retired, they can finally down this mug without it getting cold on their desk!
2. Under New Management Tote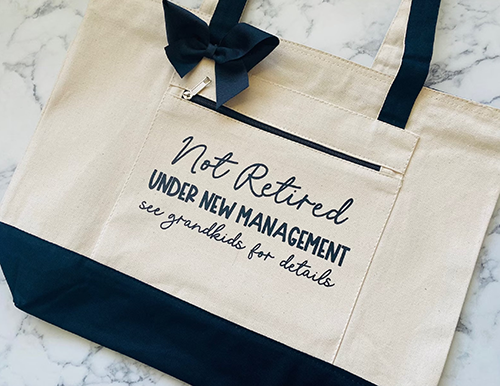 This great canvas tote is a perfect gift for her!
She can use it as an overnight duffel bag for a sleepover with the grandkids, use it for her knitting supplies, take it to the farmer's market, or pack it along for a trip to the library. The possibilities are endless.
3. Never Forget the Difference You Have Made Retirement Ornament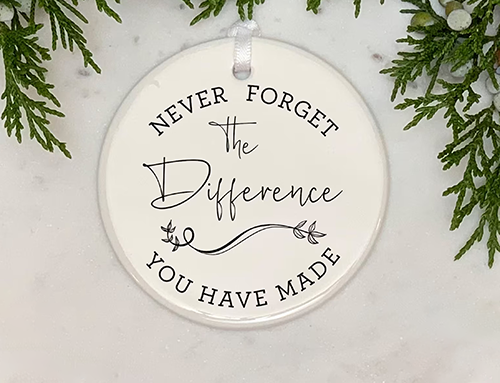 This ornament is a perfect gift for the retired teacher, and is a sweet reminder of the years of hard work they put in.
While it will look fantastic on the Christmas tree, don't be surprised if they want to keep it up all year around as an ornament for their car or window.
4. Custom School Portrait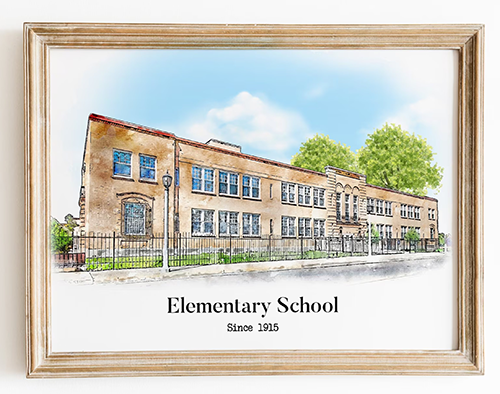 What incredibly special gifts for retiring principals or teachers!
Chances are, the school they're retiring from is a place where they've spent a good portion of their life or career, and holds a special place in their heart.
This beautiful custom watercolor portrait is the perfect way to say "Thank you" for their years of service, while also celebrating this significant milestone.
5. Retired Since Custom Bird Feeder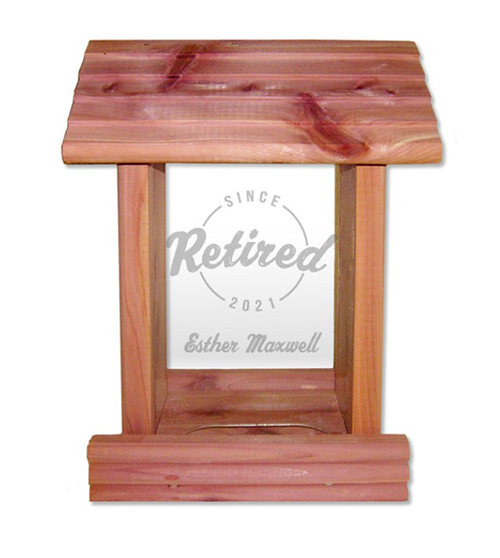 Now that they aren't looking after all of those school kids and their shenanigans, they have plenty of time to relax and watch the birds flock instead!
This custom bird feeder features beautiful, high-quality craftsmanship to last a lifetime, and a generous size so they won't have to restock it all the time.
You can have it customized, too, to feature their name, position, and retirement date.
6. Custom Miss You Photo Collage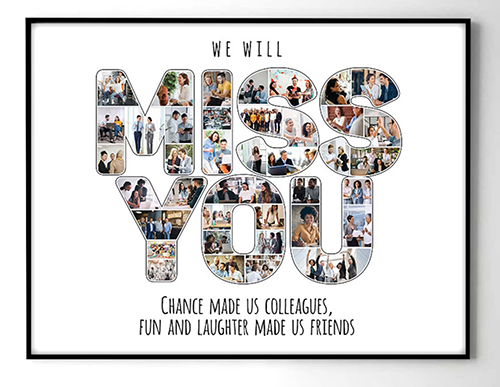 After a whole lifetime of service to their school, you know there are a LOT of photos!
Have them artfully arranged in this custom "Miss You" photo collage. There won't be a dry eye in the house when they unwrap this fantastic gift!
Also a wonderful retirement gift idea to give from the school board/co-workers.
7. Funny Retirement Candle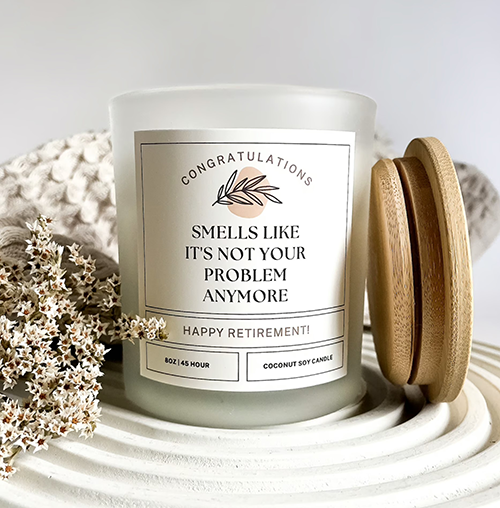 They'll definitely get a kick out of this pick of funny retirement gifts for retiring principals! Retirement means they finally have time to relax, and they might as well have a good laugh while they're at it.
This sweet candle is crafted of a 100% natural soy/coconut wax blend and is available in seven delightful fragrances.
Plus, you can create custom messages for the front, to make it extra special.
8. Principal Retirement Care Package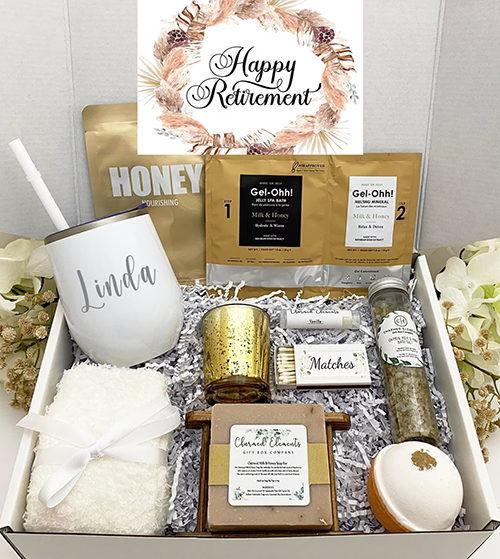 This retirement care package is basically like a day at the spa, and a great way to make her feel appreciated!
She'll love everything about it — from the pink socks, to the wine tumbler, to the lotions and potions that will rejuvenate her and make her feel pampered.
9. Personalized Retirement Bottle Opener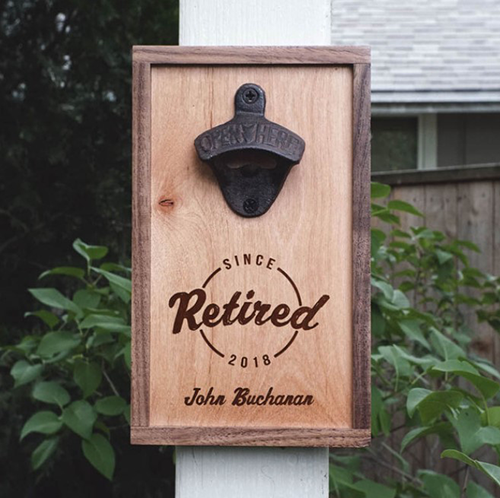 You can have this amazing bottle opener personalized however you like best! You can have it engraved with something sentimental and sweet, or go with something clever and funny.
Either way, they'll have a wonderful gift that will last for years and years!
10. Happy Retirement Succulent Plant Pot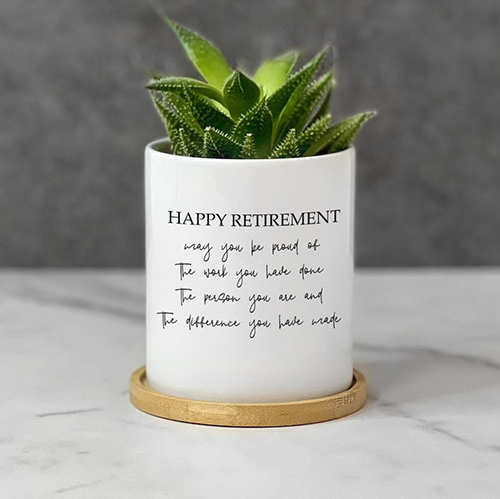 This succulent planter is just about the cutest we've seen, wouldn't you agree? If he or she is a plant mom or dad, they will adore this sweet, unique gift.
The writing is so thoughtful and adds a personal touch, and you can even have it artfully gift-wrapped, making your life a little easier.
11. My Life So Far Memory Journal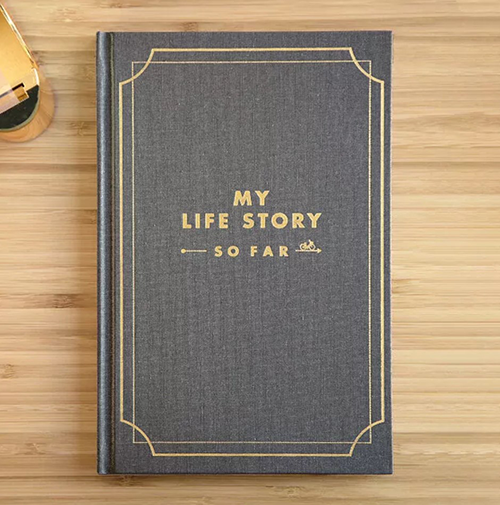 Cloth-bound and very sophisticated looking, this appealing journal is full of prompts and inspiration. They definitely have led a life worth reading about so give them that nudge!
This is a memorable gift for everyone if you think about it. Their kids and grandkids and even great grandkids will love looking back and perusing this wonderful journal with pages of their life story.
12. Personalized Retirement Crystal Vase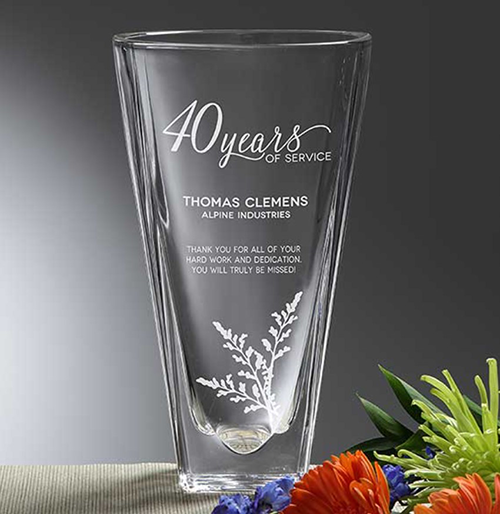 A truly wonderful gift from the whole clan, this beautiful crystal vase can be personalized with laser engraving and a special message for your retiring principal!
Fill it with a gorgeous bouquet for the retirement party, and you have an absolutely unforgettable and thoughtful gift that they will cherish for years to come.
13. Onto the Next Chapter Retirement Bookmark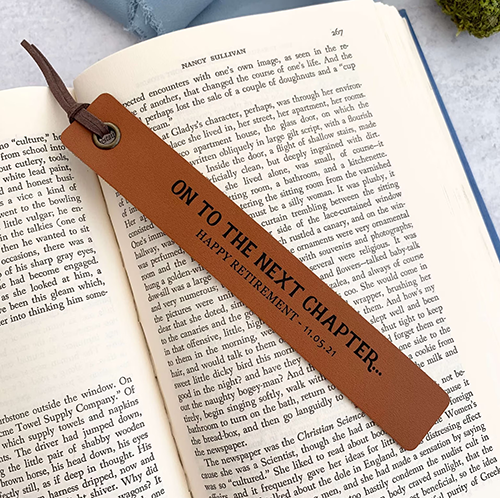 Personalized on pretty leather, this retirement bookmark is just the thing for a simple, yet totally thoughtful, gift!
The leather makes it handsome and appealing to just about anyone, and if they're a total bookworm, they'll be over the moon for it.
14. Large Card Full of Personal Notes
Gather personal notes from the students they've impacted over their years in the school district, and place them in a card!
All you need is a little bit of forethought before the big retirement day, and you'll have yourself a thoughtful, personal gift that will bring tears to everyone's eyes.
Here are some retirement messages for bosses to help you get started.
15. Congratulations Champagne Basket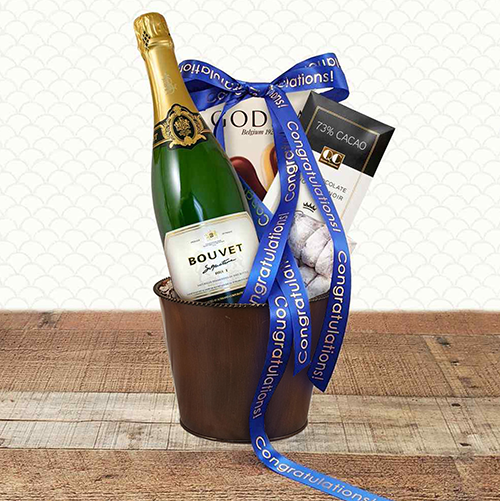 You had us at "champagne," and now we're staying for the chocolate. This retirement congratulations basket has everything they need to get that party started!
A bright and cheery basket for a beloved teacher who deserves every last sip, this is a wonderful pick of celebratory gifts for retiring principals.
16. Host a Retirement Party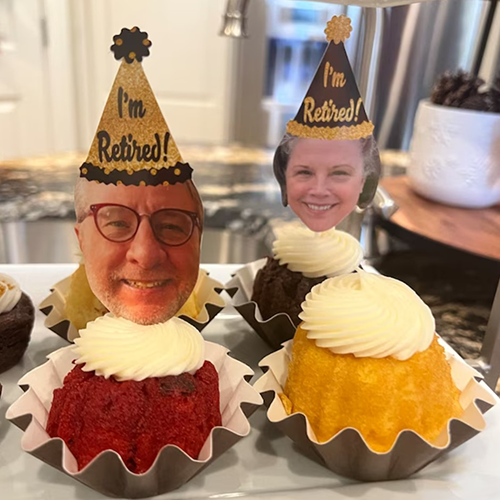 Don't just say "Congratulations," but throw them a party! This is no time to hold back. Send out invitations, collect the RSVPs and get planning.
No need to spend a lot of money if you can't afford it — a potluck or backyard BBQ is always a great time.
Here are some things you'll need to get started:
17. Lismore Crystal Glasses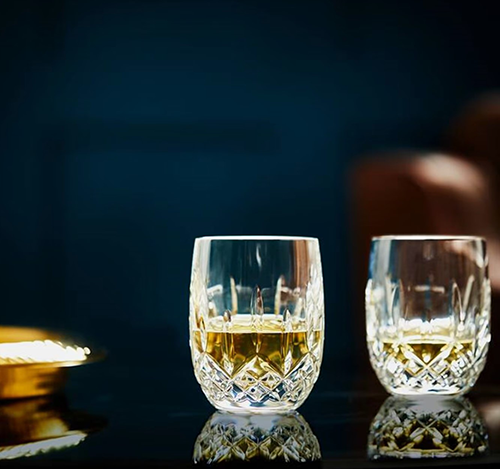 Milestones like this one call for some fancy glasses to clink in congratulations and celebration.
These gorgeous, Lismore Connoisseur whiskey glasses will more than do the trick. Beautiful craftsmanship and timeless elegance come together as the perfect choice of teacher retirement gifts.
If you're feeling extra generous, you can pair them with a nice Scotch and really make their day.
18. Experience Gift Package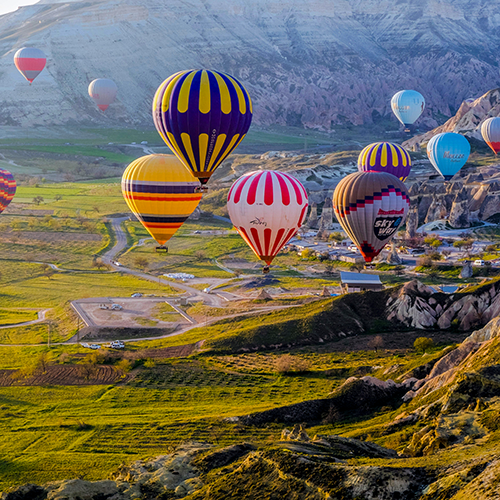 Now that they finally have time to travel and go adventuring, why not send them on an experience that has been handpicked just for them?
Is there a spot that they've been longing to vacation in, or an experience that's been on their bucket list for years?
Then a Giftory gift would be just right. Destination packages make absolutely perfect principal retirement gift ideas, and are always a wonderful way to make new memories! 
For some great "experience gift" ideas, check out this list!
19. Give the Gift of New Hobbies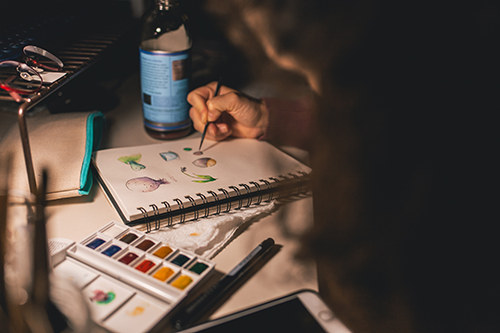 Help them "find themselves" again with some online courses for the hobbies they've never had time for until now!
They spent so many years nurturing other's interests and focuses, that we think it's more than the right time to focus on their own.
A thoughtful pick of gifts for retiring principals that they'll be so grateful for.
20. Personalized Golf Ball Set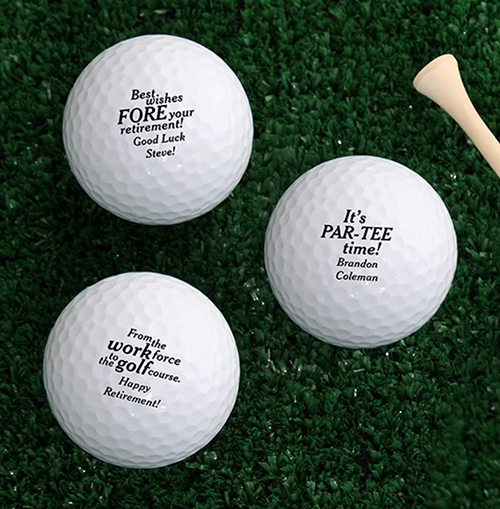 Now that they're retired, you know they're going to be out on the green whenever possible! These clever and cute golf balls are personalized just for them, so there's no more getting them mixed up with anyone else's.
They'll love the witty look, and will want to use them each and every weekend.
Related: Best Gifts for the Golfers that Have Everything
21. Thanks! Apple Earrings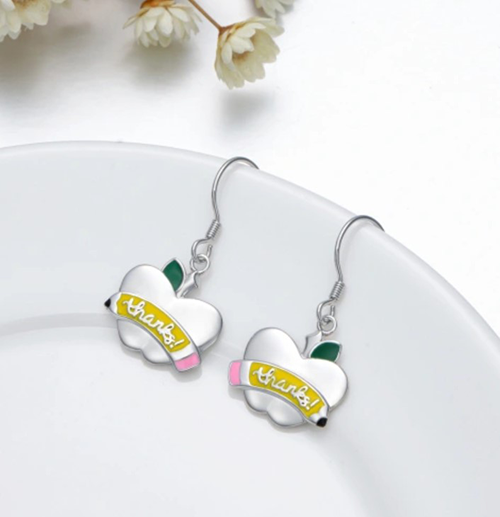 A cute nod to their teaching profession, these apple earrings will brighten up any outfit and make the best gift. And just because she isn't in the classroom anymore doesn't mean she's no longer a teacher.
Once a teacher, always a teacher, I say. And the "thanks" lettering just couldn't be more perfect!
22. Personalized Beach Towel for Living the Retired Life
These beach towels are so oversized and luxurious! Now that they've entered this new chapter and have time to relax and unwind at the beach, a great towel is a must-have item.
This one is personalized, too, so it makes it extra special for your extra special teacher.
23. Officially Retired Fishing Lure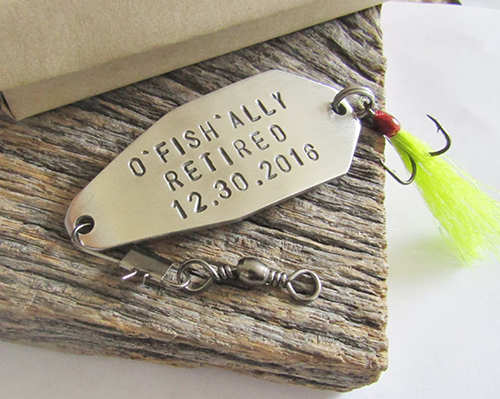 A fun play on words, this cute fishing lure is one-of-a-kind, kind of like your beloved principal.
They'll love having all the time in the world to cast a line, lower that hat, and take a nap while waiting for a fish to take the bait. Good times!
Related: Best Fishing Retirement Gift Ideas
24. Gold Plate Retirement Clock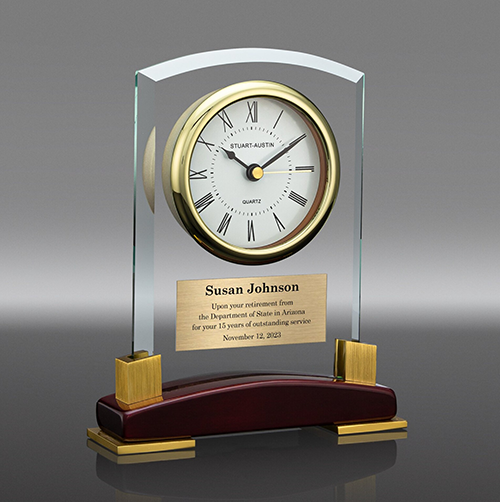 Now that they're retired, do they really need to know the time? Well, of course! You have to schedule some fun times and naps!
This gold plate retirement clock is a real stunner. They'll feel so loved and special when they unwrap this timeless gift.
25. Pairs Well With Retirement Wine Label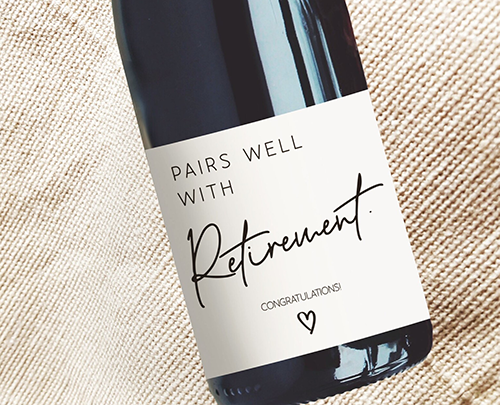 Grab their favorite bottle of vino and apply this cute label for a great gift that they will love!
Perfect for an added touch of personalization, these are simple yet thoughtful ways to show you care.
26. Retirement Photo Book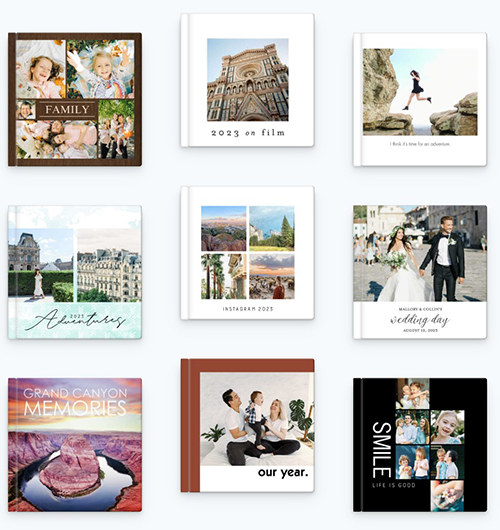 There are so many photos from their years as principal, why not put them all together in an epic retirement book?
They'll love flipping through this amazing collection while reminiscing and laughing. A little thoughtfulness that goes a long, long way, and a fun way to commemorate their years of service!
27. Purposeful Retirement Book
If we're honest, the idea of retirement can be a bit intimidating and a little stressful. What are you to do now that your career is coming to a halt? It's all a bit overwhelming.
Enter in this honest and helpful book! They will love your practical approach to this gift, and will eat up all the advice and wisdom that the author has to offer.
28. Audible Gift Membership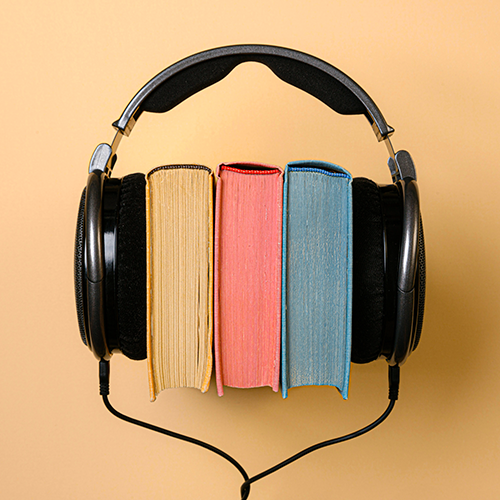 Now they can listen to all of their favorite stories and books while they relax on the porch, take long walks, go on a road trip, or just put their feet up in the living room!
An Audible gift membership is a gift that keeps on giving for a long time, book after book after book.
Related: Gifts Every Book Reader will Love
29. Congratulations Flowers & Balloon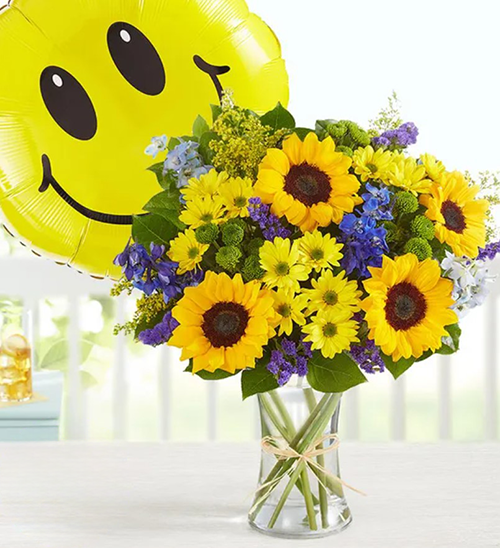 Have these cute "Congratulations" flowers and balloons delivered to their office on the last day of work to make them smile (and possibly cry)!
This sunny and bright set will make everyone who sees it grin.
30. Retirement Bucket List Prompt Journal
Sometimes it's hard to know what to do, where to go, who to see… Who knew retirement could be so busy?
This totally helpful, retirement bucket list journal is just the thing to get their imaginations and creativity flowing. We love this!
Related: Retirement Gifts Retirees Love to Have