A retirement is a big deal, and it deserves a great retirement party! But where to start? When you're stumped for ideas (but you've already assured the retiree how great it's going to be *gulp*), we have your back.
Here are some fabulous retirement party ideas for the soiree of their dreams!
Our website is supported by our users. We sometimes earn a commission when you click through the affiliate links on our website. See our privacy policy & disclosures for more information.
How to Plan A Retirement Party
You'll want to do things a little differently depending on whether the retiree is a professional acquaintance vs a close friend or family member.
Typically, at the office you'll keep it a little more on the professional side, while you can get real with friends and family members.
Below, we have two retirement party planning guides specifically for a:
How to Plan a Retirement Party for an Employee, Boss, or Coworker
A retirement party is always a great idea for longtime employees. Whether you decide to throw a party or not may vary based on the size of the company or department, length of employment time, and other factors.
When to Schedule
Many retirement parties occur on the employee's last day during the lunch break. If their last day doesn't work, consider the day before or in the evening.
Unless the workplace environment is small and family-like, or there is already a culture of work dinner parties and cocktail hours, try not to impose on the off-time of other employees.
For most typical 9-to-5 jobs, this means your party should be thrown during the lunch break, or during the last 1-2 hours of the retiree's final day.
Location
The break room or back office is typically the best location for a workplace retirement party. You may prefer to do something more formal or intimate, like a dinner party, but for many businesses it works best to throw the party at the time and place where all employees are already present.
Get a cake, cupcakes, cheese platter, and/or veggie tray to share with the department. A few balloons or a room decorating kit can be a fun addition to the break room. Send an email or put up notices celebrating the retiree's last day and inviting everyone to the breakroom at the specified time or timeframe; e.g., "between 11am and 2pm."
Give a Retirement Gift
A small gift or token of appreciation shows the value that your company places on employees, so we recommend a thoughtful gift.
Your retirement gift conveys a message to the retiree, their family, and the other employees about your company. It's worth the extra time and expense to get a good gift, whether it be a customized keepsake, a gift card, or a financial bonus.
(See below for a list of great retirement gifts.)
How to Plan a Retirement Party for a Family Member or Friend
When your friend, spouse, parent, or other family member retires from a long and productive career, you will want to throw them a retirement party.
This is a thoughtful gesture because they have devoted so much time, energy, and passion into their work. It's a good thing to acknowledge and celebrate all that they have done in their profession.
When to Schedule
For a close friend or a family member, it's best to schedule it soon after their last work day. They may have already had a retirement party at their workplace, and those are typically done on their last day.
Consider giving it a few days at the very least, but no more than a month or so.
Location
Choose a location based on the expected number of guests as well as the feel you want for the party. You can rent out an event center at a hotel, vineyard, church, community center, or public park.
Don't forget the home option, either your own or another family member. The savings found in using your own home with a paper plate backyard BBQ feel can translate into better gifts, better food, and better drinks, so don't rule it out immediately.
You can also choose to do a dinner party at a nice restaurant with a medium-sized group of close family, friends, and co-workers. This might be a bit more expensive, but is decidedly the no-fuss, no-mess option.
Who to Invite
You'll want to invite the family for sure, and also close friends from the community
And it's up to you whether to invite co-workers; if there's already going to be a retirement party hosted by the employer, you can skip inviting anyone from work except perhaps the retiree's closest friends.
If in doubt, ask the retiree who they would like to have there. Ultimately, it's up to them.
Retirement Party Ideas
Here are some of the best party ideas to make this a truly special occasions.
Costume party
Luau
Tailgating
Chili cookoff
Sweets/desserts only party (Death by Chocolate?)
An "Experience" Party
Karaoke
Looking for more party ideas? Then check out our ultimate list of going away party ideas!
Next, we'll look at ideas specific to certain relationships and professions.
Retirement Party Ideas for Coworkers
Brunch. If your party hour(s) happen to work best between 11-1, it's the perfect time for brunch! Provide some yummy breakfast options, like crepes with different fillings, bagels, cream cheese and lox, Danishes, biscuits and gravy, or cinnamon rolls. Lots of coffee, of course, and a toast with mimosas to the retiree wouldn't be amiss (check with your employer before bringing alcohol).
Cocktails at their favorite "after work" destination. Whether it's the nearby watering hole, or that lovely restaurant down the street that you have your work Christmas party at, go with what you know (and what you know they love). See if you can rent out a room, and make sure to ask for their favorite server. Some special attention from the chef or bartender will make them feel loved as well.
Related: Happy Retirement Wishes & Quotes for Coworkers
Retirement Party Ideas for Mom
High Tea. If she set her alarm for the middle of the night to watch the Royal Wedding, a proper high tea might be in order! Whether it's just her girlfriends, in hats and dresses, or the menfolk too, this is a great way to celebrate Mom's achievements. Set out cucumber sandwiches, petit fours, cookies, dips and chips, bread and butter sandwiches, and naturally, several pots of piping hot tea.
Book a photo shoot. When was the last time Mom was the center of a photograph? We're betting it's been years, if ever. Make sure to help her look her best by paying for a visit to the hair salon, the manicurist, and maybe even someone to do her makeup. When the photos are finished and she's beaming with pride, now's the time for a simple surprise retirement party at your house or backyard.
Retirement Party Ideas for Dad
Have a tailgate party. Whichever friend has the largest driveway/acreage gets to host this one! Have friends brings their trucks and cars and grills. This party will need lots of music and plenty of coolers filled with icy cold beverages!
Have a cookoff! Whether Dad's chili, ribs, burgers, or lasagna is the stuff of legend, make it a competition. Not everyone has to sign up to cook of course, some are more cut out to be judges! Provide prizes for different categories, and of course, Dad himself gets the Mega Prize (even if it's a cheesy trophy, it's sure to be treasured forever).
Retirement Party Ideas for Teachers
A sentimental walk down memory lane. Track down as many former students as possible. Whether you invite them all to the party, or simply ask for a short favorite memory of their teacher to write in a scrapbook, is up to you. You could also have them record a short video of themselves talking about the retiree, and then put them together in a video slideshow presentation. As far as the rest of the party, anything goes! They'll be too weepy and nostalgic to be picky about anything else.
Have a picnic party on the schoolyard. Have guests bring blankets and tablecloths, plenty of food to share, and don't be afraid to play all the games from recess: even Dodge Ball!
Virtual Retirement Party Ideas
Facetime. Be sneaky and contact her/his friends, family, and favorite students ahead of time and assign them " time slots." The retiree's phone will be lit up all day while they feel loved and remembered.
Zoom. Just because you can't get everyone together in person, doesn't mean you can't all see one another and have a party! Be organized so it doesn't get confusing, and make sure everyone knows how to use Zoom before hand so it all goes smoothly.
Retirement Party Themes
Elegant and Sophisticated. Have it catered, and make sure guests know to dress accordingly. Don't forget flowers and lighting for a night to remember.
A night under the stars. Rent (or borrow) a barn with plenty of tables and chairs. String Christmas lights inside and out. Have bales of hay for sitting and provide blankets in case it gets cold. Hot beverages are a must, as is a table for gifts and another table for framed nostalgic photographs.
Hobbies
Choose a retirement party theme based on that person's hobby. What are they most excited to do with their newfound free time?
Volunteering/charitable work
Travel
Cruises
Visiting family/children
Painting
Photography
Birding
Fishing
Hunting
Gardening
Woodworking
Genealogy
Reading
Writing
Beach bumming
Baking
Music
History & Accomplishments (AKA "You're So Old…")
During the course of their time in the office, many things have changed. Take advantage of this with some humorous nostalgia.
Things from their first day on the job (8-tracks, rotary phones, bell bottoms, etc)
Trivia games with questions about the retiree, the company, and the general culture at the time they started
Have a roast! Of course, they must be thick-skinned and known for their sense of humor for this one to be successful!
Go around the room and have each person recall the funniest or most embarrassing thing they've witnessed at work with the retiree.
Ask the retiree's spouse and parents/siblings for embarrassing or sentimental photographs. Create a slideshow!
Have every guest dress up like the retiree (is he known for his silly ties, her creative socks, big hair, no hair, Hawaiian shirts, etc.)
Travel, Beach, & Cruise
Some people have their retirement all planned out – they're going to use their free time to travel, and they want everyone to know about it. If that's the case, then you already have your theme chosen for you:
Hawaii
Europe
London
Paris
New Zealand
Rome
Bora Bora
Beach
Cruise
Disney
RV
Road trip
Camping
Classy
Black & gold
All-white
Black & white
Champagne
007 James Bond
Great Gatsby/Roaring 20s
Ice and/or fire
Black tie
Prom from the year they graduated
A Night Under the Stars
An Old-fashioned Ball
Fun Times
For the more laid-back and casual retiree:
Disco
Tiki bar
Choose a decade (70s, 90s, etc.)
Fiesta
Mardi Gras
Carnival
Luau
Karaoke
Camping (some can leave at sunset, others can camp together)
Cul-de-sac/Block Party
Retirement Party Decorations
The decor will largely follow your theme (if you choose one). Otherwise, you can go with a general party theme with bright colors, or a more elegant, grown-up theme with silvers or golds.
Here are some of the decorations and accessories you'll need.
Happy retirement sign or banner
Balloons (the more the better)
Tablecloths
Party favors
Noise makers
Flatware and tableware
Flowers
Retirement Party Etiquette
What to Wear
Well, it depends on whether it's a Luau or a Black and White Tie event! If you're at all unsure, check ahead of time with the host/hostess. Remember, there will be plenty of cameras to remember this night, so dress accordingly!
What to Bring
Definitely a gift! Whether small or extravagant is up to you and how close you are to the person. Just make sure it's meaningful and it will be perfect! If gifts are specifically discouraged, bring flowers, wine, or a nice card instead.
Should I Bring a Plus One?
Ask ahead of time with the host/hostess and RSVP accordingly.
Who Pays for Dinner?
Again, another question for the host/hostess if you're unsure!
Retirement Party Checklist
For the host/hostess:
Invitations
Decorations
Beverages and snacks
Parking for guests
A place set aside for coats/purses
Music
Flowers and/or balloons
Dinner, if applicable. Consider a vegetarian options and make sure guests check that box when they RSVP
Party favors
A clean-up "crew," and plenty of trashbags
Retirement Gift Ideas
We'll close out with some of the best retirement gift ideas for anyone and everyone.
1. Personalized Retirement Bird Feeder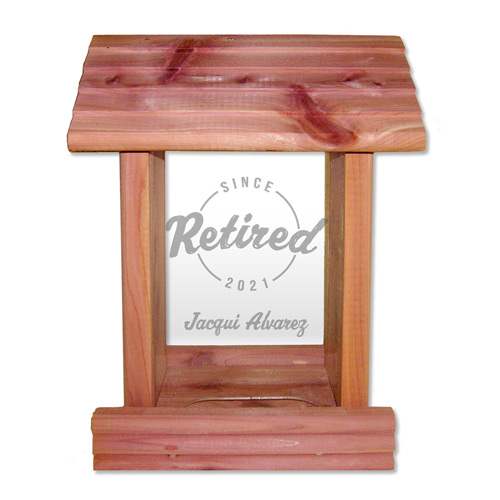 Now that they have time to sit on the porch or on the patio, they'll love gazing at this beautiful and personalized bird feeder!
2. Handcrafted Gone Fishing Wood Retirement Plaque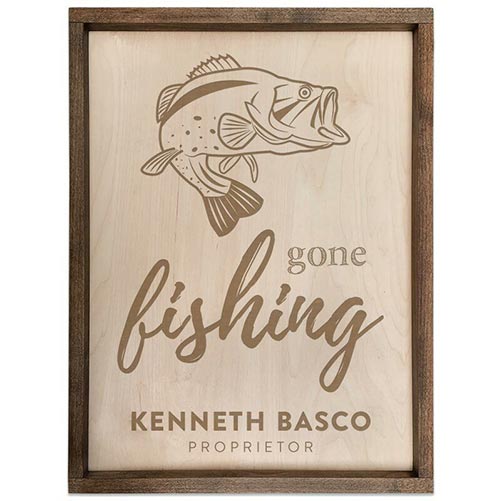 Nothing says, "I'm retired," like fishing whenever you darn well please! Get them excited for that fact with this handcrafted retirement plaque!
3. Personalized Luggage Tag & Passport Holder Set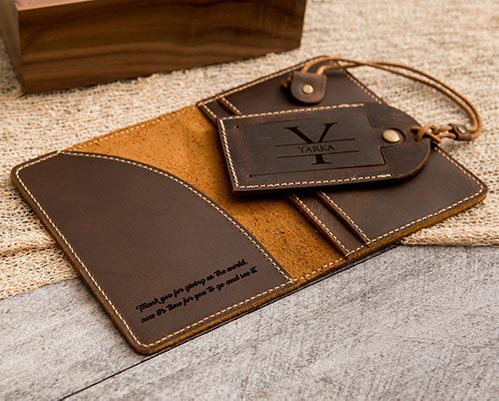 It's time to travel and to do it style! This personalized luggage tag and passport holder set is just the ticket* for those well-thought trips and adventures.
*see what we did there
4. Personalized Bottle Opener Retirement Gift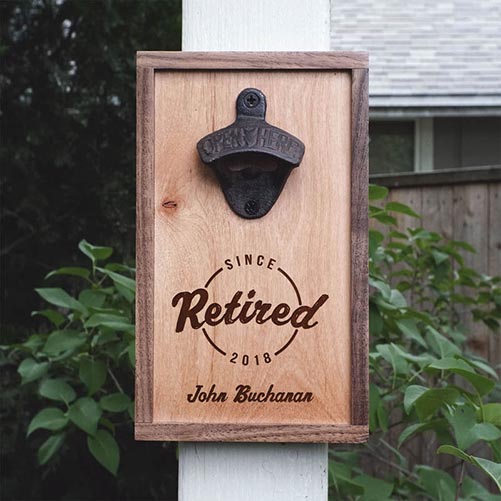 Cheers to retirement with this personalized bottle opener! We're confident it's going to get some serious use in the years to come.
5. Scratch-Off Travel Map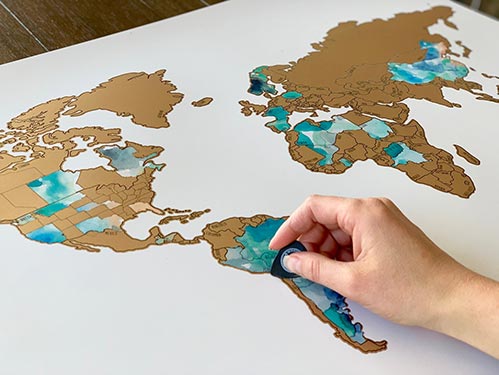 Bring some whimsy into their travel plans with this adventurous scratch-off travel map. It's charming and fun and just may take them to destinations they never even knew they needed to visit.
Read Next: 100 Gifts to Show Your Appreciation