Being a police officer can be a thankless job. And quite honestly, that is a shame. Yet, these fine men and women put on a uniform and badge every day to protect us. They are modern-day heroes.
Instead of disrespecting our boys and girls in blue, we can honor their lifetime of service with a thoughtful gift on his or her retirement. These officers have dedicated their lives to a cause, and they deserve some appreciation.
We have put together a list of some unique retirement gifts for that special police officer in your life. The only thing left to do is for you to decide which one to buy!
10 Best Police Retirement Gifts
Our website is supported by our users. We sometimes earn a commission when you click through the affiliate links on our website. See our privacy policy & disclosures for more information.
1. Personalized & Handcrafted Retirement Bottle Opener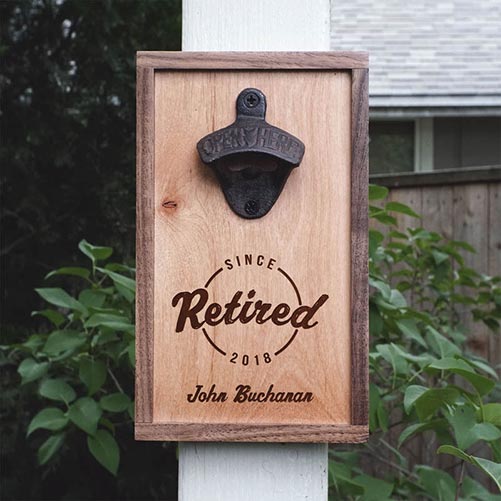 Who doesn't appreciate a cold one after a long relaxing day? It's easy to pop one open with our walnut and maple bottle opener.
Engrave your favorite officer's name and retirement year on this mounted opener. This might be the perfect way to ensure that the new retiree will kick back and enjoy their leisure time.
2. Custom Portrait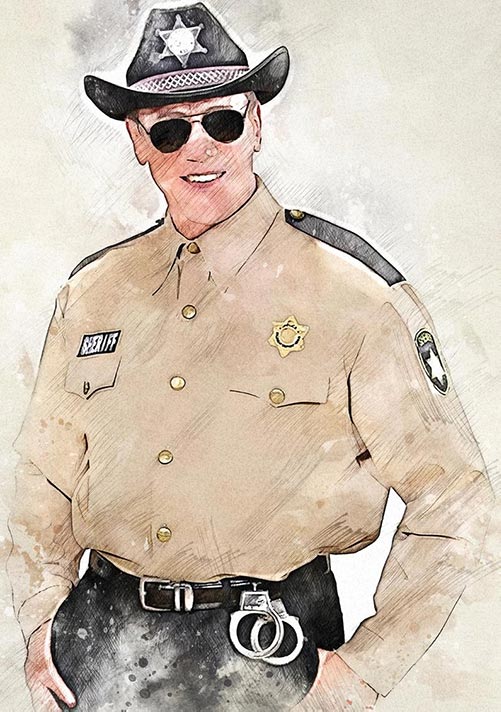 This hand-made custom sketch would delight anyone. You have a choice of a pen or ink sketch, hard copy, or digital file.
Put it in a frame and give a memorable gift that will be cherished for years and years.
3. Handcrafted Wood Police Officer Sign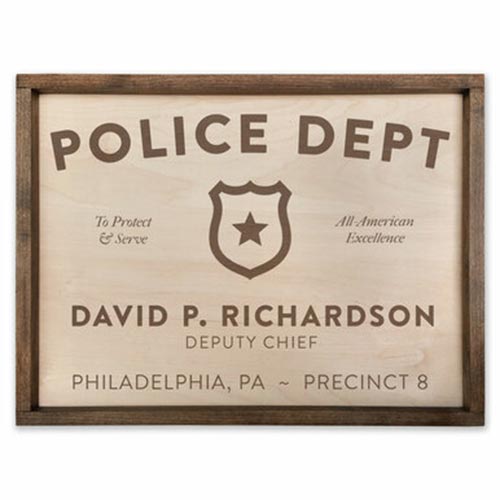 Our handcrafted wooden police sign honors the public servant in your life. A thoughtful retirement gift that dedicated policeman. This plaque will look great in an office, den, or game room.
Made in our Oregon woodshop, it is personalized to order, just for you.
4. Custom Engraved Glencairn Whiskey Glasses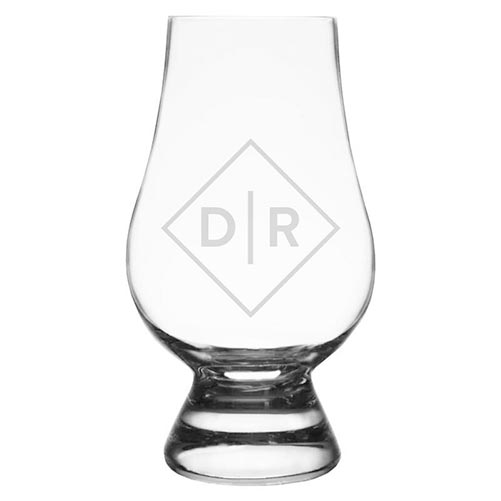 Our fine bourbon whiskey glassware will be custom laser etched to your specifications.
You can use your friend's first and last initials to personalize this Glencairn Glass. It will be is custom engraved with a "Diamond Initials" design. This is a gift that will encourage some relaxation.
More retirement gifts for whiskey lovers: 30 Top-Shelf Whiskey Gift Ideas
5. First 365 Days
There is a process to retirement, and it is explained in Retirement the First 365 Days. Taking a proactive role in your retirement is probably the best advice anyone can give.
Your days of retirement can be filled with rewarding experiences, even if – and maybe especially if! – you are a retiring law enforcement officer.
This book is bound to help you appreciate and learn what to expect when you are retired!
6. Best Officer Ever Police Tumbler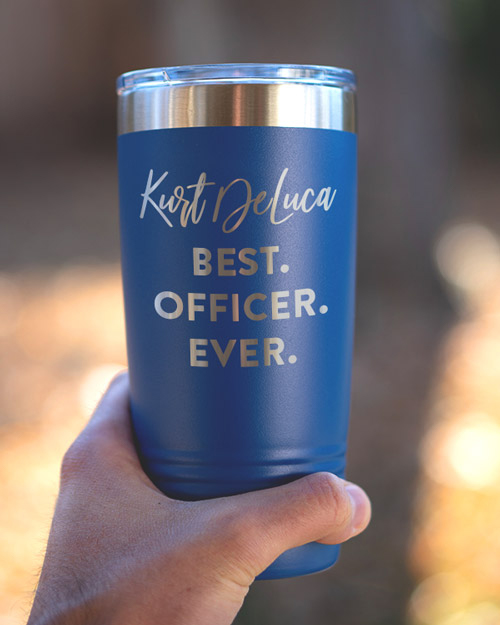 Best. Officer. Ever. This tumbler is an excellent gift for the special officer you know. Add their name, and it is a gift they are sure to appreciate.
Made from stainless steel, double-walled, and vacuum-sealed. Our travel mugs will keep your drinks ice cold or piping hot for hours.
Pick from stainless steel and six other fun vinyl-wrapped colors: black, gray, dark blue, light blue, pink, or teal. You are sure to be able to find their favorite color.
Related: Happy Retirement Wishes & Quotes for Coworkers
7. International Beer Club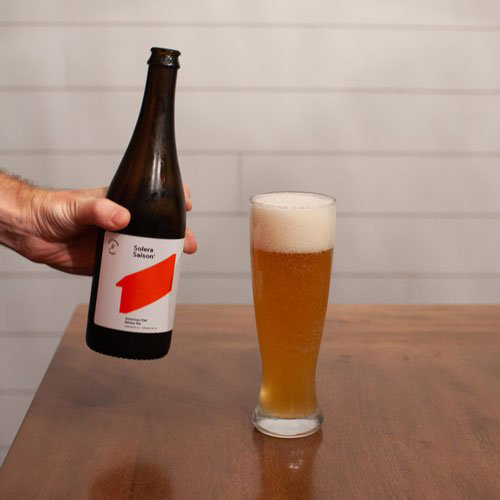 Let the officer in your life enjoy quality craft beers. The membership includes twelve full-sized, hand-crafted beers each month. These brews are selected from the world's best international breweries.
Each featured beer is imported to the U.S., especially for the members of The International Beer Club.
This is a gift sure to bring a smile to his face each and every time he opens a brew. For more information, read our review and unboxing.
8. Vintage Police Officer Plaque with Custom Name Board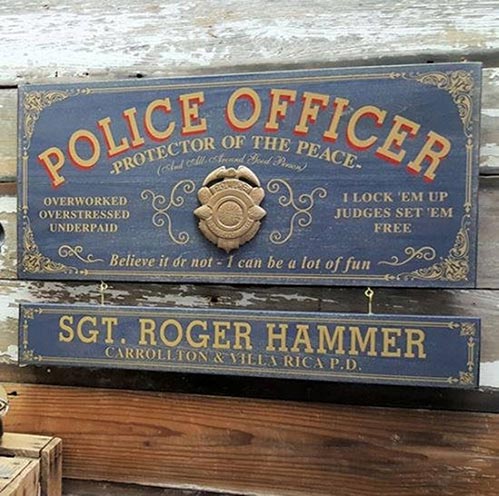 This hand-made wooden sign brings a nostalgic, old-time feeling to anyone's home or office space. The Police Officer sign is a nice way to honor a retiree; and perfect for the retirement party.
The back of the sign is unfinished wood. Therefore, you can have the party-goers sign their names. They might even want to add a personal message.
9. Signed Farewell Gift
This customized made-to-order digital file will be personalized to your specifications, with the retiring officer's name, badge number, start/end date, years completed, department name, and any additional custom text you like. You can print this in any size, then, once everyone signs it, present it in a gorgeous frame as the ultimate appreciation gift for a retiring police officer.
10. Retirement Sign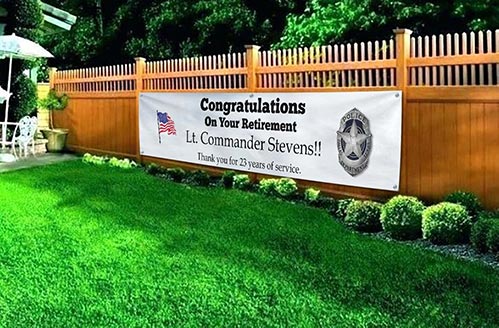 This hand-made retirement banner will add the final touch to any retirement party. You have the choice of vinyl or paper, or you can have a digital file sent directly to you.
You can include a picture, a logo, or both, along with the honoree's name.
Related: 30 Law Enforcement Gifts for Police Officers & Sheriff Deputies
Bonus! More Creative Law Enforcement Retirement Gifts
Not just the ten best! The police retirement gifts listed above are awesome, for sure. But sometimes you're looking for the perfect idea for someone really special, and you need something creative and unique.
So here are some more great ideas for the boys (and girls) in blue!
11. Personalized "Retired" Travel Tumbler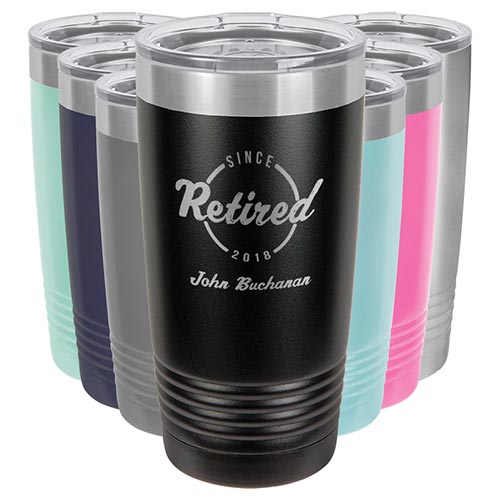 Our "Retired" traveler mug is etched with a personalized message designed for the retiree in your life.
You can compare our Polar Camel tumblers to the more expensive YETI brand. Not only do we excel in looks but also quality, durability, and performance. Polar Camel tumblers will keep your cold drinks icy and your hot beverages steaming for hours.
Choose from stainless steel and six additional colors: black, gray, dark blue, light blue, pink, or teal.
12. Gone Fishing Retirement Plaque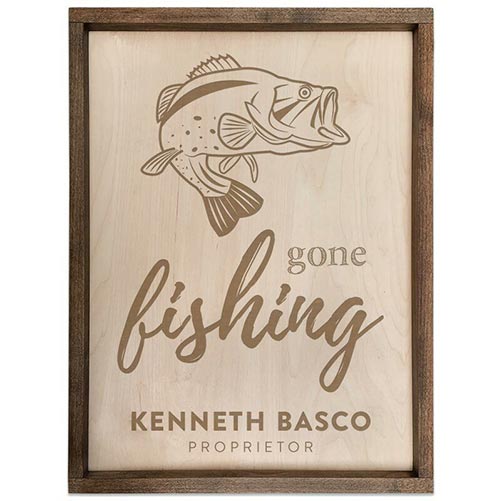 This decorative plaque includes your choice of fish art along with a name and more. This plaque will encourage some earned downtime for the new retiree.
Our wooden plaques are hand-crafted and custom laser engraved to order.
More like this: Fishing Retirement Gifts for the O-Fish-Ally Retired
13. Keepsake Box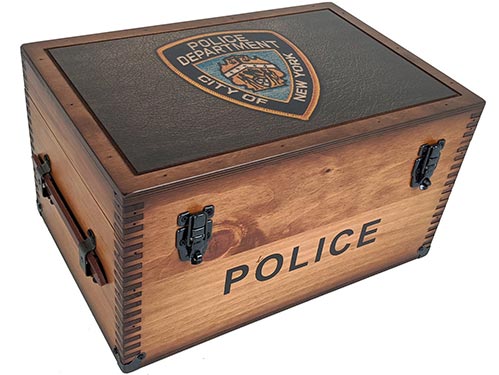 The New York Police Department Patch Keepsake box is hand-made. It features an NYPD Police Department Patch artwork on the top and Police text on the front. In addition, you have an option to add a nameplate.
Quality and durability are built-in. This box will last for years, keeping essential items in one place.
14. Personalized "Retired" Bird Feeder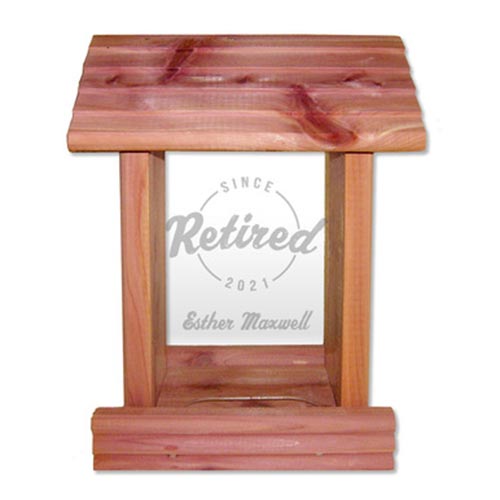 This bird feeder is a creative way to commemorate your hard-working, retirement-aged friend. Our personalized feeder is perfect for watching the birds and taking the time to relax.
Made from cedar, this bird feeder will withstand all types of weather for years to come. This is one of the best retirement gifts you can give or receive!
Related: Best Bird Lover Gifts
15. Retirement Blanket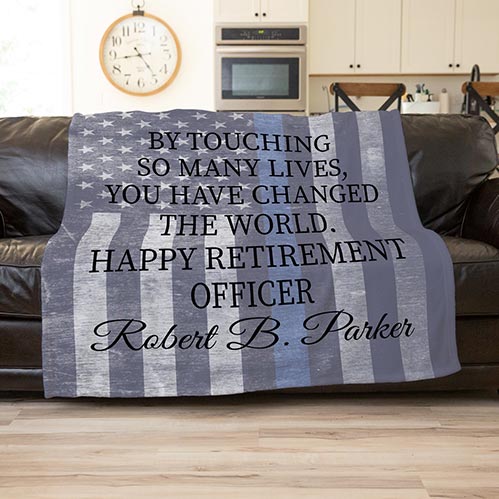 Snuggling in this comfy blanket is an ideal way to relax on a rainy afternoon.
Personalize this retirement gift with your friend's name to make it extra special. After all, who doesn't want a warm hug from a friend?
You can pick from three super-soft materials. Now that's something to look forward to!
16. How Retirees Tell Time
This coffee cup/ wine glass rack will effortlessly fit into any home and any décor. Each of these "tell time" racks holds two standard coffee mugs and two wine glasses.
This is a gift that your favorite officer will appreciate morning, noon, and night.
17. Learn a New Skill!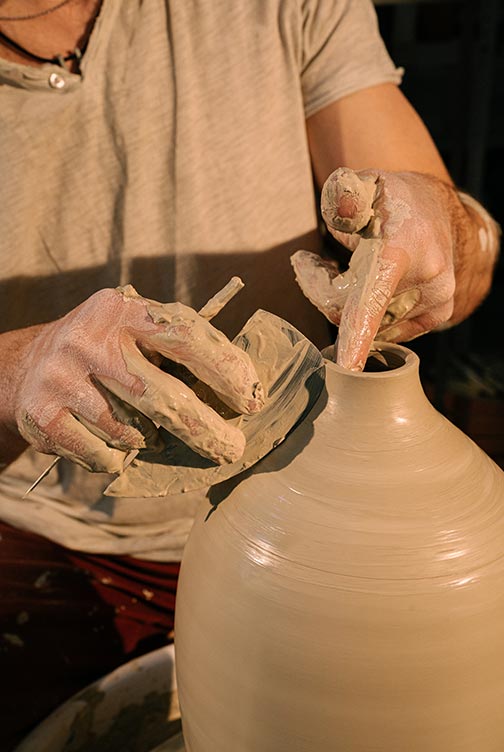 Learn a new hobby or a new career on your schedule. Udemy is an online learning and teaching marketplace with over 155,000 courses and 35 million students.
Your favorite law enforcement officer can choose a new hobby (computer programming! photography! e-commerce!) or improve an old one (writing! bread baking! piano!).
With so many classes to pick from, you are sure to be able to find something that fits your friend's schedule and interests.
18. Retirement Experience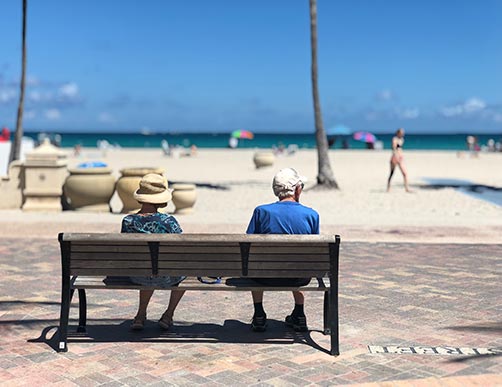 Instead of the more traditional retirement gifts, why not get them something they'll truly enjoy? With a retirement experience gift from Tinggly, they can choose from hundreds of great activities to try worldwide.
Here's how it works:
You order them a gift package
Tinggly sends a gift box with a redeemable certificate
The police officer chooses their experience – near or far, all they have to do is get themselves there!
A retirement experience gift is exciting to receive and will make their face light up for years to come at the memories they created. In addition, it's a matchless gift for the retiree who loves to travel.
See more here: 50+ Experience Gifts to Elevate Your Gift-Giving
Funny Police Retirement Gifts
Sometimes, the best way to celebrate a retiring officer is with humor. Here are some of our favorites that will make them smile – or even laugh out loud.
19. Personalized Retirement Golf Ball Set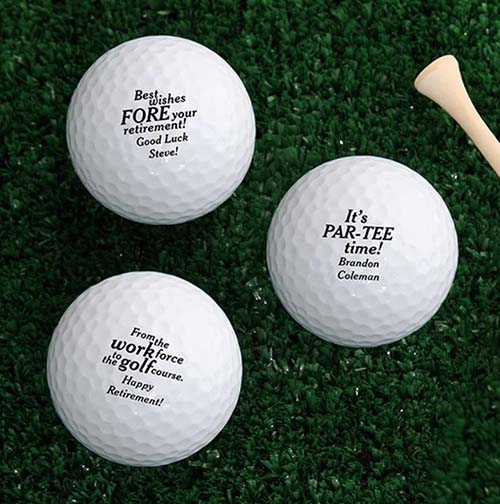 What else will there be for the retiree to do other than hit up the links?! Send them on their way with a set of personalized golf balls, each set of 3 customized with a special message. Whether you choose to keep it serious or go for hilarity is up to you!
20. The Legend Has Retired
This short-sleeved t-shirt will soon become a favorite to wear. This T is a cute way to advertise your life status – RETIRED!
Choose from nine colors to find your perfect match.
21. Retired – Ask Someone Else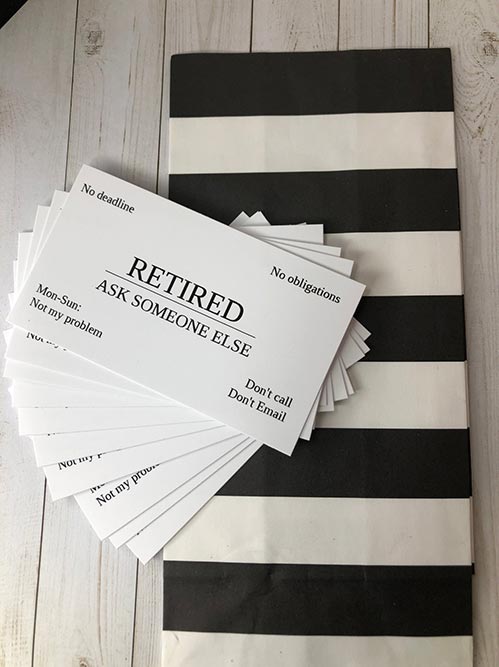 The lucky retiree needs a handful of these cards. The hand-made business cards will be a hit at any retirement party.
Congratulations on your retirement!
22. Goodbye Tension Hello Pension
Whew! This coffee mug says it all. Now you can really enjoy your morning coffee. No rush to get to work on time – you are retired!
You even have time for a second cup of fresh brew. Enjoy.
23. DIY- Chill Pills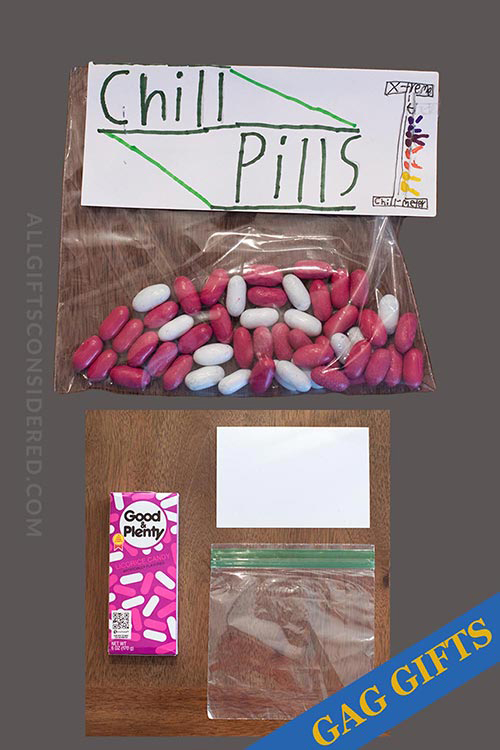 Now that your officer has retired, you can help them to relax. They have probably been told to grab a chill pill more than once – now you can make that happen.
Grab their favorite candy and make them a batch of DIY Chill Pills. A sweet way to say that you care.
Related: 100 Amazing (and Hilarious) DIY Gag Gifts
24. Happy on Monday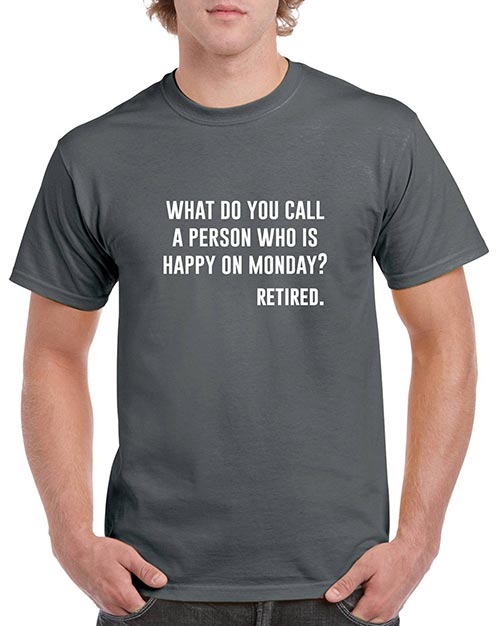 Nothing else needs to be said. Happy. Monday. Retired.
With five colors to choose from, this shirt is a gift they are sure to enjoy wearing again and again.
25. Help Him Exercise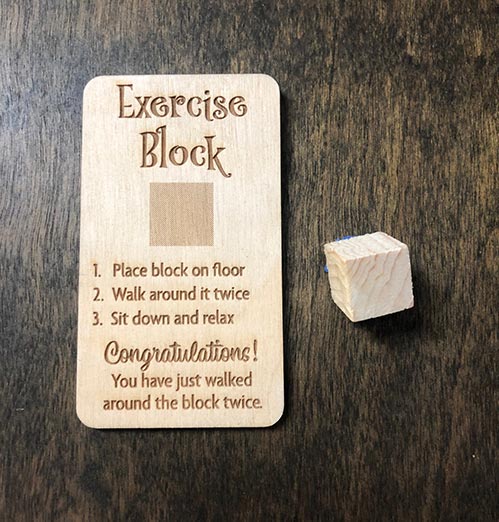 Make sure your retiree gets their daily exercise with this silly gift. The exercise block cube is sure to give everyone a good laugh at the retirement party.
It's great to celebrate the retirement of a dedicated police officer with the perfect retirement gift! We hope you found just the thing in our list of creative ideas.
To all of our men and women in blue: "Blessed are the peacekeepers, for they shall be called the children of God." — Matthew 5:9
Read Next: How to Plan the Perfect Retirement Party