Nothing could be more joyous than welcoming a new little life into this great big world, and these fun and inventive baby shower party ideas are here to help with all your planning needs.
Baby showers are the best kind of parties! I mean, you get to snack, sip, visit, play games — and don't get me started on those baby outfits! There's nothing cuter than teeny tiny socks and beanies.
If you're the host/hostess you'll want to plan a bash to remember, so read on for some great baby shower ideas to have the cutest party this year. 
Baby Shower Party Ideas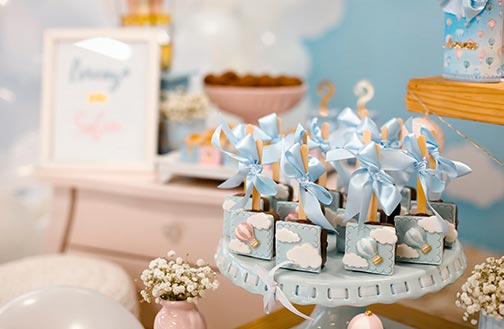 Little Honeybee Shower
Decorate in sweet bee décor, have plenty of flowers, and bright pops of yellow everywhere. Cookies in the shape of bees and flowers wouldn't be amiss! This is a great one for when the sex of the baby is a surprise.
Twinkle Twinkle Little Star
Another good theme for an unknown gender! Stick with blues and silvers while decorating, and twinkling fairy lights add a magical atmosphere.
"Into the Woods" or Nature Theme
Adorable bear cubs, foxes, owls and bunnies all frolic through your own backyard. They may be of the stuffed variety, but that's of no consequence… Fruit punch and picnic style food would be perfect for this theme.
Little Prince / Little Princess
Just don't forget to invite ALL the fairies… we've seen what happens when you forget one: a 16 year spell!
The Velveteen Rabbit
One of the sweetest and most poignant stories ever written for children, this would make an adorable party. A vintage look is what you're going for here: teddy bears and rag dolls, rocking chairs and antique board games, and don't forget a copy of the book that guests can help inscribe for the baby.
Rubber Duck
Cheery and sunny yellow sets the scene. This one calls for a pool party we think. With plenty of rubber duckies, of course!
Peter Pan
"I won't grow up!" hollers Pan. And we have to agree! Set the stage with props of mermaids and pirates, make-believe, and swashbuckling fun. Second star to the right, and straight on till morning!
Rainbow
All the colors of the rainbow for this pretty theme! A rainbow cake, streamers, a variety of sherbet ice cream flavors, and a pot of gold to catch the well-wishes (or hold the presents).
All White… Or All Blue, Pink, Yellow, Green
Pick a color (we suggest asking which one they are using to decorate the baby's nursery), and you're good as gold! Or silver, or navy, or chartreuse…
Ready-to-Pop (Balloons)
Balloons are a fun, inexpensive, and cheerful way to decorate. You can fill some with candy or well-wishes for guests to pop as they go along, and keep others empty. Celebrate the mom who is ready to pop with lots of colorful at this fun party!
Noah's Ark
Animals galore in this baby shower! Whether you make sure there's two of each one is up to you, of course. This is one of the more timeless baby shower party ideas, and it never disappoints.
Winnie the Pooh
There's nothing sweeter or full of more wisdom than the Hundred Acre Woods! Bring the magical woods to your home with stuffed animals of Pooh and his friends, the storybooks to read aloud, and your favorite Winnie quotes sprinkled around the room. Have a jar of honey to go with tea, or make a honeypot-shaped cake.
Teddy Bear
Perfect for boys and girls, teddy bears have been a favorite snuggle toy for generations. It will be fun to see which teddy the baby picks as his/her constant companion in years to come!
Butterfly Shower
Butterflies signify the beautiful process of the struggle to take flight and soar. A little like pregnancy, if you think about it! It's easy to decorate with butterflies: you might find everything you need at the dollar store.
Baby Shower Games
Baby Trivia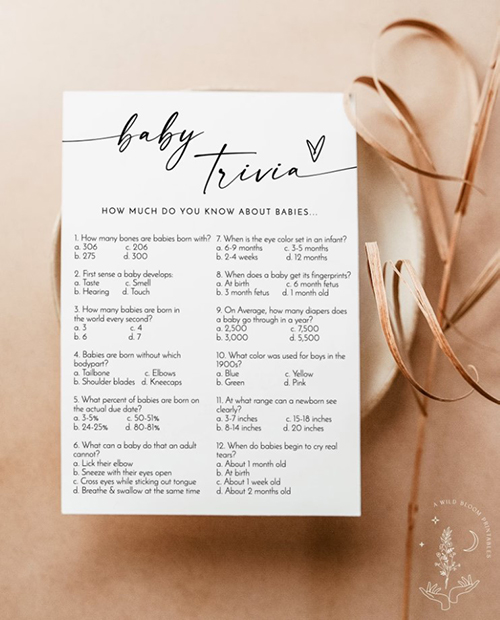 Loaded with fun questions (either picked by you, or downloaded from the internet), make sure to time everyone and have a prize for the winner!
Guess Who?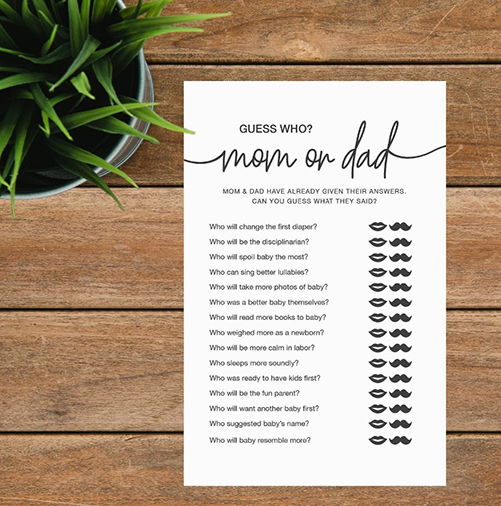 Mommy or Daddy? A fun way for guests to get to know the new parents. This classic game is one of our big go-to's for baby shower party ideas.
Oh Boy! Baby Shower Print Bundle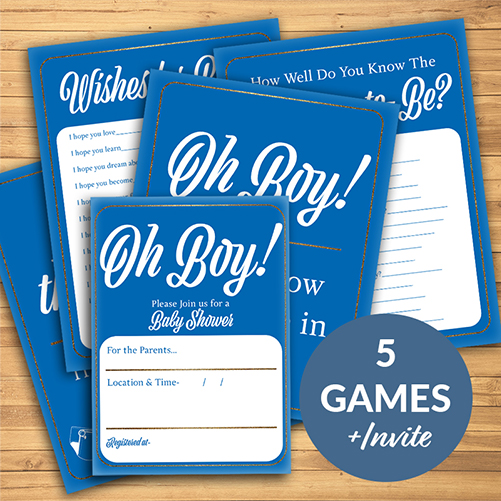 Bundle of printable games (& invites!) such as Guess the Mess and Nursery Rhyme Game
Related: Printable Baby Shower Games
Baby Sock Hunt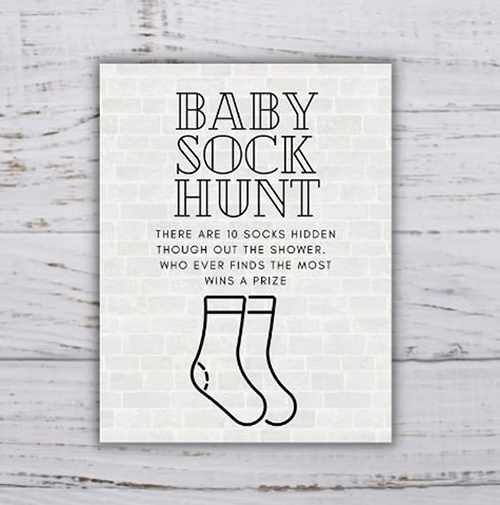 Hide several pairs of tiny baby socks around the party room, and whomever finds the most at the end of the party gets a prize!
How Big is Mom's Belly
Each party guests must write down their answers before the measurements begin!
"My Water Broke!" Melting Ice Cubes
If you don't mind tiny plastic babies in your freezer for a bit, you'll love this hilarious game!
Pink Bunny Baby Shower Print Bundle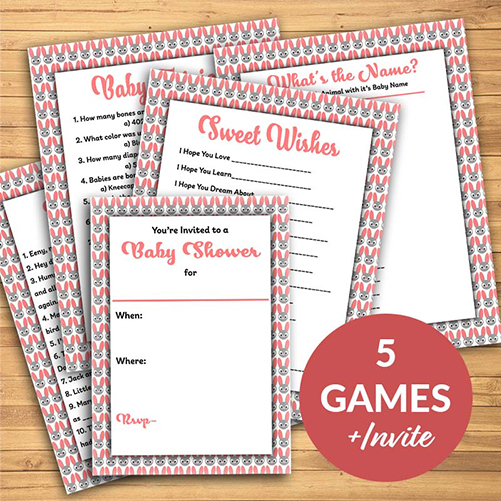 Bundle of printable games (& invite!) such as a diaper raffle card and the game "What's the Name?"
Baby Predictions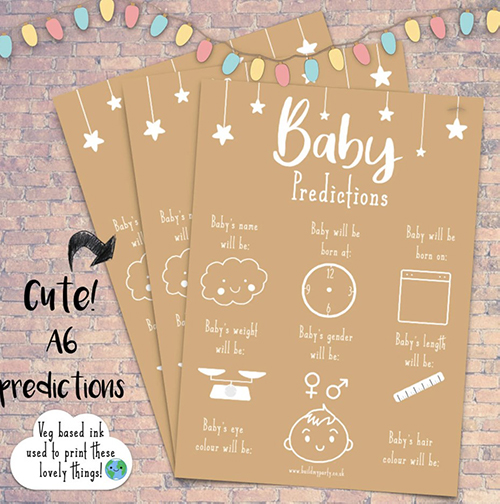 This one is always fun: predicting things like the baby's weight, the day and time of birth, their gender, etc. You may have to mail the prize to the winner later!
Baby Shower Invites
Oh Boy! Baby Shower Printable Invitation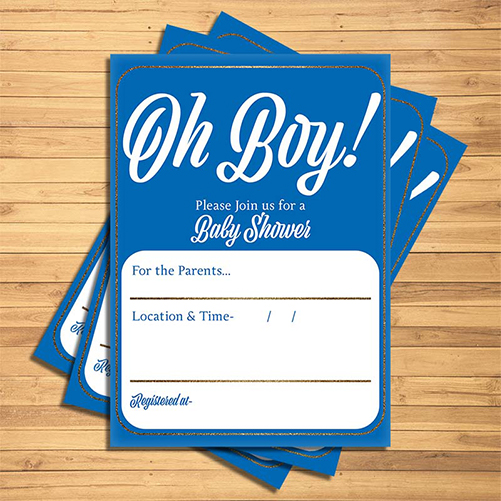 Easy to print and send, this invitation comes in a royal blue & gold design that's perfect for any boy's shower!
Elegant Arch Baby Brunch Invite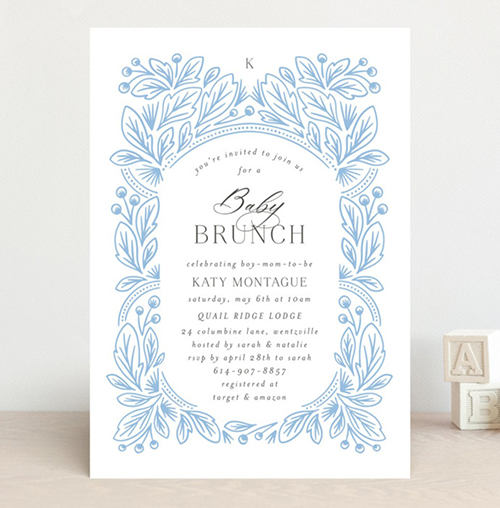 This elegant arch baby brunch invite is for the sophisticated crowd — even if some of them are still in diapers! The pretty blue and white is reminiscent of Willow pattern dishes and is timeless in its style and font. Invite your best friends in style with this one! 
A Little Buck is Almost Here Baby Shower Invitations
This "Oh Deer!" baby shower invite is a fun way to let your guests know about a party celebrating your little buck! Perfect to go with any rustic or hunting themed baby shower party ideas.
Rocking Horse Baby Shower Invites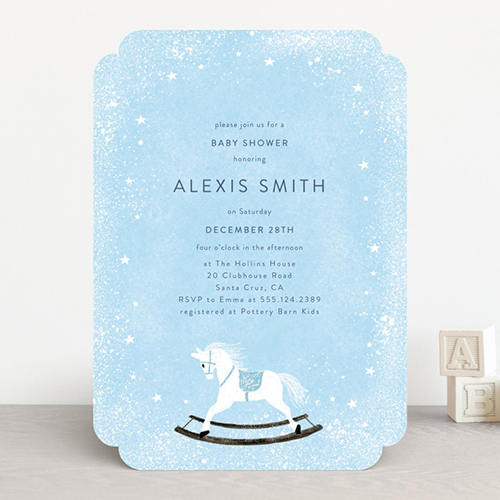 There's something so adorably old-fashioned about a rocking horse, isn't there? These cute invites are great for both boys and girls, and the sweet little pony just goes with each and every baby shower theme. You can even pick the color!
Beginning of a New Chapter Invitation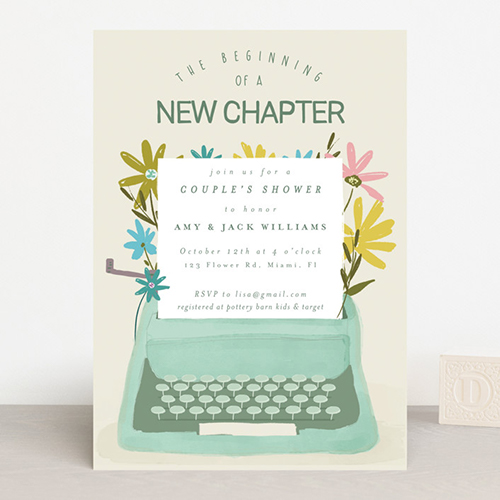 For a couple's shower, these new chapter invites are just right! Blooming with color and sunniness, you can design your own wordings and even rearrange the color selection. These are so cute we bet people won't toss them after the party; they'll want to hang onto them as a keepsake.
It's a Girl! Baby Shower Printable Invitation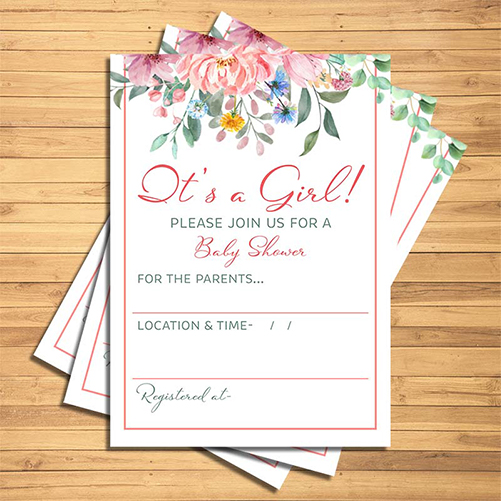 Easy to print and send, this invitation comes in a frame of pink florals that's perfect for any girl's baby shower!
Click here for more printable baby shower invites!
Oh Baby! Kraft Greenery Invitations
Full of green leaves & brown hues, these sweet baby shower invitations are perfect for any nature or woodland baby shower.
Sweet Little Baby Real Foil Shower Invite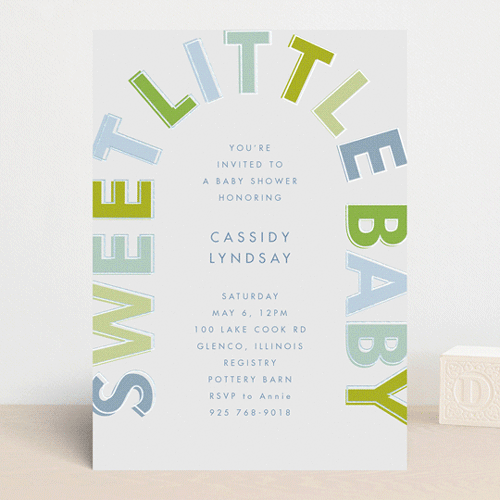 For the sweetest of babies (as you know this new arrival will be!) this adorable invite is decorated with the softest of colors. It's a more modern approach to the baby shower invitation and we think the various selection of photo foil colors make it extra special.
Editable Sweet As Can Bee Invitation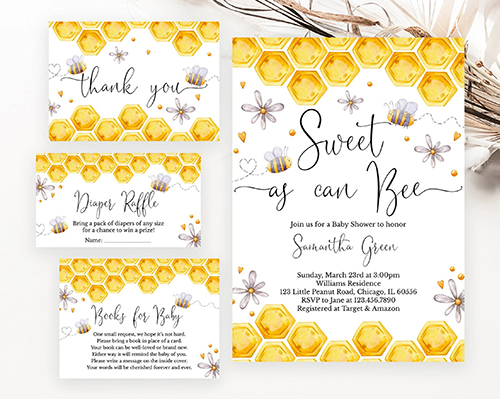 These invites really are as sweet as can be! With their bright and sunny bees and honeycombs, they're sure to stand out in a crowd. Your invitees will love putting this up on their fridge to remind them of all the important baby shower details.
Storybook Personalized Baby Shower Invite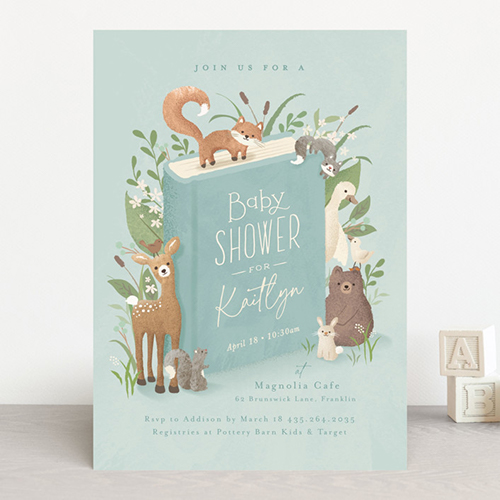 Is it for nature lovers or book lovers? We think both! This super sweet and charming invite is decorated with the most darling of deer and woodland creatures and a storybook, too. For a book baby shower, this is a no-brainer!
Little Cutie on the Way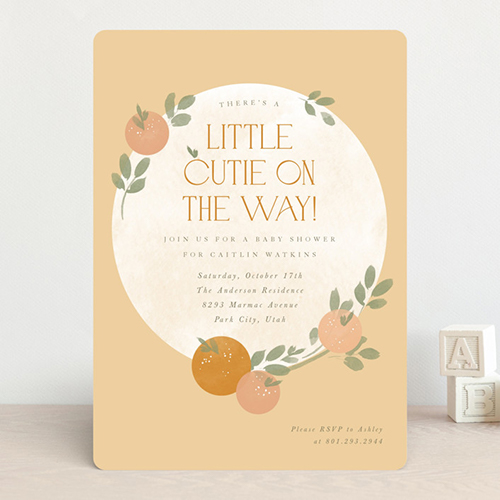 Announce the arrival of the cutest baby on the block with the cutest of invites on the block! This option is sunny and sweet and you can add custom foils for an extra punch of personalization.
A Sweet Little Girl Personalized Invite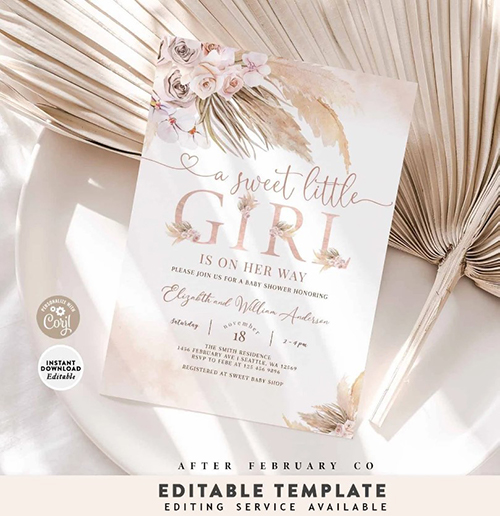 This gorgeous, timeless invite to welcome a sweet little girl is so pretty! Almost Victorian in style, the soft pinks and creams really stand out against the card stock. A beautiful invite for a beautiful party for sure! 
Foil-Pressed Star Invitation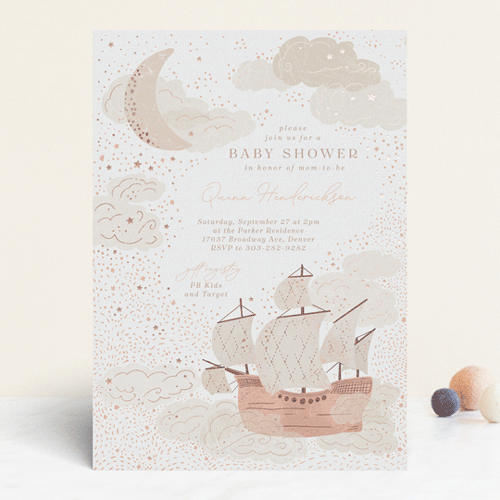 Second star to the right, and straight on 'til morning! This darling invite takes us back to days of Peter Pan and Wendy, the Lost Boys, mermaids, and epic battles with Captain Hook! We are here for it.
We Can Bearly Wait Editable Baby Shower Invite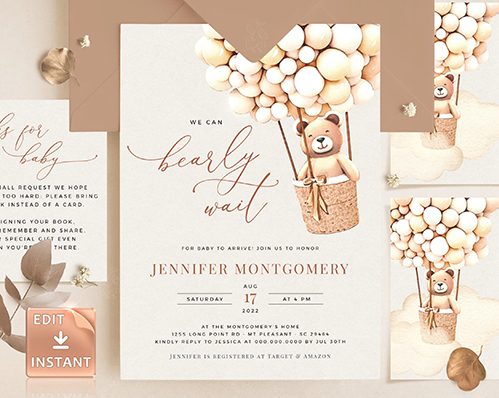 Go with the classic — a sweet teddy bear! These cute invites tell how excited you are to meet the new little addition, and are sure to have your invitees clearing their schedules so they won't miss this great baby shower.
Related: Must-Have Gifts for New Moms
Boho "A Sweet Boy is on the Way" Invite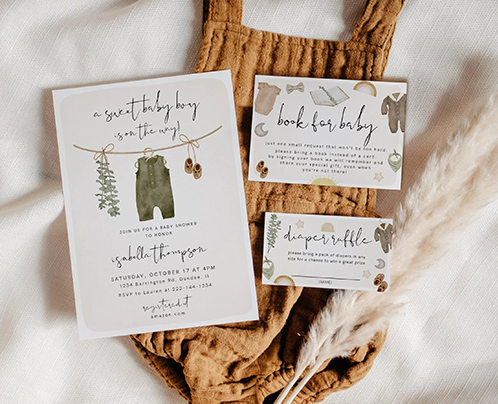 Go more boho in style with this sweet design! With its watercolor illustrations and charming font, people will think they stepped back in time— in a good way, of course! Great for an outdoor party, or for the minimalist mom and dad to-be. 
Adorable Baby Shower Decorations
Baby's Name & Meaning Wall Art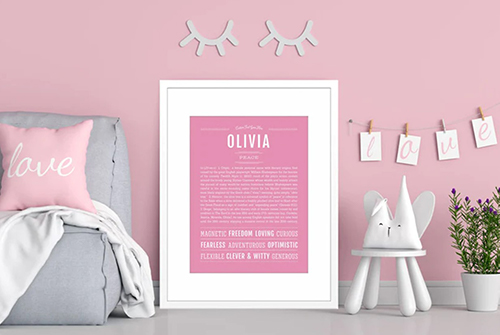 It took nearly all nine months to pick out the perfect name, so why not celebrate it with this great wall art? Mom and Dad will be delighted with this piece that not only customizes the baby's nursery, but also gives the meaning behind their beloved baby's moniker.
Peter Rabbit Party Decorations Set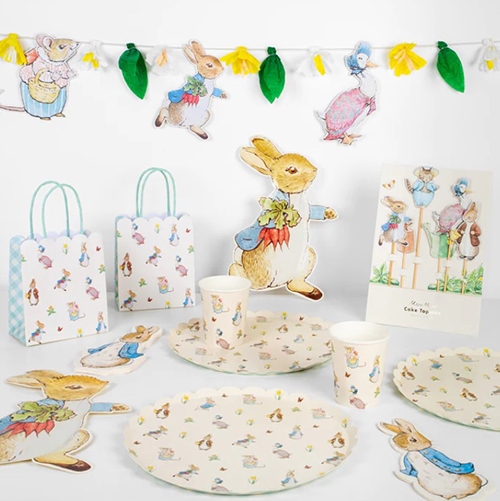 There's nothing cuter and more timeless than Peter Rabbit! Perfect for baby girls and baby boys alike, this party decoration set might have to be moved right into the baby's nursery after the big bash: they're that cute!
We're Over the Moon Photo Prop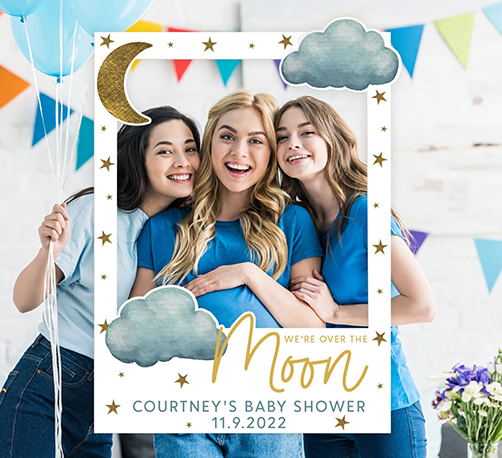 Set up a little photo booth at the shower with this adorable "we're over the moon" photo prop! Guests will love taking selfies with everyone when this is framing their faces. And at the end, all those great photographs can be slipped right inside a scrapbook to keep forever!
Custom Woodland Outdoor Banner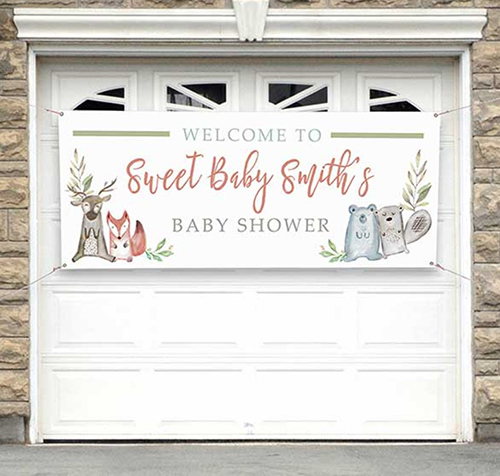 Leave no doubt where the baby shower is with this adorable (and really useful) custom woodland outdoor banner! It's so cute, you'll find yourself posing the guests in front for a photo op! One of our favorite new additions to baby shower party ideas.
Tiffany Inspired Baby Shower DIY Decorations
If bling and sparkles are the theme of the day, you can't go wrong with these Tiffany inspired DIY decorations! They'll bring charm and sophistication to the grand event (even if you're playing Guess the Dirty Diaper games).
Easy to make and fun to pass around to the guests to keep afterwards.
Little Princess Picture Display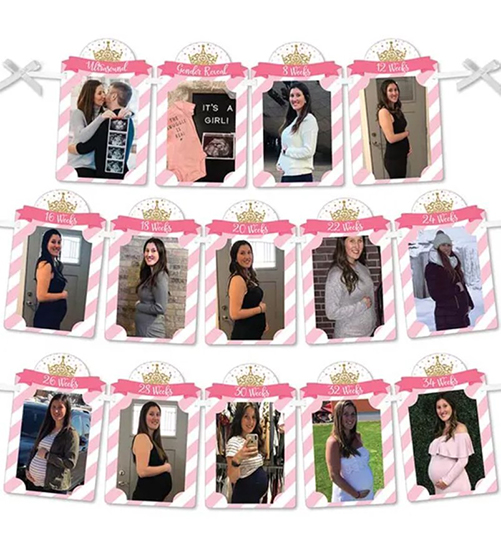 Everyone loves seeing photos of Mama at all stages of pregnancy! This cute picture display puts them all in chronological order and makes a great centerpiece for the shower table.
Mommy to Bee Bunting Banner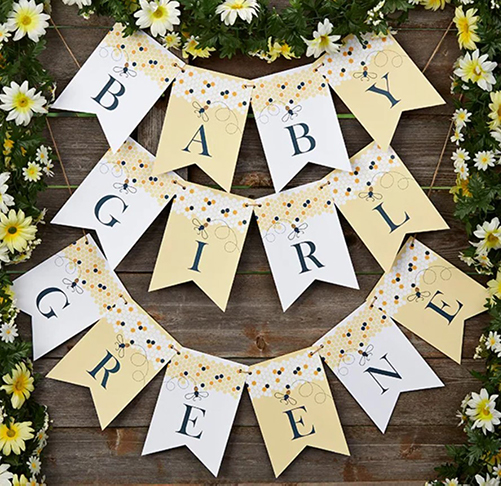 Choose from two sizes (depending on how much you want to say) with this adorable Mommy to Bee banner! Great to hang for an outdoor garden party, or even inside on a blustering winter's day, this sunny yellow banner is great boys and girls.
Baby Shower Welcome Signs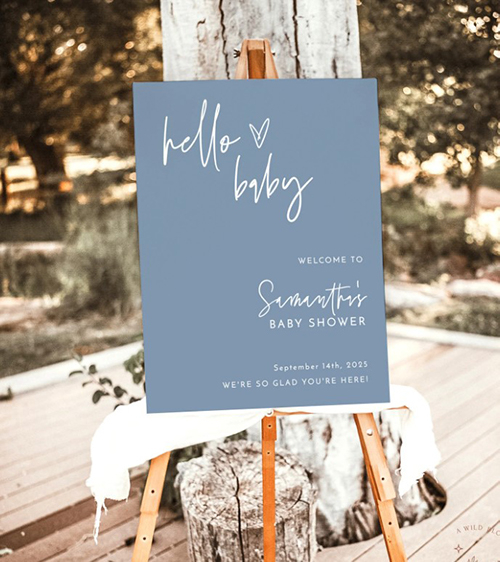 This minimalist style still packs a great punch! This welcome sign will steal the show and tell guests where to go, among other important details. Good for both genders and pretty to look at, too.
Alphabet Letters & Balloon Set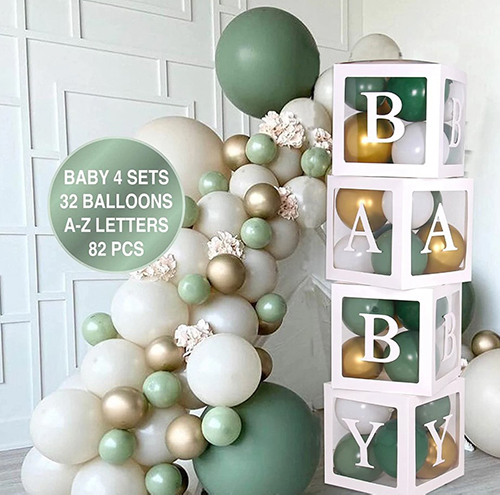 Everything you need in one kit? Um, yes please! This adorable set of alphabet letters, clear containers, and fun green and gold balloons are a real crowd pleaser! We are just in love with this set and think it will be a scene stealer for sure. And that price!
It's a Boy Table Runner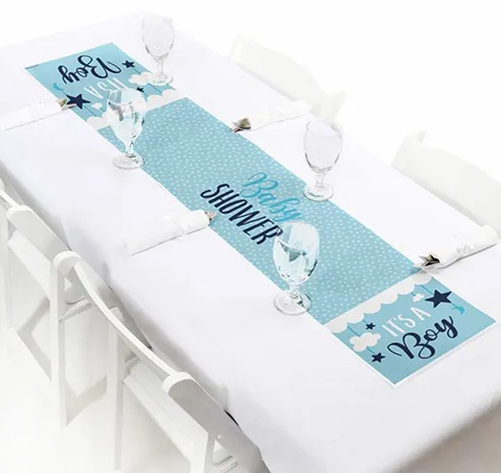 This table runner brings some cheer and color to the baby shower table! It's almost too cute to cover with trays of food! Bright blue and sunny, it announces to soon-to-be arrival of everyone's favorite baby boy.
Rainbow Balloon Arch Kit
You can't have a party without balloons! It's a law! This rainbow balloon arch kit is neat to look at and fun to put together. You can send it home with the mama and papa to-be after the party, or let each guest take a balloon home as a keepsake.
Centerpiece Dress Hanger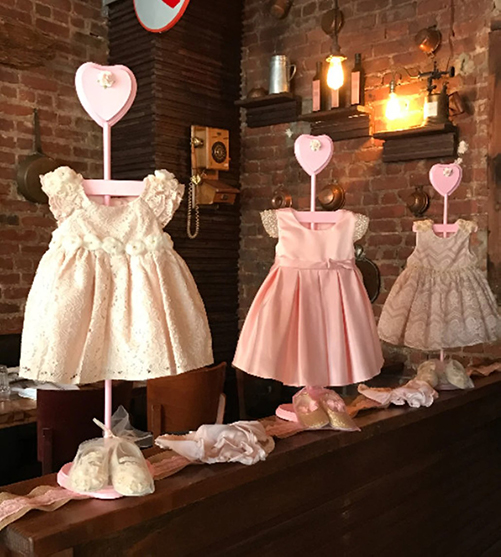 These cute little centerpieces come in either pink or white and hit all the right notes! They're totally unique and we love how you can (quite literally) dress them up! Such a fun way to bring some girly-girl decor into your baby shower.
Baby Shower Lawn Signs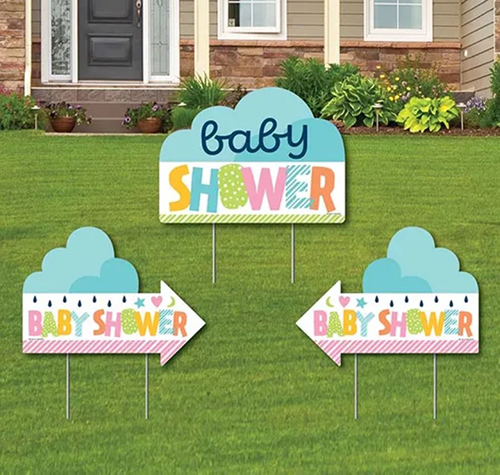 Guests will know they've arrived to the right spot with these bright and colorful lawn signs! Perfect for a sunny summer day, they'll point everyone in the right direction, even helping with parking.
Personalized Photo Backdrop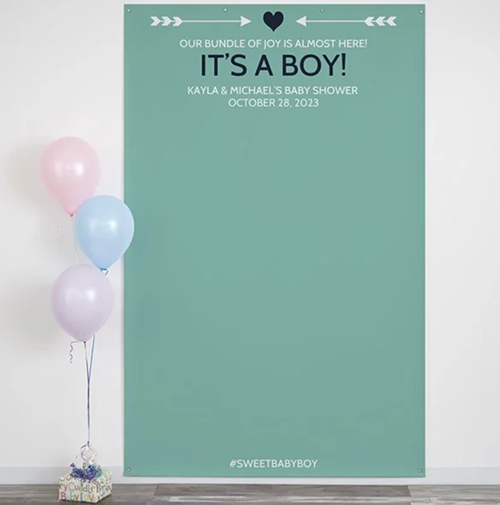 Choose from mint or blush when you order this great personalized photo backdrop! The baby will love looking back on these photos from before he/she was even born for years and years to come!
Pink Balloon & Streamer Garland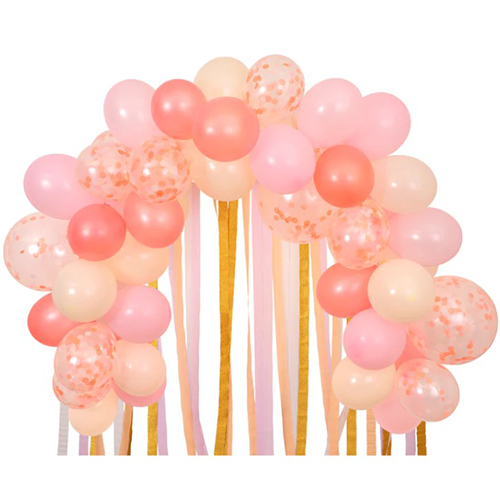 Pink and gold and white and so darling! This streamer garland will bring all the joy to the baby shower. It's a lovely decoration that everyone will want to pose in front of for the best photo opportunities!
Simple Baby Shower Food Ideas
Chips & Dips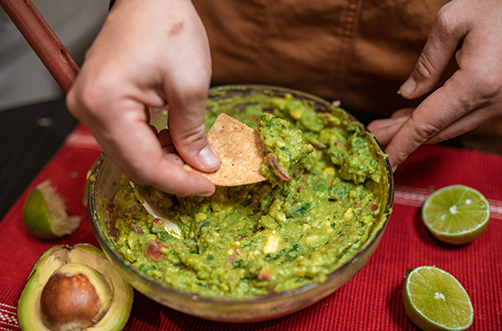 Have you seen the hit show Only Murders in the Building? Martin Short's character only eats dips and we think we know why! They're delicious.
Something crunchy with something creamy? Um, we're here for it. You can't go wrong with a selection of chips or crackers with some guac, salsa, or a smooth dip. And don't get stuck on savory! Sweetened cream cheese is a wonderful dip for fruit.
Cake Pops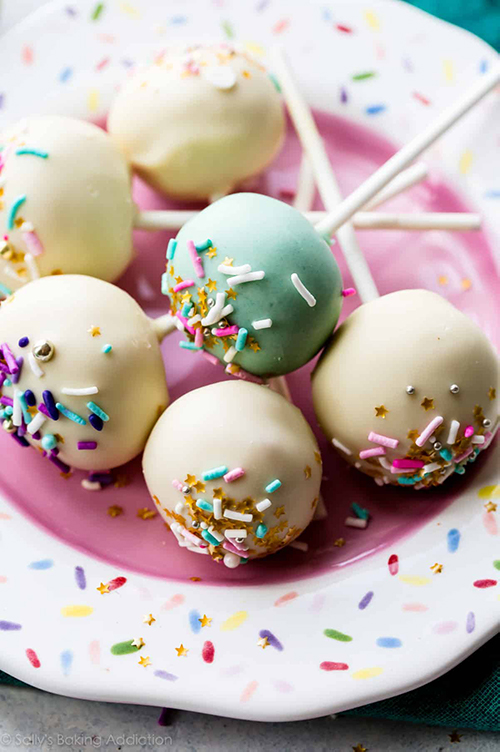 The first time I made these I must say, I was a bit enamored. They're just so fun! Dainty and pretty, it's like a bite-sized bit of heaven on a stick.
How can you not love a cake pop? And bonus: they're SOOOOO much easier to clean up and serve than a traditional cake!
Charcuterie Board
I could live on charcuterie boards quite happily, please and thank you! For an extra special boost, consider visiting your local cheese shops or creameries, your local butcher shop, and pick up some locally made jams.
Fruit Salad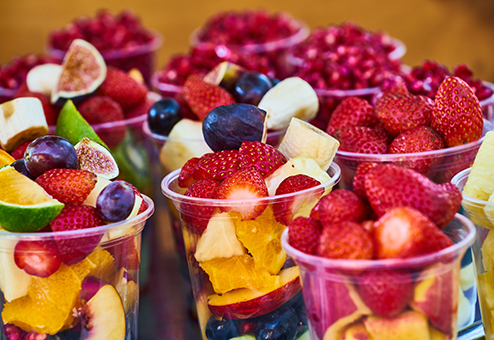 Fruit salads are always a hit (especially if your shower is in the summer). Melon balls add some cute sophistication, and strawberries are always the first to disappear so include plenty!
You can serve your fruit salad in a large punch bowl, or dish up individual portions into large wine goblets or plastic cups.
Sweet Potato Appetizer Bites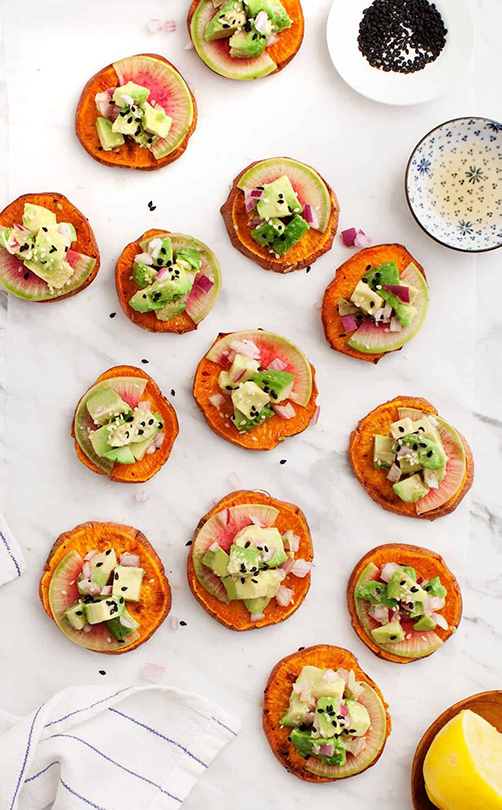 It's always great to include something on the healthier side of the lunch table at your shower! These yummy sweet potato appetizer bites taste just as delicious as they look.
It's simple enough to whip them up ahead of time, and finding those crunchy black sesame seeds is a game changer (I bought mine at Trader Joe's).
Sherbet Punch
It's a classic for good reason: it's so refreshing and yummy! A good sherbert punch is delicious for all ages and so easy to prepare. Plan on two servings for every guest because it's a crowd pleaser. One of our tastiest baby shower party ideas, for sure.
Taco Bar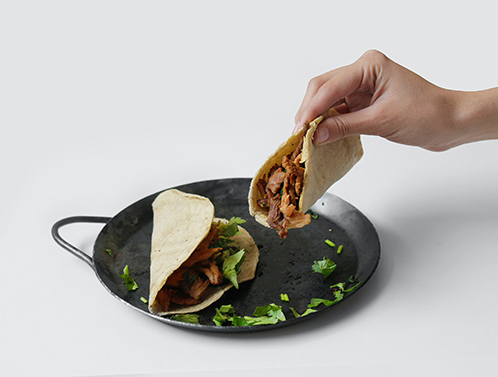 You don't do directions, do you? That's okay, recipes and baking aren't everyone's thing. Line up hard and soft shells, meats, grated cheese, avocados, thinly sliced radishes, cilantro, salsas and hot sauces… well, you get the drift! Simple and tasty. For some added crunch, try pickling red onions! They are soooo delightful. 
Easy Cinnamon Rolls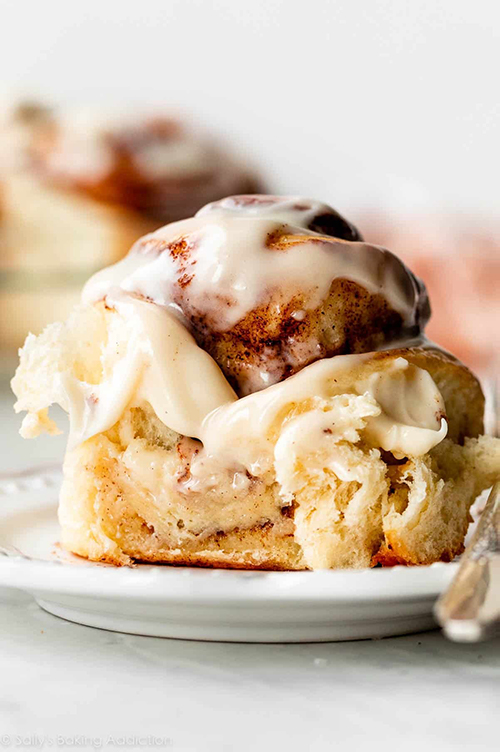 Cinnamon rolls are a hit any time of day, if you ask us! Gooey and decadent, there's no one who doesn't like a cinnamon roll! If they are out there, you don't want them at your party… This recipe is easy and will feed a crowd if you just double or triple the ingredients. 
Pinwheels
Pinwheels are a yummy addition to any party. They're easy enough to prepare ahead of time, leaving you free to mingle (and snack yourself). It's simple to vary the recipes according to likes and dislikes, and the clean up is such a breeze!
You'll be doing yourself a favor with a big platter of pinwheels.
Pigs in a Blanket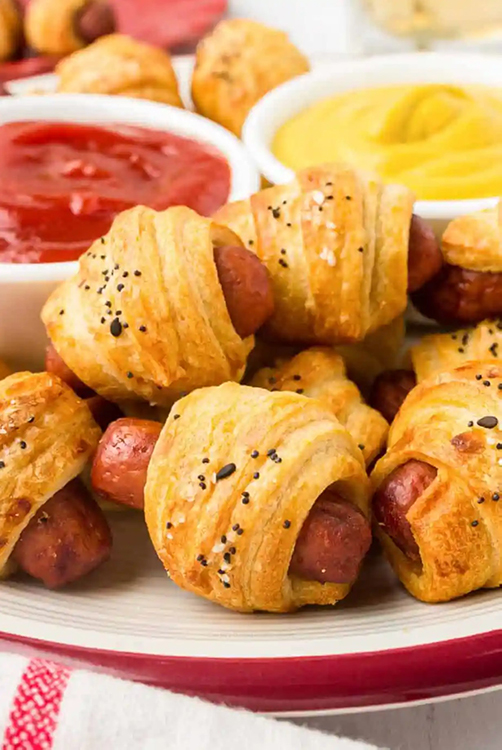 We guarantee these will be gobbled up in no time at all, so maybe make more than you think you need to (you can always send the leftovers home with some lucky piggy). Satisfying all of your carb and pork cravings (What? We all have those…) a big batch of pigs in a blanket will hit the spot. 
Read Next: Baby Shower Gift Ideas for New Moms