Looking for some thoughtful fishing retirement gifts for that special person in your life who is O-Fish-Ally Retired?
Out of all the significant life changes and transitions that require a gift, retirement is least celebrated.
But not if you have anything to say about it!
Our website is supported by our users. We sometimes earn a commission when you click through the affiliate links on our website. See our privacy policy & disclosures for more information.
This is a guest post by Chelsea Smith of Fishermen's Pond.
Fishing Retirement Gifts
Retirement is a great milestone that marks the end of a long career and the start of a new phase in someone's life. So finding the right retirement gift to commemorate this occasion is a great way to show your support and appreciation.
One of the things you should consider when choosing a gift is the retiree's hobbies and talents. And of course fishing is one of the most flexible and relaxing hobbies, beloved by many people.
So, if you are looking for the best fishing retirement gift, you are in the right place.
We have some of the best fishing retirement gifts that will help your friend enjoy retirement.
What Makes a Thoughtful Retirement Gift?
The whole idea that makes retiring so appealing is that retirees can spend additional time doing what they love.
This means that the best gift should focus on the fun the retiree is going to have.
So try and find out his or her hobby and get a gift related to it. Some of the best gift ideas for common pastimes include a fishing pole, golf clubs, and a gift certificate.
You can also give them something to remind them of their careers. This option will require you to be very creative and create something unique. You can get a trophy engraved with their dates of service and names.
The 10 Best Fishing Retirement Gifts
1. Humminbird Helix-5 Sonar-G2 Fish Finder
There is nothing more discouraging than going fishing the whole day and not catching a single fish! This can make anyone depressed. And because your friend or a family member needs something to keep him busy, failing is not an option.
So the best gift that can cheer him up every day when he sets sail is a fish finder.
The Humminbird Helix-5 Sonar-G2 is a reliable and affordable fish finder that can help anyone find a school of fish in the lake.
Over at Fisherman's Pond, we found that the Humminbird (yes, that's really how it's spelled) Helix-5 Sonar-G2 is the top-rated fish finder when you're on a budget.
This affordable tool comes with a 5-inch screen and a built-in basemap that can help your retired fisherman locate a school of fish every day he sets sail.
And trust me: he will remember your gift every time he reels in a big one.
2. Personalized Fishing Tumbler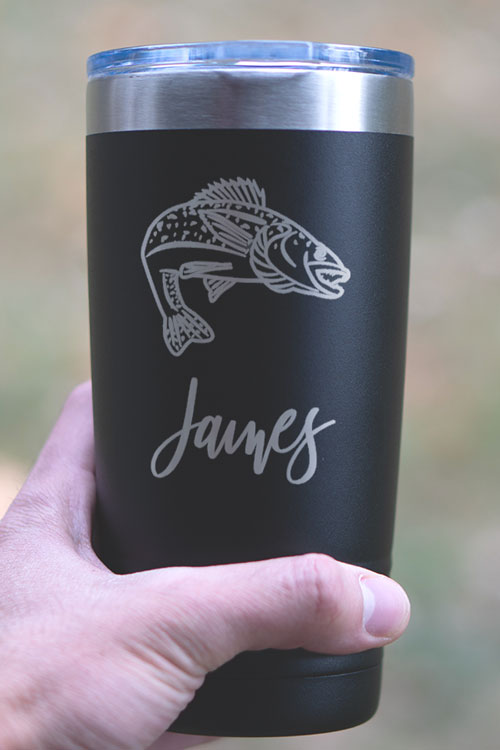 For a really cold day out on the water, every fishing enthusiast needs a drink to keep them warm. And on those really hot days, they'll want something ice-cold to keep them well hydrated.
What better way to leave a mark in the retiree's life than getting them a personalized fishing tumbler?
Irrespective of the weather out there, this tumbler is must-have gear for every fish lover.
A mug is a good gift, but a personalized tumbler is an excellent choice. So you can put the retiree's name and a simple quote that can motivate him on the tumbler.
3. Bass Fishing Shoes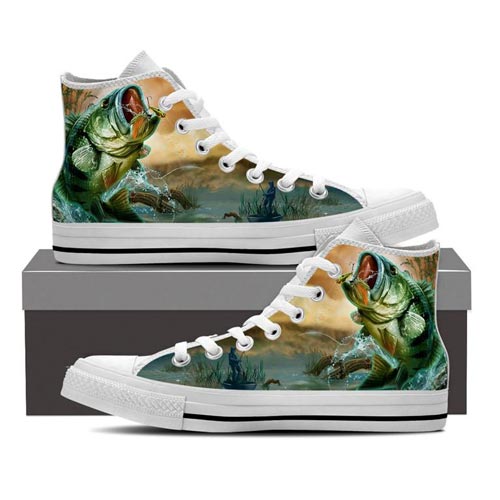 As an angler, the retiree will spend a huge percentage of the day fishing. On any other day, they'll spend a better part of the day either standing or walking around on the boat or (regrettably) back on land.
Either way, wearing a comfortable pair of shoes is mandatory.
So why don't you get the retiree a fun pair of bass fishing shoes from Groove Bags? These shoes are made from canvas, they have cool fishing-themed designs, and are available in both white and black.
Plus these fishing shoes have:
High-quality sole with traction
Extra-comfort
Rounded toes
Colorful bass fishing design
What's not to love?!
4. Personalized Gerber Truss & Sheath Multitool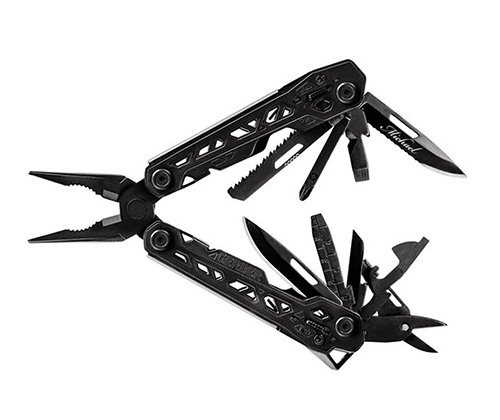 One of the most beneficial everyday carry tools for fishermen is a multi-tool. A multi-tool has everything a fishing enthusiast will need in their next fishing trips.
This 4.35 inch long tool (6.5″ opened) can perform over ten functions. It comes with a wire cutter, a serrated blade, pliers, a ruler, and more!
And the best thing about this multi-tool is that you can personalize it. You can have any logo or name engraved onto this multi-tool. Plus, it comes with a convenient traveling pouch.
5. Fisherman's Catch Vintage Plaque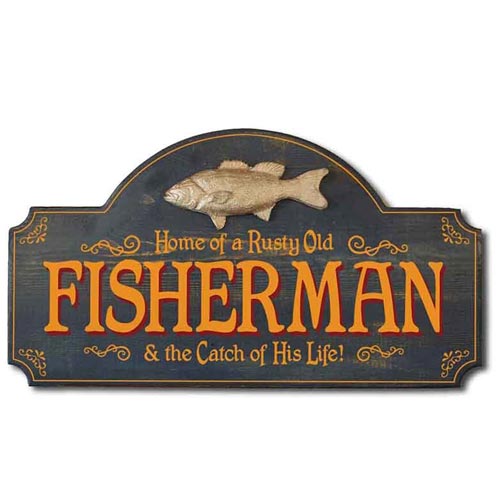 A trendy and fun vintage-syle plaque celebrating a catch of his life is a must-have for any fishing enthusiast's home décor. This plaque is made from solid wood and professionally painted and silkscreened.
To make it a great retirement gift, you can add a personalized hanging name board with the retiree's logo and name. The additional name board is attached to the plaque with hanging hooks.
This vintage plaque will remind everyone that they are dealing with an experienced fisherman, who loves what he does.
6. Personalized Fishing Tackle Box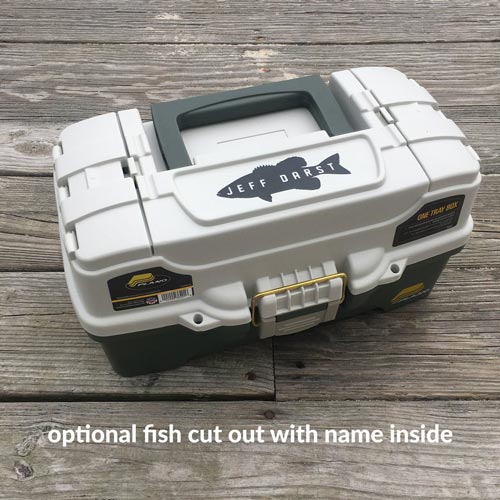 A successful fishing trip is determined by more than just your fish finding device and fishing rod. Success is, more often than not, determined by how organized you are with your fishing gear. Therefore, make sure your retired fisherman has a spacious tackle box!
The best fishing box will keep all their bobbers, lines, baits, and lures organized and easily accessible.
Instead of getting him just any tackle box, why don't you get him a personalized fishing box? With a personalized fishing box, you can have his name engraved on the fishing box. A good tackle box comes with over 13 compartments where he can store all his fishing gear.
7. Fishing Hook Family Name Gift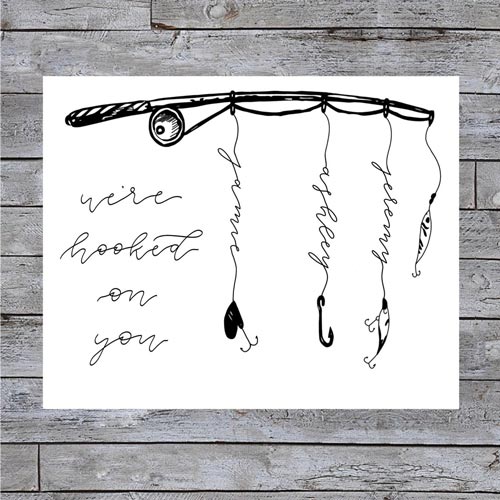 This fishing hook digital print can be a perfect gift for a wife to give to her husband when he retires.
It's a fun fishing-themed decor piece that can feature the names of at least four family members. The names are written on the lines running to the hooks.
This print will be a perfect reminder that he is not alone every time he goes out to fish.
8. A Fishing Journal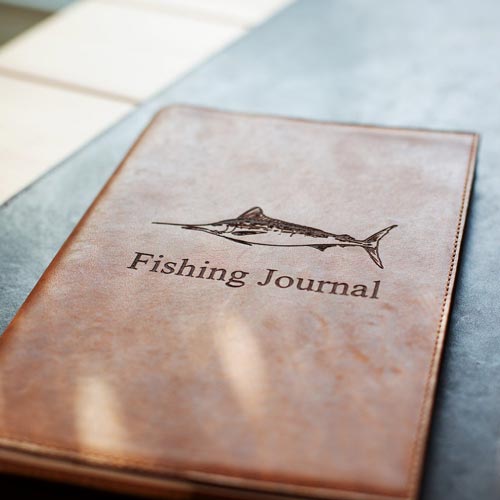 A person who has worked for the better part of his or her life is used to a certain kind of order. Therefore, as much as they are going to enjoy their retirement by fishing most of the days, a little order would be quite helpful.
Therefore, a fishing journal can be quite helpful. The book can help them keep a record of all their fishing activities. They can note down their thoughts and experience about certain fishing days.
9. Motorized Swimbait Fishing Lure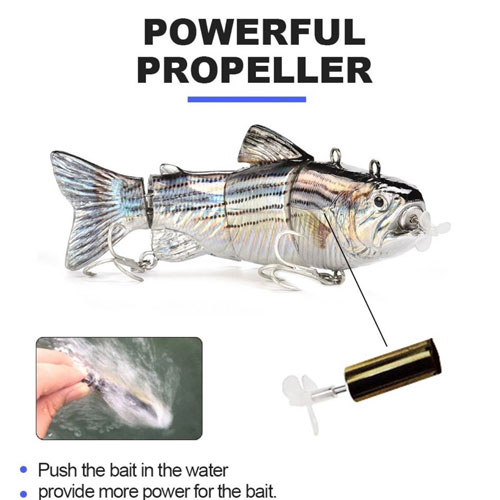 A motorized swimbait is a robotic lure that is loved by professional anglers. This particular one can swim and stop at random intervals. It can also change directions and simulate injured live baits.
This action is invaluable, because it more effectively simulates "the real thing." When cast, it can lure any game fish.
The swimbait can make any game fish attack it, especially when it turns and give the fish numerous ambushing opportunities. The motorized swimbait will offer anyone an added advantage over all the other fishermen using normal lures.
10. Topfort 187/230 Accessories Kit
The Topfort accessories kit comes with well over a hundred pieces of fishing tackle that can serve any fisherman for a very long time.
In fact, with this accessories kit, all you need is a fishing rod, line, reel, and a boat, and you are good to go. Topfort can be a great starter package for any retiree who is looking for a new hobby.
All the fishing accessories in this kit are made from stainless steel; therefore, this kit can serve him for a very long time.
Plus, for easy carrying, all these accessories are packed in a compact box that has an elastic lanyard.
More Fishing & Retirement Gifts
For further inspiration, check out these resources:
Now that you're O-Fish-Ally retired…
Retirement is an exciting time! And it's worth celebrating with a fun, unique, or useful fishing retirement gift.
You can get the retiree a gift that will support their existing hobbies or introduce them to something new.
Either way, now that they are O-Fish-Ally retired your gift will be something special that shows them what they meant to you and that they will always be thinking about them.
Pin It