We want to provide you with a ton of meaningful goodbye gifts for friends moving away.
It's hard when friends say farewell. But don't be too downhearted! You can always get them some unforgettable moving away gifts that will remind them of you and the friendship you share.
Just because they're starting a new journey and you have to say goodbye doesn't have to mean the end to your beautiful friendship. Below, you'll find the perfect going-away gifts to let them know your feelings.
Top 10 Farewell Gifts
Our website is supported by our users. We sometimes earn a commission when you click through the affiliate links on our website. See our privacy policy & disclosures for more information.
1. Personalized Home Portrait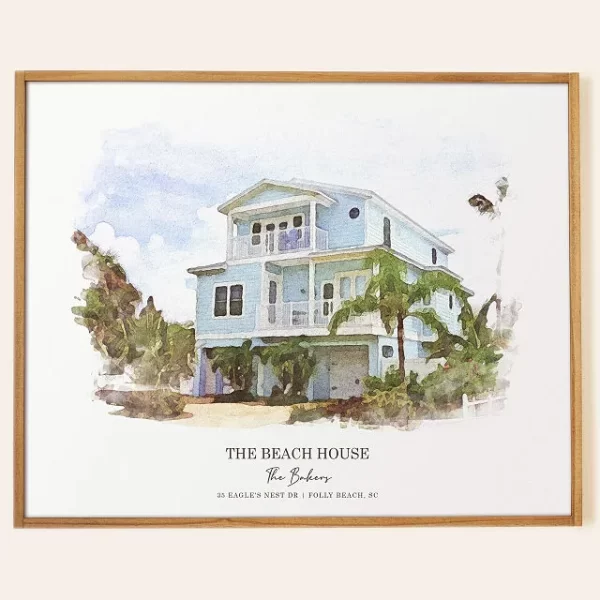 Home is where the heart is. They may be leaving their current home behind, but that doesn't mean they can't take all of their wonderful memories with them! Enter these beautiful custom house portraits.
Send a picture of their house to digital artists John and Rachel Stewart, and they'll turn your friend's beloved home into a piece of art to take with them when they go. Such a thoughtful gift, don't you think?
2. Hosta La Vista Baby Card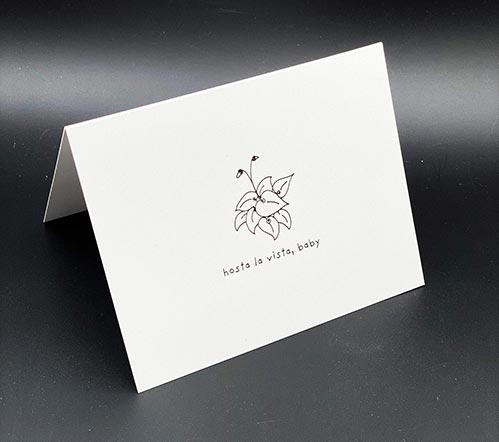 Here's a great card to say so long and goodbye! Use some healthy sarcasm to let your friends know you will miss them and you hate to see them go.
Cards are printed on bright white card stock and are blank inside for your personal message. Matching white envelopes are included.
3. Wine Label & Bottle of Vino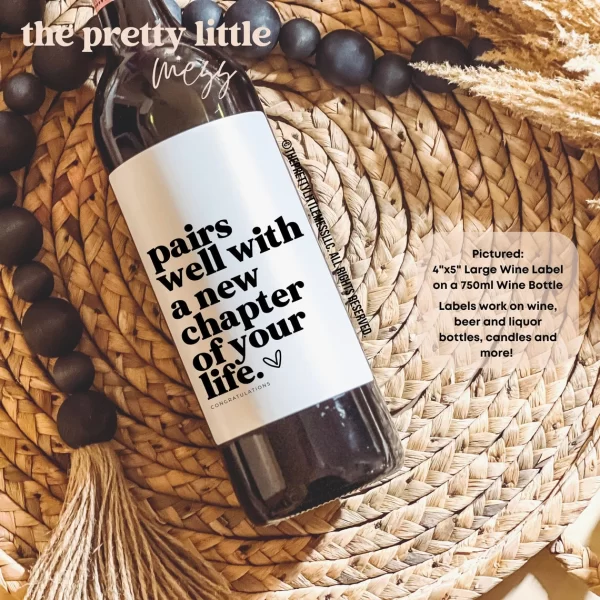 Sometimes you just can't go wrong with a delicious, celebratory bottle of wine. Plus, it's something they can consume, making it one less thing they have to pack.
Take your well-wishing bottle to the next level, though, with one of these custom labels!
This is a time of excitement, new adventures, and a lot of change for them, so a relaxing glass of wine may be just what they need, making this a perfect going away gift.
Related: 10 Elegant Gifts for Minimalists
4. DIY Care Package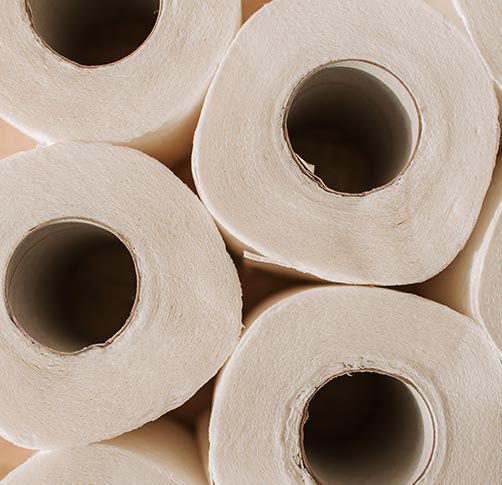 Moving takes a lot of time and money. Fill up a box with helpful moving items such as paper plates, napkins, plastic utensils, fast food gift cards, cleansers, and paper towels — just to name a few items.
Care packages are always appreciated and a simple way to help them out — especially once they get to their new home and realize they're fresh out of TP!
5. Skylight Digital Frame
For close friends or family that are moving away, these Skylight digital photo frames are a great gift idea and the perfect way to make sure they don't forget about you!
No matter how far they roam, you can upload new pictures anytime, anywhere so long as you have the skylight frame"s custom email address.
It's a great way to keep in touch and updated on what's going on in each other's lives even if you don't have time for talking or writing.
6. Custom Engraved House Portrait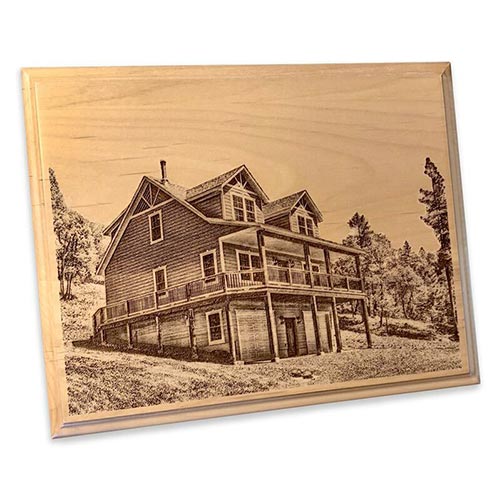 A custom home portrait is a wonderful gift for that first time homebuyer. This plaque boasts a photo of the home, laser-engraved onto alder wood.
The portrait looks like a pencil sketch and will fit into any décor. You can even have the backside engraved with a special message. It's a going-away gift they will treasure.
7. New Beginnings Care Box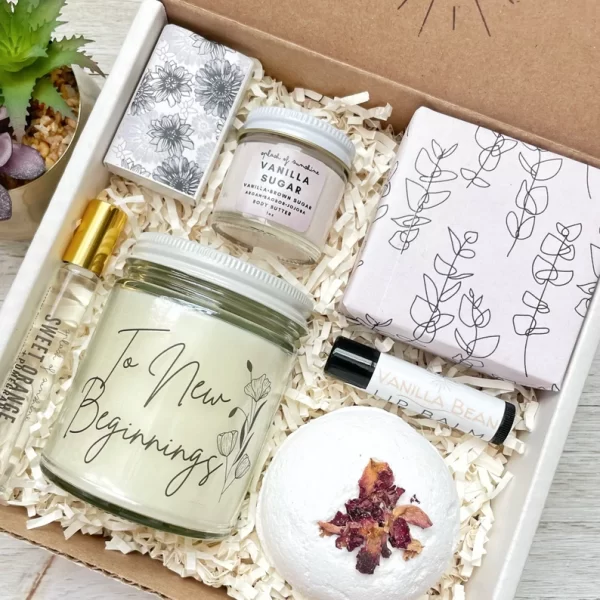 When friends are moving, stress can oftentimes be through the roof. There are movers to schedule, real estate agents to call, a house to pack and clean… Help them take care of themselves (for at least a moment or two) with this wonderful care gift box.
Filled with all sorts of calming and relaxing items, they'll will appreciate such a thoughtful and caring gift. And it's so prettily arranged, too!
8. Label Printer
Organization is a plus when you are moving, packing, and unpacking. Help them keep everything in order with the stylish label printer that makes the perfect present!
This smartphone label maker with direct thermal technology doesn't require ink, toner, or ribbons. They will be able to keep repackaged food, computer cables, and so much more labeled and in order.
9. Collapsible Dolly
If ever there was a time for practical gifts, it's when someone is moving away. This super convenient, easy storage collapsible dolly will really come in handy when crunch time comes.
Designed to hold (and wheel around) up to 500 pounds, it will save their legs and back a ton of strain and make moving days a breeze. Plus, it folds flat for easy storage once they've settled into their new house. A win-win!
10. Goodbyes Plaque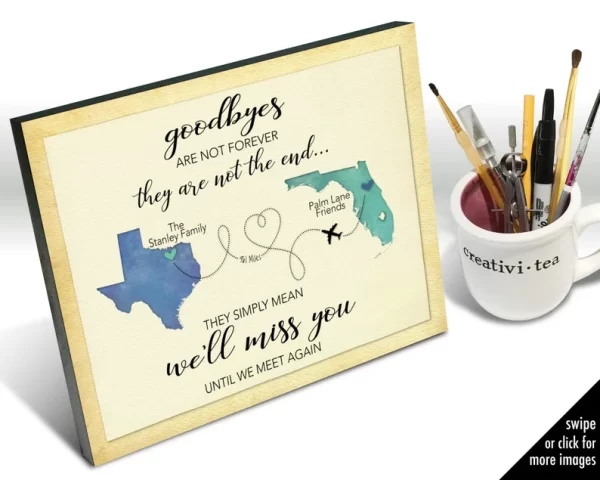 It may just bring a tear to their one good eye! This sweet goodbye plaque is chock full of love and sentiment, and makes such a great moving away gift.
Your farewell friend will see this plaque over and over again, always remembering you and your thoughtful gift. It may just be the next best thing to packing p and going with them.
5 Best Moving Away Gifts for Him
What do you get for a bro that is moving away? Here are some stellar ideas.
11. Lifting Assist Back Brace
The moving process means packing and lifting, and packing and lifting often means pain. Well, for a lot of us anyway. If you aren't one of the 10,000,000 people on this planet with back problems, a hearty congratulations is in order.
But if you are (or he is), then this fantastic lifting assist back brace is exactly what is needed. Give your back the support it needs and save yourself some money in the long run: i.e. not buying 50 icy-hot patches and/or a trip to the ER.
12. Key Holder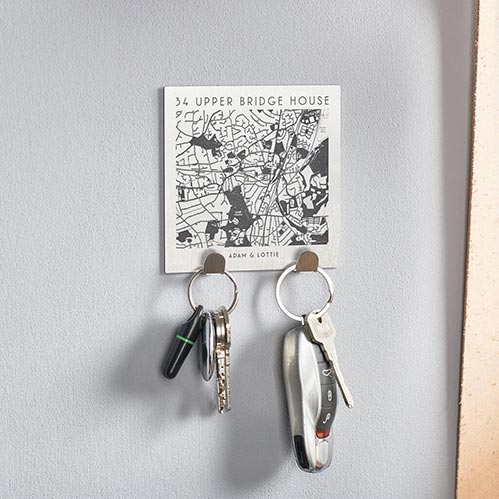 They will for sure enjoy this personalized stainless steel map key holder! The keyholder displays the location of their home, address, and their names.
They will appreciate a "welcome to your new home" gift like this one. Keeping their keys safe and in one place as they adapt to their new surroundings will be a huge plus.
13. Leather Work Gloves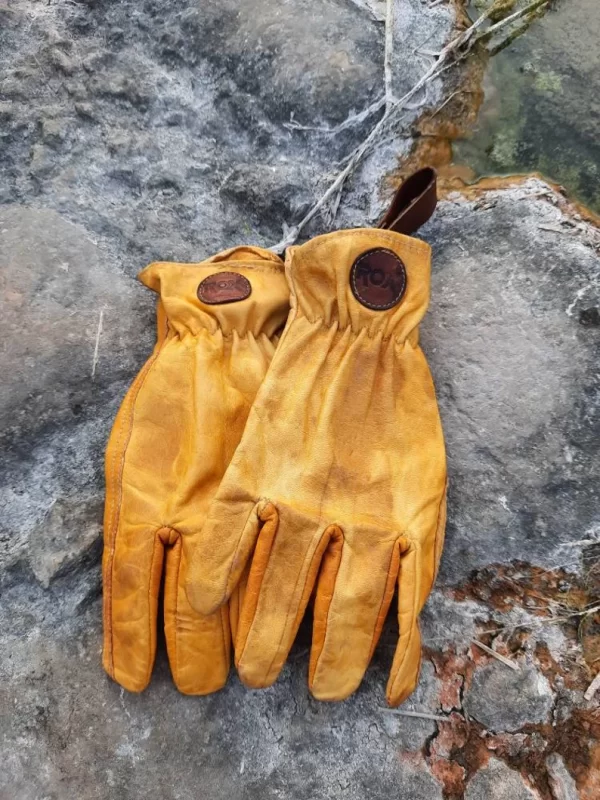 Another great practical gift idea for him would be this awesome pair of work gloves!
There's a lot that goes into a move. Not just packing, but home improvement projects, yard work and landscaping, and all sorts of other activities that can do a number on his hands.
Help keep his mitts safe and guarded with these durable, genuine leather work gloves intended for any task he finds himself saddled with.
14. Auto Storage Organizers
Most likely there will be a pod or a U-Haul or a moving truck involved somewhere, but for those odds and ends and small items, he'll most likely need to use his vehicle.
That's where these fantastic auto organizers come in handy! Conveniently designed to fit into the back of his rig, they are compartmentalized to keep all of his goods as organized in the transfer as possible.
And the bonus is that these are great for anytime use, not just for while he's moving. A gift that just keeps giving.
15. Five-Ingredient Cookbook for Men
He will say goodbye to fatty takeout foods with this easy-to-follow cookbook!
With this cookbook, he'll learn cooking basics and how to set up his brand new kitchen with the right utensils and tools. From breakfast to dessert, he can enjoy making yummy meals that only take a few common ingredients. A great present for the guy moving out on his own for the first time.
What if he's leaving for the military? Read Military Going Away Gifts for Deployment
5 Best Moving Away Gifts for Her
When your sweet gal pal bids adieu, give her a going away present that will leave a lasting impression.
16. She Believed She Could Tumbler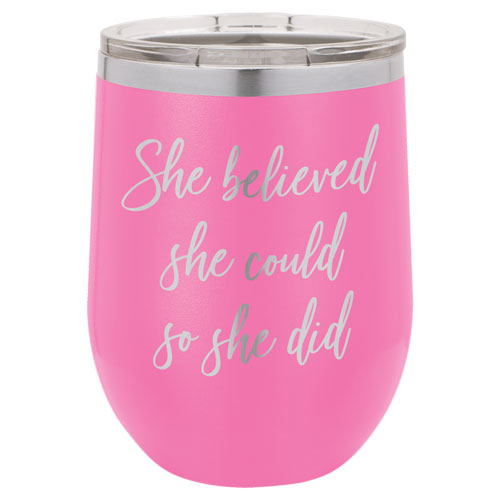 She will definitely enjoy sipping a cold beverage from her insulated wine tumbler while traveling to her new home.
You can have her name or an inspiring message laser engraved onto this travel tumbler just for her. This functional, amazing gift will be one of her favorites! Many more colors and styles available, too.
17. When in Doubt…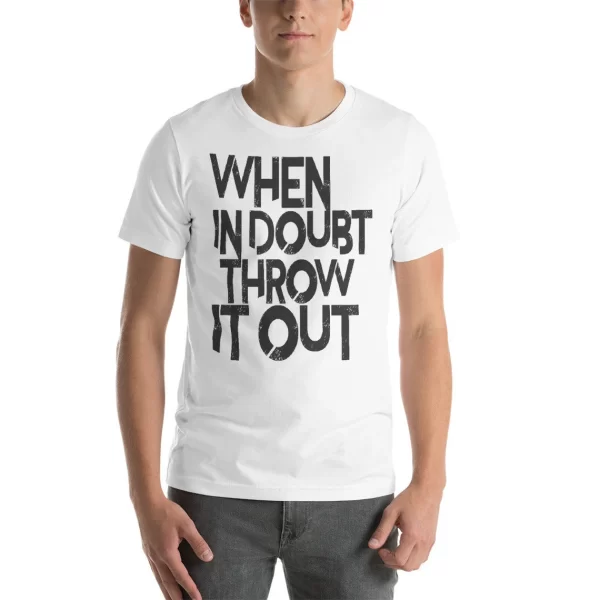 It may seem like a no-brainer, but she will still need to be reminded as she packs, cleans and organizes. And he will, too!
This great, comfy "when in doubt, throw it out" t-shirt will be perfect for moving season, and really all year through. Made of soft cotton and available in a bunch of colors and sizes, you can pick whichever one suits her best
18. I'm Outta Here Makeup Bag
An adorable going away gift for her! This makeup bag is a great way to wish someone a "Happily Ever After" and is a great idea for a practical gift.
Made from flax, this "I'm outta here" makeup bag is sure to last for a long time. Soft and flexible, she will stuff it with all of her essentials for the big move.
19. Glow 'N Grow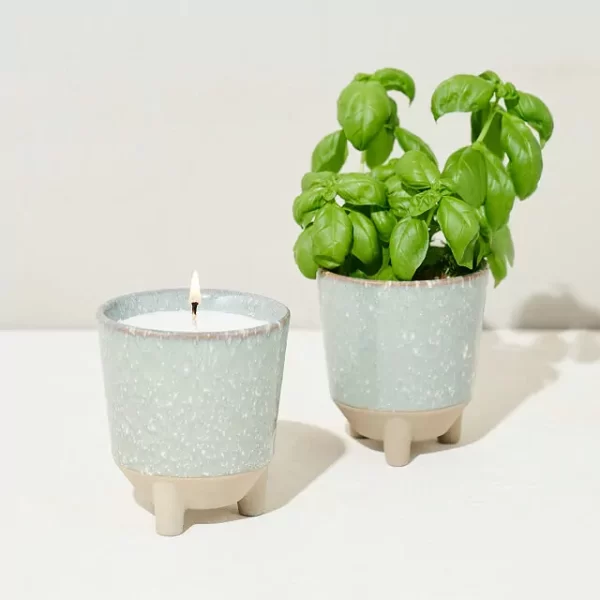 These Glow & Grow kits are just so neat! Perfect for a moving gift, she can easily pack away the delightful candle to burn in their new home. Once the wax burns away, she can use the gorgeous vessel to plant the included herb seeds.
The soy-based candles are made in small batches, are hand-poured in the US, and have a burn time of 78 hours. The non-GMO organic seeds also come with plant food for easy care.
20. Keep Me in Your Heart Mug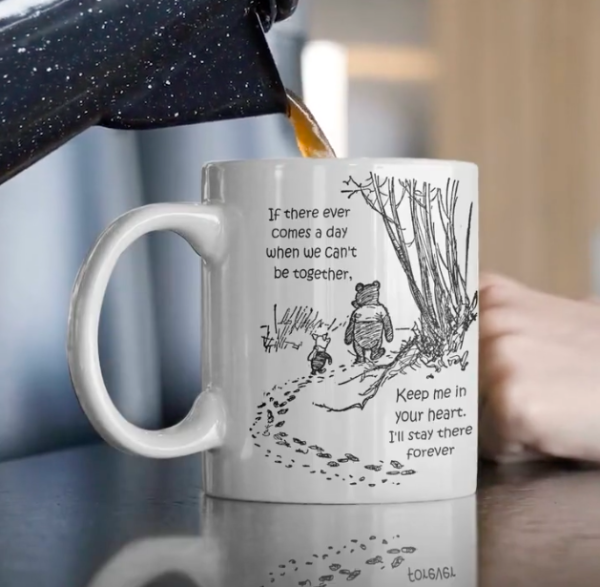 "How lucky am I to have something that makes saying goodbye so hard." — Pooh.
If it's one of your BFFs that happens to be moving away, and you and Pooh suddenly have more in common than ever before, then this sweet mug may be just the thing.
She'll love having this precious mug to grace the cupboard of her new abode, and she'll think of you each time she reaches for it. We have a feeling that will be quite often, too. A just-right going away gift for your special friend.
More great moving away gift ideas: 21 Perfectly Personalized Gifts for Her
5 Great Moving Gifts for Parents
While it's often the kids that are heading out into the big, wide world, sometimes the reverse is true. When your parents are the ones going away, here are some thoughtful gifts to express your love.
21.These People…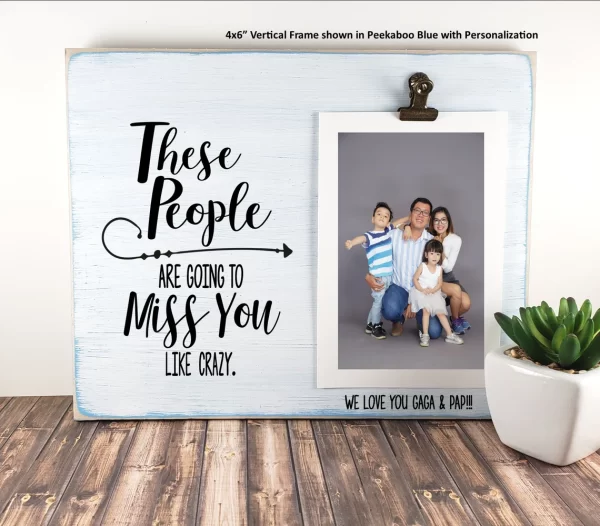 It's touching because it's true! You and your family will miss them so much, but you know they wouldn't be moving unless it was in their best interest.
This sweet personalized picture frame will remind them of your love each and every time they see it. And there are lots of customization options, too, to make it a unique gift just for them.
22. Money Tree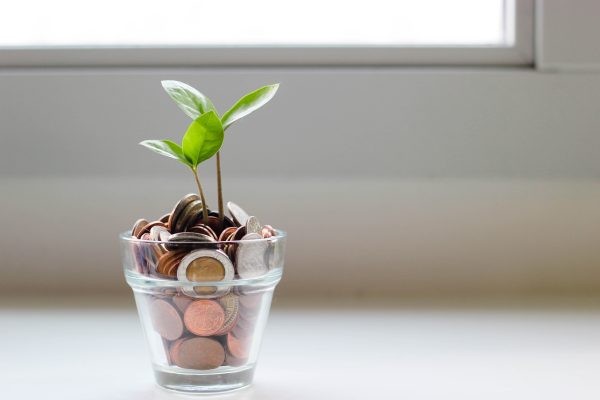 Let's be honest. We all know that moving houses can be A.) a lot of work and B.) a huge expense.
One thing you can do to be a huge help would be to host a going away party and provide a money tree to help them offset costs a tad. People can pitch in a little or a lot.. but every bit helps.
And it doesn't have to be entirely monetary! People can even write down tasks they are willing and able to help with on slips of paper (think "packing up dishes" or "loading furniture on the moving truck") and clip them to the tree, as well.
As the saying goes, many hands make light work. The last thing they need is to be stuck doing everything all on their own.
23. Clothes Storage Organizer
Here's a great storage option for clothes, both while moving and to organize the closet! It is spacious for comforters, blankets, pillows, jackets, or other clothes.
The organizer is made from high-quality, non-woven fabric. The fabric promotes ventilation and protection for your parent's things both during the move and after.
24. Fireproof Photo Storage
They need one of these organizers, stat! No questions. If there is one thing that parents tend to have an abundance of, it's photographs.
Embarrassing toddler photos of you covered head to toe in spaghetti, your older brother with his first car, your grandparent's wedding… All important memories captured on film.
But if your parents are anything like mine, those precious memories are stashed in cupboards, boxes and billfolds all over their house. These incredible fireproof photo organizers will be so appreciated and put to good use.
25. Personalized Family Name Plaque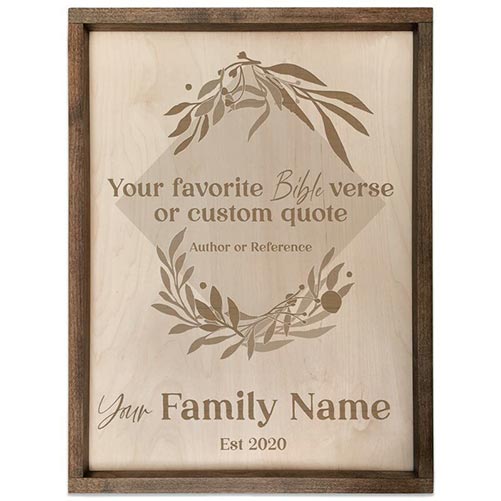 You can personalize the family name sign by adding your parent's favorite quote, saying, or scripture verse. Our plaques are made to last, proudly handcrafted from wood in the USA.
You have a choice of three floral shapes for the background of this beautiful, high-quality wooden plaque that will last years to come!
5 Best Moving Away Gifts for Friends
If your bestie or one of your closest friends is hitting the road, here are some sweet, charming, clever, fun, and interesting farewell gift ideas to remind them of you!
26. One Dozen Reasons I Miss You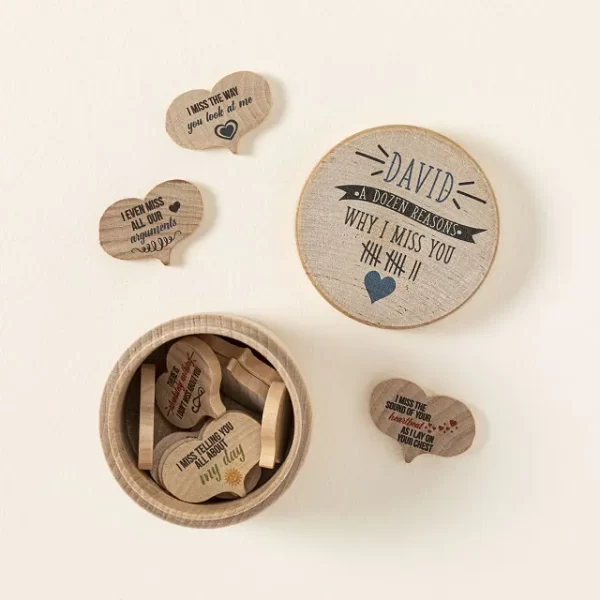 They haven't even left yet, but you're already thinking about all the reasons you miss them. And we're sure they're probably thinking the same about you, too!
Customized with the 12 reasons you'll miss them most, this precious, sentimental gift will be so adored, and they can pull it out whenever they miss you.
27. Love Between Friends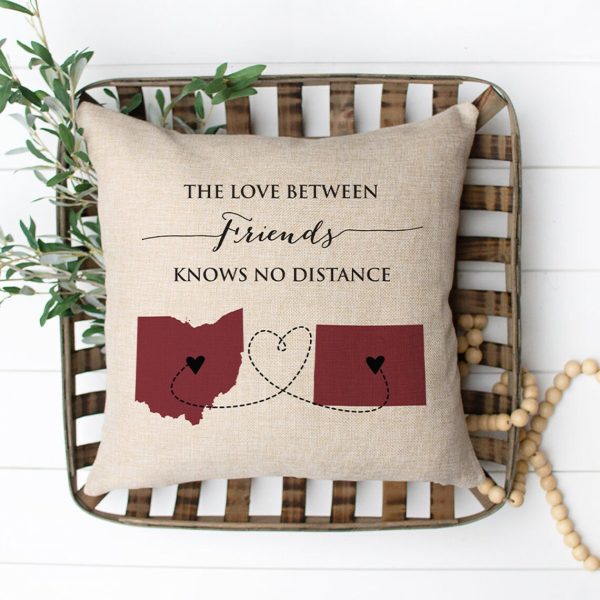 This pretty throw pillow will look so great on their couch or bed! And it's so true, isn't it? True friendship knows no distance.
You can customize this cute and cozy pillow with you and your friend's respective states, and you have an instant keepsake on your hands. They'll love it.
28. Distance Necklace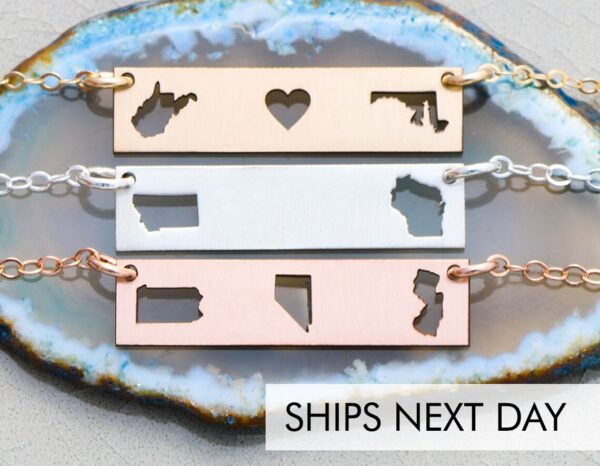 A wearable farewell gift like this distance necklace makes for a sweet "goodbye" to your friends. Pick your respective states and you have a personalized piece they'll treasure.
29. Scrapbook Photo Album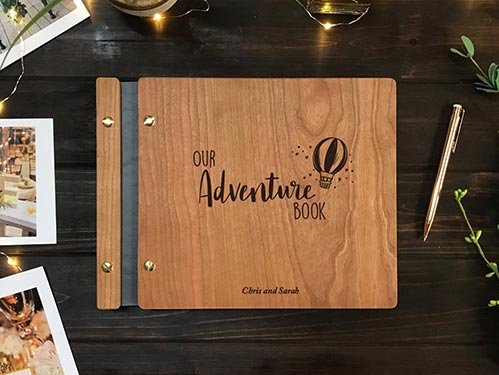 A hand-made "Adventure Book" is something to be treasured. They will fill it with all of the adventures you've shared together.
Old memories and new memories alike are meant to keep, treasure, and share. Sentimental items like this make perfect goodbye gifts.
30. "We Go Together Like" Coaster Set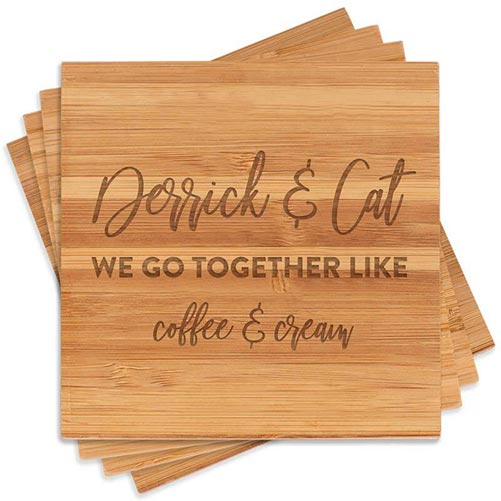 Personalized bamboo coasters can be etched to say "We Go Together Like" — thunder and lightning, peas and carrots, Rhett and Scarlett — whatever you think suits them best.
Made from beautiful and sustainable bamboo wood and includes a matching bamboo coaster holder.
Like rama lama lama ka dinga da dinga dong!
Check out our "We Go Together Like…" quotes article to find your favorite one!
5 Good-Bye Gifts for Neighbors
Neighbors come and go, but the relationships that you develop along the way is a good part of what makes your house a home. When a neighbor moves away, show them how much you've appreciated them by giving them a farewell gift.
31. Best Neighbors Ever Bird Feeder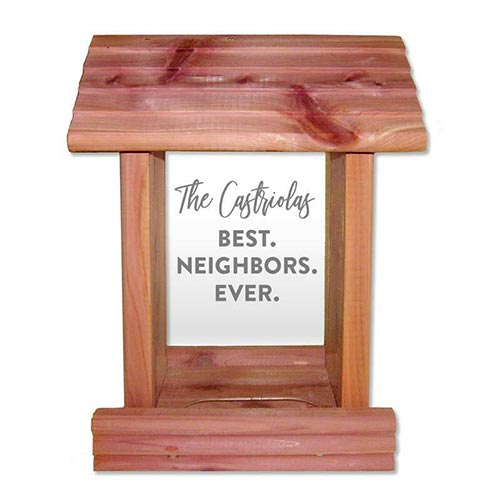 Our personalized feeder will welcome sweet native birds into their yard. Made from aromatic cedar, this bird feeder will last for years to come. And it's the perfect gift for any bird watcher (or wannabe bird watcher)!
Let them know they have been the Best. Neighbors. Ever. They will appreciate your sentiments.
32. Mi Casa Figurine
The Mi Casa hand-painted resin figure is a beautiful way to let your beloved neighbor know that they will be missed, and that they are always welcome to come back and visit.
Your new neighbors will be able to place it on a shelf, coffee table, or dresser — it'll add a touch of beauty to any room as they begin to welcome their new neighbors.
33. Warm Hug Care Package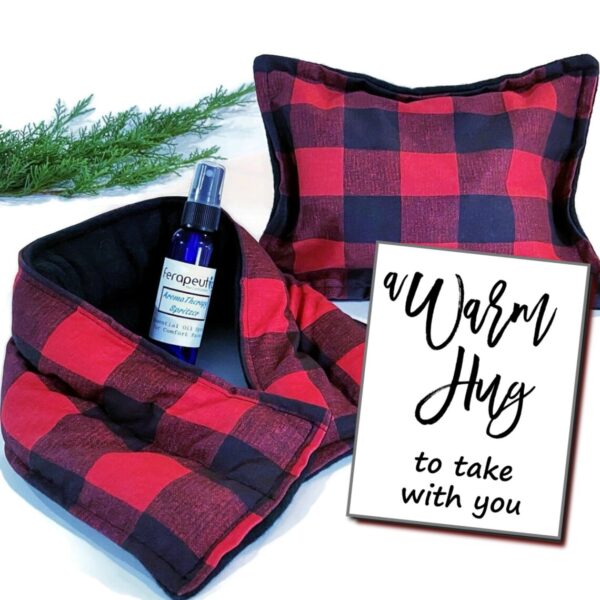 If you've ever moved, you know it doesn't take long for that homesick feeling to settle in. Whether they're moving across town or across the country, it'll be sooner rather than later that they'll start missing your company.
This comforting care package will send them off with a warm hug they can keep on hand for when they need it most! With the cute card, calming essential oil spray, and warming heat wrap, they'll be so grateful for the relief it brings.
A gift that's both practical and sentimental — a win-win!
34. Organic Gardening Kit
If your neighbors are gardeners, this garden seeds starter kit will be helpful for them to start their garden afresh at their new home.
This organic kit includes everything they need to start their own veggie garden. No need for any extra trips to the nursery.
More: 40 Gifts for Gardeners That They (Probably) Won't Compost
35. Wine Bag
Give them a bottle of wine with this humorous wine bag. It's a fun twist on the traditional housewarming gift, and it will probably elicit a few chuckles, too.
But hey, it's true. If they aren't moving too terribly far away, they've become your new excuse for getting out. Congrats to them and you.
Related: Best Gifts for Neighbors Moving Away
5 Best Moving Away Gifts for Coworkers
At any job, your coworkers will come and go for various reasons. When a good work friend is moving away, here are some gifts you can give that will convey something of how much they will be missed during the daily grind.
36. Work Will Succ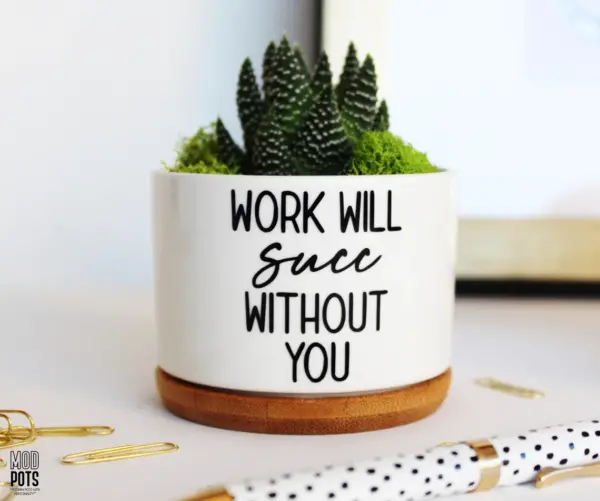 These small succulents are great going away gifts for friends who also happen to be coworkers. They can set it in the window of their new abode to add that first touch of life.
This little plant offers a funny way of telling your coworker how much they will miss you. They will be sure to smile whenever they read the message on the front of the planter.
37. Good Luck Candle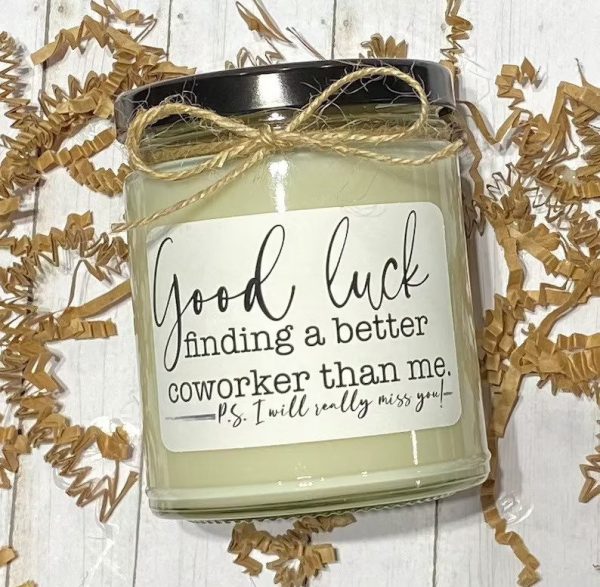 Hey, they know it's true…
This pretty candle will make a wonderful going away gift for your coworker who is moving away.
Hand crafted and poured with non-toxic soy wax, you can choose from five delicious scents including non-scented incase they have a sensitivity to fragrances.
Related: 15 Eco-Friendly Gift Ideas
38. New Chapter Signature Sign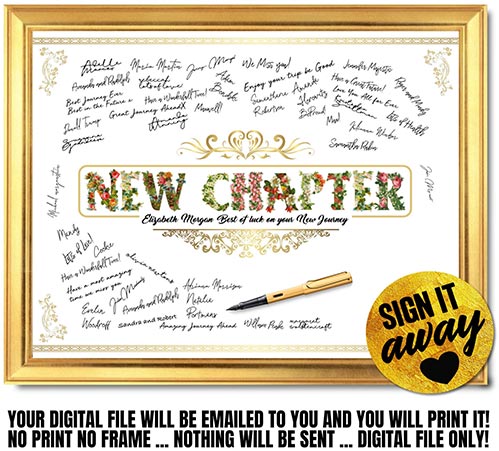 Here's a moving gift that is beyond the normal – this is something your coworker will treasure and will hang in their new office.
Let that special coworker know how much they will be missed. Write your own special note on this digital download. Print at the office and have everyone sign.
39. Dead to Us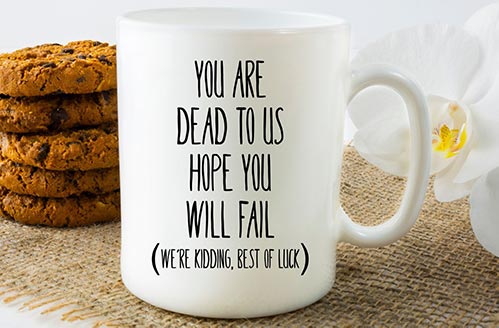 A tongue-in-cheek way to get your message across: Despite the macabre wishes, you really will miss them a lot. Your departing fellow employee will use this coffee cup over and over.
It's a great way to never be forgotten by that special coworker.
40. An Amazing Coworker
Your coworker will be thrilled with this sweet gift.
Let your friend and coworker know they will always be missed, and that you all wish them the best of luck in their new job, home, and endeavors.
Related: 11 Coworker Retirement Gifts
5 Best Long-Distance Gifts
Sometimes people set out on a new adventure and your friendship or romance has to continue as a long-distance relationship. Any one of these items would make meaningful moving away gifts.
41. I Miss Your Face
They haven't even left yet and you already miss them like crazy! We're sure they feel the same way.
They can give this sweet teddy bear a gentle squeeze whenever they think of you. It's a comforting little reminder of your relationship — no matter the distance that separates you.
Related: 50 Warm & Cozy Gifts for the Best Snuggles
42. Key to the House Keychain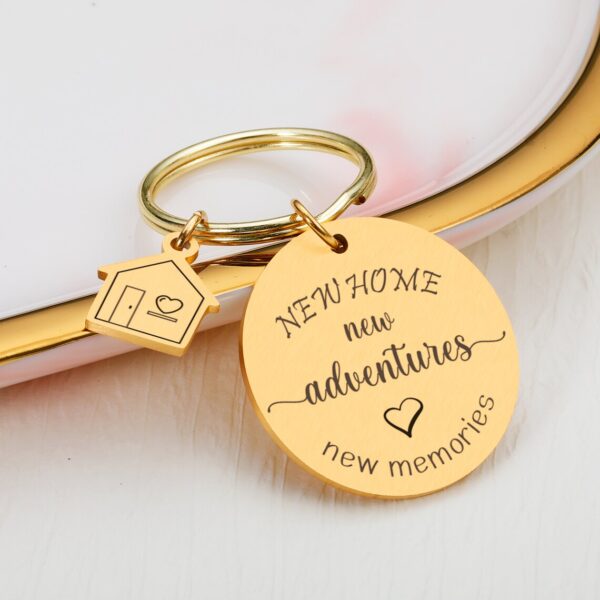 Give your friend a welcome home with a new keychain. This pretty accessory is a sentimental reminder that there are new (and just as wonderful) memories to be made in the future.
A simple yet classic design they are sure to appreciate.
43. Matching Jewelry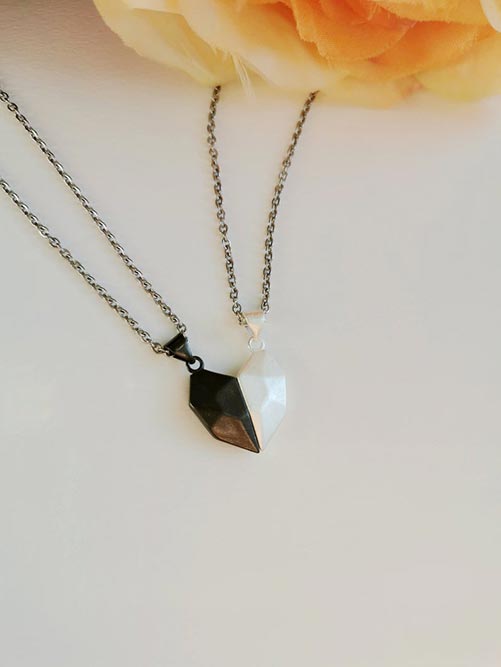 A long-distance friendship needs a little boost to feel connected. And a hand-crafted magnetic necklace set is an adorable way to connect.
The gift of magnetic pendants will be a gift to last a lifetime.
44. Long Distance Touch Lamp
Now you can connect with your friends no matter where they are.
Touch your Friendship Lamp and their lamp lights the same color as yours. When they respond by touching their lamp back, both lamps will light up with a new color!
These are excellent farewell gifts for friends or family that are living apart from each other.
45. Personalized Miles Between Us Keychain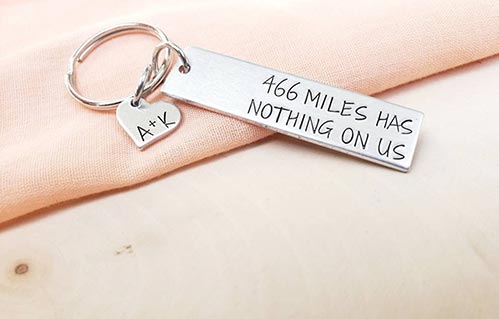 Let your loved one know that no matter the distance, you are always together. You can personalize their keychain with a custom number of miles. Then add a small heart with initials for a special touch.
The hand-made key chain is crafted from sturdy aluminum.
More gifts: 60+ Long Distance Relationship Gift Ideas
5 Last-Minute Moving Away Gifts
Let's face it; sometimes we don't plan ahead very well. When you need moving away gifts right now (or at least very soon), these are some stellar ideas.
46. Paid Vacation Trip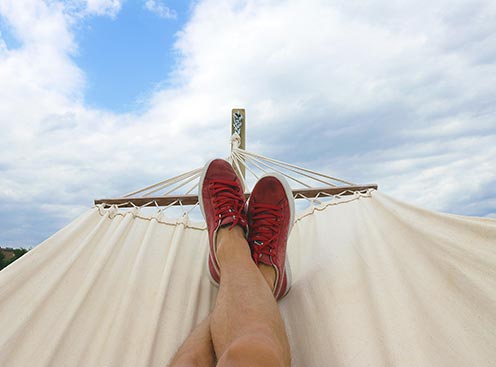 Anyone that has taken on a big move knows how exhausting it is. You are going to need a break.
Tinggly offers the best experience packages for a single traveler or for couples.
There are hundreds of experiences to choose from in all of the major cities and tourist destinations throughout the world. Here's how it works:
You purchase a gift package, which is basically a gift card for the experience of their choice. Prices range from (give or take) under a hundred bucks up to about $300. The recipient can redeem it for whatever adventure they choose, which could be a hot air balloon ride the next town over, a wine tour at a local vineyard, or snorkeling in Hawaii.
They just need to get themselves there! With hundreds of options throughout the USA and around the world, it won't be too hard for them to find something fun, near or far.
47. Notes in a Jar DIY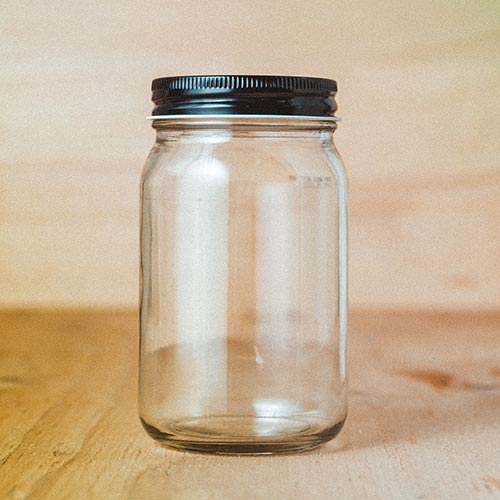 A playful way to lift the spirits of anyone! Fill a jar with uplifting and encouraging messages for them to read when they are feeling homesick.
A thoughtful gift to let them know you are there for them.
48. All the Gift Cards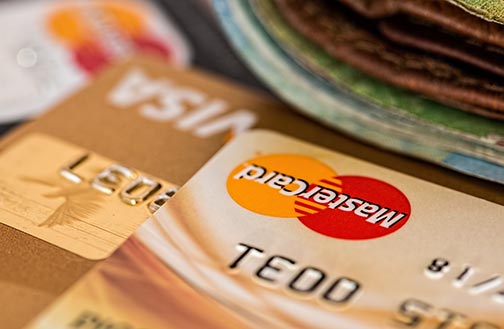 On your way to visit your friends in their new town, stop by all their favorite restaurants and get them a gift card!
Make sure to double-check that there is one located wherever they're moving to. It's a gift that they will appreciate and definitely use.
49. Welcome Home Cookies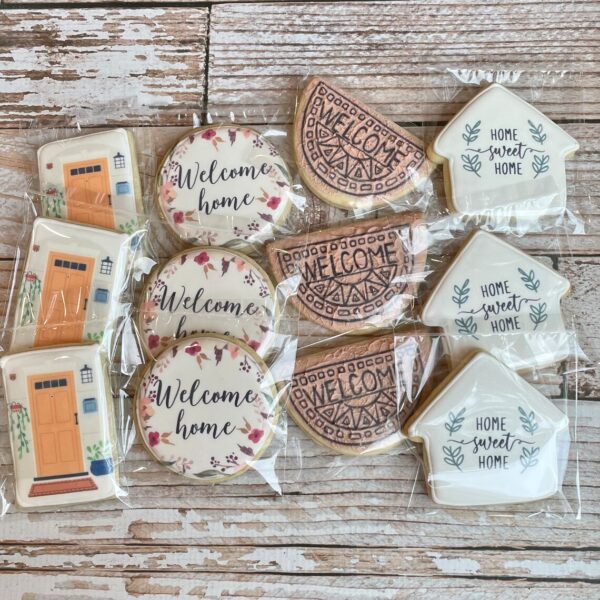 Yummy hand-made housewarming cookies are an exceptional gift idea. Your fresh baked cookies are a great way to wish them well as they head to their new neighborhood.
Personalize these cookies with their names in royal icing. A gift the whole family will rave about.
50. Spa Day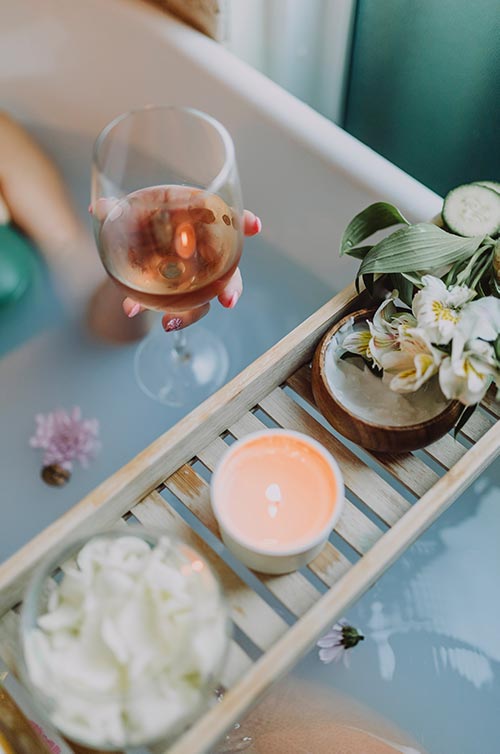 Treat your friend or new neighbor to a spa day. A wonderful way to relax after a hard move. Packing and unpacking, putting everything away, and cleaning up takes a lot of effort and time.
Give the gift of "unwinding" at a favorite salon. Nothing takes the edge off like a massage, a facial, or a mani/pedi.
More: 21 Amazing Last-Minute Gifts
5 Funny Moving Away Gifts
Here's how to say goodbye with a smile!
51. Life Size Photo Of Yourself
Here's a hilarious gift that will ensure that you won't be missed. Make a life-size cardboard cutout of yourself as a silly way to say "goodbye."
It's a moving away gift that will bring lots of laughs. Put your best smile on, and have fun with this life-size cutout!
Related: 100 Amazing (& Family Friendly) Gag Gifts
52. Leaving Definition Card
They'll get a kick out of this passive aggressive greeting card that they know — despite its message — is well intended. Hey, the fact that you're so salty just means you care, right?
It's not one that they'll be tossing anytime soon, and it will become a cherished memento and reminder of your time together.
53. Bye, Felicia Balloon
Choose from a variety of colors for these 100% biodegradable "Bye Felicia" balloons.
No party is complete without balloons. And no departure is complete without someone saying the iconic line from the 1995 film Friday.
Fill these 12″ pre-printed balloons with helium and hang them around the room as a joking way to say goodbye. It's a sarcastically fun expression to let them know you care.
Related: Going Away Party Ideas
54. Sorry You're Leaving Notebook
This not-so-subtle notebook is a silly way to let your friend, neighbor, or coworker know they will be missed.
You can write them a personal note to let them know how you feel. You might even want to throw in a pen; they will appreciate your consideration.
55. The Art of Happy Moving
Do you know someone who could use a little extra help and guidance for their move? While a bit tongue-in-cheek, this book is also entirely helpful.
This entertaining book will help prime them for the move. They will learn the ins and outs, the do's and don't's of moving. A book they will enjoy and might even read every time they have to pack up and go.
Moving Away Party Ideas
Virtual Farewell Party – For when you can't say goodbye in person.
Destination Theme Party – Decorate and prepare food based on the location they are moving to.
Backyard Party – Filled with BBQ, swimming, smores, and end it off with a backyard movie night.
Paint the Town Red – help them enjoy their last night in town by doing everything they love one more time! Amusement parks, bars, clubs, restaurants, bakeries, movie theaters, bowling, ice skating, etc.
Packing Party – For a large move, help your friends pack up their stuff in a packing party. Every one helps with boxing up and loading the truck while spending time together
What to Say to Someone Who is Moving Away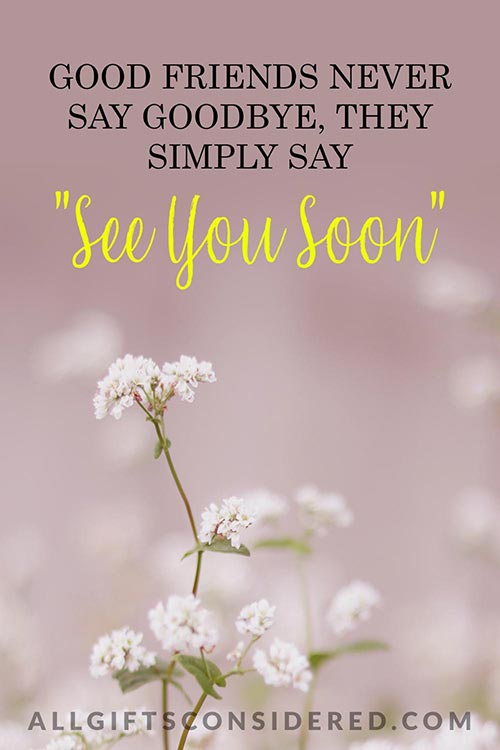 Good friends never say goodbye, they simply say "see you soon"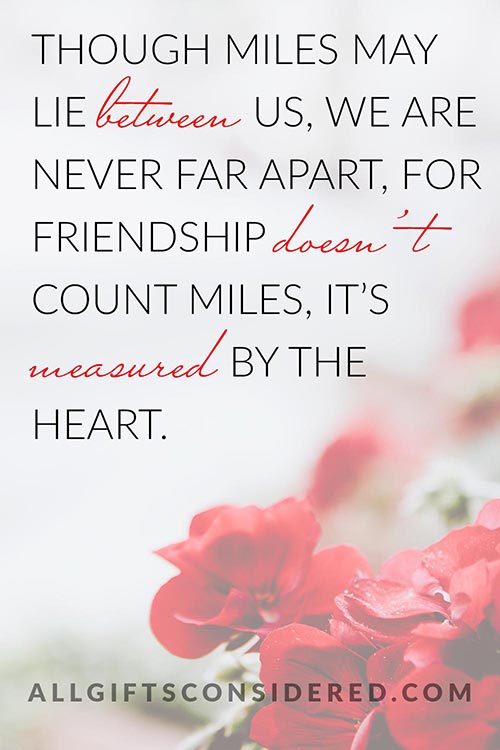 Though miles may lie between us, we are never far apart, for friendship doesn't count miles, it's measured by the heart.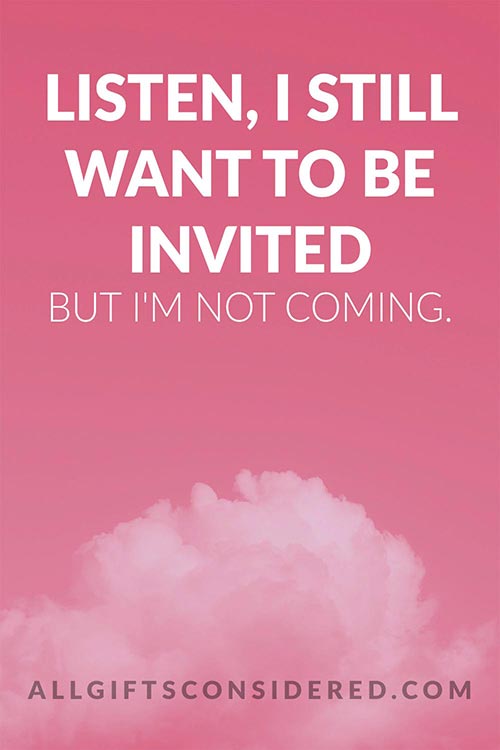 Listen, I still want to be invited but I'm not coming.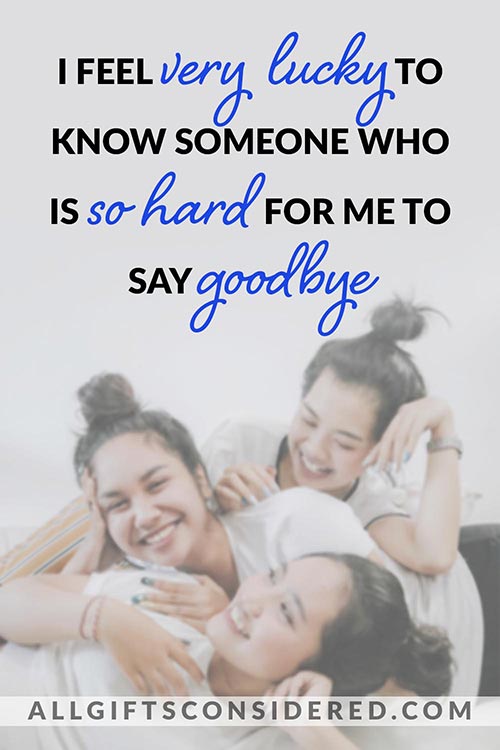 I feel very lucky to know someone who is so hard for me to say goodbye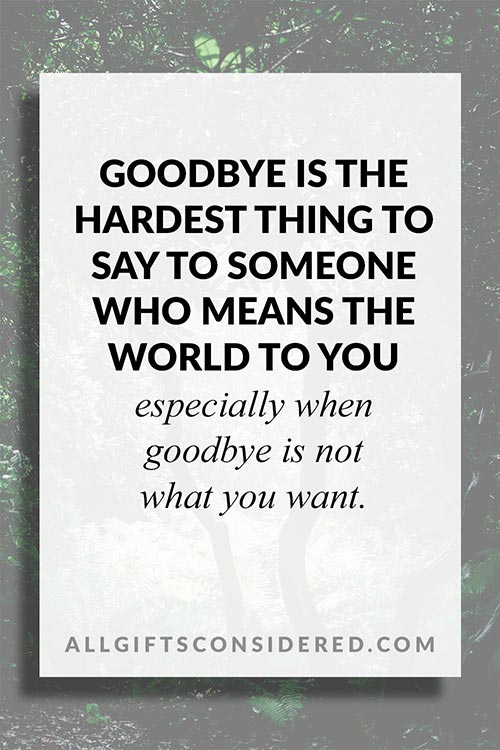 Goodbye is the hardest thing to say to someone who means the world to you, especially when goodbye is not what you want.
How to Cope When Your Friend Moves Away
Start up a pen pal friendship with them through the mail
Take plenty of photos to look back on after they leave
Host a goodbye party
If necessary, see a therapist to help process your grief
Make plans to visit each other!
Thoughtful gestures never go out of style. Let them know that you love them, miss them, and think of them. Life just won't be the same without them.
Stay in touch – distance doesn't have to mean the end of your friendship.
Curious how much you should be spending on your good-bye gift? This guide may help you.
Read next: 60+ Long Distance Relationship Gifts That Surprise & Delight