How can you tell the special gardener in your life "Thank you!"? Or, "We love you!" Or even, "Keep giving me all your excess organic vegetables!"
Answer: With a gift. Duh.
We have compiled a comprehensive list of gifts for you. Go ahead and enjoy shopping for your loved one.
Can't decide on just one? Go ahead and pick a few!
10 Best Gifts for Gardeners
Our website is supported by our users. We sometimes earn a commission when you click through the affiliate links on our website. Learn more here.
1. Personalized Best Gardener Ever Tumbler Mug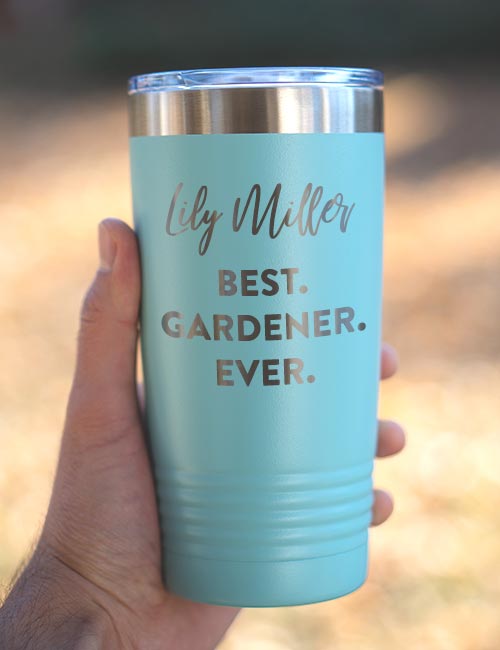 Our durable and efficient custom laser engraved tumblers come in a variety of styles, sizes, and colors. They are etched with a personalized message designed for the gardener in your life.
You have seven colors and four sizes to choose from.
Compare our Polar Camel tumbler to the famous Yeti brand; ours is more affordable, and looks just as good with comparable performance. Crafted from stainless steel. These double-walled and vacuum-sealed mugs will keep your beloved gardener's drinks icy cold or piping hot for hours.
2. Family Garden Stone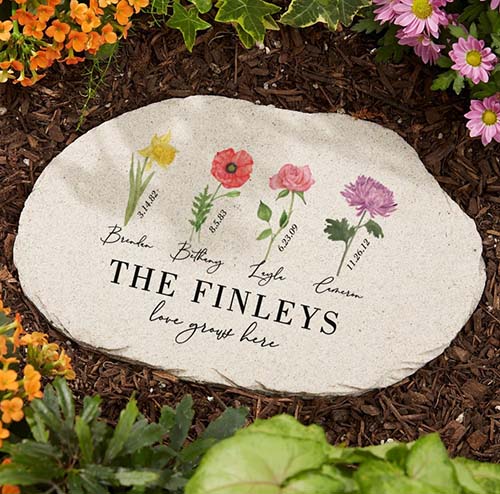 If you or your loved one enjoys being in the garden, the family garden stone is a must-have. It is extremely beautiful and helps elevate the look and feel of the outdoor space. You'll help add a stunning finish to the garden with this gift! It can easily sit in just about every type of garden or walkway.
Made using sand and polyresin material, this is a beautiful gesture that will make every gardener feel special.
3. Herb Planter Set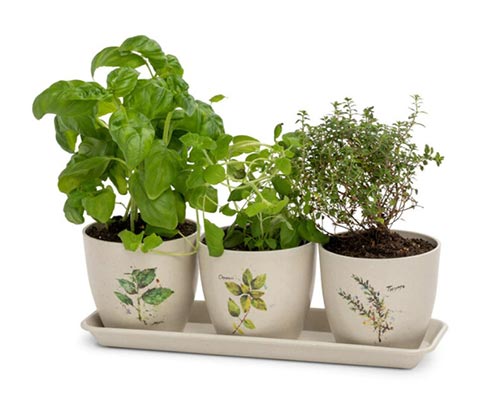 The art of Dean Crouser is featured on these gorgeous flower pots. This windowsill garden set is crafted from sustainable bamboo fiber composites and is decorated with three different herbs.
This is a set of three 3.75″ pots, plus one drip tray—a perfect gift for the nature-lover or gardener in your life.
4. Seed Planter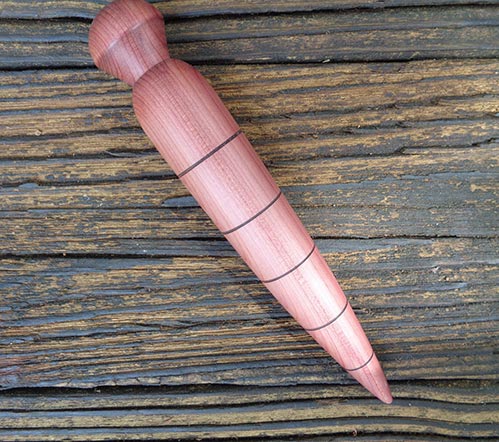 This is a garden dibber – a garden tool for planting seeds or bulbs, it's adorably shaped like a carrot and thus one of our favorite gifts for gardeners.
A dibber is used for creating a hole for planting directly into the soil. Marked with a groove on the inch so your gardener can easily measure the perfect seed depth.
Each piece is hand turned from Eastern Red Cedar, crafted perfectly then sealed and finished with oil and wax.
Your gardener will use this gift season after season!
5. Plant a Tree in Their Name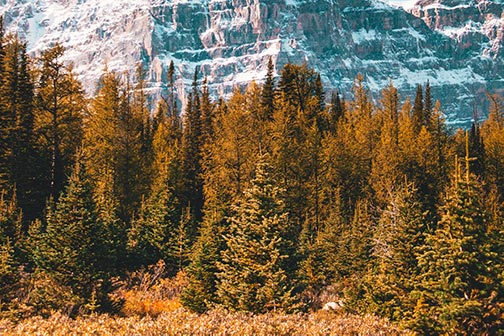 Dedicate a tree in your gardener's name.
U.S. National Forests cover 8.5 percent of the United States. They provide about 190 million acres of woodlands that serve as home to many species of animals. Dedicating a tree helps to restore fire-ravaged forests.
The gift of a tree can cost less than the average bouquet and can last for centuries.
Information about where the tree is located and photos of it are posted online. The recipient of your gift can go online and learn about the tree and even take a visit! This is a beautiful way to give back to our great country.
Related: The Gift of a Tree: 5 Tree Gifts That Make a Difference
6. Gardener Care Package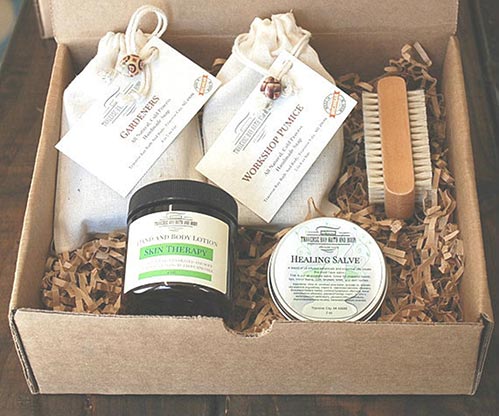 This complete gardener's care package includes Gardeners Soap, Workshop Pumice Soap, Boar bristle nail brush, Skin Therapy moisturizing hand and body lotion, and 2 oz. tin Healing Salve.
These products are all natural and handmade; packed in a sturdy shipping container.
Treat yourself and your loved one.
7. Angel of Garden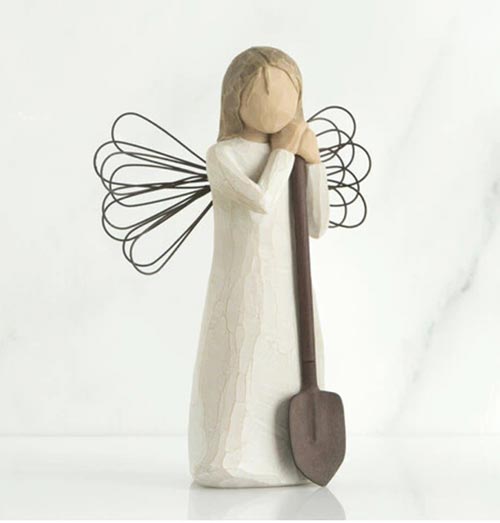 Angel of the Garden: Bringing forth a garden of love and beauty. She seems to be taking a break from the hard work of gardening.
Remind that special gardener in your life that they are a blessing to you. An angel, right here on earth.
This precious angel figurine is a hand-painted resin statue that stands 5.5″ high.
8. Greenhouse Tunnel Ten
The Greenhouse Tunnel Tent is a surprising and useful gift for a gardener that they will surely love. It withstands the elements and keeps plants insulated while ensuring that humidity levels are regulated for plants to flourish.
Featuring a walk-in tunnel, the arched tunnel shape allows you to grow all types of plants. The Greenhouse Tunnel also promotes quality airflow and is made of durable mesh.
9. Herb Markers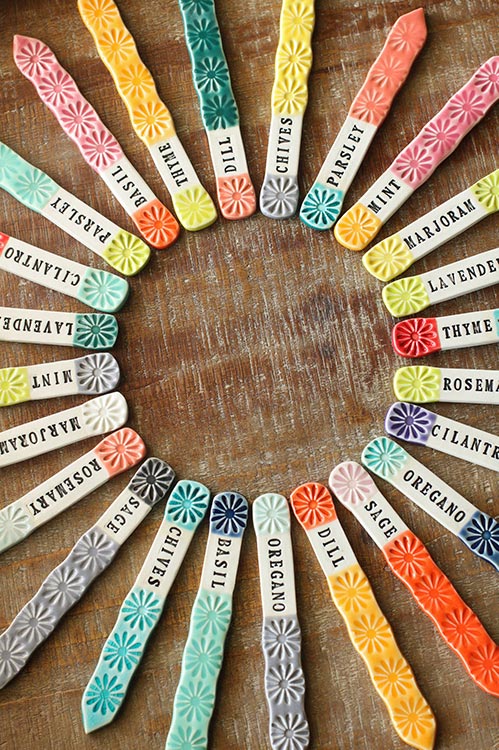 These herb markers are made from porcelain and carefully stamped with text and designs. What gardener wouldn't appreciate these unique markers? They will last season after season, with no fading. It makes an excellent gift for the garden enthusiast.
These colorful handmade markers measure 5 1/2-6 1/2 " L and 3/4″ W.
10. Fire Extinguishers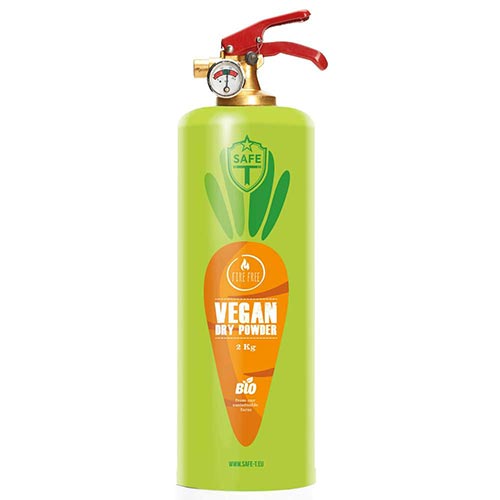 This is the fanciest fire extinguisher you will ever own or use.
Safe-T is made to be part of your home décor. Keep your fire extinguisher ready and in plain sight should you need it. Built per the strictest CE norms and made from the highest quality materials.
Measuring 11″ H and weighing 4.4 pounds, it is easy to handle.
6 Amazing Gardening Gifts for Mom
Let's discover some incredible gifts just for Mom! Perfect for birthdays, Christmas, or Mother's Day, the horticulturist mom will love to receive any of these gift ideas.
11. Custom Garden Flag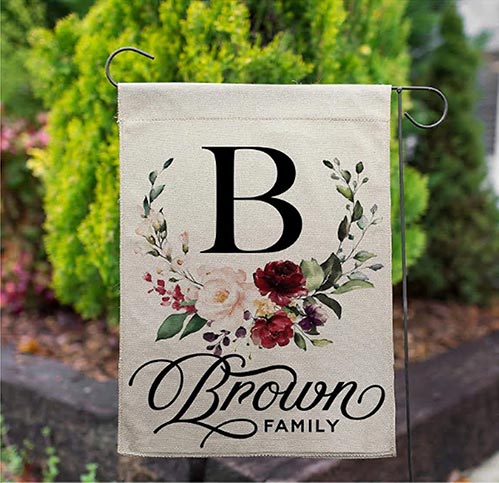 This double-sided garden flag is handmade from 100% cotton. Let Mom's yard stand out from her neighbor's yards.
Choose from 12 colors, double or single-sided, with or without stand.
This flag is a nice addition to any yard or garden. It will last for years to come.
12. Beauty Products Made from Food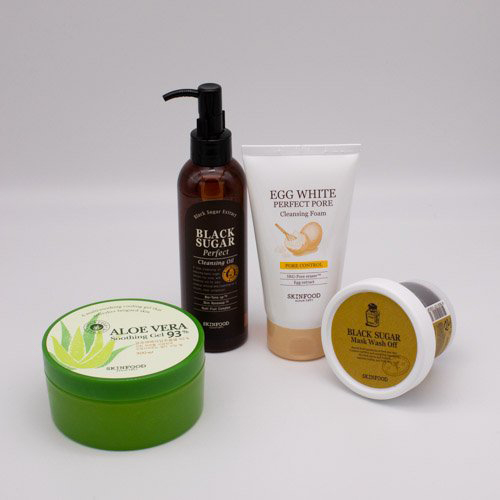 SkinFood. The name says it all. SkinFood is the first cosmetic brand to root itself in food. The key to beauty can be found in the food around us.
SkinFood products are made from foods grown under the best methods. Organic, eco-friendly, and sustainable growing methods are the philosophy of this company.
These skin care products are a nice addition to anyone's daily routine.
13. Life is Better in the Garden Shirt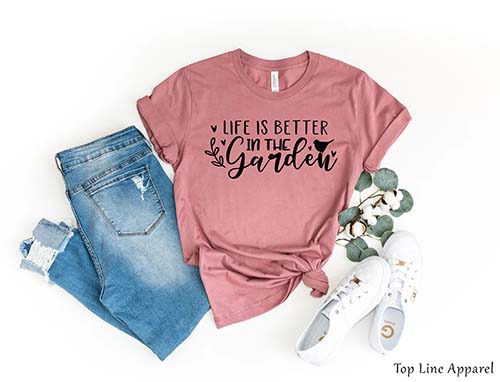 Get your gardening spirit on with the "Life Is Better in the Garden" shirt. You can select the size that suits you as well as the T-shirt color. It is even possible to add a message when checking out for greater customization. There is no better gift for a gardener than a quirky garden shirt.
It is made for the outdoors and allows you to enjoy every moment you spend outside.
14. Best. Mom. Ever. Bird Feeder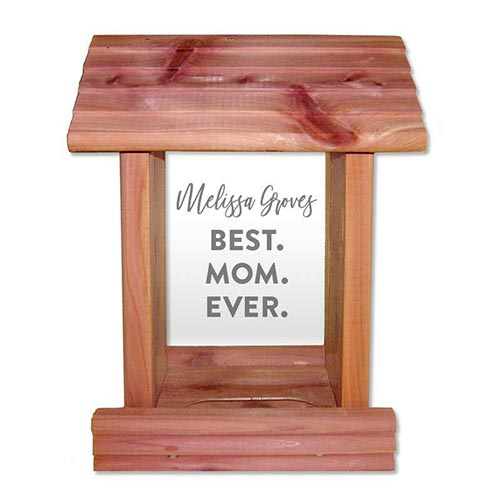 What Mom doesn't want to be reminded of this?
Made from aromatic cedarwood, our birdfeeder is the perfect gift for any bird enthusiast. Watching the birds eat and hearing them sing is so relaxing. Enjoy a cup of coffee and nature.
Measuring 7″ x 4-3/4″ x 10-1/2″, our birdfeeder will last for years and years.
Best. Mom. Ever. Nothing more needs to be said.
You may also enjoy: 10 Bird Feeder Gifts for Backyard Bird Watchers
15. Flower Wagon
This decorative wagon is a terrific addition to any yard. It can also be part of your indoor décor: place flowers, ornaments, or even firewood in this decorative planter.
The Amish wagon measures 44 1/4″L (includes handle), x 14 1/2″W x 15 1/2″H. Length of the wagon is 21.75″ without the handle.
16. Wooden Garden Signs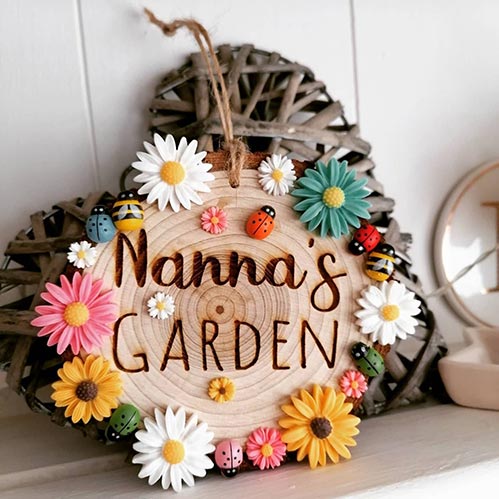 You can personalize this adorable wooden log sign to say what you want.
This handmade sign is created from wood, twine, and resin; decorated with flowers, ladybugs, bumblebees, and the odd butterfly.
This decorative sign measures approximately 4″ W and .5″ thick. Suitable to hang inside or outside. The artist suggests that if you hang this outside, protect it from the rain.
6 Awesome Gardening Gifts for Dad
If your father is the gardener in the family, here are some terrific ideas that he's sure to love.
17. Farmer Bottle Opener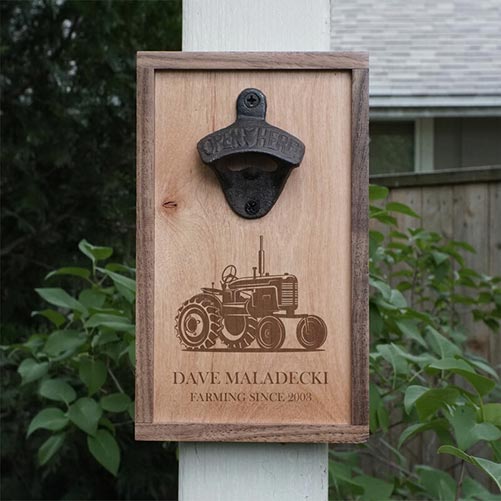 A farmer is a gardener on a huge scale.
You can mount your bottle opener to the wall of your kitchen or home bar or use it as a portable opener.
This is a custom-made, laser engraved solid wood opener. Constructed from maple and walnut, it will last through years of use. Every time Dad has a cold one, you will come to mind.
More like this: The Farmer Gift Guide
18. Wax Canvas & Leather Garden Tote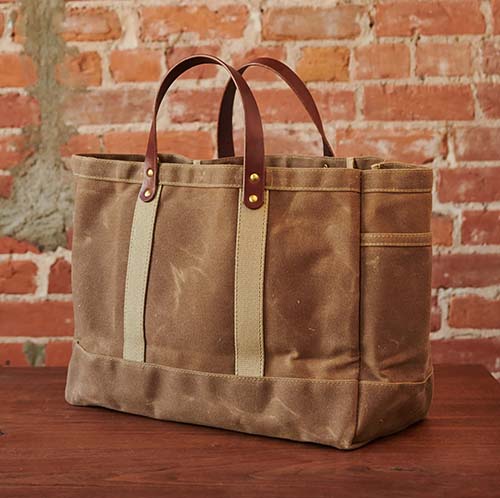 Looking for a beautiful yet versatile garden workhorse? This wax canvas & leather garden tote is a best-seller for a reason. It holds its beauty and is handmade. With a sophisticated air, it offers amazing durability and is made for labor.
19. Personalized Plant Pot Man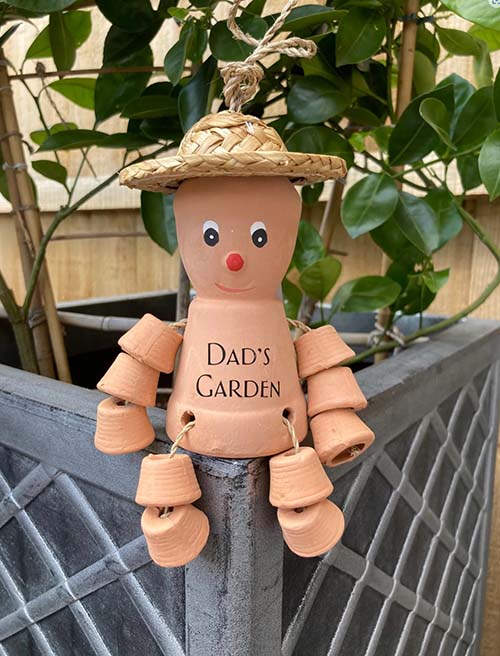 If you want to get the perfect birthday gift for your dad or celebrate Father's Day, this cute, personalized plant pot man should be on the top of your list. It can be personalized with any wording or name. It's about time that you got your gardening dad something extra special!
20. Hand Forged Metal Garden Tools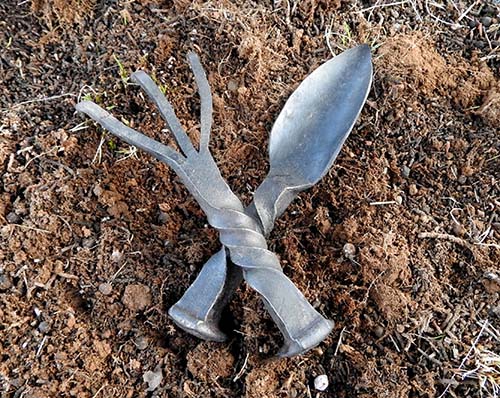 Handcrafted to perfection, the hand forged metal garden tools are an absolute must for every gardener. Anyone on the lookout for the ultimate gift for someone who just loves to weed (!!) will find these tools to fit the bill.
The heavy-duty garden trowel and rake set are made from railroad spikes and allow your green thumb friend to garden to their heart's content. It even has a light coating for providing extra protection against the elements.
21. Sole Saver Footwear
Sole Saver is like a hammer on your boots. They are designed by an industry professional to protect his employee's footwear from digging with shovels.
Not only does this protect your footwear, it protects your body as well. It dramatically reduces shock and stress on your joints.
This is a thoughtful gift for any landscaper or gardener.
22. Sun Protection Cap
Although gardening is a fun hobby, the sun can get in the way. This is why a sun protection cap is just what every gardener needs. It truly makes all the difference. With this hat, you can expect to look your best while working in the garden. It is important that you use the Sun Protection Cap to combat harmful UV rays while gardening.
6 Fun Gardening Gifts for Kids
Kids love to garden too! Whether they're longtime gardening pros (since like, last year) or starting out fresh, your kids will be inspired with the perfect gift.
23. Kid's Watering Can & Tools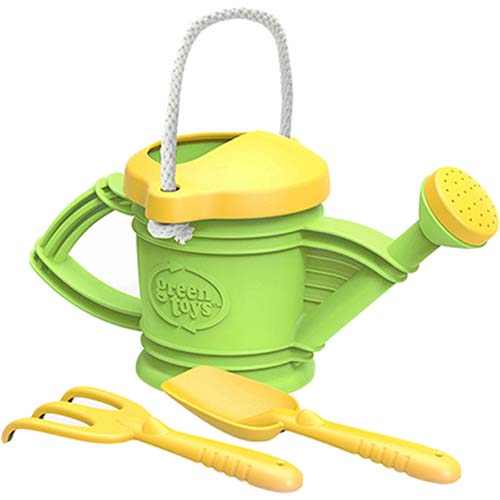 Want to get your little ones hooked on gardening? These eco-friendly kids watering can & tools are just what you need. You will be amazed by just how useful the tools are, allowing kids to get dirty and enjoy gardening while actually working (but they'll think it's play!).
It is important for kids to spend time connecting with nature and there is no better way to do this than by taking advantage of this gardening gift.
24. Butterfly Garden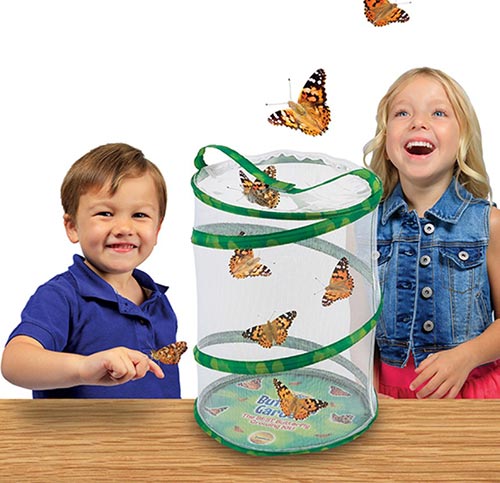 Let your children experience the miracle of metamorphosis. They can watch the caterpillars using this garden net for the next ten to twelve days as they grow inside a special cup.
The caterpillars will hang upside down from the lid of the cup, covering themselves with strands of silk, and harden into chrysalides. You will gently transfer the chrysalides into the mesh habitat. In another seven to ten days, the butterflies will emerge from the cocoons.
Detailed activity guide and care instructions included, of course!
Actual caterpillars are not included. Use the voucher that comes with it to order caterpillars from Insect Lore. You can re-order caterpillars again and reuse your habitat as many times as you like.
25. Bunny's Garden Kid's Book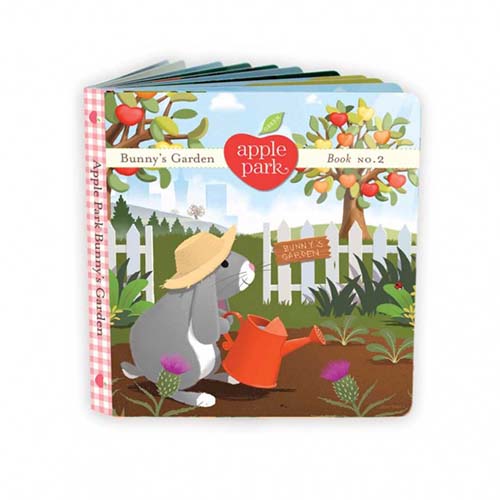 Getting your kids to love gardening just got a whole lot easier with the Bunny's Garden book. Read this tale of Picnic Pals and teach your kids how Bunny plants a gorgeous garden. As you read the story to your little ones, they will get to find out how seeds can grow into beautiful flowers and plants
Besides, you can even ask your children to read the book to you to encourage reading.
26. Strawberry Greenhouse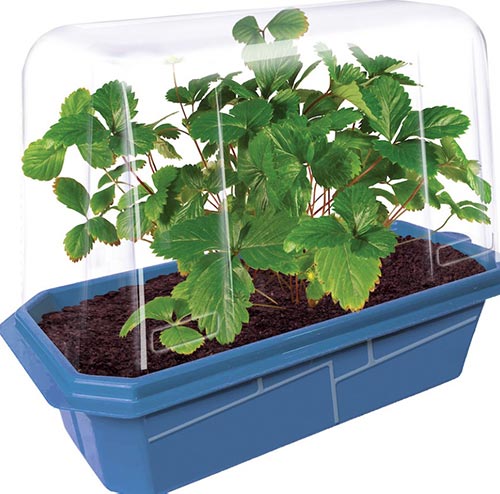 Yum! Grow your own juicy strawberries. Follow the enclosed directions and add water – Before you know it, you'll be enjoying a batch of sweet, delicious strawberries.
Discover just how easy, fun, and tasty gardening can be.
The terrarium measures 9 x 7 x 4.7 inches.
27. Mini Gardener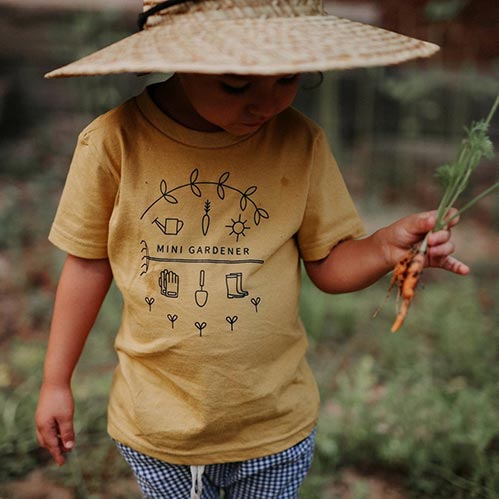 This cute T-shirt is a cute accessory for your little helper.
Choose from four colors to complement any outfit. Your child is sure to love their "mini gardener" title.
28. Bee Bombs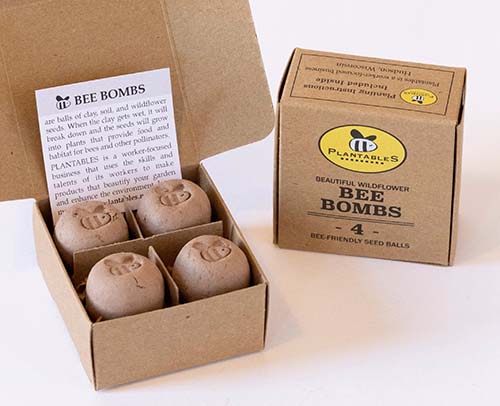 If you want to get a unique gift for someone who loves gardening, you should consider getting Bee Bombs. These seed balls are made out of seeds, compost, and clay and benefit bees. All you have to do is place the seed ball on the soil surface and the rest would be taken care of.
They would ensure that beautiful flowering plants are able to come to life. Sunlight and water will break down the seed ball and allow the seeds to germinate and grow into flowers.
6 Best Plant Lover Gifts
If you're looking for the ultimate gift ideas for your grandparents, look no further. A gardening theme is truly the way to go! Here are some thoughtful ideas they're sure to love.
29. Make Them Flower Cupcakes
For the most devoted and artsy of plant and flower lovers comes this fantastic tutorial! Plant lovers will love to receive cupcakes with their favorite petals decorating the top. Now you can decorate your favorite goodies — cakes, cupcakes, cookies, pastries — with the loveliest of blossoms and florals.
Make buttercream delicacies like a pro with this simple step-by-step guide.
30. Food Huggers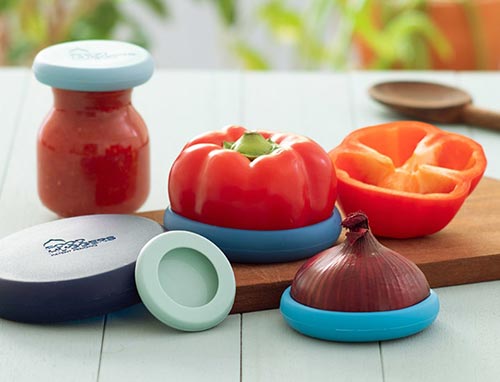 A cute way to save your garden-grown leftovers.
These food huggers will save those fresh veggies and fruit longer than plastic wrap or a plastic bag. Enjoy your fresh produce longer.
Choose from numerous-sized bundles to suit your needs.
31. Garden Visitor Plaque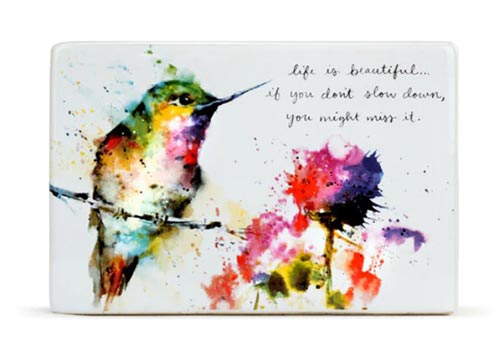 "Life is beautiful. If you don't slow down, you might miss it." Those are the words inscribed on this white, hand-textured plaque. A stunning hummingbird is perched next to a group of flowers.
Dean Crouser created this watercolor painting with a variety of colors; it will complement any decorating style. This plaque will be a lovely addition to any office, den, or tabletop.
This stoneware piece measures 6″w x 1.5″d x 4″h.
32. Small Tree Sapling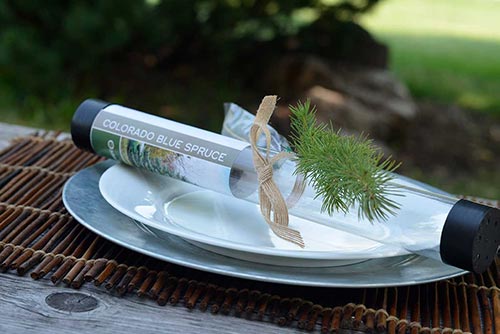 The Arbor Day Foundation is a great site to shop for Dad, for Mom, or for any gardener. Every bit of information you need is supplied with each order.
Grow trees, shrubs, and bushes; fruit trees, flowering trees, evergreens, or shade trees. Grow bushes that produce nuts, fruits, and flowers.
The list is endless. You will find something for everyone.
33. Herbs Garden Pillow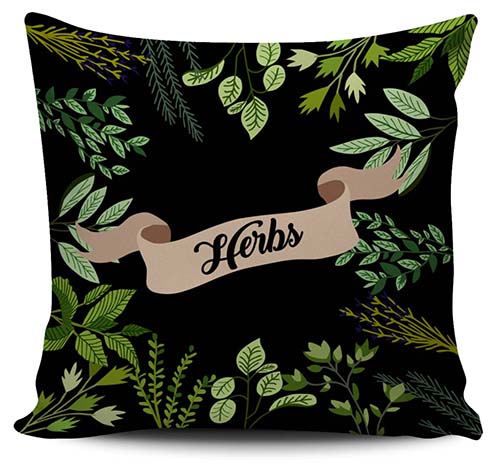 With this fun herb pillow, you get to tell the world how much you love gardening. It is the ultimate pillow cover that every gardener needs to own. Get a handcrafted and customized pillow cover that makes you feel proud about the work you accomplish each day.
With a premium poly-cotton pillow cover, you get amazing comfort that you cannot expect from any other pillow cover out there. You will find it to be a quality gift that you can get yourself or someone who is passionate about gardening.
34. Macrame Plant Hanger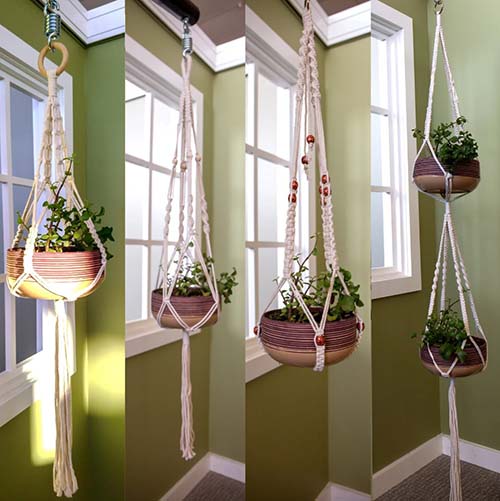 If you want to show off your plants, this macrame plant hanger is just what you need. It will allow you to display your pants throughout the year. It is worth getting especially if you have a small garden. This macrame plant hanger is perfect for every type of space. Just hang it up anywhere and enjoy!
5 Best Indoor Gardening Gifts
Gardening indoor is totally a thing. These are the best gift ideas to celebrate someone you care about and their passion for indoor gardening.
35. Zen Garden Kit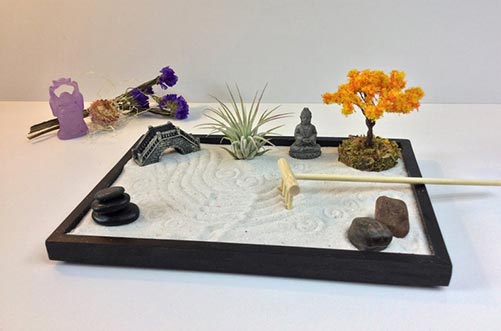 This DIY Zen Garden Kit is an adorable decoration for your desk or coffee table.
Zen gardens are a wonderful way to create inner peace. Miniature gardens are pleasing to the eye and fun to create and re-create. Soothe your tension away while playing in the garden.
The base dimensions are 8″x 7″x .1″
36. How Does Your Garden Grow Wall Décor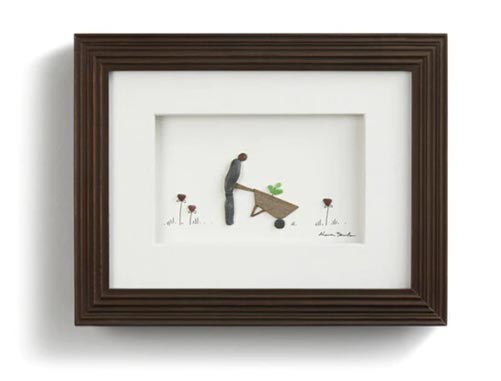 This striking wall art is framed with pinewood and fully matted for a modern appearance. Perfect for any gardener on your list, this piece will truly make for a thoughtful gift.
This picture measures 10″W x 8″H and will be a modern addition to any décor.
37. Bamboo Potted Plant Rack
This indoor/outdoor flower stand has six layers to place your plants on. In addition to plants, you can display pictures, knick-knacks, or whatever you would like.
Made from natural bamboo, this plant stand measures 15.7" L x 8.3" W x 47.2" H. This plant holder is suitable for any room in your house or on your patio.
38. Kitchen Herb Garden Kit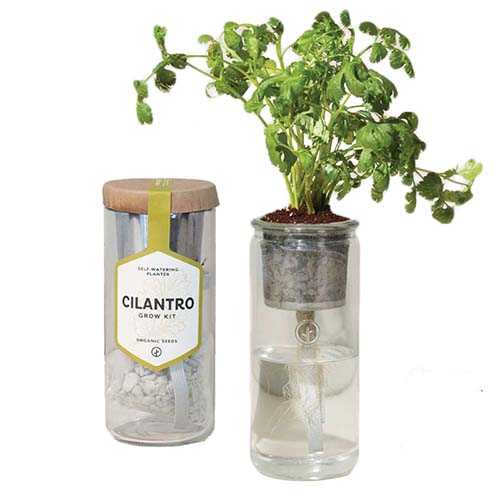 Who says you need an outdoor space to create a garden? With the all-in-one herbal hydroponic planter, you get to start an herb garden in your own kitchen.
It boasts a self-watering construction that utilizes recycled glass beads. It has everything you need to get started with an indoor garden. As the planter features a hydroponic design, it ensures that the plants get sufficient water while ensuring that they do not get overwatered.
39. Dimmable Lights
Indoor growing lights are the perfect solution to any lighting problems you might have. The blue and red LED lights imitate the sunshine and allows your plants to take in more energy and contributes to germination.
These lights promote growth and improve the taste of fruits and veggies.
Related: Best Vegan Gift Ideas
6 Best Gardening Accessory Gifts
Every gardener needs accessories. These are the best.
40. Personalized Plant Lady Apron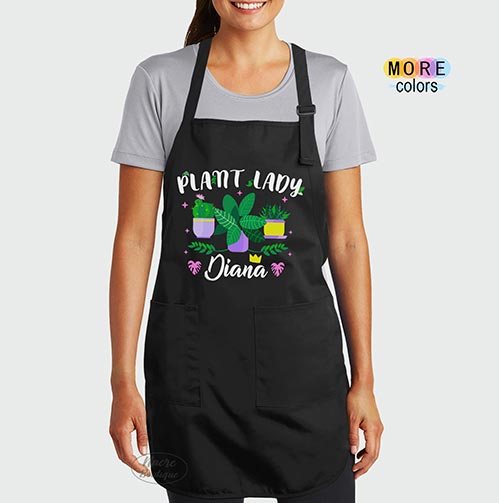 This apron is a perfect accessory for any gardener. Keep yourself clean while you are hard at work. The large pockets are made for gloves or small tools.
Handmade to order; choose your color and personalize with your name.
41. Gardening Journal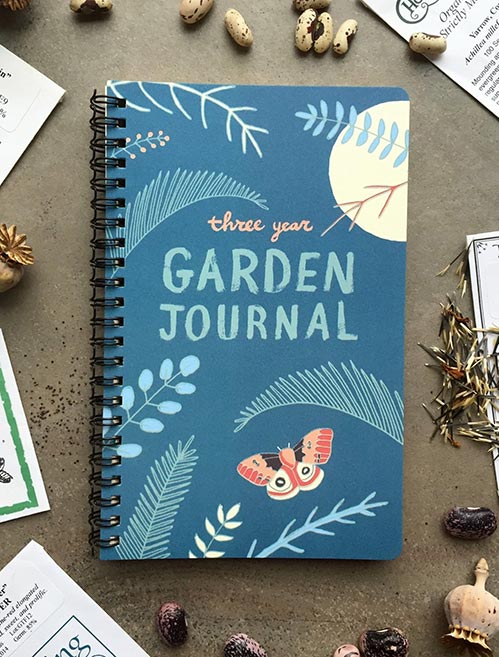 This Garden Journal divides each day of the year into three spaces for notes. There's a lot to remember from season to season, year to year.
Keep track of temperatures, rows of veggies, or important notes. It's hard to keep track of all of this information, so a lot of useful knowledge is forgotten.
Now you have one dedicated notebook with three years worth of space!
This handmade notebook measures 5.25″ W x 8″ H.
42. Kneeler and Seat
Whether you prefer to sit or kneel, this seat has you covered. This sturdy yet lightweight kneeler/seat folds up for easy storage.
Protect your knees and clothes from the rough ground as you work the soil. When you need a rest, flip the kneeler over, sit and relax.
Any gardener would appreciate this thoughtful gift.
43. Vegetable Gardeners Handbook
The Old Farmer's Almanac Vegetable Gardener's Handbook is the perfect companion for any vegetable gardener. The practical advice presented in this handbook provides the best, most proven methods for sowing, growing, and harvesting.
Look forward to the fruits of your harvest. Enjoy the bountiful table you have provided for your friends and family.
44. Personalized Gardening Gloves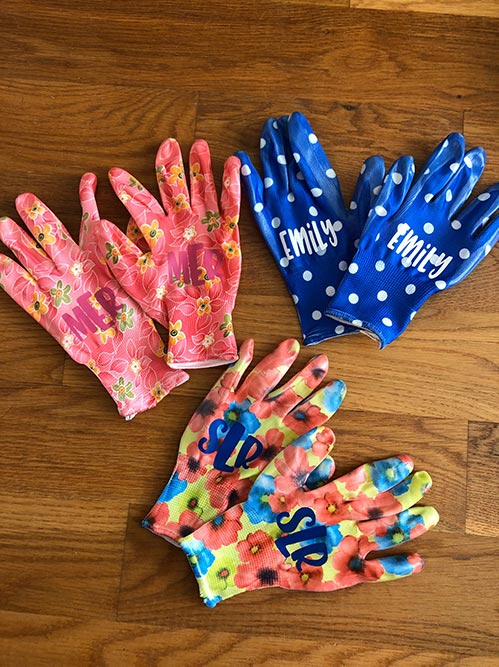 With eleven colors/patterns to choose from, these cute gardener's gloves are sure to please. Personalize with your gardener's name and watch their smile grow!
Use for indoor and outdoor gardening to protect your hands.
45. Gardening Tool Belt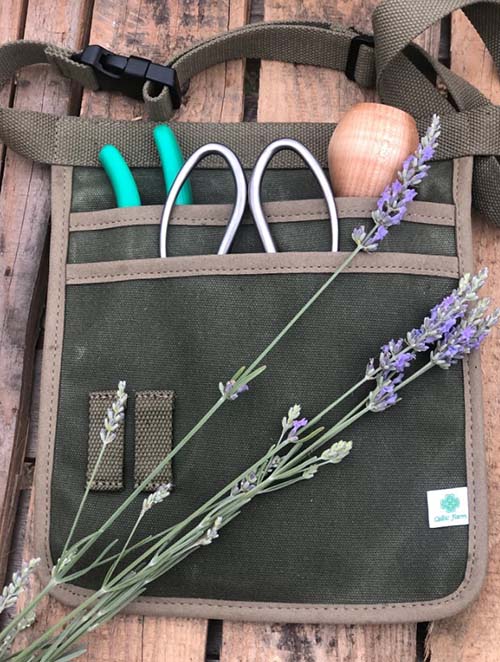 Keep all gardening tools in one place with this gardening tool belt. Made of 16 oz. waxed canvas, it should fit you perfectly. You can utilize its two deep pockets for holding all your tools and other garden items. The best part is that it is waterproof, so you know you have nothing to worry about.
5 Best Composting Gifts
Yeah, I know – a compost bin for a gift? That just sounds… weird. But as I looked around at gardening gifts, I kept coming back to compost bins and I slowly realized: I really want one.
Maybe the gardener in your life will feel the same way. Maybe not. But if they get excited talking about composting leftovers, minimizing waste, and conserving resources, well, you might be surprised by how much they love one of these bins.
Is it worth a shot? You decide.
Either way, here are our favorites.
46. Stainless Steel Compost Bin
This trendy-looking compost bin is constructed from stainless steel. It has a charcoal filter and keeps odors in check. Your kitchen compost bin can sit on your countertop or wherever you need it.
The one-gallon size is big enough to hold several days' worth of compostable organic kitchen waste. You can place vegetable peels, fruits, and coffee grounds in your compost pot.
The compost bin measures 7.16" in diameter x 11" high.
47. Dual Chamber Tumbling Composter
With this tumbling composter, you no longer have to mix your compost by hand. Close the door and turn it 5-6 times every 2-3 days.
Easy to use and perfect for beginners. In hot sunny conditions, the compost can finish in as little as two weeks.
The durable construction of this composter will last for years—a total capacity of 37 gallons.
48. Vitamix FoodCycler
Make your own fertilizer with food scraps in just four to eight hours with this nifty FoodCycler!
The 2L capacity allows you to place your table scraps inside; cuts down your food waste by up to 90%
You can place this food cycler anywhere you have a power outlet. Small and compact, it measures 12.6″ x 11″ x 14.2″.
49. Expandable Compost Bin
This composter is a great way for you to quickly and easily compost kitchen scraps and yard waste. Your backyard compost system is easy to set up. It is ideal for all skill levels, from beginners to master gardeners.
Place the finished compost around trees, flowers, and garden plants. It's easy to boost the soil with rich nutrients and beautify your yard.
The bin measures 36.5″ x 5″ x 5″.
50. Countertop Compost Bin
This compost bin is perfect for the countertop. You can add food, fruit scraps, and coffee grounds without the worry of odors. This compost bin design comes with a replaceable charcoal filter in its lid to keep it all smelling fresh.
Made from durable carbon steel, with a stainless steel lid ring and handles; and a high-quality plastic inner compost pail. This compost bin will last a lifetime.
Now, that's what I call a list of the perfect gardening gifts! You might have even found one or two for yourself.
Read Next: 15 Best Gifts for Cactus Lovers