When it comes to finding great personalized gifts for her, your options are virtually limitless. But to find a gift you just know she'll adore and cherish for years to come…that's something special!
You're looking for memorable, custom gift for the special lady in your life, and you've come to the right place. No matter if she's your wife, girlfriend, sister, mom, grandma, aunt, or best friend, we've got you covered.
Take a look through this list of 21 custom gifts to find something she is sure to adore. Whether she's a practical gal or more on the sentimental side, we've got a little something to strike every lady's fancy.
21 Personalized Gifts for Her
Our website is supported by our users. We sometimes earn a commission when you click through the affiliate links on our website. See our privacy policy & disclosures for more information.
1. Custom Engraved Tumbler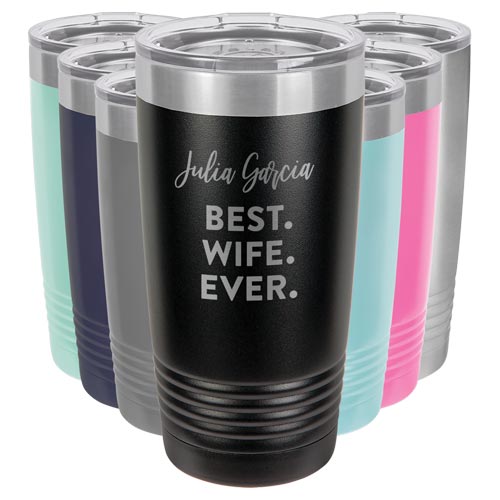 First up on our list of personalized gifts for her is this custom engraved tumbler from Northwest Gifts. It's sweet little something that the special lady in your life can take anywhere!
Available in multiple colors, we can custom engrave her name on it along with "Best Wife Ever" (or Mom, or Fiancée, or whatever you like). Our Polar Camel tumblers are vacuum-sealed and double walled, making them perfect for both hot or cold beverages.
Browse through even more of our custom tumblers right here, where you'll find tumblers we can etch with ANY good quality text or graphic you want.
2. Personalized Bamboo Cutting Board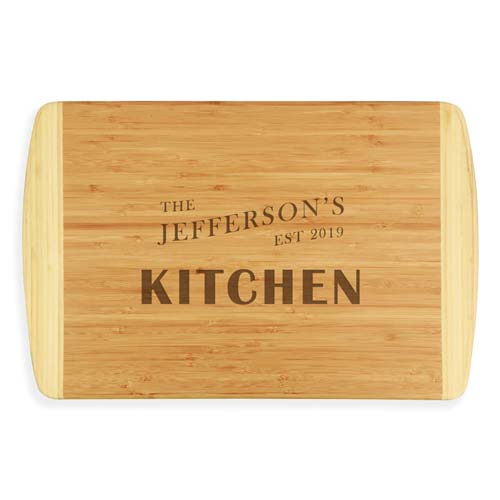 If she loves to spend hours cooking or baking away, consider gifting her this beautiful cutting board. The board is made of bamboo wood and measures 18″ x 12″, allowing all the room she needs to prepare her dishes. Using classic, vintage-style fonts, we will etch her name in the middle of the contrasting wood tones.
This cutting board makes for a wonderful birthday, Mother's Day, retirement, or "just because" gift.
Related: Must-Have Kitchen Accessories
3. Personalized Handbag Mug Set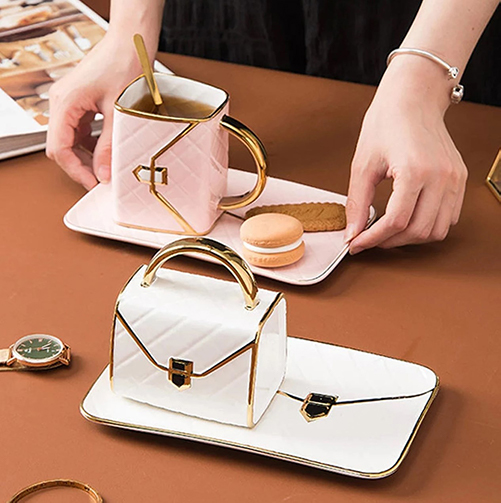 How adorable are these custom handbag mugs? She will feel so fine and classy as she sips her afternoon tea or java from one of these fun sets. Have it personalized with the color and her initials to make it extra special! All of her girlfriends will be jealous and want one, too.
4. Birthstone Necklace Personalized for Her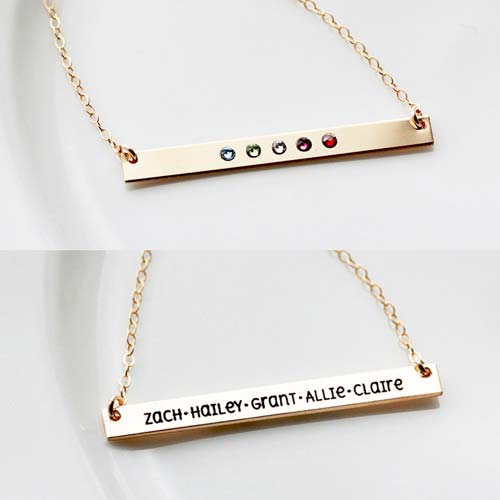 What is a more timeless gift for a mother than a minimalist keepsake necklace featuring the birthstones of her children? This gorgeous Swarovski crystal birthstone necklace from Etsy will leave her smiling, and maybe even a little teary-eyed (happy tears, of course).
Choose between sterling silver, gold, or rose gold for the metal plate. You can also select the length of the pendant. The names of the children are included on the back of the plate for an added touch.
5. Engraved Wedding Photo Album
Your wedding day was the best day of your life! Why not commemorate all of the special memories you shared with a charming wedding photo album?
This wood photo album can be personalized with both of your names, and includes a special quote. It holds up to seventy-two 4″ x 6″ photos.
6. Leatherette Bible Cover
Help your loved one care for her most valued possession for years to come with this pink leatherette Bible cover. Personalize it with her name, church name or denomination, and favorite verse.
This cover is water-resistant and fits most standard-size Bibles. It includes a front pocket and also comes with an elastic pen band.
7. Initial Tote Bag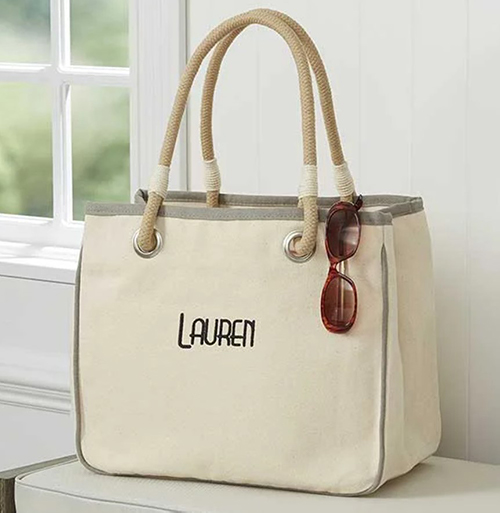 There's nothing more conveniently reliable than a good old-fashioned tote bag. Your loved one can easily "grab it 'n' go" with this one. She'll carry it everywhere, to the grocery store, the library, the gym, the beach, and anywhere else she loves to frequent.
8. 3D Engraved Crystal Photo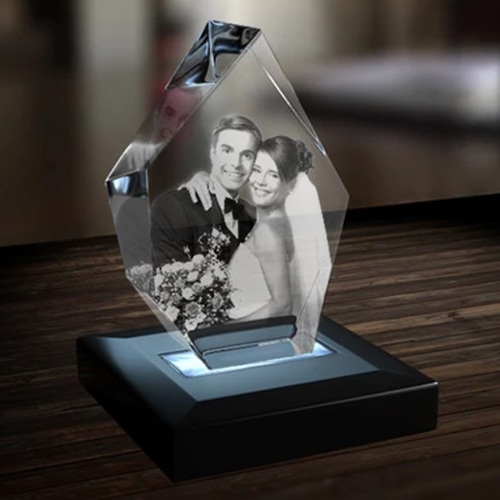 These crystal engraved photo portraits are just so, so special! Capture a moment in time and have it laser engraved in crystal as a unique and personal gift. One of these pretty art pieces will look lovely on her nightstand or office desk where she can admire it daily.
9. Custom Tea Blend and Label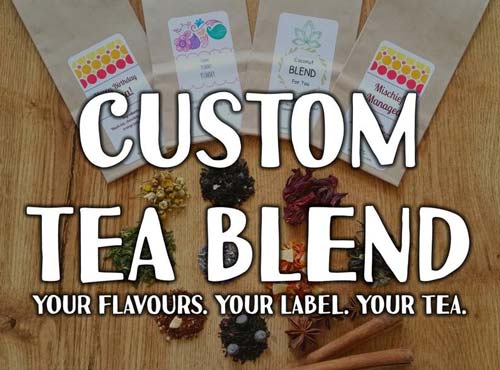 Finding the perfect personalized gift for her doesn't have to be hard, especially if she is a tea lover!
Check out this gift idea from Etsy shop TeaHippies. You get to choose from over 60 different tea flavors to create special blends your loved one is sure to enjoy. Design the labels for her tea bags and be sure to give each new blend its own unique name.
10. Picture Frame Music Box with Engravement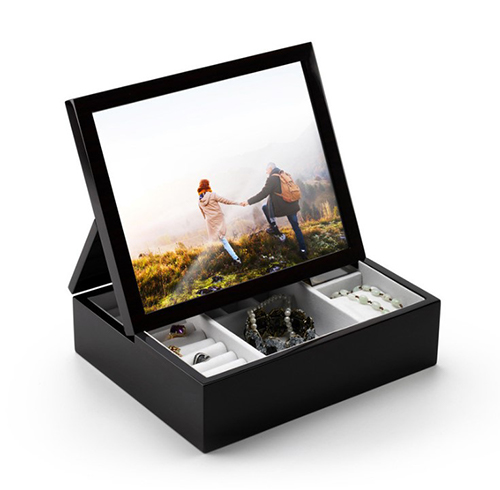 She may have accumulated a jewelry box or two in her lifetime, but we guarantee she's never had one like this! This stunning box is sleek and sophisticated, with an air of understated elegance.
Insert a favorite photo of the two of you, and choose from either traditional music or a song of your choice for the tune.
11. Engraved Circle Compact Mirror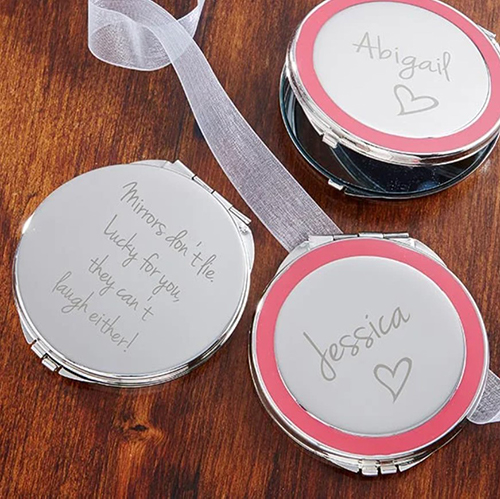 The compact mirror is a nostalgic piece of American cosmetics history. It hasn't changed much since gaining popularity as a beauty tool in the 1920s. If the special lady in your life loves all things old-timey and vintage, consider this as the perfect gift for her.
This pretty personalized compact comes in shiny silver and boasts a classic shape. Free engraving on both sides is included.
12. Wooden Beach House Sign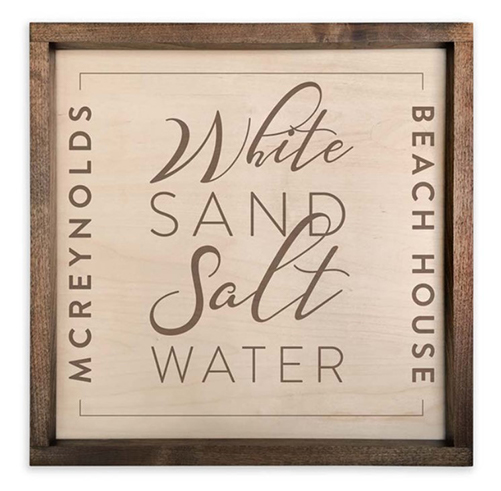 Is your best friend a beach babe? Or maybe your Grandma grew up by the ocean, and has always had fond memories of her childhood. Perhaps your aunt owns a beach house or rents one out. What better gift, then, than a nifty beach house sign?
Related: 21 Gifts for Beach Lovers
13. Family Photo Blanket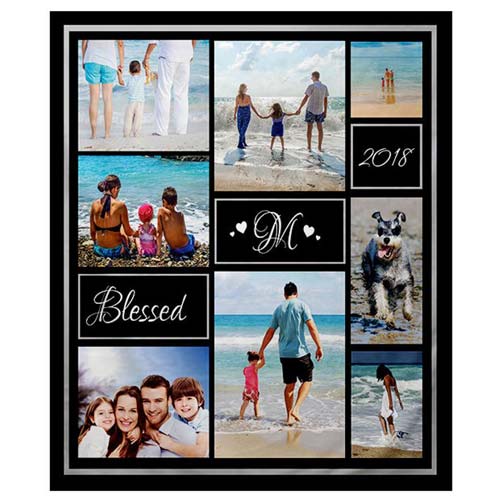 Here is a comfy keepsake blanket that is a gift the matriarch of your family is sure to adore for many years to come.
It's made to feature your cherished family photos, and is also fully customizable, so feel free to add an initial, special date or inspirational quote. Choose between three different blanket sizes, and between four different fabrics.
14. Personalized Stationary Set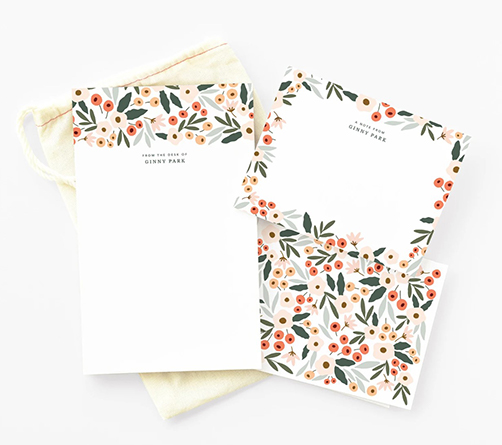 We can't get enough of these custom stationary sets! Hand designed and printed in rural Maryland, she will love having a set just for her to take notes, make lists, write letters, and so much more. The patterns and colors are so cute and quaint, you won't find any more precious than these.
15. Funny Name T-Shirt
Maybe you're looking for something that's more of a gag gift, but at the same time a practical item she is sure to use. This t-shirt may be just the thing!
Watch her face light up when she opens this hilarious t-shirt. Personalize her gift with a first name, last name, or nickname, and choose from several different colors and styles.
16. Personalized Ice Cream Delivered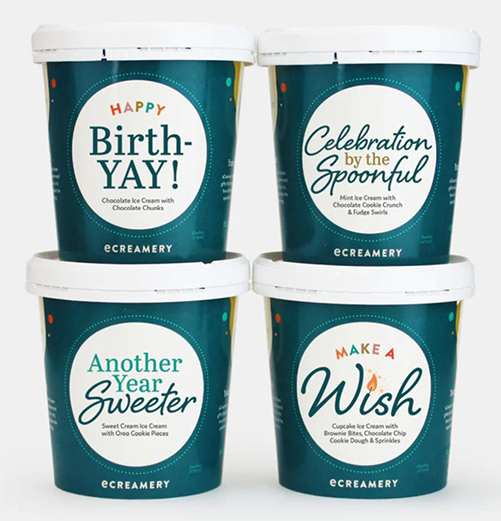 Is she perhaps an ice cream-aholic? Have an insatiable sweet tooth? Love personalized things? Well, you've found just the right gift! These adorable ice cream pints can be personalized with sweet or funny messages of your choice. And there are so many great flavors, too!
17. Personalized Journal Or Sketchbook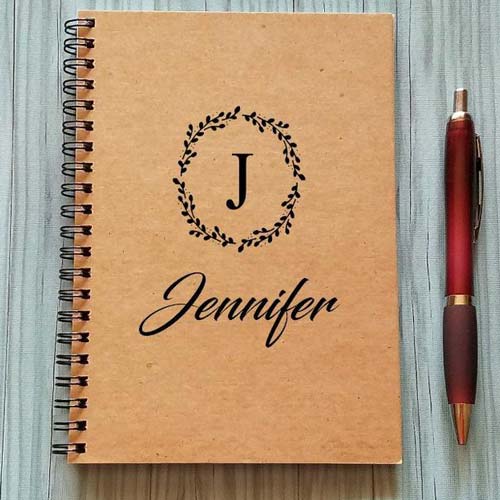 If writing is her thing, a personalized journal may be the perfect gift for that special someone in your life. Writing in a journal has long been known for its therapeutic benefits too, so if she's been going through a tough time lately, this journal will really let her know how much you care. It can also be used as a sketchbook if she leans towards drawing.
Order it with her name and initial on the front, and choose between lined or unlined paper or card stock.
18. Personalized Pure Wool Blanket Scarf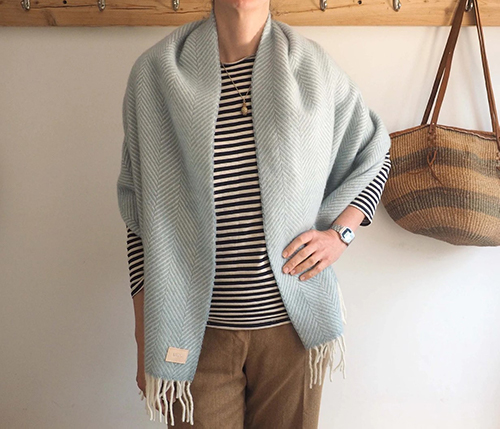 Wrap her up in pure elegance and warmth! This gorgeous blanket scarf will keep her neck and shoulders nice 'n toasty all winter and spring, and the lovely blue wool is so soft and snuggly. Oh, I can feel it from here… She won't want to leave the house without it!
19. Favorite Song Sheet Music Art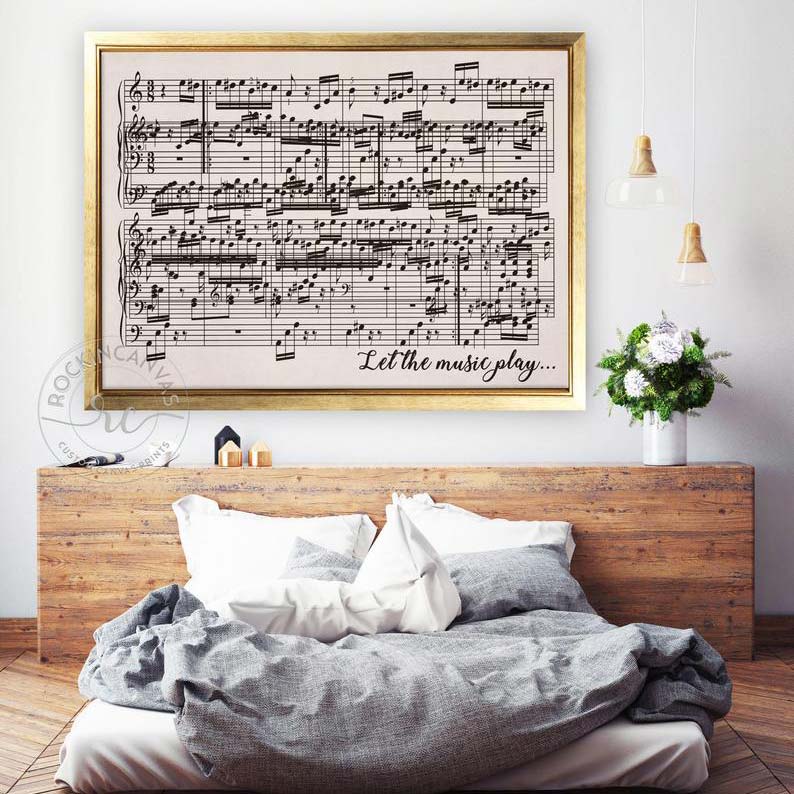 Take a moment right now and think of her favorite song. Or think of a song that means something special to the both of you. Now imagine that song printed out in sheet music, and framed on her wall. Imagine her waking up every morning and smiling as she sees it and remembers just how special that song is.
RockinCanvas on Etsy wants to create that sheet music art just for her. Choose your song and also a name or special date (such as a wedding date). Be sure to let the seller know what font you would like your text in. They will print your song on either heavy printing paper or a high-quality canvas.
20. Personalized Desk Name Plate
For the dedicated executive, this customized acrylic name plate will add a classy touch to her office desk or work station. It is made to order- personalize it with her name along with her position.
The name plate comes in several other designs as well, from leopard print to floral to "galaxy" themes.
21. Water Bottle with Name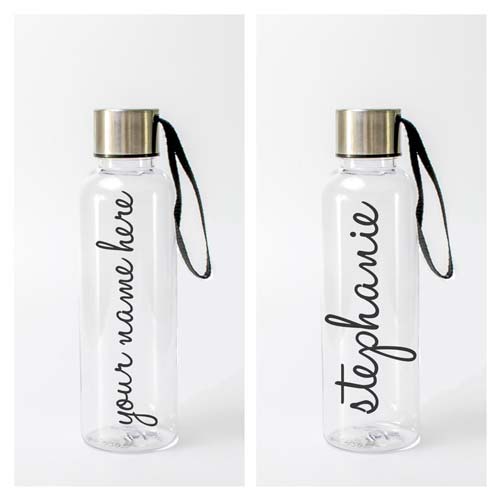 Sometimes it's hard to remember to drink enough water during the day, especially if she's a busy lady. Help her to remember with this cute personalized water bottle. With her name on the front she'll have that much more fun keeping track of her water intake.
This water bottle is BPA-free and holds up to 17 ounces. It also comes in 13 different colors, so you can choose her favorite.
---
We hope that you found some good gift-giving ideas here, or at least some inspiration to help you along in your search!
Thanks for reading, and if you would like to browse through even more great personalized gifts for her, take a look at the many quality products Northwest Gifts has to offer.