This Valentine's Day start new traditions, celebrate the ones you love, and give meaningful gifts. When you give the best Valentine's Day gifts and watch as your loved one's eyes light up.
It might just soon be your favorite holiday! Read on for the best inspiration for fun, romantic gift ideas for your sweetie-pie. We have ideas for him, for her, and for the kids. Let's get to it!
Top 10 Valentine's Day Gifts
Our website is supported by our users. We sometimes earn a commission when you click through the affiliate links on our website. See our privacy policy & disclosures for more information.
1. Romantic Vacation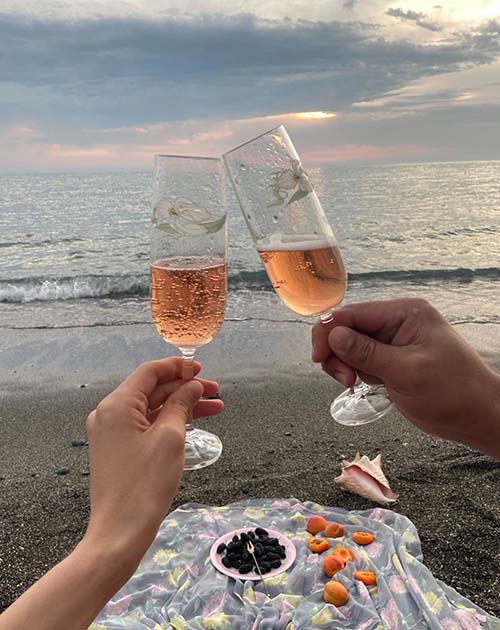 What's better than spending time on an adventure made for two? We can't think of anything! Whether you go tropical, mountainous, beachy, or European, make it extra special by it being just the two of you.
Plan it from top to bottom and don't forget to take a lot of photos! When you give an experience, the memories you create together turn it into a gift that will truly last a lifetime.
2. Wine Stand for Two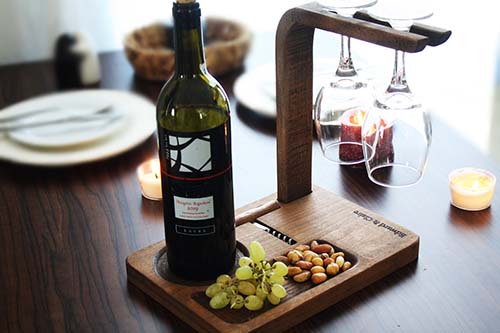 This cute wine stand for two is the bee's knees. Your sweetheart will love the craftsmanship and how pretty it will look in the kitchen.
Easy to pair with your two favorite goblets and a little snack on the side, it's just perfect for date night at home (which – let's face it – are the best date nights). Also, great for picnics or for taking out to the patio all in one trip!
3. Heart Snapshot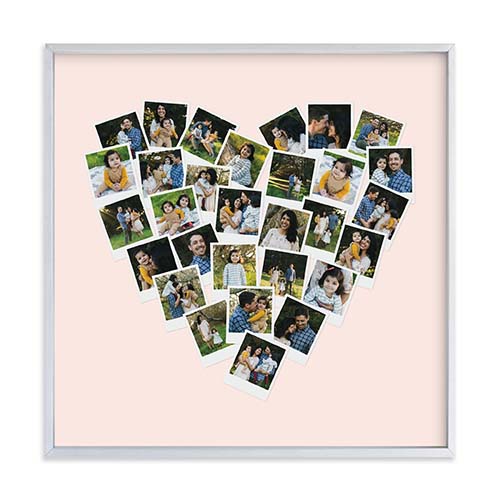 A photo collage of you and your sweetums will make them weak in the knees! Pick out your favorite moments together that have been captured in time, and arrange them in this cute heart-shaped work of art. You can also pick from different colors for the frame!
4. Sweet Coupons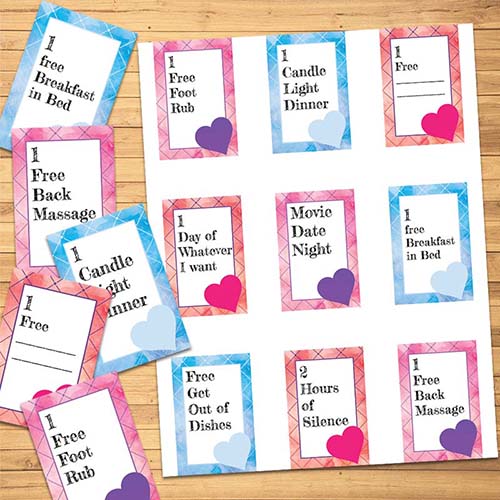 An oldie but goodie, Valentine's coupons are just the thing for when your wallet is on the empty side. Redeemable at any time (of course), use this simple and fun download to print out your own coupons right from the comfort of home.
Naturally, remind your sweetie that these are non-transferable and never expire!
Check out our shop for more printable Valentine's Day activities and cards. These are perfect for your last-minute Valentine's Day plans…
Related: 10 Last Minute Valentine's Day Gifts to Get RIGHT NOW
5. Red Rose & Lily Bouquet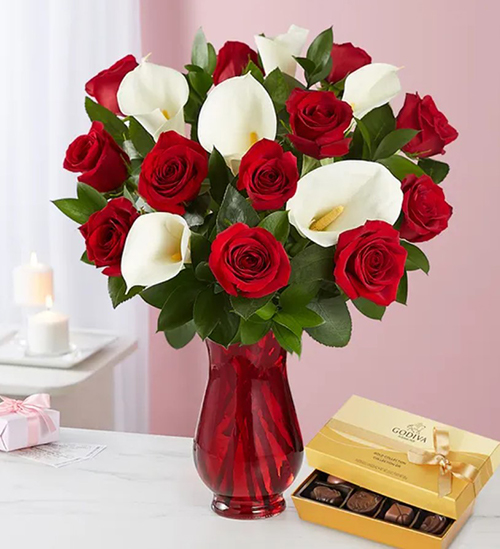 Flowers are a favorite for Valentine's Day and it's no small wonder why! They smell fantastic and will remind you of your "woo-ing" years! Make sure they're her/his favorite blooms and go all out with a gorgeous bouquet, all nestled in a pretty vase for them to keep.
6. Lovebirds Cutting Board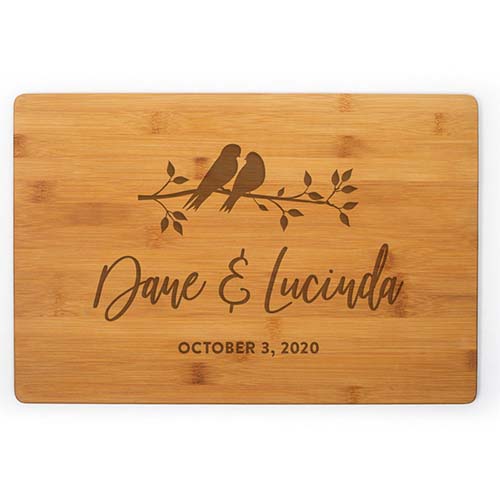 This cute little bamboo wood cutting board is so perfect for Valentine's Day! He or she will love the adorable artwork of the two lovebirds, and the addition of your names.
It's the perfect size for a charcuterie board for two as well, so maybe pair it with some yummy cheeses, meats, and fruits?
7. Heart Shaped Tea Bags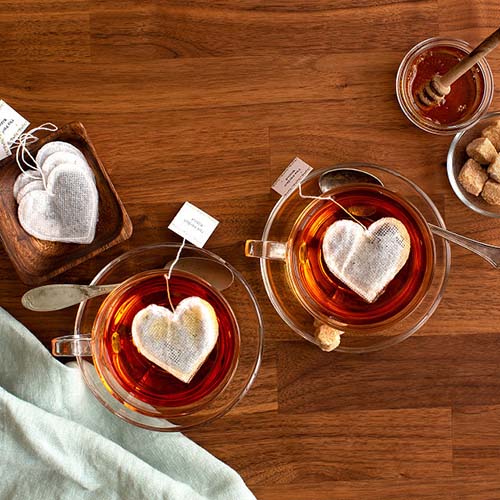 If your sweetie is a tea lover, they will be in love with these heart-shaped tea bags! It makes dunking that sweet cuppa even sweeter. And they'll love the delicious, fresh brew! Maybe add in a fun mug, or some local honey, to create the best Valentine's Day gift for your sweetheart this year.
Related: Best Valentine's Day Gift Ideas for Tea Lovers
8. Tree Planted in Their Name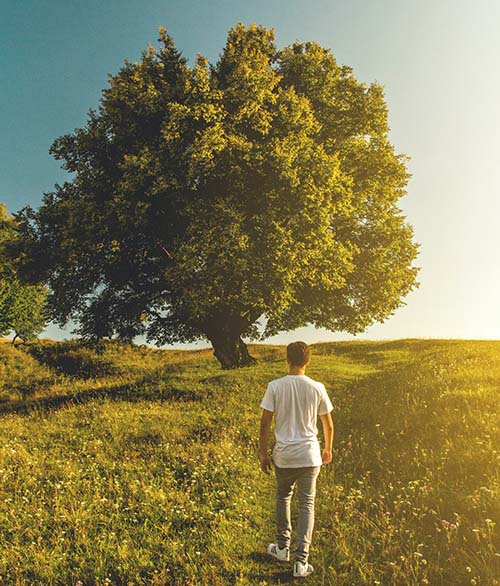 If your sweetheart has a love for nature, let them know how their passion means to you with this thoughtful donation! They'll love knowing how their tree is growing, where it's planted, and how it's contributing to the earth.
You can't say that much with yet another necktie or charm bracelet, amiright?
9. Ultimate Game for Couples
Here's one for the old-school 'gamer' couple. This gift is great for getting to know your partner better with a mix of meaningful conversations and hilarious challenges. It can be played with just the two of you, or pair up with other couples.
It's so much more fun than watching yet another movie, or staring wordlessly at each other over dinner. Trust us – get it, and enjoy some quality, memorable time together!
Related: 10 Romantic Valentine Games for Couples
10. We Go Together Like…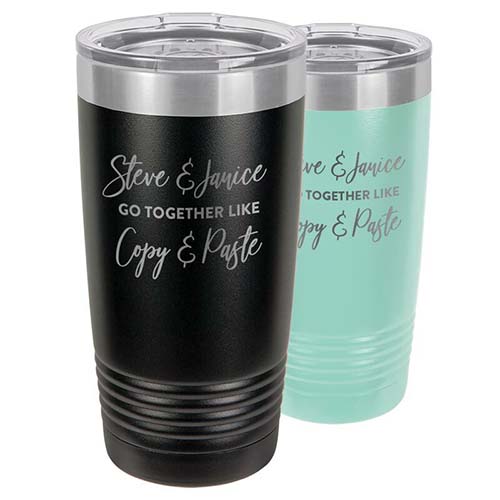 This set of tumblers make an already cute couple even cuter! What's next, matching tee shirts? Well… maybe! But until then, enjoy these fun tumblers that will keep your hot drinks hot and your cold beverages chilly.
For more silly & sweet "We Go Together Like…" ideas, check out our post here.
Best Valentine's Day Gifts for Her
11. Custom Vinyl Record of "Your Song"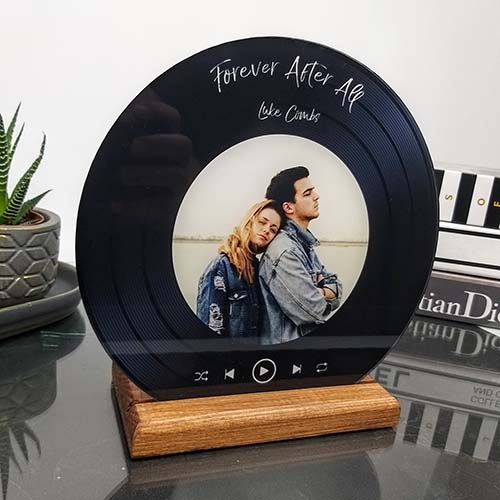 This customized and personalized album record will be a hit for the music lover in your life. She'll be ecstatic with "your song," and will love displaying it proudly for all to see on its included wooden stand. Such a thoughtful and delightful gift, we guarantee it will be a number one hit!
12. Floral Inlay Musical Jewelry Box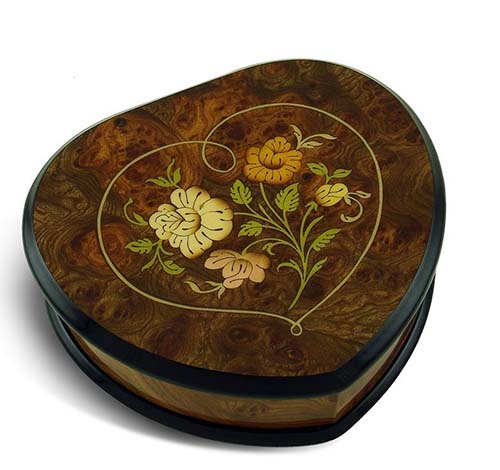 A pretty little jewelry box is a great Valentine's Day gift for her, and we just love this sweet little heart-shaped one. It's the perfect size for all of her rings and baubles. It will really dress up her vanity or bathroom counter, and she'll think fondly of you each time she opens it.
Bonus idea: A sweet little love note nestled inside (or a new piece of jewelry) wouldn't be amiss, now would it?
13. Pink Giving Heart Weighted Pillow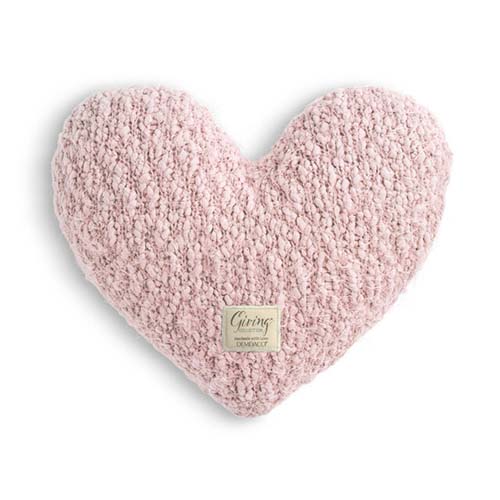 You already know how soothing and secure and warm a nice, weighted blanket can be! Now here's the latest and greatest: a softly weighted pillow for snuggling and cuddling.
The heart shape is perfect for your sweetie and it will look so pretty on her bed. A great gift for long-distance relationship couples or for the couple who travel for work a lot.
More like this: 50 Warm & Cozy Gifts for the Best Snuggles
14. Abundance Willow Tree Figurine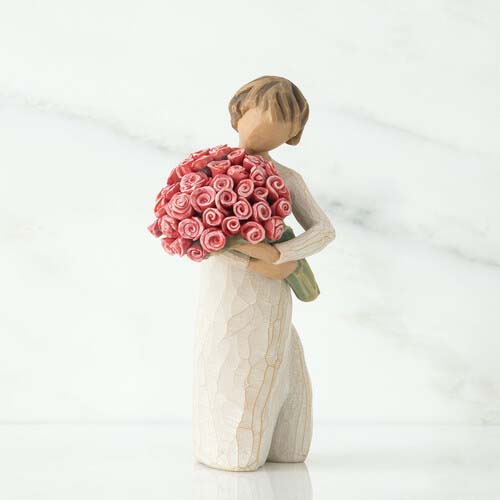 This pretty Willow Tree figurine is going to look so nice with her collection! Or even by itself. Nestled in with her other favorite display items, this one will quickly become the favorite. Gentle hues of pink and white make for a lovely figurine that she'll treasure forever.
15. What I Love About You Book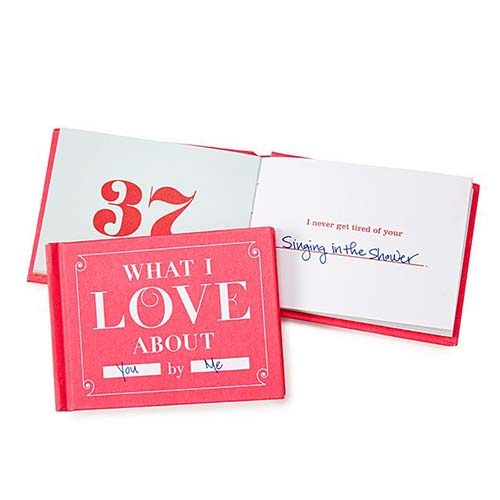 We're not sure who is going to have the most fun: you, when you write in this lovely book, or her, when she reads it again and again! A sentimental – but not sappy – gesture that will make her alternate between laughs and tears, this is a fabulous and inexpensive Valentine's Day gift to show how much you love her.
Related: DIY Valentine's Day Gift Ideas
16. Custom Roses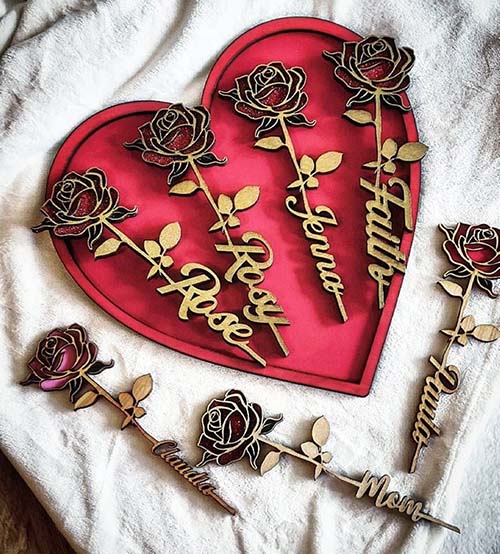 These pretty roses will last forever and can be customized however you like best! Whether with her name, your pet name for her, or words that describe her, she'll love this sweet "bouquet." Adding a new one each year might be a fun tradition to continue each Valentine's Day.
17. Personalized Sweeheart Initials Bird Feeder
If what you love most is swinging on the porch swing together, or camping in the RV, she'll love this wonderful sweetheart's bird feeder. It has ample room for plenty of seed and can be hung in your favorite lover's lane. Laser carved with your initials, this is a gift that she'll appreciate almost as much as the birds will!
Related: Best Bird Feeder Gift Ideas
18. I Love You Windchime Bell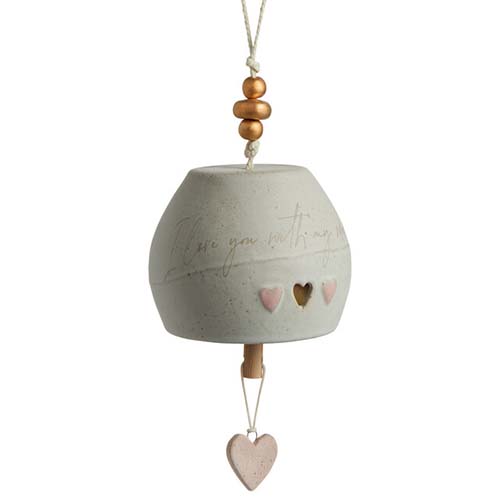 This pretty windchime is going to look wonderful hanging from the porch or even inside where she can admire it all year around! The little heart pendant and the sweet sentiment expressed in words are just the thing for a perfect Valentine's Day gift.
She'll love this sweet present and will want to have it hanging nearby all the time.
19. 14K Heart Locket Necklace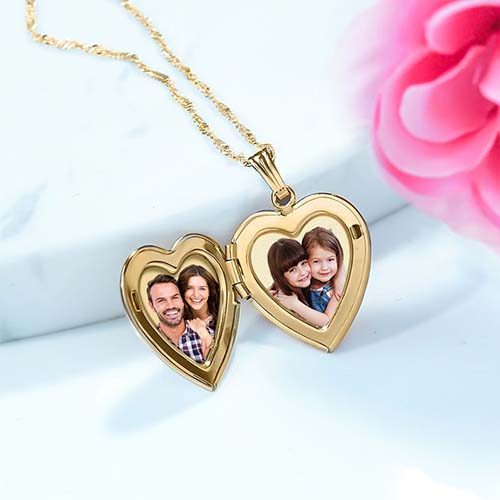 An old-fashioned locket necklace is great for an old soul, a romance lover, a jewelry wearer. She'll love opening the heart shape and discovering a photo of the two of you. Such a perfect gift, and romantic too!
You'll definitely get "points" for this one.
20. Kissing Mugs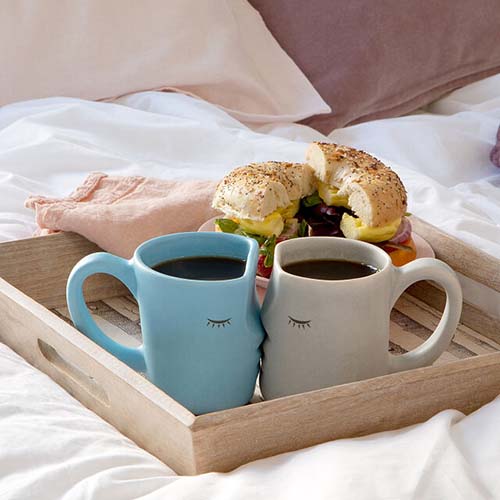 These are just the cutest mugs on the block, aren't they? Perfect for lazy Sunday mornings and breakfast in bed, they look absolutely adorable when they're puckering up. She'll love this set and will want to use them each morning to start the day off right.
Haven't found the perfect idea yet? Click here for 10 more sweet Valentine's Day gifts for her.
Best Valentine's Day Gifts for Men
21. Bacon Roses & Dark Chocolate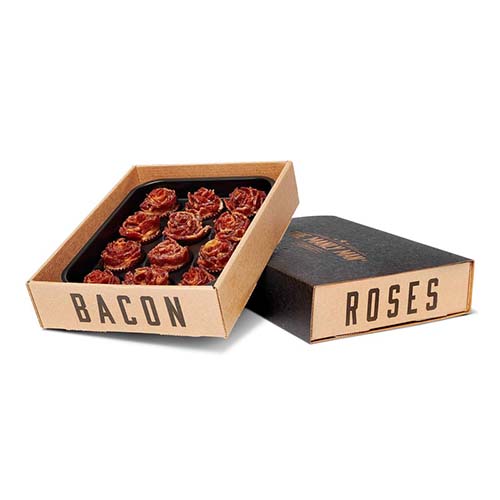 Stemless, maple candied bacon roses?! Why, we didn't know there was such a thing, and now we can't get them off our minds! He won't be able to resist these melt-in-your-mouth delicious "roses." Dipped in yummy dark chocolate, they are absolutely irresistible (much like you).
22. Personalized Valentine's Day Heart Boxers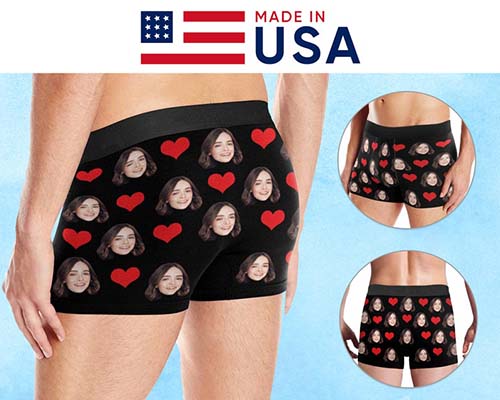 He'll crack up over these personalized boxer briefs with YOU as the star! He'll also love wearing them. Or, you know, not.
This is one "package" that maybe should be opened in private… ahem. You two goofballs will have some fun with this special Valentine's Day gift!
23. Regal Painting of You Both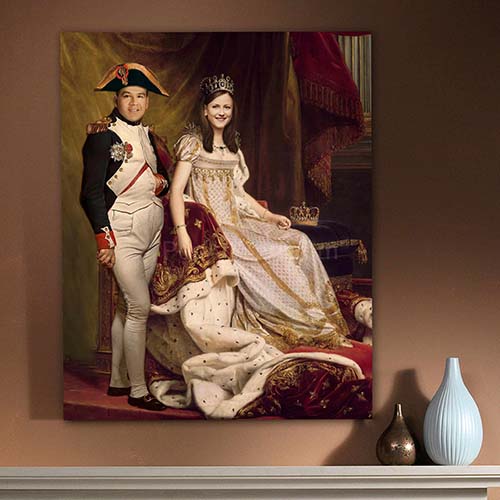 Make him laugh out loud with a regal painting of the two of you, looking like royalty! This one definitely deserves a place of honor on the wall, so take down that silly wedding photograph or the one of your kids: this portrait is the best thing ever. Guests will admire and want one of their own, so make sure to bookmark this site.
It's the gift he never knew he desperately wanted until now!
24. Sexy Truth or Dare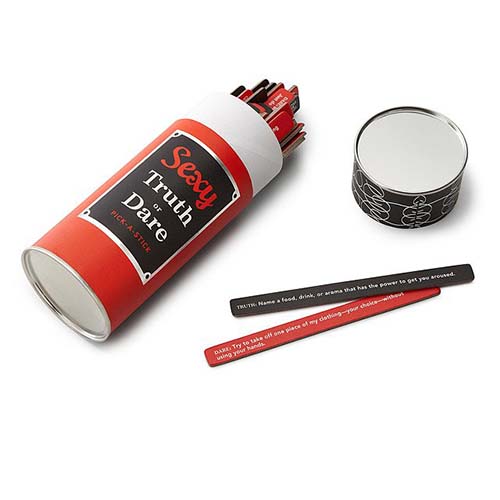 Make "Date Night at Home" even better with this sexy version of Truth or Dare! The best part? You BOTH win.
Comes with 50 pick-up sticks with 100 different seductions to try… ooh la la!
Related: 10 Valentine's Day Party Ideas for Adults
25. Engraved Leather Belt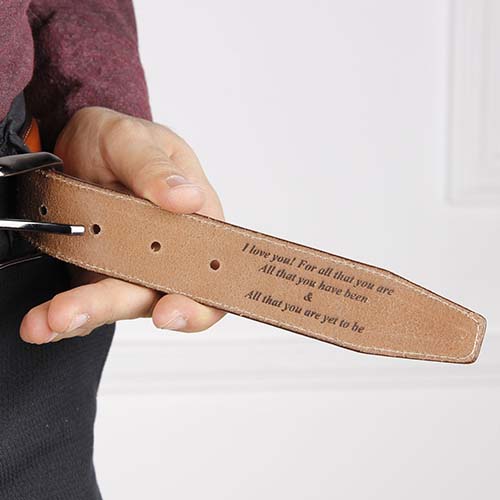 This handmade engraved leather belt will be a hit with him! He'll love keeping his trousers up in a sexy, handsome fashion, and he'll love even more the addition of some sweet nothings from you.
Whether you keep the message clean and classy, or a little naughty and vixen-like, this is one belt he'll keep forever and forever.
26. Lovebox Heart Messenger Long-Distance Valentine's Day Gift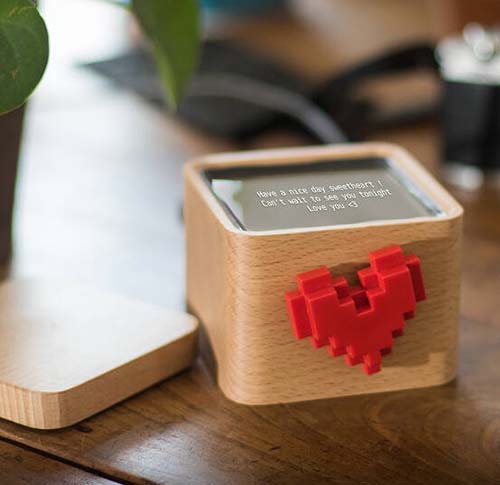 This is a love note that leaves all the others in the dust! When you want to add a message for your sweetie, the little heart spins around and around, letting him know. Then he opens up the box to see your message displayed instantly.
Compatible with Wifi, this is a great gift for the man who travels frequently, or if you are separated by distance!
Related: The Ultimate List of Long-Distance Relationship Gifts
27. Reasons Why I Love You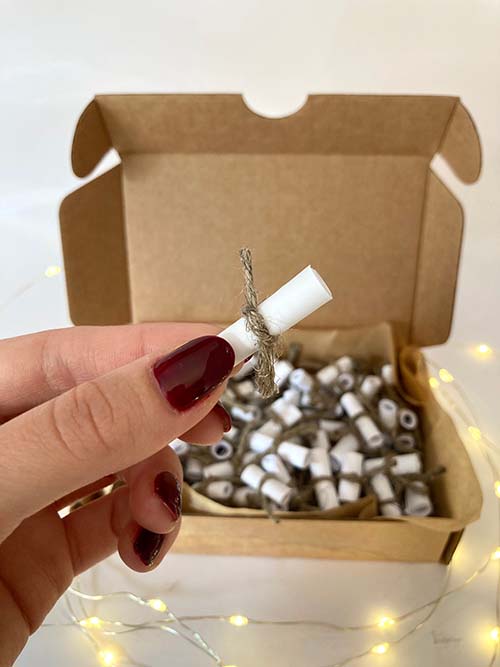 You can write your own on the tiniest of paper scrolls, or have the artist write them for you: either way this oh-so cute box of reasons why you love them is perfect for the romantic! He'll keep this forever, reopening them whenever he's had a hard day or misses you extra-much.
28. You're My Superhero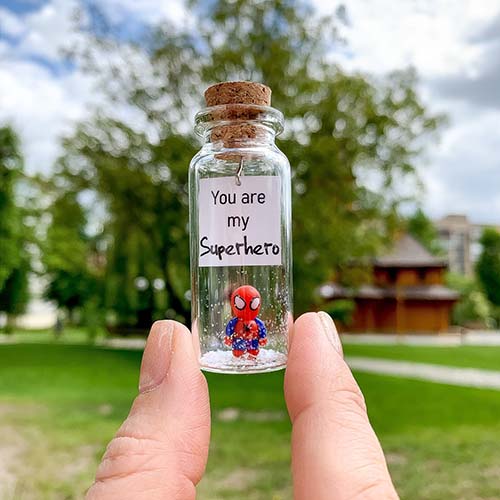 Remind him how much you love him and how you see him (as a real-life superhero, of course) with this cute gift. It'll look adorable on his desk at work, or on his nightstand. You know his superpowers, now everyone else can see him as he truly is too!
29. Long Distance Message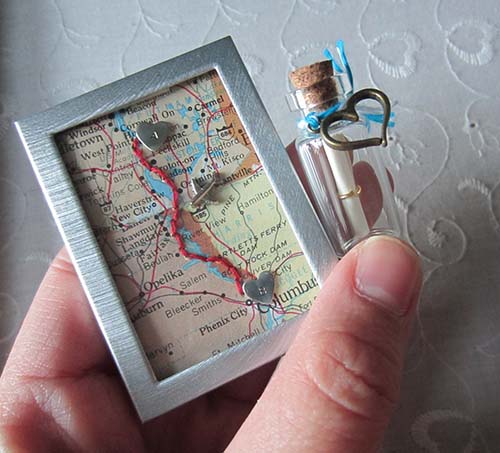 If you're torn apart by distance, let him know you're always thinking of him, with this clever and unique gift! Alongside the message in a bottle, he'll get a tiny map of both of your locations, held together by a red string, with represents an Asian myth: two people bound by red string will always find one another.
The magical cord may tangle or be stretched, but it will never break! Just like your love. Awwww!
30. Best Dad Ever Bottle Opener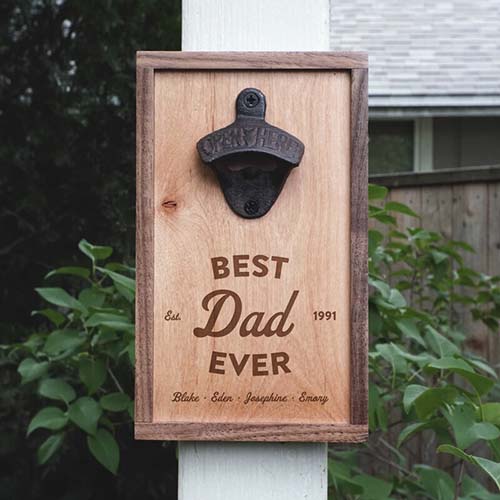 If your Valentine really is the Best Dad Ever – and you know he is – he'll be enamored with this great bottle opener! Whether he mounts it in his Man Cave, on the back deck, or in the kitchen, he'll never misplace his bottle opener again.
Pair it with a six pack of his favorite craft beer and you just may have the World's Best Valentine's Day Gift for the World's Best Dad!
Go here for 10 more Valentine's gift ideas for your man!
Best Valentine's Day Gifts for Kids
31. Valentine's Day Books
Kiddos love Valentine's Day too, and they'll love this sweet book! It's a fun way to say I Love You, and you won't get tired of reading this fun story aloud over and over. Make sure to inscribe it on the inside before wrapping!
32. Giving Bear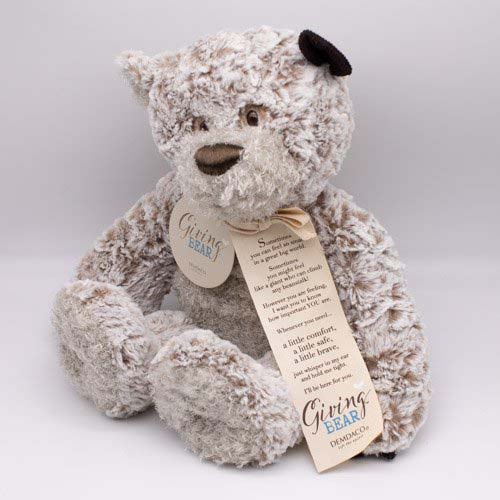 Everyone likes a warm hug, and this bear gives the softest, most snuggliest, most loving hugs, whenever you can't! So silky soft and cuddly, your little one will love this bear and want to take it everywhere.
Plus, a portion is donated to Children's Mercy Hospital, so you can feel great about "contributing to the commercialism of the holidays!" Wink wink.
33. Love Message Shortbread Cookies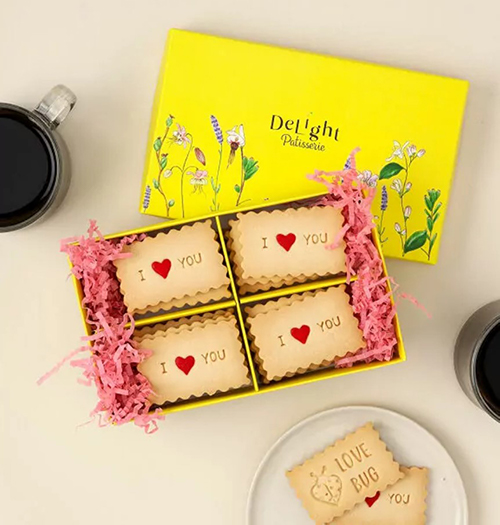 Want to switch up the ole Valentine's chocolates with something light and fresh, but still just as tasty and coveted? Enter these too-cute, love message shortbread cookies!
Each scrumptious batch is baked to order with your choice of message, and packed away in a pretty tin. They're so cute it's almost a shame that they'll disappear so quickly.
34. Galaxy Rose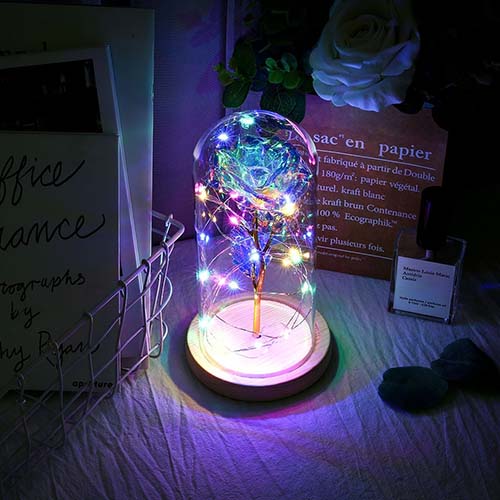 This unusual – in all the best ways – galaxy rose will enchant your little princess! She'll love the glowing, magical lights and the floating rose, all encased in a gorgeous cover.
It's like Beauty and the Beast, and all the best fairy tales, rolled into one enchanting gift! This will be a big hit with your little girl, so get the camera ready to capture her reaction when she opens it.
35. Sweet Hearts Bead Set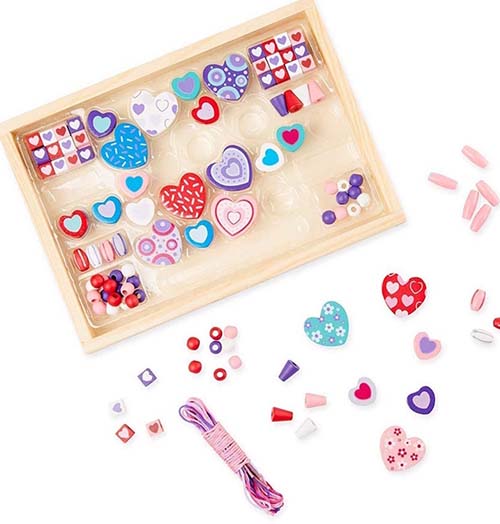 The little arts and crafts lover in your life will adore this fun set of DIY Valentine's themed beads! She'll love stringing them in different ways and patterns, making jewelry for her friends and family. Every little entrepreneur will love this set!
36. Personalized Treat Bucket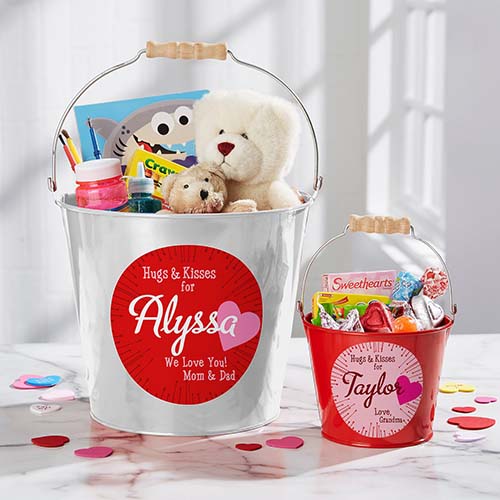 A cute little gift basket that can't be beat! These fun buckets of fun are filled with delightful and edible treats, from candies to sweet little toys. And the best part? It's personalized, like magic, with their own name on the front!
Your little one will go nuts over this, and Easter baskets will pale in comparison!
37. Valentine's Day Plush Animals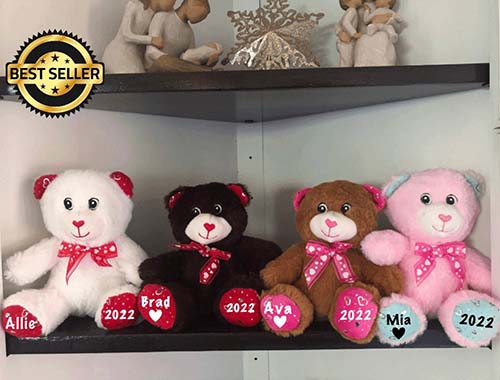 Plushies and stuffies are always a hit with the little ones, and for good reason: they're snuggly and cuddly and soft! Get them a new favorite for their collection with one of these Valentine's Day plush toys. You'll be a hero in their eyes in no time!
Plus, they're totally personalized with his/her very own name on the cute little feet!
38. Cat & Hearts & Books Tote Bag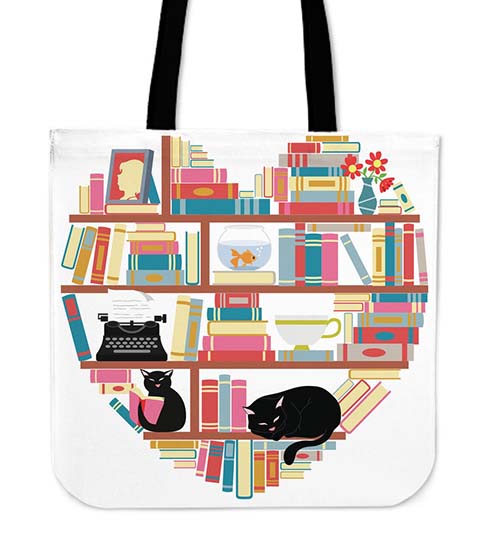 Combine all their favorite things – cats and hearts and books – into one delightful tote! She will love putting all her most important belongings inside and bringing them from room to room, Gramma's house to Mama's, the library to school. Just make sure she didn't put the cat inside!
Perfect for little hands to carry on sleepovers, picnics, and daycare.
39. Chocolate Rose Bouquet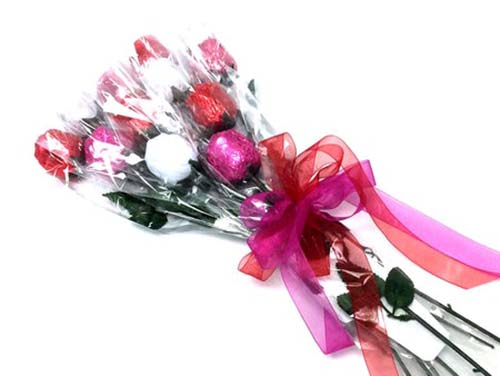 If roses make her sneeze, then chocolate roses win the day! They'll love snacking on these lovely "garden" items – after a healthy lunch, naturally! Whether you gift a whole bouquet, or parson them out to each of your kiddos (this would be a great gift for a busy parent of several!) they will go bananas over this yummy treat!
40. I Cerealsly Love You Bowls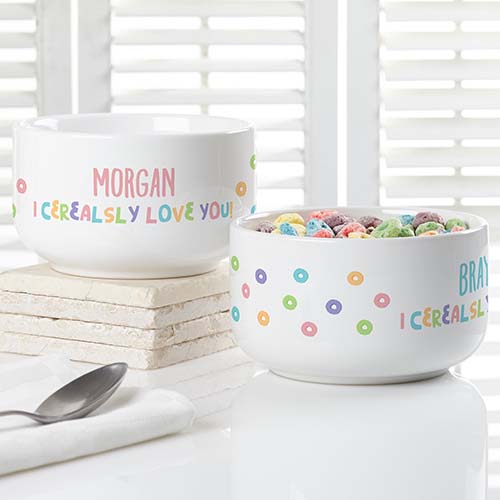 Cereal lovers, rejoice! A personalized and customized cereal bowl is here to save Valentine's Day! These adorable bowls are just the right size for your morning (or nightly) bowl of Rice Krispies, Frosted Flakes, or Mom's homemade oatmeal.
It will likely become the most used dish in the house in no time. (Maybe order an extra in case of little hands slipping?)
Read Next: 10 Last-Minute Valentine's Day Gifts