Tea lovers are everywhere. People LOVE tea!
According to studies, 25,000 cups of tea are consumed every second. Think about the enormity of this amount. That's around 2.16 billion cups per day. Now, that's a lot of tea!
If you know or you are one of these tea drinkers, we have put the perfect list together for you to do some serious shopping for the tea lover on your list.
Like a good cuppa, we hope you… enjoy!
15 Unique Tea Gifts for Tea Lovers
Our website is supported by our users. We sometimes earn a commission when you click through the affiliate links on our website. See our privacy policy & disclosures for more information.
1. Ceramic Tea Mug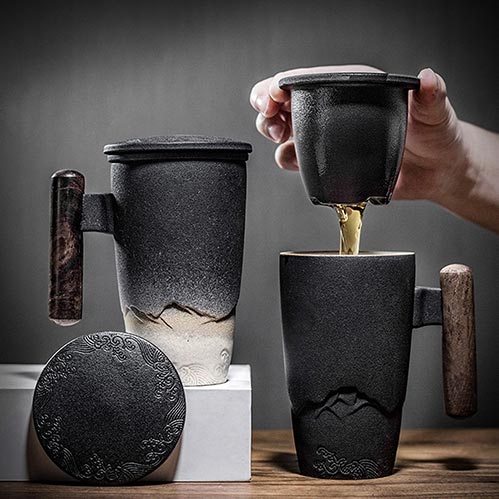 Brew your tea in this stunning handmade ceramic mug. Add your tea leaves to the removable infuser to make an impeccable cup every time.
The tea mug is great for home or office, it's dishwasher and microwave safe. More than that, it's like a functional work of art in your home, that you get to use every day.
What an excellent gift for tea lovers!
2. Personalized Coasters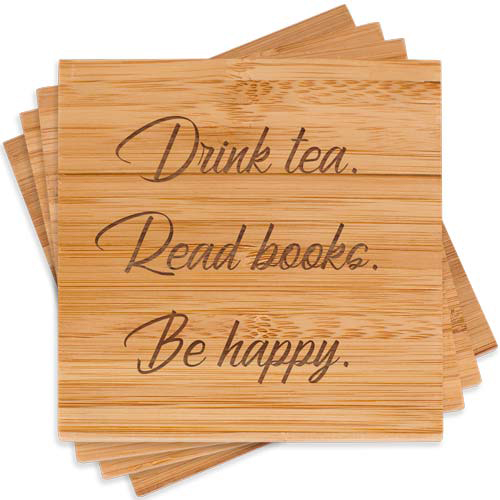 Our bamboo coaster set is crafted from sustainable bamboo wood. The customized set comes with four personalized coasters and includes a matching bamboo coaster holder.
These coasters are perfect for tea mug, keeping your furniture safe from those nasty watermarks from condensation or spills. It will make a nice addition to any coffee table, end table, or desk.
3. Mug Warmer
It's easy to keep that cup of tea piping hot with this electric mug warmer.
With an automatic "off" function, you never have to worry about forgetting to shut off your warmer. The compact design will fit on any desk, table, or countertop.
A gift that will be used daily by anyone who loves their tea piping hot.
4. Honeycomb Tea Infuser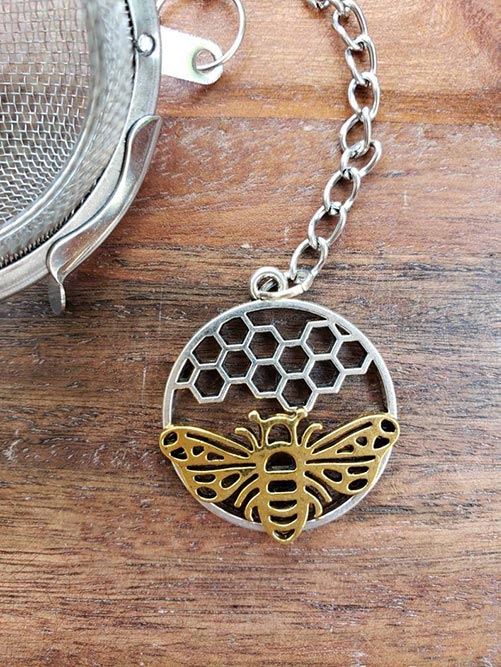 An adorable hand-crafted tea infuser reminds you to slow down and enjoy a relaxing cup of tea. Made from stainless steel, the infuser is easy to clean and comes with a decorative honeycomb and bee tag.
A simple, lovely way to steep the flawless cup of tea.
5. Royal Albert Old Country Rose Teaspoons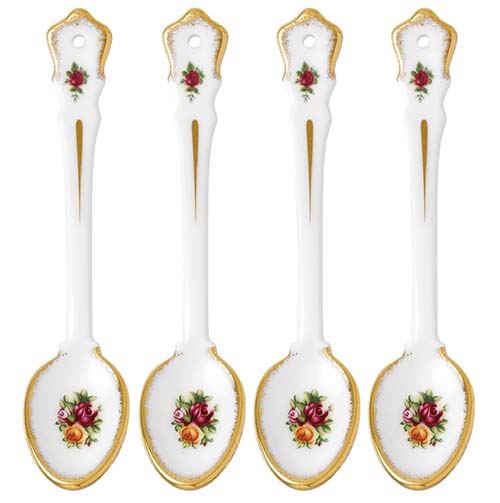 These Royal Albert teaspoons from Wedgewood are absolutely breathtaking. So elegant and classy, the tea lover in your life will be thrilled with them. Spoil them a bit more than they would spoil themselves to let them know just how much you care.
Part of the "Old Country Roses" collection, they are perfect as a standalone gift or as an addition to their set.
6. Tea Bag Wallet

Ingenius! An adorable tea wallet to keep your tea safe and sound while you carry it around. Now you'll always be ready for tea time, no matter where you are!
These hand-made tea wallets can hold up to eight bags of your favorite teas. No more ripped, crumpled, or dirty tea bags. Enjoy a fresh cup of tea anytime or anywhere.
7. Personalized Glass Tea Mugs (Set of Four)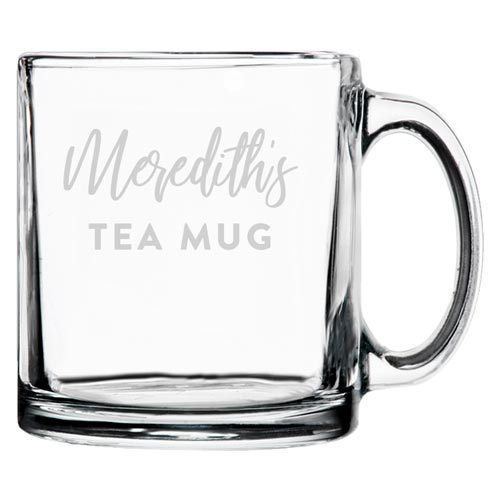 From Northwest Gifts, these personalized glass mugs are a must-have for any tea drinker. Have the recipient's name laser engraved on this clear 13-ounce mug.
No one will "steal" their cup of tea ever again! A wonderful addition to any kitchen or office setting.
8. Loose Leaf Sample Set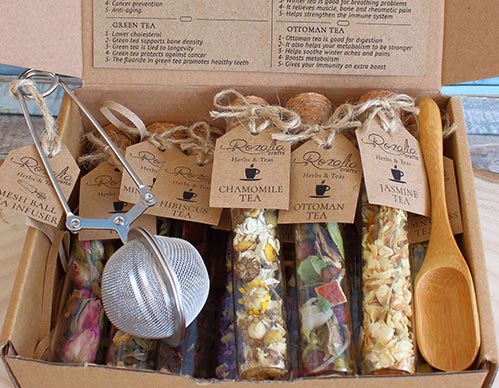 A 10 loose leaf tea sampler kit is a fantastic way to get a taste of homemade and handcrafted herbal, green, and black teas.
There are many health benefits to drinking tea. From lowering your cholesterol to managing your weight, the advantages are legion. Brew and enjoy a fresh cup with the included infuser.
Related: 50 Warm & Cozy Gifts for the Best Snuggles
9. Elegant Tea Glass
Have you ever seen a more beautiful mug? And it comes with a matching spoon! Beautiful colors and flowers embellish this "need to have" mug.
The ideal tea lover gift, this mug provides the most beautiful way to drink that first cup in the morning.
10. This Is My Tea Shirt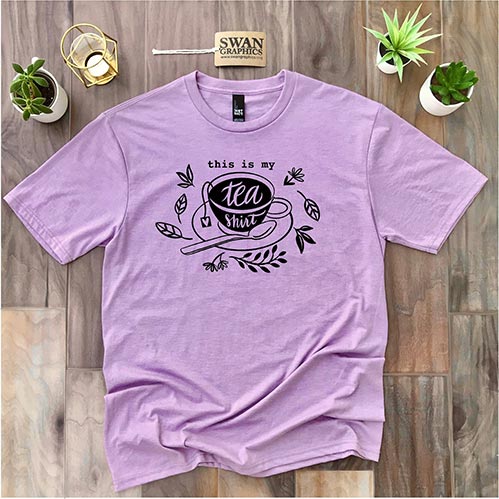 Here's a silly "Tea Shirt" which is sure to get a smile. Comfortable, cozy, and oh-so-punny, this cotton-blend shirt is the way to go on a day off.
Choose from numerous colors and sizes for that "just right" feeling.
11. Loose Leaf Half Moon Teapot
An exceptional design makes this contemporary-looking Half Moon Teapot a gift any tea lover would appreciate. Available in four great colors to match any décor.
Add your favorite loose leaf tea or tea bags. Pour in hot water and allow to brew to desired strength. Serve and enjoy. Every tea connoisseur will instantly know how to use this, we guarantee it!
Related: Ultimate Kitchen Gift Guide
12. Personalized Tea Box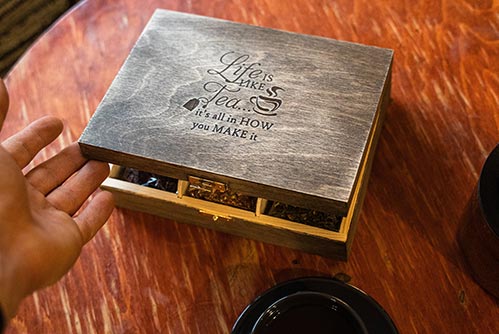 Here's a customized tea box to store your favorite blends. The hand-made wooden tea chest is made from birch wood and features a fun teacup on the lid along with the name of the tea lover gift recipient.
It's a true "treasure chest" that is sure to be opened time and again to reveal a wonderful treasure trove of tea.
13. Tea Crystals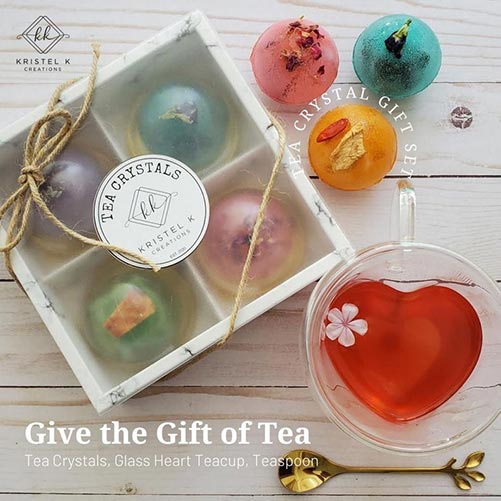 These beautiful tea crystals come in a delightful gift pack that any tea drinker is sure to enjoy as a fun alternative.
Add the crystal to boiling water and watch it release the loose tea leaves, brewing an excellent cup. Enjoy any time of the day or evening.
14. Honey Stirring Spoons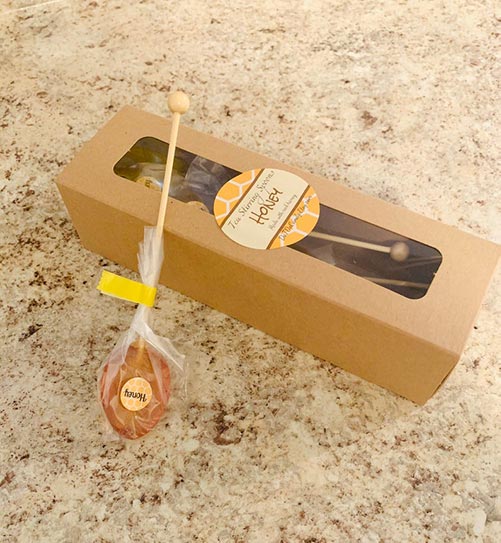 Try these handmade honey stirring spoons to add the perfect dollop of honey to your tea. The spoon melts and infuses the delicious honey flavor.
Enjoy in your hot beverage, or even as a lollypop. Highly affordable, it's the perfect add-on to your tea lover gift basket.
15. Baby Nessie Tea Infuser
This silicone Baby Nessie Tea Infuser is so adorable! It's fun and easy to use, perfect for the tea-loving Loch Ness enthusiast in your life. Simply fill the bottom half of the mythical (but definitely real) monster with the tea of your choice and let it steep.
You can enjoy your favorite loose leaf teas along with the easy cleanup – because it is dishwasher safe.
Bonus! DIY Tea Lover Gift: Make Your Own Tea Blend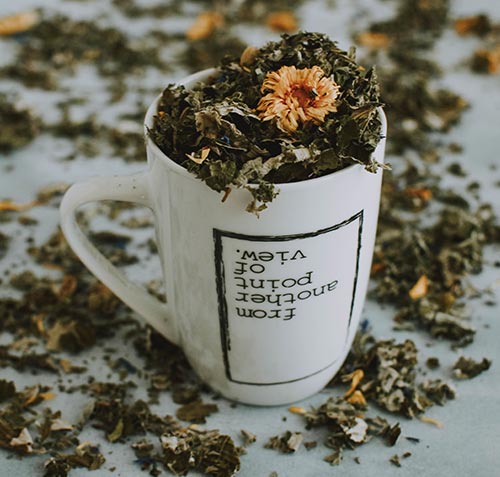 Here's the perfect DIY tea gift. It's easy to make your own tea blends by using natural herbs and flowers you grow, dry, or gather yourself.
Learn to blend herbal teas, winter blends, and iced tea flavors, then give them out as gifts for all the tea enthusiasts in your life!
You can even experiment a little to come up with your own variations. Create specialty blends and share with friends and family.
If you are a tea lover, I am sure you have found more than one wonderful item on our list to enjoy. Don't forget to include your friends in your tea party!
Read Next: 50 Random Acts of Kindness to Share the Love of Christ