The Day of Love is just around the corner once again. (Already?!?) So today we're here to help by taking a look at some sweet Valentine's Day gifts for her.
What exactly do you have in mind for this year for the special lady in your life?
Maybe you're hoping to find a gift that's really romantic, or funny, or practical, or a combination of all three. Or perhaps you have absolutely no idea what to get her, and don't even know where to begin looking.
Maybe your significant other is actually really hard to shop for (admit it; we won't tell!) and you need some outside-the-box gift ideas that will truly surprise her.
If any of these describes your Valentine's Day gift shopping experience, keep reading.
Our website is supported by our users. We sometimes earn a commission when you click through the affiliate links on our website. See our privacy policy & disclosures for more information.
10 Best Valentine's Day Gifts for Her
This is not your ordinary flower-bouquet & box-of-chocolates Valentine's Day post.
(Although there's nothing wrong with any of those if that's what your girl really loves.)
We've gone through thousands of gift ideas to help you discover the top 10 Valentine's Day gifts for her. These are truly ten of the best gifts for her you'll find anywhere, if we do say so ourselves.
Plus, for those of you who prefer to make you own gifts that add a special, personal touch, we've added a little bonus section on DIY Valentine's Day gifts at the end of this post that are perfect for you beloved lady!
So relax and kick back… we've done the hard work for you. All you have to do is choose the gift.
Let's get started!
1. "The Best Is Yet to Come" Bamboo Cutting Board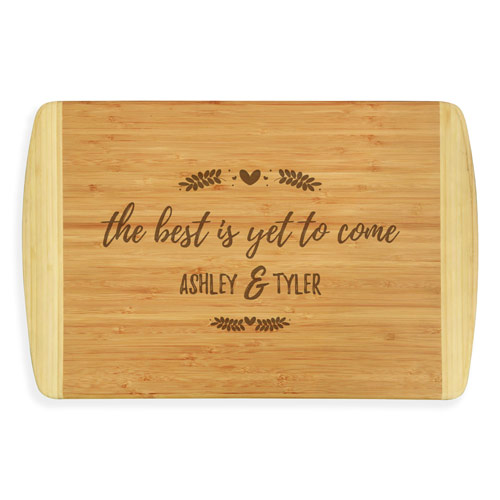 If your wife or girlfriend really enjoys whipping up delicious meals for the two of you, or if you like to cook together, you may not have to look any further in this list than gift #1!
This personalized cutting board from Northwest Gifts is made of quality bamboo wood, features beautiful contrasting tones and measures a generous 18″ x 12″.
With quaint floral accents and a little engraved heart, your sweetheart's new cutting board includes custom engraving of a lovely and personal Valentine's Day message.
2. Music Box with Custom Song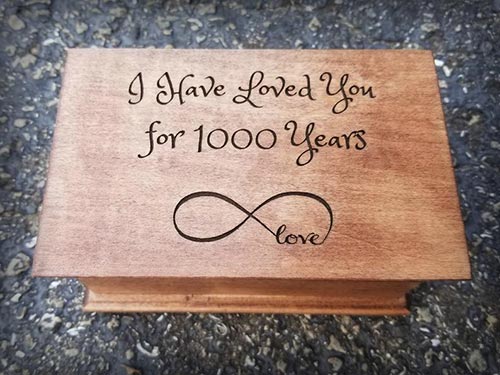 A vintage-style music box with a modern twist! This 5.5″ x 3.5″ wood music box may look old-fashioned, but it's actually electronic and fully customizable.
Many couples have a special love song that they claim as their own. If you and your significant other do, a custom music box that plays *your* song is sure to make her smile this Valentine's Day.
Not only do you get to pick out the song, you get to choose the engraving on the lid (song lyric, both of your names, anything else she'd like), as well as the wood color.
3. Luxury Spa Gift Basket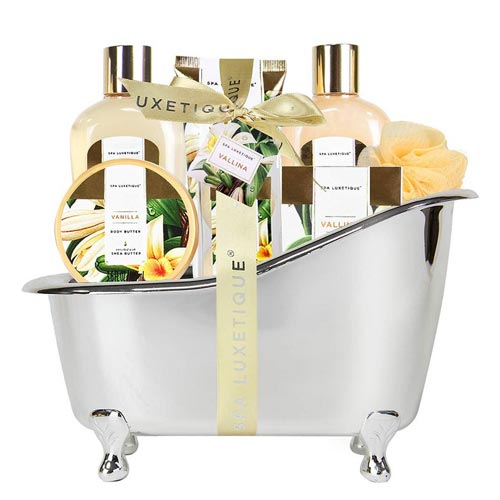 This Valentine's Day, give her the gift she really wants – long, blissful, and fragrant relaxation.
Your love takes excellent care of you, your children, and your house, every single day of the year. Next to this most important work, there's nothing she enjoys more than a little "me" time every now and then.
So this year, why not show her that you recognize her needs and wants with this luxury spa gift basket set?
The adorable mini clawfoot tub gift basket includes vanilla-scented bubble bath, two bath bombs, body butter, a bath puff and more. Her special Valentine's gift comes tied with a bow and is, of course, ready to use.
Related: Consider giving her a spa experience – maybe a weekend getaway spa package or use the above gift basket to create a (more affordable) DIY staycation version. More "experience" gift ideas here.
4. Custom-Engraved Couple's Tumblers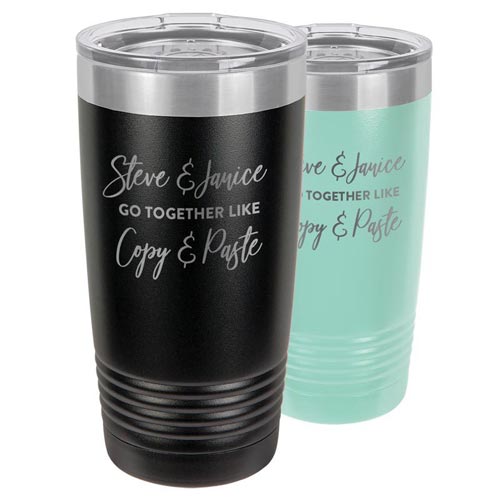 Here's the practical-yet-sweet Valentine's Day gift for her you've been looking for. These two personalized tumblers are fun, yet totally functional with double-walled and vacuum-sealed construction for superior beverage insulation.
The mugs will feature your loved one's name as well as your own, and come in the color and size of your choosing. You get to choose the bottom line of the text, too – go with "We Go Together Like Copy and Paste" or anything else you like.
Here are some of our favorite lines:
We go together like…
Peanut Butter & Jelly

A Wink & A Smile

Nutella & A Spoon
Tacos & Tuesdays
Avacado & Toast
Unicorns & Glitter
Alcohol & Bad Decisions
Drunk & Disorderly
Sharks & Tornadoes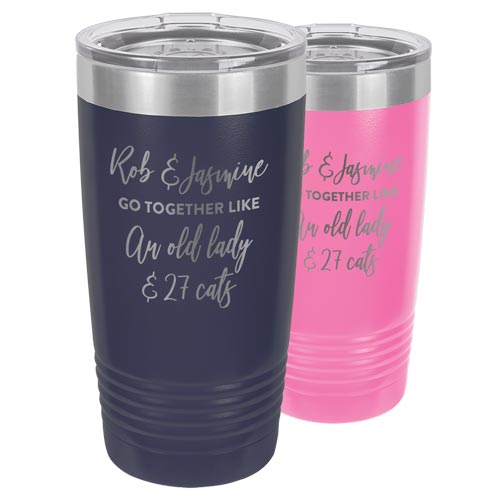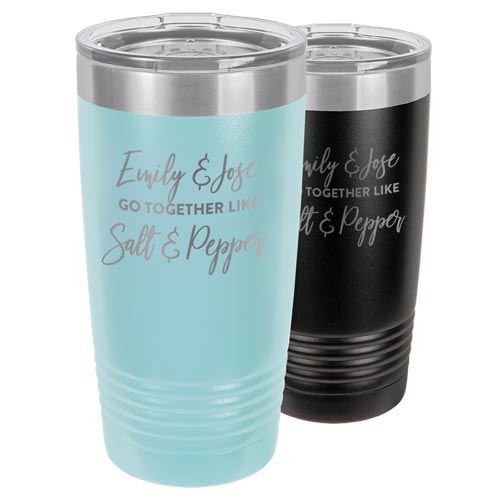 This Valentine's Day gift for her is really like a bonus – you get a tumbler, too! Personalize your set here.
5. Personalized Tree Carving Canvas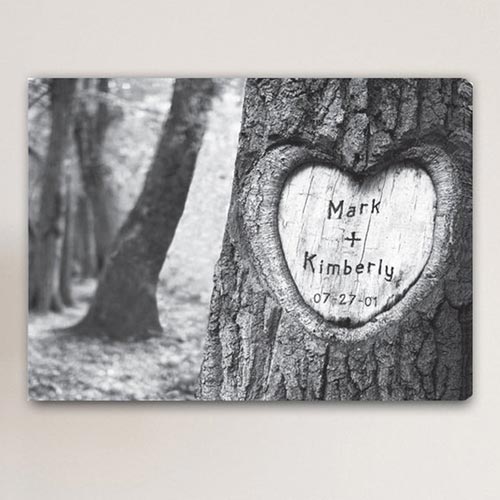 When you fell in love with her, the feelings you shared were carved into your hearts forever.
Okay, that was a little cheesy… but maybe the two of you actually carved your names or initials into a tree at some point in your relationship, as a symbol of your lasting connection. And even if you are both no longer young in years, your love for her keeps you young at heart.
This personalized canvas print illustrates that sentiment perfectly. Measuring 18″ x 24″, it's a stunning and heartwarming Valentine's Day gift. The print comes personalized with your names and important date (first date, wedding anniversary, etc.) and will be treasured by her for a lifetime.
6. "Will You Accept This Rose?" Wine Glass (+ a Bottle of Rosé!)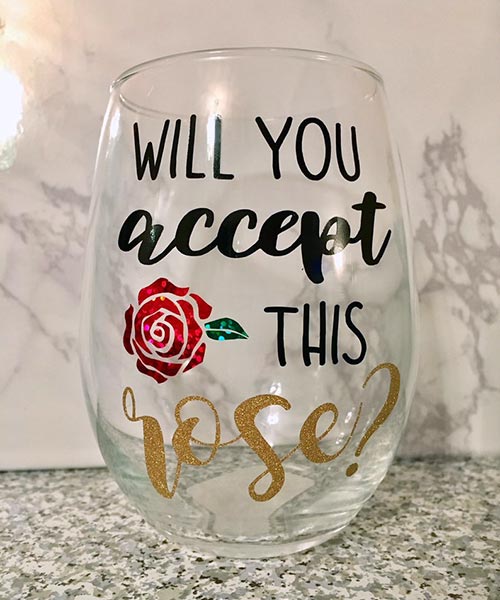 For a funny yet thoughtful Valentine's Day gift for her, you can't go wrong with this cute wine glass.
Whether she's a fan of "The Bachelor" or "The Bachelorette," or just likes to relax with a glass of wine after a long day, she's going to love the bit of humor wrapped into this stemless wine glass.
We recommend making this gift complete by surprising her with a bottle of rosé, too!
Find more personalized glassware here.
7. Eternal Rose with Gift Box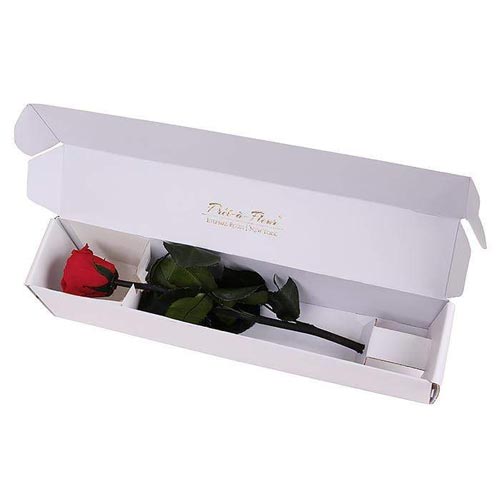 Does your wife or girlfriend love to receive roses on Valentine's Day, or on any other day just because? If she does, one thing she surely doesn't like is having to dispose of them after a week or two when they start to wilt.
With this Eternal Rose, she'll no longer have to worry about your gift lasting only a few days. The 12″ rose is guaranteed to last up to three years… and yes, it's real!
Eternal Roses have been specially-treated with natural plant elements to ensure preservation. They don't even need to be watered or placed in sunlight! This rose is available in four different colors and comes secured in a pretty gift box.
8. Couple's Cooking Class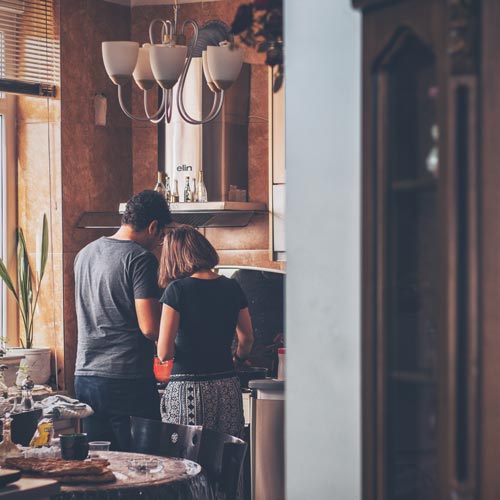 Why not turn a Valentine's day gift for her into a Valentine's Day gift for both of you? With a cooking class, you can do just that. Because why not, if the two of you love spending time in the kitchen together anyway trying new recipes. And besides all the yummy food, this unique gift makes for a wonderful bonding experience.
To give you an example of what to expect in a couple's cooking class, take a look at Sur La Table's site. They offer one of the more popular cooking classes available in the US. Just enter your city to see if they have a location near you. You can also check your local community guides to find classes in your area.
And think about it: a cooking class would make a great accompaniment with the bamboo cutting board (gift #1) we recommended above!
Related: 50+ Experience Gifts to Give a Lifetime of Memories
9. Personalized Heart Necklace
When it comes to Valentine's Day gifts for her, heart-shaped necklaces are about as timeless as you can get.
For that extra special touch this year, step up the typical jewelry gift with a customized necklace that features both your names and birthstones.
It comes in your choice of three finishes: gold-plated, rose gold-plated, and sterling silver. This dazzling necklace comes already wrapped in a gift box, so no extra work is needed on your part.
10. Bamboo Wood Bath Tub Tray
Here is another Valentine's Day gift for her that would go perfect with the luxury spa gift basket we mentioned above (see idea #3).
This bamboo wood bath tub tray from Royal Craft Wood sits nicely in between the sides of a tub, so your love will be able to relax peacefully with a good book, some snacks, soaps and lotions, a candle, her phone, and even a glass of wine if she wants.
More Valentine's Day Gifts for Her
Were you able to find an amazing Valentine's Day gift for your significant other that she will absolutely adore?
We hope so, but if you're still looking, or if you'd rather go the do-it-yourself route, we've got your back.
For EVEN MORE unique and creative ideas, take a look at the many marvelous things (most of which can be personalized!) we have available at Northwest Gifts.
Let's close out this post with some thoughtful homemade Valentine's Day gift ideas that are sure to warm her heart on this February 14th.
8 Creative DIY Valentine's Day Gifts for Her
Put together a gift basket filled with her favorite candy. Or with nutritious snacks, books and magazines, bath soaps and lotions, pens and a journal, or anything else that you know she'll enjoy.
Bake her favorite cake or other dessert, and draw an icing heart with both your names on top.
Create a manicure in a jar. This one's super simple- just take a mason jar and add some nail polishes, emery boards, cuticle oil, cotton swabs and fingernail clippers. Put them all in the jar and place a bow on top.
Create a memory jar. This one takes some time but is oh so special. Write down on several small pieces of paper all the favorite memories you share with your love. Put them all in a Mason jar (throw in some glitter or confetti to make it extra fun) and go ahead and add a bow on top of this one, too. She's going to love it.
Write her a song. Do you play the guitar, piano, or any other instrument? Even if you're going a cappella, write and record her a song, or even a poem, that she can listen to and cherish forever.
Write her a good, old-fashioned love letter, letting her know just how much she means to you and why. Love letters may seem like a thing of the past but we're all for bringing them back! There's hardly anything more romantic.
Make her a Valentine's Day card. Factory-produced greeting cards are becoming more and more expensive. Why buy one when you can actually make one yourself using paints, pens, or even colored pencils. Or, if you're savvy on the computer, build one there. Here's some tips to get you started, and here are ideas on what to say in your Valentine's card.
Make her a scrapbook. Fill it with photos of the two of your throughout the years, and add some trinkets of some of your favorite moments together- think concert and movie tickets, love letters, wedding or anniversary cards, etc.
Check out our Valentine's Day shop for fun games and cards!
Read next: 40 Valentine's Day Gifts for Your Sweetheart
Pin It