We're going to give you 10 truly last-minute Valentine's Day gifts that you can make, buy, or otherwise arrange right away.
Like, literally RIGHT NOW.
You have your reasons. Let's not waste time. Instead, truly impress your significant other with the perfect Valentine's Day gift…
… which just happens to be something you can pull off in the next half hour.
Ready? GO.
10 Last Minute Valentine's Day Gifts
Our website is supported by our users. We sometimes earn a commission when you click through the affiliate links on our website. See our privacy policy & disclosures for more information.
Ok. Here are ten TOTAL LAST MINUTE Valentine's Day gifts that you can pull off in the next hour, give or take:
Book a romantic getaway
Card, chocolate & flowers
Wine
Perfume
Bathrobe
Spa treatment
Fleece blanket
Jewelry
Make a favorite meal
Sign up for a class together
1. Book a Romantic Getaway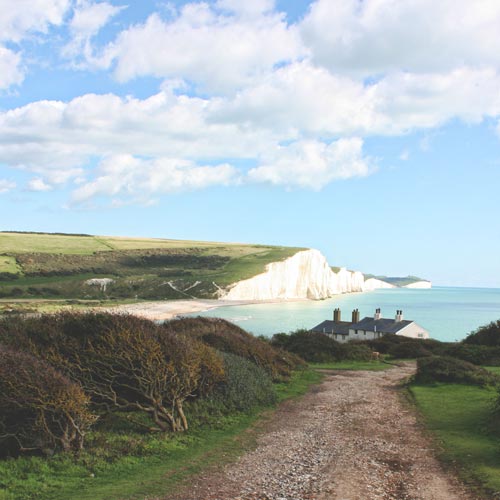 Where: Online
How quickly: 15 minutes or so
Everything will already be booked for Valentine's Day, but that can't stop you from booking (and "giving") a trip that's scheduled for next week or even next month.
Like any couple, you've talked about places nearby that you want to visit. "It's only three hours away, why have we never been there?"
In about 30 seconds, I came up with least five that my wife and I have talked about. There's the hot springs, the wolf preserve, the historic site, the major city that's about 3 hours away, the charming small town some friends go to and say is the perfect getaway….
You know what I'm talking about.
You can go big and book some crazy trip to Europe, Australia, the Bahamas, or whatever, but realistically you can probably afford (and were already planning on a trip this year to) a quasi-local spot.
Step 1
Zip on over to your favorite booking site (Airbnb, VRBO, FlipKey, etc), pop in your destination, and book a weekend getaway.
Step 2
Print out your confirmation, and maybe a photo of the destination from the web, run down to the local store and grab a Valentine's Day card and some flowers.
Step 3
Don't forget to sign the card. And, you know, add some lovey dovey stuff.
Step 4
Give gift. Bask in her adoration. Order pizza and watch Netflix.
Congrats, you've won Valentine's Day.
Why not play couple's games on your sweet vacation? Here are 10 romantic games for couples.
2. Card, Chocolate & Flowers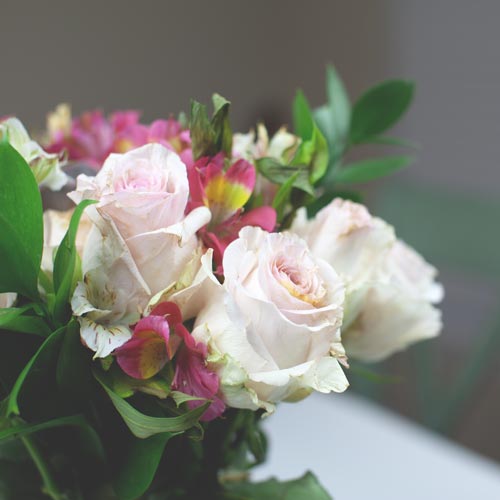 Where: Local grocery/department store
How quickly: 30 minutes or so
Ok, we'll go more quickly now. You're in a hurry, after all!
You can't go wrong with the classic Valentine's Day gift: Flowers, chocolate, and a card.
Thankfully, these three things are everywhere in the days leading up to February 14th. You'll have no problem running down to the nearest store and picking up some nice items. Heck, you can probably get these at convenience stores and on street corners, too.
Just take a few extra minutes to write something thoughtful in the card (like these ideas), and maybe wrap the chocolates or at least tie a ribbon around it.
Oh, and take the stickers off. Nothing says "last minute Valentine's Day gifts" like price tags.
3. Fine Wine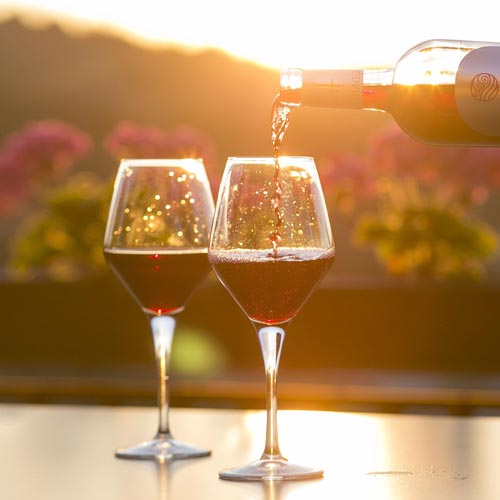 Where: Local vineyard, wine & liquor store, or grocery store
How quickly: 30 minutes or so
You know what she likes. (Or what he likes.)
If you choose wine as a gift, make sure you step up your game. Choose an extra-special bottle by going to a local vineyard or winery instead of your typical Costco fare.
If you typically get the $7 bottle, go for a $20. And if you often get the $20 bottle, get a case instead – they'll get a kick out of that for sure. Or upgrade to the $45 bottle.
If you're at the grocery store, get some snacky crudité that pairs well. Or if you are buying at a niche wine shop, they'll probably have a gift box, wine bag, or other special way to wrap it.
It's those little touches that help make the difference so that it doesn't *seem* like a desperate last-minute choice.
Which we both know it's totally not.
4. Aromatic Perfume
Where: At most malls and department stores; online if you have a few days
How quickly: 30 minutes or so
Perfume is another classic Valentine's Day gift that will always be a winner. She'll use it for sure, and she will never have to know you bought it at the last minute!
5. Luxurious Bathrobe
Where: Online (depending on shipping speed), local mall, designer store, or department store
How quickly: 30-60 minutes locally, a few days online
Unlike wine, chocolate, flowers, jewelry, or perfume, a bath robe isn't quite the stereotypical V-Day gift.
But at the same time, it's cozy, kinda risque, and will be put to good use. It's more surprising than some of the other classics, yet it still has that romantic, Valentinesy feel.
What's not to like? Go down to your local mall or clothing store and pick one out, or order online if you have a day or two to spare.
6. Spa Treatment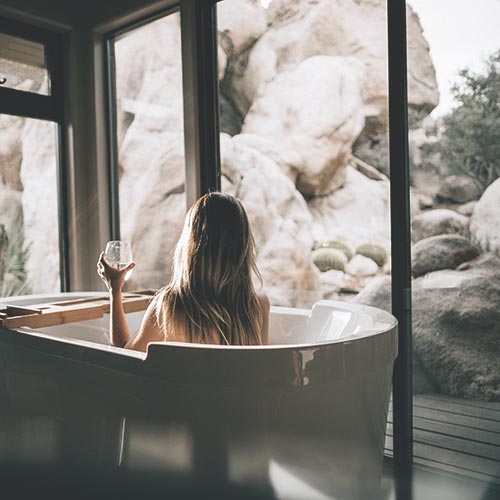 Where: At your local spa resort or day spa
How quickly: 5 minutes (online) to 30 minutes or so (in person)
Everyone loves some pampering at the spa. They'll probably have a few packaged deals ready for Valentine's Day gifting.
Call ahead and see what sort of Valentine's packages they offer. Who knows, maybe you'll find a package that comes with a free gift as well, like a bathrobe, flowers, skin care items, or chocolates.
Go with a basic treatment, or spring for a gift card that covers a month or more of repeat visits. Or go all-out and cover a weekend getaway at a destination spa.
If you're really pinched for time, you can often hit up Groupon or similar sites to get a gift card or prepaid treatment, often at a discount. Print out the confirmation and stick it into a DIY Valentine's Day card (here are some great quotes to inspire you) and you're done in five minutes or less.
Big or small, a spa treatment gift is a great last-minute Valentine's Day gift!
Related: DIY Valentine's Day Gift Ideas
7. Cozy Fleece Blanket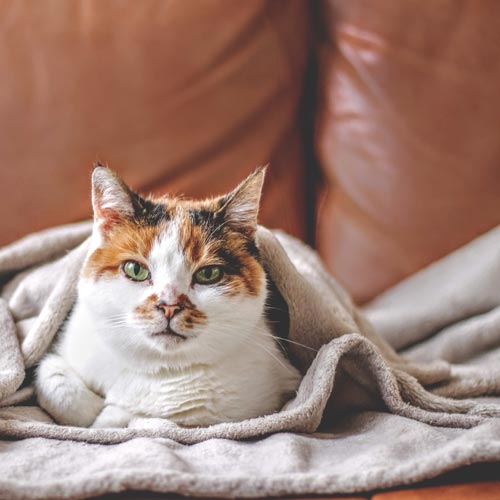 Where: Online, local mall, designer store, or department store
How quickly: 30-60 minutes locally, a few days online
Snuggle up (together, of course!) in a broad, warm, cozy, romantic blanket.
You can never have too many blankets. (That's what my wife says, at least.)
You can order these online or for pickup rather easily, or just go down to your local department store for an affordable and very-last-minute Valentine's gift that won't SEEM like a very-last-minute Valentine's gift.
8. Jewelry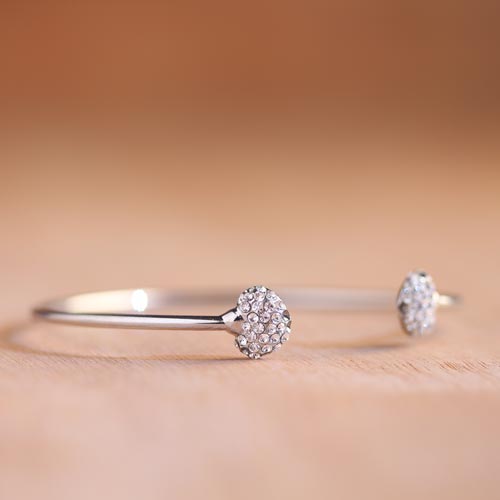 Where: The nearest jewelry store
How quickly: 1 hour or less
Go pick out something nice. You can't miss with this one. Better hurry, they'll probably be busy!
You can also find jewelry online if you have some time to spare to account for shipping.
9. Make a Favorite Meal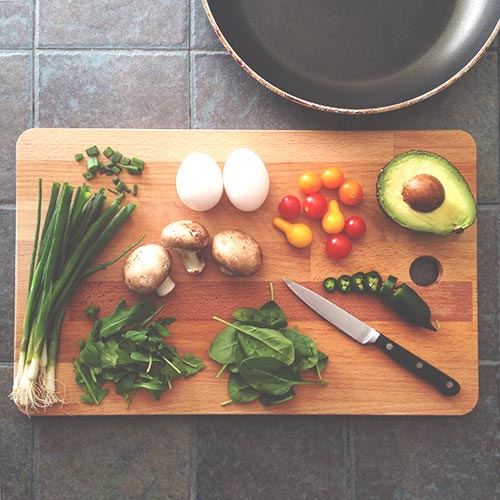 Where: At home (plus a trip to the grocery store)
How quickly: 1-3 hours
What's a favorite meal that she (or he) loves? You're too late to make reservations (that's part of why you're reading this guide, after all) but you can still impress in…. the kitchen!
Choose one of their favorite home-cooked recipes and make it for them. Add the extra touches like candles, a tablecloth, wine, a fancy dessert.
Or, if you feel like tackling something that's probably more difficult, recreate a beloved restaurant dish. It's fairly easy to search for dish name + restaurant name + recipe.
So, quick! Look it up now, make a list of ingredients, run to the store, and start prepping. And don't forget to add those extra special accents like flowers, candles, beverages, and dessert!
10. Sign Up for a Class Together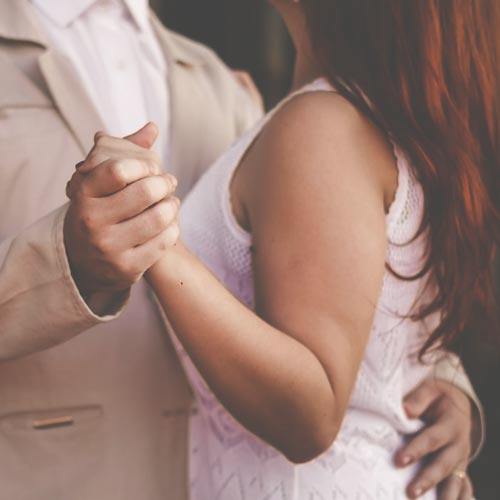 Where: Community centers, niche vendors, local studios
How quickly: Usually just an internet search away
This is a fun idea! Spend more quality time together, learn a new skill, have your next several date nights planned for you (on class nights, duh), and win Valentine's Day.
And all you have to do is think up a few things the two of you would like to learn (or get better at), search local results on your phone, and sign up online or phone it in.
She'll never know how close to the wire you came with your gift!
Here are some lessons/class ideas to get your wheels turning:
Dancing (ballroom, square, salsa, etc)
Sports (tennis, squash, golf)
Art (photography, ceramics, painting)
Mixology
Home brewing or distilling
Cooking / baking
Partner massage
Rock climbing
For more ideas, look up local activity guides:

City activity guides
"Downtown" guides
County activity guides
Community centers
Galleries and artist collectives
Local fairgrounds/expo center
10 DIY Last-Minute Valentine's Day Gifts
Want (or need!) to go the DIY route? Here are ten DIY Valentine's Day gifts you can whip up right now:
Make a coupon book filled with things like:

Chore-free day
Breakfast in bed
Date night
Dinner & a movie
30 minute massage

Get a plain t-shirt from Walmart and use a set of fabric markers to create a custom t-shirt. Better yet, do a matching his & hers set for both of you! Lots of great ideas here
Fill a jar with 50 or more sweet, funny, thoughtful, encouraging, and passionate little love notes
Set up a mini pop tent in the living room and have a romantic camp-in
Write a love letter. And not just a little note; make it long, detailed, and totally mushy
Print photos from your phone or social media account at a local one-hour photo place, pick up a photo album, and put it all together, with some sweet handwritten notes interspersed throughout
Give a "year of dates." Come up with 12 fun date ideas, write or print out your itinerary, and insert each into an envelope marked "March of [Year]", "April," and so on
Create a Valentine's treasure hunt, with romantic clues leading to the next clue, like "the book of poems we bought on our first ___ together" or "where you were standing when we found out we were pregnant"
Print out a ton of silly Valentine's Day memes and leave them all over the house so they get found for months
10 More Last-Minute Valentine's Day Gifts
Here are some more last-minute gifts that you can often get locally, or perhaps order online with rush delivery to make it in time.
Gaming system
Concert tickets
Basket of treats and snacks from a nearby farm or organic market
New dinnerware set
Get one of those Visa gift cards, put it in a V-Day card, and go on a shopping spree together
Fill some cozy slippers with their favorite treats (like this)
Get a little decorative mailbox to pass love notes to each other (here's a cute one)
Take her on a walk at the nearby historic downtown and get her a keepsake from one of the stores
There you have it! You should have plenty of last-minute Valentine's Day gift ideas to choose from.
Just pick one and get to it!
If you have a few days to spare, consider our popular His & Hers tumbler set, where you each get a matching tumbler (in any combination of colors) with your names and a cute "We go together like…" phrase.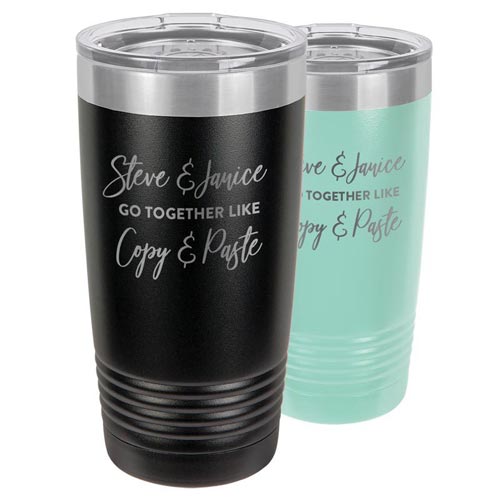 Other fun phrases include, We go together like…
Campfires & s'mores
Cory & Topenga
Cupcakes & frosting
Clowns & crying children
(And that's just the "C's". See lots more here.)
Happy Valentine's Day to you and yours!!
Check our Valentine's Day shop for fun games and cards!
Read Next: Best Valentine's Day Gifts for Your Sweetheart