Let's talk about the best bird feeder gifts for bird watchers.
Don't you just love it when someone you love has found their niche? Their very most favorite hobby? Their THING?
It makes narrowing down a gift so much easier! Now that you have discovered their secret (or not so secret) passion for all things aviary, you can tailor make a present that will get their jaws dropping.
Get ready to be their favorite friend/family member EVER when you pick one of these backyard bird watching gifts.
10 Best Bird Feeder Gifts
Our website is supported by our users. We sometimes earn a commission when you click through the affiliate links on our website. See our privacy policy & disclosures for more information.
1. Custom Engraved Cedar Wood Bird Feeder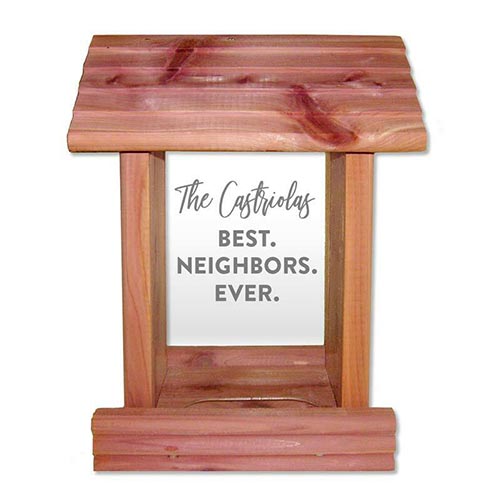 Personalized in any way, shape, or form that you like, this cedar bird feeder is a must-have for any serious bird lover.
You can go sweet and sentimental in your engravings with something like "Best Dad/Aunt/Brother Ever," or simply spell out their name for a one-of-a-kind piece of backyard art.
Bonus: the birds are getting a gift too!
2. Window-Mounted Bird Feeder
Clear as a bell so they can watch those gorgeous birdies munch away, this pretty wall-mounted bird feeder is chic and modern. And the squirrels will have a hard time getting into the bird's food (although it may be entertaining to watch them try), which is a bonus.
If there's ever an enemy in the life of a bird watcher/feeder, it's those dang squirrels!
3. Heavy-Duty 2 Gallon Capacity Bird Feeder
This bird feeder is huge! It's made from steel, will hold a 12 lbs bag of bird seed (two gallons), and features weight-adjustable perches that let seed out only when the size bird of your choice sits on it.
Plus, the weight-sensing mechanism means that it's squirrel-proof – the heavier weight of squirrels won't allow it to open for them!
P.S. We promise we don't hate squirrels. Stay tuned for a squirrel loving post soon, pinky promise.
4. Copper & Blue Wine Bottle Bird Feeder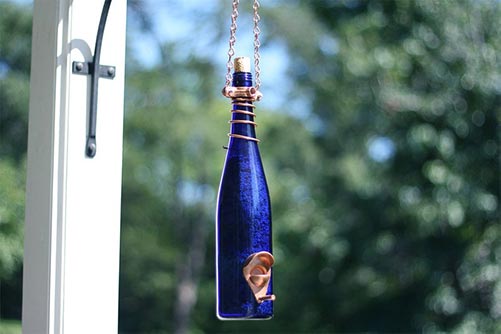 Let's face it, most bird feeders look fine, they just don't look amazing. But this one does!
Made from a blue wine bottle with copper accents, anyone would be proud to hang this elegant feeder up in their yard. They'll be pleased by the beauty of the birds along with their attractive new bird feeder gift.
5. Eco-Friendly Bird Feeder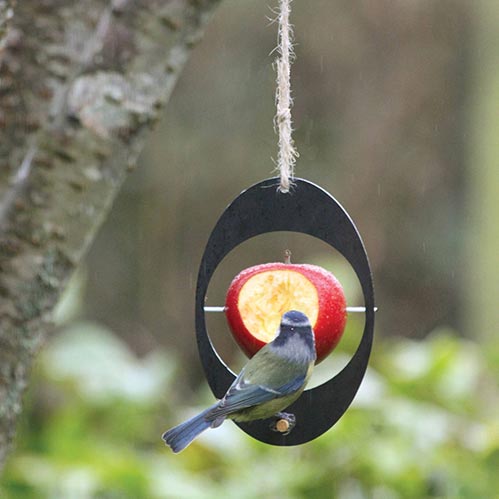 It's like composting, but a whole lot prettier to look at! This clever eco-friendly bird feeder is just the thing for bird watchers who don't love spilling a bag of seed every week, and would be great for the kids too.
All those apple cores! Toddlers and their one bite out of every apple in the crisper drawer… if you know, you know. You know?
6. Craftsman Style DIY Wooden Bird Feeder Kit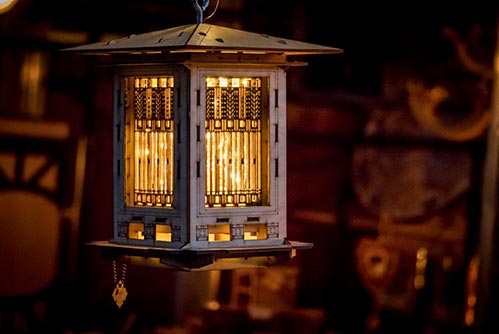 We have one word for this craftsman style bird feeder kit: stunning. You'll feel like a real architect in the making when you put this together for your favorite bird watcher (or let them do it themselves if they're craftier than you are).
Is there an HGTV show for bird houses and builders? Cuz there should be!
7. Personalized Sweetheart Bird Feeder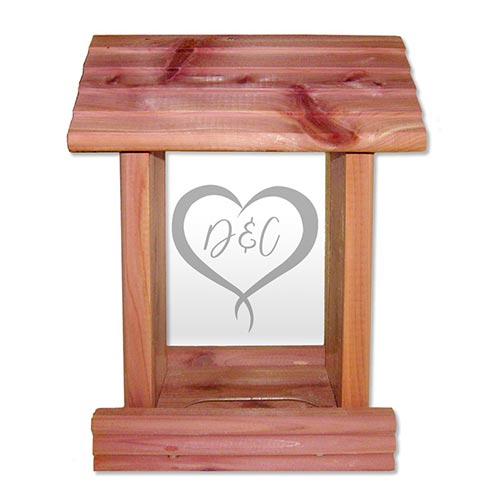 Perfect for anniversaries, weddings, engagements, or a house warming party, this sweetheart bird feeder is customized with their initials and a pretty heart.
Love is in the air! (Get it? In the air? Birds? Ha, we slay ourselves.)
8. Personalized Bird Feeder Saloon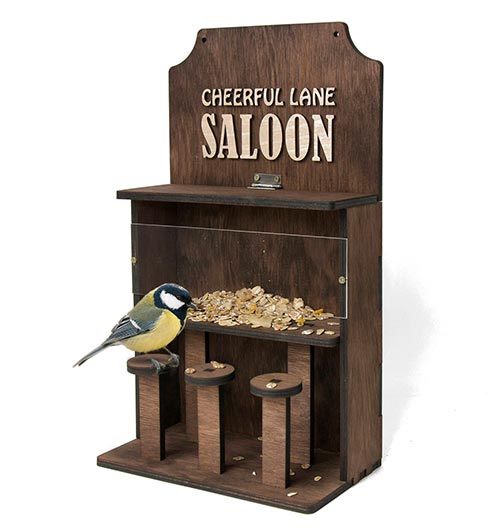 Any old backyard can have a normal bird feeder. Your backyard should have this: a saloon style feeder, totally customized with your name (or witty bar name). I mean, come on, how adorable is a bird sitting on a bar stool?
You need to name the regulars Norm, Cliff, Woody, Dianne, and Coach.
9. Bird Feeders Shaped Like Your Favorite Bird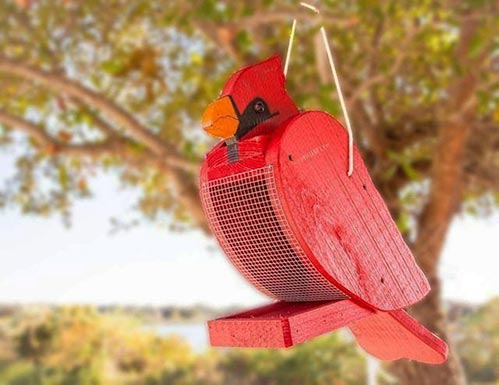 A real attention getter, this bird shaped bird feeder is a knockout. Blue jay? Cardinal? Humming(bird)? Honestly, we kind of want to start a collection… each one more bright and cheery than the last. Might need to plant a few more trees…
10. Geometric Window Bird Feeder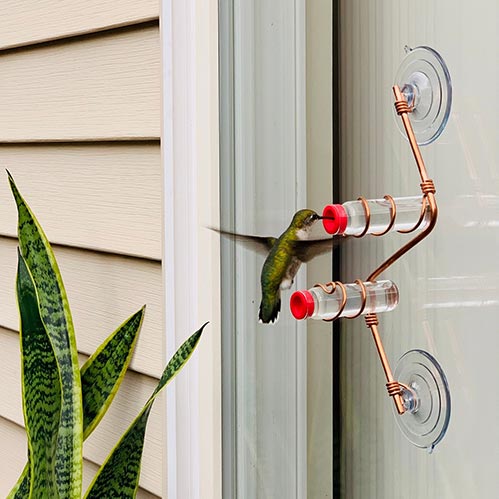 Pretty and functional (just like a hummingbird), this geometric feeder will instantly transform a boring old window into a work of art – even if a bird isn't nearby. Remember to use a splash of cranberry juice in water to attract the birds without actually poisoning their little systems with food coloring and dye.
Bird Feeder Accessories
If you want to go the extra mile for your bird enthusiast friend, get some of these stellar bird feeding accessories.
Squirrel-Proof Bird Feeder Pole
Again with the squirrel bashing. But the little pests just gorge on the food meant for the birdies!
Get rid of the problem by getting one of these squirrel-proof bird feeder poles. Hang all your favorites (up to four) and be sure to situate it far enough away from the house or porch or trees that the little furry criminals can't make the jump!
Binoculars
These binoculars that connect to your smartphone are the niftiest we've found. That elusive Elf Owl, Kirtland's Warbler, and Ferruginous Pygmy-Owl will be theirs to spot in no time!
Monocular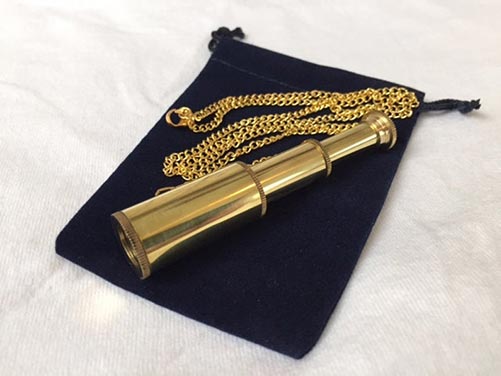 They'll be the talk of the bird watcher's club with this amazing pocket telescope/monocle!
Shiny and golden, sleek and smooth, old-fashioned yet high-tech, this is a one-of-a-kind gift for that bird watcher who already owns everything else.
We think they'll be gobsmacked with this one.
Bird Feeder Camera
Monitor wildlife in high style with this waterproof bird feeder camera! Climbing a tree over a pond, leaping nimbly over that puddle, or wading through the river to get to that bird has never been more fun and less worrisome.
High-Quality Bird Seed
When you love your feathered friends as much as bird watcher's do, any old seed just won't do. Get the best and have happy, plump, healthy birds, when you buy this high-quality and delicious deluxe wild bird food.
Bird Seed Ornaments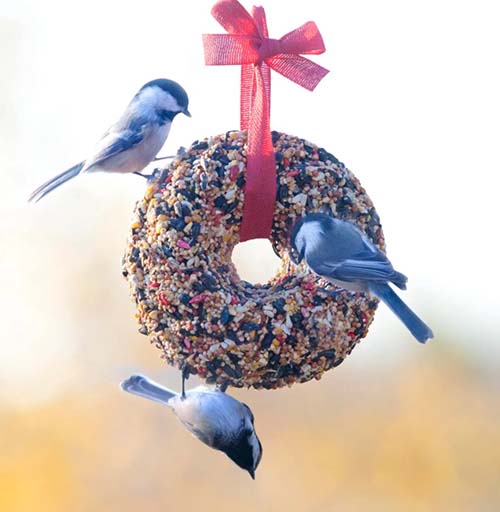 Not just for Christmas (last time we checked, birds don't have calendars), these pretty and completely edible bird seed ornaments will spruce up any …uh, spruce. Or oak. Or pine. Or birch. You get the drift.
Bird Seed Storage Container
There's nothing worse than a soggy bag of seed that's been left in the rain or under the sprinkler. One movement and it's raining seed all over your patio.
Keep it dry, convenient, and looking good, in this outdoor storage container. Sturdy and leakproof, it's a real game changer.
DSLR Camera
Don't you love the words, "comes with everything you see here?" It just brings joy to our hearts. And your bird watching friend will be delighted with this amazing DSLR camera and accessories.
You may not see them for days and days when they unpack this bad boy and get to work! No more blurry phone pics of some dubiously identified bird. Get ready for high-quality photos (and maybe another hobby in photography).
Bird House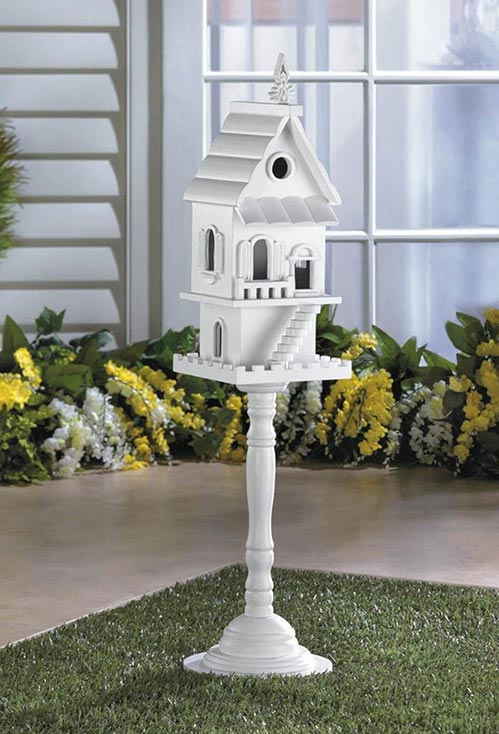 Victorian in style, this beautiful white bird house will be the talk of the town, so you're definitely going to want to put it in the front yard, not the back! We think the curb appeal just went up several notches with this one.
Squirrel Feeder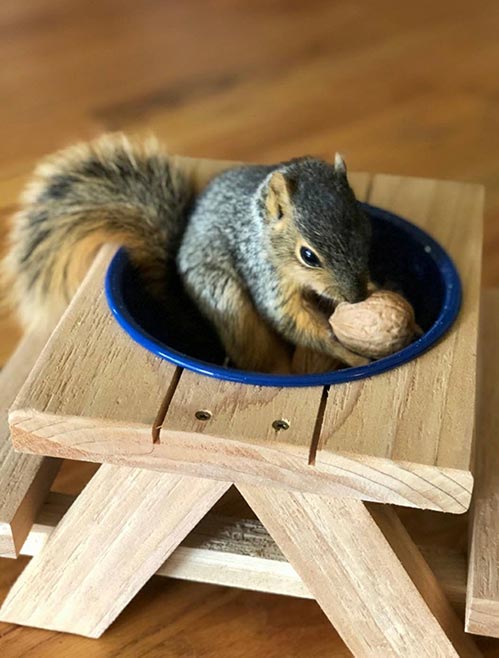 See? We promised some squirrel love eventually. Give in to the little thieves and give them their feeder, picnic style.
It's adorable and you may even learn to love the fuzzy bandits. Or at least, tolerate them so you can concentrate on the birds.
Read Next: The 17 Best Cardinal Gifts for That Special Someone