As February 14th draws ever closer, your hunt for Valentine's Day gifts for him is ramping up. Creative ideas abound everywhere, of course, but maybe you could benefit from some some extra-special gift-giving inspiration.
"Um, yes please!" you're probably thinking. "That's why I'm here! Valentine's Day is just around the corner and I still need to find the perfect gift for my husband/boyfriend. The more unique the better!"
Well, we're happy to report that you've arrived at your Valentine's one-stop shop for the special guy in your life. No matter what type of guy your man is (and you already know he's the best), we've carefully curated this list to feature a little something special for everyone.
Is your man a hopeless romantic? We've got some wonderful, sentimental gift ideas for you to consider.
Is he more on the practical side? We've got you covered there, too.
Or is he a gamer, a book lover, or the sit-back-and-relax-with-a-cold-one type?
In any case, we have what you're looking for this Valentine's Day.
Do be sure to read through this post to the very end, too, because we've even got some DIY ideas for you to consider, if that's more your gift-giving style.
Without further ado, let's take a look.
10 Best Valentine's Day Gifts for Him
Our website is supported by our users. We sometimes earn a commission when you click through the affiliate links on our website. See our privacy policy & disclosures for more information.
1. Where It All Began Pillow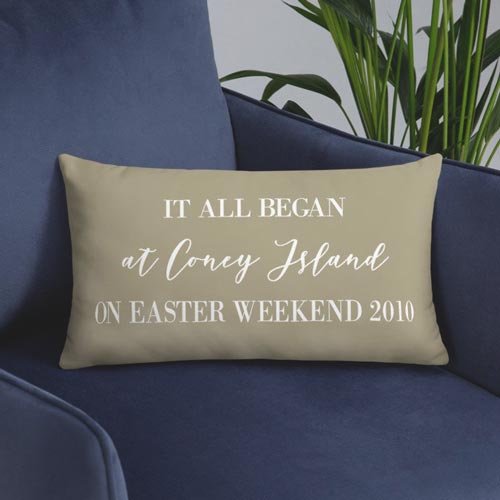 Let's begin at the beginning. Your love story with your husband or boyfriend is unique, and where it all began is important to both of you.
This Valentine's Day, remind him of the special day you two met with this comfy, customized pillow from Three Peas Decor.
Customize this cute pillow with the date and location of this special place, and also choose the pillow's color and design. It measures 12″ x 20″ and, importantly, it's not just the cover – it comes complete with polyester filling.
2. Personalized Walnut and Maple Wood Bottle Opener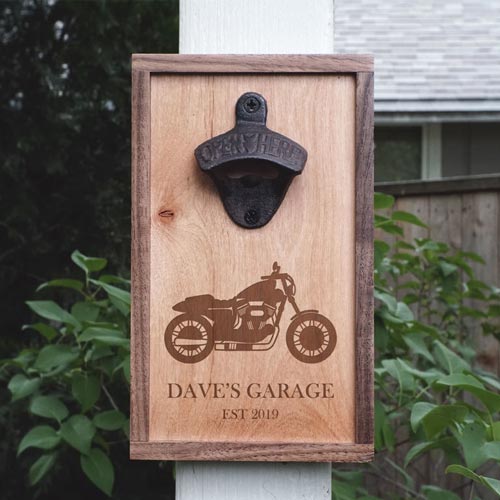 This one's for all those amazing husbands and boyfriends out there who work really hard but know how to play hard, too.
If your man loves nothing more than to kick back and relax with a cold one after a long day, he's really going to appreciate this unique gift this Valentine's Day.
Our walnut and maple wood bottle opener is portable but also comes with a screw in case wall mounting is preferred. It comes in many different designs to suit any interest. This one features an engraved motorcycle (super cool if he's a biker!) as well as his name and any other text you'd like it to say. The opener itself is made from real cast iron.
Other themes include:
This bottle opener would make the perfect addition to any man cave, garage, game room, or back patio.
3. Custom-Engraved Couple's Tumblers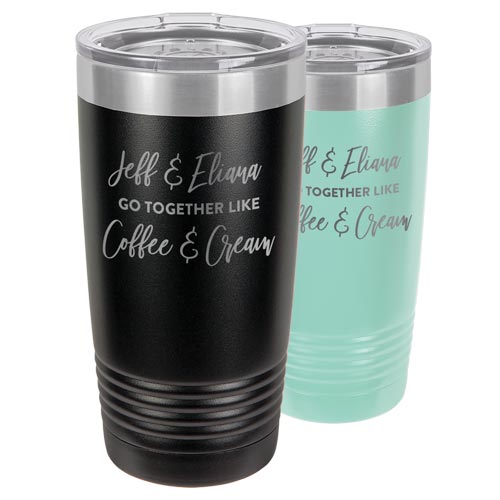 Do you go together like coffee and cream, salt and pepper, CID and logic? Are you a pair like pb & j, cupcakes and frosting, alcohol and bad decisions? Then let him know – and let the world know too!
Our couple's tumbler set includes two premium Polar Camel tumblers (comparable to the top-dollar brand but at a wallet-friendly price). Each mug is vacuum-sealed and double-walled, meaning that both his and your drinks will be staying ice cold or piping hot for hours on end.
This is one of our favorite Valentine's Day gifts for him. We think it will be yours, too, because it has a built in bonus – you'll get a matching tumbler to boot.
Each tumbler comes personalized with both of your names, and is available in many different sizes and colors (get the same or different colors so you can tell them apart). Personalize yours here!
4. Tickets to Whatever He Likes!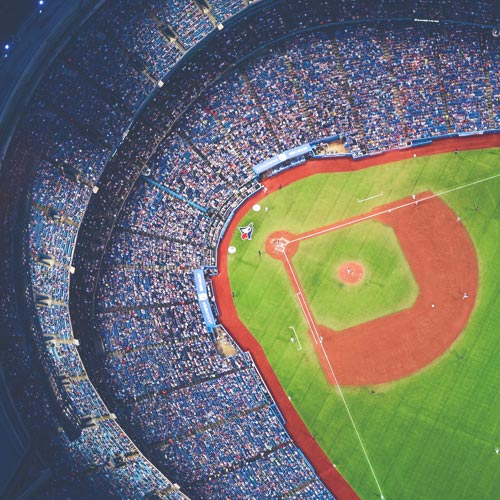 When searching for Valentine's Day gifts for him, it can really help to do a little creative thinking. For example, think experiences, not just tangible items!
This Valentine's Day, surprise him with tickets to an upcoming event that you can both enjoy together. Whether he's into sports, music, theater, or rodeo, sites like Ticketmaster or StubHub can be super helpful resources if you choose this idea.
5. "Why I Love You: A Journal of Us"
For your more sentimental hubby, the Why I Love You fill-in-the-blank journal will definitely be a hit this Valentine's Day.
He loves you to no end and never a day goes by when he fails to remind you of that. So why not return the favor in a special way with this sweet journal in which you can spell out, quite literally, just how much he means to you?
Related: Unique Gifts or Your Sweet Boyfriend
6. Personalized Antique-Style Pocket Knife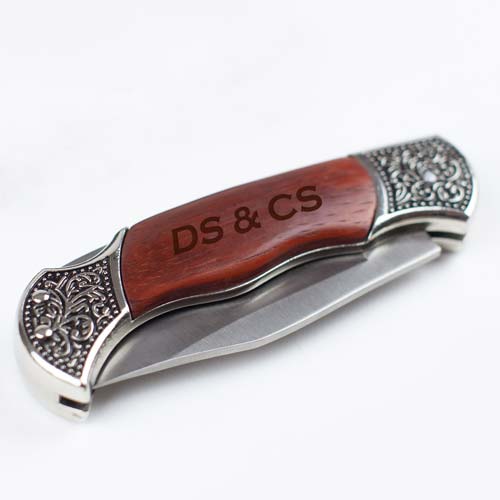 Every man needs a pocket knife. This one has that classy old-fashioned flair, features a hefty 3″ stainless steel locking blade, and includes free personalization.
Customize it with his name, both of your initials, your anniversary date, or simply Valentine's Day [year]. Simple, classy, personalized. The perfect Valentine's Day gift for him.
If he loves personalized gifts, these top ten are for him!
7. Beard Grooming Kit
Does your man have a luscious beard that he takes great pride in caring for? If so, keeping it well-manicured is of the utmost importance to him.
On Valentine's Day, show him that you realize this (and that his beard is something you love about him) by gifting him this Viking Revolution beard grooming kit.
Each kit comes with all the essentials he needs to properly maintain his beard or Vandyke, including brush, comb, beard balm, mustache scissors and oil.
8. Personalized Gamer's Mug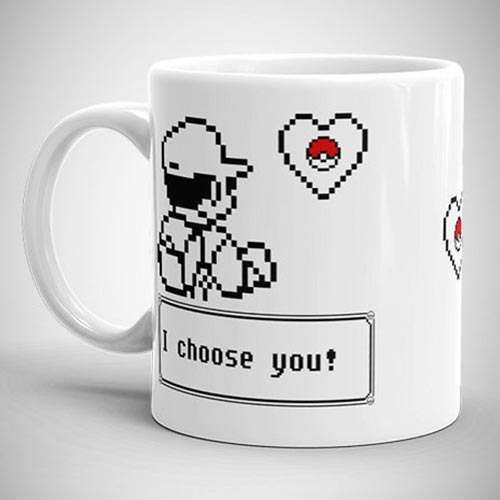 What a cute gift idea for the coffee-guzzling gamer hubby! Especially if he's into Pokemon, this Valentine's gift – which also comes personalized with his name – is pretty much guaranteed to bring a smile to his face.
With this mug that he can use or display in his game room, he'll be reminded daily that you choose him.
Related: Best Gifts for Gamers [Handpicked by Experts]
9. Custom Heart-Shaped Text on Canvas or Print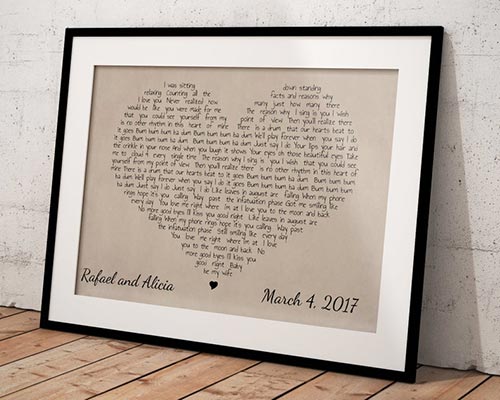 When it comes to Valentine's Day gifts for him, it doesn't get much more one-of-a-kind than this. The heart-shaped art depicted on this framed print (or canvas – your choice) is created using nothing less than what you choose to have it say- how special is that?
You can write your loved one a poem or even a mini love story featuring the two of you as the main characters. Or choose the lyrics of a favorite song, or even lines from the first movie the two of you saw together.
Personalize it further with your names and an important date, such as your first date or wedding anniversary. Get yours here!
10. Personalized Wire Bookmark (+ a Book He'll Love)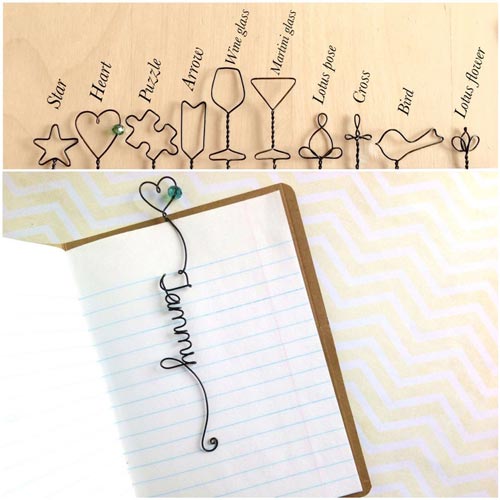 So your hubby's a bookworm. That automatically makes Valentine's Day gift shopping super easy, right? Just pick him out a new book at your local bookstore and call it a [holi]day!
Not so fast, it ain't that easy!
You know better than anyone that the book lover in your life takes his reading very seriously. He probably prefers a certain genre and has most likely read everything in that particular category. You have to think outside the box once again. So here we have it: a bookmark.
Really, a bookmark? But this isn't just any old paper bookmark, it's a wire one bent into his name or anything else you'd like it to say. Not only do you get to choose the text but also the decorative topper.
Give him this custom bookmark this Valentine's Day, and he can say bye-bye to those dog-eared pages for good. To go with his gift, surprise him with some fresh reading material that's maybe a little outside his favorite genre, or closely related to it.
BONUS: Couple's Cooking Class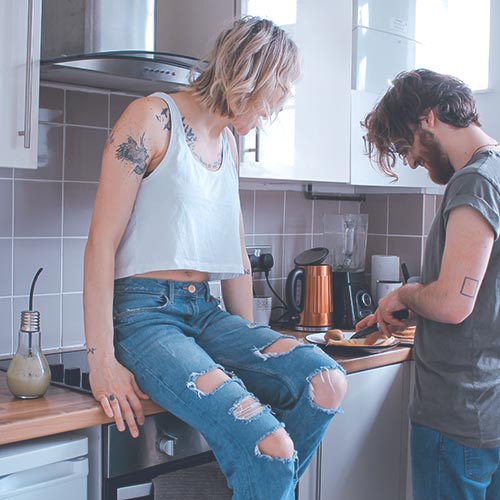 The two of you love to cook together anyway, so why not take your relationship to the next level and schedule a cooking date you can enjoy side-by-side?
You can do just that with a cooking class in your area!
For inspiration, take a look at Sur La Table's website… they offer some of the most popular cooking classes in the country and are available nationwide.
For quality-time Valentine's Day ideas, you may enjoy-
Dancing classes
Drive-in theater for a classic film
Rock climbing gym membership
Geocaching
Stargazing
Hiking
Stay at a bed & breakfast
Rent a houseboat
Have a candlelit dinner
Go on a picnic
… or any of the ideas in our Experience Gift Guide
More Great Valentine's Day Gifts for Him
You've reached the end of our list featuring our top 10 favorite ideas for Valentine's Day gifts for him…
Only you haven't really reached the end; in case your hunt continues, we've got just a few more ideas for you to consider.
First, if you want a couples-themed gift that celebrates your relationship, check out these ideas.
DIY Gift Ideas
The V-Day gifts in this section are do-it-yourself and completely customizable. These may be more along the lines of what you're looking for at those times you're hoping to add an extra splash of thoughtfulness into your Valentine's Day gift for him.
For instance, you could:
Write him a love letter. Yep, a simple yet meaningful, old-fashioned love letter. Create some pretty stationary (or print some off) and share with him everything you love about him and will always love about him. Maybe even spritz a little perfume onto the paper before you give it to him! This one is easy to do yet super romantic so we just had to mention it first.
Make his Valentine's Day card, instead of buying one. Those greeting cards you can get at the grocery store are mass-produced and not to mention expensive. Avoid getting your man the same card Mrs. Jones next door got hers (weird!) by making him one, instead. If you're not the artsy type, you can always use the computer to accomplish this. Here are some ideas on what to say.
Cook him his favorite meal or dessert. Okay, so the way to a man's heart is not always through his stomach, but the idea behind this sentiment still rings true. Because while tackling the crowds to eat out on Valentine's Day is fine, everyone enjoys a home-cooked meal, especially when it's made with love.
Create a DIY memory book for him. This idea is similar to the gift idea #4 above, only you're making it yourself. All you need is a journal or notebook, a pen, some optional decorative features like stickers, ribbons, or art supplies, and a heart full of love.
Put together a gift basket full of everything he loves. Fill it with his favorite candies (or health foods), a framed photo of the two of you, his favorite drinks, music, books, and anything else he'd enjoy.
Research free events in or near your city that you can both enjoy together. Eventbrite is a great resource- simply click on the "Free" tab and go from there.
Record a poem or song for him. Do you two have a song that you claim as your "couples" song? Perform a cover and download it for him to enjoy whenever he wants. If singing or playing an instrument isn't your thing, write him a poem and read it aloud.
Classic Valentine's Day Gifts for Him
We'll close out with ten final gift ideas. These ones are all total classics:
Chocolate
Good whiskey or bourbon
Video games or gaming system
Need to see more Valentine's gift ideas for your sweetheart? Here are 40 more!
---
We're so glad you chose All Gifts Considered for your gift-giving needs this Valentine's Day!
While we hope you were able to find the perfect Love Day gift for your husband or boyfriend from our list, if you're in need of more inspiration, we recommend taking a look over at Northwest Gifts.
We have so many more ideas for you to consider, most of which are completely customizable.
Check out our Valentine's Day shop for fun games and cards!
Read next: 21 Best Gift Ideas for Your Husband
Pin It