Do you want to do something more than just say "I love you" to your spouse or sweetheart? There are so many activities and games to show your love and make Valentine's Day memorable.
To create a memorable day, it is important that you have fun on Valentine's Day. If you're going to create a tradition, it might as well be something fun that also provides the perfect excuse to celebrate your love.
If you think you have found the "one," you know you have to put in the effort to show him or her how much they mean to you. Make it count! Chances are that your partner is expecting you to do something to seize the moment and whisk them away – don't disappoint them!
There are many activities that you can enjoy with your beloved. I'm going to suggest that you try out these Valentine's Day Games for Couples to get the party started. Below, we've curated our favorite Valentine's Day games that you simply have to try with your darling for the best time this February 14th.
Top 10 Valentine's Day Games for Couples
Our website is supported by our users. We sometimes earn a commission when you click through the affiliate links on our website. See our privacy policy & disclosures for more information.
1. "What are You Drawing?" Couple's Guessing Game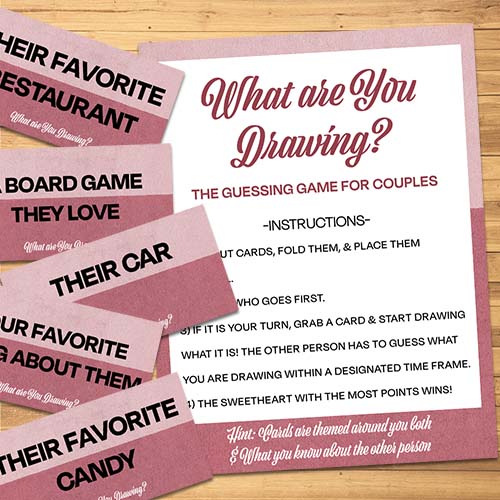 It's simple, but we think it's one of the most fun games a couple can play together on Valentine's Day. You just have to try out this printable "What are You Drawing?" game, as there is nothing quite like it.
When you play this Pictionary-style game, you and your sweetheart will learn more about each other and have lots of fun in the process. There are 16 cards that cover all types of topics, from their dream job to their first impressions of you. You can print the cards instantly at home and rely on them in a pinch for a truly sweet affair.
2. Sexy Truth or Dare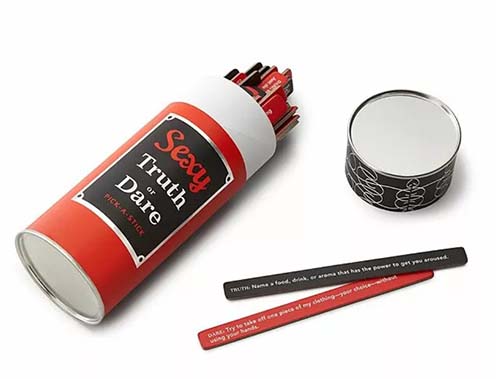 Want to spice things up with your Valentine's Day activities? Sexy Truth or Dare is just the game for you.
It is a somewhat-naughty game that you ought to play for a "special" time with your precious person. This game is just what you need for some action. It includes pick-up sticks and 100 seductions to get you and your sweetheart going.
3. Marital Bliss
Marital Bliss is a wonderful Valentine's Day activity. It is a creative alternative to all those other romantic conversation starter card games for couples.
The game requires you and your partner to take on secret missions. Go through the unique cards and discover a completely new love language. You'll find yourselves pulling it out for date nights on anniversaries, birthdays, or just because – because it's loads of fun!
4. Twister!
Get flexible, get active, and stretch out those limbs – together! – when you and your Valentine play Twister! The game has been around since the 1960s and is a classic that you will enjoy rediscovering. If you fall, you lose. And the winner gets… well, we'll let you decide.
There is bound to be lots of laughter when you give it a try.
If you're one of the four people on Planet Earth who aren't familiar with this vintage game, here's how it works:
Spread the game mat on the floor. There are different colored circles that you will need to reach with your hand or foot. Use the included spinner to determine your moves, including which hand (left or right) or which foot (right or left) goes where.
As the two of you tangle up, there is bound to be lots of laughter. And maybe even more than laughter!
Related: 10 Valentine's Day Party Ideas for Adults
5. Movie Love Quotes Quiz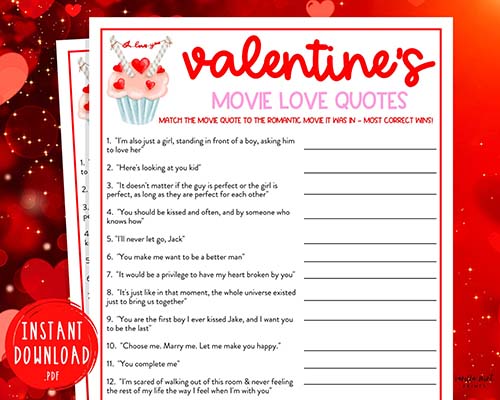 Want to find out who is more of a movie buff? Then try out the Movie Love Quotes Quiz. If you think that you have what it takes, you should give it a try.
It is a lot of fun for the film aficionado couple, and you can even take things to the next level by acting out scenes from the movie. There is no limit to what you can do when playing this game. Ideal for playing before your V-Day movie night!
6. Minute to Win It – Kisses Galore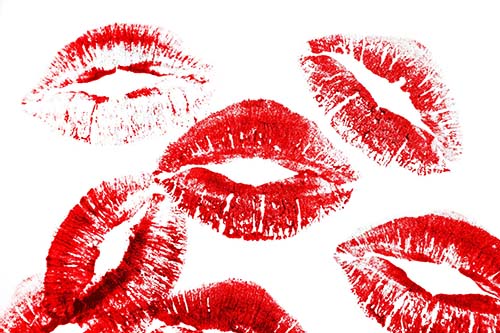 Sometimes, you just need to get a bit creative. This is where Minute to Win It: Kisses Galore comes into place. All you need is a timer (your phone, duh) and some lipstick.
Here's how to play: You and your partner both put on lipstick. Start the timer, then kiss away! Once the timer beeps, count up kiss marks on each other's cheeks, chins, and foreheads. Whoever planted the most kisses at the end of a minute wins it.
7. Deeper Connections
Strengthen your connection with your significant other by playing Deeper Connections. It offers countless prompts that will lead to fun conversations.
So if your goal for this Valentine's Day is meaningful talks with the love of your life, ask these thought-provoking questions to learn and grow in your intimacy together. There are 200 cards across 4 different categories and easy-to-follow rules that will help take your relationship to the next level. As the name of the game suggests, this Valentine's Day couples game can help deepen the connection you share and treasure.
8. Romantic Scavenger Hunt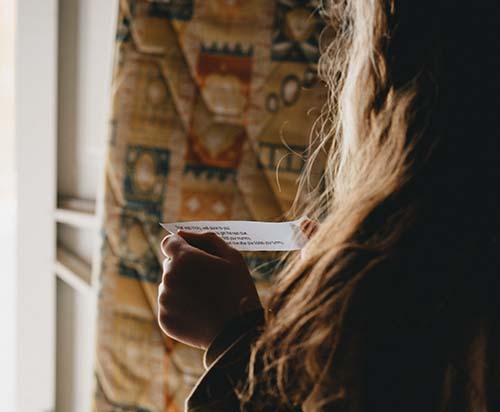 Get innovative this Valentine's Day by creating a romantic scavenger hunt for your beloved! It only requires a bit of time and thought, but that little bit of thoughtfulness will go a long way towards strengthening your relationship, creating a memorable day, and inspiring the romance you share.
So, try out this DIY scavenger hunt for a fun time. To create the game, you just need to come up with romantic clues and begin a romantic journey. Read our guide to prompt you on the way, and make sure to provide a romantic prize once the journey comes to an end!
9. Who Knows Who the Best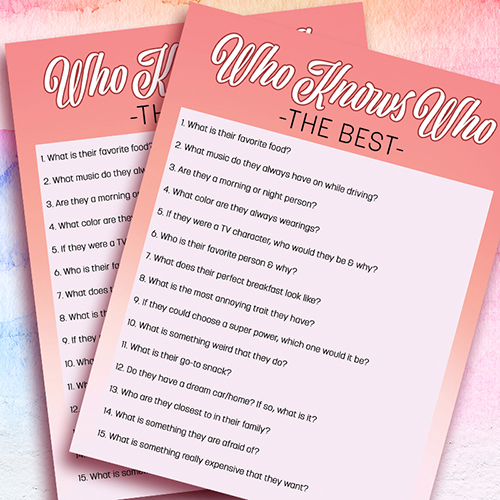 Who Knows Who the Best allows you and your sweetie pie to find out which one of the two of you knows the other better. Have you thought about this? Of course you have, and you know that YOU know the other one better. This Valentine's game is the perfect way to prove it!
You and your partner will laugh out loud when you try out the 15 questions. The game will help you learn something new so that even when you are done playing, your intimacy will continue to grow.
10. The Ultimate Game for Couples
Want to play the ultimate game with your partner? The Ultimate Game for Couples is here to save the day. This fun, engaging game will help you learn new things about your partner and indulge in meaningful conversations. You can even team up and compete against other couples.
Spend quality time as a couple when you play this game together. It offers funny challenges and the opportunity to build a deeper connection.
What Do Most Couples Do On Valentine's Day?
Beyond couple's games, there are many other Valentine's Day activities that you and your partner should try out. Below we treat you to some of our favorites. Enjoy!
1. Share Chocolates and Wine
If you have already given your Valentine some flowers or a sweet Valentine's Day present, you need to pair your gift with some chocolates and wine.
Woo your significant other and let them know how grateful you are to have them in your life with a grand gesture.
Pick out some beautiful flowers and get a box of chocolates. Feed your partner the chocolates and pour some wine for the two of you as you talk your heart out.
2. Write a Love Letter
Profess your love for your partner by writing them a love letter. When it comes to romance, nothing compares to a handwritten love note.
Get your paper and pen out to write up a beautiful letter. Express the best details about your sweetheart and let them know what it is about them that gets those special feelings stirred up within you. It will touch their heart!
The warmth of your words will flow into their soul as you read the letter out loud.
3. Revisit Memory Lane
Many couples prefer to revisit the first place they went on a date together. You can do the same to reminisce about the lovely memories the two of you share.
It could be a café where you had your first coffee together or a museum where you tried to impress them.
Recreate old memories and try something new this time. It could be a different meal at the same restaurant, or the same picnic spread in another spot. Mix it up a little, but aim for nostalgia!
4. Be a Masseur for a Day
Many lovers like to give their significant other a massage on Valentine's Day. Let your hands work magic on your partner's body. There is just something truly romantic about becoming a masseuse for a day.
Besides, it will help take their edge off so that the two of you can have a fun time. You could even get your partner to give you a massage as well.
All you need are willing hands to put this activity into practice. Of course, a bottle of fragrant body oil, dim lights, and romantic music won't hurt either!
5. Have a Picnic
As cliché as it may sound, having a picnic on Valentine's Day is a great idea. It is a fun activity requiring you to take your favorite foods to the nearest park.
People-watch and take in the sun together. Engage in fun banter as you both stroll along the park.
6. Have Valentine's Day Movie Marathon
Create a list of your favorite movies and have a movie marathon day with your partner. Choose movies together to ensure that the two of you have a great time. In addition to preparing some popcorn, make sure to get some chocolate cupcakes and a cup of hot chocolate.
Place lots of pillows and lay down on the couch as the marathon begins. You should also consider making cheesy nachos and some coffee to keep watching. During each interval, you could get naughty and try something new.
Related: 50 Best Movie Night Ideas for Epic Adventures at Home
Most Importantly – Have Fun!
Nothing is more romantic than spending time with your lover and curating the perfect day for the two of you. Life is all about experiences, and Valentine's Day provides the ideal opportunity for you to declare your love by way of a good-old-fashioned fun time together.
So get cheesy, get silly, get romantic, and impress your babe by doing something fun with them.
Now that you know the best ways to improve your relationship and make Valentine's Day memorable, all you have to do is put it to the test. When you try out these fun things to do on Valentine's Day, you will learn more about your partner and form a much stronger bond.
And, above all, you'll both have a great time doing so! Now that's the way to create some romantic memories.
Read Next: DIY Valentine's Day Gift Ideas