Choosing a gift for your sweet baboo can be difficult! Even if you've been together for years, it's overwhelming to find the just-right present for such a great man.
Well, we've got you covered! We've curated the 30 most unique gifts for your boyfriend: each is truly one-of-a-kind and lovely to unwrap… just like him.
10 Most Unique Gifts for Boyfriend
Our website is supported by our users. We sometimes earn a commission when you click through the affiliate links on our website. See our privacy policy & disclosures for more information.
1. Handcrafted Japanese Kiln Fired Mug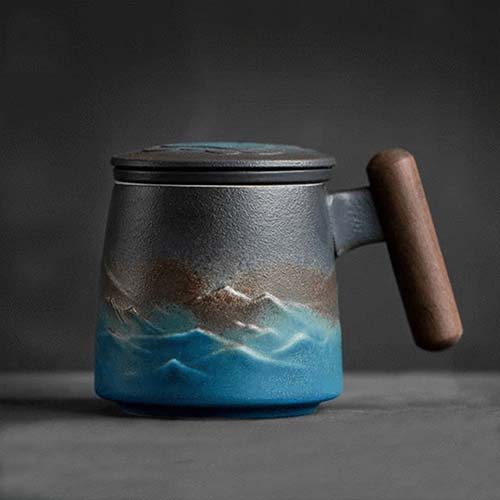 This mug isn't just hand-crafted, it's gorgeous too. The Japanese style ceramic gives his morning coffee or afternoon tea an extra special vibe. Also delightful for sipping hot buttered rum out of, or chugging his own home-brewed beer.
2. Personalized LEGO Minifigure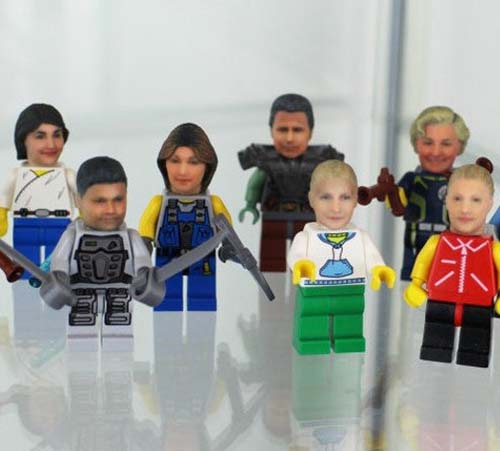 You're never too old for Legos! And these ones – totally personalized with his very own likeness – really take the cake. He'll crack up at the sight of his very own head on a Lego figure, and it will instantly become one of his favorite possessions.
3. Custom Engraved Rosewood Pocket Knife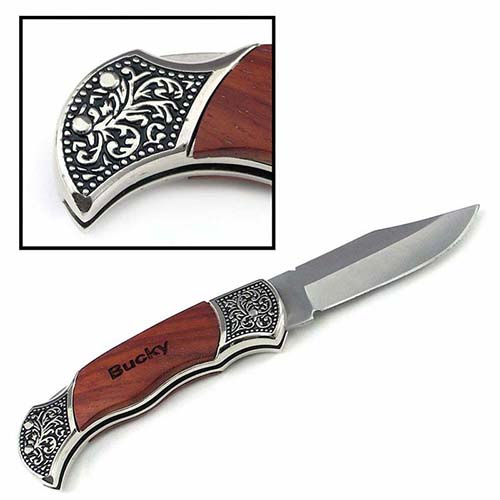 Old-fashioned in style, this pocket knife hits all the right notes. It's made of rosewood and engraved with his name. He'll love the silver etchings and the way it fits perfectly in his hand.
4. Meat Card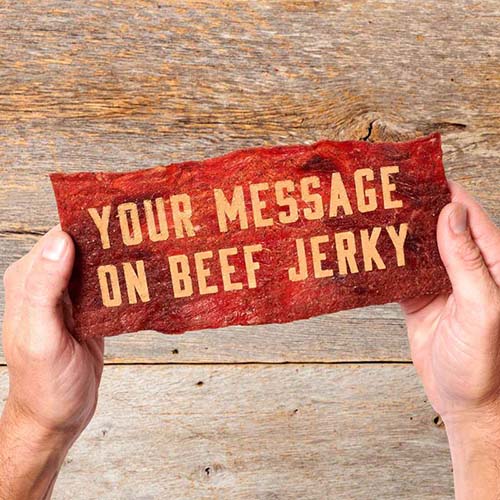 Honestly, is there anything wrong with a huge chunk of meat? We say, nay nay. This yummy and oh-so manly hunk of beef (isn't that what you call him?) is the size of a normal greeting card.
But no boyfriend is going to want one of those boring old things when he can have this jerky inscribed with a loving message.
5. Industrial Pour Over Coffee Maker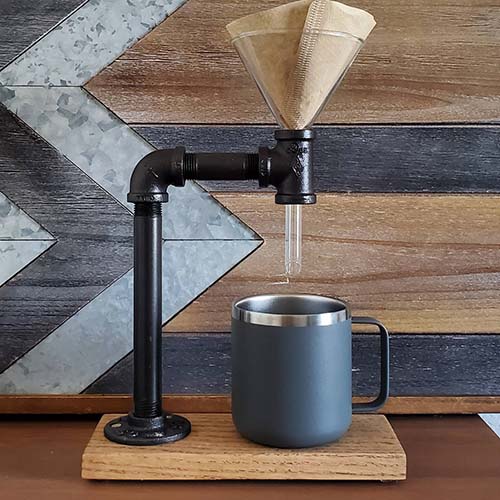 This is the coolest coffee making gadget out there, we're pretty sure. It's industrial in looks but there's nothing ho-hum about the flavor you'll get from your favorite beans. It will instantly transform his office or kitchen and everyone will want to know where he got it. From the best girlfriend ever, that's where.
6. Glass Topper Cocktail Smoker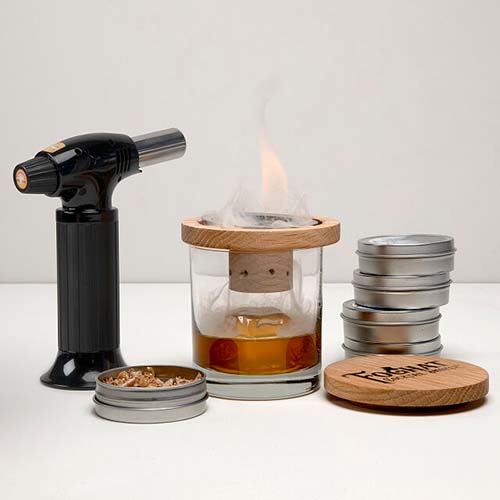 For the cocktail lover or bartender at home, this smoker is where it's at! He'll love finding new recipes and perfecting them when he has this amazing set. Next step: mixologist school!
7. Tree Planted in His Name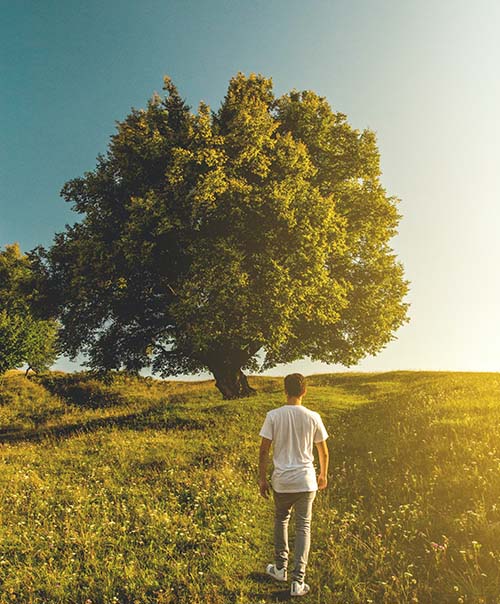 For the nature lover who is remarkably hard to shop for (we feel your pain), planting a tree in his honor is the perfect present! He'll be in love with the idea of a flourishing tree somewhere in nature with his name (figuratively) on it.
8. Scotch-Infused Toothpicks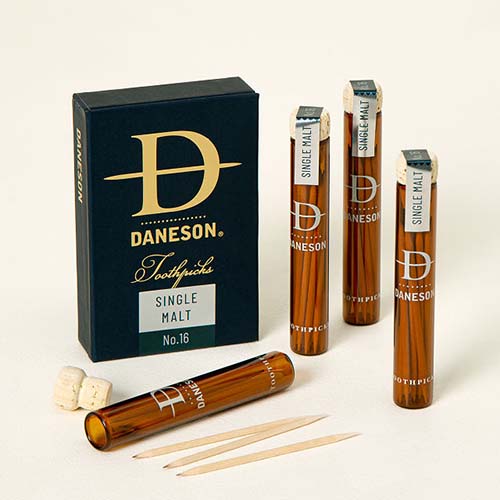 These scotch-infused toothpicks are sure to delight him! They're so fun we wonder why no one invented them sooner. Pick the broccoli out of his teeth in style, and look pensive and handsome while doing so. Totally lovable, it's a fun stocking stuffer for Christmas too.
9. Personalized Shower Beer Crate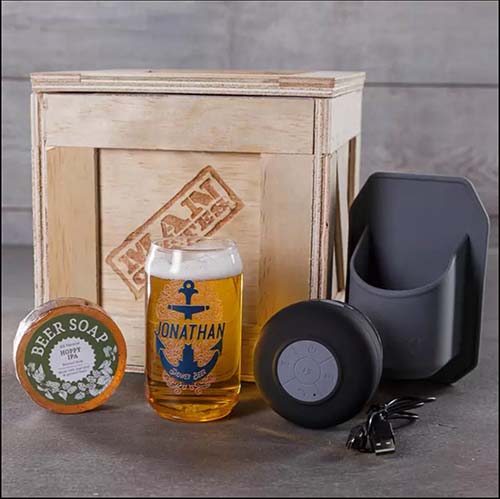 Honestly, they had us at the name: Man Crates. How fun will it be to pry open this crate of goodies? It comes with a Bluetooth speaker for rocking out while sudsing up, a beer koozie, a plastic beer can, and a bar of delicious smelling soap.
And yes, it comes with a crowbar to open the stinkin' thing. You know it's a unique gift for your boyfriend when it requires a crowbar to open.
If he loves beer, he will love these other beer gifts ideas!
10. Cigar Club Subscription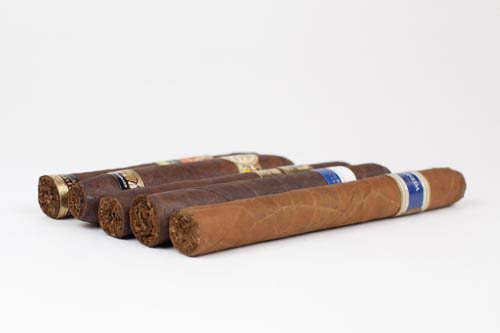 For the manliest of manly men who loves the sophisticated side of life, a cigar subscription is a must-have! He'll find new favorites and old delights every time he opens his box.
Check out our unboxing review for this cool service!
5 Unique Gifts for Your Boyfriend's Birthday
11. The Adventure Challenge Date Night Book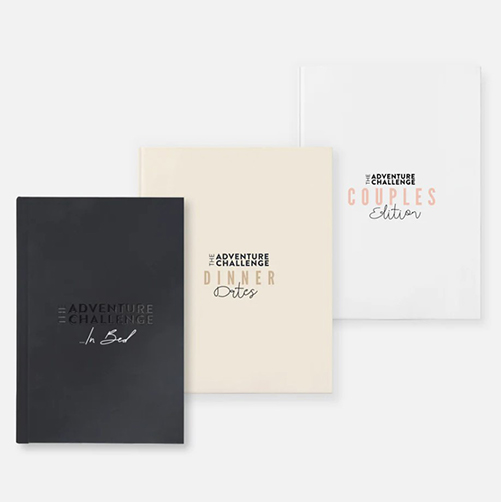 Maybe you really want to give him a birthday gift that keeps on giving? Maybe you just want to just shake things up a bit and take him on an exciting adventure? Whatever the case, he'll be thrilled with a Date Night book from the Adventure Challenge.
Packed with fresh and fun ideas, this is one gift you'll both fall in love with.
12. Wall Mounted Bottle Opener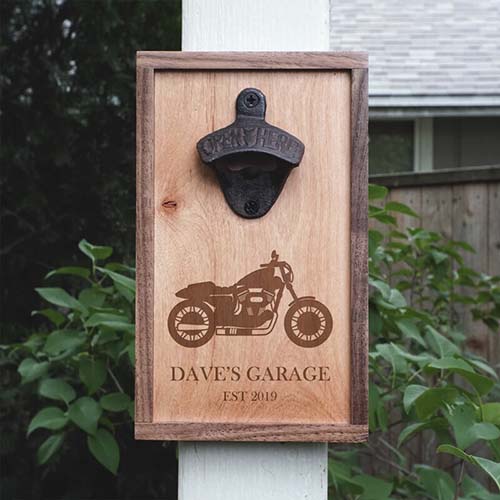 No more searching in the kitchen drawers for that long-lost bottle opener (it was RIGHT HERE a minute ago!!!). This custom engraved bottle opener is as gorgeous as it is functional and useful. He'll love having this mounted right by the grill, or near the liquor cabinet.
13. Grilled Cheese Kit for the G.C. Lover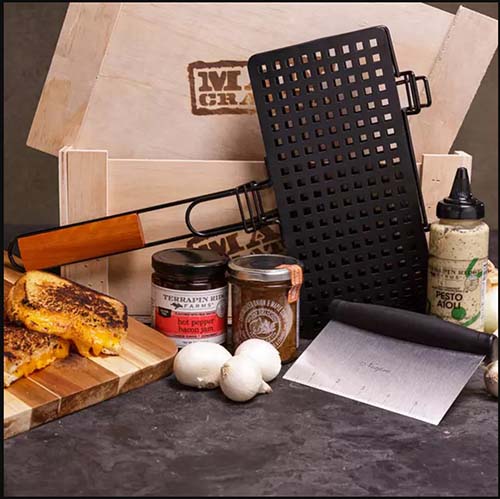 If he's the simple, down to earth, no-frills type, he's going to adore this grilled cheese set! He'll find new and exciting ways to enjoy his favorite sammie when you present him with this mouthwatering set.
If he's the man who orders chicken tenders at a five star restaurant, this is a great way to nudge him towards more sophisticated fare without scaring him senseless.
14. National Park Push Pin Map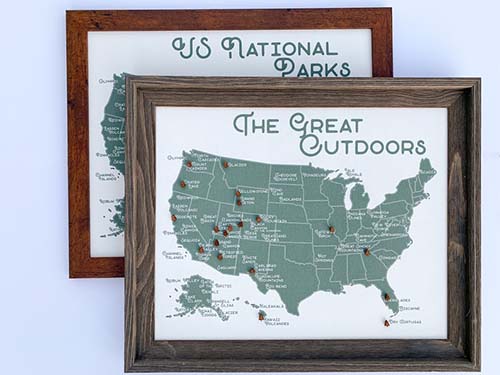 For the wanderer at heart, or the man who loves a good hike, this push pin map of National Parks is a great gift! He can mark off where he's been or where he wants to head off to next. Keeping track of his adventures never looked so good.
Related: Best Gifts for Travelers
15. Can Coozies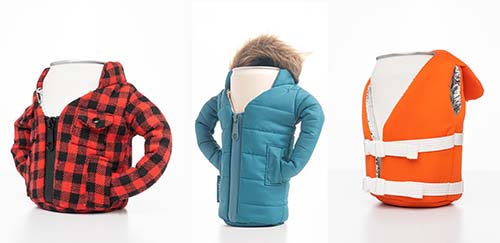 These coozies are hilarious but still totally functional and useful! Pick from fluffy coats to live jackets and liven up the next tailgating party. Drink those beers or sodas in style from now on!
5 Adorably Homemade Gifts for Boyfriends
16. Bottle Cap Fishing Lure
These aren't your daddy's fishing lures! No way: these ones are made from his favorite soda bottle caps and will delight the fisherman as much as the fish. If his tackle box needs some sprucing up and detangling, these are a sure fire hit.
Related: Best Fisherman Gift Guide
17. Make His Favorite Sweets & Treats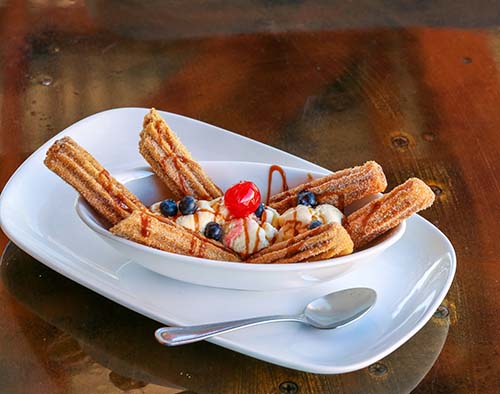 Bake him some of his favorite treats for his birthday! If churros are his ultimate favorite, this kit will make baking a charm. You know what they say: the way to his heart is through his stomach.
18. DIY Bow Tie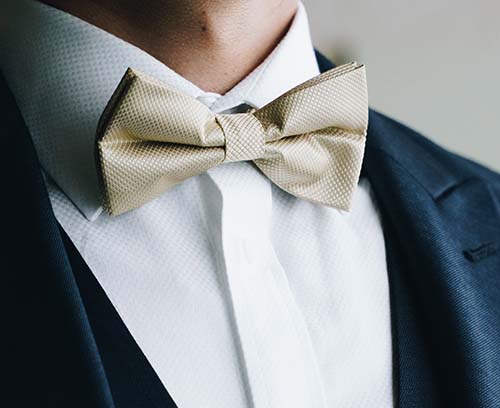 Bow ties are always in style. And a totally unique one that is "all him" is even cooler. With this tutorial, you will learn quickly how to make personalized and customized bow ties for your honey
Choose a niche cloth as the base and you'll blow his mind with your thoughtfulness. He'll look amazing and may want more!
19. Coffee Scrub Soap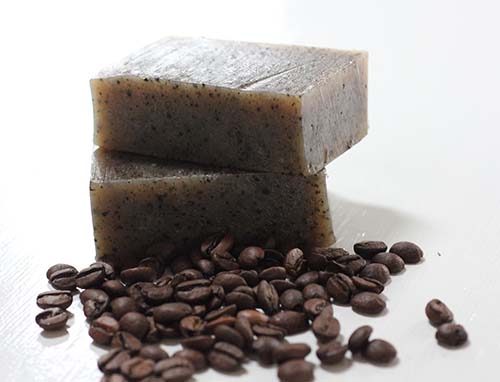 A good soap just can't be beat. He doesn't want your frou-frou lavender vanilla gardenia body wash. He wants a manly scrubby kind of soap like this one. And bonus: he's gonna smell sooooooo good…
20. Ultimate Gift Basket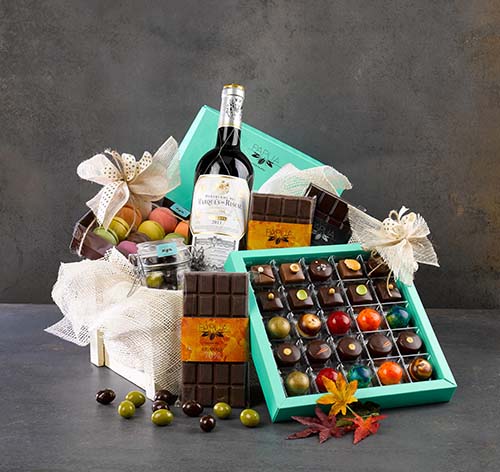 Putting together a gift box is a thoughtful and personalized way to show how much you love him! Whether it has a theme (fishing, hunting, snacking, movies, music, or sports, just to name a few) or is a total mishmash of his favorite things, he'll love everything about it.
Love the idea of giving a homemade gift? Check out this article for way more ideas!
10 Unique Anniversary Gifts for Your Boyfriend
21. Beef Jerky Flower Bouquet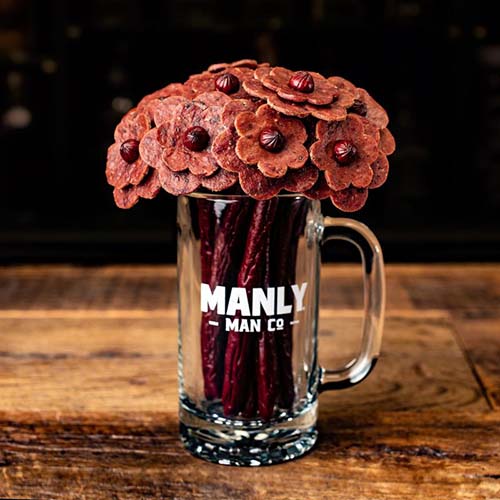 From the Manly Man Company, this beef jerky "bouquet" is a crack-up! But after he's done laughing, he'll be totally chowin' down on it. It comes in a hearty sized beer glass that will remind him forever of that "time you bought me the jerky flowers!"
More: One Month Anniversary Gifts for Him
22. Watch Box Valet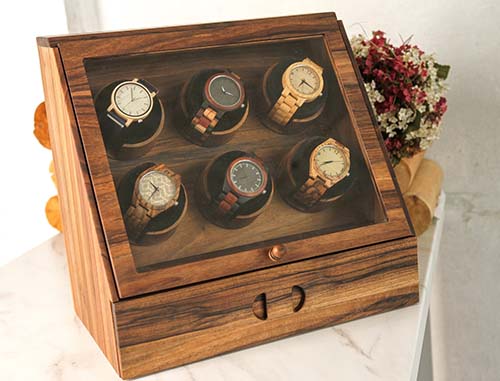 This valet box is something he never even knew he wanted and now he won't be able to imagine life without it. It's posh and suave, with its wooden and glass, and perfectly displays six of his favorite watches (plus more) inside. And you can have it engraved for an extra sentimental addition.
23. Damascus Hunting Knife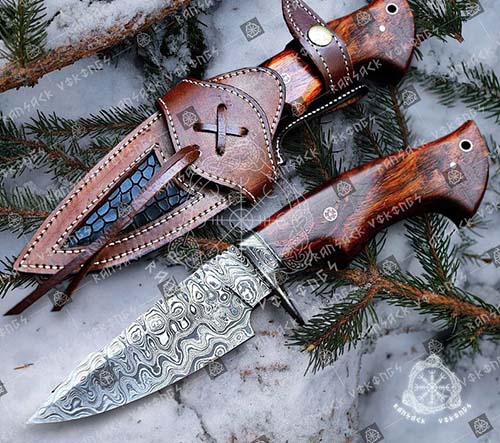 This Damascus hunting knife is simply divine! It's so rugged and yet sleek and timeless, all at once. He's going to love the craftmanship of this beautiful knife, and it may be the start of a collection to rival all of his friend's. Comes with a stunning leather sheath.
24. Long-Distance Lamps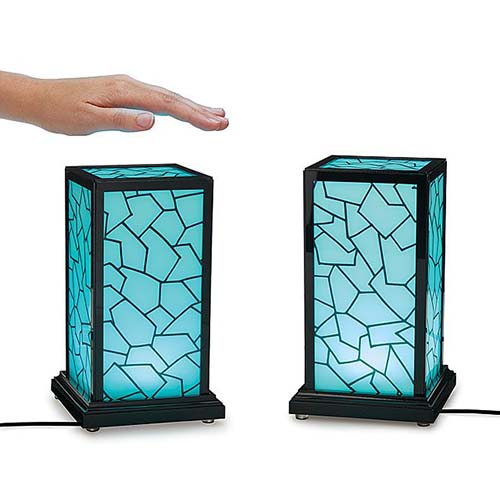 If you're in a long-distance relationship, you know how hard it is to stay close. These sweet lamps light up whenever you're thinking of one another, making them the perfect relationship booster. When you turn yours on, his lights up as well. What a sweet way to say I am thinking of you right now this minute!
Related: 60+ Long Distance Relations Gift Ideas
25. Personalized Single Whisky Glasses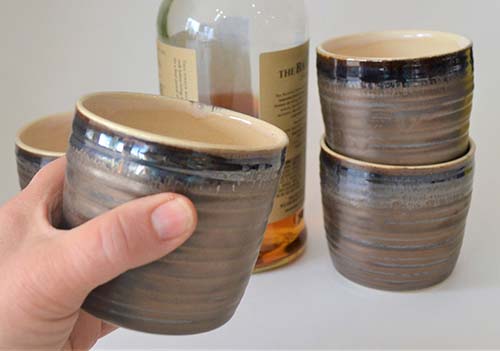 These personalized bronze and pottery whisky glasses are just the thing for the man who is hard to shop for! He'll love the individualistic craftsmanship, the perfect size, and the warm earth colors. Date night at home just got spicier!
For a more traditional glass, consider these Personalized Glencairn Whisky Glasses.
26. Wood Burned Photo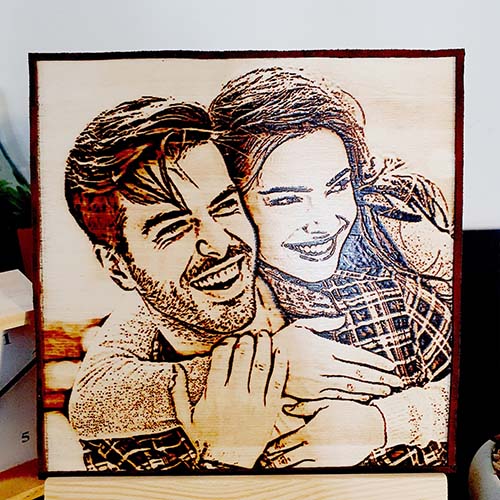 Anyone can send a photo to the drugstore and have it enlarged, pick out a frame, and voila, an instant (but kinda boring) boyfriend gift! With this burned photo on wood custom portrait, you have the sweetest, most sentimental keepsake ever.
He's going to love displaying this proudly in his office, living room, den, or man cave.
27. Mini Musical Piano with Your Song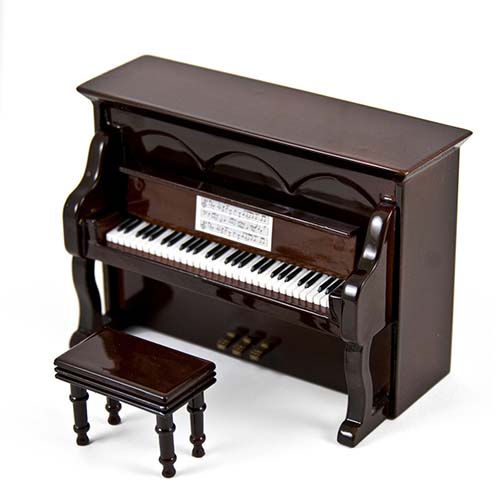 If you have a song that's "yours," what better way to show it off then the world's cutest little piano? It will play your melody right into your partner's heart.
Related: Audiophile Gift Guide
28. Secret Message Bracelet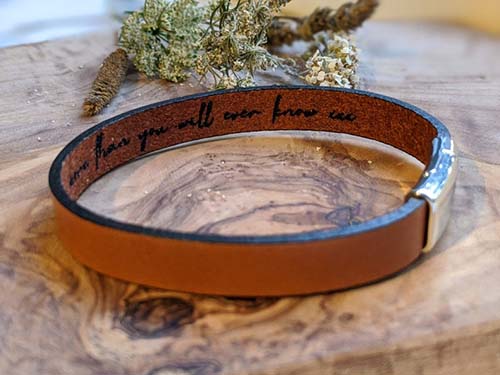 This leather bracelet for men hides a special message: whatever you want engraved inside! Whether you go mooshy and sweet, or quirky and funny, or even a little inuendo, he'll love sporting this bracelet and will smile each time he reads your message. Such a great accessory and gift!
29. Leather Photo Keychain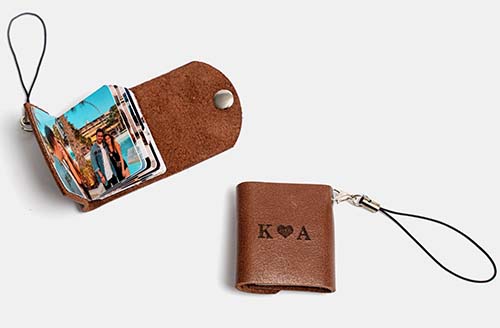 This little leather keychain is so cute on its own, but wait till he opens it up: it's filled with your favorite photos and memories together! Maybe this priceless trinket will keep him from misplacing his keys all the live long day, right?
30. Romantic Vacation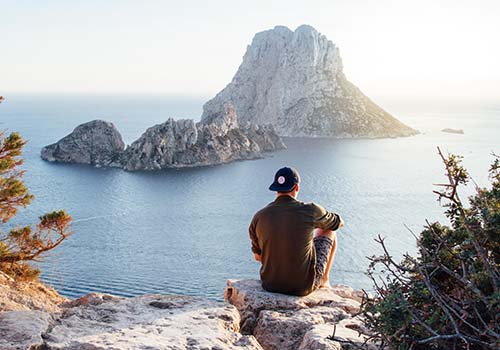 It's a gift for two! Give him something he really, really wants and craves: more time and more memories with you! You choose the gift box and he gets to pick out the adventure. This is one for the record books! Don't forget to write us.
Read Next: 21 Creative Boyfriend Gifts
Pin It