Today we're angling to cover a very important topic – fishing gifts. If you love a fisherman (or woman!) and are casting about in search of the perfect gift for him or her, you've landed the ultimate gift guide.
Whether you're chumming about for a gift for a newbie fisherman, or trying to tackle a dedicated boatman who seemingly already has everything, we're here to help you hook the perfect present.
Let's reel in the big one!
21 Best Fishing Gifts
Our website is supported by our users. We sometimes earn a commission when you click through the affiliate links on our website. See our privacy policy & disclosures for more information.
1. Personalized Fisherman's Wooden Bottle Opener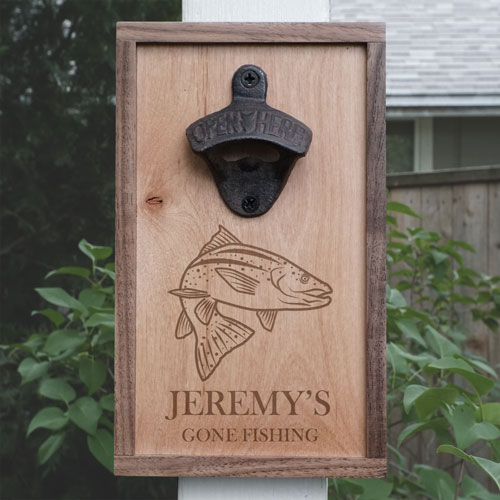 There's nothing like kicking back on the boat after a long day with a fishing rod in one hand and a cold one in the other.
If the image that just popped into your head looks just like your fisherman, you already know they're going to enjoy this first gift on our list.
This solid wood custom engraved bottle opener features your choice of fish art and comes personalized with a name and anything more you want it to say. The opener itself is cast iron, and the whole thing measures 8.75″ x 5.25″.
They can mount it to wall in their boat (it comes with a screw) or take it on board as a portable opener that won't get easily lost.
2. Custom Fisherman Bobblehead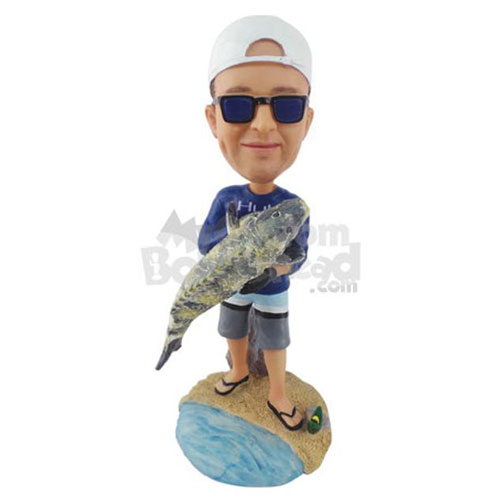 Who doesn't love bobble heads? The fisherman in your life will get a kick out of this one. Especially due to the fact that the two of them will share the same face!
How's that? Glad you asked. Simply send in photos of your fishing enthusiast along with your order, and this custom bobble head shop will use the images to create an image of him or her in polyresin bobble head form, with the catch of the day in hand.
3. Personalized Travel Tumbler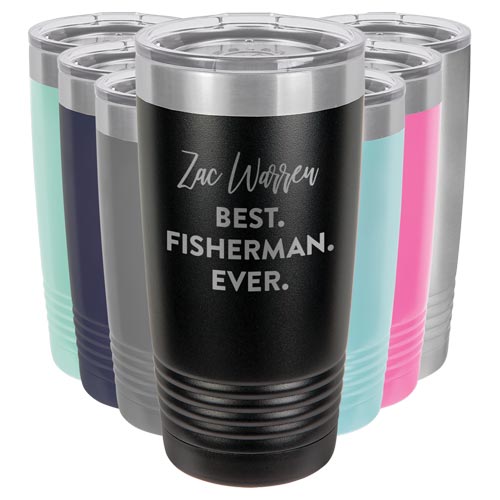 For a hot day out on the lake (or a really cold day out on the frozen pond), your fish lover will need a drink to help keep them either cool or warm.
No matter their weather preferences, this custom engraved Best Fisherman Ever tumbler fits the need.
Not only is it a premium travel tumbler, which comes double-walled and vacuum-sealed for top-tier long-lasting insulation, it also includes personalization of any name, text, or quote you like.
For instance, this design works great to have your fisherman's name plus one of these quotes:
Best. Fisherman. Ever.
Best. Angler. Ever. (etc)
Beer. Football. Fishing.
Eat. Sleep. Fish. Repeat.
Keeping it reel
We hooked the best Dad ever
I hooked the best hubby
The Rod Father
Good things come to those who bait
Gone fishin'
The mug's quality is on par with the much more expensive YETI brand tumblers, but at half the price and with customization included. It's available in several different colors, sizes, and styles.
Here's another design perfect for a fishing gift: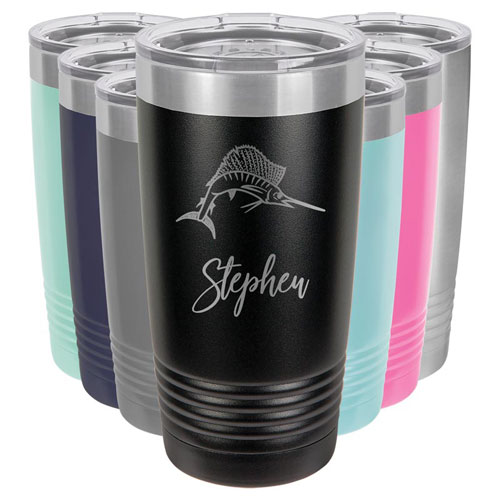 Pictured above with Sailfish art, you can also choose his favorite from one of eight additional fish: Bass, Catfish, Halibut, Marlin, Salmon, Tarpon, Trout, or Walleye.
And of course, the Personalized Fishing Tumbler includes customization of the recipient's name.
4. Garmin Fishfinder
Serious fishermen enjoy serious tools to help them get that big catch. With this Garmin Striker device, your trawler will be able to "see" under the waves to locate schools of fish and other objects while out on the water.
High-frequency sonar takes this handy device down to 750 feet in saltwater and 1600 feet in freshwater. Sealed battery and charger is included.
5. Personalized "Gone Fishing" Pacific Crest Plaque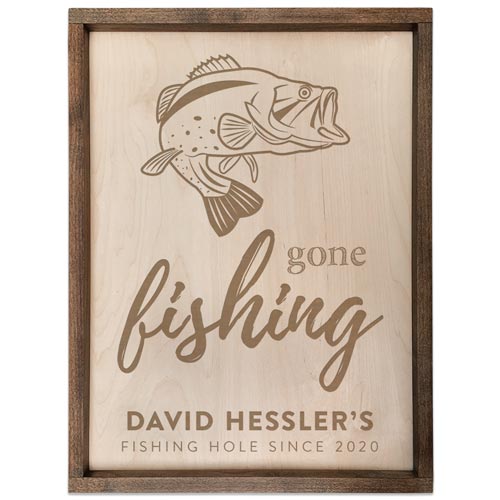 A Northwest Gifts original, this Pacific Crest Gone Fishing Sign takes your hobbyist's passion for all things fishing and puts it into one unique keepsake gift.
Made from furniture grade wood, the "Gone Fishing" design includes personalization plus your choice of fish (9 varieties). It's a gorgeous plaque, ideal for retirement or any other gift-giving occasion, and will add a touch of rustic charm to any room.
Includes personalized engraving of up to two lines of text, available in two size options (12×16 or 18×24) to suit any room, office, or decor scheme.
6. Custom Boat Welcome Mat
When it comes to fishing gifts, there are lots of fun ideas to consider, especially if your loved one has their own boat.
This cute welcome mat is perfect for boating or the home. Besides the "Welcome Aboard…Knot Again" lingo, you can customize this 18″ x 30″ mat to say anything you'd like.
Related: 21 Great Gifts for Boat Owners, Sailors, & Sailing Enthusiasts
7. Personalized Filet Knife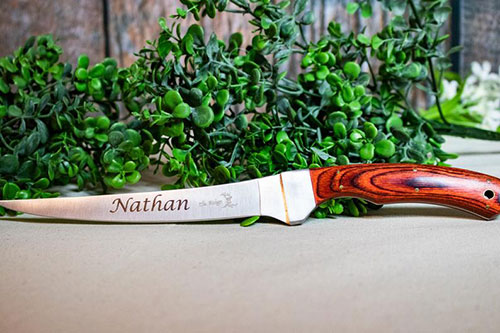 Many avid fishermen have filet boards (like this one) and all necessary utensils fixed to their boat, ready to be used at a moment's notice.
But for the more casual fisherman (who may or may not have a tendency to throw back what they catch), a little filet knife can go a long way.
This filet knife takes the fish cake because it comes custom-engraved with your loved one's name.
Crafted from premium steel, the blade of this knife measures 7″ long. Take into consideration the solid wood handle, and this entire knife measures 12″.
8. Customizable Dry Bag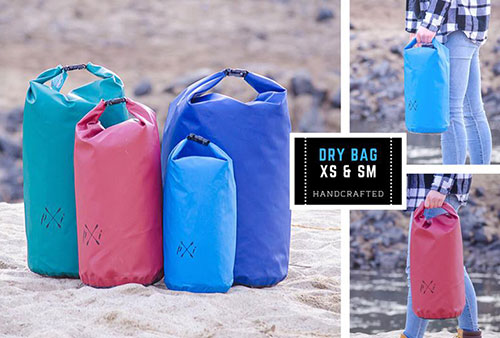 Looking for some truly practical fisherman gifts? Then take a close look at this personalized dry bag.
This PVC vinyl bag is waterproof from top to bottom, making it perfect for holding phones, shoes, towels, jewelry, you name it!
In other words, your fisher isn't going to have to worry about their stuff getting soaked while out on the boat.
The bag comes in three different colors, three sizes, and customization is also a fun option.
9. Vintage Personalized Fishing Hole Sign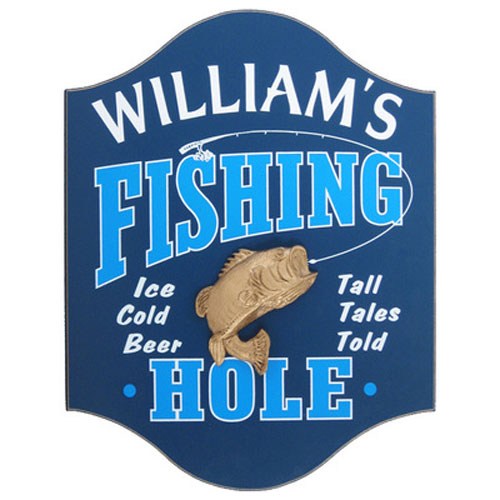 Maybe your reel man doesn't use a fishing boat, but prefers to go old-school down by the docks. If he has a favorite fishing hole or spot that he likes to claim as his own, he'll also love this unique fishing hole sign.
With a timeless, vintage design, this sign will make a perfect addition to a game room, man cave or home bar.
Your loved one will enjoy the personalization that is included with their fishing gift.
It's also a great conservation starter, making it the perfect lead-in to his favorite subject: Fishing.
10. Fish Hook Necklace (for her)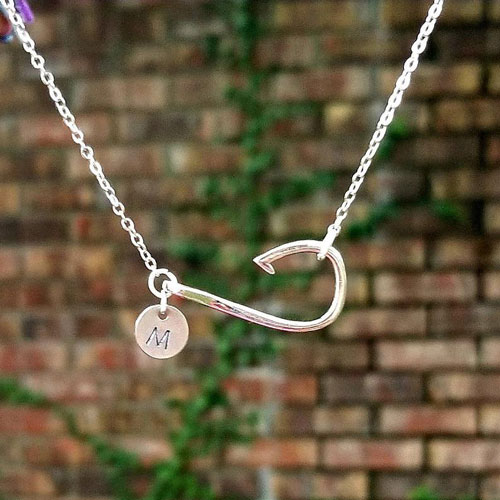 A beautiful necklace for a beautiful fisherwoman! If fishing is her passion (or even if she just enjoys being out on the boat watching you fish), she's going to love this pretty fish hook necklace.
It's made from stainless steel and also boasts her initial for a delicate touch of personalization. Available in several different chain lengths and finishes.
More: 21 Thoughtful Gifts for the Woman Who Wants Nothing
11. Fisher of Men Bracelet (for him)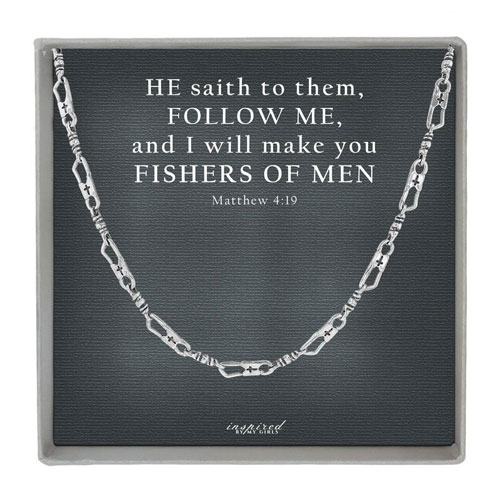 If it's fisherman gifts you're looking for, and jewelry is his thing, this Fisher of Men bracelet may be your best bet for the perfect gift for him.
Besides the fact that it's cool and aesthetically pleasing, this bracelet will also serve to remind him of his faith and what he's to do with it. Made of sterling silver and also available as a necklace.
More: The 65+ Best Gifts for Men
12. Safe-T Fire Extinguisher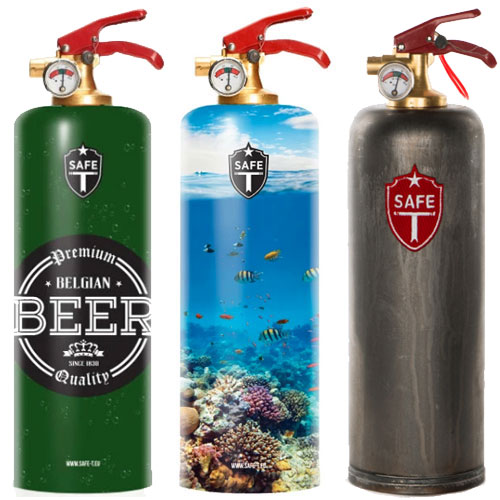 A fire extinguisher is a must-have for any fishing boat.
But whether or not your fisher owns a boat, an extinguisher (especially one with a design like this) could definitely come in handy during an emergency, whether at home or office.
What makes these decorative fire extinguishers from Safe-T so cool (besides the fact that they meet CE standards) is that they come in a range of cool designs… check out the most popular ones here!
13. Matthew 8:27 Wall Art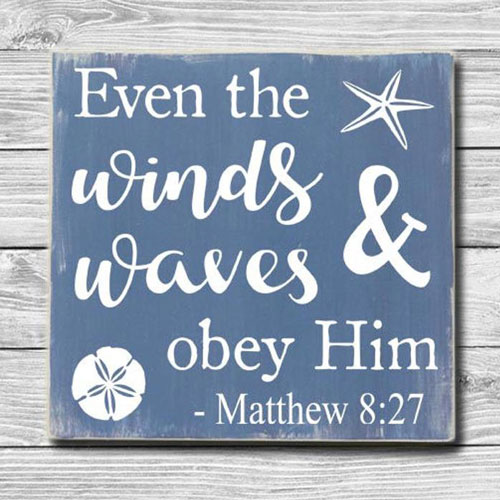 Here's a beach-house-worthy piece of wall art that would be a wonderful addition to any believer's home (whether or not they live at the beach).
This one made it to our list of gifts for fishermen simply because it's a wonderful reminder for anyone of just how almighty the Lord is, no matter what storms we are currently facing in life.
Handmade from pine wood ply, this sign comes in either the faded denim and white text you see above, or in your choice of any other colors. Measures approximately 11.25″ x 11.25″.
14. Adjustable Boat Umbrella
There's nothing quite as uncomfortable as being out on the water all day with the sun blaring down on you and nowhere to hide.
Help the trawler in your life avoid a bad burn while out fishing by gifting them this versatile sports umbrella. It can easily be clamped to the side of their boat to offer some much-needed shade.
Adjusts as needed to any angle and offers UPF 50+ protection from the sun's rays. Available in six different colors and designs!
15. Emergency Whistles
They may not worry about it to much, but you'll be the first one to admit that you worry just a little bit about your loved one every time they head out for a day of fishing.
No matter if they're into deep-sea fishing or just like to wade in the shallow end, you would love for them to have some sort of SOS they can use if they ever found themselves in a prickly situation.
With these whistles, both of you will have the peace of mind you need.
The set of aluminum alloy whistles shriek up to 120 decibels of high-pitched sound, are water resistant, and are functional in all types of weather. Comes two to a pack.
16. Custom Engraved Cutting Board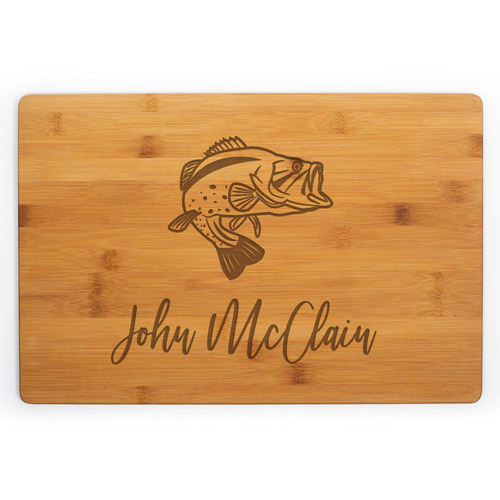 Chances are that your fisherman friend already has a board.
But if you want to make sure the avid fisher in your life really enjoys preparing and eating what they catch, consider gifting a personalized fishing cutting board that they can use in the comfort of their own kitchen.
Not only does this filet board have plenty of space to work with (measuring 18″ x 12″), but it also comes custom-engraved with their name, choice of fish art, an important date, and anything else you'd like it to say.
17. "The Hand of God" Canvas Print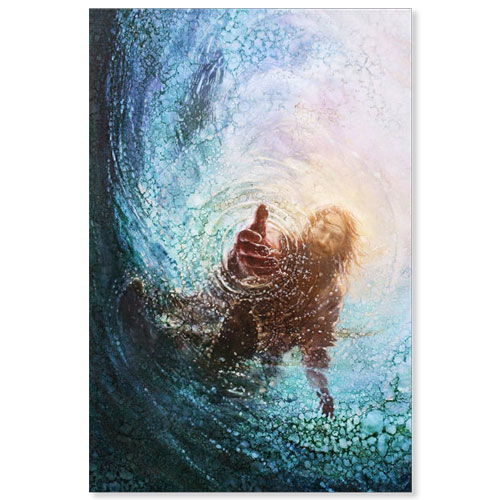 Here's yet another stunning gift idea for the passionate fisherman who is also passionate about his or her faith.
In The Hand of God, artist Yongsung Kim beautifully captures, in vivid detail, what the Apostle Peter must have felt seeing Jesus reaching out to him when he felt that he was sinking in the water.
Several different sizes are available for this print, as well as framing options.
18. Personalized Tackle Box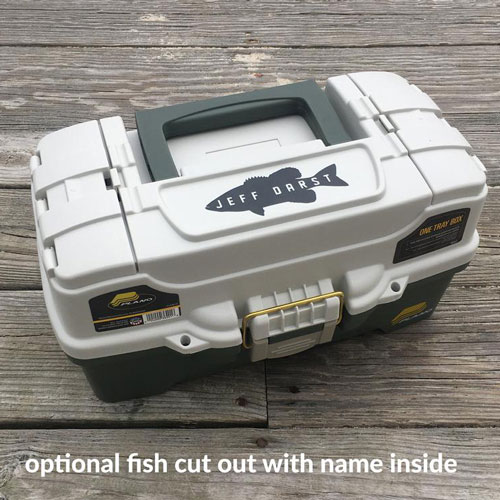 Every fisherman needs a good tackle box, whether they're just starting out or have been at this game their whole life. And this ain't your Grandpa's fishing box, either.
Surprise your loved one with this personalized tackle box, a gift they'll be able to use with pride for years.
The high-grade Plano brand box has an extra tray of storage space and up to thirteen different compartments. Arrives personalized with name and/or logo.
19. DIY Tackle Box Gift Basket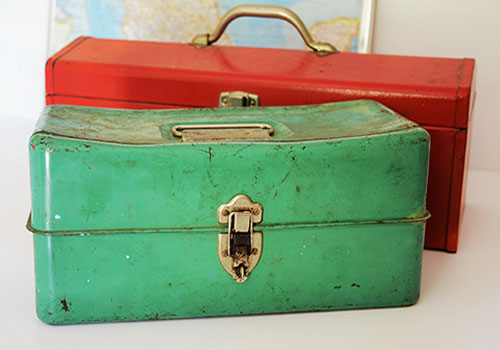 On the other hand, have you ever thought about making your loved one a tackle box? Like, gift basket style? Get creative, go the DIY route and you'll save yourself a little money while still gifting them something you know they'll actually use.
Here's some ideas to get you started on your tackle box gift "basket":
Start with an old tackle box, or if you can't find one get a well-made crafts box like this one or even a tool box like this one.
Get all the things your loved one likes to use/will need for their favorite type of fishing adventure: bass lures, fly fishing lures, a whole set of a bunch of different lures, some universal freshwater bait, some strong fishing line, extra hooks and bobbers.
A trusty pair of pliers is always a good idea.
Also a pair of scissors or nail cutters for cutting line.
Include a first aid kit for those just-in-case moments.
Add some of their favorite snacks/drinks to help them stay refreshed while out all day. (You might also consider a cooler as the "gift basket.)
Don't forget sun block.
Lastly, one of the gifts already mentioned in this list! Tie the box with a bow, add a homemade card, and you're good to go.
20. Telescoping Boat Hook
It may look like a regular pole, but there's a lot of good things this one can do, especially for the fisherman who knows what they are doing.
With an extension of up to 8 feet, the Star Brite telescoping pole/boat hook can be used to push vessels off the dock, pull them back into dock, bring in loose lines, and more.
The light-weight aluminum pole is going to float if dropped in the water, and the reinforced nylon hook itself is virtually unbreakable. A win-win!
21. Engraved Fly Fishing Box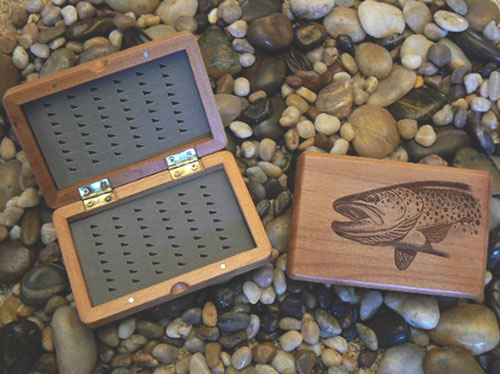 Here is a little something sweet for those who specifically enjoy fly fishing.
This 3″ x 5″ oak wood fly fishing lure box is made to safekeep all your loved one's favorite fly lures (or maybe even those passed down from a Dad or Granddad).
The box comes with optional personalization and also features an engraved trout on the front.
"Gone Fishing" Sympathy Gifts
Maybe your search brought you here today because you're needing a fishing gift not for a party or other celebration, but for an end-of-life gathering.
When "Gone Fishing" is the theme for a person's life, it also easily becomes the theme for the celebration of their life.
Sympathy gifts aren't easy to search for, and the perfect one for a grieving family may be even harder to find.
With that in mind, we're including some sympathy gift ideas specifically with the fisherman in mind. If your loved one was an avid fisherman, or simply just enjoyed being out on the water, take a look here:
---
Don't go just yet! We've got more gift-giving ideas for your fisherman right here. Once you've browsed those fishing-themed gifts, be sure to continue browse all the personalized gifts available from Northwest Gifts.
Read Next: Homemade Gift Ideas for Boyfriend