Everyone loves a good tune. But some of us music lovers take our listening experience a little further. Hi-fi stereo equipment, headphone amps, DAC's, room tuning… these are familiar terms for the audiophile.
For those obsessed with music more than the average joe, the art of listening and representing audio is a way to participate with the music we love. But when you truly begin to understand your friend's audile compulsions and quirks, gift giving can feel difficult.
For the audiophiles and music lovers in your life, we have put together the perfect list of gifts. Every one of this will be sure to strike a chord.
We cover the whole frequency range, from accessories & décor to real hi-fi audio equipment. Music-lovers will not be disappointed! Read on for our top 10 gift ideas, choices for him & her, and our NO. 1 pick for any audiophile or music lover.
As a bonus, we've also made a list of real HI-FI equipment you can happily gift to any audiophile!
10 Best Gifts for Music Lovers
Our website is supported by our users. We sometimes earn a commission when you click through the affiliate links on our website. See our privacy policy & disclosures for more information.
1. Marshall Speaker Key Hanger
Marshall amps are legendary in the history of Rock. To this day, Marshall stacks can be seen on the biggest stages in the world, being used by the biggest bands.
Present your music-loving friend with a token of that history. This Marshall amp key hanger comes with 4 keychains, so they can plug in their keys like a Les Paul.
A great gift for audiophiles that will be used every day!
2. Steel Speaker Stand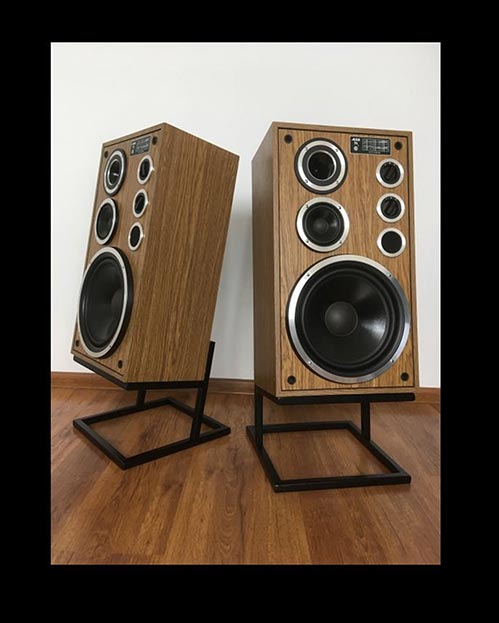 Great speakers don't belong on the floor. And installing wall mounts can be time-consuming, and doesn't leave you with the option of rearranging the room. This makes these steel speaker stands the go-to option! They are sure to be used often and thoughtfully.
For the uninitiated, speaker stands aren't just for looking great and keeping expensive stereo speakers off the dirty floor. They have a huge impact on the sound of the speakers by clearing up the sound. This way, frequencies can be kept from reflecting off the floor and getting muddy.
Speaker stands also direct the speakers up towards the listeners ears, so you hear the music first… not the reflections of the walls and floors. It's the little things that enthusiasts can really appreciate.
3. Noise Cancelling Panels
Most of us don't have the money or time to renovate our homes into professional recording studios. Our homes have square rooms with drywall or other sound-reflecting materials. These reflections affect the way we hear music!
These noise-cancelling panels help eliminate those noises so we can listen to the music as it was meant to be heard. They absorb frequencies that tend to reverberate badly. A set of sound absorbing panels would make any music lover or audiophile sing for joy (but probably won't make their singing any better).
Pro Tip: To see for yourself, clap your hands in your bedroom and listen for a tinny ring that echoes back to you.
4. Personalized Headphone Stand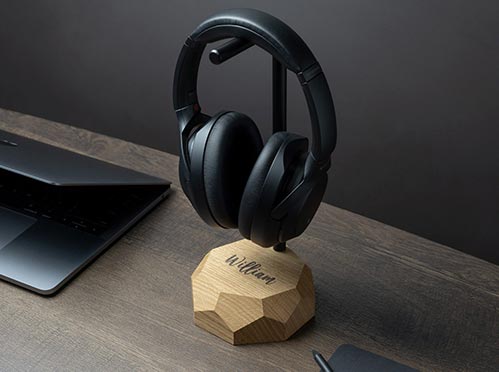 Headphone stands are one of the most useful but forgotten accessories for audiophiles. Headphones sit on the desk and collect dust, and are exposed to damage and spills. Get your music-loving friends a headphone stand worthy of their expensive ear-cans.
This geometric headphone stand can be personalized with your friend's name, logo, or custom text. A perfectly useful gift that looks cool, too.
5. Record Cleaner Kit
Records collect dust and dirt and need the occasional cleaning to sound their best. For audiophiles, cleaning their records is a joy in itself! It keeps those records sounding warm and smooth.
Not all record cleaners are equal. This set comes complete with a cleaning spray, a velvet brush to collect dust, a bristle brush to clean the velvet brush, and a gel cleanser for the turntable needle.
6. 1960 Headphones Blueprint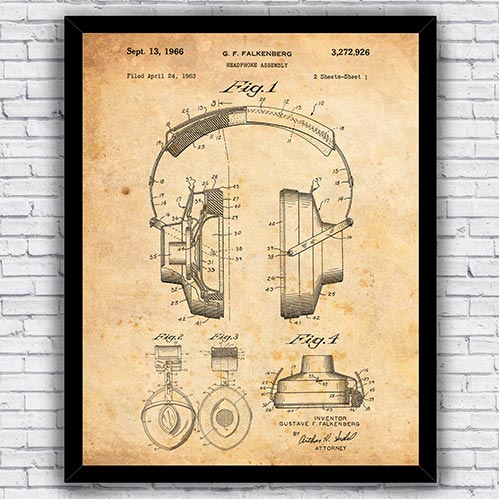 Give a gift from music history with this print of an original 1960's headphone patent blueprint.
For the music lover with an engineering bent, this print is a fun way to display their listening obsession. Plus it's an excellent conversation piece.
7. Personalized Page Holder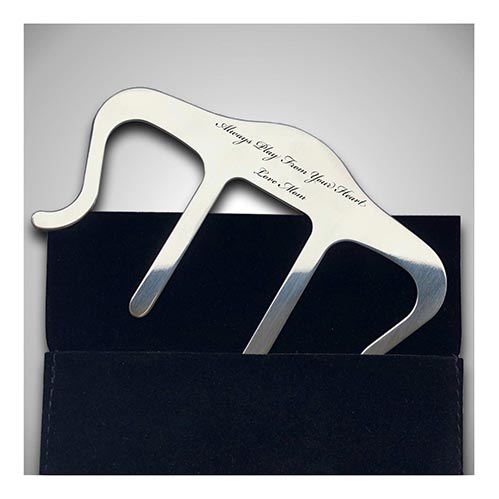 This page holder is a great way to keep sheet music organized. For the audiophile who also acts the musician, tackling sheet music can be an annoyance.
Personalize your gift for your friend by adding their name or a thoughtful message to the stainless steel page holder.
Not only does it hold sheet music, but it can keep recipe books open (perfect for when our hands are covered in messy ingredients) and also makes a great bookmark. I even use one to mark the spot where I pull out records!
Related: Piano Player Gift Guide
8. Guitar Lessons for Kids & Adults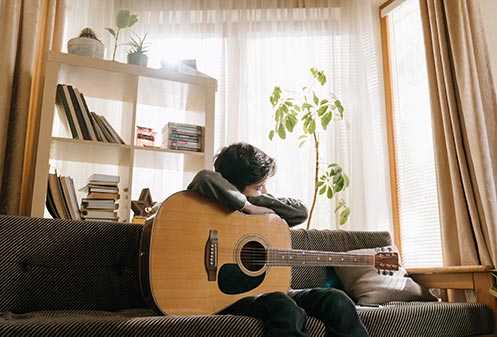 We've all wanted to learn to play the guitar at some point. Maybe we even picked up a few chord shapes. But for hardcore music lovers, participating with the music by playing along could be a dream come true.
For kids ( and even adults) the gift of music lessons could be the start of a fun new adventure!
Learning the guitar can be a relaxing hobby, or even a symbol of breaking out of ordinary routines and the feeling of getting stuck. Not to mention that it will be so fun to finally be able to play those favorite tunes!
9. Music Keychain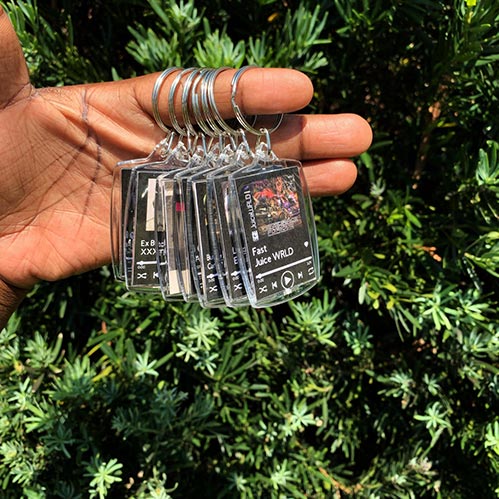 Help your audiophile to rock their great music taste on the go.
This customized keychain comes with your music-lover's favorite song title and album cover displayed for all to see.
10. Record Collection Display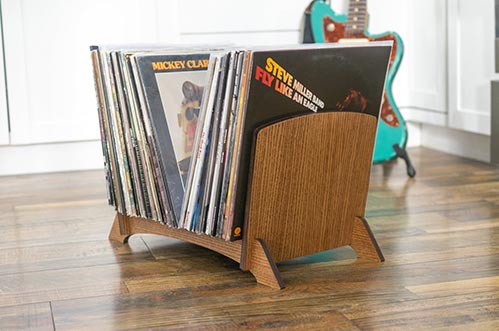 We've all got record collections… some of us have shelves full of them. But usually there are a choice few that we like to listen to and show off the most.
This easy-assembly record display comes with record case grooves to keep those *LP's in order. Help your friends keep those favorites within reach!
*LP stands for "Long Playing," aka, a vinyl album.
5 Best Audiophile Gifts for Her
1. Spotify Music Bracelet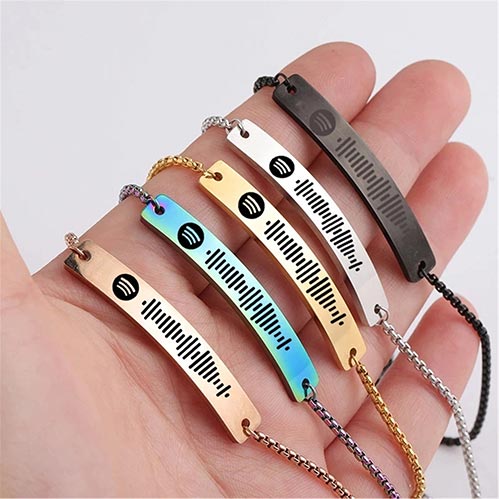 The new way to make and send mixtapes! These fashionable bracelets are engraved with a scannable Spotify code, to send her right to the song, album, or playlist of your choice.
Personalize it with a note to your friend or partner, and choose the color, symbol, and font.
2. Retro Vinyl Coasters
Cute and quirky décor for the girl who can't get enough vinyl. Spin those drinks without leaving a mark, and enjoy the punny copyright-avoiding album titles.
These retro vinyl coasters won't skid, and are destined to be a fun conversation piece.
Related: 50 Retro Aesthetic Gifts
3. Best. Band. Ever.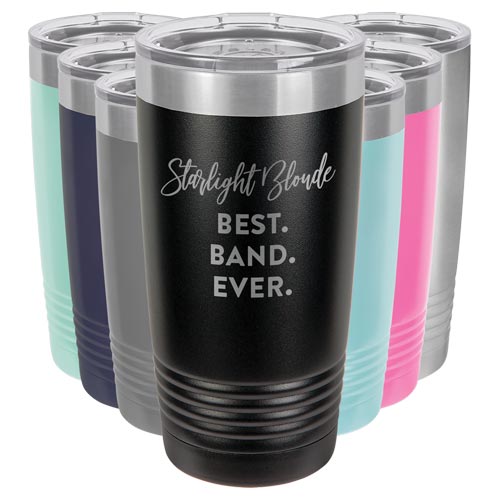 If you want to celebrate her favorite band with her (or remind her of your own excellent tastes), consider this customized tumbler!
Great for hot and cold drinks with its stainless steel design and vacuum-sealed double wall.
4. HiFi Stereo Stickers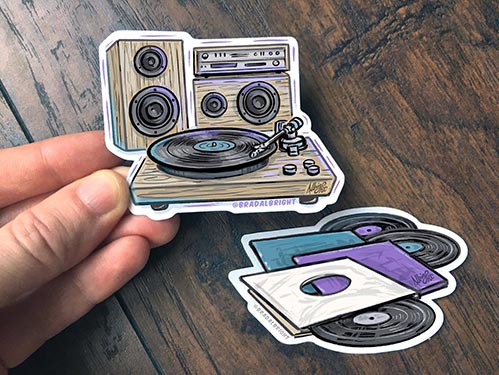 Perfect for decorating her laptop, favorite reusable water bottle, or rear windshield… to show everyone on the road how much she loves music. These colorful stickers are a fun accessory for your audiophile friends.
5. Personalized Music Box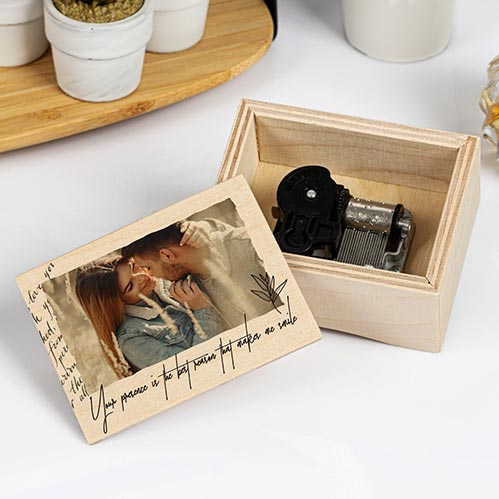 Imagine the look on her face when she hears the chiming of "Fur Elise" lifting up a sentimental photo of you both on the lid of her own music box.
Music boxes are a classic and elegant gift for any occasion. This personalized box includes a printing of your photo, a heartfelt note of your description, and your choice from 4 celebrated melodies.
5 Best Audiophile Gifts for Him
1. Personalized Song Lyrics Journal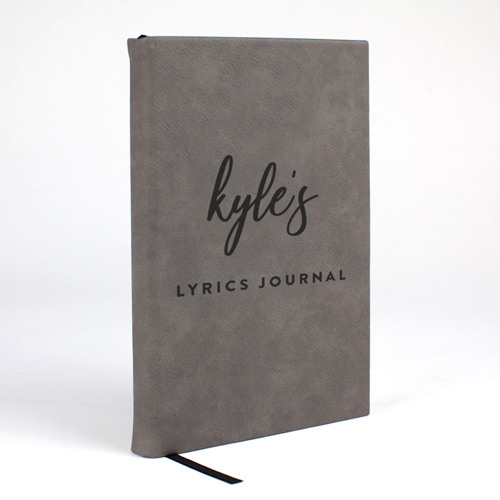 If you friend or partner is a poet at heart, they are sure to need another journal. Keep the words flowing, and encourage him with a personalized lyric journal.
Includes 112 lined pages, an eco-friendly faux leather cover, and a satin ribbon bookmark.
2. I Think I Have Enough Speakers…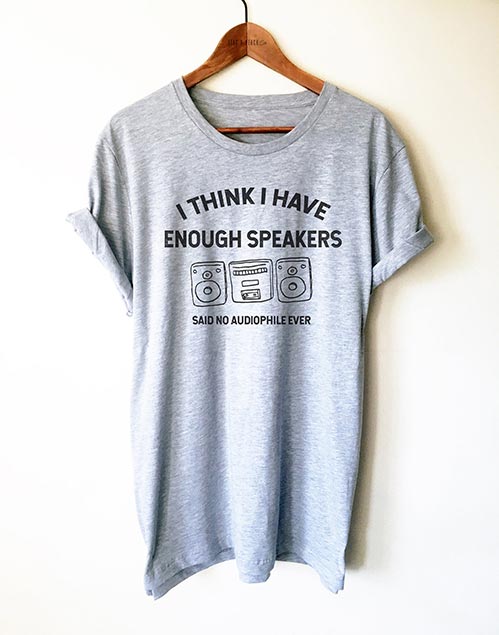 Speakers all have their own flavor… why just have one set? While audiophiles enjoy the chance to hear their favorite music colored a little differently, they also love to share their passion and hobby with others!
This graphic tee is a funny conversation starter, and the perfect shirt for conventions, expos, and meetups.
3. Leather Headphones Case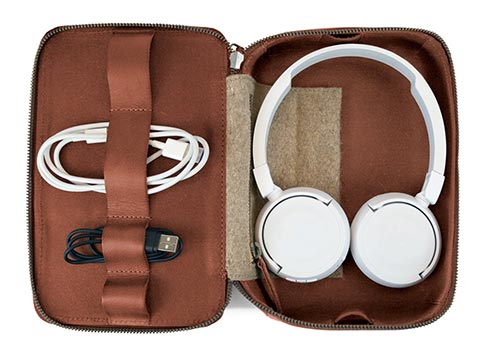 Every music enthusiast needs a good headphone case to keep his expensive assets covered! This case is made with real buffalo leather and has slots for cables and other earbuds, as well as a pocket that is perfect for his DAC or headphone amp.
Check out more designs here to find one that fits you!
4. Turntable Slip Mat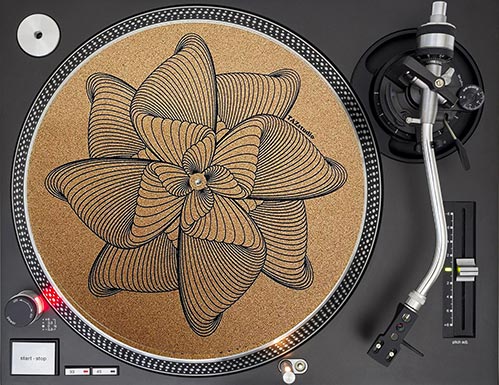 Sure, the vinyl album looks cool when its spinning on the table. But you don't want to keep it there after your done (dust will get in the record grooves and ruin it!).
Keep the table looking sleek 24/7 with this turntable slip mat. This mat goes underneath the vinyl album to protect it while spinning, and will look awesome as an accessory to the entertainment room.
5. Custom Drum Stick Bag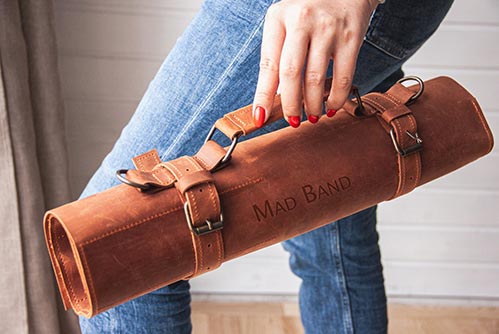 For the music lover who is also a music maker. This stick bag for drummers comes in different sizes, holding up to 5 pairs of sticks in soft genuine leather. Personalize it and gift it to the drummer in your life.
Comes with a leather handle and shoulder strap, and rolls up and buckles securely on the go.
Related: Best Personalized Gifts for Him
Number One Gift Idea for All Music Aficionados
All right, we've covered a wide range of music appreciation gift ideas for your audiophile friends. Here is our ultimate #1 upper deck top choice, the go-to that any audiophile will love (because, 1) they don't already have it, and 2) they're going to love it):
#1. Now Playing Record Stand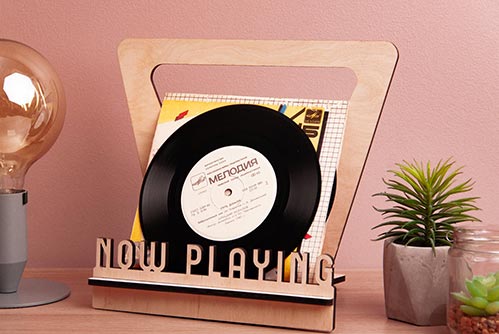 The perfect décor and finishing touch to the listening room. Let your friend display their current vibe by having this cool stand to put their record case or sleeve while listening.
But, if your music-loving friend has yet to take the dive into vinyl albums then be sure to include this record player! It's the perfect way to introduce them to a fun hobby and community of like-minded passionate fans.
Best Equipment for Audiophiles
Accessories and decor aside, music is about the listening experience. And the listening experience is only as good as the gear.
To give only the best to your audiophile friends and loved ones, check out our top choices for audio equipment below. From community-favorite headphones to an elite-performance turntable, these gift ideas will please any serious Hi-Fi enthusiast.
Happy gifting and happy spinning!
Read Next: All-American Country Music Gift Ideas
Pin It