Men are tough. Tough as in impossible, difficult, troublesome, confusing, enigmatic…. yet wonderful, delightful, and you really can't live without us.
More to the point, we are tough in the sense of "it's tough to find gifts for men." I should know, my wife tells me this every Christmas and birthday.
And on our anniversary.
And Father's Day.
Men don't like to make wish lists or talk about what we want for a birthday gift or what have you. We think of ourselves as simple souls with simple needs. But the reality is that we can be confusing.
So this list of the best gifts for men is your go-to guide. In it, we'll cover all types of gifts for men including birthday, Christmas, husband, boyfriend, unique, unusual, romantic gifts and more. Ever googled, "Gifts for the impossible man"? You know you have. Well, read on and you'll find some great inspiration for your man.
Our website is supported by our users. We sometimes earn a commission when you click through the affiliate links on our website. Learn more here.
The Best Gifts for Men
Here's what we have in store for you.
Birthday
Christmas
Father's Day
Gifts for the Impossible Man
Unique Gifts
Cool Gifts
Unusual Gifts
Classy Gifts
Practical Gifts
Thoughtful Gifts
Romantic Gifts for Men
Gifts for Husband
Gifts for Boyfriend
Then we have two bonus sections.
Our "Best of" list includes the top gifts in a variety of categories, for instance the best sound bar or the best cordless drill.
Then we include a selection of niche gift lists, which will take you to the best gift ideas for a urologist or a motorcycle enthusiast or a sports coach.
Got it? Great! Then let's take a look at some of the very best gifts for men. Altogether we have well over 65 excellent gift ideas to inspire your gift-giving.
5 Best Birthday Gifts for Men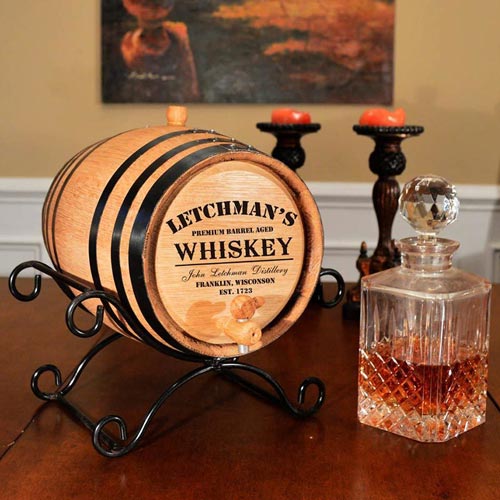 For a great birthday gift idea, consider giving your man a personalized oak aging barrel so he can age his own whiskey at home.
This is a real barrel that will actually hold whiskey, bourbon, tequila, or anything else he would like to barrel-age. It's a fun and easy way to take a cheap bottle of booze and turn it into something that tastes like it came from the top shelf. Plus, it's personalized!
Here are our picks for the five best birthday gifts for men:
5 Best Christmas Gifts for Men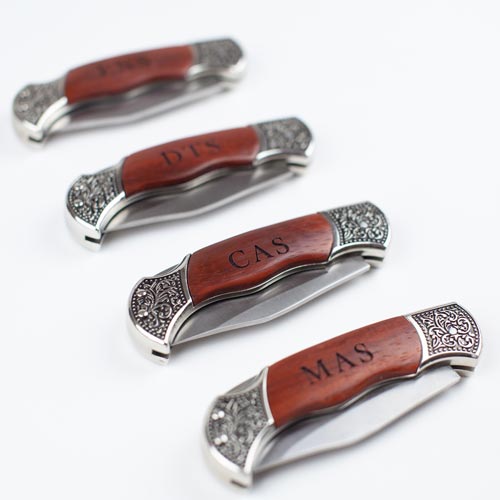 What could be more manly than this old-fashioned rosewood handle pocket knife? It's custom laser etched, so you can create a truly personal Christmas gift.
Ideal as a stocking stuffer, you might also consider getting one for each member of the family so you can all have matching knives.
Our five favorite Christmas gifts for men:
5 Best Father's Day Gifts
Father's Day falls pretty much smack dab in the dolldrum period between the end of the playoffs and the start of the next season.
So keep a football-loving dad active and encouraged with this super-fun, super-unique vintage leather football. Then round up all the kids and play a game together!
Here's our list of the 5 best Father's Day gift ideas:
5 Gifts for the Impossible Man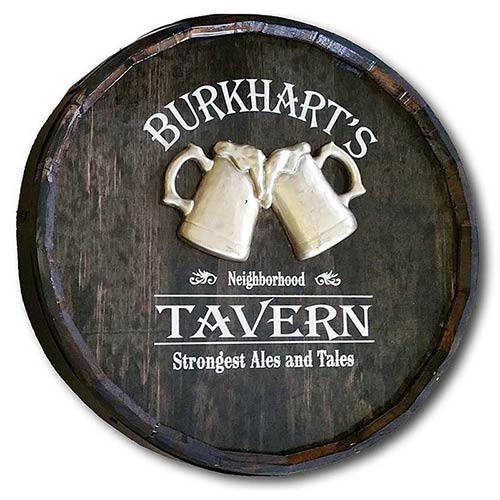 It really does seem impossible to find a great gift for some guys. That's why our barrel head signs are so popular – because, like him, they're not quite like anything else around. Old school, personalized, and well crafted, it's the perfect gift for the impossible man.
And these don't just come in bar themes. We have tons of designs to suit any man's taste: Golf, pilots/aviation, BBQ, shop/garage, home theater, pizzeria, ice cream parlor, coffee house, man cave and more.
These are our top 5 gifts for the impossible man:
5 Unique Gifts for Men
If you're looking for a gift that's off the beaten path, consider giving him a pizza oven. Because, first, who doesn't like pizza?
And second, a grill is a classic "guy" gift, so this is pretty much that but with a pizza-flavored twist.
Third, it's pizza.
And lastly, this is like giving yourself a gift too because you'll get to enjoy some delicious pizza.
Here are five truly unique gift ideas for men:
5 Cool Gifts for Men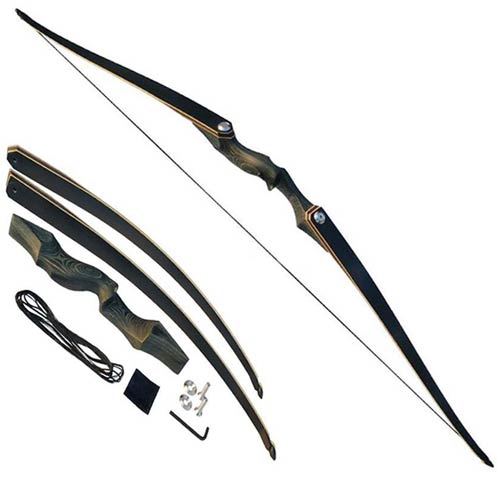 Archery is just plain cool. Robin Hood, Legolas, Hawkeye, Green Arrow and many more characters have inspired us with their dazzling skills. And it's not limited to men, either: Katniss Everdeen, Lara Croft, Susan Pevensie, Neytiri and others are beyond rad because of their skill with a bow.
So, if you're looking for a gift with that "it" factor, consider giving a longbow. We recommend the Black Hunter, a great bow at an affordable price used by beginners and experts alike. You'll probably want to pick up a target and some arrows to complete the set.
Five cool gift ideas for guys:
5 Most Unusual Gifts for Men
This mini survival kit is wrapped up into the shape of a grenade, and unwraps when you pull the grenade's "pin" to give you 45 ft of paracord plus compass, flashlight, multi tool pocket knife, flint, fishing line and hooks, can opener, waterproof matches, and much more.
Cool, nerdy, and actually rather useful, this is a great gift idea for any guy.
Here are our five favorite unusual/quirky gifts:
5 Classy Gifts for Men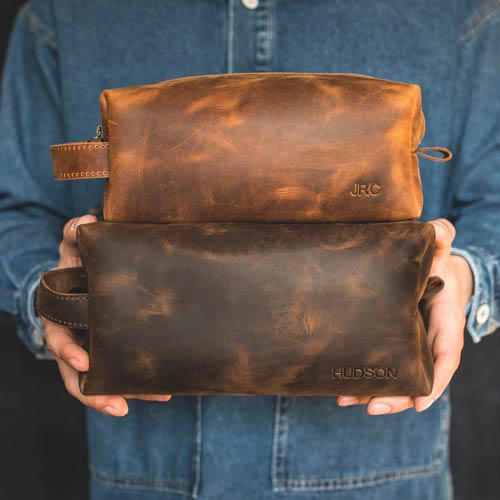 When in doubt, go with a gift that is classy and timeless.
Consider an Italian full-grain leather dopp kit personalized his name or initials. He can keep all his toiletries in one place, ready for travel, and the genuine leather presents a rustic yet elegant look that he'll love.
Here are a few more ideas for a classy gift:
5 Practical Gifts for Men
For practical gifts, there are tools and kitchen accessories and just about anything that goes in the backyard. Then there's something for the Modern Man: A wifi-enabled front doorbell camera that connects to his smartphone.
Whether at work, upstairs, or out back (or just chillin' on the couch), he'll be able to see and even talk to anyone who approaches the front door with a simple notification. This is a great gift for peace of mind, and another way help everyone feel connected even if he's at work or on the road.
Here are our top five picks for the best practical gifts for men:
5 Most Thoughtful Gifts for Men
This trunk is a tank. At 33″ by 20.5″ and 15.5″ tall, this foot locker will hold whatever you want and can take a beating while doing so. If you want a thoughtful gift for a guy who loves to keep everything in its place yet isn't afraid to build and smash stuff, this is it.
It's also ideal for college dorm room storage. FYI.
Here are our five most thoughtful gifts for men:
5 Most Romantic Gifts for Men
This fun set of blank love letters includes prompts and cute envelopes to help you write special letters for him to open throughout the year. It's advertised as "a paper time capsule," and rightly so – you write down your thoughts and feelings for him, hopes for the future, memories of the past, and more.
Choose a date for him to open each letter, and watch your romance rekindle each time as he learns something new about you and how you see your relationship.
The set includes 12 letters and envelopes, and each starts with a prompt like, "When we first met…" or "It's the little things, like when…" You just need to write down your thoughts, and you create a special and romantic personalized gift for him!
My wife has done this for me twice over the years, making her own notes and letters. Once she did a set of 7 envelopes like this, and another time she wrote tons of tiny encouraging notes on colorful scraps of paper. I still treasure them!
Here are five wonderfully romantic gifts for men:
5 Best Gifts for Husband
Owning and maintaining a well-stocked mini fridge is the man's symbol that he has truly arrived. Guys love to sit around and share beverages, whether it is reading a book solo, watching the game with some bros, socializing with other couples, or spending time with the wife.
This glass door mini fridge can take up to 120 cans or an array of other beverage types, keeping them ice-cold and ready to enjoy. Surprise your husband this year with a great gift he'll use every day!
Five great ideas for your husband:
5 Best Gifts for Boyfriend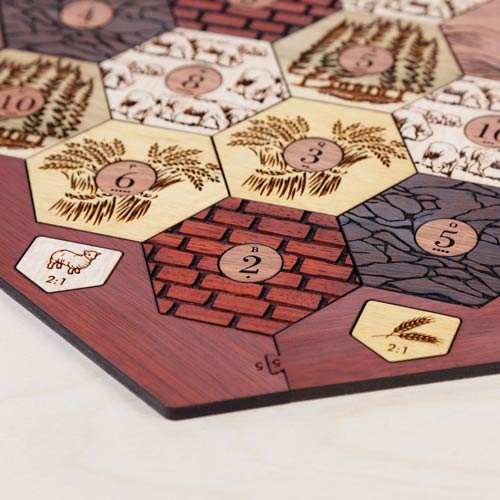 The Board Game Genius makes custom and handcrafted versions of everyone's favorite board game: Settlers of Catan.
If your boyf has even a hint of nerdiness in him, chances are he's into Settlers. So why not blow his mind – and allow him to impress his fellow game geeks – with a completely unique board made from exotic hardwoods? This set has interlocking tiles with spaces to keep the value markers in place, and you can even personalize it with custom engraving on the back side. A truly amazing gift!
This and more great gifts for your boyfriend:
Gifts for Men "Best of" List
Looking for a great gift idea that is in a more traditional category? Here are the best gift ideas from popular types of gifts that guys tend to love.
Consider giving your man the best…
Niche Gifts for Men Lists
Here are hundreds of additional gifts for men based on their occupations or interests.
Pin It