Today we'll be celebrating the absolute best gifts for couples.
Here you'll find best wedding, anniversary, neighbor, holiday, and birthday gifts for couples. Plus more!
From the best experience gifts to most romantic gifts, from the funniest gifts for couples to the best housewarming gifts, from things you expect to things you don't, we've got it all covered.
Just for the record, we say 21 gifts for couples, but there's waaaaay more than 21 ideas mentioned below. That's because we take a theme, latch onto it, and dive down deep into the depths of creative gift-giving.
You're welcome.
It's what we do. Whether you're searching for a gift for your significant other, your parents, a friend who's getting married, or for another special couple in your life, we really want to help you find that perfect little something that says, "I'm thinking of you."
Without further ado, let's get started!
Top 21 Best Gifts for Couples
Our website is supported by our users. We sometimes earn a commission when you click through the affiliate links on our website. See our privacy policy & disclosures for more information.
1. Best Wedding Gift for Couples: Custom Engraved Cutting Board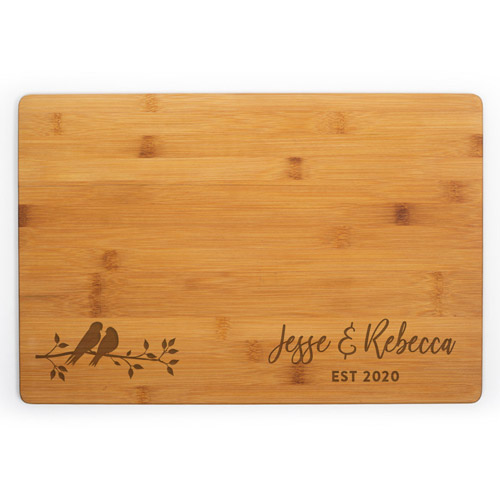 Cutting boards are all-around great gifts to give because they're both beautiful and highly practical.
For the two special people in your life who're preparing to say "I do," you simply can't go wrong with the gift of a quality, personalized cutting board.
This one from Northwest Gifts really takes the (wedding) cake. Made of solid bamboo wood, this 18″ x 12″ cutting board also comes personalized for the happy couple with our cute lovebirds design.
(This is another popular design for couples.)
More Wedding Gifts for Couples
2. Best Anniversary Gift for Couples: Custom Anniversary Portrait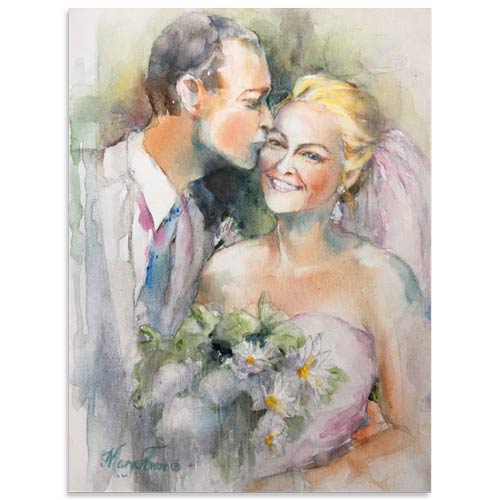 We picked a custom portrait from Mary Ann as the best anniversary gift for couples, simply because her portraits are the best.
All this talented watercolor artist needs is a photo of the happy couple, to create a one-of-a-kind masterpiece that they are sure to treasure forever.
More Anniversary Gifts for Couples
3. Best Practical Gift for Couples: Puffin Can Koozie Jacket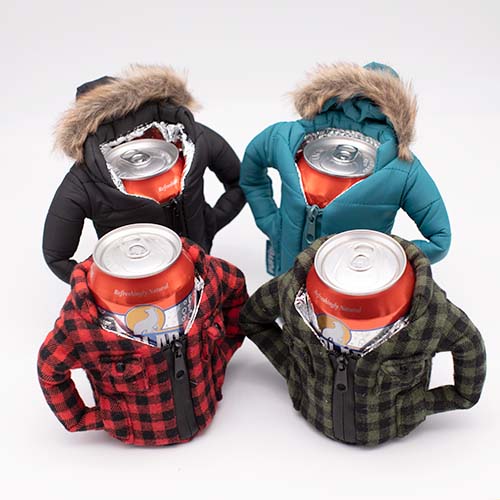 The best couples enjoy sharing their favorite drinks together. Keep those drinks nice and cold with the ultimate can koozie from Puffin Drinkwear.
These are unique and clever gifts that any couple will adore. Dress your cans up for any weather – indoor or out – with your choice of jackets, flannels, vests, life vests, sleeping bags, and more. Mix and match to your heart's content and enjoy those drinks all the more… together!
More Practical Gifts for Couples
Related (to the Tequila & Lemons themed extinguisher, that is): 21 Gifts to Keep All Y'all Tequila Lovers In the Cups
4. Best Funny Gift for Couples: Custom Big Heads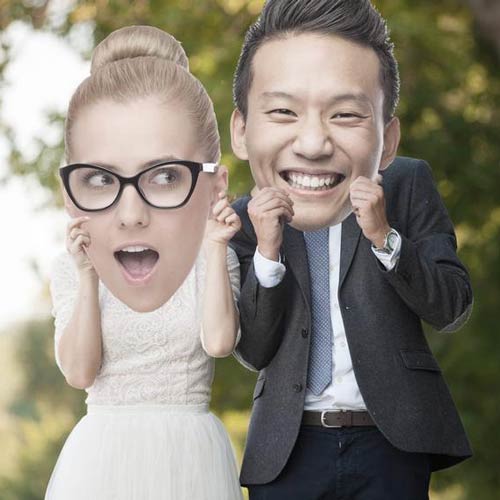 You want funny gifts for couples? We've got funny gifts for couples. Here's a hilarious idea: Custom big heads.
Make your lovebird friends laugh with these giant versions of their own faces… just send in their photos in with your order and they'll take care of the rest.
One creative way to give these is to create a photo scavenger hunt. Send the couple out to find various locations, sight, or objects, and make them take pics with their big heads.
Good, clean fun!
More Funny Gifts for Couples
5. Best Gift for Couples to Do Together: Backyard Projector (for a Movie Night Outside!)
Want to give your pals something a little different, yet something fun that they can do together? This portable movie projector, which comes with a 100″ screen, looks like a whole lot of fun.
This projector easily connects to their favorite devices (smart phone, HDMI, AV), making a backyard movie date night not only possible but a wonderful bonding experience.
More Gifts for Couples to Do Together
Related: Warm & Cozy Gift Guide for Snuggle Weather
6. Best Experience Gift for Couples: Escape Room: The Game
Escape rooms are a popular experience gift, and best of all they can be enjoyed from the comfort of home.
So if you're thinking about giving an "experience" instead of the more traditional gift options, you can't go wrong with a board game like this one.
Escape Room: The Game puts players on a timer, during which they must use clues and keys to get themselves out of sticky scenarios before it's too late.
More Experience Gifts for Couples
7. Best Cooking Gift for Couples: Personalized Recipe Box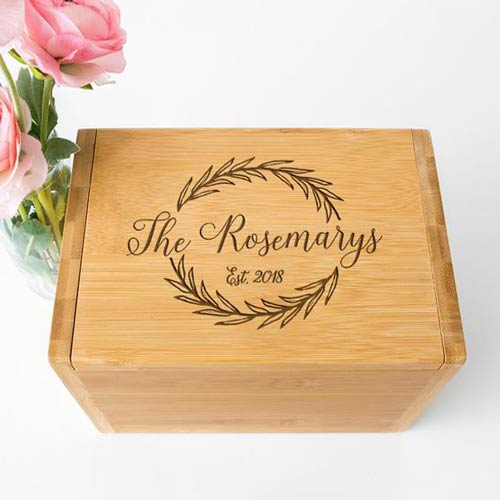 Couples who like to cook can be hard to find gifts for, because they often already have everything they need and love for all their favorite dishes.
That said, not everyone who loves to cook has a place to store all their favorite paper recipes. And you've got to admit, there's something pretty nostalgic about a good old-fashioned recipe box – especially when it comes personalized like this one.
Choose between a bamboo box or a walnut wood box. Dividers are available.
More Cooking Gifts for Couples
8. Best Cool Gift for Couples: LED Sky Lite
Here's a gift for couples who enjoy embracing their inner child (and really, I don't care how old you are, the LED Sky Lite is cool).
Your fave couple can use this device to create an instant nebula in any room of their home.
Think: a romantic date night in the dining room, a movie in the living room, a family camp out indoors during the long winter months, a cozy night in bed "under the stars."
It's a great gift idea. Includes adjustable light settings, rotation options, and 120V AC adapter.
More Cool Gifts for Couples
9. Best Couples Gift for Girlfriend: DIY Romantic Scavenger Hunt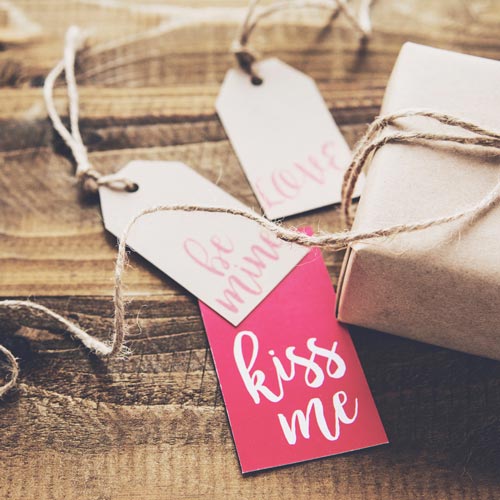 Need a gift for your girl and are hoping to go the DIY route? Show her how much you care about her by sending her on a super fun scavenger hunt.
This gift is 100% customizable because you are the one who creates it just for her… earning it the #1 spot in this category. Click here for some interesting ideas to get you started.
More Gifts for Girlfriend
10. Best Couples Gift for Boyfriend: Engraved Picture Wallet Insert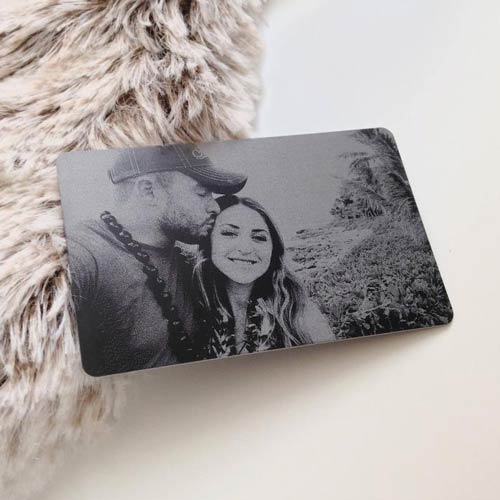 On the other hand, if you're searching for the best gift for that special guy in your life, check out this sweet laser-engraved picture wallet insert. It's like a regular photo wallet insert, only better (it will last longer)!
For his eyes only, add an optional note on the back of his engraved photo, in your choice of several different fonts.
More Gifts for Boyfriend
11. Best DIY Couples Gift: Whiskey Connoisseur Kit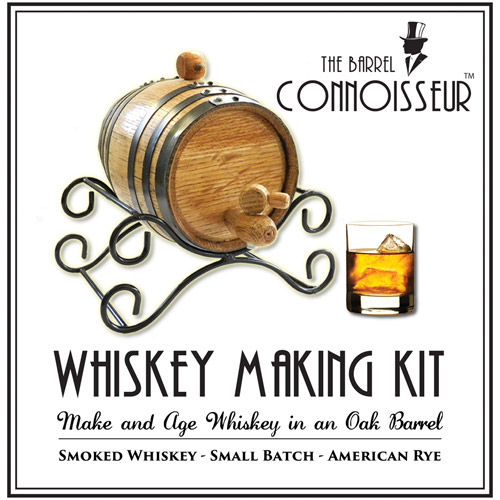 DIY gifts can be so much fun! They're even better when you can do them together with someone you love. That's why this Whiskey Connoisseur Kit is our pick for best gift in the DIY category.
When you enjoy the experience of creating something together, it's all the more meaningful. Not to mention, aging whiskey is fun!
This barrel kit is made of real oak that has been charred to perfection within. Includes wrought iron stand, tools, cleaning kit, and all the ingredients (sans alcohol) you need to create three batches of whiskey together.
More DIY Couples Gifts
12. Best Housewarming Couples Gift: Joshua 24:15 Personalized Wood Scripture Plaque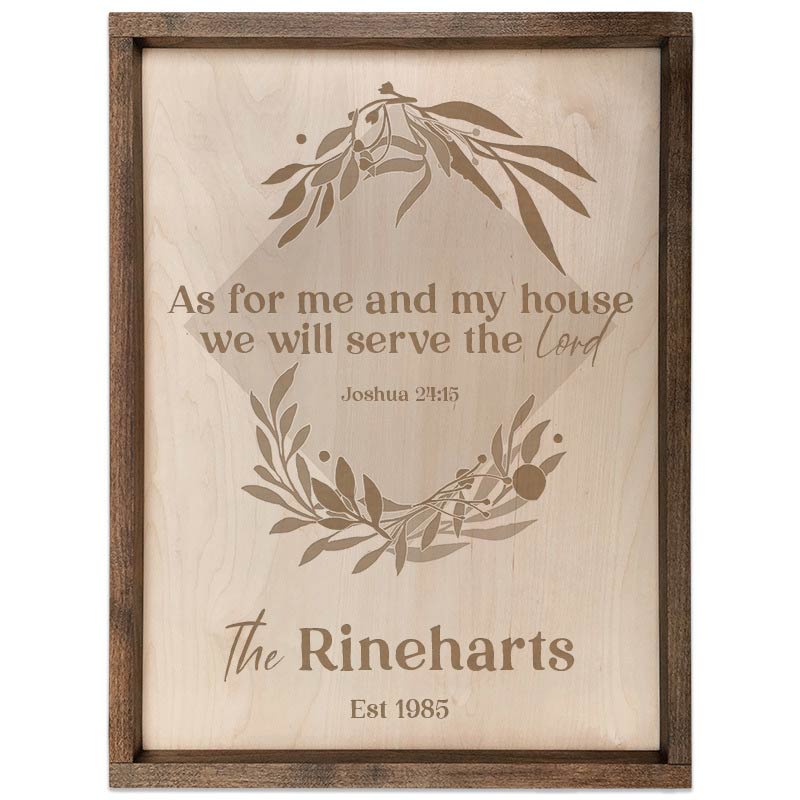 There is nothing quite as exciting as starting a new life in a new place with the one you love.
Remind your loved ones to keep God in the center of this new adventure with this Personalized Wood Scripture Plaque in your choice of floral art design from Northwest Gifts.
It features that beloved verse from the Book of Joshua:
But as for me and my house, we will serve the Lord.

Joshua 24:15b
This beautiful solid wood plaque is available in two sizes, three different designs and also comes with two saw-tooth hangers for easy wall mounting.
More Housewarming Couples Gifts
13. Best His and Hers Gift: His and Hers Wall Decor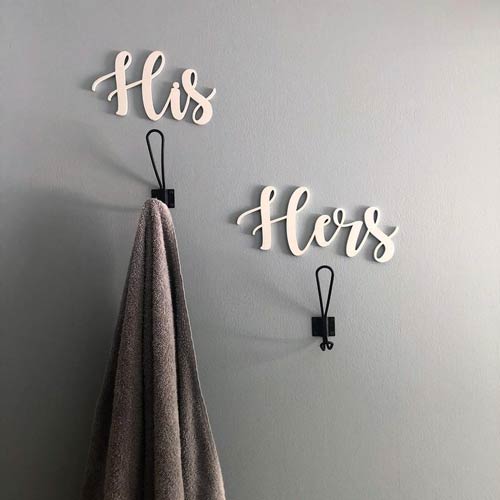 Simple, cute and practical all in one thoughtful gift! These matching "His and Hers" wood signs are perfect for any couples' bathroom. Choose between small, medium or large signs, as well as black, white or gold paint.
You also have the option of adding wall hooks to your order (if you do, check out the embroidered towels mentioned below for a great accompaniment gift).
More His and Hers Gifts
14. Best Christmas Gift for Couples: Our First Christmas Ornament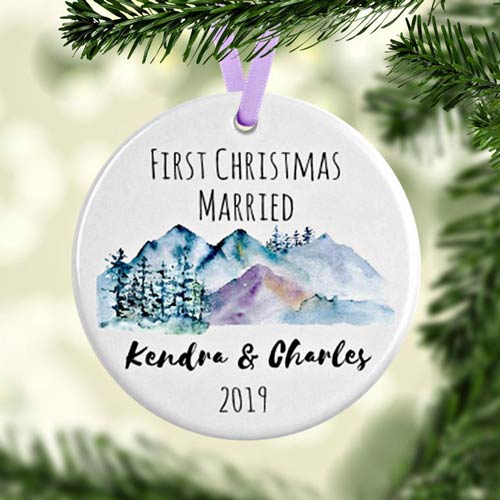 A first Christmas together is something to be celebrated, cherished and remembered for a lifetime.
So our #1 pick for best couples' Christmas gift is this gorgeous, personalized tree ornament.
With a winter mountain scene in the background, this ceramic ornament is sure to inspire smiles and happy memories for years to come.
More Christmas Gifts for Couples
15. Best Personalized Gift for Couples: Custom Couples Portrait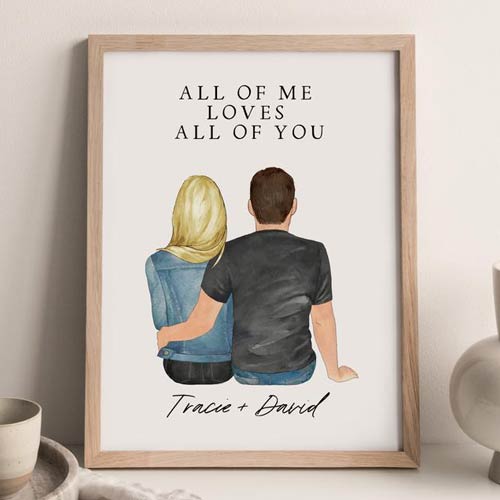 There's just something about custom-made artwork that really tugs at the heart strings.
If you're needing a gift for your loved one (or for another special couple in your life) but just can't make a final decision, this one may be the one that finally makes you say, "Yep, that's the one!"
I mean, take a look at that framed art piece! Super cute.
Your custom 8″ x 10″ order will be printed on high-quality matte paper. You describe the looks of the two "characters" in the piece (aka the couple), and the artist will take it from there.
Also, you get to choose from several featured quotes or you can add your own.
More Personalized Gifts for Couples
16. Best Gift for Couples Who Have Everything: Couples Horseback Riding Adventure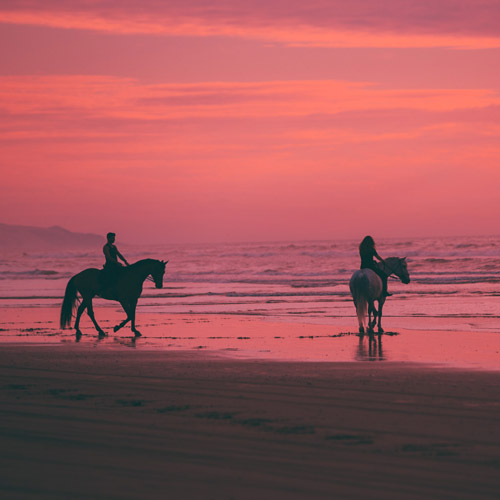 It can be difficult to find a fabulous gift for the couple who already seemingly has everything. In this case, a "getaway" gift, like a horseback riding adventure, may be your best bet.
Similar ideas include horse-drawn carriage rides, scuba diving adventures, beach getaways and gifts for glamping.
For this category we've picked horseback riding as our #1 gift simply because it's not something that everyone has the means to do. And honestly, what could be more romantic than riding away together into the sunset?
Check out this link for some horseback riding packages at a location near you.
More Gifts for Couples Who Have Everything
17. Best Gift for Couples Who Travel: Personalized Travel Map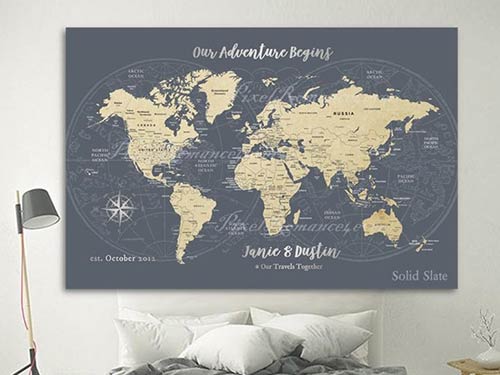 If the couple you're gift shopping for is already adventurous at heart, chances are they have the travel bug.
Even if they can't hop on a plane right now and jet off on their next big adventure, a gift that reminds them of all the times they have – and when they'll once again be able to – will be a very welcome gift indeed.
Take this stellar push-pin travel map. With it, a couple can keep track of all the places they've already been, the places they want to go, and the distances in between them all.
The map comes personalized with their names and date established. Choose from several sizes, paper or canvas prints, and with or without a frame.
More Gifts for Couples Who Travel
18. Best Sentimental Gift for Couples: Where It All Began Custom Pillow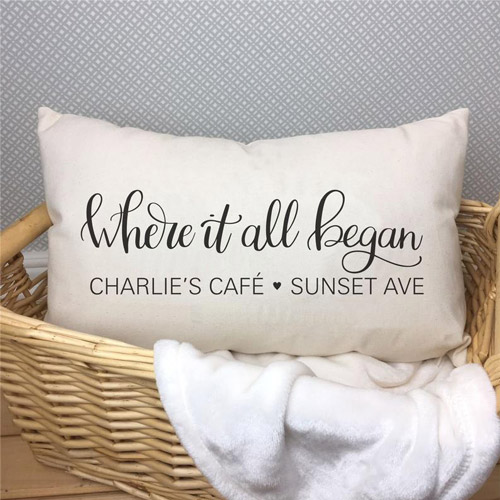 It doesn't get much more sentimental for couples than to sit back and reminisce about that first glance, that first date, that moment of serendipity… the one that started it all.
This "Where It All Began" custom pillow case (with an optional insert, if you want to give a complete pillow) is the perfect sentimental gift.
Everyone likes pillows, and this one will allow them plenty of opportunity to remember and relive those special moments that they treasure.
More Sentimental Gifts for Couples
19. Best Gift for Couples Who Are Expecting: All Expenses Paid Maternity Shoot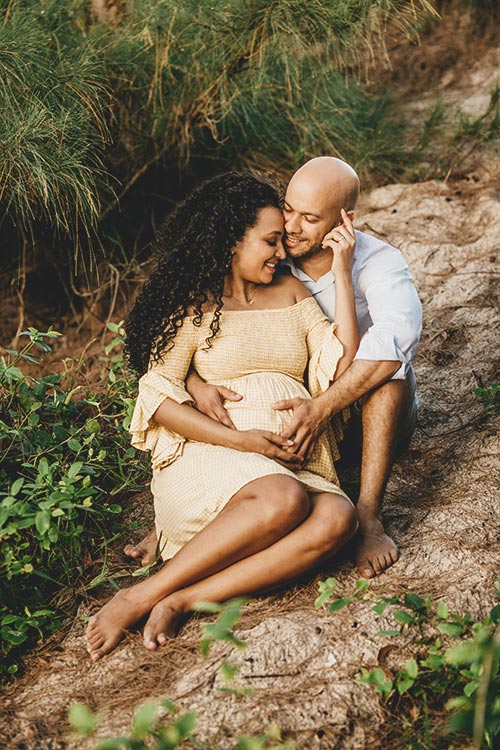 Many couples who are expecting would love to experience the joy of a photo shoot to look back on one day.
So what could be a better gift than an all expenses paid maternity shoot with a local professional photographer?
Because even though they may be expecting, this gift will be entirely unexpected, and something for which they'll always be grateful.
There are several variations on this you can consider for expecting couples: An all-expenses-paid birth photography, "Fresh 48" photography for newborns (usually at the hospital, within 48 hours of birth), family and lifestyle photography shoot for after the baby is born.
More Gifts for Couples Who Are Expecting
20. Best Gift for Couples with Kids: Time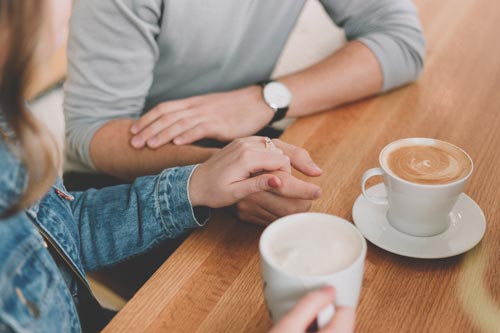 This one is pretty self-explanatory! Couples with kids love spending time with their little ones, of course. But date nights and alone time together will always be an essential component to any happy relationship.
With that in mind, here are some ideas to work with if you choose to give the gift of time: a date night (or nights) out on the town, a weekend getaway, a concert or play or sports event, an afternoon all to themselves.
Tip: A DIY coupon book like this one is a great way to offer "time" coupons that parents can "cash in" whenever they need to!
More Gifts for Couples with Kids
21. Best Gift for Couples Who Are Retired (But Still In Love): Sweethearts Bird Feeder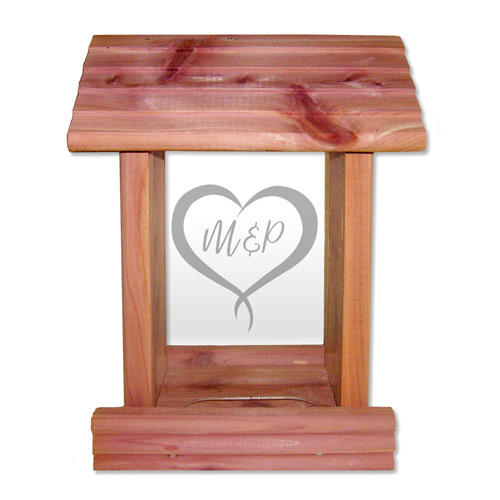 If your parents are now both retired, or one of them is getting ready to join the other in this new chapter of life, consider getting them something they can relax to and enjoy together.
Something like this custom engraved "sweethearts" bird feeder would make a wonderful choice…
Imagine your mom and dad sitting on the back porch with a nice glass of something delicious, watching the birds together and harking back days gone by.
This gorgeous bird feeder is made from cedar wood, meaning it's going to last a very long time, even outside.
It comes custom engraved with the initials of the two sweethearts carved inside of a lovely heart. Optionally, you can add engraving on the back panel as well, if you wanted to include a special personalized message.
More Gifts for Couples Who Are Retired
More Couples Gift Ideas
For even more great gift ideas – many of which can be personalized and given as a couples gift – click here.
Pin It