Guys are notoriously tough to shop for. That's why unique personalized gifts are such a great idea – you can take something you know he likes, customize it with his name and/or a special message, and whamo! You have the gift of the year.
Here are some creative (read: different! unique!) personalized gift ideas for him.
For all the men in your life – fathers, sons, grandpas, uncles, brothers, boyfriends, husbands – these ideas will inspire you to customize a truly one-of-a-kind gift that will blow his mind.
Top Ten Unique Personalized Gifts for Him
Our website is supported by our users. We sometimes earn a commission when you click through the affiliate links on our website. See our privacy policy & disclosures for more information.
1. Personalized Comic Book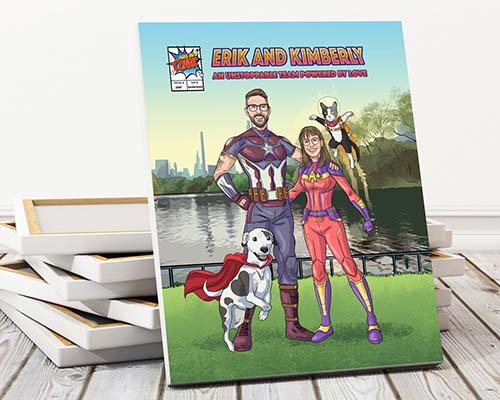 For the comic lover in your life, this personalized comic book of his life will make his eyes light up for sure! That's because this is quite literally a dream come true for your guy: him being the star and superhero of his own graphic novel.
His pals will be jealous of his prize possession and you will be hailed as all supreme gift giver for life.
2. Personalized Leather Wallet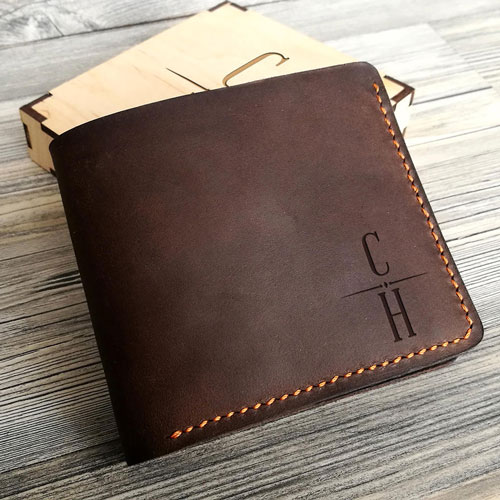 Here is a personalized gift any guy can appreciate… it's something he'll carry around every day; in fact, he probably won't ever leave home without it.
A wallet is one of those things a man wants to get once and have forever. Why not get a good quality, long lasting, personalized one?
These wallets are made from genuine "Crazy Horse" leather, which has an already-vintage look to it. Includes custom laser engraving in one of 30 gorgeous styles, and the wallet itself has eight credit card slots, a traditional bill fold, and two smaller bonus compartments. A gift he'll never forget.
3. Dad's Fishing Keychain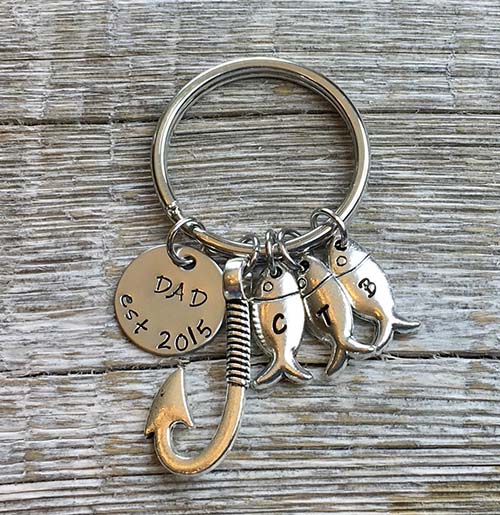 You know it's true: he's always losing his keys. Not to mention his wallet, sunglasses, and hat. Well, we can't do much about those last three, but we can help with the keys: get him this really cute and functional fishing keychain!
Made in a rustic (i.e. manly) fashion, you can add on as many little fishies as you want, complete with initials. Add the date he first became a dad and you're golden!
Related: Best Fishing Gifts for a Dedicated Fisherman
4. Amp Doormat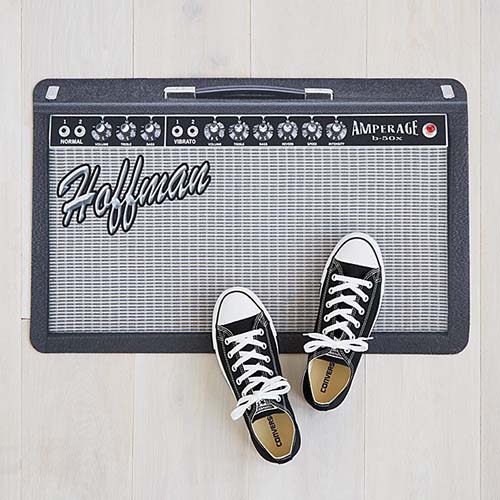 If he's the rockin' and rollin' type, he's going to love this amp doormat! No boring "welcome" sign here; instead we have style and pizazz in spades. It's perfect for the entrance to his house, or his man-cave.
Make sure to let him know you got it from Uncommon Goods, because you KNOW all of his friends are going to ask when they come over for a jam session.
5. Monogrammed Leather Belt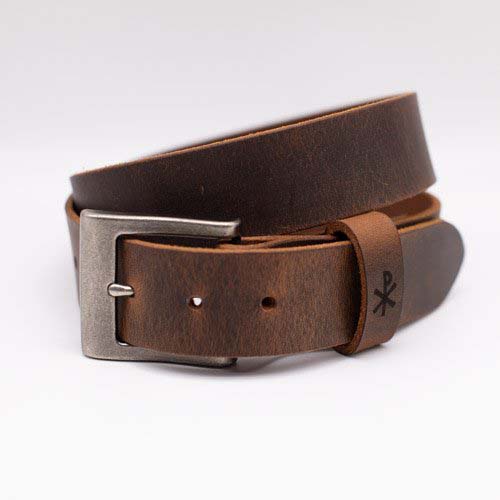 Classic vintage and leather just go hand in hand, and it's a totally timeless combination! This gorgeous belt will make him feel like a million dollars (and hold his pants up).
It's made from water buffalo leather, and it can be personalized too! So you can include a special message, or simply have it monogrammed with his initials. And did we mention that each belt is hand cut to fit him?
Seriously, if your man is hard to shop for, this right here is the gift for him.
6. Vintage Sports Car Collector Sign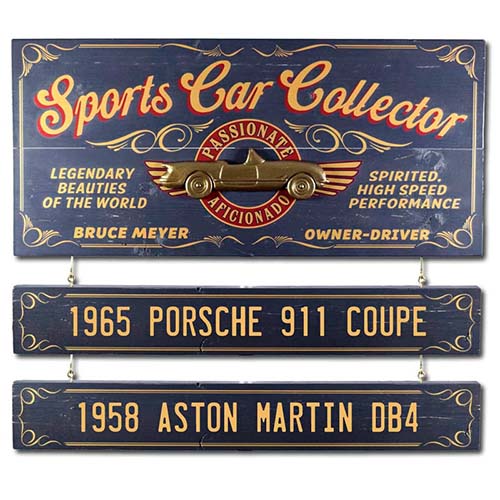 If he bought his garage and it just so happened to have come with a house to live in, he's going to love this vintage looking custom sign! You can add in all of his favorite automobiles: either the ones he's owned over the years, the ones he has now, or his dream list.
Not to mention his own name engraved on it as well! This will get a place of honor in the garage for sure.
Also a really fun thank-you gift for the mechanic in your life.
7. Leather Recipe Book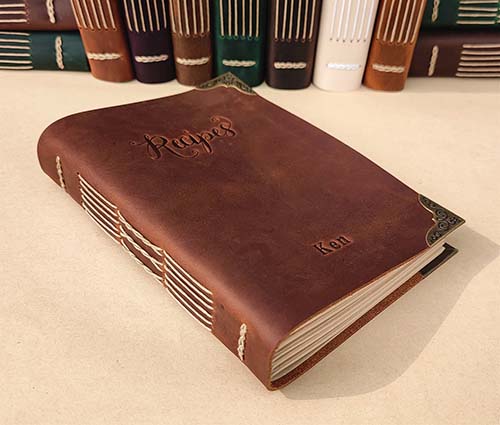 For the budding chef who is burning the candle at both ends at culinary school, the home cook who loves to stir a good risotto on the weekends, your favorite caterer, or the man who is still perfecting his barbeque sauce recipe 40 years after beginning it, this leather bound and engraved journal is perfect!
And how amazing will it be to pass down to his kids later on?
8. Wooden Cigar Rest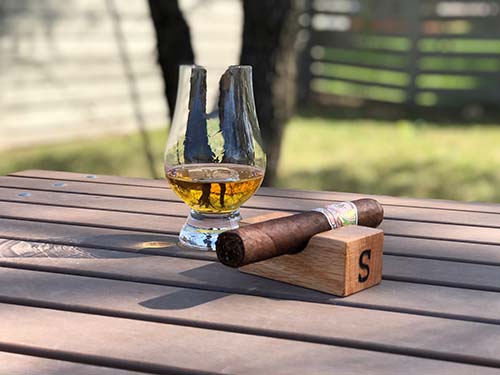 Keep it classy! This wooden cigar rest is definitely something he doesn't already own, we bet, and he needs one. Who wants to rest a world class cigar in a nasty old ashtray? No way! Stamped with his initial on the side, this will look great out on the deck or on a side table.
Pair it with a great box of cigars and you just may have the most flawless gift he's ever seen.
9. Custom Family Tree Art Portrait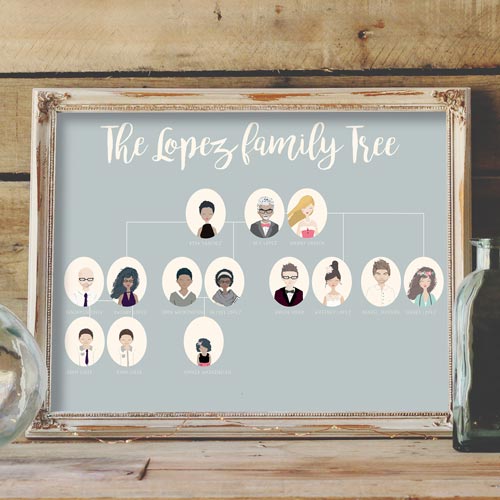 Customize this family tree portrait with digital art renderings of each family member. This is a great personalized gift idea for Father's Day, or a gift for a guy who loves his family. Also a really creative choice for someone who is into genealogy and tracing their family tree.
You can get it as a digital download to print yourself or as a gorgeous print delivered to your door. Any number of people from a solo portrait on up to 25 family members.
10. Custom Leather Charging Mat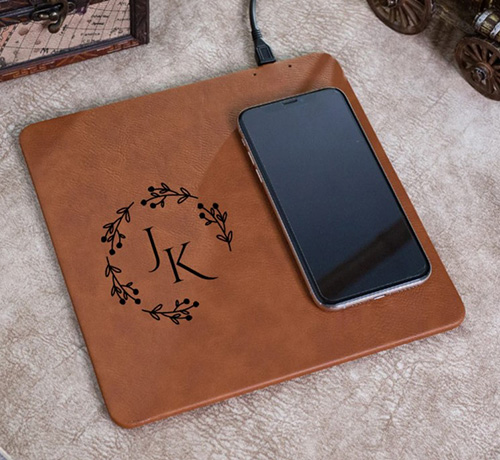 Take his desk set-up to the next level with this custom leather charging mat. As functional as it is visually appealing, he'll love not having to dig for a cord and charge head every time his phone needs a little juice.
Choose from six great colors and eleven different customization options to tailor it just for him!
5 Personalized Gifts Just for Dad
11. Personalized Golf Balls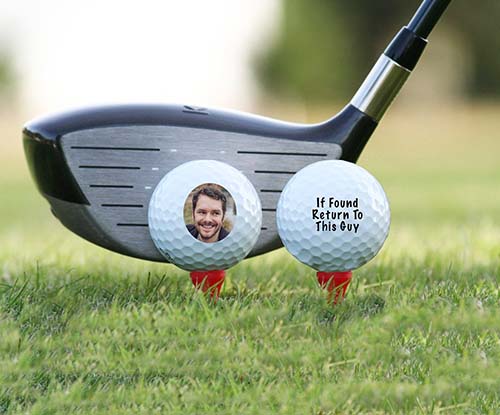 They're cheesy and ridiculous and we are here for them! These hilarious custom golf balls have his mug printed right on them, with a cheeky expression printed on the other side. He'll crack up, and then he'll hit the green when he opens this box!
12. Custom Illustrated Wall Art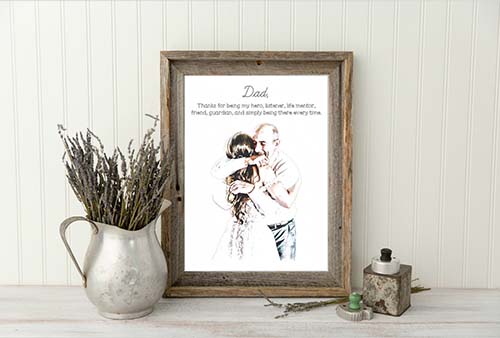 Bring a sentimental tear to his baby blues with this stunning wall art that's completely personalized! This is one that will outshine all others, and something he will keep forever.
Whether you pick an older photograph, or a more recent one, include song lyrics or a poem, or just a simple, from the heart expression or wish, this lovely work of art will wow him.
13. Personalized Papa Bear Tumbler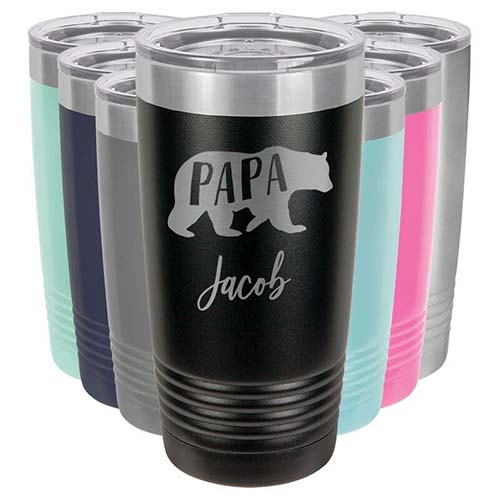 A good tumbler is worth its weight in gold and this one is no exception! It's vacuum sealed and totally insulated so his cold drinks stay that way, and his hot beverages will be piping all day.
You can pick his very favorite color, as well as choose the wording for this great gift.
14. Super Dad Bobblehead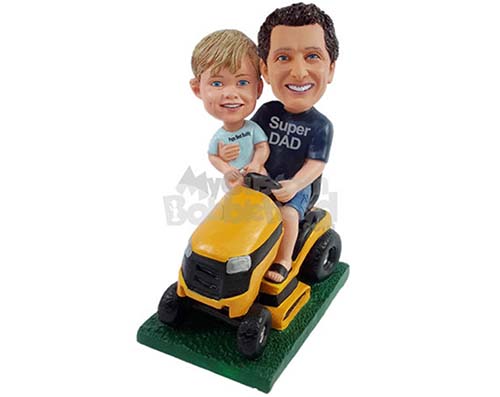 You know you've arrived when you become your very own bobblehead! Now Dad can be his own favorite toy with this great custom dad and kid bobblehead. It's whimsical and funny, but also just plain adorable.
Definitely a great option for the man who has everything!
Related: Best Father's Day Gift Ideas
15. Best Dad Ever – Personalized Bird Feeder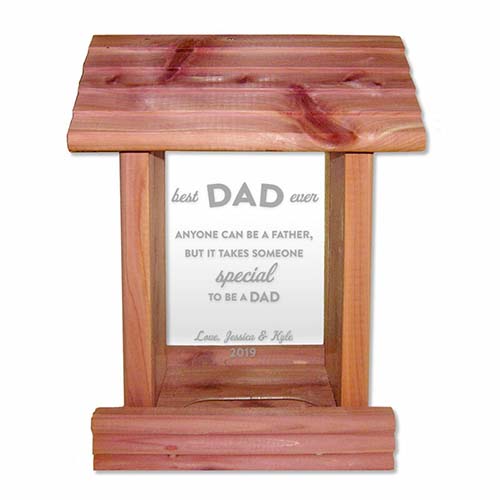 If he's the bird watching type, he's going to love this personalized best dad ever bird feeder! It's roomy for plenty of seed, so he doesn't have to refill it constantly, and it will look amazing gracing the front yard or the back porch.
The sentimental engraving just adds to its charms.
5 Best Personalized Gifts for Boyfriend
16. Made to Order Song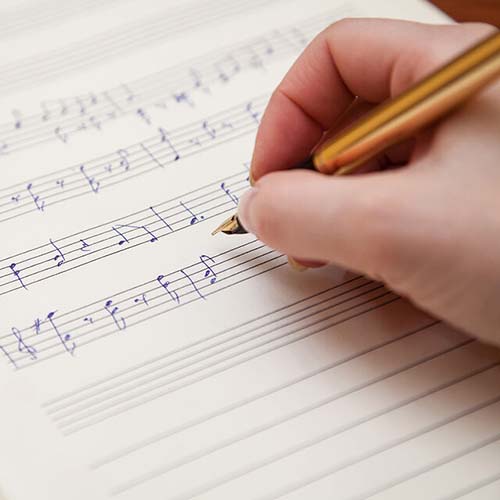 Oh, sure, you could call into the Delilah show and request a song for him, but we'll go you one better: a song written just FOR him.
Simply give as much detail about the song you want, your boyfriend's best quirks, what you love about him, etc., and David Morgan, musician extraordinaire, will write him his very own song. How clever and romantic!
17. Custom Leather Cable Organizer
Every man (and gal) should have one of these! This custom leather cable organizer is a must-have for the neat-freaks and the messies alike. It holds all your oh-so important cords and cables, chargers and riffraff, all in one organized and tangle-free spot: a gorgeous rustic portfolio.
Great for traveling, too!
18. Your Song – Spotify Code keychain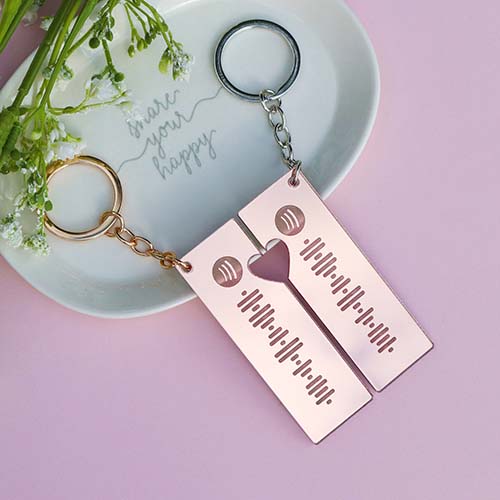 Now, how romantic is this? Without being cheesy or over-the-top, this personalized Spotify code keychain is a special moment between you and him. He'll think of you each and every time he reaches for his keys and find himself humming under his breath the song you fell in love to!
19. Pinky Promise Wooden Keychain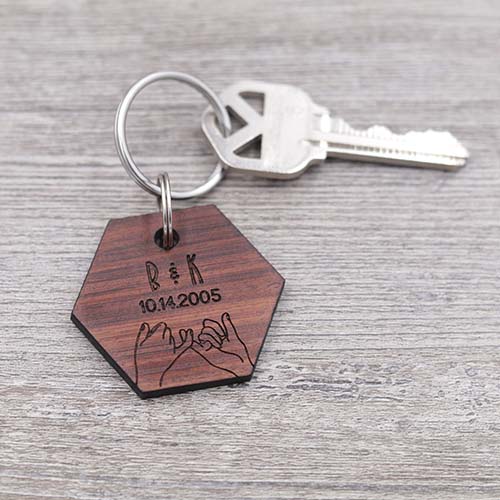 Engraved with your initials and date of your engagement/first date/day you met, this wooden keychain is simply the best. A pinky promise is always the best promise, kind of like you two are the best when you're together.
Want some more romantic gifts? Check out these 7th anniversary gifts for him.
20. Portrait Mug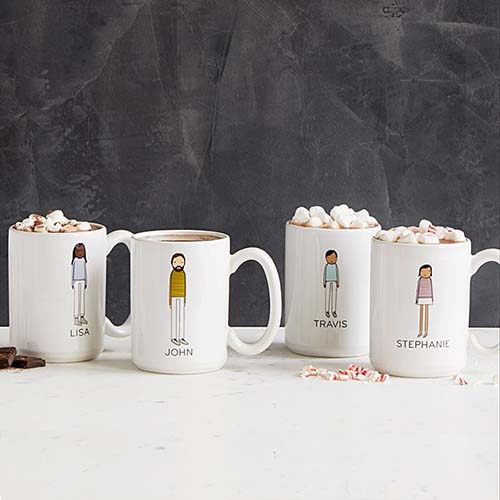 So cute, these mugs are meant to look just like the two of you! Along with his name at the bottom (so his coworkers can't accidentally take it home), these coffee mugs are just the thing for a sweet gift that isn't too over the top or expensive.
Pair it with his favorite coffee or tea, and you're golden!
5 Personalized (& Romantic) Valentines Gifts for Him
21. Engraved Bar Necklace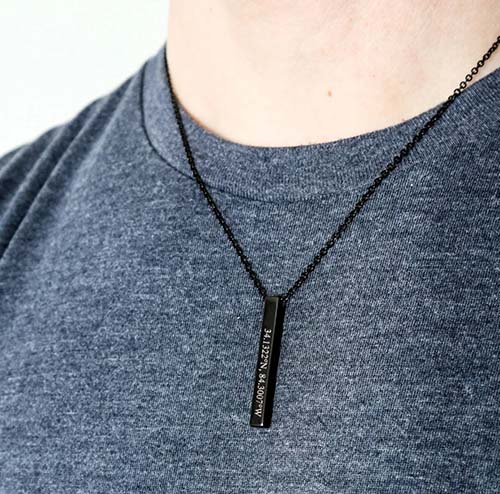 Totally manly and timeless all at once, this cool necklace spells out whatever message you want in morse code! Kinda 007, don't you think? Not only does it look amazing, it also keeps your message or codename private.
So if you want him to wear a necklace that says Cuddlebug, Sexy, or Mr. Handsy, no one else ever needs to know!
Of course, you can always just go with his name …
22. Tree Wood Carving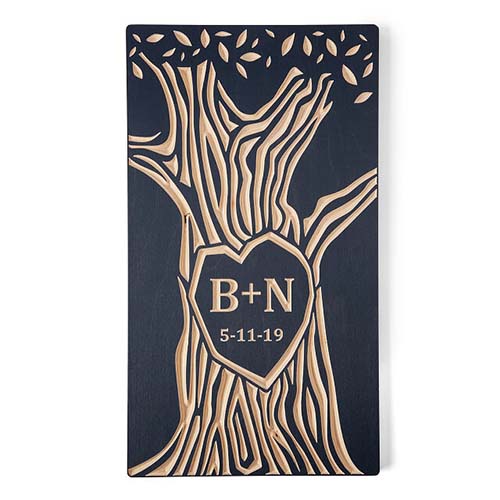 This wooden tree carving comes personalized and engraved with your very own initials and important date-to-remember!
Whether it's your first date, your anniversary, or your vow renewal, this is a lovely way to really commemorate how much you love him, and how important your life together really is.
And its neutral hues and timeless style will go with any home decor and in any room of the house.
23. Classic Regal Painting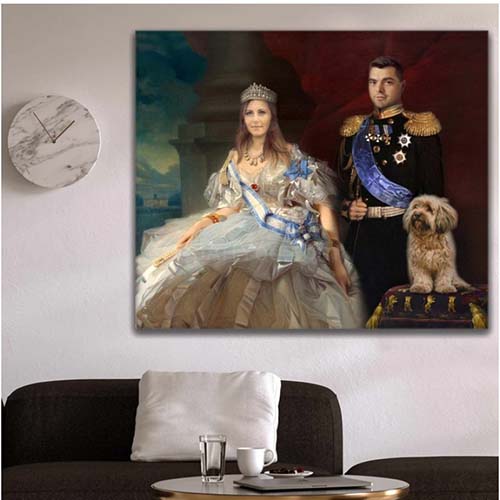 If making him chuckle or downright belly laugh is what you're looking for, then look no further than this amazing classic "regal" painting from Popart! Make sure to include your beloved fur babies if you have them, and remember over-the-top is the feel we're going for here! He's going to crack up and treasure this one for always.
24. Handwriting Ring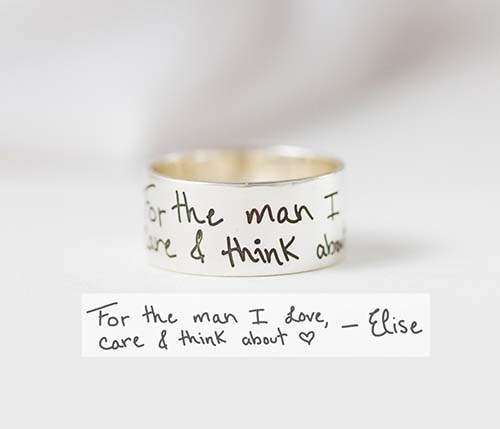 An engraved ring is always special, but an engraved ring with your very own handwriting?! That brings it to a whole new level. This amazing custom ring is truly one-of-a-kind, like him. He'll be blown away by your thoughtfulness and will wear this with pride. It really is just lovely.
For ideas of what to engrave, think of the pick-up lines he or you used, a movie quote you say often, a Bible verse, or any other special words that mean something to the two of you.
25. 3D Crystal Photo for His Desk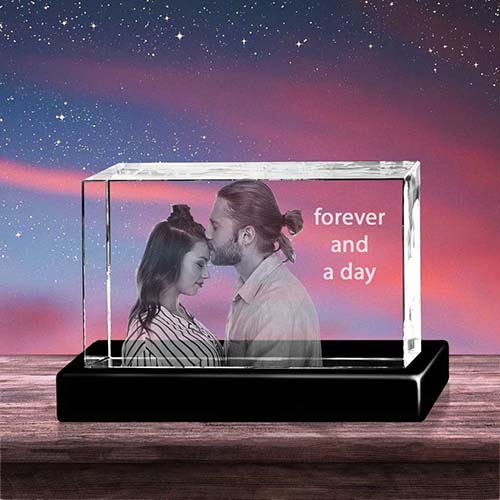 This custom 3D crystal photo is going to look amazing on his desk! Whether it's at the office or at home, he'll find himself staring at it several times per day, missing you. Simply pick out your favorite photograph and let the clever folks at The 3D Gift get to crystallizing!
5 Personalized Anniversary Gifts for Him
26. Level Complete – Controller Ornament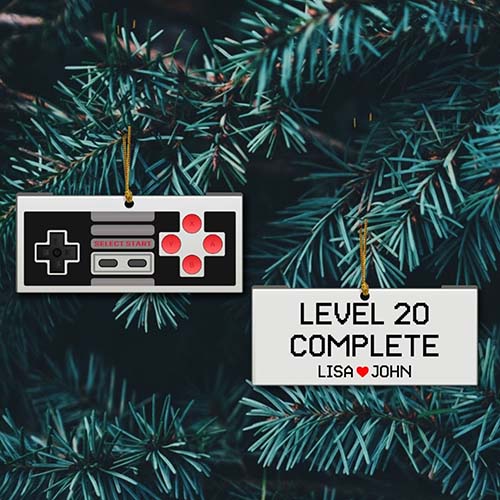 For the gamer in your life, this cute ornament really says it all! Commemorate the day you two "leveled up" to marriage and make him smile as you do so. Christmas ornaments are always such a great gift because you get to reopen them every December when you decorate the tree!
27. SnapShot Photo Collage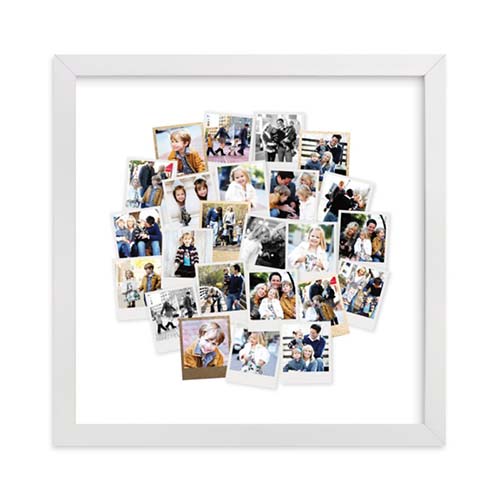 A photo collage is always such a great way to save I Love You. Holding up to 24 photographs, the fun part is getting lost in the memories! You can choose from a white theme, or gold, or rose gold, for this pretty and sentimental gift that he's sure to love.
28. Love Birds Engraved Bamboo Cutting Board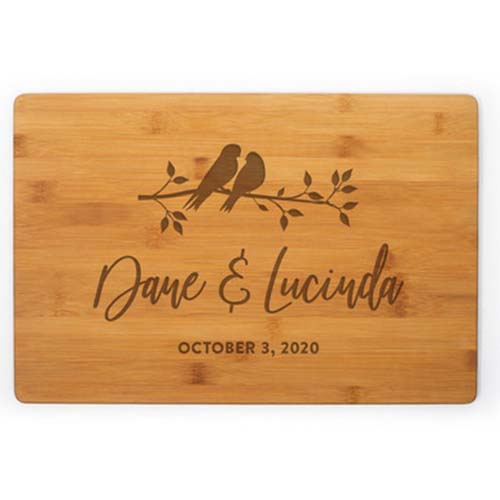 A gift that's both romantic and useful? We'll take three! Well, okay, maybe three is overkill, but we love this cute lovebirds design, with your very own names and dates etched in.
A cutting board is always a useful and functional gift, and this bamboo one is just icing on the cake!
29. First Kiss Artwork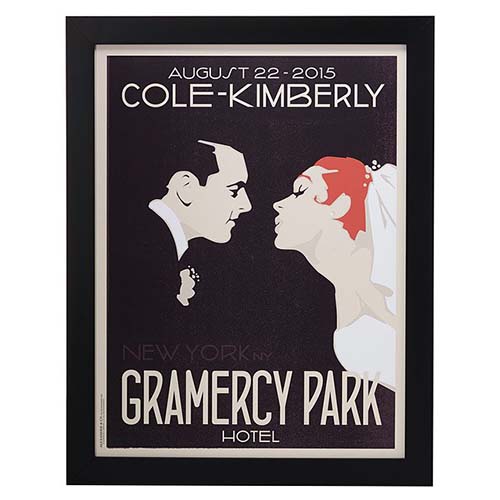 This pretty print is just the thing for someone who's hard to shop for! It has a vintage vibe, with it's noire and pop art graphics, and the addition of your names and dates makes it extra special. A great wedding gift too!
30. Woodwork Photo Frame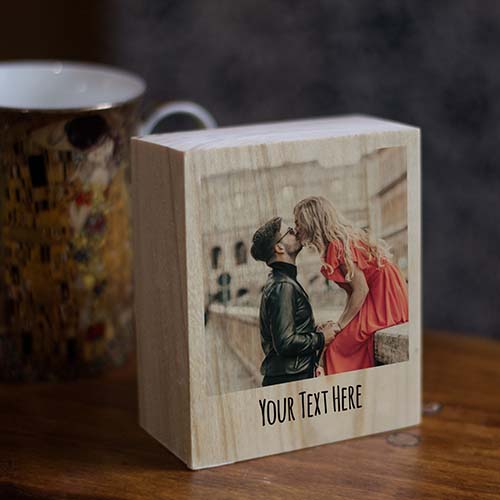 This wooden block has your very favorite photograph of the two of you and whatever text you want to include! Photos are always such a great way to say I Love You, or remember a special day, and this chunky block is a more unique and unusual way to do it than your typical boring old picture frame.
Related: Gifts by Anniversary Year
5 Personalized Gifts for His Birthday
31. Tech Accessory Stand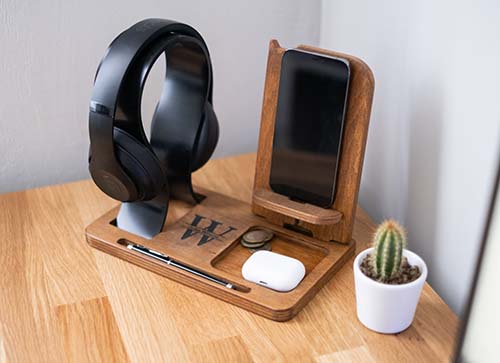 Keep him organized and looking stylish with this great personalized headphone and phone stand! No more reaching down between the couch cushions or under the bed, looking for lost items: with this stand he will always know where to find them.
Also holds his favorite pen, and either his wallet, keys, or earbud case.
32. Live Succulent & Pot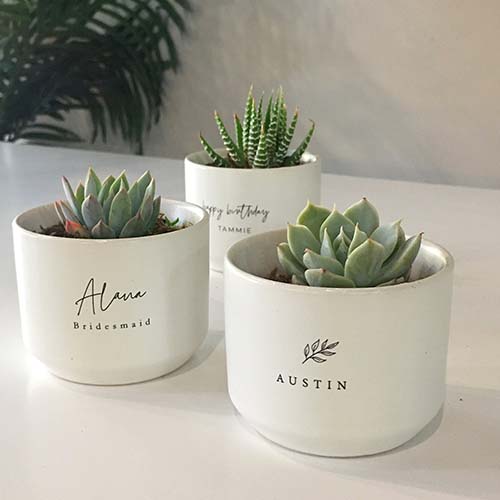 These live succulents in their sweet pots are a great and simple gift for the outdoorsy type. They bring a little bit of nature inside! You can customize it with the addition of his name or your pet name for him!
33. Custom Engraved Camping Hatchet
For the hunter-gatherer, camping-fishing, or hiking-outdoorsy types, get a custom laser engraved camping hatchet. This wood-handled axe is small in size (10.5 inches) but packs quite a bite. The best part of all? Personalization is included on the rustic wooden handle.
If he is an avid outdoorsman, then he will want one of these 50 manly outdoor gifts!
34. Personalized Can Cooler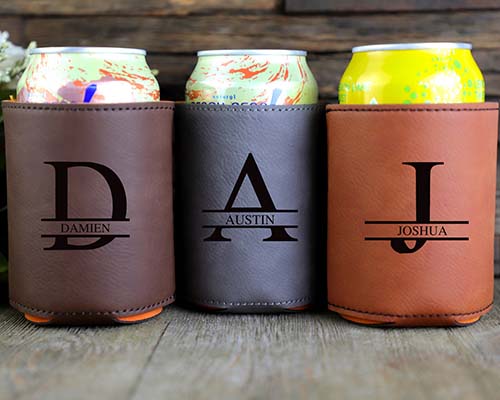 Make his beer coozy a little more snazzy and sophisticated with one of these engraved ones! His pals are going to be totally jealous at the next tailgate party or camping trip.
35. German Biergarten Barrel Head Sign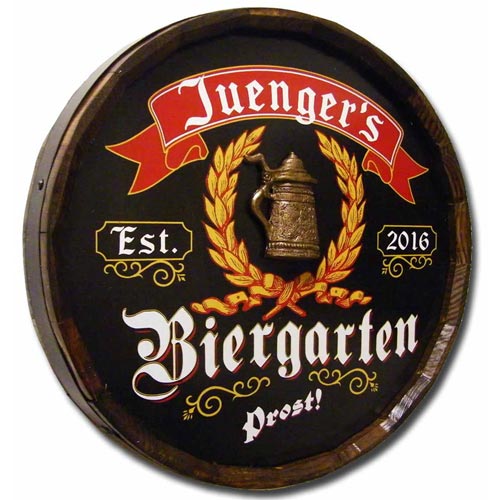 This "quarter barrel" sign features real oak wood staves and a barrel hoop, making it look like the top slice of a barrel mounted to your wall.
The colorful German Biergarten signs invites cheers ("Prost!) and beers, and includes your guy's name personalized across the top plus the "year established." A great gift for the home bar or man cave!
Related: 35 Awesome Man Cave Signs
5 Cheap Personalized Gifts for Him Under $15
36. Socks Personalized with His Face (or Yours… or Both!)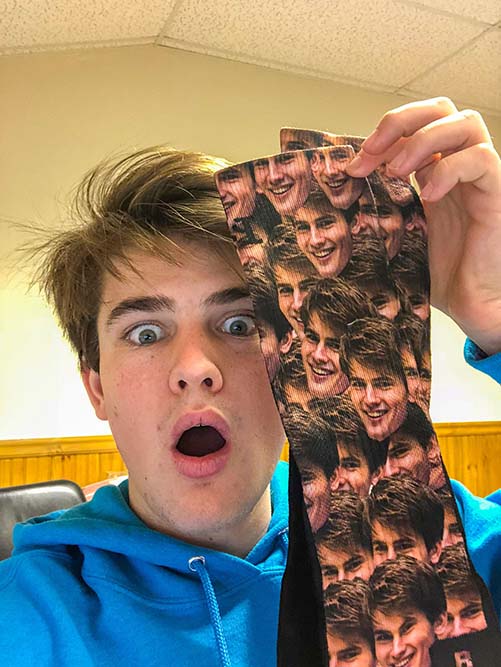 You KNOW he's going to wear these bad boys with pride! Whether you choose his photo, your photo, his pet, or his celebrity crush, these socks will never fail to get a great reaction!
37. Monogrammed Bookmark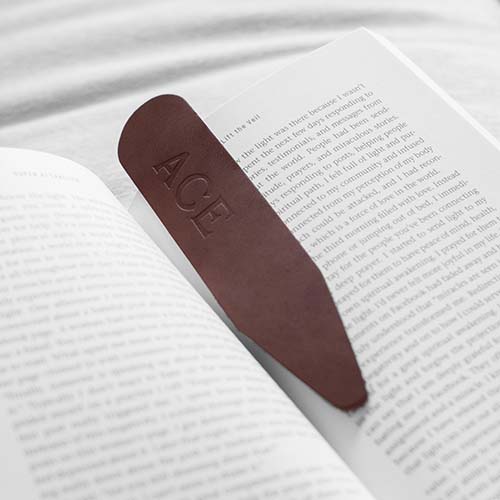 Simple and sophisticated, this leather bookmark is monogrammed, making it extra special. For the bookworm in your life who would never dare to dogear that "one last chapter," this is as good as it gets!
More: Best Gifts for Bookworms, Book Lovers, & Librarians
38. Photo Resin Car Vent Clip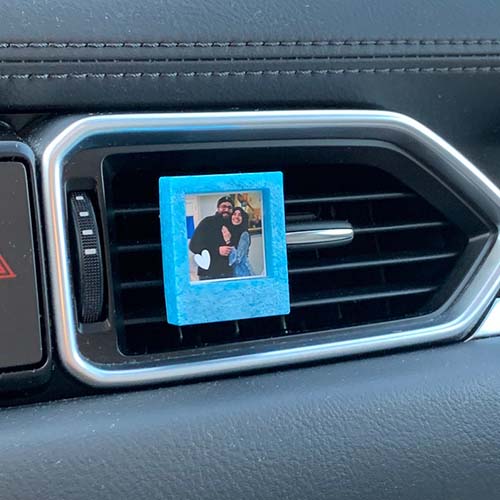 Cute and sweet – just like him – this little personalized resin photo for his car clips onto the vent. It's a simple and understated way to show how much you care.
39. Printed Favorite Quote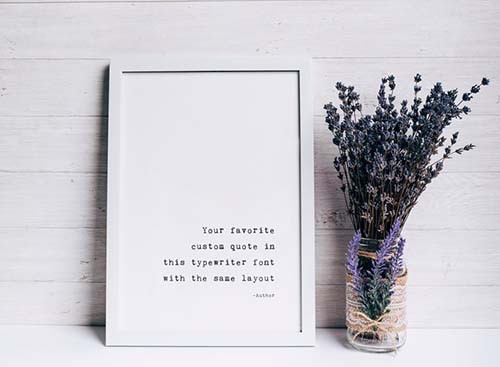 You can pick a movie quote, a song lyric, the poem he wrote you, or any kind of sentimental expression, when you choose this custom print out for him! It can be sweet, silly, whimsical, romantic, or whatever you like. Whatever makes you think of him and he of you!
40. Custom Hunting Knife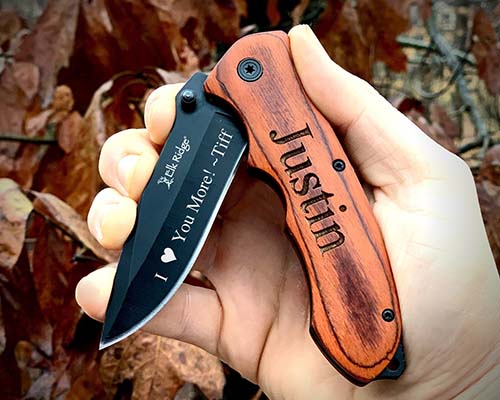 Even when he's out hunting at zero-dark-thirty, far from you, he'll think of you each time he opens this amazing engraved pocket knife!
It's customizable with his name on the wooden handle outside, and whatever wording you like on the inside. He's going to love this one!
Bonus: 10 Unique Gifts just for Him
41. Custom Engraved Oak Barrel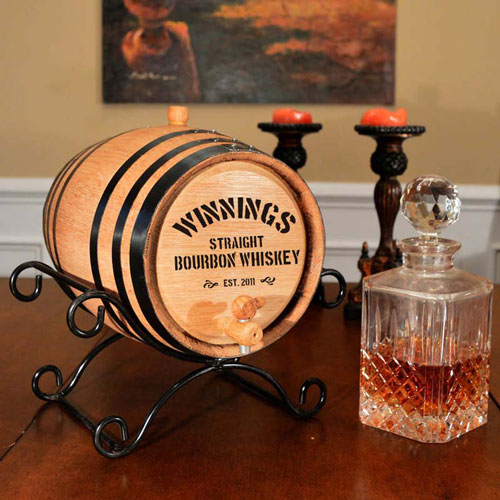 Here is one of the most popular unique personalized gifts for him… an authentic oak wood aging barrel that he can use for aging wine, whiskey, bourbon, and other spirits at home in small batches.
42. Wall Mounted Bottle Opener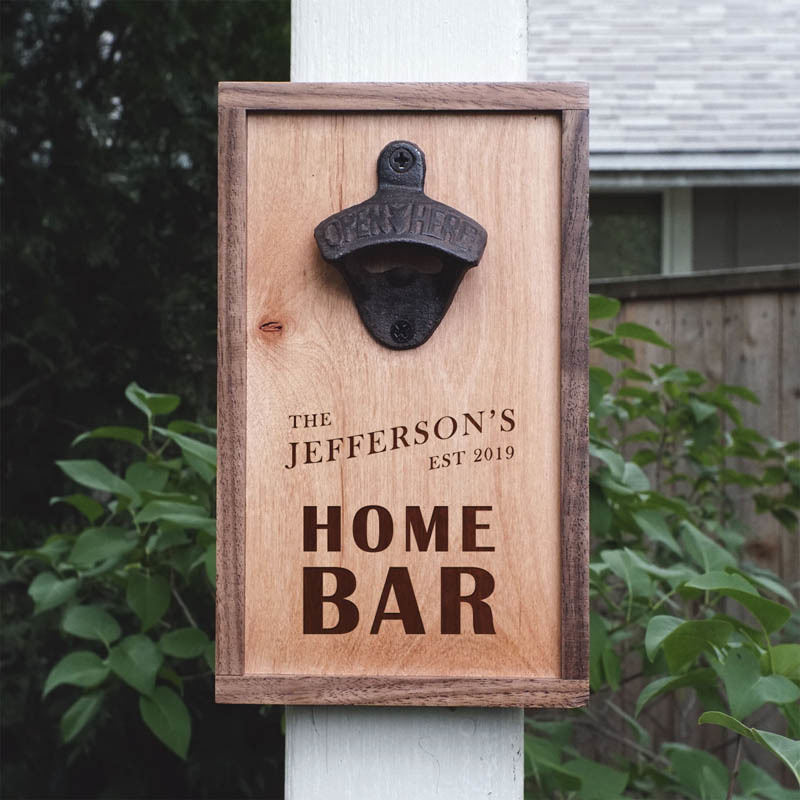 All-wood wall mounted bottle opener with custom engraving. Choose from over 10 designs and themes, each includes personalization. Made in the USA from real wood and a sturdy cast iron bottle opener.
43. Personalized Wax Canvas Duffel Bag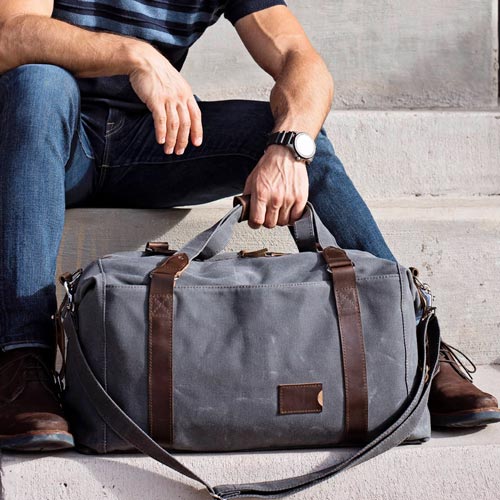 This premium waxed canvas duffel bag boasts water- and wear-resistant lining, leather accents throughout, plenty of space, and custom heat-stamped monogram. So even if he goes on a trip without you (sigh), he'll remember how much you love him.
44. Custom Family Portrait Wooden Figurine Set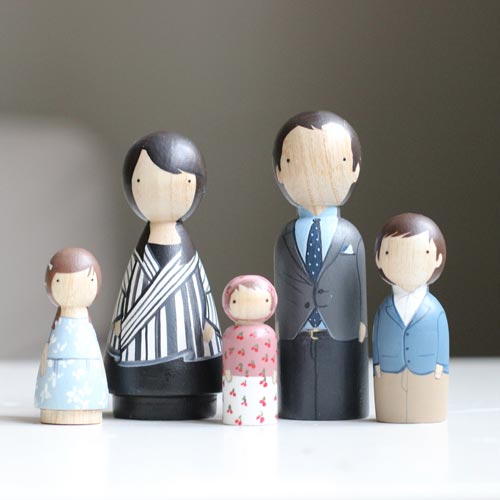 Any dad will love his family's likeness customized with these creative wooden figurines. Also available in other configurations like "boy meets girl" for a couple. The tiny wooden dolls measure 3.5″ tall for adults, with children ranging in size depending on age and actual height.
45. Personalized Vintage Garage Clock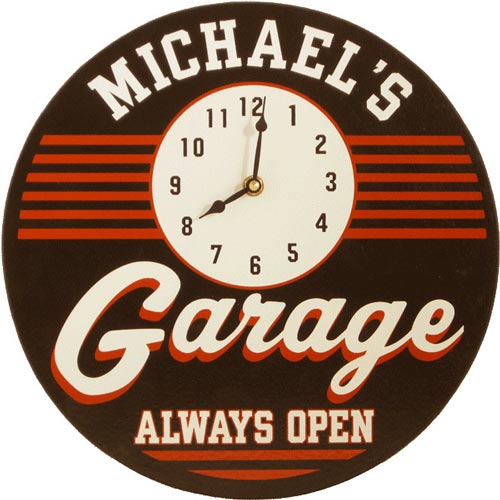 The retro vibe emitted by this personalized wooden clock makes it perfect for the garage. Made in the USA, personalized to order, and includes a working clock.
If he spends a lot of time in the garage – working on the car, making stuff, playing ping pong, watching the game – then this is the gift for him.
46. Custom Home Bar Wood Sign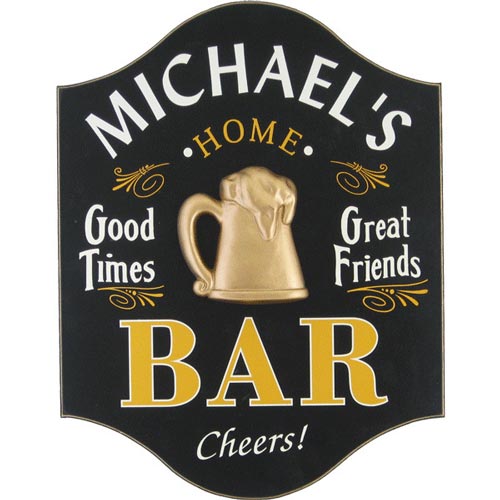 Here is a wall décor gift for him that boasts a classic home bar theme. This sign is made in the USA in a "Manchester" pub sign shape and includes personalization across the top along with "Cheers!" and "Good Times, Great Friends."
The centerpiece is a 3-dimensional relief of a frothy beer mug, which is hand carved and hand painted in-house by artisans. Arrives ready to hang.
47. Customized Wall Mounted Wine Rack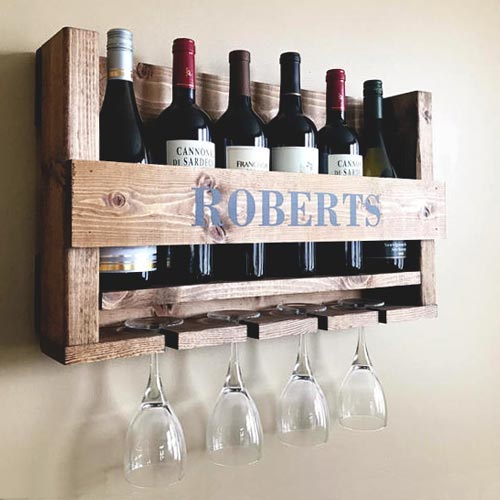 A rustic yet elegant personalized gift idea for the wine-loving guy, this wall-mounted wine rack holds up to six bottles of wine, four wine glasses, and includes customization of his name across the front. Handcrafted in the USA.
48. Personalized Wood Coaster Set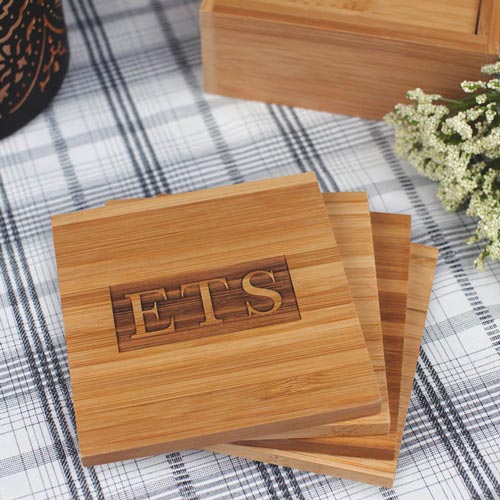 This set of four personalized coasters are extra-large, perfect for a king-sized cup of coffee or mug of beer. Heck, even if he's more into La Croix he'll love a place to set his special fizzy water.
Each coaster is deeply etched into spacious 4″ square sustainable bamboo wood. The monogram initials are cut in relief, looking classy and timeless. The set also includes a matching bamboo wood coaster holder.
49. Custom Leather Dopp Kit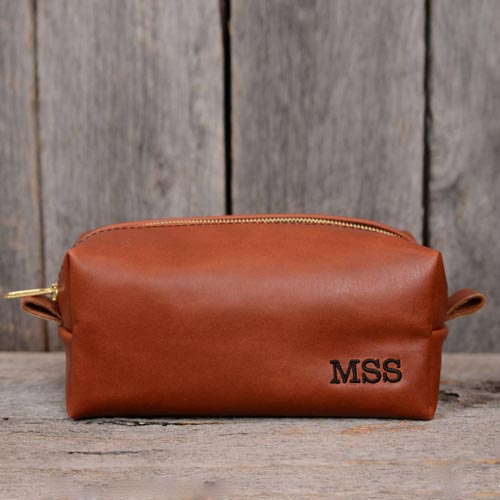 Great gift ideas for men include personalized items that they can use for the rest of their lives. This premium leather Dopp Kit is one such gift. Crafted by hand from genuine raw full-grained leather, this timeless men's travel kit is embroidered with the gentleman's initials for a gift of lifelong usefulness.
50. Personalized Sound Wave Leather Bracelet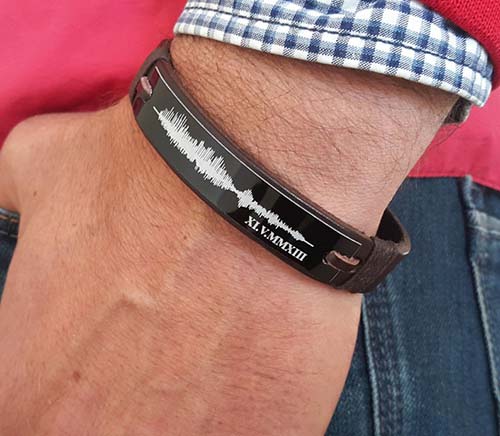 This cool leather bracelet is thin and minimalist, the type of bracelet guys actually like. Plus it's not etched with sappy words; instead, it is custom engraved with the sound wave image of anything you like.
It could be laughter, a favorite song lyric, a recording of your wedding vows, and so on. You can even record a special message and have it turned into a soundwave image – basically anything goes! This is a truly unique gift for him.
---
Thanks for checking out our 21 favorite personalized gifts for him! For more great gift ideas for him, check out our "Creative & Personalized" section at Northwest Gifts, or our massive list of the 65+ Best Gifts for Men!
Read Next: 50 Best Gifts for Hikers & Nature Lovers
Pin It