Men are stereotypically difficult to shop for… which means that thoughtful gifts for men aren't always easy to find. But with All Gifts Considered on your side, the searching process becomes a little bit easier.
We've put TONS of thought into this list, and came up with 21 awesome gift ideas for the awesome dude in your life.
The practical gifts, DIY ideas, and one-of-a-kind unique finds you'll see here all have one thing in common – they're super thoughtful.
Read on and you'll see what we mean!
Thoughtful Gifts for Men
Our website is supported by our users. We sometimes earn a commission when you click through the affiliate links on our website. Learn more here.
1. Personalized Home Bar Sign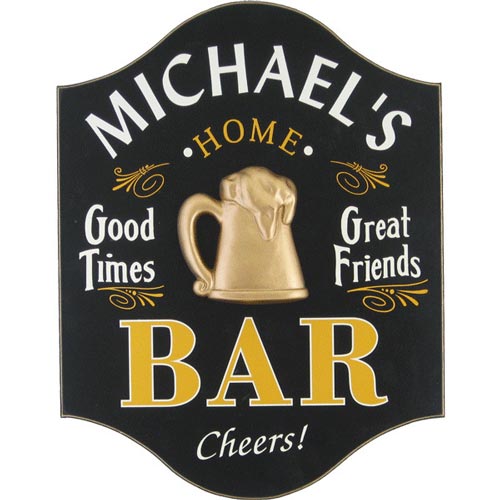 Does your guy have a home bar that he uses more than any other room in the house? Does he love entertaining friends and family there?
Then this personalized home bar sign from Northwest Gifts will be much more than a thoughtful gift from you – it'll be a talking point that he'll be proud to show off.
This wood sign is brand new but has a classic, taverny look to it he's sure to dig. It features his name as well as a 3-D hand-painted resin of an overflowing pint. Handmade in the USA and comes ready to hang.
Click here to see more home bar decor and accessories from Northwest Gifts.
2. Tabletop Terrarium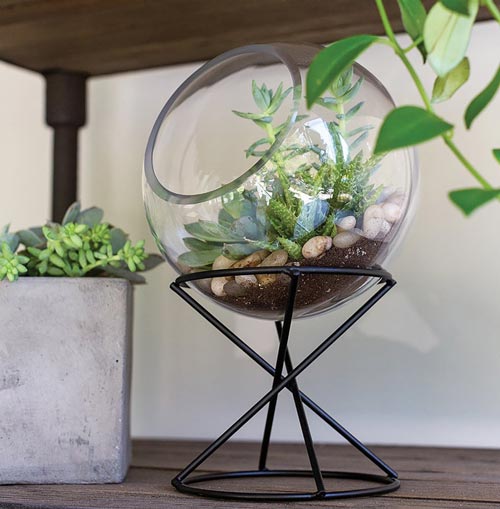 Some guys just have a thing for plants – they come by it naturally. Their thumb is intrinsically green and they just can't help accumulating tons of plant "babies" to decorate their home. And no, that's not weird, it's endearing, okay?
If you know a guy like that and are also in the market to get him a gift soon, we've found just what you're looking for: this adorable tabletop terrarium.
It's just what he needs to keep his newest plant baby in. The glass sphere (which comes with a metal stand) will create a modern look in which to house the plant of his choosing…or you can surprise him by also gifting him some brand new succulents.
Available in two sizes.
3. Safe – T Fire Extinguisher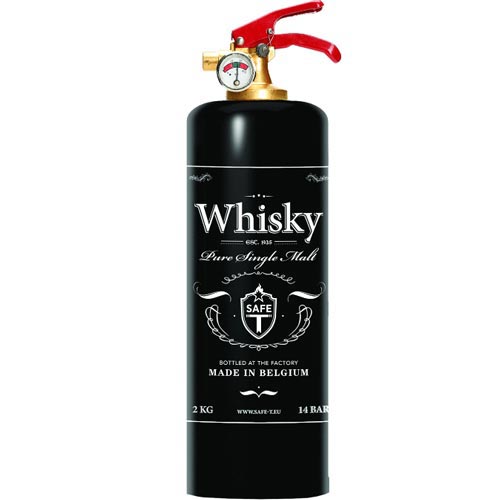 In your search for the most thoughtful gifts for men, it can help to think about what he may need. The first thing that comes to mind may not be a fire extinguisher, but when you really consider it, everyone could use one, right?
Safety, including at home, is a must. Fires can happen way too easily (leaving a stove burner on, forgetting to blow out a candle, an unforeseen electrical issue… the list goes on). It's best to be prepared and you can help him do that by giving him a – you guessed it – fire extinguisher.
This ain't any old extinguisher, however. It's a Safe-T fire extinguisher. Meeting EN 3-8 technical standards and also boasting a CE 0029 approved tank, this apparatus also has quite the unique "whiskey" design.
Check out more cool designs from ocean life to quotes, Albert Einstein to the Paris skyline. There's something for everyone.
4. Teas of the Boston Party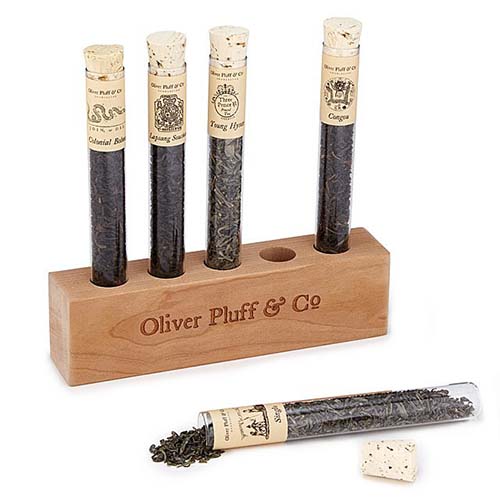 Here's a ridiculously cool gift for the tea-sipping history buff in your life: A set of specialty teas of the same variety that were thrown overboard during the infamous Boston Tea Party of 1773.
For any enthusiast of the American Revolution, this will be a gift they'll enjoy using, reading about, and remembering long after the last cup has been drained. Just don't tell them whether you paid any tax on your purchase….
Related: Best Gifts for Tea Lovers
5. Whiskey-Making Kit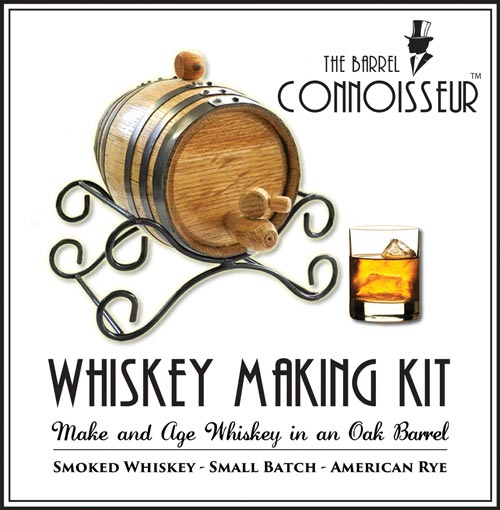 There's something about whiskey (and perhaps particularly about making whiskey) that is super appealing. If your man is one to sit back and relax with a glass of this timeless spirit, he may really enjoy the thoughtful idea of making his own.
With this barrel connoisseur kit from Northwest Gifts, he'll get double the enjoyment from his whiskey, knowing that he's the one who actually made it in the first place.
This kit includes an authentic oak aging barrel with iron stand, spigot and bung, cleaning kit, and three varieties of whiskey essence. Basically (sans alcohol) everything he'll need to make his own screech. Various sizes available.
Be sure to check out Northwest Gifts' other connoisseur kits and also check out our beautiful glassware.
6. Waterproof Foot Locker
Traditionally utilized by military men and women, modern foot lockers can be used for almost anything by anyone.
This Condition 1 foot locker is about as modern as it gets when it comes to hard case carriers. It makes a thoughtful gift for the rugged dude who still likes to keep his things nice.
Almost indestructible, it's comprised of a hard, CN-1 resin shell and is also waterproof/dustproof. It comes with a pressure equalization valve, meaning air travel is not a problem. Best of all, it utilizes pluckable foam, which can be custom-fit to protect almost any object.
Available in several different colors, the case measures 22″ x 17″ x 7″.
7. Rocketbook Fusion Digital Notebook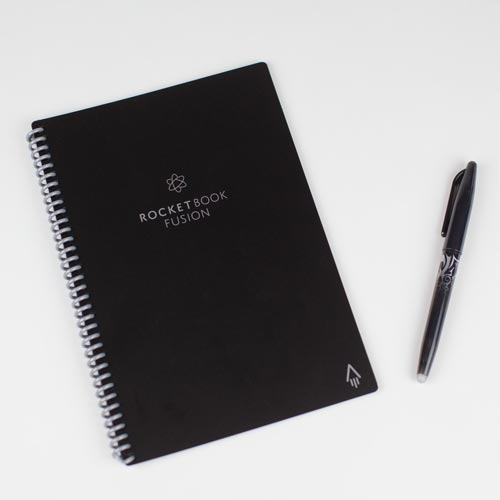 Are you pretty sure the special guy in your life is more interested in techy stuff than in foot lockers? Then don't worry – this next idea is just for him.
The Rocketbook Fusion is a digital notebook, and it's about as simple and straightforward as it gets. It looks like a regular notebook and acts like one too, only it's not.
It connects to the cloud via the Rocketbook app, which is free and no subscription required. This means that when he writes something in it (using his included Pilot FriXion Pen), he can send it directly to the cloud and then wipe the synthetic paper clean for another use.
Great for planning out his week, making lists, keeping track of tasks or goals, or even doodling.
8. Super Easy DIY Love Note Heart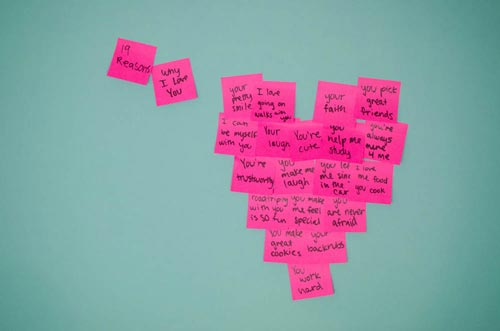 The best thoughtful gifts for men may be ones that come straight from the heart. AKA the gift you make him yourself.
You know, DIY!
This love note heart a thoughtful gift idea that's both super adorable, super easy AND costs barely anything (assuming you need to buy sticky notes). The important thing is you make it yourself, meaning you put in the time and effort to show your loved one just how much he means to you.
Now that's thoughtful.
It's pretty self-explanatory, but basically you write something sweet or something you love about him on a bunch of sticky notes. Then shape them into a heart and stick them wherever you know he'll see them: the bathroom mirror, the front door, the TV or computer screen, a window.
He's going to love this thoughtful surprise.
BONUS: More DIY Gift Ideas
9. Personalized 2 Slot Watch Box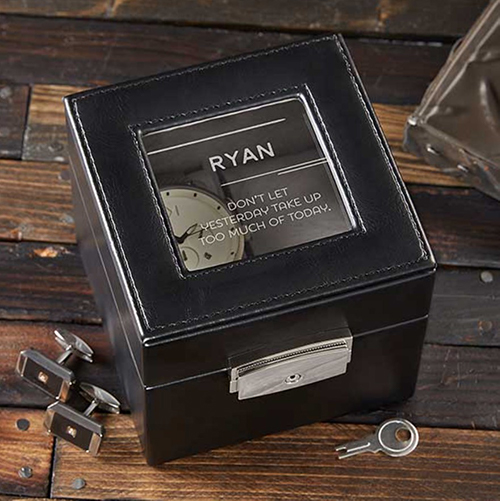 This great, two-slot watch box is perfect for use at home or when he's travelling! It can be personalized with his name, is lined with a pretty grey felt, and it also locks to keep his treasures safe and secure. He will love having this great little spot to tuck away his wares.
10. Custom Family Crest/Coat of Arms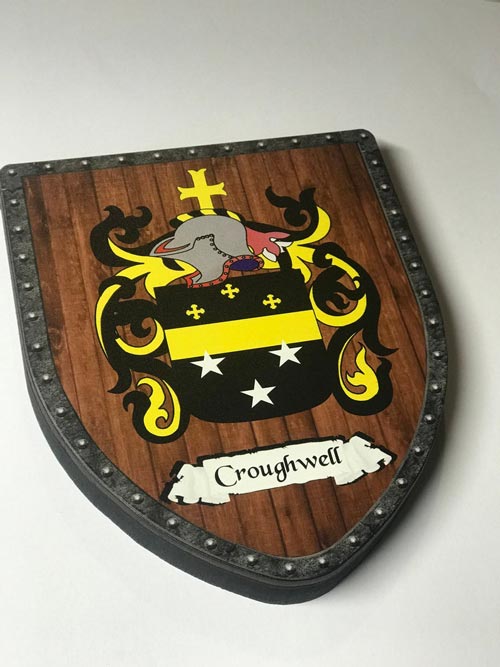 Ah, the ol' family coat of arms. It's one of those almost mystical pieces of wall art you grow up staring at and wondering what the heck it means.
Then when you're actually grown you come to realize the history and meaning behind it, and suddenly it becomes something uber cool. Like, you-want-one-for-yourself -now kind of cool.
Maybe you know a guy who's mentioned his parents' or grandparents' family crest on more than one occasion. If you just know he would love his own, this is one thoughtful gift idea you want to take more than a passing glance at.
The great things about coats of arms is that they can be customized, even from generation to generation/person to person. Gift Plaques UK allows for complete customization of their renewable sourced wood crests, which are made to order. So feel free to have fun with this one.
11. That power tool he doesn't have yet
The most thoughtful gifts for men are often the most practical things. If the special guy in your life is a down-to-earth, get-er-done kinda guy, we're pretty sure he would consider something like a new power tool extremely thoughtful.
Editor's note: Every guy wants a nail gun. Just sayin'.
Of course you want to make sure he gets the one power tool he doesn't have yet. So take a close look at his tool collection and there's a good chance you'll find something he could really use, whether it be an electric saw, sander, drill, or combo tool.
What makes a truly practical gift idea that your man will love? Find out here.
12. Walnut and Maple Wood Bottle Opener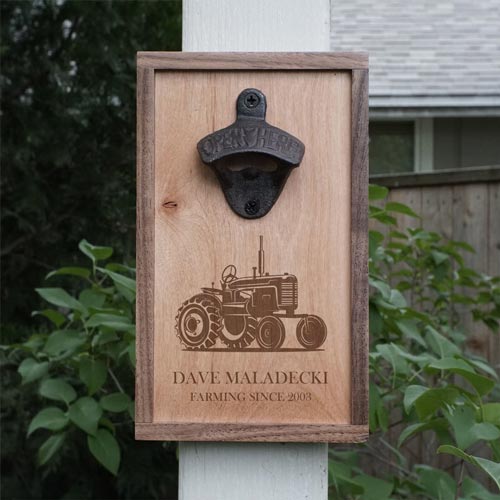 A good bottle opener should last a person years and years. How do you know that you've got a good one? Take a look at your source.
With Northwest Gifts, you can rest assured that you (or your good guy friend) are going to receive a high-quality product matched with high-quality customer service.
This bottle opener, handcrafted in the USA, is just one example of the many wonderful products offered by Northwest Gifts. Personalization is done right here, too!
This walnut and maple wood opener is custom engraved to feature your man's name as well as a tractor, paying homage to either his profession or that of his family.
The opener itself is real cast iron. At 8.75″ x 5.25″ x 1″, he can use it as a permanent wall fixture or portably. There are many more designs available as well.
13. DIY Miniature House Model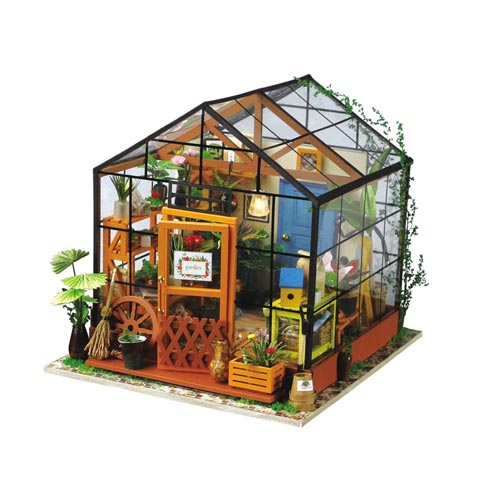 Mini houses have always been cool. Mini anything is cool, really; that's why people have been obsessed with models, doll houses, etc. for ages. People are even into "tiny houses" these days, teeny-tiny versions of regular houses that are meant to coincide with a minimalist lifestyle.
The mini house we're showing to you today is anything but minimal, however. It's a maximalist's tiny house dream, if that makes sense, and we're here for it. It may very well be the perfect gift for your man if he's at all interested in building models, puzzles or putting together automata.
This DIY miniature flower house model kit has wood and metal parts and includes detailed instructions for building. It also includes mini LED lights (yes, they're real), mini furniture kits, potted plants and other accessories so that he can make it feel like "home."
Hands Craft US has a lot more neat kits to look at, too!
14. Custom Leatherette Bookmark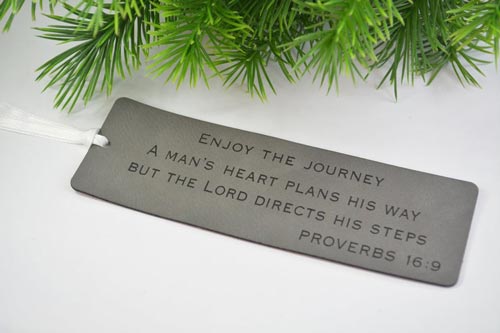 Some guys are natural bookworms. They'd take a day curled up in a comfy armchair, sipping tea and getting lost in a fantastic read, well, any day. Bookworms like this deserve bookmarks worthy of bookworms…well, you know what we mean, and we're sure you agree.
So take the extra effort to give him something unique, interesting, and personalized. Like this engraved leatherette bookmark.
Leatherette as in, it's not real leather – it's vegan (aka man-made) leather, perfect for the more eco-conscious guys out there. It comes engraved with his name or anything else you'd like it to say, whether a Bible verse, song lyric, or quote. It measures 6″ x 2″ and includes a ribbon in your choice of color.
While we're on the subject of book lover gifts, check out some of these other cool ideas we found:
15. History by Mail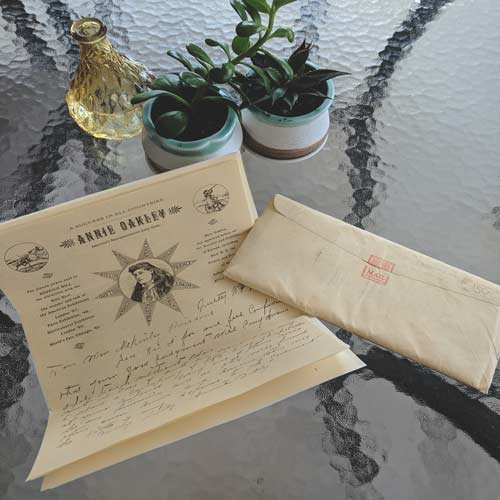 Got a history buff on your hands? Are you always inclined to get him a history-themed book, but never do because you know he probably already has it/knows all about that particular subject anyways?
We feel ya. That's why we've unearthed something that transcends history books and enters the realm of the much more tangible. As in, a physical something that will (almost) take him back in time.
That something is replica documents from History by Mail, a "monthly historical replica subscription." It differs from boring old history books by placing the history in his hands, instead of asking him to just read about it.
Each document looks just like the original did…think Lincoln's Gettysburg Address, Nixon's Resignation Letter, Einstein's ideas on the atomic bomb. Check out some reviews for more insight.
16. USA Scratch-Off Travel Map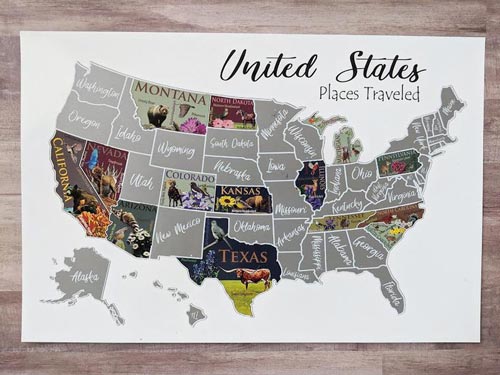 This one's especially for the guy who is constantly itching with the travel bug.
With this clever scratch-off travel map, every time he visits a new state he can easily keep track of his adventures by scratching off that particular region.
And you already know he's smart, but he may even learn a thing or two about the states he visits – each one is decorated with official symbols (flower, bird, etc.) for that particular state.
Measures 12″ x 18″ and will fit any frame of that size.
If he's a traveler at heart, you'll want to check out our experience gift guide featuring 50+ adventure gifts here.
17. Grill Masters Club BBQ Subscription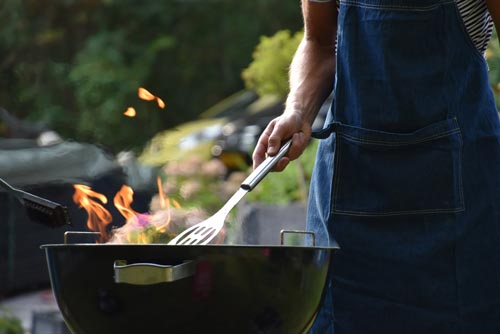 Here's another awesome subscription gift idea for the awesome man in your life. This time it's BBQ sauces, rubs, and more from The Grill Masters Club.
If you go with this gift, your man will receive a monthly subscription of various BBQ sauces, rubs, wood chips for grilling, recipes and more.
Plus there's a cool bonus. When you subscribe, he'll also be able to access their online community. There, he'll find the latest news on all things BBQ, new recipes to try, exclusive videos, giveaways, and much more.
18. Monogrammed Sweatpants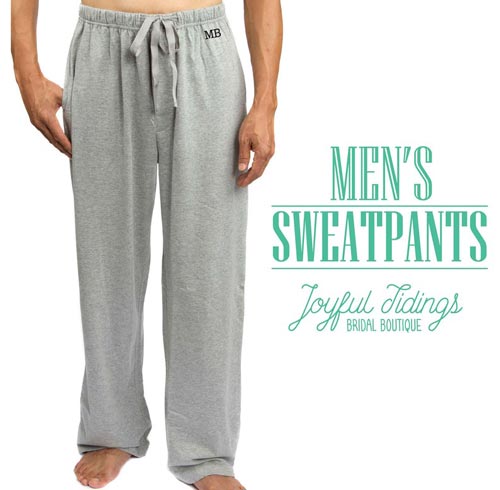 Lounge lizards love sweat pants. Unlike jeans or even shorts, sweat pants are the go-to for guys that love to relax, or maybe need to relax, or who plain just want to stay home for the day. They're like the yoga pants of dudes.
And this super soft, 100% cotton jersey pair really makes the cut.
Put some monograms on them, and they'll be his new favorite pair. Nothing too fancy, just his initials. Available in black or gray, and in a variety of font and thread colors.
19. Cooling Blanket
My grandfather used to say that everyone sleeps better in a cold room. And he was onto something, since this statement isn't just found in old wives' tales… it's backed up by science.
So if your man has trouble sleeping without the thermostat set at 67 degrees (while you're over there shivering under three comforters), consider gifting him this Elegear cooling blanket. It works by absorbing body heat at a Q-MAX of 0.4.
I gave my husband this same blanket recently (the gray, 51″ x 67″ one), and he loves it! Besides being cool, it's also very soft.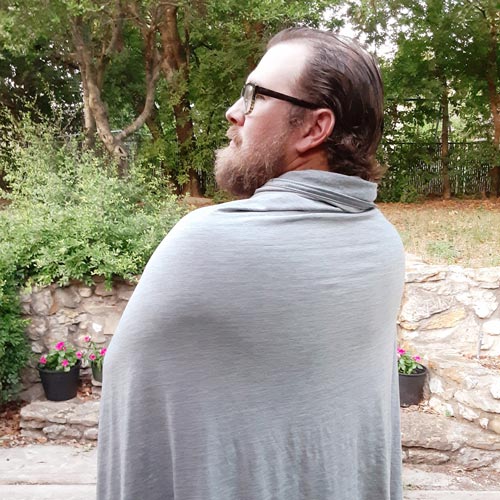 For your viewing pleasure, here is a pic of him handsomely modeling it – and keeping cool in it – on a particularly sweltering summer day.
20. Splatter Guitar Car Seat Covers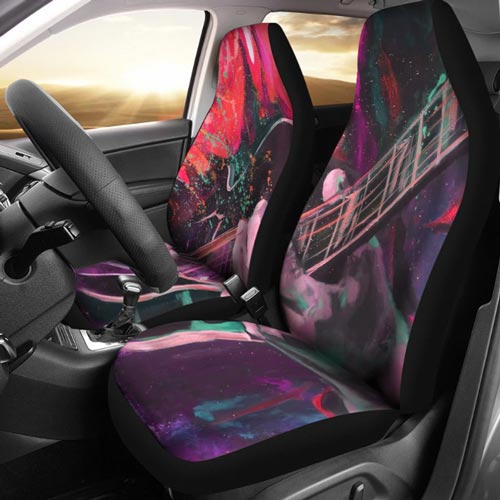 Does the man you're needing a thoughtful gift for love guitars? Whether he loves playing or just looking, he's really going to love decking out his ride with these awesome "Splatter Guitar" car seat covers from Groove Bags.
These artistic seat covers are polyester micro-fiber, meaning that they're super smooth and soft to the touch. They are a standard fit, meaning they're going to fit almost all car seats. Comes two to an order.
Groove Bags also has lots of other guitar-themed gift ideas for the guitar lover in your life.
21. Personalized Cuff Links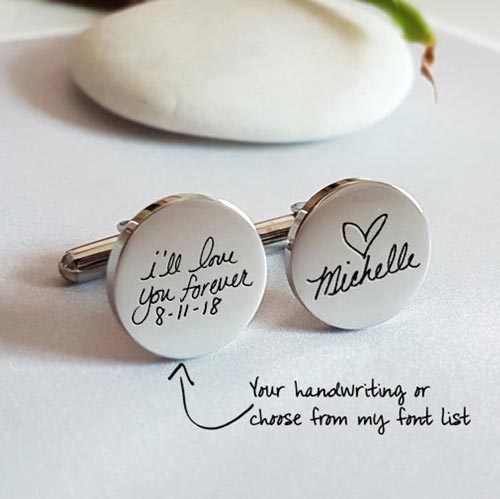 Every man needs a good pair of cuff links. Maybe he uses them only once and then 'keepsakes' them, or he's a white-collar who needs cuff links on the daily.
Either way, he's sure to treasure this personalized set because they'll have your handwriting engraved on them.
Needless to say, you choose the personalization you want included on these precious cuff links. Also choose between circle and square shapes, and whether or not you want to add a logo.
---
Need more gift-giving inspiration? We're happy to report that the list you've just read is not the end-all!
Being All Gifts Considered, we consider all gifts, and so naturally have a master list featuring 65+ gift ideas specifically geared towards men. Check it out now.