Whether it's the perfect gift for the professional chef in your life, your neighborhood baker who sets aside those scrumptious cinnamon rolls for you on Tuesdays, your spouse who yells frantically at the television every time someone puts too much truffle oil in their Top Chef episode, or yourself (the next nominee for Worst Cooks In America), we've got some great kitchen gift ideas for you.
Jump to:
10 Best Kitchen Gifts
Our website is supported by our users. We sometimes earn a commission when you click through the affiliate links on our website. See our privacy policy & disclosures for more information.
1. Kitchen Herb Garden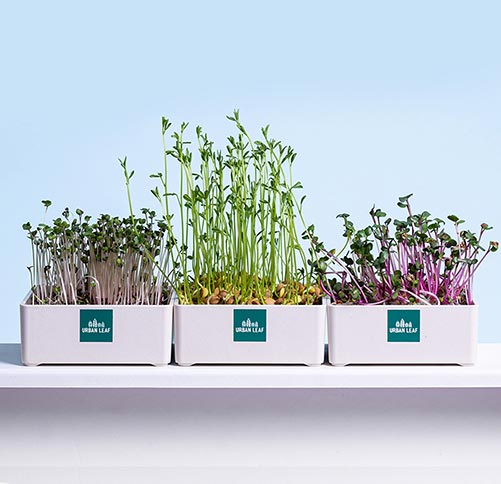 The kitchen gets more use and traffic and love than any other room in the house; especially the kitchen belonging to a "foodie!" So make their space something even more special with their own kitchen herb garden.
With basil, rosemary, thyme, parsley, and the like all at their talented fingertips, you might be lucky enough to taste their next creation.
Plus, it smells amazing.
2. Personalized Pickling Barrel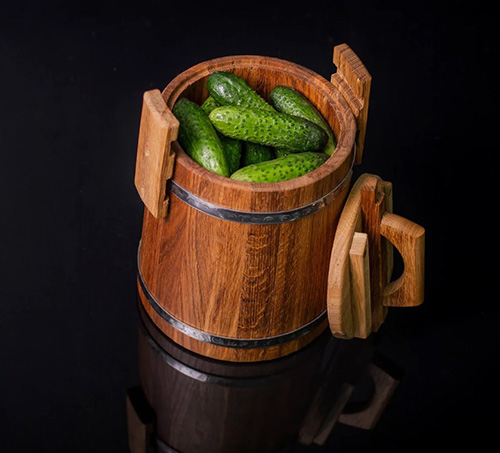 Make your own pickles?! Um, yes please! This totally cute and totally functional pickling barrel is perfect for the chef who loves farm to table gadgets, but already owns too many blenders, mixers, and ice cream makers. They want, nay, NEED this gherkin creator!
3. Reusable "Unpaper Towels"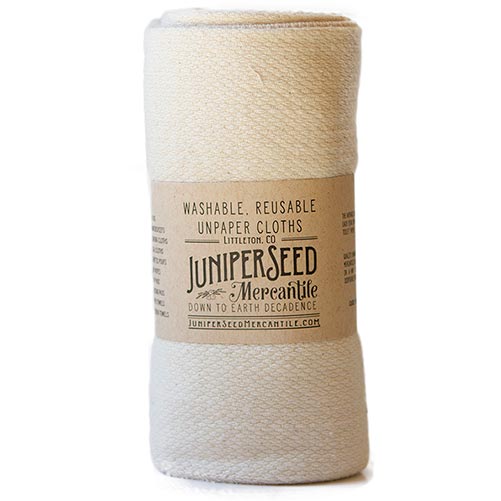 "Down to earth decadence," indeed! We love these not-paper towels, and for good reason: they're so much gentler on Mother Earth, are made from organic cotton, and are heavenly to use (and of course, reuse).
Pair it with a cute paper towel holder and this is a gift that keeps on giving long after you've left the dinner table.
Related: 15 Eco-Friendly Gifts
4. Personalized Chef Coat Hanger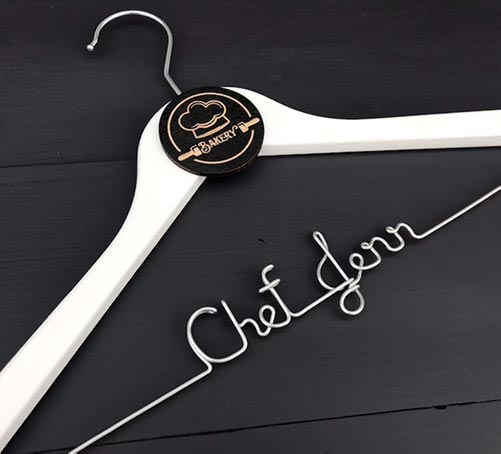 Keep their hard-earned chef's jacket sparkling clean and wrinkle free with this super cute and functional coat hanger. It's personalized with their name and is just the ticket for hanging up their jacket (or their coat and hat) in kitchen.
Definitely one to consider for the cook who has everything.
5. Food Huggers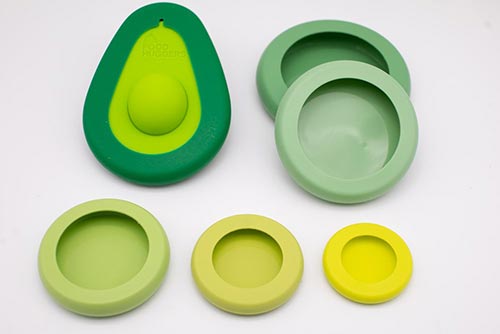 Reduce waste and help your favorite chef get rid of the plastic that plagues our kitchens with these inventive and amazing "food huggers." A half of onion? A third of an heirloom tomato? Part of an avocado? No longer do they need to reach for yet another plastic baggie when these are here to save the day.
Easily washable, stackable, and available in a wide variety of sizes. You'll wonder how you ever got along with them!
6. Helper Tower for Toddlers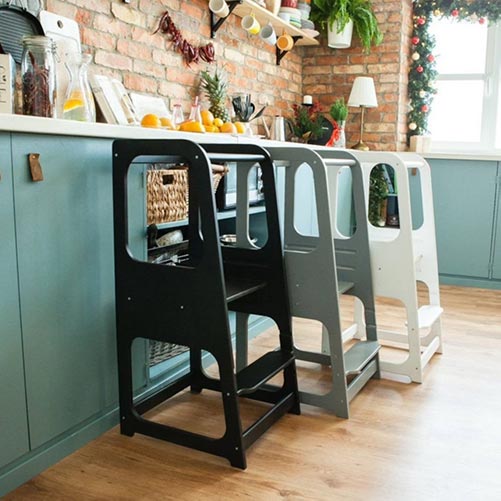 Toddlers love helping out in the kitchen, and they're doing important skill building like learning to wash veggies, carefully chop, grate, knead, and mix. It's never too early to start teaching your little ones the value of a good meal!
These sturdy kitchen tower stools are absolutely perfect for little bodies and feet. (And, pssssst, also great for grown chefs who are a little on the vertically challenged side.)
For more ideas list this, here are some fantastic non-toy gifts that kids love!
7. KitchenAid Attachment Mounts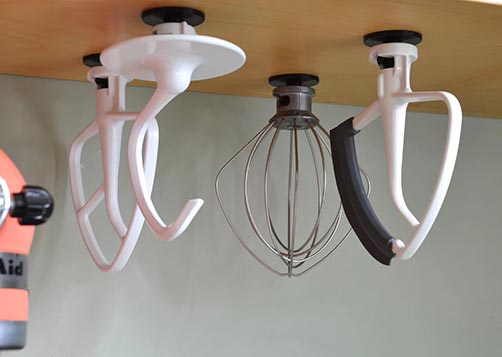 We could have created and posted this content sooner but we'll be honest, we were too busy ordering a set of these for our own kitchens!
Kitchen Aids are the gold standard for mixers as all bakers know, but the bulky attachments really take up space in small cupboards. That's why these great Kitchen Aid attachment mounts are the best thing since sliced bread!
8. Head Chef Kitchen Boa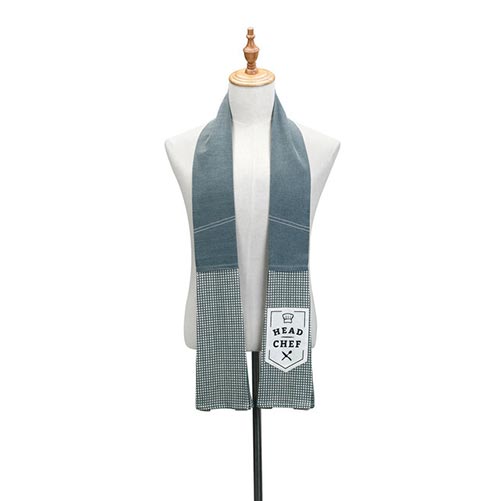 Just in case anyone was wondering, this adorable Head Chef boa will lay all questions aside: they really ARE the big cheese in the kitchen! Not only is a cute fashion statement for both men and women, it's also really useful: it doubles as a towel!
9. Scrap Happy Kitchen Compost Bin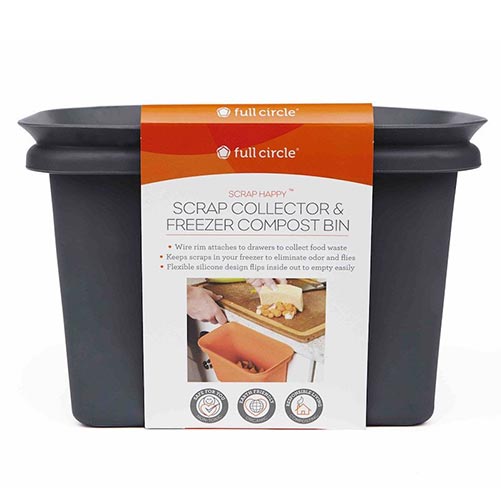 Unless your chef owns their own kitchen bunny rabbit, all of those delicious scraps and morsels need to go somewhere. Enter in this scrap happy mini kitchen composting bin!
Whether it's apple peels, coffee grounds, jalapeno seeds, or cherry pits, this will fill up quickly, making gardening (or feeding the chickens) a breeze.
10. Handwritten Recipe Cutting Board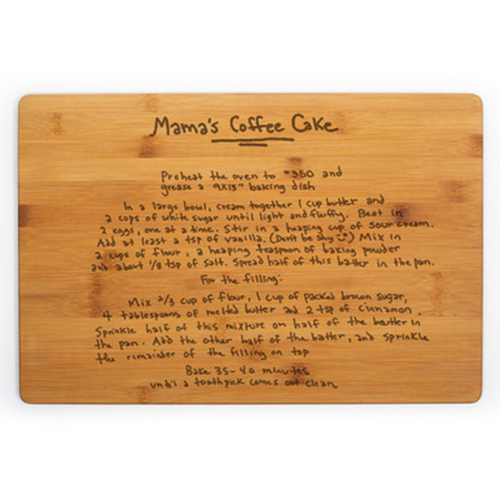 All you need is a sneaky way to get a hold of their favorite antique recipe card (you know they have them!) and you are on your way to being the best gift giver in all the land. This sweet and sentimental bamboo cutting board will make them tear up with nostalgia.
It just may be the most treasured item in their kitchen yet!
5 Best Foodie Gifts
11. Sushi Making Kit
Excuse me while I wipe away my drool. Do you or someone you know love sushi? Sorry, gotta wipe the drool again.
Hang on, I'm going to order some sushi real quick. And a napkin.
Ok I'm back. Now you – or your foodie friend, but let's be honest, it's you – can have everything you need to make it from home with this sushi making kit. It comes complete with bamboo rolling mats and chopsticks.
We have started making sushi at home, and it is delicious! You can add any filling you like, and – bonus! – you can eat it at home in your pajamas. Pair this sushi set in a gift basket with rice, seaweed wraps, and tons of fillings and you'll have an unforgettable foodie gift.
12. Movie Night Popcorn
A stale envelope of microwave popcorn just won't do for the most epic of family movie nights, and the most discerning palates! They definitely need something a bit more sophisticated, unusual, and tasty. We've got those areas covered with this yummy box of delectable popped corn treats!
Comes with three delightful blends of non-GMO corn, and five different seasonings to make your own totally scrumptious snack.
13. Pour Over Coffee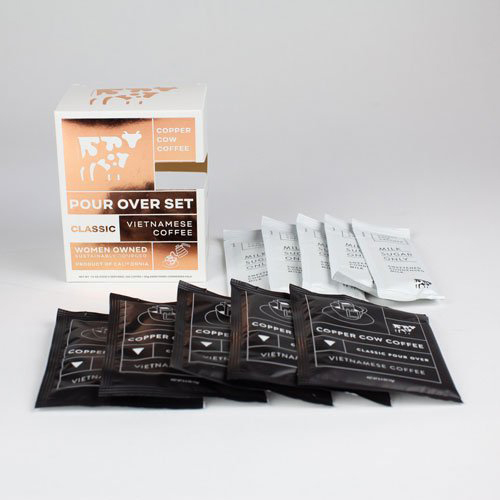 For the caffeine aficionado, a great brew cannot be beat! May we suggest this one from Copper Cow Coffee, a woman owned business? They really know what they're doing with their magical brews, and this pour over set is a great place to start your coffee adventuring.
When Mr. Coffee and Folgers (no offense) just won't do!
14. Gourmet Salt Collection
Get in my belly! I am a self proclaimed salt addict, and this gourmet salt collection has me jonesing. Every flavor sounds perfect (Smoked Bacon Chipotle, anyone?!), and it even comes with a cute little wooden spoon.
That little spoon is going to go straight into my mouth when I get this. Yes, when. (**Exceeds food budget excitedly**)
15. Mason Jar Herb Garden Set
These adorable little herb garden sets are perfect for the home cook just beginning to learn to garden, the city apartment dweller with no yard, or heck… you. With a wide variety to choose from, they look sweet from baby greens to towering basil plants. I mean, doesn't everything look great in a tiny mason jar?
5 Best Baking Gifts for Her
16. Personalized Baking Tin for Mom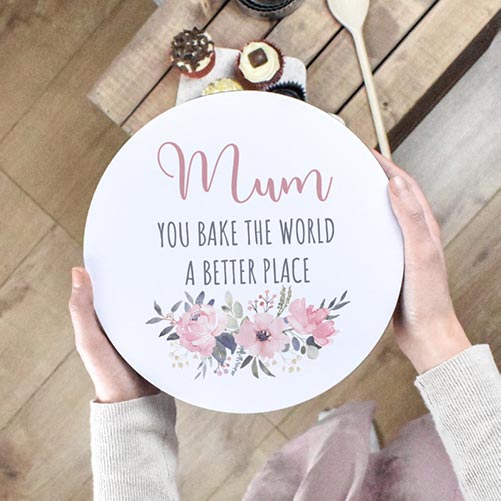 Remind her how much you love her (and how much you want her to fill this up with cookies for when you visit) with this pretty baking tin, personalized for her!
She'll adore the sentiment and whether you fill it up for her (remember the cookies) or she finds her own use for it, it'll be given a place of honor where all of her friends can be envious of how thoughtful her child is (hey, that's you!).
More great gift ideas: Personalized Gifts for Her
17. Happiness is a Kitchen Full of Family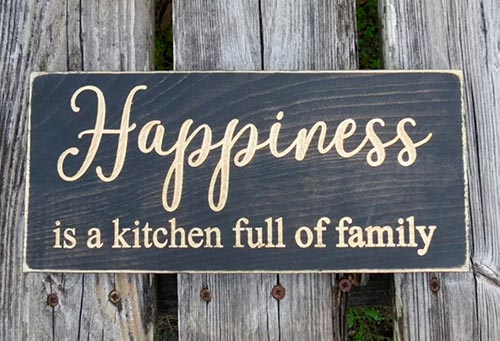 There's not much better than a full kitchen, even if it means toddlers underfoot, teens rummaging through the fridge at all hours, and the Middlers making yet another batch of homemade slime (oh, joy).
If your gift recipient has a small kitchen with a large family, they definitely need this sign!
18. Grandma's Bake With Love Joy Box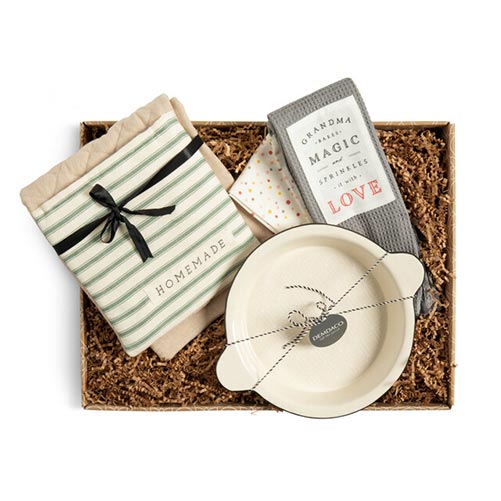 Especially good for new grammies with little ones who are just about to be the right age to help cooking, this cute bake set is just the thing! The only other thing needed now are some yummy recipes and some grandkids!
P.S. Oooo, how cute would this be to let the grandma-to-be know that you're expecting?!
19. Funny Kitchen Towels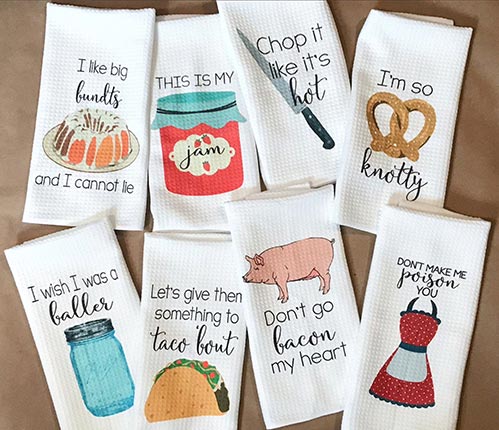 We're not sure which one is our favorite (I'm partial to the Don't Make Me Poison You towel, personally), but these kitchen towels are just the thing to spice up any gal's kitchen! No more boring plaid, plain white tea towels, or silly holiday themes when you can have these hilarious and clever towels at your fingertips.
Don't Go Bacon My Heart… HA! That's gold. Or platinum.
20. Bread Proofing Basket
Mmmmm, can you smell it from here?!!? We can. This gorgeous and useful bread proofing basket (or rising basket if you're American, but it just sounds better with a British accent and slang), is absolutely perfect for the baker in your life.
Nestled inside this lovely container will hopefully very soon be a lovely loaf of sourdough or cinnamon raisin for you to munch on, while they go on and on about how great of a gift this was… Everybody wins.
5 Best Cooking Gifts for Him
21. Cooking Courses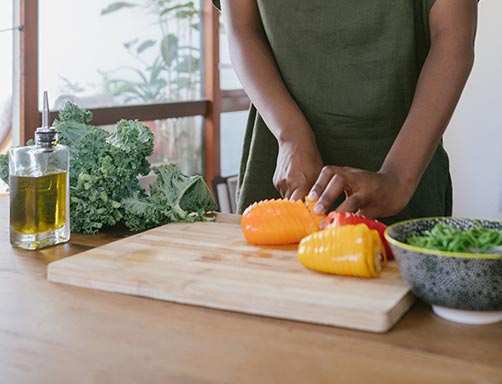 Whether he's your dad, your hubby, your brother, or your boo, a cooking course is an amazing gift! (And one that you'll both get to enjoy, just sayin.') If he's already a wonderful home chef, or has set off the fire alarm one too many times, this course is the way to go.
You can pick (or he can) from all sorts of amazing flavors and skills. Start out small, like Kitchen 101, and make your way up to sophisticated Indian food, food photography, or Vegan cooking. The sky's the limit and boy, is it ever yummy.
22. Personalized BBQ Joint Barrel Head Sign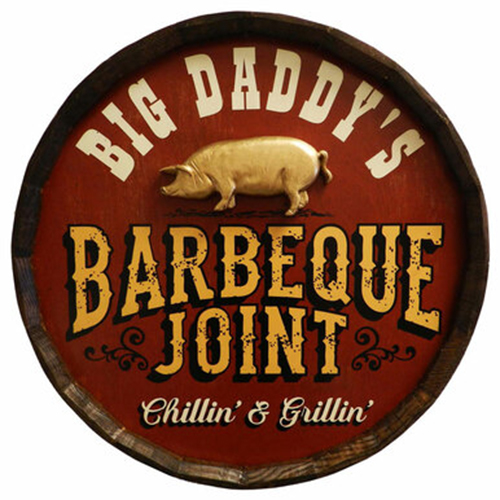 If he's big into grilling and slow cooking mouth watering steaks and ribs and BBQ, he needs a sign as great as he is!
This personalized quarter barrel sign is going to look so great hanging near his grill or in his kitchen! All his friends will be envious and want one of their own, so maybe bookmark this great site for later gift giving ideas.
23. Men's Cooking Socks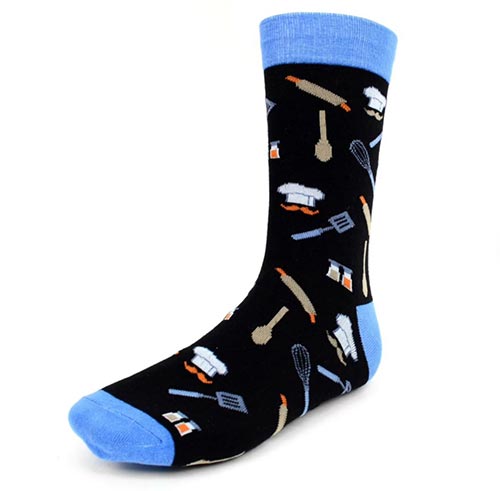 How great will these babies look paired with sandals and shorts?! I mean, come on now! These chef themed socks will cheer up everyone who sees them (so don't hide them behind baggy pants or under boots!).
We can totally picture them with a Hawaiian shirt at the next Luau, can't you? And at this affordable price, you can definitely justify getting yourself a pair, as well. Just, you know, coordinate who gets to wear them when.
24. Cast Iron Chef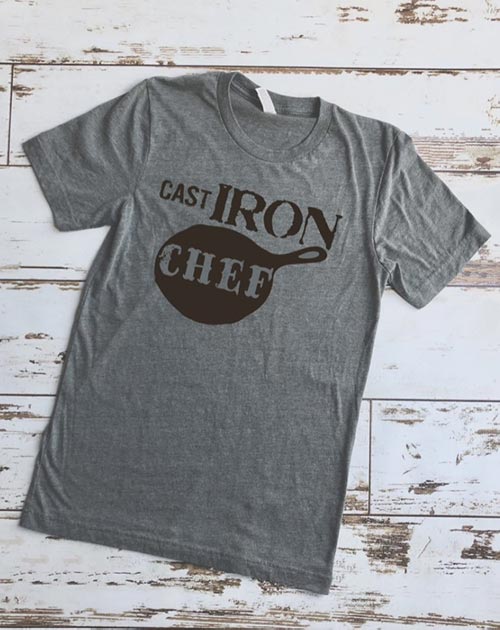 Cast iron is the way to go for great flavor, and an even sear! Of course, he knows that already, that's why he uses it for those delicious rib-eyes, crispy-skin salmon, and even that delectable pineapple upside cake.
He's got the cast iron collection; all he needs now is this soft gray tee-shirt, which is soon to become his absolute favorite.
25. Engraved BBQ Grill Set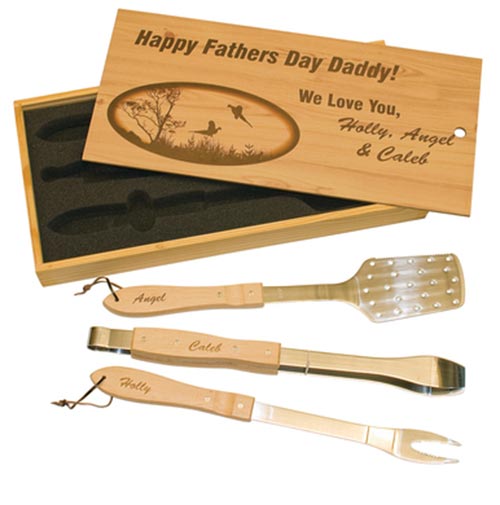 Keeping those giant grill utensils in their own space is a chore! They're too big to fit in the kitchen drawers, but if you leave them outside hanging on the grill, they get all grody. We know this from experience, y'all.
So give him this great set that is all tucked inside this sweet wooden crate, engraved with your sentiments. Wipe those sentimental tears out of your eyes, and get to flippin' us some burgers already!
5 Best Personalized Kitchen Gifts
26. Rustic Spice Rack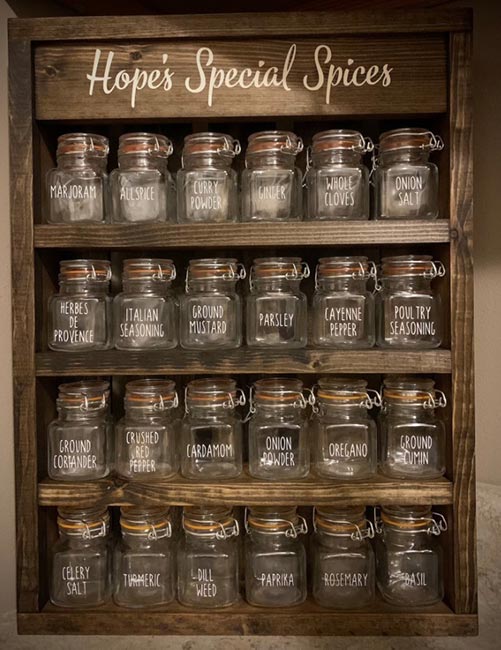 Cooks and chefs take their spices seriously, and for good reason! They give lift and oomph and flavor to everything from eggs to cakes to casseroles. But they're so easy to lose, spill, and disappear! A good spice rack is the answer, and this one really takes the cake with its personalization of their very own name.
27. Monogrammed Oven Mitts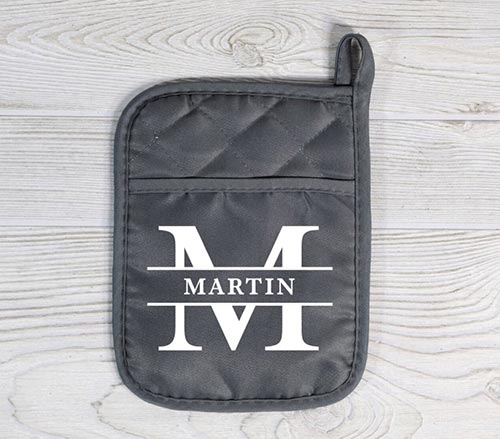 Next time you're at that potluck for church, or the neighborhood BBQ, no one will take off with your very best potholder "accidentally." No way, not with this monogrammed kitchen oven mitt! Keep your paws safe and keep their paws off your stuff with this cute mitt. The only way to make it better is to buy several!
28. Ruffled Apron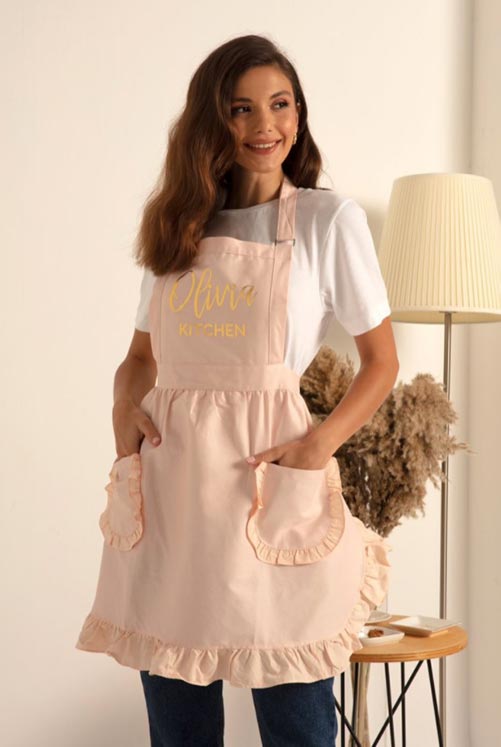 This sweet ruffly pink apron will protect her clothes and make her look like a million bucks while doing so!
Monogrammed with her name (or Wifey, or Gramma), it really lets everyone know whose kitchen they're in. And hey, while they're in HER kitchen, they should definitely unload the dishwasher or find something to stir!
P.S. Those pockets have us swooning.
29. Wooden Pepper Mill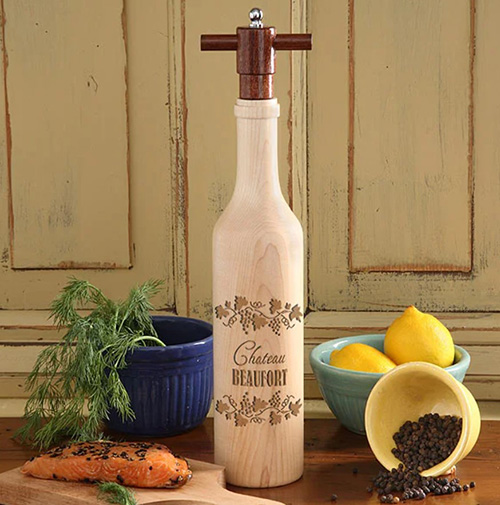 Is your favorite cooking aficionado also obsessed with the look of their kitchen? Not just the functionality? Well, then this is the perfect gift for them!
These awesome pepper mills are crafted in the USA, and have been employed by some of the top culinary schools in the states. And they're beautiful to boot! Have it engraved with their name, and you have an extra special gift they'll use almost everyday.
30. Kitchen Sign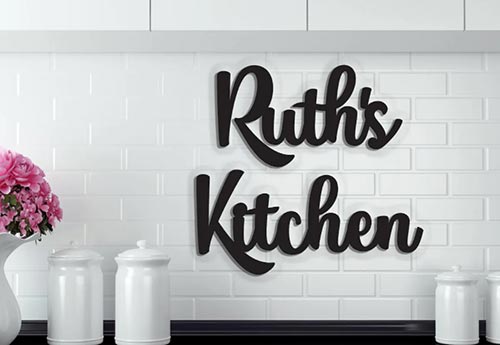 Perfect for any kitchen décor, this cute cursive sign let's everyone know whose territory they're in! Whether mounted above the stove, or leaning up against the counter, it's a great gift that shows you put some thought into your present.
As with all things personalized, make sure you know for sure how to spell their moniker!
5 Best Housewarming Gifts for Food Lovers
31. Engraved Rolling Pins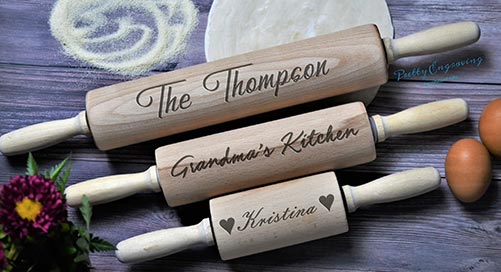 Just the thing for Mother's Day, or really any holiday, these great personalized rolling pins are so sweet to look at, they'll beg to be displayed on the wall! Just make sure they come down in time for apple pie, cinnamon rolls, biscuits, and pastry time!
Is pastry time a thing? We think it should be.
32. Matte Velvet Blue Kitchen Aid Mixer
As someone that owns a her own Kitchen Aid mixer, you can't help but fall in love with not only the way it looks but the way it works! This Matte Velvet Blue KitchenAid mixer is the prettiest thing I have ever seen, and I can feel myself turning into Gollum:
My preciousssss.
If you REALLY love a foodie, maybe consider buying them this mixer.
33. Granite Mortar and Pestle
Mole, mole mole, guacamole. This large granite mortar and pestle can hold 2 cups, so it is perfect for making big batches of guacamole or any other yummy dip.
There is something so cool about grinding up spices and dips and things in one of these. You feel like you are living in The Little House on the Prairie. It's the best sort of feeling for a foodie.
34. Artisan Ceramic Coffee Mug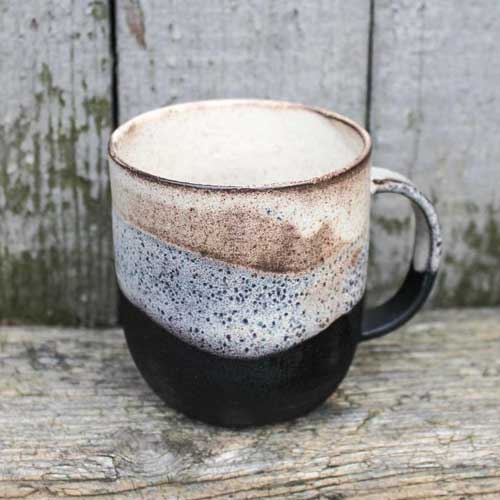 Unique mugs make the best gifts, and these handmade artisan ceramic mugs are just lovely. They have several different colors and designs, and they all would look great mixed and matched.
Imagine a steaming cup of coffee in that beauty. Now that is a gift to savor!
35. Personalized Foodie Tumblers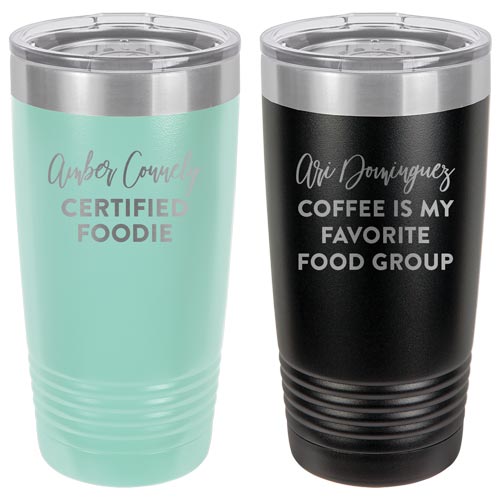 I am a firm believer that these insulated tumblers are the best thing since sliced turkey. These mugs include custom engraving, which makes them a great gift idea.
What's more, they keep smoothies and iced tea cold for hours on end. For winter, they keep hot drinks like coffee and uh, adult hot chocolate steaming for as long as it takes to reach the last sip.
Foodies love smoothies and specialty beverages, so what better gift than a personalized tumbler they can take anywhere!
Related: Best Gift Ideas for Tea Lovers
5 Best Gifts for Aspiring Chefs
36. Personalized Journal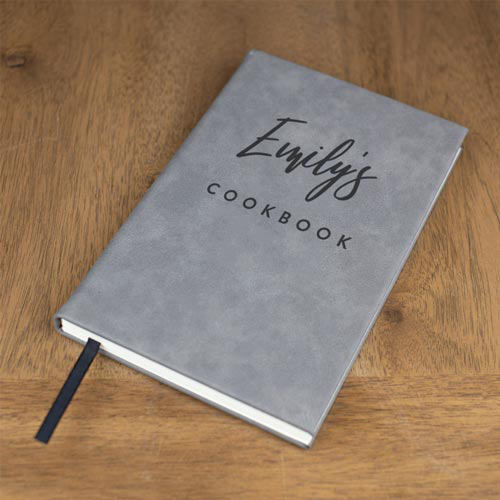 When inspiration for recipes strikes, they need something other than the back of a wrinkled old grocery receipt to write on! Enter in this leatherette personalized journal. With their own name – so as not to get mixed up with anyone else's at culinary school – and a ribbon bookmark, it won't be long before the cover is covered in food stains. For a foodie, that's not a bad thing!
37. Kitchen Conversion Magnet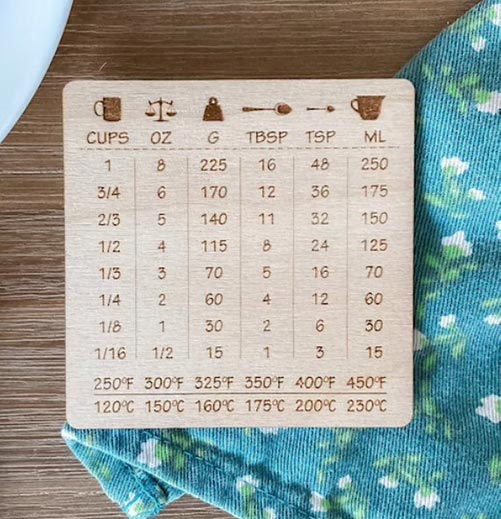 It's hard to google how many ounces are in a cup, or how many teaspoons are in a tablespoon, when your fingers are covered in flour! And don't get us started on how to convert European recipes into American – ai yi yi!! This magnet is perfect for those culinary emergencies: it settles all those pesky questions and perches quietly on the fridge at eye level.
No hand washing or googling required!
38. Chefs Burn Balm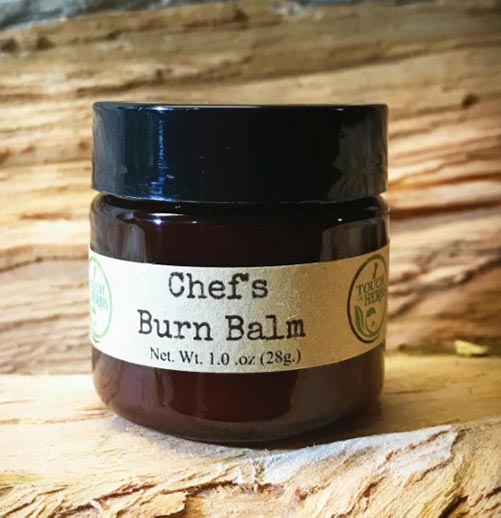 Just in case… who are we kidding, this burn balm is going to get some serious use! It's hard to juggle hot pots, searing griddles, and broiler racks without feeling the burn (Ha, see what we did there?).
No worries if the aloe plant has died (hey, we said you could cook, not garden): you've got this totally useful jar of magic remedy sitting right where you need it.
Related: 50+ Amazing Self-Care Gift Ideas
39. Would Eat Here Again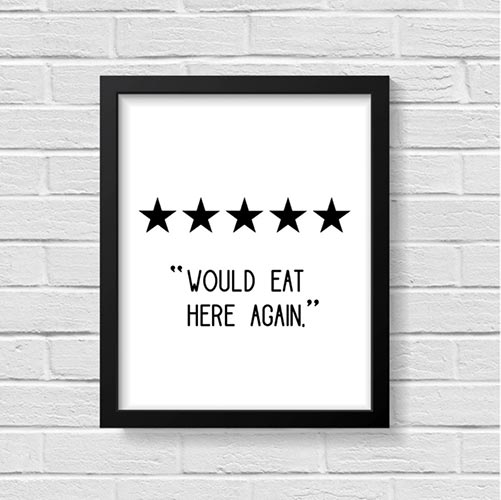 Cute and funny, this sign looks like a yelp review, but is really kitchen décor! Anyone would love their own glowing review like this hanging in a spot of honor in their kitchen or dining room.
40. Personalized Chefs Knife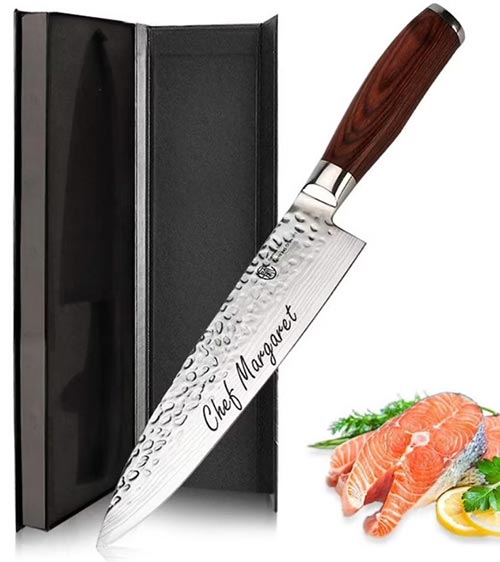 A good chef knife is worth its weight in gold! This one is not only gorgeous and stunning to look at, but it performs at a crazy high standard, AND it's personalized with their very own name. We can't think of anything else that would float their boat any harder.
Related: 17 Must-Have Kitchen Accessories
5 Best Cooking Sets for Kids
41. Wooden Play Kitchen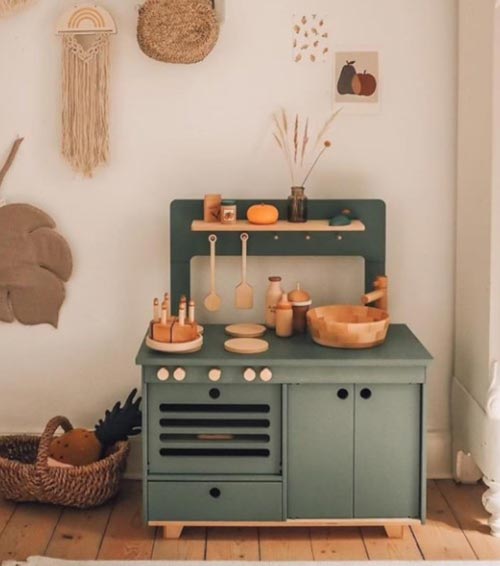 Start their culinary journey early with their very own wooden kitchen play set! Montessori and Waldorf inspired, this adorable little set will be passed down from generation to generation, making it a favorite from the kids to the grandkids. They can "wash," chop, mix, and "cook," all under Mommy and Daddy's supervision.
42. Bright Pink Kitchen Set
If you're looking for a more bright and plastic set for your little ones to cook to their heart's content, try this adorable pink kitchen!
It literally has all the bells and whistles, as it makes noise and keeps those little kiddos busy for hours. The teapot has real water vapor, and all the utensils are so cute and great for pudgy little hands.
43. Foldable Kitchen Set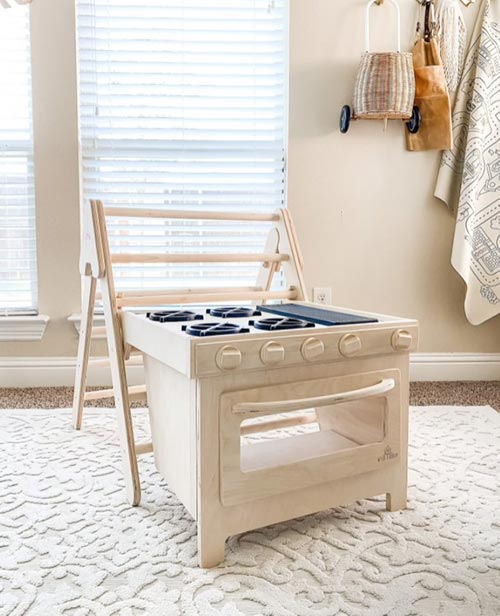 Perfect for tiny spaces, this foldable kitchen is mini in size but great for large imaginations!
Easily folded and moved from room to room (or backyard to front yard), it comes with cute little knobs and a cheery oven door so they can peek inside and see if their cookies are done yet.
And how adorable would it be next to a lemonade stand?
44. Kitchen Wagon Set
It's like their very own food truck! For serious play, this kitchen set is the bee's knees, for sure. With its cash register and condiment collection, all it needs is some creative kids who can draw up menus! They'll be writing their own recipes and bringing in some folding money in no time when they're inspired by this great gift.
45. Ultimate Corner Play Kitchen
I've lived in full-size apartments that didn't have this suave and posh of a kitchen! For the discerning little ones, only this ultimate kitchen corner will do. It's as high-end as something you'd see Joanna Gaines design, and it's so fun to play in!
Top 5 Birthday Gifts for Food Lovers
46. Needs Salt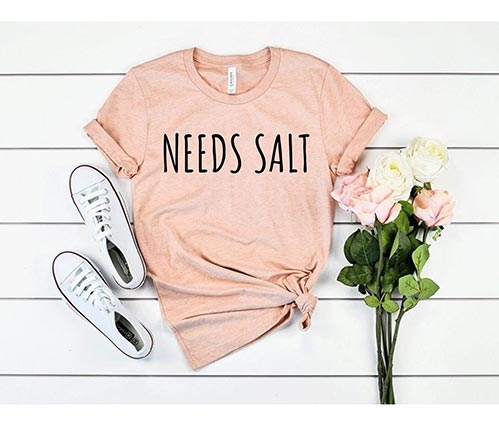 If your friend (or you) are as salty as they come, this tee is a must-have! With its pretty in pink hue, and the witty expression, it'll become their new favorite brunch shirt. And backyard grilling shirt. And Lady's Night Out shirt. And pajama top. And … well, you get the picture.
47. Stainless Steel Drinking Straws
If you love straws, but also want to eliminate the use of plastic, these stainless steel straws are perfect for you. We all want to do our little part to care for the environment, but straws are just so nice! So go with some reusable metal straws and you get the best of both worlds.
This is a set of 8 stainless steel straws. The set also comes with little pop on silicone tips for comfortable sippage, and cleaners, which are, you know, important.
48. Sriracha Bottle Keychains
Whether you just really love your food, or are straight up hipster, you never have to be without your Sriracha again. These Sriracha bottle keychains are easy to fill and keep with you at all times.
This is one hot gift! Like, red hot, ya know?
49. Coffee Coasters Set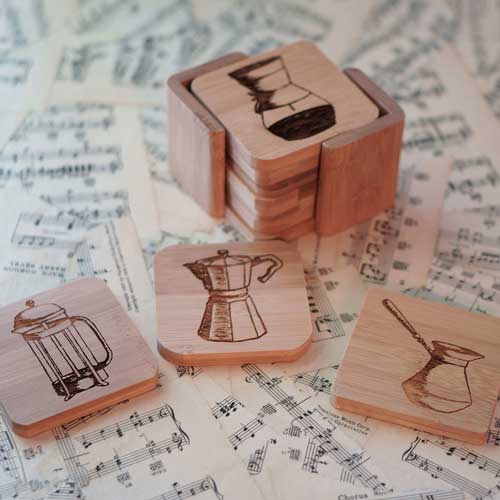 Anyone that has ever used a coaster knows there are a lot of tacky ones out there. This set of six bamboo coffee art coasters are actually stylin'. The designs are hand drawn, and the coasters themselves are natural and chic.
50. Pizza Box Socks
Hehe, these are so cute. Not only are these pizza print socks, but they come in a pizza box, and folded to look like a pizza. If pizza is one of your love languages these socks will hit the spot.
Read Next: Best Gifts for Travelers
Pin It