An amazing man cave needs some seriously awesome man cave signs. At Northwest Gifts, we sell tons of unique and personalized man cave accessories, including custom engraved pint glasses, personalized bottle openers, oak barrels, cork cages, dartboards, chalkboards, clocks, plaques, signs, and more – all ideal for accenting your man cave.
Here are 35 of our most interesting and most popular man cave signs.
Our website is supported by our users. We sometimes earn a commission when you click through the affiliate links on our website. See our privacy policy & disclosures for more information.
1. Personalized Man Cave Sign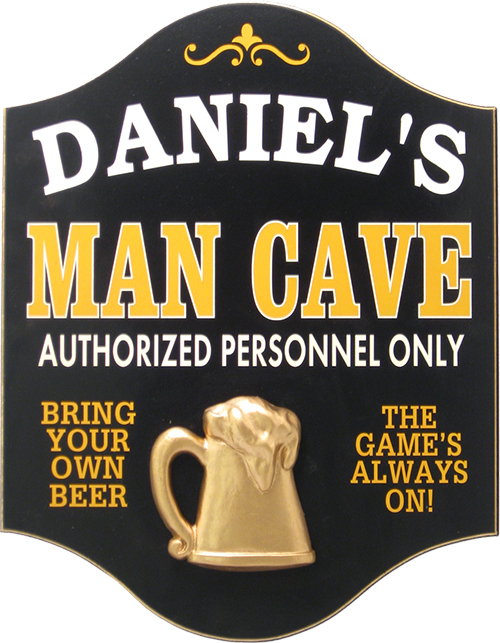 Our best-selling man cave sign is far and away the Man Cave Plaque Personalized.
As with most of our silkscreen printed signs featured on this list, this man cave sign is made from furniture-grade MDF wood right here in the USA, customized with your name, crafted in a classic 'pub sign' shape, and boasts a golden beer mug applique along with classic manly quotes such as "Bring Your Own Beer" and "The Game's Always On!"
The perfect gift idea for any guy with a man cave.
2. Man Cave Clock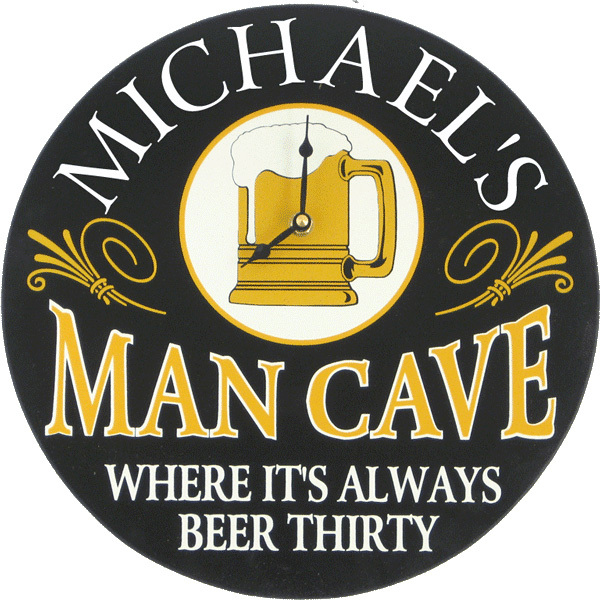 The Man Cave Clock is a 12″ round real working clock, personalized with your name, and indicates to all visitors that in your man cave, it's always beer thirty.
3. Happy Hour Neon Sign
This super fun neon "Happy Hour" sign is just what he needs to put the finishing touches on his man cave. With it's cool vintage vibe and bubbly suds, it'll set the mood for any game night with his closest friends.
The LED lit sign is set on a dimmer switch, too, so he can adjust the brightness as he wishes.
4. Michigan Wolverines Man Cave Signs
Perfect for the Michigan collegiate sports fan or alumni man cave, this corrugated metal sign celebrates the boys in blue.
5. Custom Home Bar Sign with Mug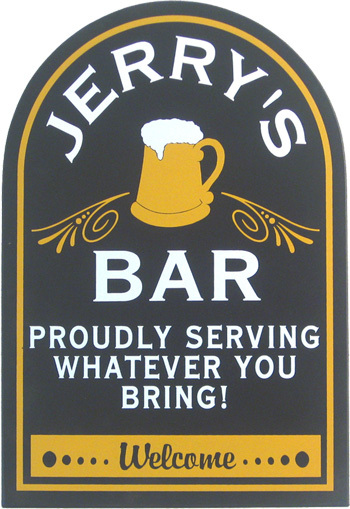 This man cave sign is simply yet attractively shaped, with great contrasting colors which unite the beer mug and the "welcome" text.
Your name is custom silkscreened onto the wooden plaque, making it the perfect "home bar" man cave sign.
6. Home Bar Custom Man Cave Sign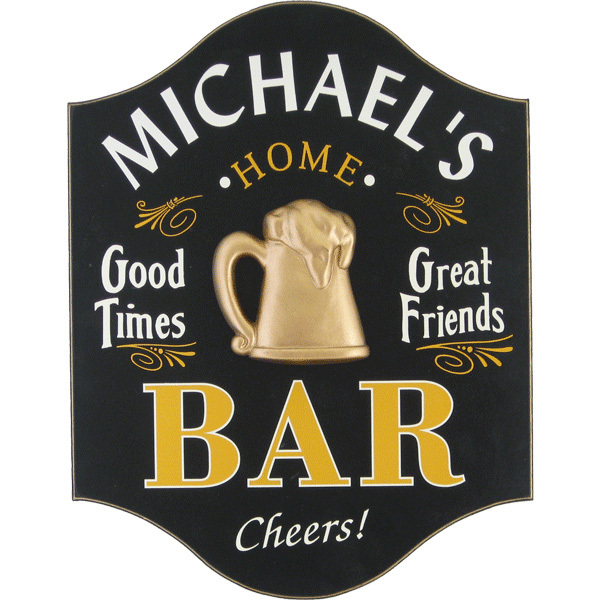 Another classic "home bar" design for the man cave with a home bar.
Personalized, as always, with your name, this man cave sign features a 3-D beer mug relief in the center and accents such as "Good Times" "Great Friends" and "Cheers!"
7. Old-Fashioned Mirror Bar Sign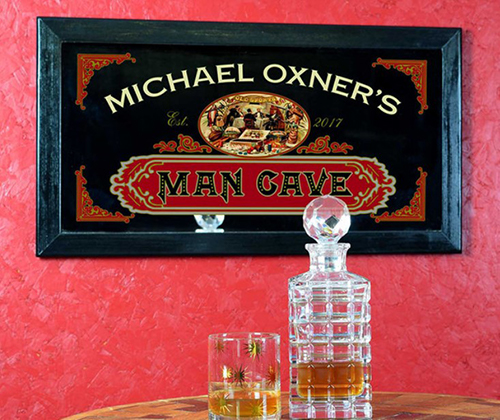 Yee-haw, pardner! This cool, custom man cave sign takes us back to those old fashioned saloons from the golden age of westerns.
You can have these completely personalized with his name and "established" dates, and custom lettering of your choice! Super classy, just like him.
8. Beer Connoisseur Vintage Personalized Plaque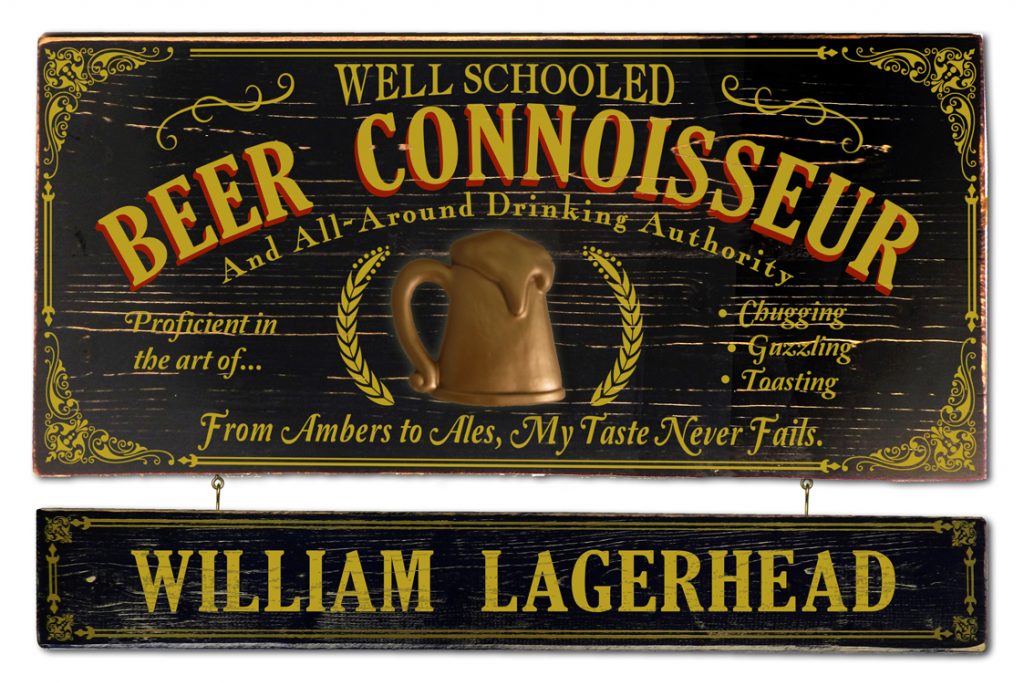 So maybe this doesn't say "man cave," but it says the next best thing. The perfect man room sign for the craft beer connoisseur.
Made in the USA, finished and distressed by hand.
9. Beer of the Week Brewery Plaque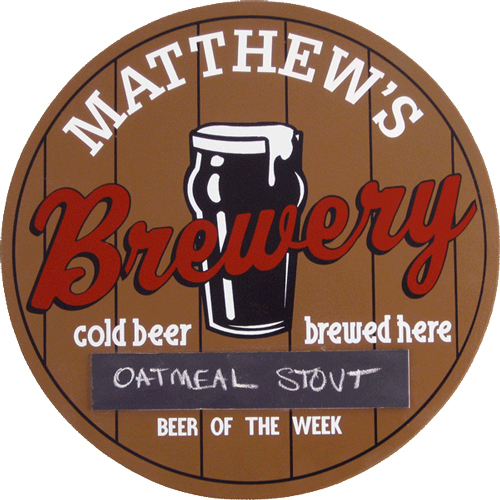 This nifty round plaque is made from MDF wood, comes ready to hang, and is finished in colorful style with your name personalized across the top.
This beer-themed man cave sign includes a mini chalkboard for writing in the "beer of the week" and indicates to all visitors that this man cave is well-stocked.
10. German Biergarten Barrel Plaque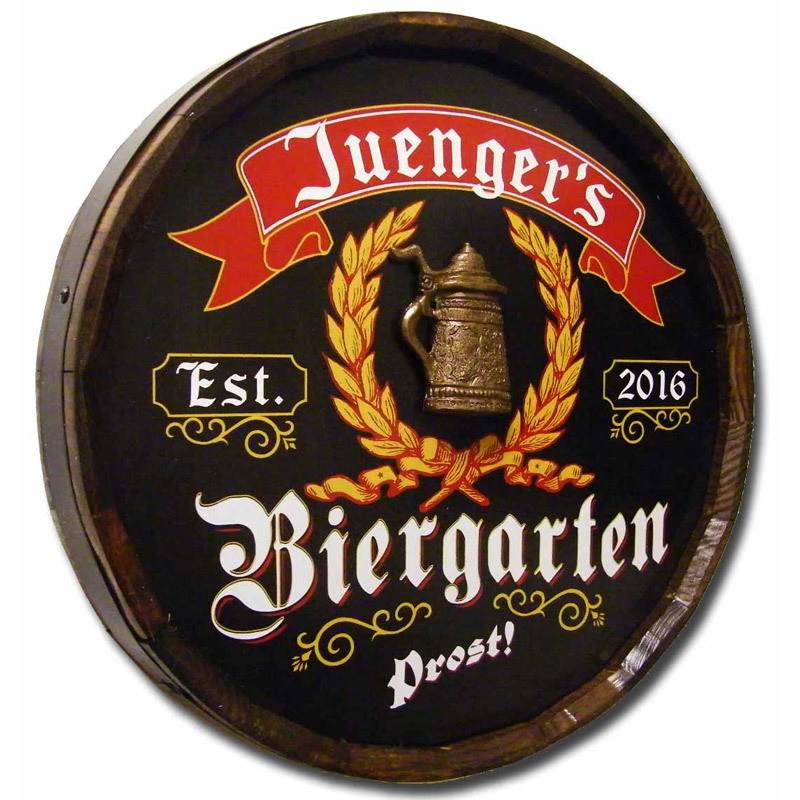 Crafted from what we lovingly call the top "quarter" of a barrel, the German Biergarten Quarter Barrel Plaque is a necessity for those with a love of lager.
Prost! says I. Cheers! says you.
11. Personalized Garage Clock Sign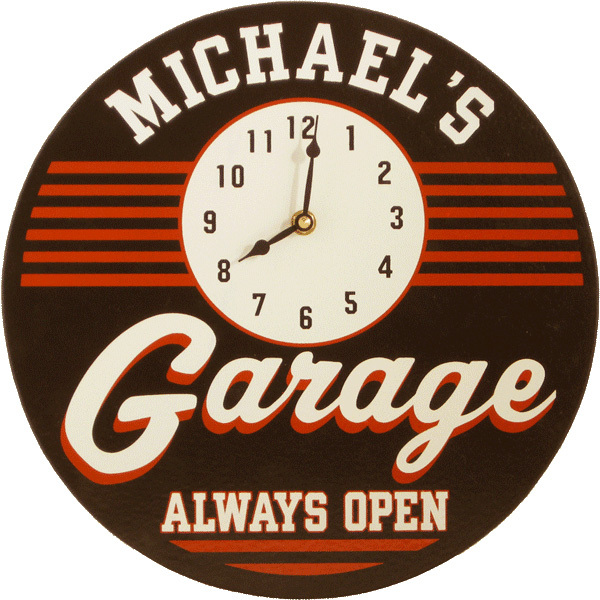 A great gift idea for the guy whose man cave is his garage. This working clock includes personalization and has a fun retro / vintage look to it, with classic 1950's style red stripes and accented lettering.
12. Home Brewery Man Cave Sign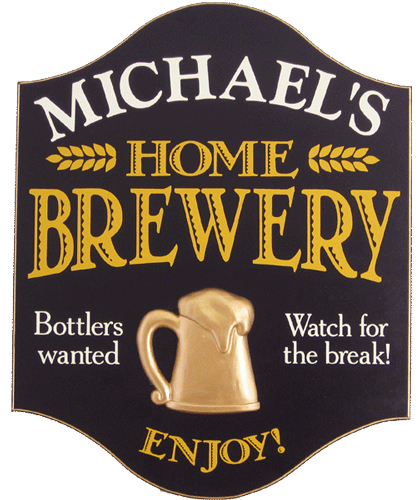 A subtle wheat theme accents this "home brewery" man cave sign, personalized with the name of your choice and arrives ready to hang.
13. Custom Irish Pub Sign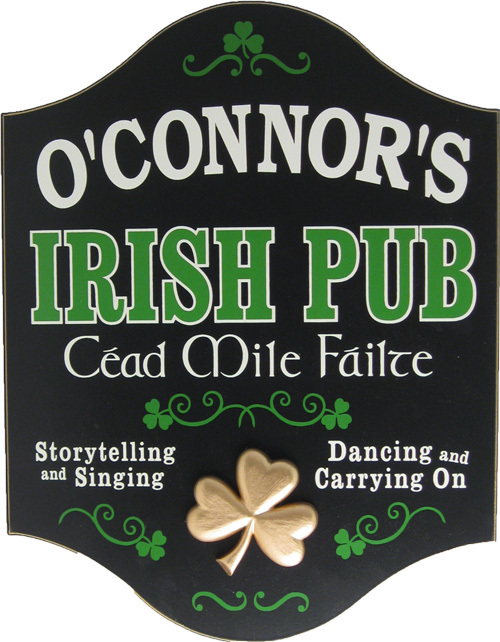 Celebrate the Luck O' the Irish with the Custom Irish Pub Sign, one of our many Irish wall decor plaques.
14. Penalty Box Custom Hockey Pub Sign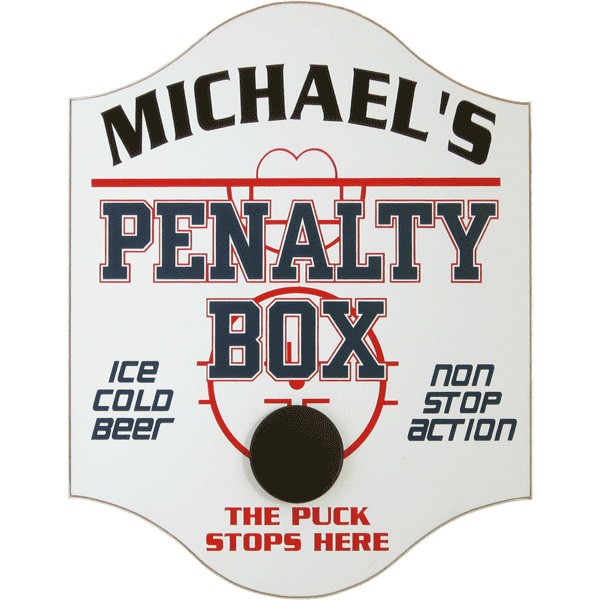 The ideal gift idea for a hockey-themed man cave. Any hockey fan will love this personalized "penalty box" home bar sign, with ice colors and a puck affixed to the front of the sign.
"The puck stops here!"
15. Wooden Wall Maps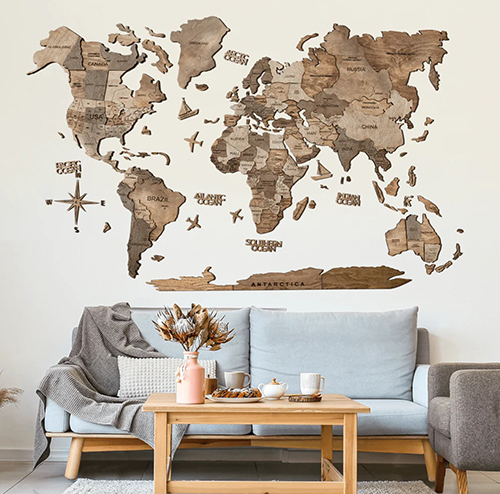 Looking for something a little outside of the usual man cave sign? Well, look no further than these awesome, wooden wall maps. If he's the adventuring type (or he's just shooting for that world travel vibe), he'll absolutely love one of these.
They're available in several sizes and stain options, too, so pick what you think would suit him best.
Related: Gifts for Travelers
16. Neon Boo Gaming Sign
Is his man cave turning out to be more of a gamer's den? Then this classic, neon King Boo gaming sign might be just what he didn't know he was looking for.
Made from high quality "ghost LED" lights, this sign is sturdy and made to last game night after game night after game night.
Related: Video Gamer Gift Guide
17. Quality Craft Beer Round Tavern Sign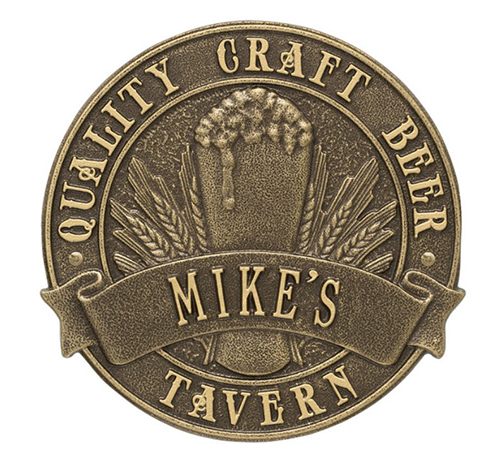 These tavern signs are just too cool to pass up! Perfect for hanging above the bar or on the wall near the dart board, have it customized with his name for that extra special touch.
Classy and a bit rustic, it'll blend well with a myriad of decor styles.
18. Warning – Man Cave Sign
This colorful metal man cave sign is affordable and will add a splash of fun to your manly dwelling as you warn all comers that this is your space.
Several additional says are also available, including "My Cave – My Rules" and "Beware: Forget the Dog, Beware of Wife." Hilarious.
19. Good Times, Good Drinks LED Sign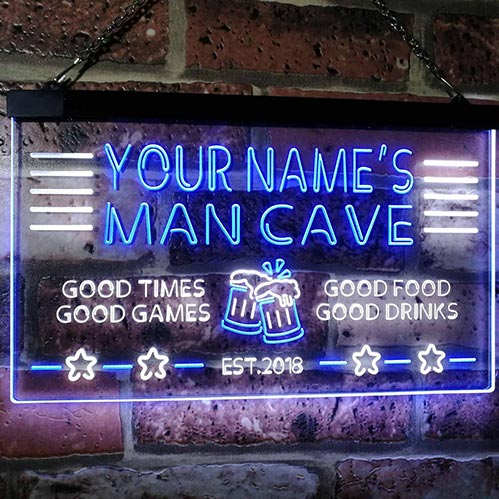 Every bro needs a neon sign for their beer-clinking, fun-loving, man-centric home turf. This one features your name in your choice of color, plus stuff like "Good Times, Good Games" and more.
20. Man Cave Darts Plaque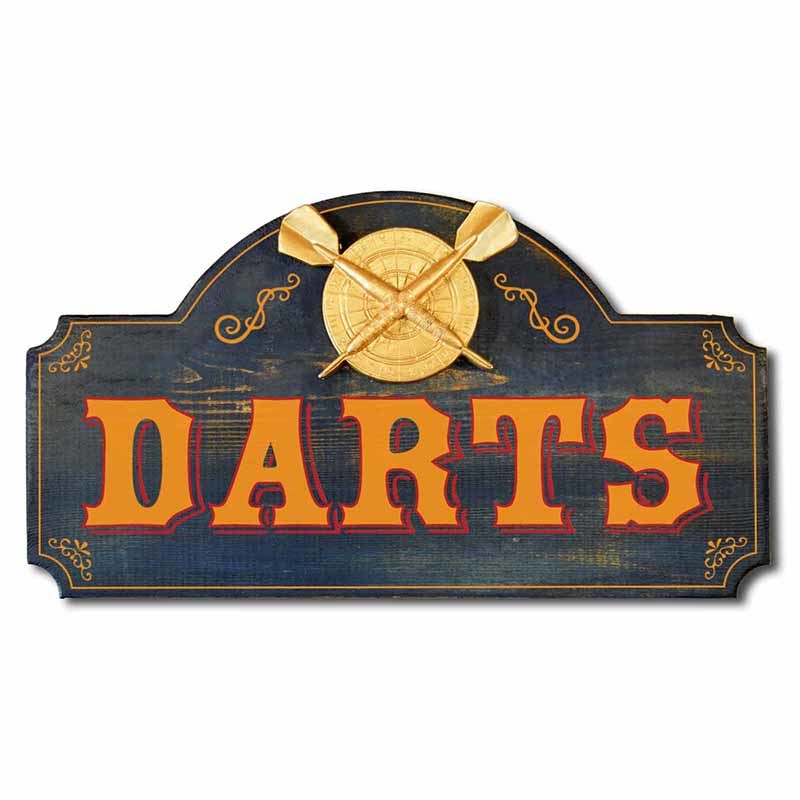 Darts! Celebrate a passion for darts with this vintage style man cave plaque. Plus, this one can be personalized by adding a custom hanging nameboard with your name, resulting in an awesome addition to your man cave.
21. Neighborhood Tavern Man Cave Quarter Barrel Sign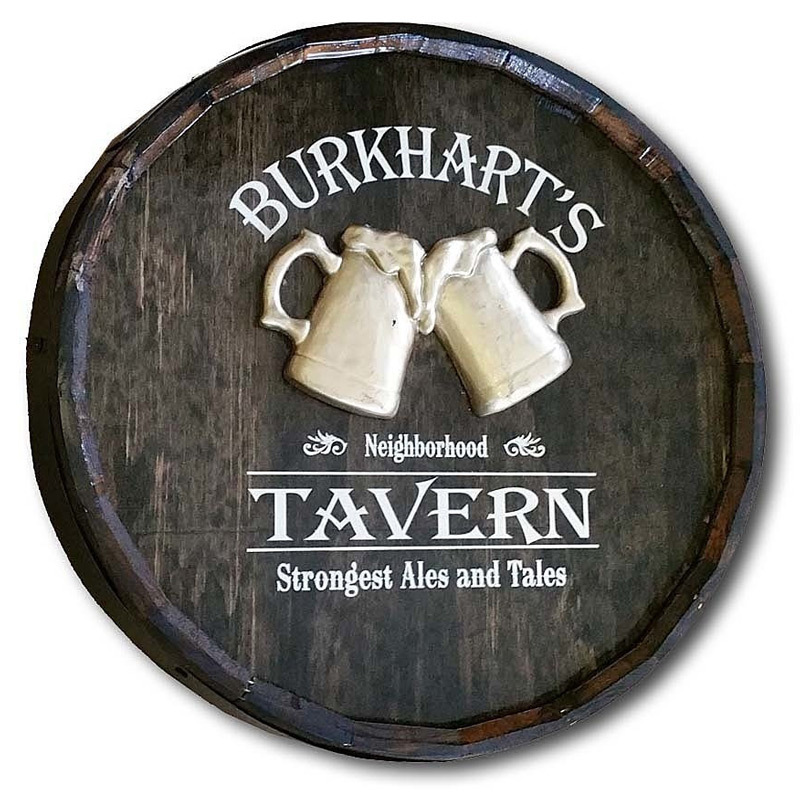 Large 19″ round vintage-style plaque made from a real oak barrel head – including spigot! – and includes a clinking beer mugs applique. A great man cave sign with a classy tavern theme.
22. Beer Cap Holder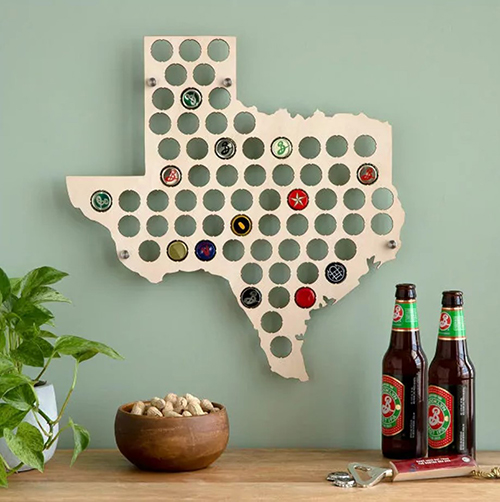 How cool are these state-shaped cap signs? Looking for something totally unique to bring that wow factor to his special space? Look no further! He'll love collecting caps (maybe new? maybe vintage?) to fill the board, and he'll have a 100% unique piece of wall art to show off to his buds.
23. If I'm Not Fishing – Man Cave Sign
If I'm not fishing… I'm thinking about it. Enough said! Get this fun metal sign for the fisherman's man cave right here.
Related: The Fisherman Gift Guide
24. Man Cave Bottle Opener Sign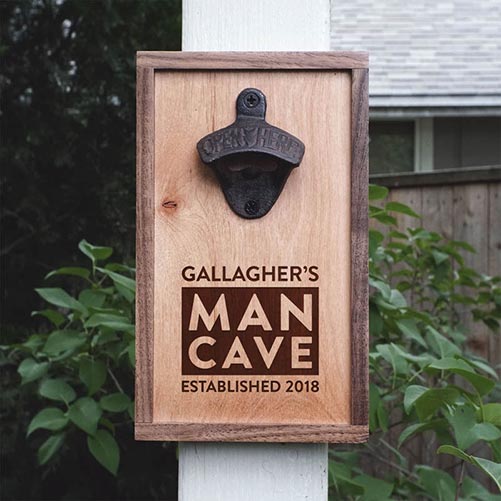 This wall-mounted bottle opener is both a man cave sign and a beer poppin' tool that every den of manliness needs. Handcrafted from solid wood in Oregon, your dude will love the personalized etching and solid durability of this brilliant gift idea.
25. LED My Tools, My Rules Garage Sign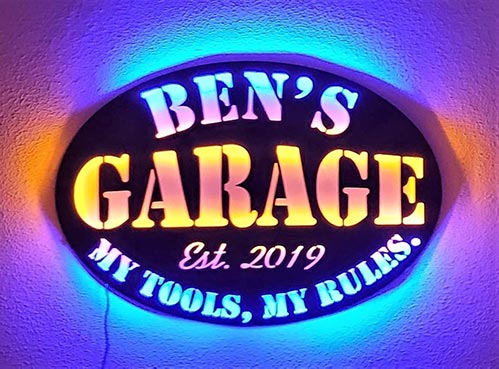 Let's light the place up! This stellar (and boldly colorful) LED man cave sign is personalized however you like and even includes your choice of lighting color scheme!
The middle can say "Garage" or "Cave" or "Shop" or anything else you want! Very reasonably priced and with a hefty 23″ width, this light-up sign will leave him glowing.
26. Deer Bone Man Cave Sign
This rustic wooden hanging plaque spells out "MAN CAVE" in deer bones! Perfect for the hunter in your life (even though these aren't real antlers, but rather made from resin), he'll put this up in a flash to dedicate his man space.
27. Minimalistic Est. Bar Sign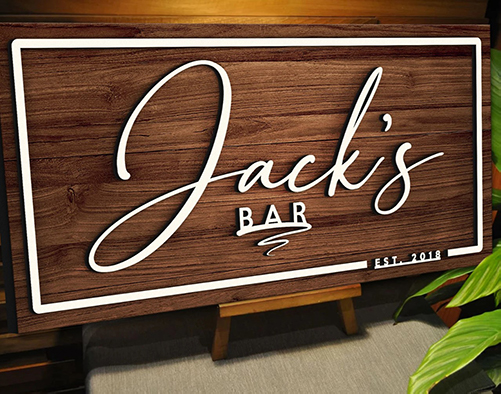 Classy, minimalistic, and sophisticated. That's what comes to mind when we see this custom bar sign. For the guy who wants to make a statement, but still keep things low-key, this is the perfect man cave addition.
Handcrafted with excellence to last a lifetime, you can't go wrong with one of these.
28. Custom Tiki Bar Sign
A popular man cave sign for a tiki bar, this exotic-looking plaque reads "Where the rum is on tap, and the torches are always lit!"
29. Irish Man Cave Celtic Sign
Celtic design man cave plaque, for the authentic Irish man cave pub. 1000 welcomes, Celtic knots, a clover and more on this sign, all of which declares your robust Irish heritage.
30. Grab a Beer, Stay Awhile Man Cave Sign
Welcome all visitors and invite them to grab a beer, relax, and stick around a while for great drinks and even better conversation. This man cave sign is made from tin in a timeless, vintage style.
31. What Happens in the Cave, Stays in the Cave Sign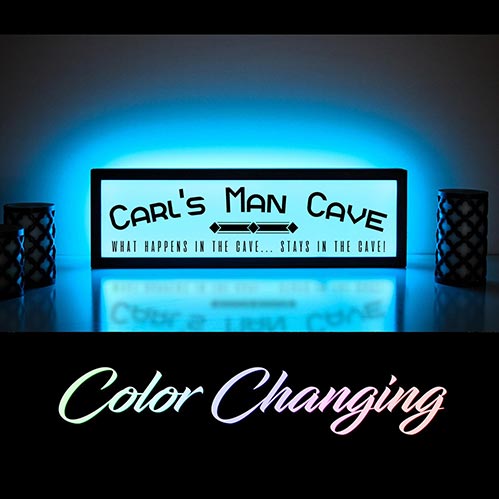 Here's a glowing man cave sign with a distinctively modern style! Personalize it with his name above the quote, "What happens in the cave… stays in the cave!"
The light-up wall décor piece features color-changing rainbow lights with 16 static colors, 64 light modes, and remote control.
32. Metal Gear Man Cave Sign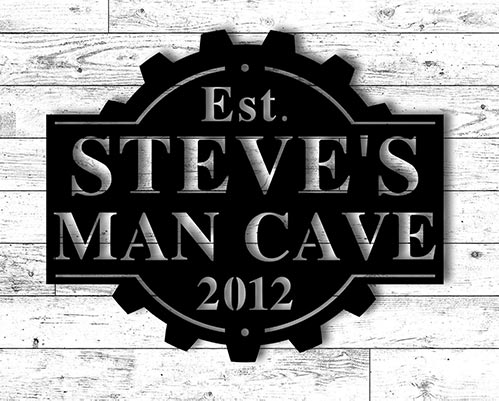 This attractively simple plaque boasts 18 gauged steel laser cut into a gear-shaped emblem which is then personalized with your man's name and established date.
Made in the USA to order in a wide variety of sizes ranging from 12″ wide up to 36″ wide.
33. Home Theater Bar Sign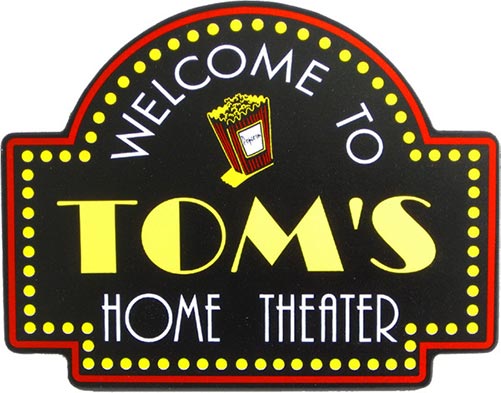 The Personalized Home Theater Plaque is just the thing for the film buff's man cave! Crafted in the USA from furniture grade wood, silkscreened in lavish vintage colors and personalized to order, this movie marquee sign will be the perfect accent for the walls of the man cave movie theater.
34. LED Neon Man Cave Sign
This minimalist sign is created entirely from dots of neon light poking through the black frame. Color changing LEDs mean that he can put on a light show anytime he wants!
35. Customized Pilots Lounge Man Cave Sign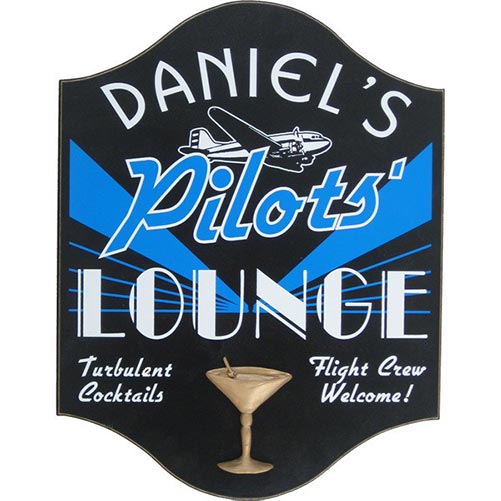 Wherever cocktails abound, the aviator will feel right at home. Celebrate your man's love for the open skies with this vintage-style Personalized Pilot's Lounge Sign.
It's perfect for the man cave without, you know, having to actually say "MAN CAVE" on it somewhere. Made in the USA, customized to order, arrives ready to hang, and features a 3-dimensional relief carved applique of a cocktail glass.
Read Next: 100 Gifts that Men Love