Last Updated on July 31, 2020
An amazing man cave needs some seriously awesome man cave signs. At Northwest Gifts, we sell tons of unique and personalized man cave accessories, including custom engraved pint glasses, personalized bottle openers, oak barrels, cork cages, dartboards, chalkboards, clocks, plaques, signs, and more – all ideal for accenting your man cave.
Here are 35 of our most interesting and most popular man cave signs.
Our website is supported by our users. We sometimes earn a commission when you click through the affiliate links on our website. Learn more here.
1. Personalized Man Cave Sign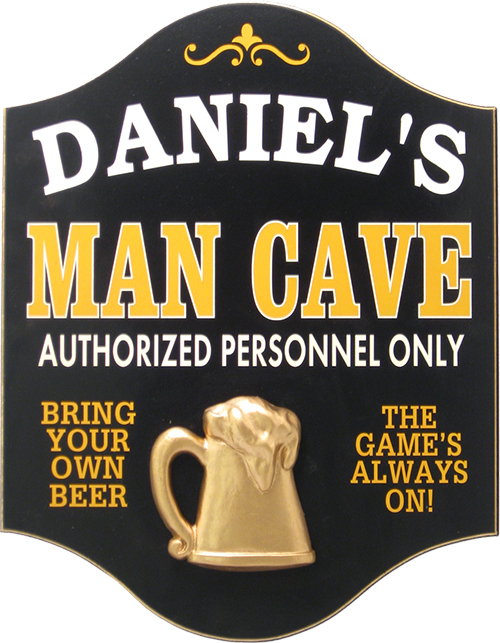 Our best-selling man cave sign is far and away the Man Cave Plaque Personalized. As with most of our silkscreen printed signs featured on this list, this man cave sign is made from furniture-grade MDF wood right here in the USA, customized with your name, crafted in a classic 'pub sign' shape, and boasts a golden beer mug applique along with classic manly quotes such as "Bring Your Own Beer" and "The Game's Always On!" The perfect gift idea for any guy with a man cave.
2. Man Cave Clock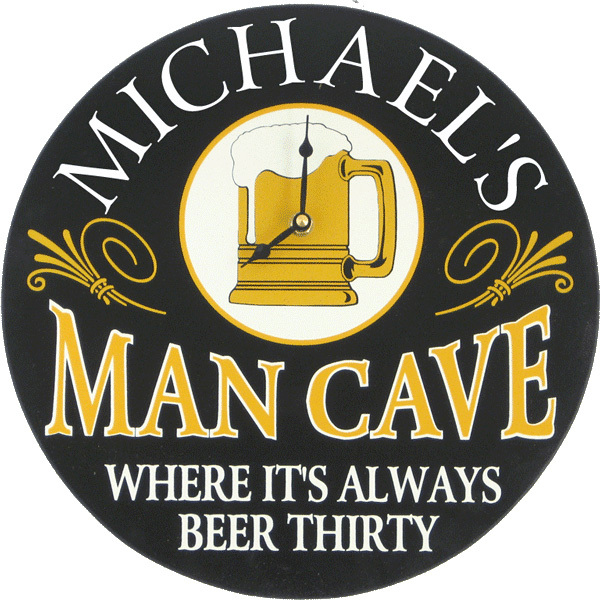 The Man Cave Clock is a 12″ round real working clock, personalized with your name, and indicates to all visitors that in your man cave, it's always beer thirty.
3. Personalized My Cave, My Rules Man Cave Sign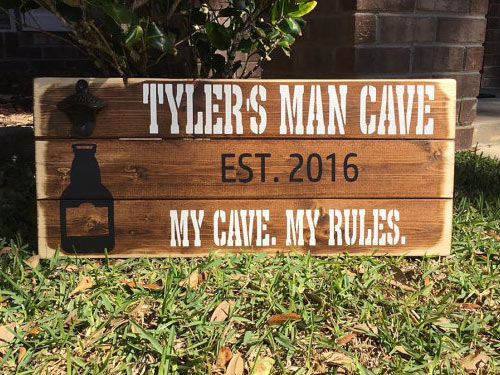 Rustic and stylish, welcome all who enter to pop open a beer and abide by your rules.
4. Michigan Wolverines Man Cave Signs
Perfect for the Michigan collegiate sports fan or alumni man cave, this corrugated metal sign celebrates the boys in blue.
5. Custom Home Bar Sign with Mug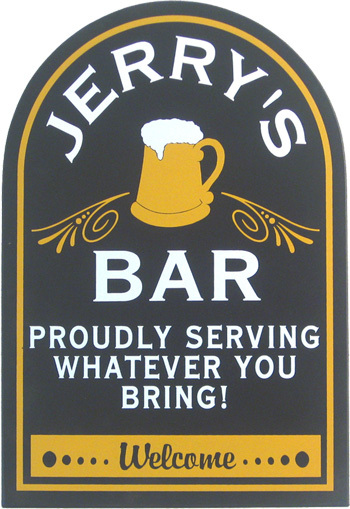 This man cave sign is simply yet attractively shaped, with great contrasting colors which unite the beer mug and the "welcome" text. Your name is custom silkscreened onto the wooden plaque, making it the perfect "home bar" man cave sign.
6. Home Bar Custom Man Cave Sign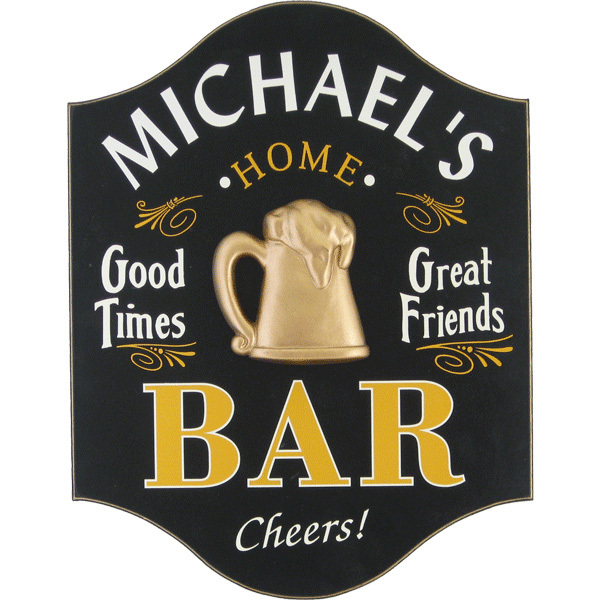 Another classic "home bar" design for the man cave with a home bar. Personalized, as always, with your name, this man cave sign features a 3-D beer mug relief in the center and accents such as "Good Times" "Great Friends" and "Cheers!"
7. Beer Mug Tavern Custom Quarter Barrel Sign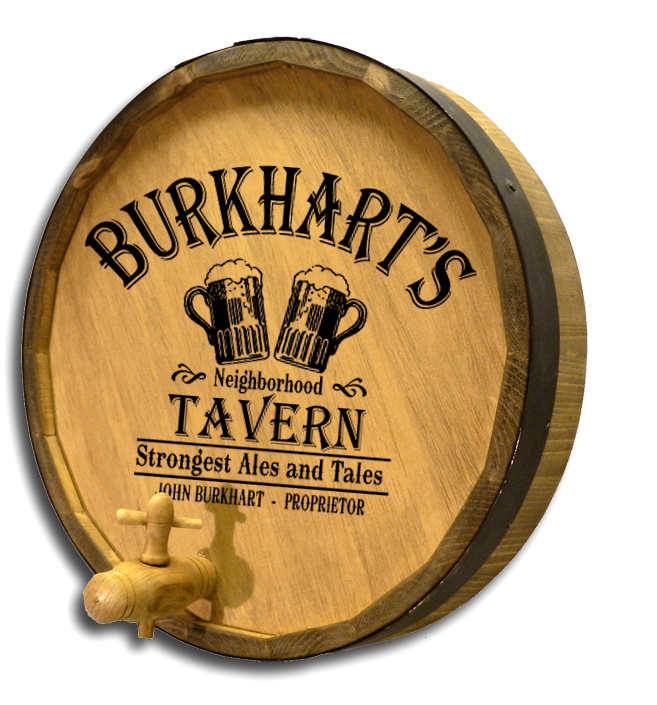 Part of our huge array of oak aging barrels and decor, our Quarter Barrel Signs are made from an authentic oak wood "quarter barrel", complete with spigot. This neighborhood tavern design is perfect for the friendly man cave pub, custom laser engraved onto the barrel head with your choice of tavern name, some clinking frothy beer mugs, the proprietor's name.
8. Beer Connoisseur Vintage Personalized Plaque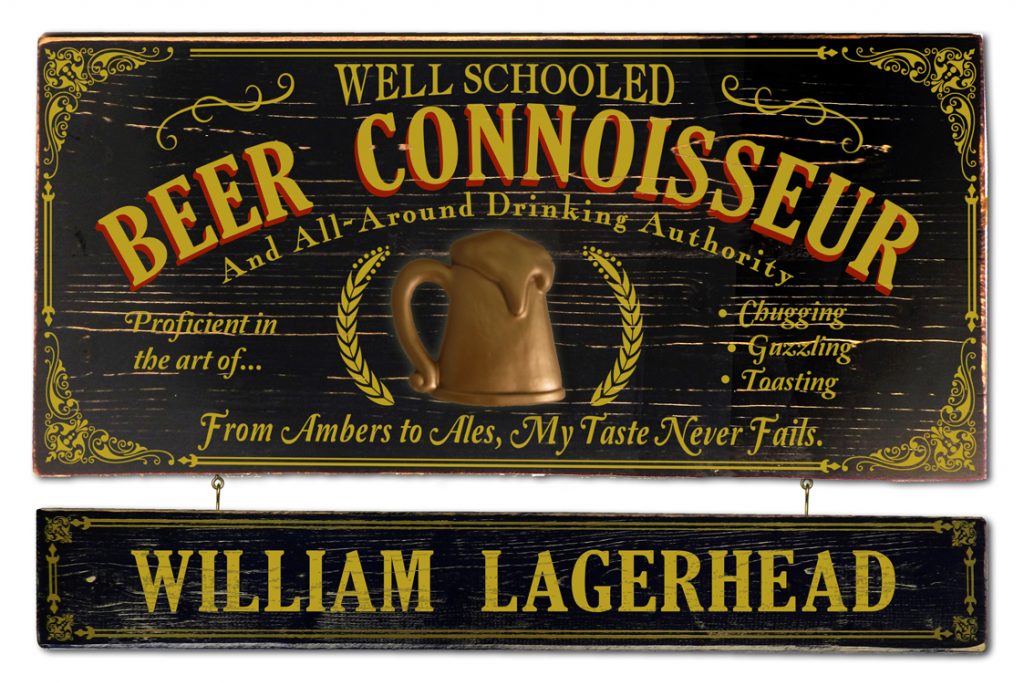 So maybe this doesn't say "man cave," but it says the next best thing. The perfect man room sign for the craft beer connoisseur. Made in the USA, finished and distressed by hand.
9. Beer of the Week Brewery Plaque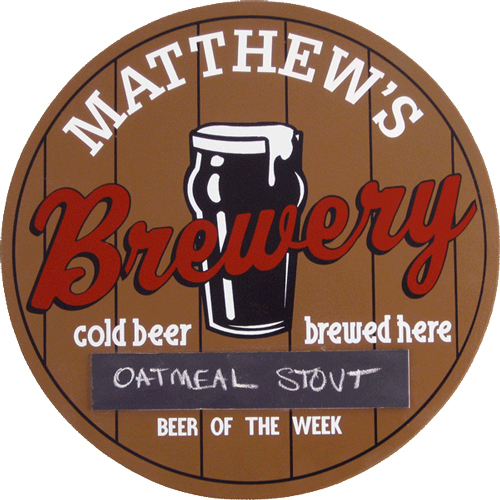 This nifty round plaque is made from MDF wood, comes ready to hang, and is finished in colorful style with your name personalized across the top. This beer-themed man cave sign includes a mini chalkboard for writing in the "beer of the week" and indicates to all visitors that this man cave is well-stocked.
10. German Biergarten Barrel Plaque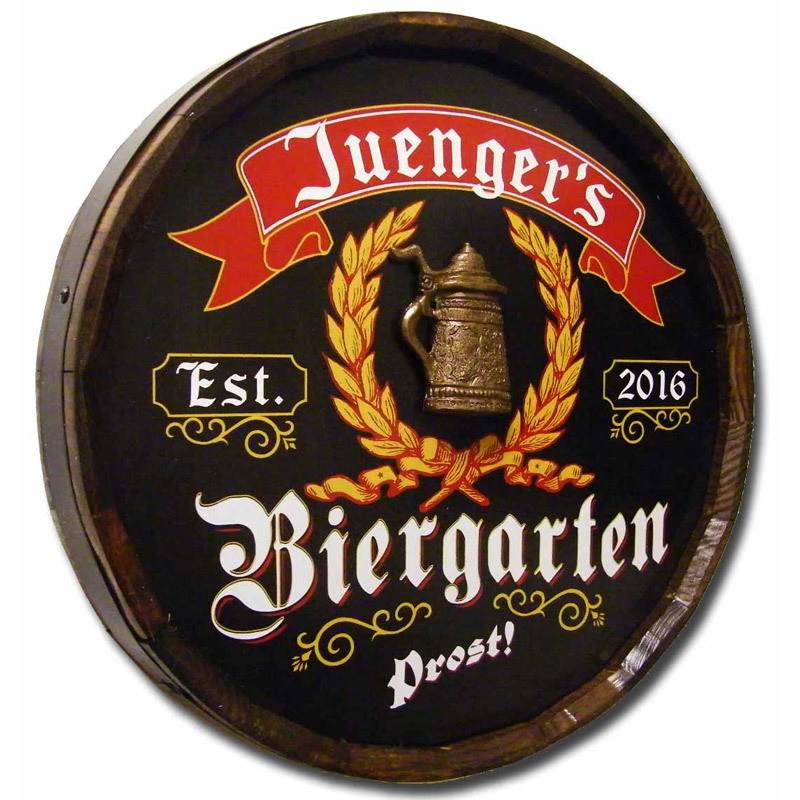 Crafted from what we lovingly call the top "quarter" of a barrel, the German Biergarten Quarter Barrel Plaque is a necessity for those with a love of lager. Prost! says I. Cheers! says you.
11. Personalized Garage Clock Sign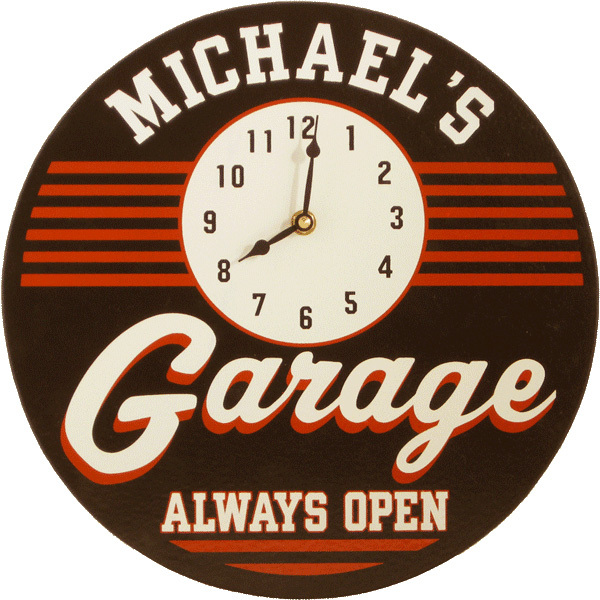 A great gift idea for the guy whose man cave is his garage. This working clock includes personalization and has a fun retro / vintage look to it, with classic 1950's style red stripes and accented lettering.
12. Home Brewery Man Cave Sign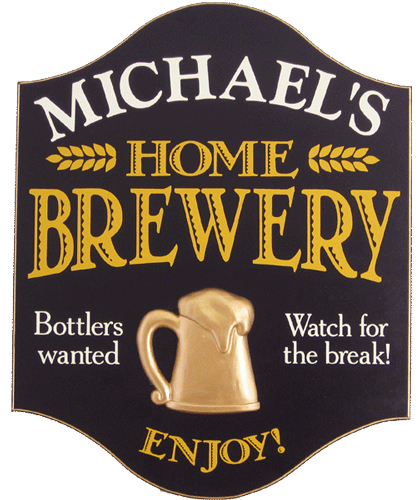 A subtle wheat theme accents this "home brewery" man cave sign, personalized with the name of your choice and arrives ready to hang.
13. Custom Irish Pub Sign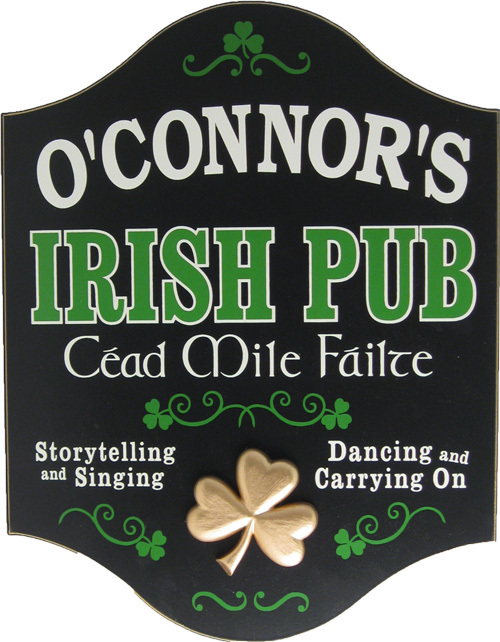 Celebrate the Luck O' the Irish with the Custom Irish Pub Sign, one of our many Irish wall decor plaques.
14. Penalty Box Custom Hockey Pub Sign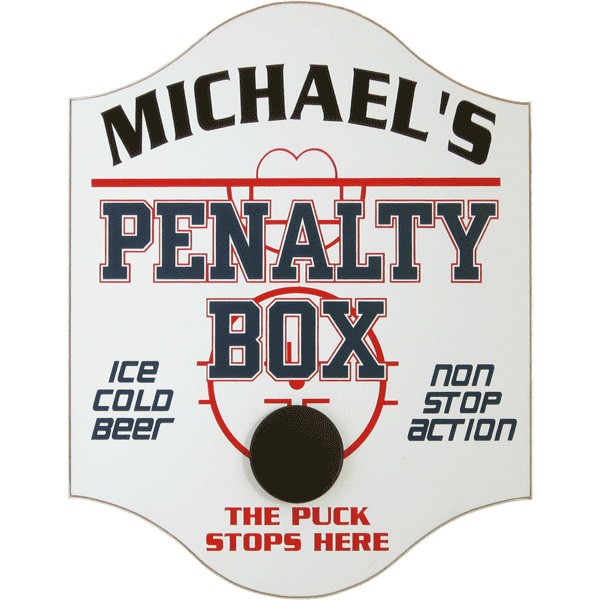 The ideal gift idea for a hockey-themed man cave. Any hockey fan will love this personalized "penalty box" home bar sign, with ice colors and a puck affixed to the front of the sign. "The puck stops here!"
15. Little Man Cave Sign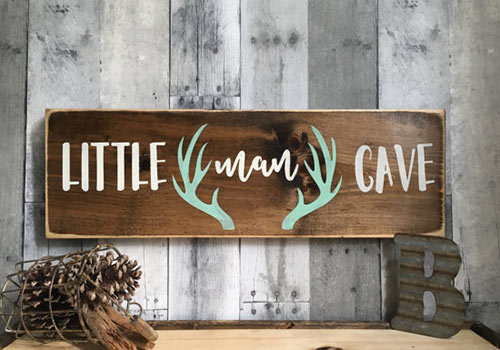 This contemporary design will look great in the aspiring hunter's little man cave.
16. Woodcarved Man Cave Sign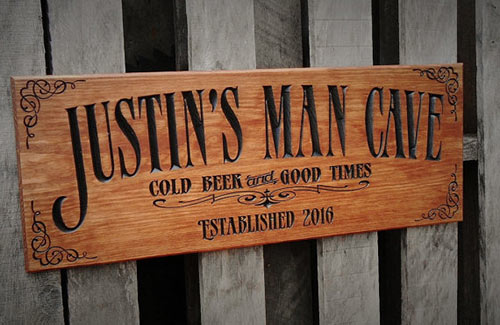 Deep woodcarved lettering and decorative accents into a finished pine wood plaque. Cold beer and good times await!
17. Distiller Custom Quarter Barrel Sign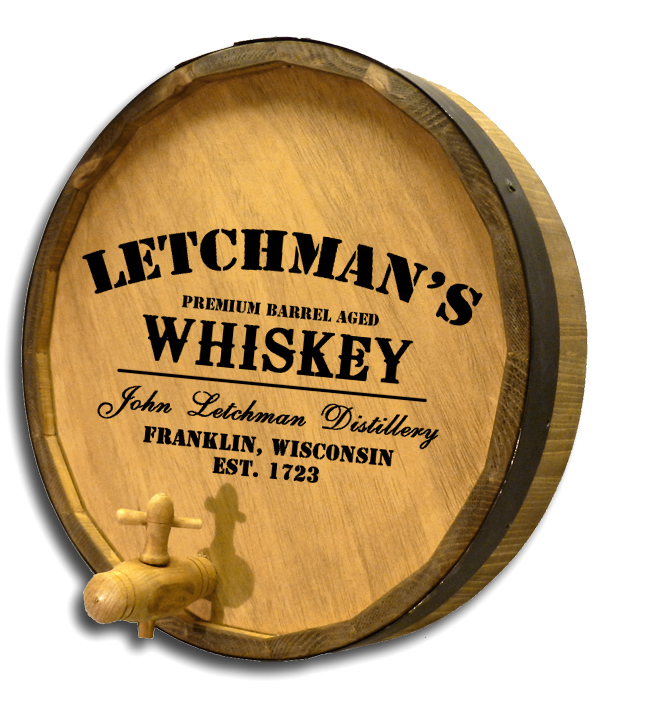 Made from a real oak barrel head and designed like the top quarter of a barrel, this man cave sign is laser engraved with a personalized distillery label to accent the walls of your man cave in authentic brewmaster style.
18. 24 Hours 24 Beers Plaque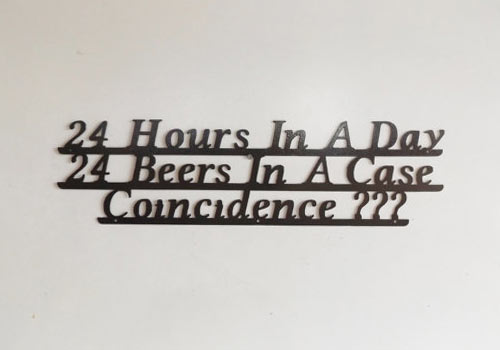 "24 hours in a day. 24 beers in a case. Coincidence???" Maybe.
Beer humor man cave plaque, bargain priced under $30.
19. Beer Mug Barrel Head Sign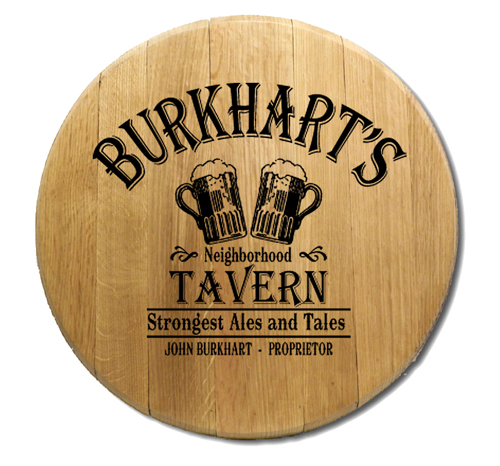 Real oak barrel head made into a sign, custom engraved with our popular "Neighborhood Tavern" design which includes your "proprietor" name and pub name. Ready to hang.
20. Man Cave Darts Plaque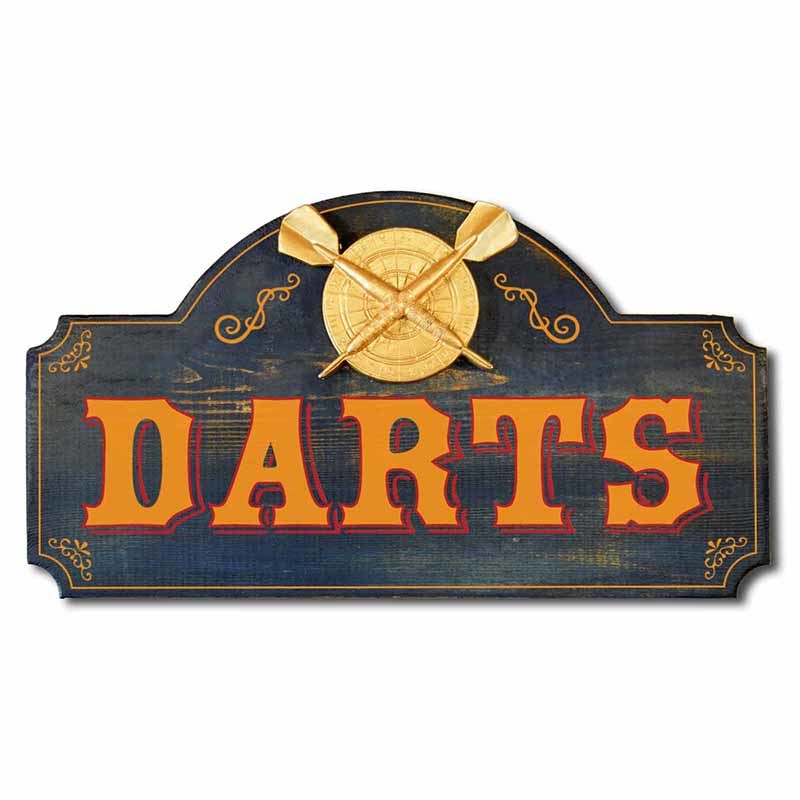 Darts! Celebrate a passion for darts with this vintage style man cave plaque. Plus, this one can be personalized by adding a custom hanging nameboard with your name, resulting in an awesome addition to your man cave.
21. Neighborhood Tavern Man Cave Quarter Barrel Sign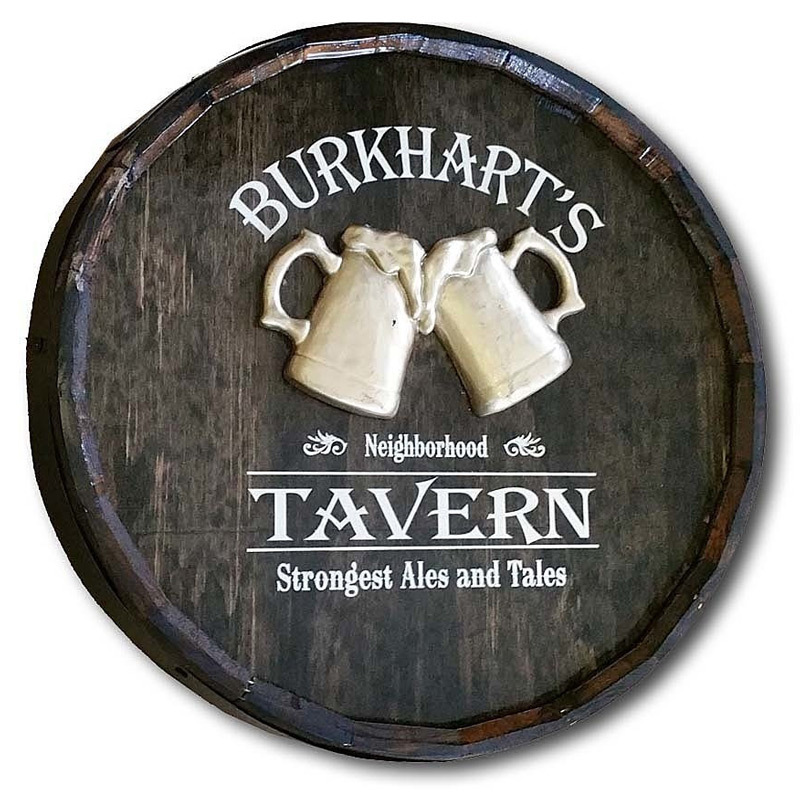 Large 19″ round vintage-style plaque made from a real oak barrel head – including spigot! – and includes a clinking beer mugs applique. A great man cave sign with a classy tavern theme.
22. Custom Bar Sign BYOB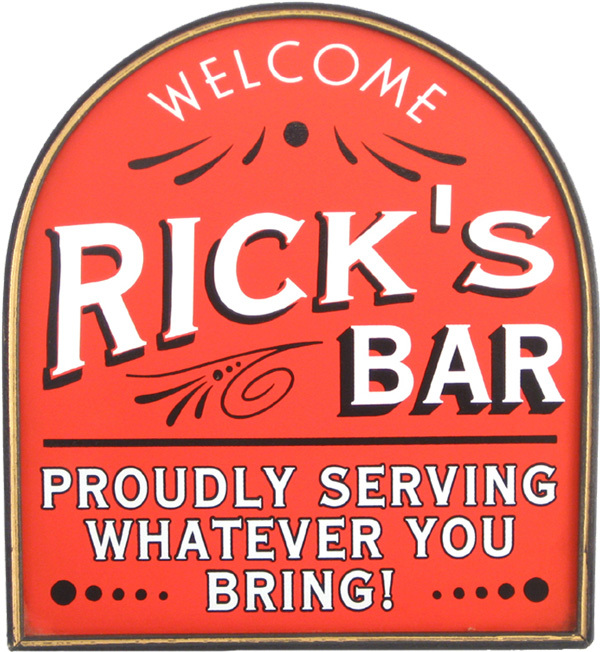 Bright red custom home bar sign for the man cave, with an unmistakable BYOB message: "Proudly serving whatever you bring!"
23. Man Cave Saloon Plaque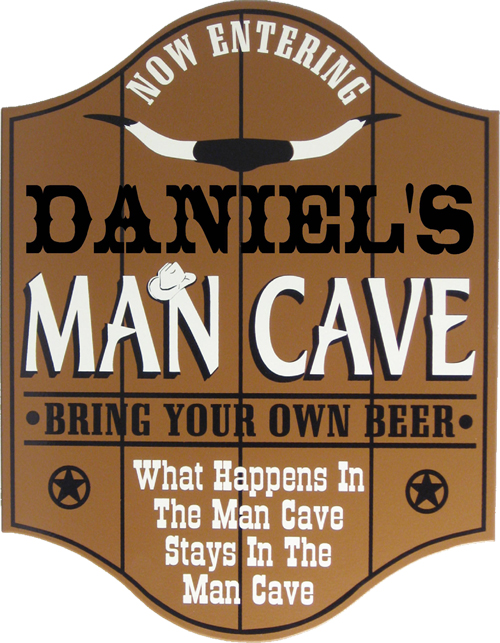 A cowboy saloon plaque for the western-themed man cave. Designed to look like wood slats on the front of a one-horse-town saloon, complete with cattle horns and deputy badges. The sign reads "Bring Your Own Beer – What Happens in the Man Cave Stays in the Man Cave."
24. Golf Clubhouse Plaque Personalized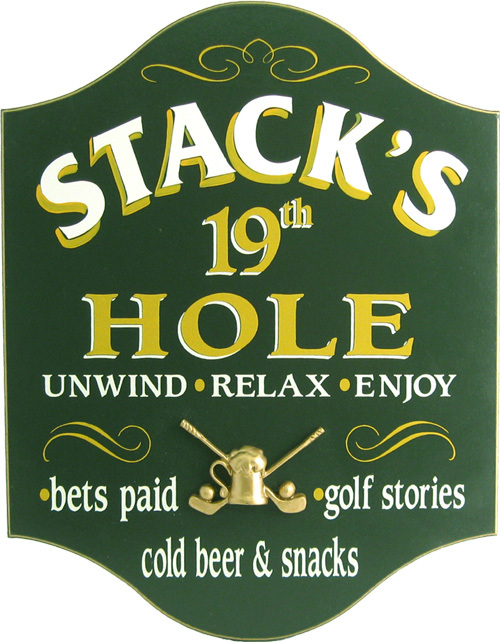 A classy take on the man cave sign. Ideal for a golfer, this golf decor sign presents your man cave as a respectable 19th Hole Clubhouse for getting a bite and a beer after a long, fun round on the links.
25. LSU Tigers Man Cave Sign Personalized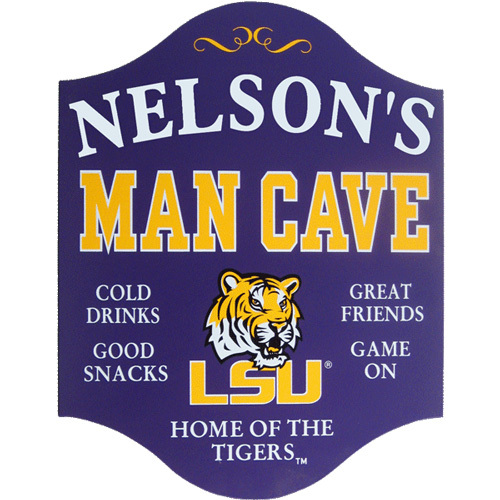 Personalized man cave sign for a fan of the Louisiana State Tigers sports teams. Advertise your home sports pub as the "home of the Tigers," a place with "Cold drinks, good snacks, great friends, game on!"
26. Personalized Garage Sign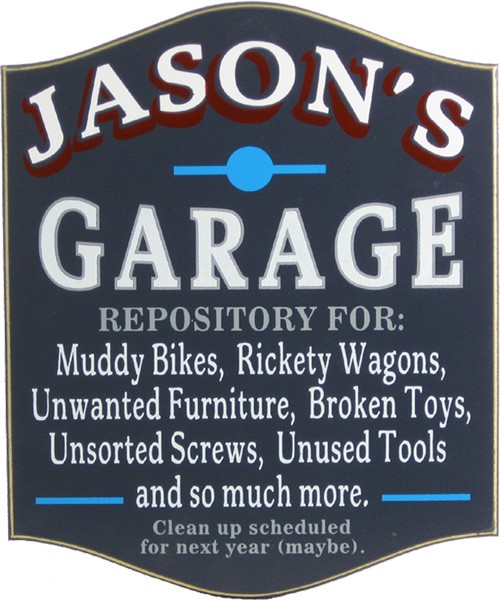 This custom garage sign is a great Father's Day gift idea for a dad with a messy garage man cave. Repository For: Muddy Bikes, Rickety Wagons, Unwanted Furniture, Broken Toys, Unsorted Screws, Unused Tools, and so much more. Cleanup scheduled for next year (maybe).
27. Personalized Guitar Hanger Scroll Design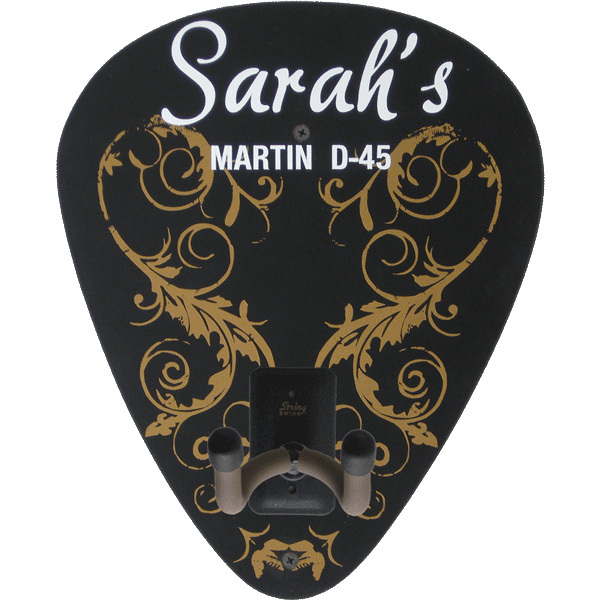 Our guitar pick shaped guitar hanger is a welcome addition to any musician's man cave. Screen printed with an ornate scroll design along with your name and the make of your instrument, this man cave wall decor piece includes a genuine String Swing Home & Studio Guitar Keeper, as well as a keyhole hanger on back for easy door or wall mounting. A popular gift item during the holiday season.
28. Custom Tiki Bar Sign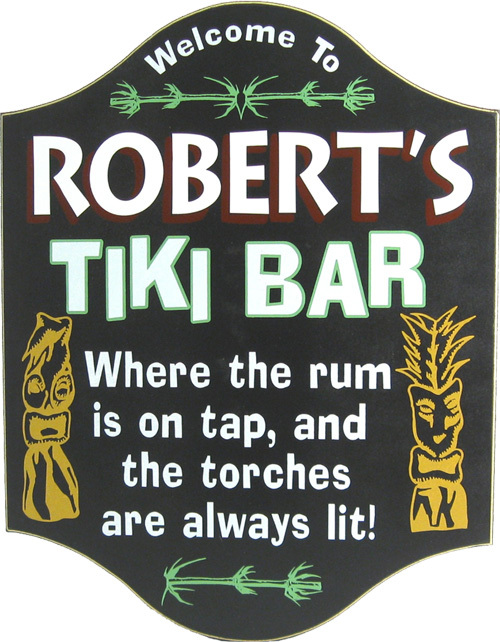 A popular man cave sign for a tiki bar, this exotic-looking plaque reads "Where the rum is on tap, and the torches are always lit!"
29. Irish Man Cave Celtic Sign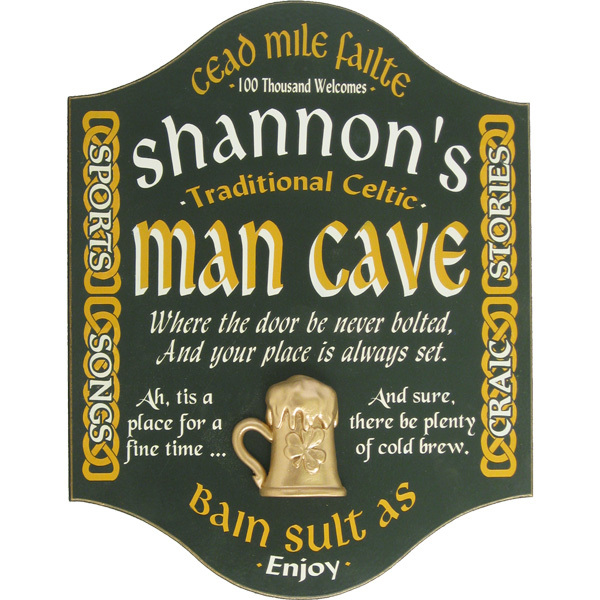 Celtic design man cave plaque, for the authentic Irish man cave pub. 1000 welcomes, Celtic knots, a clover and more on this sign, all of which declares your robust Irish heritage.
30. Man Cave Sign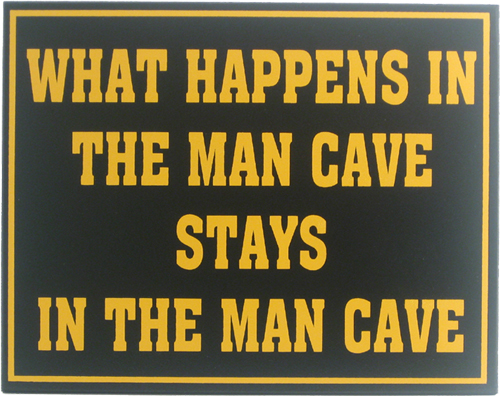 A fun sign for a rowdy man cave. "What happens in the man cave stays in the man cave." Bargain priced under $30.
31. Custom Poker Room Man Cave Sign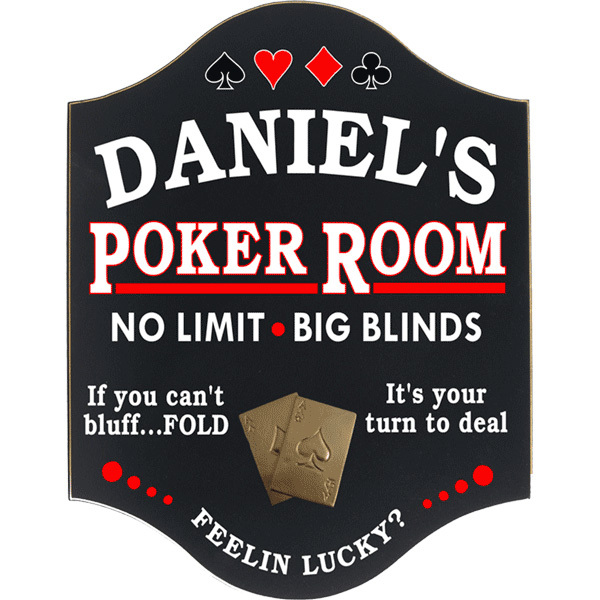 If your man cave is less sporty and more aces-high, big-blind, late-night, stiff-drinking, pulse-racing card playing, this personalized poker room sign might be more to your taste. Ready to hang, and featuring a pair of aces and images of all the card suits, the man cave sign asks, "Feelin' lucky?"
32. Man Cave Warning Sign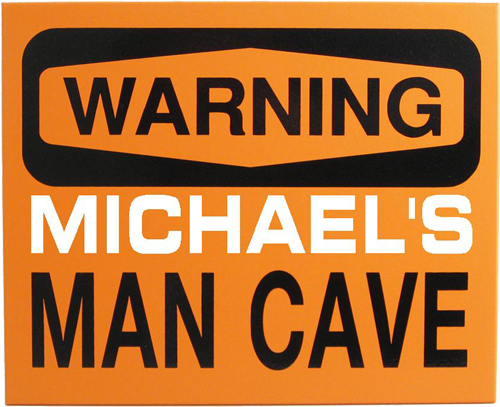 You won't be able to ignore this warning! Bright orange construction style sign claims your man cave as your very own. Bargain priced and personalized for under $30.
33. Bikers Man Cave Sign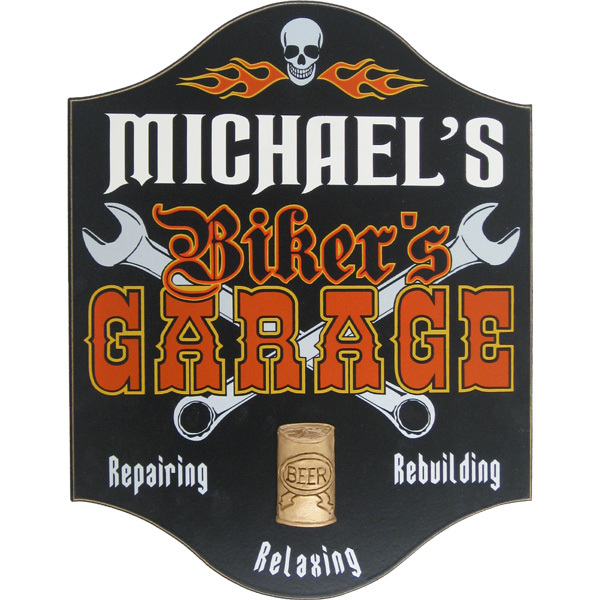 Personalized man cave sign for the biker's garage. Repairing, relaxing, rebuilding, drinking beer and talking shop. All the right emphasis for a motorcycle enthusiast's man cave.
34. Free Beer Tomorrow Plaque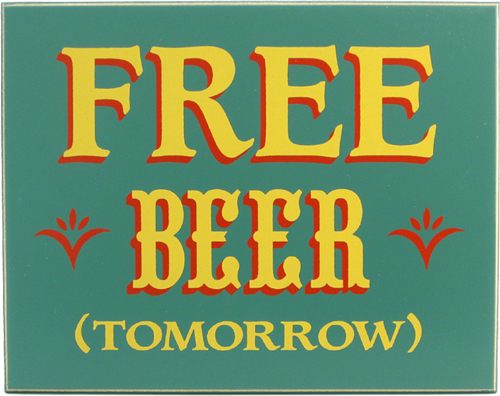 Free beer! (Tomorrow). Add a touch of beer humor to your man cave with this colorful and stylish sign. Bargain priced under $30.
35. Personalized Wall-Mounted Bottle Opener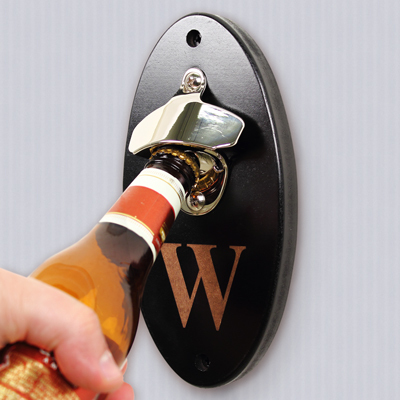 No man cave is complete without a way to open your bottles. Personalized with your initial, this wall-mounted bottle opener is both a useful accessory and an attractive addition to your man cave wall decor.