Last Updated on January 21, 2022
Secret Santa games and Christmas gift exchange parties are so fun, but sometimes it's hard to know what to bring!
Do you go ridiculous, sentimental, whimsical, practical? And what about the budget? You don't want to bring a $50 gift to a $10 party! (Or vice versa…)
Well, we've got you covered. Scroll on for some great Secret Santa gifts that anyone will happy to receive!
Our website is supported by our users. We sometimes earn a commission when you click through the affiliate links on our website. Learn more here.
Top 5 Secret Santa Gift Ideas
Let's start with the best.
1. Custom Birdfeeder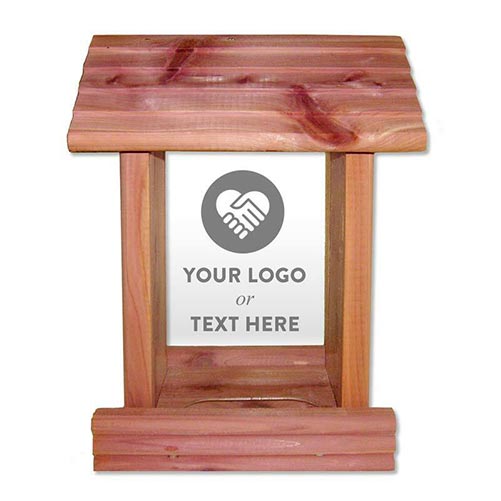 You can have this beauty engraved with whatever you like, but make sure it says Merry Christmas somewhere! This pretty birdfeeder is custom made so there are no two alike anywhere.
It will make a great gift for any age or gender and really spruces up the backyard. It has a nice size to it, so you don't have to be constantly refilling the container with seed, and it will bring all those birds flocking.
What a way to brighten up a dreary winter's day!
2. Herb Garden Kit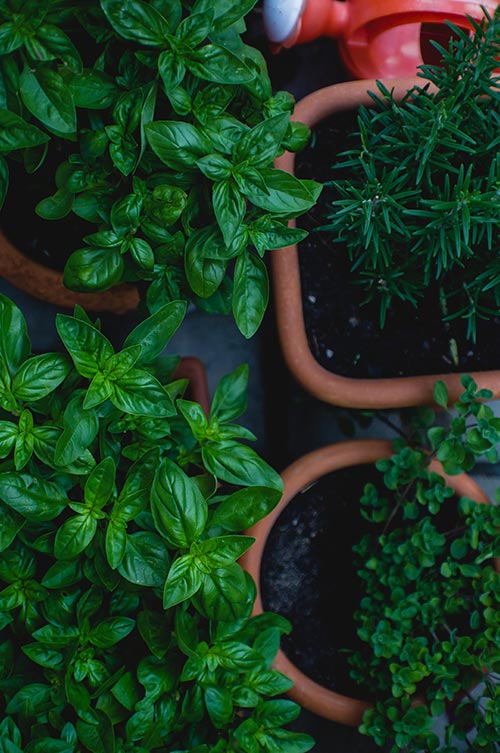 Herb gardens are great gifts: they're inexpensive, easily switched out for other herbs, smell amazing, and don't take up the room that say, a whole garden does!
They cheer up a kitchen windowsill, and the fruits of your labor can be used for cooking, essential oil mixes, potpourri, healing elixirs, homemade lotions and potions, and… well, the list goes on!
Related: Ultimate Gift Guide for Chefs & Bakers
3. Custom Mix Tape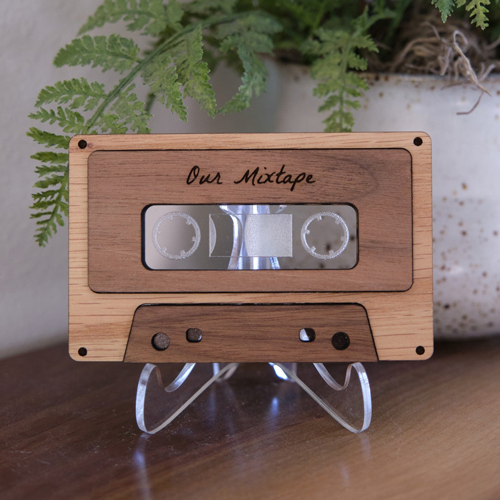 Everyone loves music. And everyone loves a special playlist made just for them. Share your favorites with your Christmas buddy using this gorgeous Custom Wood Mix Tape!
You can personalize it with a phrase, a QR code, or anything else to make it all the more meaningful.
4. Ultimate Movie Fan Popcorn Set
Who wouldn't love to be on the receiving end of this amazing gift set?!
Movie lovers rejoice with this totally amazing giftbox which includes the yummiest of popcorn (a necessity for movie lovers), cozy socks, different seasonings and toppings, all tucked inside the cutest tin.
More: 21 Best Movie Lover Gifts
5. Personalized Oak Barrels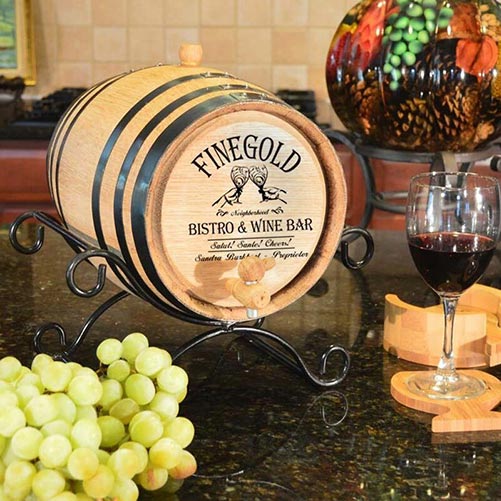 A more sophisticated Secret Santa gift, this gorgeous bistro-themed oak barrel can be personalized the way you like, which makes it a great gift for an office party (think your company's logo).
It really makes a statement, and that statement is all the other party goers wish that YOU were their Secret Santa. They'll remember your amazing gift as they age fine wines at home or put the barrel on display in their home bar.
5 Best Secret Santa Gifts for Her
1. Custom Wine Tumblers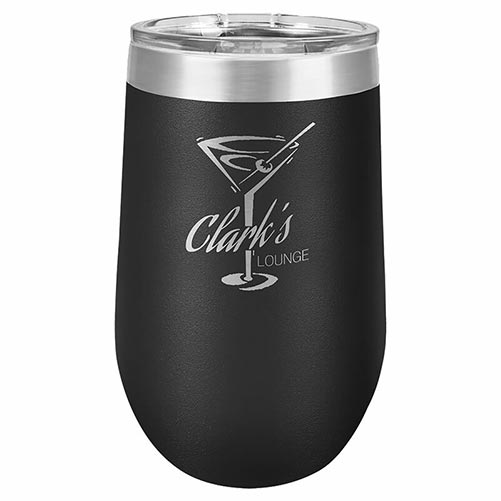 Not only do these wine tumblers look great, with their fancy personalization, but they're practical and useful too! No more fruit flies going swimming in her Merlot, or rain drops diluting her Chardonnay, when you've got a lid. Hurray!
She's going to totally be obsessed with this during backyard BBQs, campouts, tailgate parties, or just sitting on the porch on a lazy Sunday.
Who even needs stemware?!
2. Pizza Blanket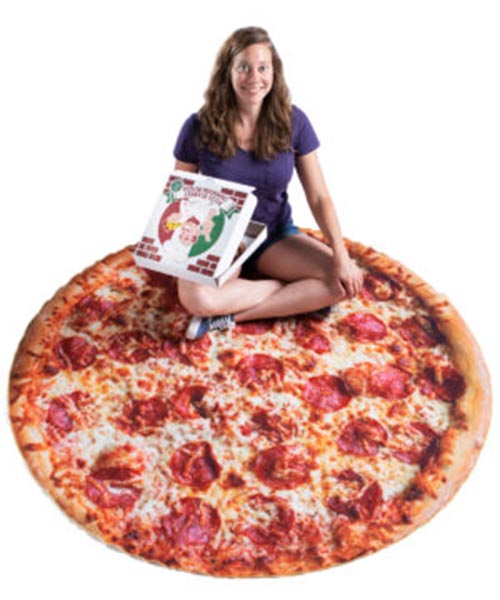 This. This right here. You don't need to scroll any further, you have found THE GIFT TO END ALL GIFTS. If your Secret Santa recipient didn't swoon over your presents (or presence) up until now, never fear. With this pizza blanket, you will be sitting pretty all year long!
3. Not Just Any Candle… Fernweh Candles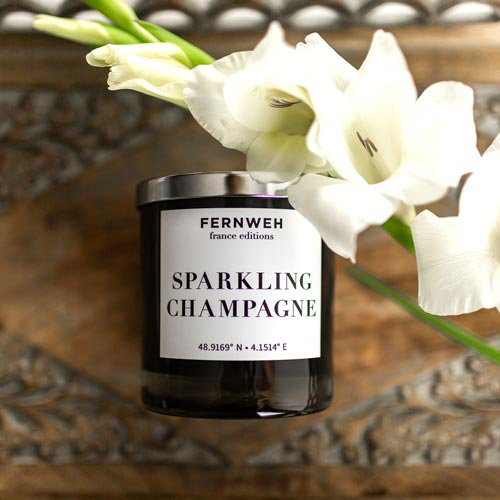 A great candle is always a fabulous gift, and this is a great candle! She will love this yummy scent – or choose another that sounds more like "her." You can't go wrong with a delicious, delightful, decadent, divine candle.
Ok, we'll stop with the alliteration now.
4. Revitalash Makeup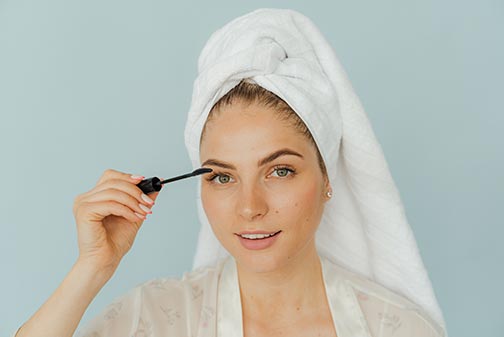 The secret is out: Revitalash Makeup is where it's at! Where what's at, you may ask, you MANCUB YOU? Why, where plump, lush lashes, glowing skin, and long, luxurious hair is at, of course. A tube of this jaw-dropping lash serum is sold every thirty seconds.
Um, yeah.
Get on board with that. She'll love this gift.
5. Wood Tone Music Jewelry Box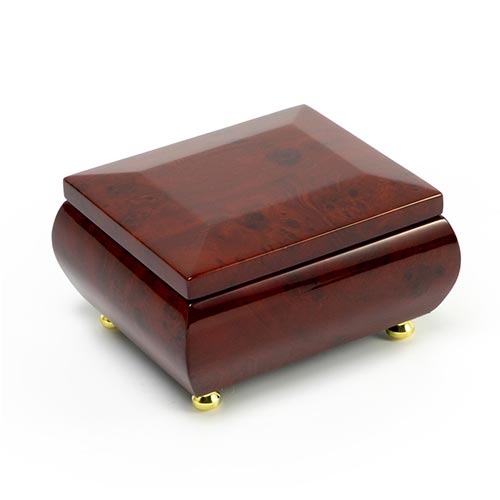 A pretty spot to store all her favorite jewels and gems is a must for any lady! This shiny wooden box is perfect for that.
As if it weren't lovely enough as it is, you can make this Secret Santa gift even better by having it personalized with her name, and choosing the tune that it plays when opened.
Don't forget to add a thoughtful, and personalized card when giving out your Secret Santa gifts this year! Check out our list of 100!
5 Best Secret Santa Gifts for Him
1. House of Cards Poker Room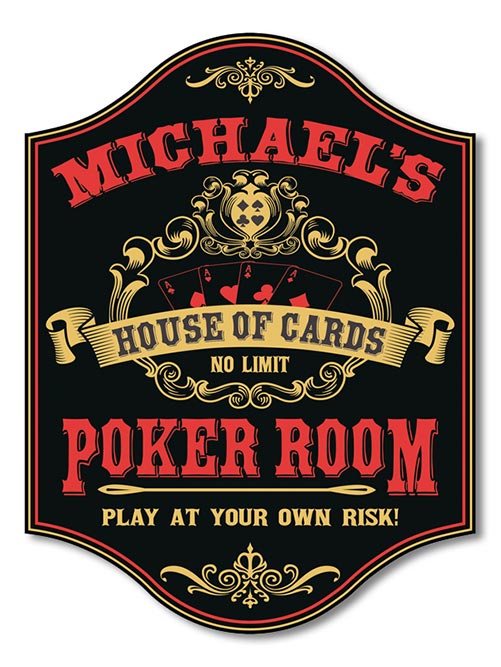 If he loves hosting poker night with the boys (and girls) this is the gift for him! He's going to totally fall in love with this personalized sign, love at first sight really.
Whether he hangs it in his man cave, the garage, the den, or even his office, he's going to smile every time he sees it. And all his poker buddies will definitely wish they had one of their own.
Related: Christmas Gift Ideas for the Home
2. Cracker & Soup Mug Set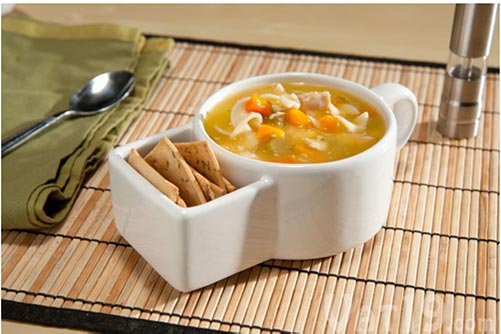 When you need some soup, you needs some crackers, are we right? Of course we are! This adorable and totally functional little dish is the answer to the problem he may not have known he had: where to put the crackers?!?
Now we just need to know, can you fit a grilled cheese in there as well? Asking for a friend.
3. Fireball Shooter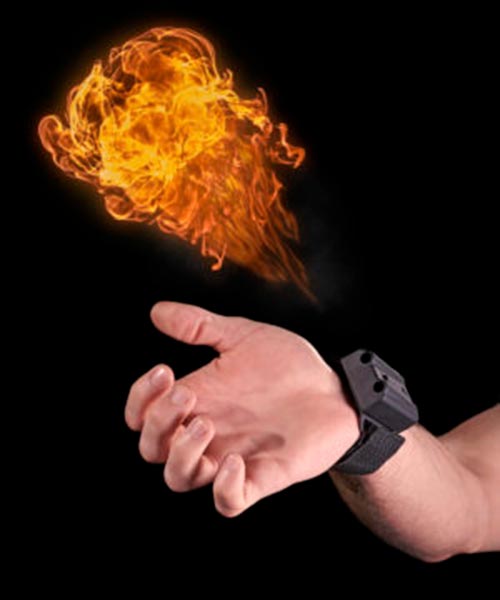 Don't question it. Just buy it.
This mini fire shooter is his dream. Sure, fine, whatever… we don't know him. But he's dreamed about this. We know it.
4. Gone Fishing Wooden Bottle Opener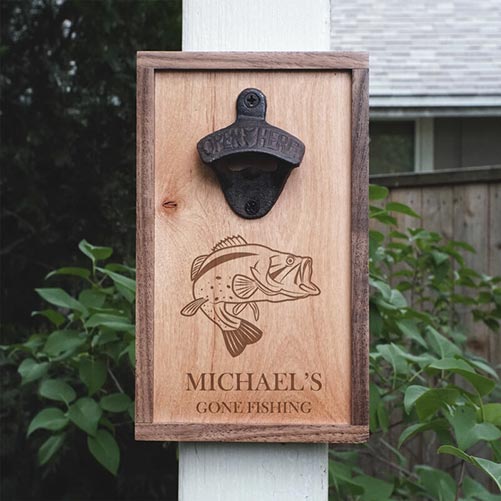 Whether he really has "gone fishing," or just wishes he was (as he stares sadly and morosely out of the office window to a concrete jungle), this engraved wood bottle opener is just the thing to boost his spirits!
No more searching the kitchen for that elusive (and teleporting) bottle opener when you have this amazing one right where you left it.
Related: 50 Personalized Gifts just for Him
5. Snacks From Around the World Subscription
The only thing better than a snack is a snack that keeps on arriving to your mailbox every month! Can we get an AMEN? This set of delicious and unique snacks are going to open up a whole new world of culinary delights for him.
Seriously, the "thank you's" you're going to get after enrolling him in this scrumptious subscription could fill a whole 'nother box…
5 Secret Santa Gifts Under $20
1. Custom Engraved Glass Set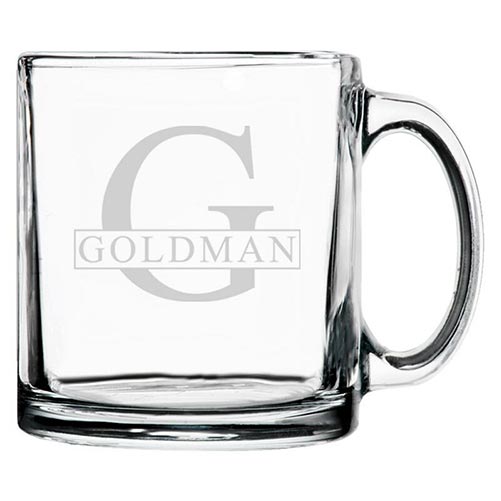 Getting something personalized shows you really put some thought into your Secret Santa gift (not like Sheryl from HR who just gives out Applebee's gift cards… classic Sheryl).
This cute engraved mug really fits the bill when you need something simple, but still unique and thoughtful. You can put their name, or be cheeky, like "World's Best Coworker," or "Future Boss."
2. Beam Up Desk Lamp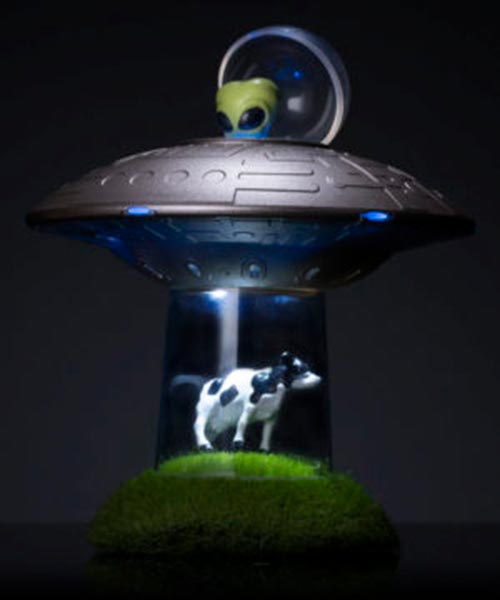 I mean, come on. Who doesn't want one of these babies? The truth is out there!!!!! Like, no really. Right there. On your desk…
This adorable and really funny lamp is a real conversation piece and all their coworkers are going to want one. Complete with lights, sound effects, and magnets (for mooooving that cow).
3. Mini Inflatable Tube Guy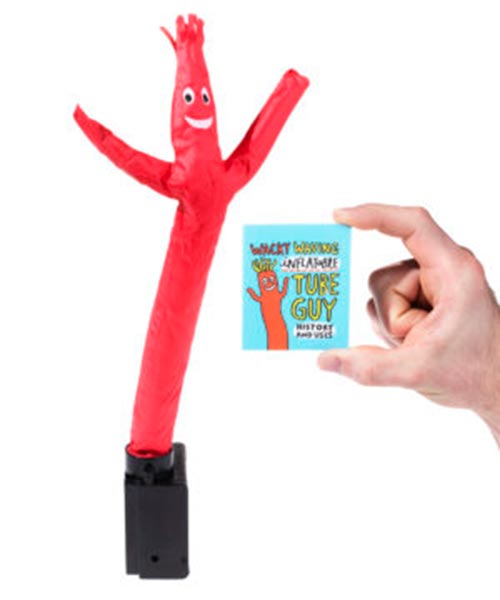 There's just something oddly soothing about those inflatable sales guys that wave their arms frantically. It reminds us to slow down and pick out a Land Rover already… or something.
Well, anyway, a fun little tabletop one is a cute gift. We dig this little guy with his cherubic face and his freestyle dance moves. And he won't try to sell you a mattress, so that's cool too.
4. Soap Gift Set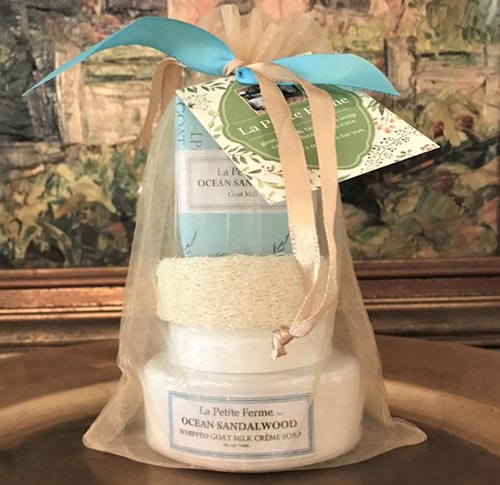 You can't go wrong with soap! It's not like you're ever going to not need some, right? Kind of like toilet paper, except no one wants toilet paper as a gift… unless it's early 2020.
Anyhoo!
This set of yummy smelling, decadent goat's milk soap is everything he didn't know he needed. It turns any normal bathroom into a soothing spa.
5. Monogrammed Plaid Scarf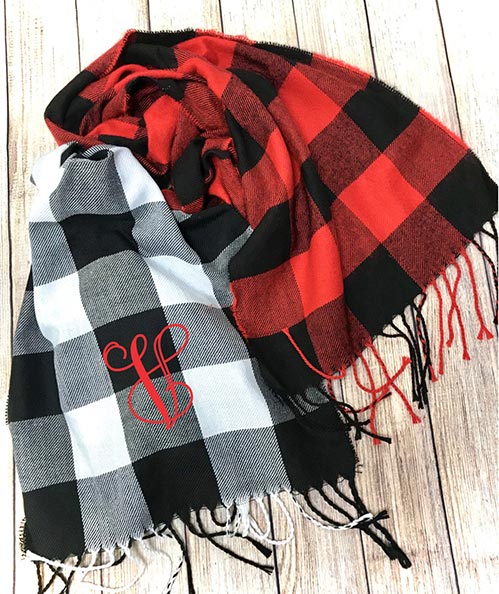 Buffalo plaid never goes out of style! This cashmere (yes, we said cashmere) scarf is so stylish and timeless and posh and warm that we kind of want to order a whole bunch.
It would be amazing all on its own, but once you personalize it with his monogrammed initials… well, come on. Gift. Of. The. Year.
Related: 50 Warm & Cozy Gifts for the Holidays
5 Secret Santa Gifts Under $5
1. Weird Gift: Food Soda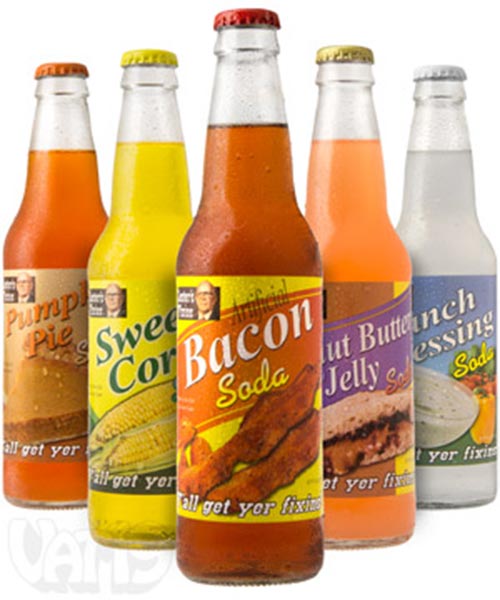 You know, sometimes you just have to think outside the box! These totally tubular "food" sodas are perfect for someone who is hard to shop for, already has everything, or has a cast-iron stomach. Talk about an ice-breaker at a party: pass some of these around!
Available in a six pack with ALL the flavors, these are going to be the gift that the whole party remembers (not like lame-o socks).
Or maybe they'll just prefer a unique tea gift instead…
2. DIY Secret Santa Gift: Home Baked Cookies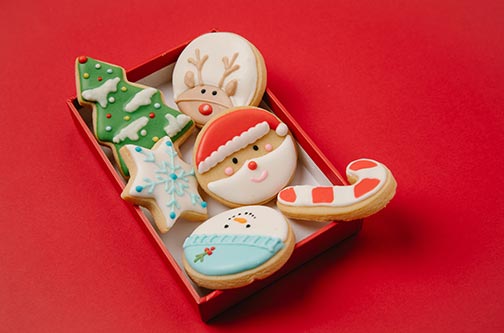 If you're out of time (and, you know, money) then bake them some delicious cookies! You can never go wrong with favorites like chocolate chip and sugar cookies. Add cute treat bags like these for the "homemade" look.
3. Mini Notebooks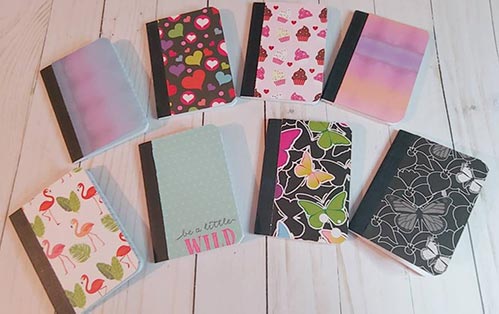 You ever wished you had a piece of scratch paper at hand? You know, like when inspiration for a new poem strikes? Or your wife calls and tells you to pick up a few things at the supermarket and as soon as you hang up you have no idea what those few things were?
Yeah. We know.
Enter in these cute and necessary mini notebooks! Whether you keep them in the car, in your bag, at home by the phone, or whathaveyou, these will fit the bill in a pinch!
4. DIY Hand Painted Ornaments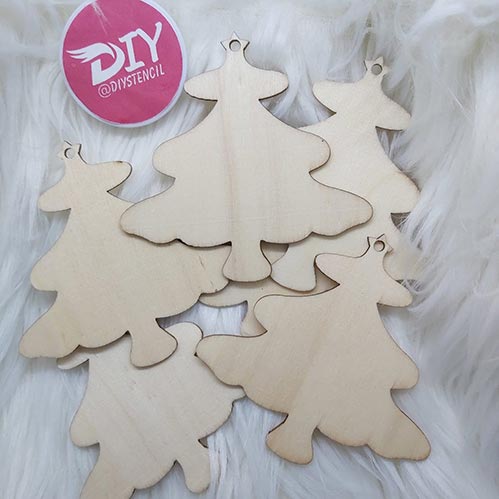 It's easy to really customize a gift and this is a great way to do it! Bring your creative side to the table and really make these laser cut Christmas trees your own.
With a little paint, maybe some glitter, some personalization, you have an ornament to treasure. This is one Secret Santa gift that they'll love unwrapping each December as they decorate their tree.
5. What a Beautiful Day Bookmark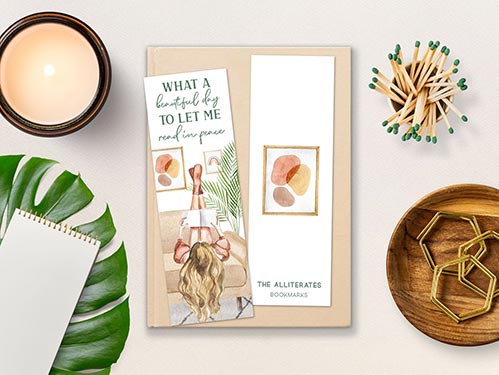 A day where you let me read IS a beautiful day! Commemorate the idea and the notion with this sweet and pretty bookmark.
If you have a coworker, favorite aunty, grandfather, friend, child, or spouse, who just loves to bury their head in a book, they will love having a place to mark their spot. Just one more chapter!
Related: How Much Should You Be Spending on Gifts?
5 Best Secret Santa Gifts for Coworkers
1. Personalized Profession Pacific Crest Sign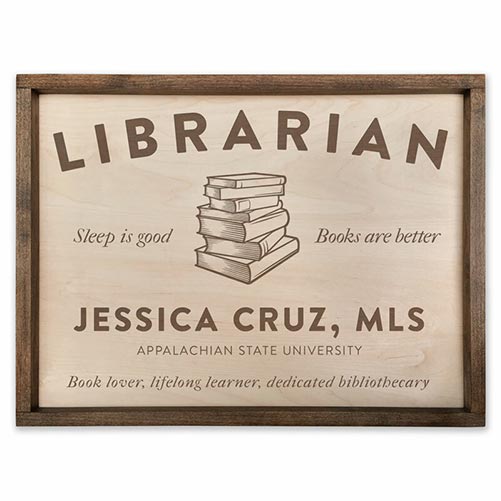 A personalized sign is such a great way to show thoughtfulness in your gift giving! This one is just gorgeous with its custom engraving.
It's made in Oregon, and you don't have to say "Librarian." You can customize the wording any way you like. Substitute "Bibliophile," or "Book Worm," or whatever other title you prefer. (How about "Book Dragon"?!?! Yes? Yes?!)
Related: Best Gifts for Book Lovers, Bibliophiles & Librarian Types
2. Custom Bobblehead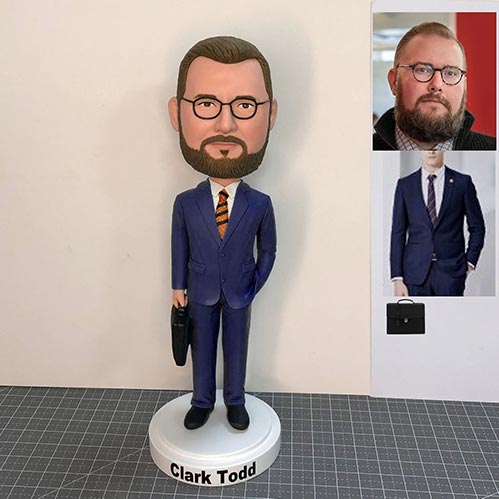 Who doesn't want to be a bobblehead? Um, no one we've ever met.
Simply supply a photo of your coworker and in no time you'll have the perfect gift: a bobblehead of them! They will definitely clap their hands, grin ear to ear, maybe erupt into a fit of belly laughter.
What they won't do? Look bored, and sigh, "thanks."
3. Portable Nap Pillow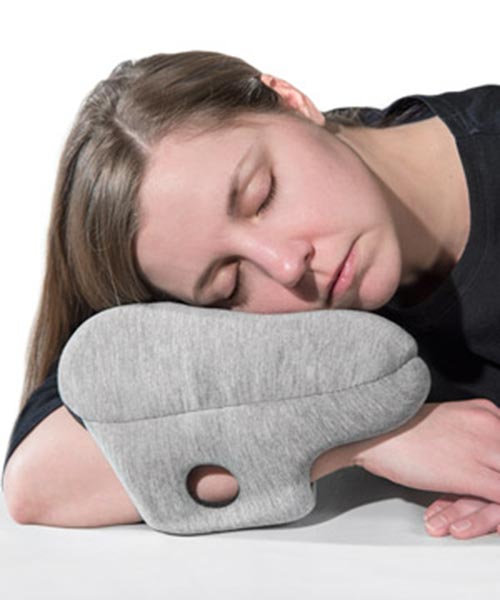 Look, I've been alive and going to sleep for over 40 years and I STILL don't know where to put my arms. That's okay; this portable napping pillow solves all those problems and more!
Such as, how to get in a quick 40 winks during that Zoom meeting, or will anyone notice if I bail on the latest coworker's birthday cake and instead check my eyelids for light leaks?
4. Gift Card Book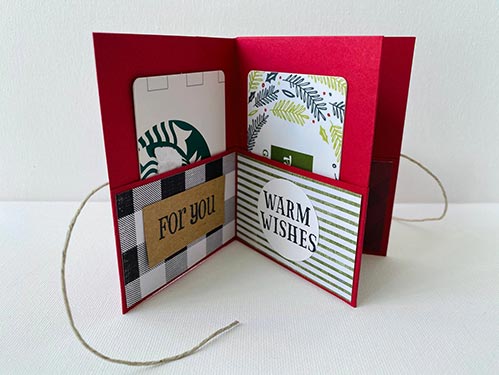 Sometimes, if you don't know the person well, it's really hard to find the perfect gift! That's okay, because everyone and their brother and their brother's dog and their brother's dog's adopted sister, love gift cards.
This cute Christmas count-down gift card book is like an Advent Calendar for grown-ups!
5. Personalized Notepads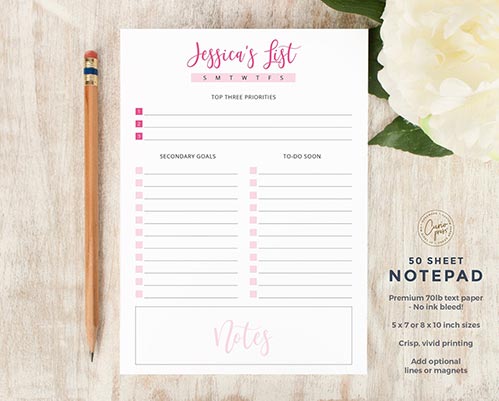 A great gift for the receptionist or really any coworker, this notepad is totally personalized and is useful for day to day use! No more bland sticky notes or lined yellow paper, no sir.
Would also be great for anyone in your life, not just coworkers. How about your babysitter, piano teacher, school principal, or housekeeper?
Top 5 Funny Secret Santa Gifts
1. I'm Kinda a Big Dill Mug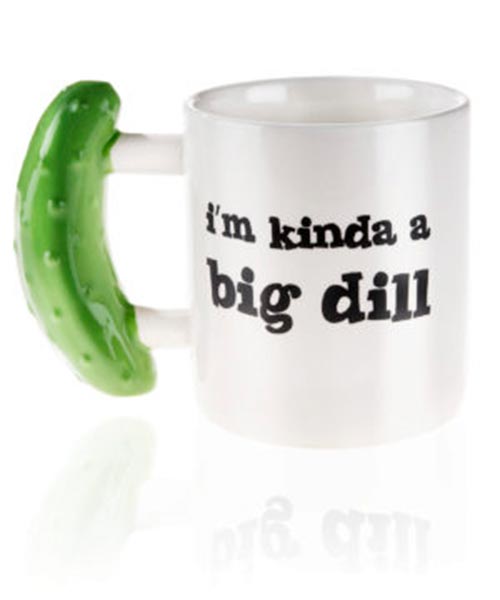 Because it's true, that's why! They are a big dill! This funny and punny mug will make them laugh, and using it at the office is only funnier. Everyone needs a favorite mug: here's theirs!
2. Flickin' Chicken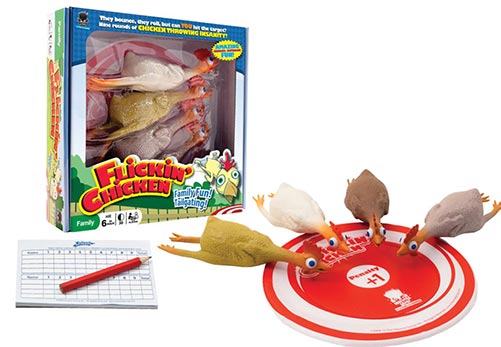 Sometimes you just have to admit YOU DON'T KNOW WHAT TO BUY THIS PERSON.
That's okay, because there's Flickin' Chicken! It's all about who can flick their rubber the chicken onto the target. Sounds like Saturday night shenanigans to us!
3. Worlds Hottest Chocolate Bar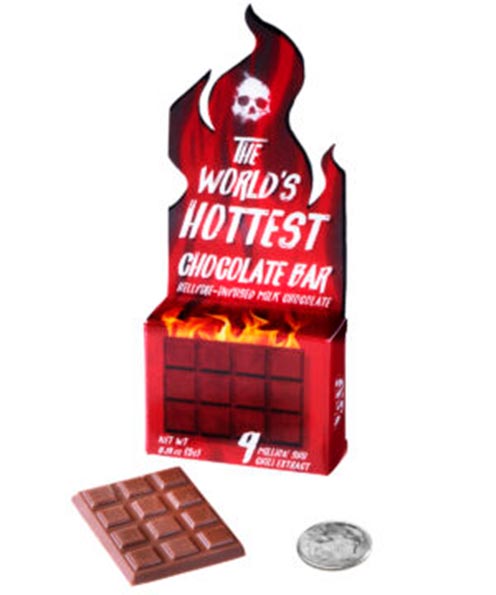 Okay, you could go with a bar of Lindt or Hershey's, but why would you? Not when there's the world's hottest chocolate around! When you need a fun gift for a fun person, look no further than right here.
(Then you can have even more fun watching their face turn red after encouraging them to "just try it already!")
4. Emergency Alcohol Keyring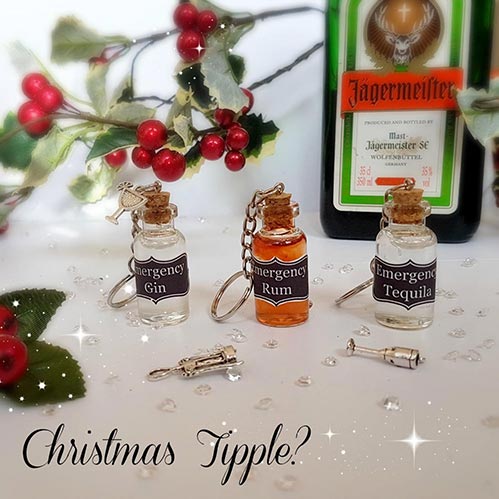 Face it. We've all needed emergency alcohol at some point. Just like we've needed emergency tacos, emergency cake, and emergency midnight Cheetos. But as far as we know, they haven't invented keychain versions of those last three… sad face.
Anyway, this emergency alcohol keychain is sure to provide some laughs and some much needed… well, you know. Liquid courage. A Christmas tipple, anyone?
5. Slug Night Light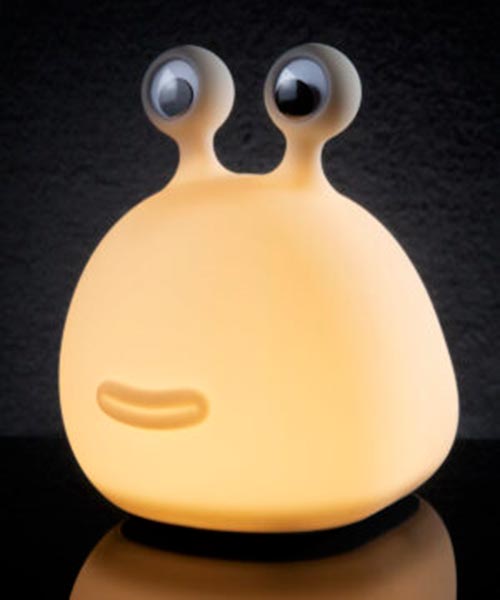 Why a slug night light? Um, the right questions is actually, why NOT a slug night light? Sleep peacefully as Mr. Slug guards you while you slumber. You can adjust how brightly he glows by pinching his eyes together.
Stop being weird about this. We love Mr. Slug! And don't worry, he won't leave a slimy trail behind him.
Read Next: Family Gift Exchange Games for the Holidays
Pin It