Last Updated on January 21, 2022
Ready to make your Christmas card this year?
Yeah… I'm not either. But not to worry! With our list of the 100 best personalized Christmas card templates, you'll be printing off your holiday cards in no time.
Whether you need something for your annual mass mailing, or are looking for a special card to go to a specific recipient, we have it all. Browse on for the ultimate holiday card collection!
Our website is supported by our users. We sometimes earn a commission when you click through the affiliate links on our website. Learn more here.
10 Best Personalized Photo Christmas Cards
1. Garland Framed Photo Merry Christmas Card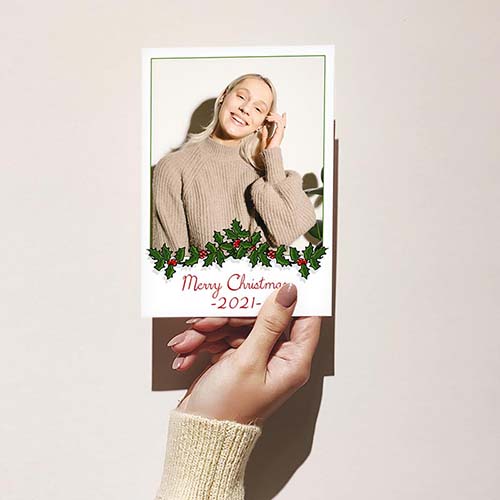 Here's a classic, simple Christmas card framed with a garland of holly. It's perfect to include a photo of yourself and family (or pets, anyone?), wish your loved ones a Merry Christmas, and write a personal message on the back.
2. Tidings of Comfort and Joy Christmas Card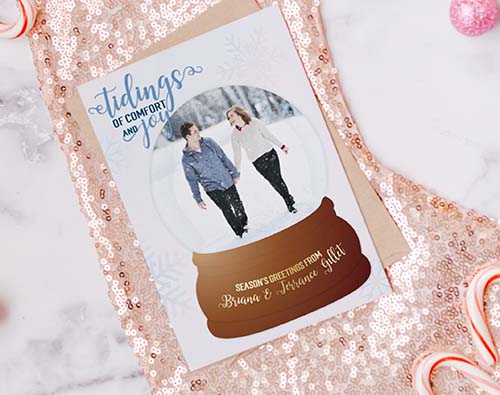 "Tidings of comfort and joy." Wish the season's greetings from your family.
3. Midnight Scenery – Merry Christmas Card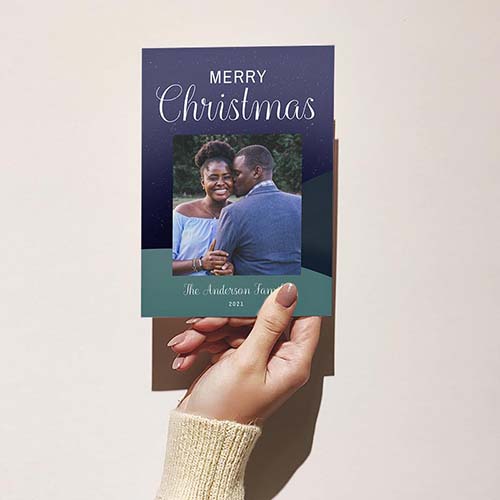 A starry night provides the ideal background for your family photo.
4. Couple's Portrait – Green Merry Christmas Card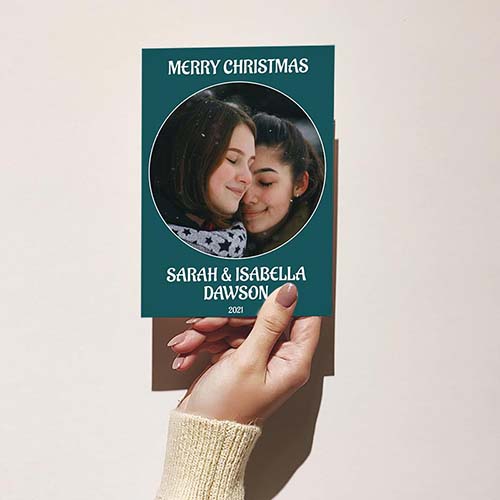 This green Merry Christmas card is perfect to display your favorite photo of the both of you.
5. Snowflake Happy Holidays Card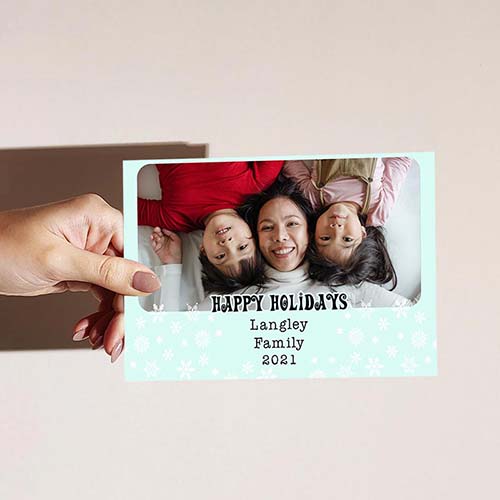 This snowflake filled Happy Holidays card is perfect for anyone that wants to spread a little winter joy.
6. Merry Christmas Photo Card – Instant Download Template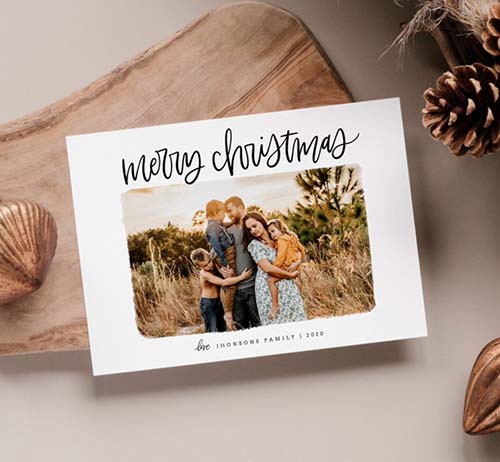 Simple yet pleasant, this card shows the focus where it belongs – on family.
7. Peace on Earth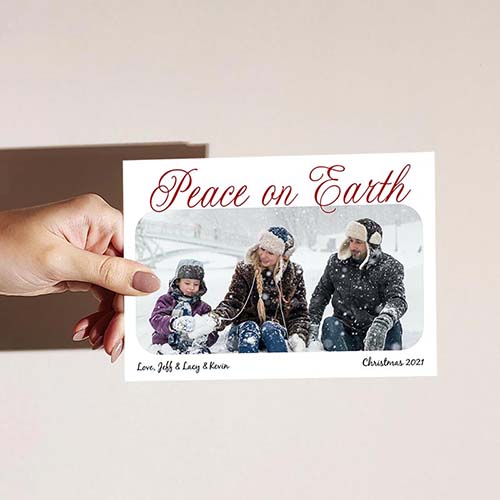 The message is simple, but eternally profound: Peace on Earth. Personalize it with your family's details and photo!
8. Plastic Card Photo & Message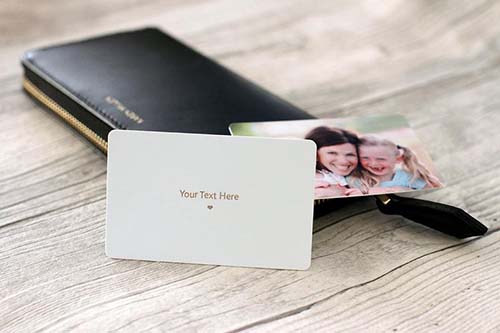 Let them take your Christmas card wherever they go with this unique idea.
9. Personalized Cardinal Christmas Card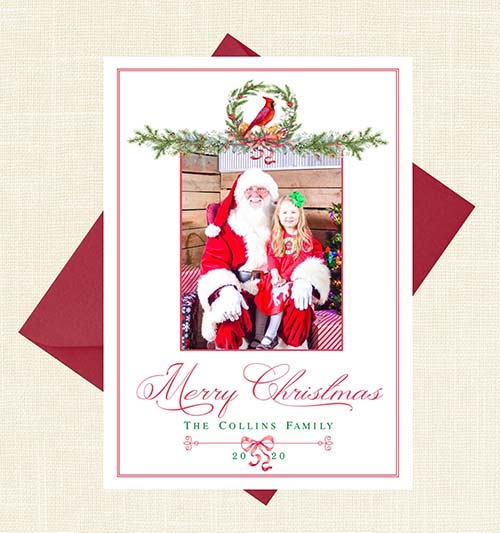 This beautiful holiday card will be loved by anyone who adores a vintage Christmas. Simply personalize with your photo, name, and year then you are ready ship!
10. Digital Download – Gingerbread Cookies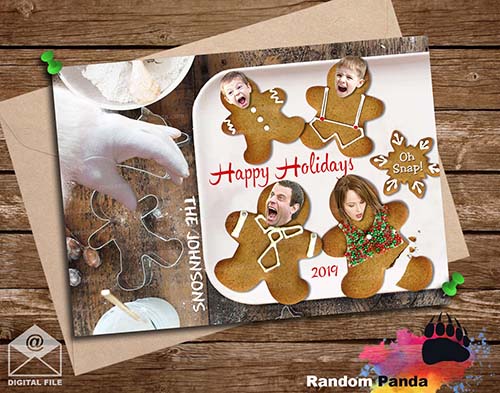 Who doesn't love a clever Christmas photo card? Oh snap, we do!
Top 10 Personalized Christmas Cards
11. For Nanny and Grandad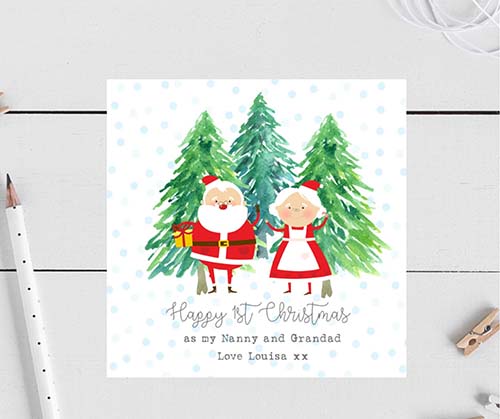 How sweet is this?! A "Happy 1st Christmas" card for grandparents everywhere! If you've welcomed a new addition to your family this year, thereby creating new grandparents as well, then this is the perfect card to show your love and appreciation.
12. Merry Christmas Photo Collage Greeting Card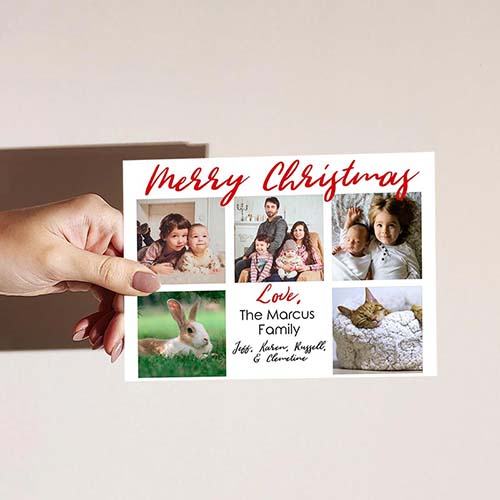 This photo collage Christmas card is the perfect way to share multiple photos this year!
13. Classic Truck Hauling Christmas Tree Card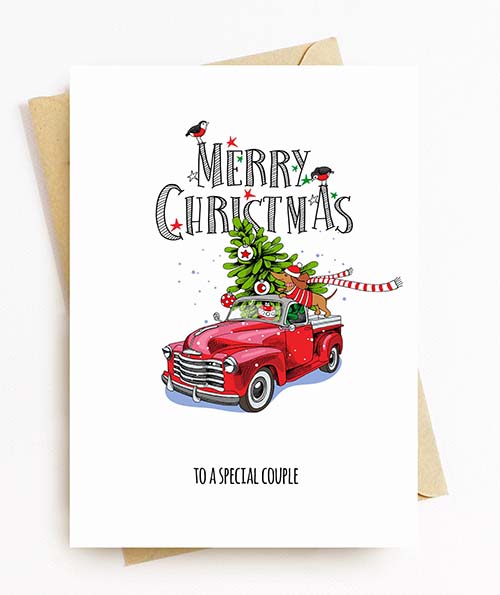 Modern artwork meets a traditional design. This truck hauling a Christmas tree is perfect for anyone that loves a classic Christmas card!
14. Woodland Animals Christmas Wishes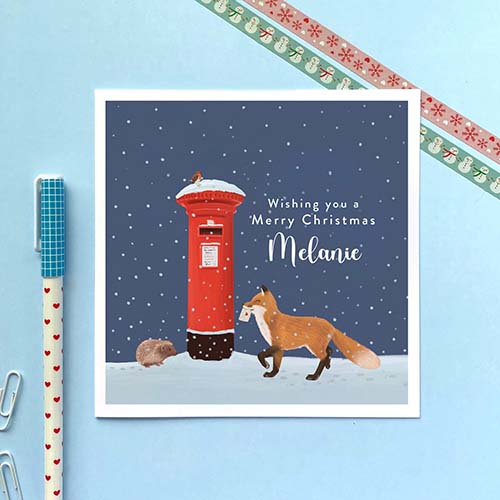 Here's a cute card with woodland creatures sending their wish list to the north pole. Featuring a personalized merry Christmas message on the front, this card is sure to spread a joyful glee this Christmas season.
15. Snowy Merry Christmas – Pet's Greeting Card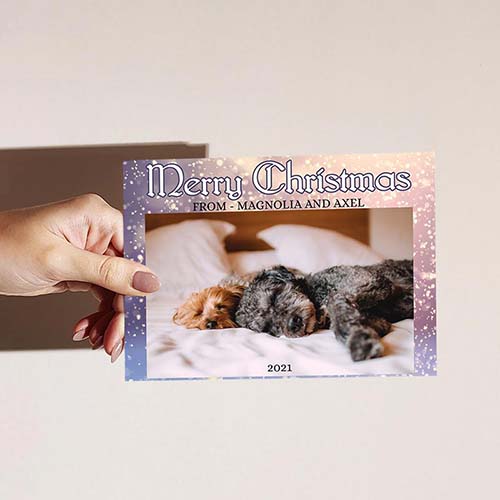 Who doesn't love a sweet card from their furry friends?
16. Disney Christmas Socks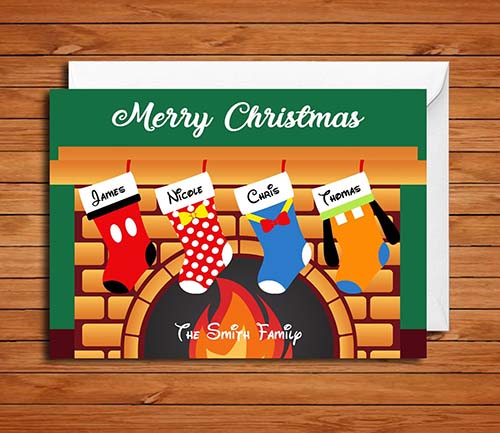 For the Disney-loving families out there – this card is for you!
17. Berries & Foliage Christmas Card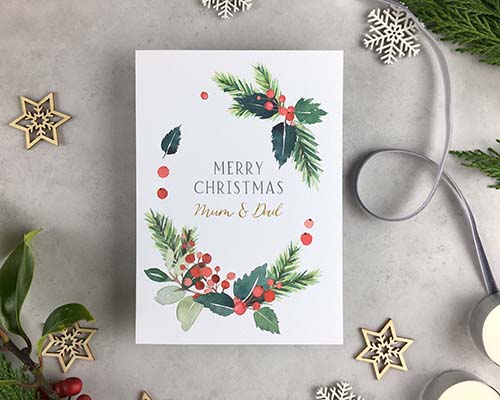 With a sweet touch of berries and foliage, this is a beautiful card to give anyone this holiday season.
18. For Auntie & Uncle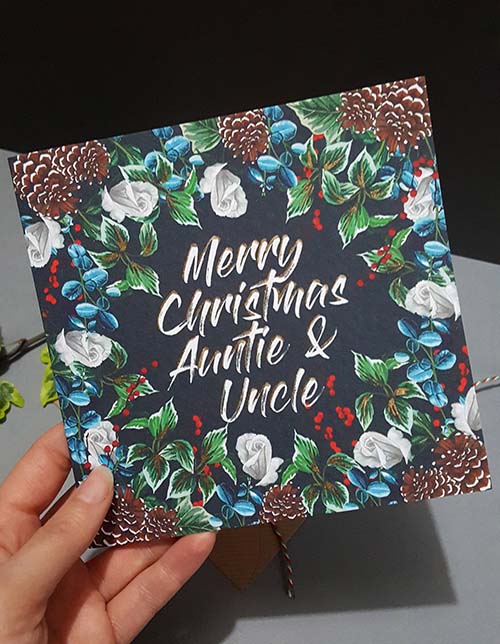 Merry Christmas Auntie & Uncle!
19. Happy Holidays From – Pet's Holiday Card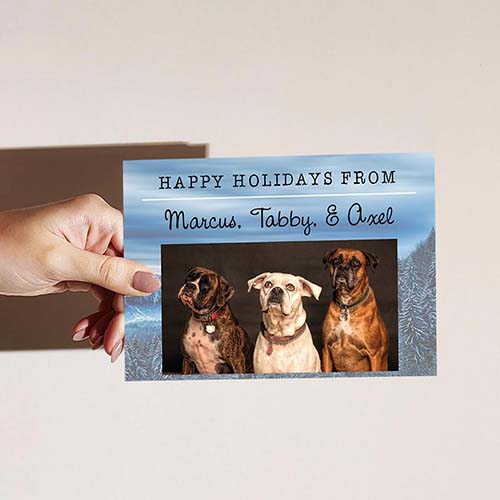 Let your family, friends, vets, and pet daycares share in the season's greetings with this sweet "Happy Holidays" card from your pets!
20. Grinch Quote Christmas Card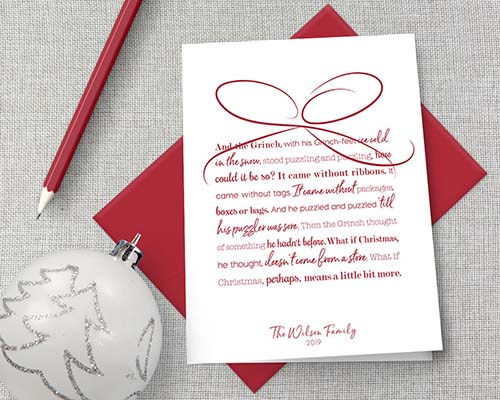 "And the Grinch, with his Grinch feet ice-cold in the snow, stood puzzling and puzzling. How could it be so? It came without ribbons! It came without tags! It came without packages, boxes or bags! And he puzzled and puzzled, till his puzzler was sore. Then the Grinch thought of something, he hadn't before. Maybe, Christmas, he thought, doesn't come from a store. Maybe Christmas, perhaps, means a little bit more."
10 Funny Personalized Christmas Cards
21. Meowy Christmas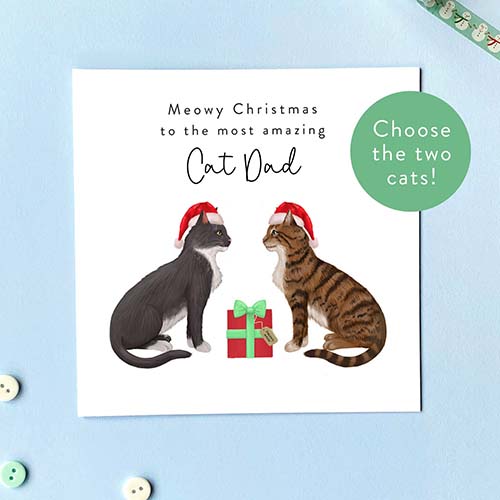 For all the Cat Dads out there… Merry Christmas.
22. Nothing Says Christmas…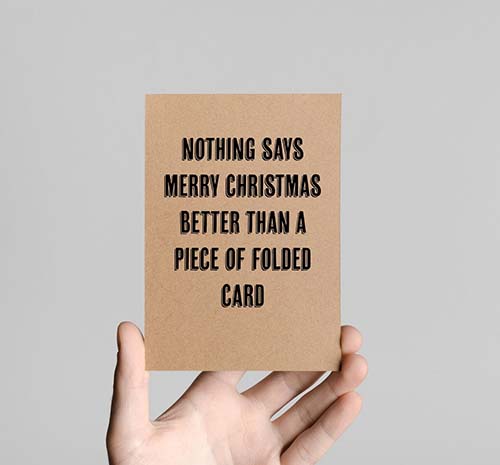 "Nothing Says Merry Christmas Better Than a Piece of Folded Card." Pretty much, amirite?
23. Personalized Giraffe Card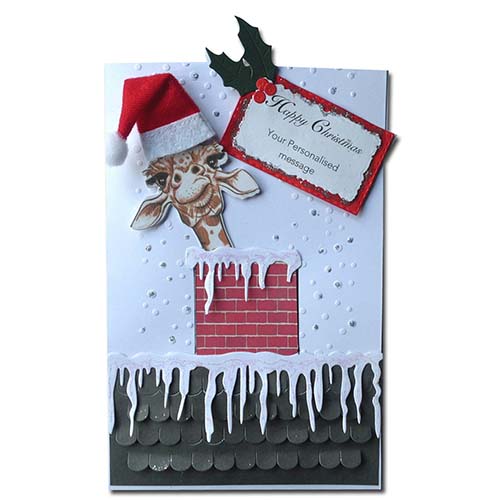 Because… nothing says Christmas like a giraffe poking its head out of a chimney. Or something like that.
24. Merry Slothmas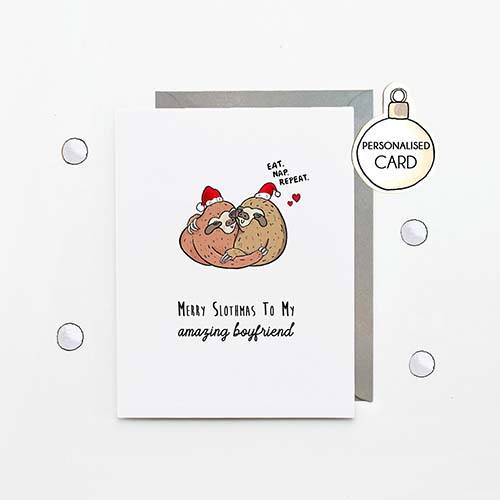 What is sweeter than a "Merry Slothmas"? ❤
25. Family Stocking Stuffers Holiday Card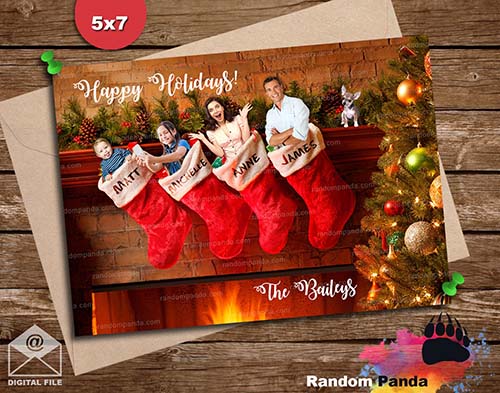 Stuff yourselves into stockings and send yourselves into everyone's mailbox with this super-dorky card!
26. Crazy Ginger Bread House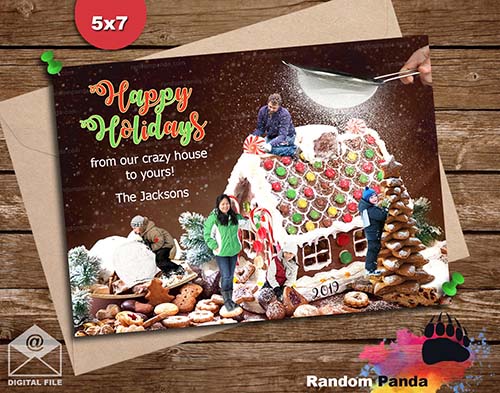 Gingerbread house making is now officially an art form and full-time hobby. For crazy people.
27. Bah Humbug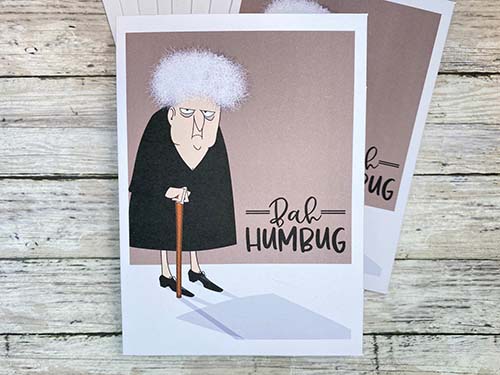 Don't love the idea of sending cherry and gleeful holiday cards? Or maybe you know someone that doesn't like to receive them! Either way, this hilarious card is a great way to say "Bah Humbug" this holiday season.
28. Excited to Annoy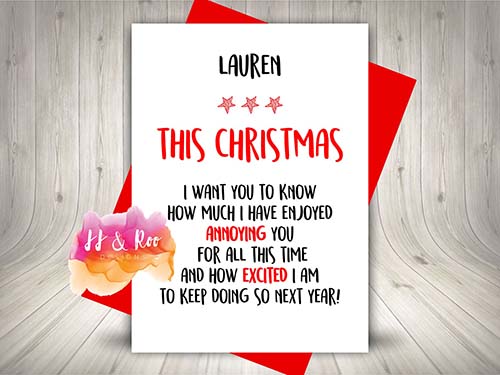 "This Christmas I want you to know how much I have enjoyed annoying you for all this time and how excited I am to keep doing so next year!"
29. Blitzen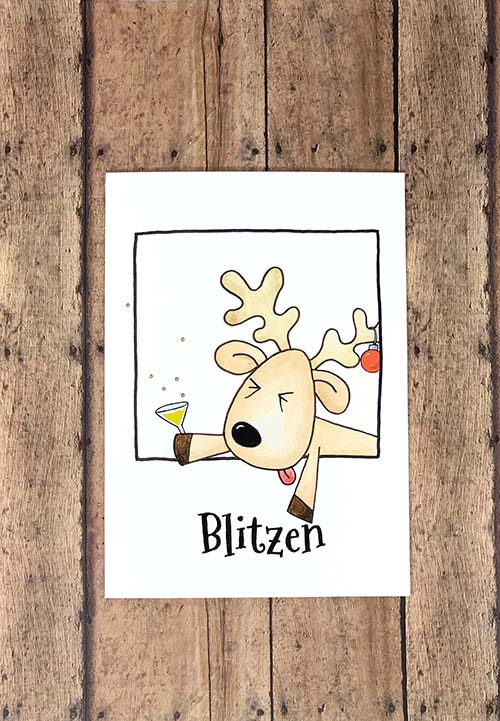 This funny card is perfect for all your friends that will be looking like Blitzen this year – cheers!
30. Hiding Santa and Rudolph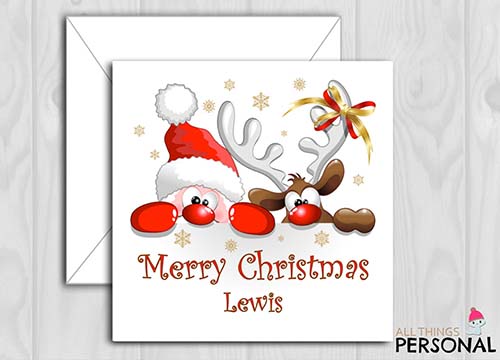 It's just cute!
10 Best Religious Personalized Christmas Cards
31. Thrill of Hope Christmas Card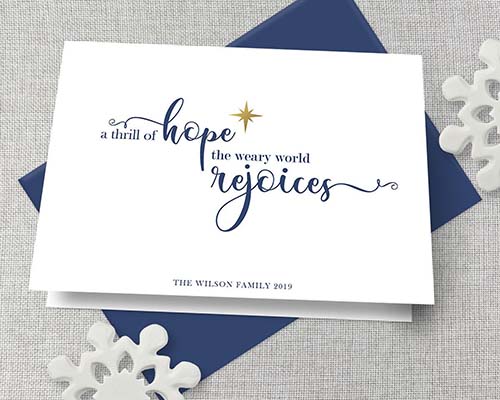 "A thrill of hope, the weary world rejoices." A favorite line from a favorite Christmas carol.
32. Joy to the World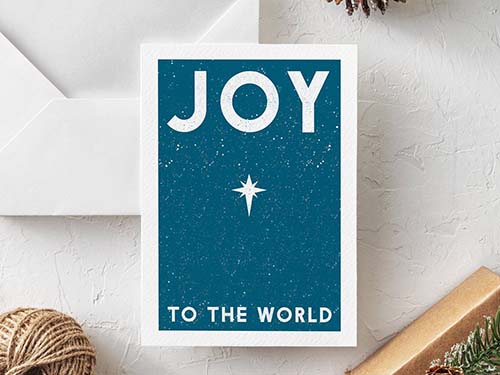 "Joy to the World." That's what it's all about! Plus it's a gorgeous card with a modern, minimalist vibe.
33. Peace & Joy – Simple Red Merry Christmas Card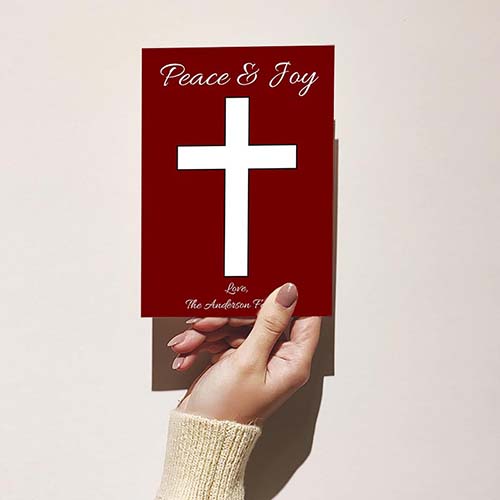 With the statement of "Peace & Joy" and the large cross, the message of Christmas is easy to share with this striking holiday card.
34. Christ Our Savior is Born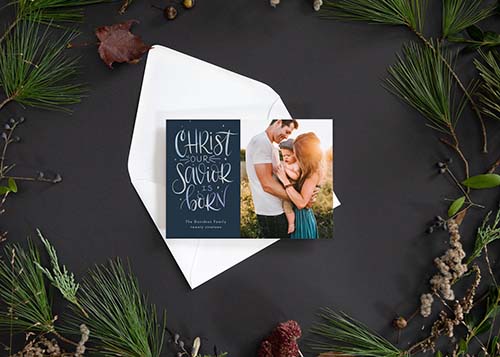 The good news alongside your family photo makes a cute and meaningful card.
35. Snowscape Scripture Christmas Card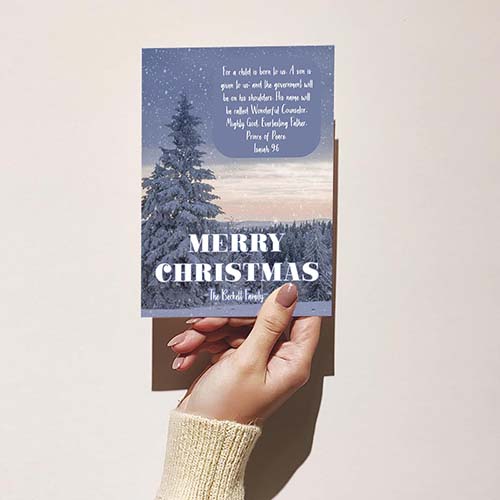 With this eye-catching Christmas card, you will be able to add your favorite holiday Scripture to share with families & friends.
36. Isaiah 9:6 Christmas Tree Card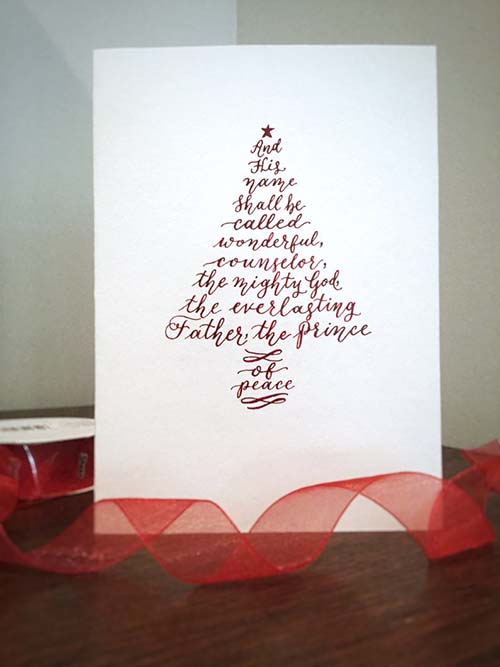 "And his name shall be called Wonderful, Counselor, the Mighty God, the Everlasting Father, the Prince of Peace." All in a lovely script font, stylized in the shape of a Christmas tree.
37. Vintage Scripture Merry Christmas Card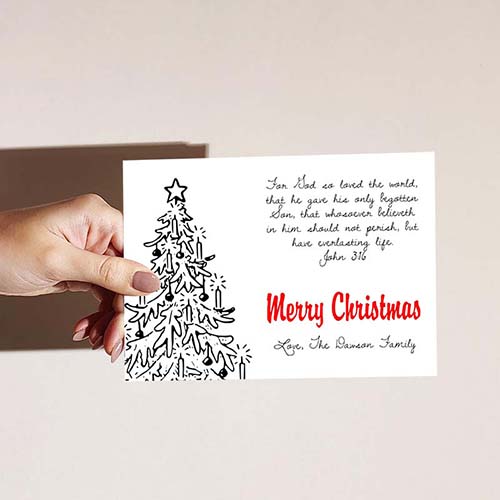 The perfect Christmas card for those that love a vintage feel while being able to include their favorite Scriptures.
38. Pop Up Nativity Scene Card
This is a unique card! This pop-up Christmas card transforms into a nativity scene. So not only will they receive a beautiful card, but a beautiful Christmas decoration as well, one they can display year after year.
39. Christmas Carol Photo Card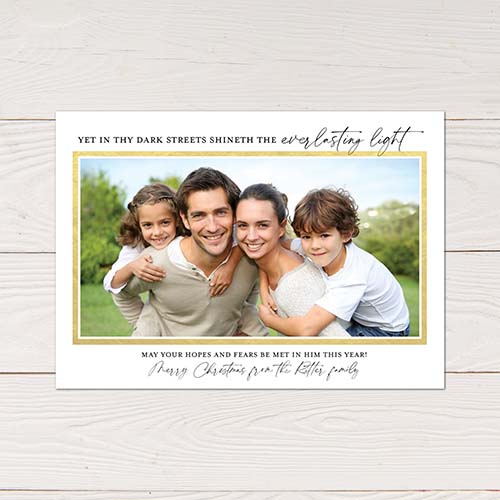 "Yet in thy dark streets shineth the everlasting light. May your hopes and fears be met in him this year!" A lovely line from the classic Christmas carol.
40. Hope Christmas Card with Photo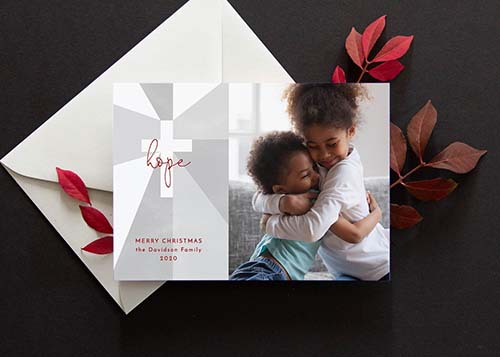 This card has it all in the simplest form: Your family photo, a cross, the message of hope, and your Christmas wishes.
10 Best Personalized Christmas Party Invites
41. A Merry Little Christmas Party Invite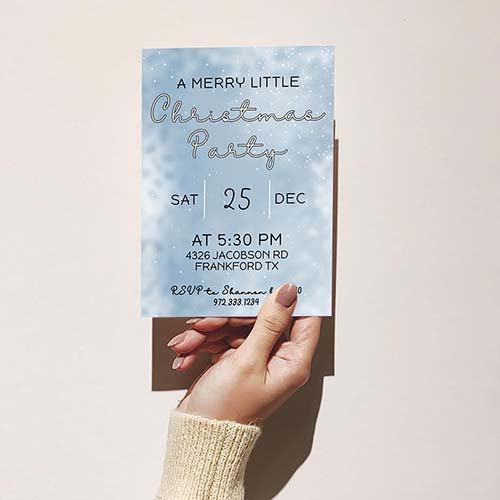 Let everyone know about your merry little Christmas party with this easy-to-read, frosty invite!
42. A Christmas Party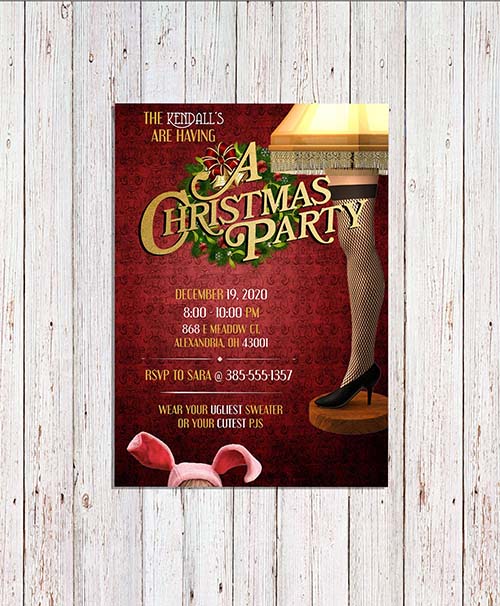 Everyone will want to come to your Christmas party after they see this invite!
43. Grinch Text Invite Downloads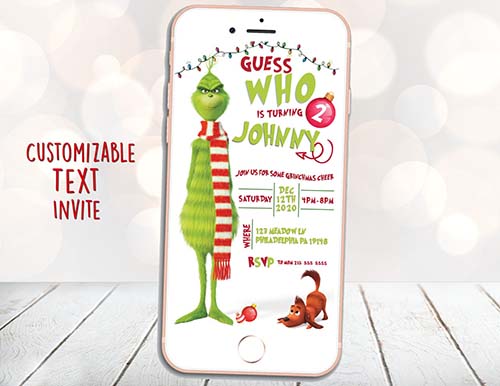 Why send a physical card when you can just send a text? This Grinch party text invite makes it all too easy!
44. Gold Glitter Holiday Gift Exchange Party Invite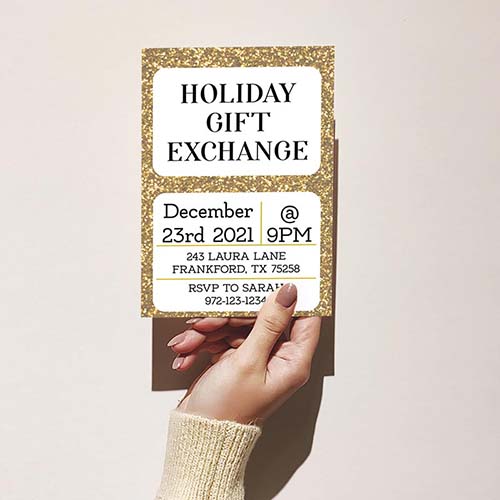 This glitter designed invitation will let everyone know what to expect at your holiday gift exchange party.
45. Christmas Movie Night Invites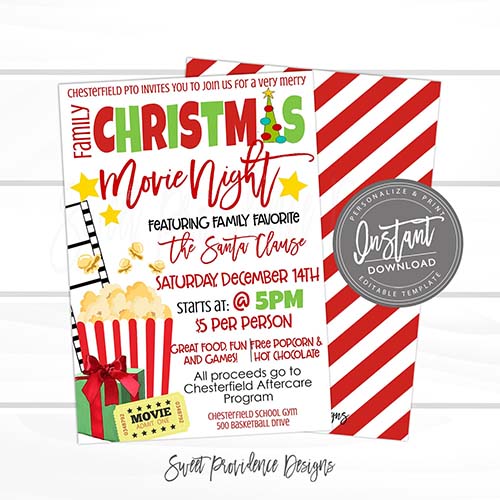 Christmas movies are the best, so invite one and all to a holiday film festival!
46. Holidays are Brewing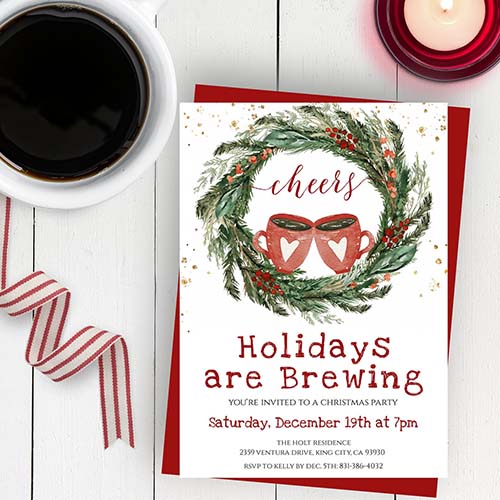 With the watercolor wreath and phrase "Holidays are Brewing," your guests will already be feeling cozy before they come to your Christmas party!
47. Holiday Party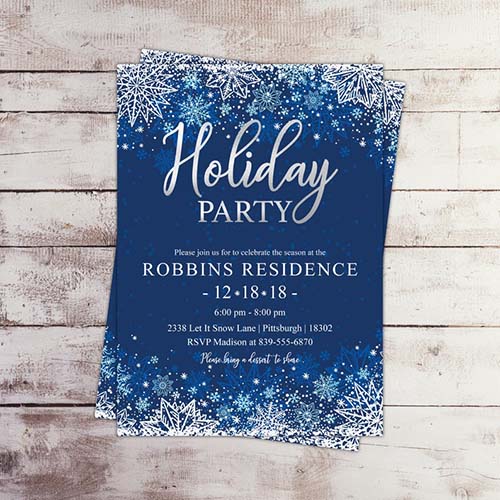 If you want an elegant holiday party, this customizable invitation is perfect. With a royal blue and silver snowflake design, your guests will know what to expect.
48. Merry & Bright Silver Invitation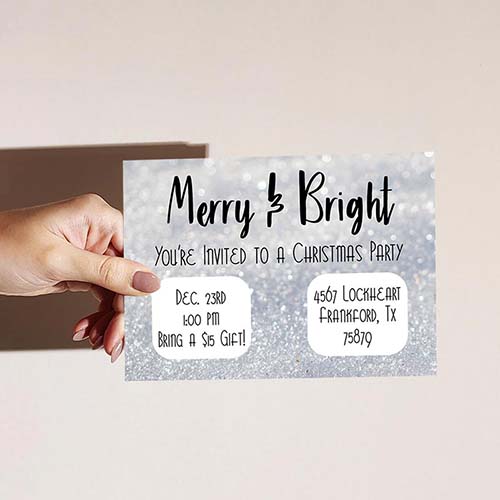 Simple and to the point, this "Merry & Bright" Christmas party invitation will be all you need to get people to your party.
49. Secret Santa Gift Exchange Invite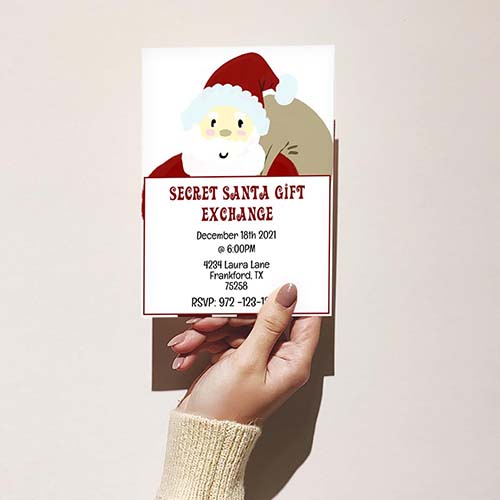 What's cuter than Santa on a secret Santa gift exchange party invitation?
Related: 35 Best Secret Santa Gifts (and it's not even close)
50. Ugly Sweater Party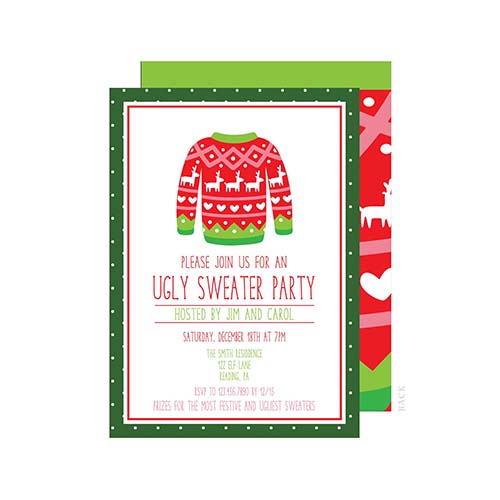 In case people can't read, the ugly Christmas sweater tells them all they need to know. Well, I guess they'll probably need to know the time and date….
10 Custom Illustrated Christmas Cards
51. Girls Group Christmas Card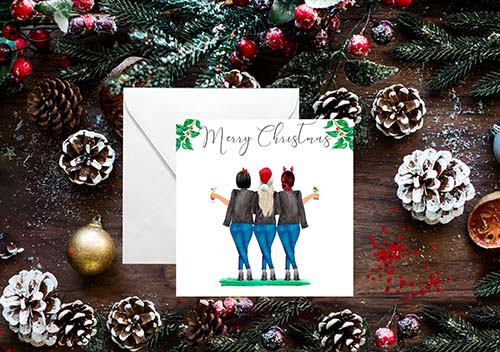 Perfect card for the perfect group – Girls Group!
52. Decorating the Tree Family Portrait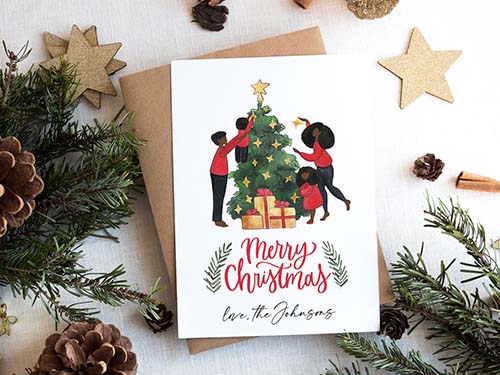 This sweet Christmas greeting card shows an illustrated portrait of your family decorating the Christmas tree. It's precious, joyful, and full of Christmas spirit!
53. Personalized Family & Dog Christmas Card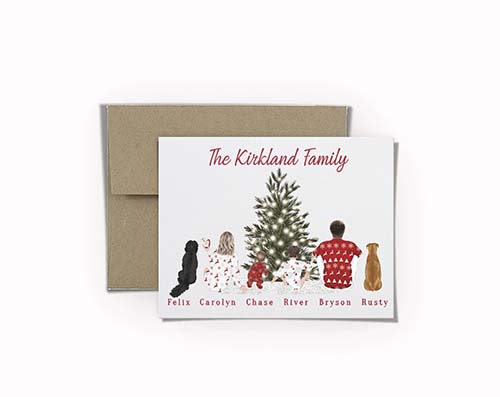 Your family, illustrated. Yes, the dogs and cats count too.
54. Best Holiday Wishes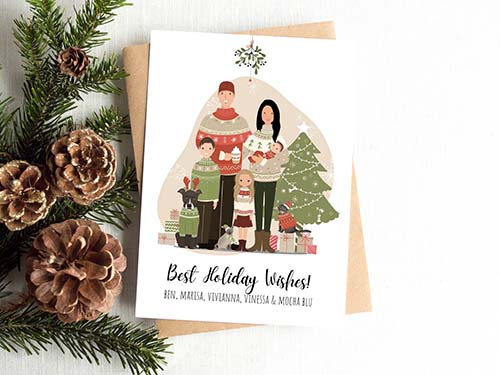 Don't worry if you didn't take a great family photo together this year! With an illustrated portrait of your family, you will still be able to share your family and best holiday wishes in a stylish way.
55. Merry Christmas & Happy New Years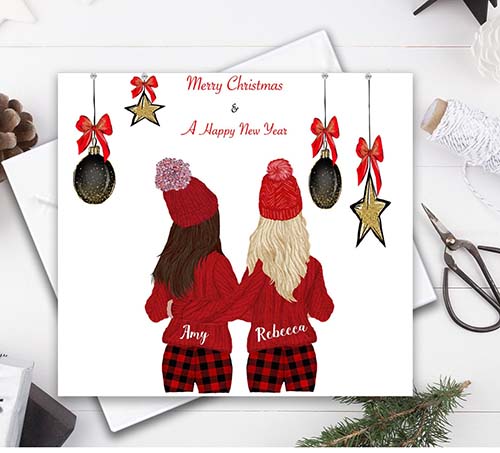 From girl to girl, this is a glamorous way to say "Merry Christmas and a Happy New Year".
56. Merry Christmas Family & Pet Portrait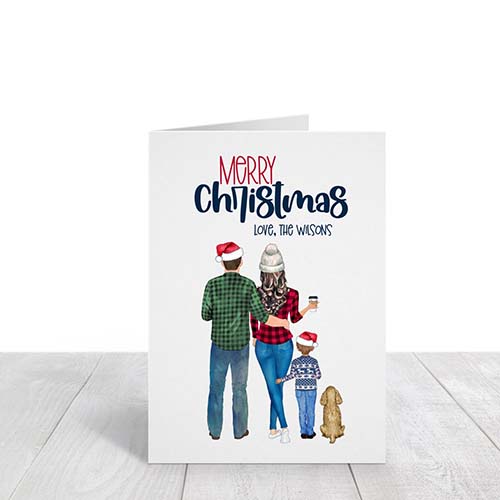 Your fam, illustrated to perfection. Give a creative take on the traditional family photo with this custom holiday artwork!
57. To My Sister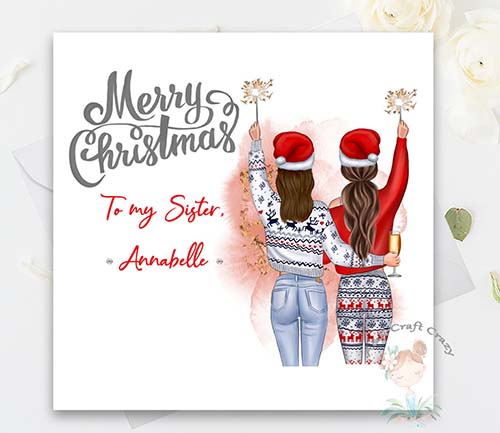 The best customizable Christmas card for all the sisters out there!
58. Snow Globe Family Portrait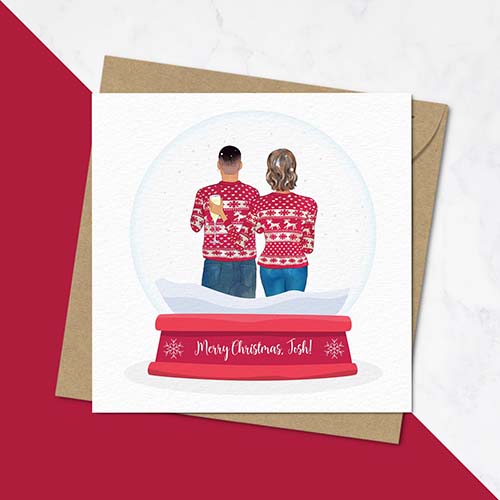 How canty is this personalized Christmas greeting card? Your significant other will love to receive this card of the two of you in a snow globe!
59. Family & Pet Tree Farm Portrait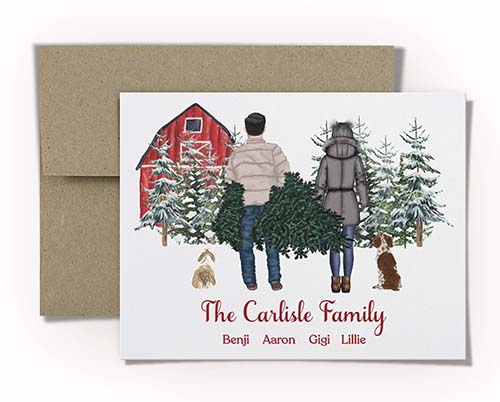 There is nothing like picking your very own tree for Christmas. With this illustrated greeting card, your family will be able to capture this joyful experience!
60. Floral Framed Family Portrait Christmas Card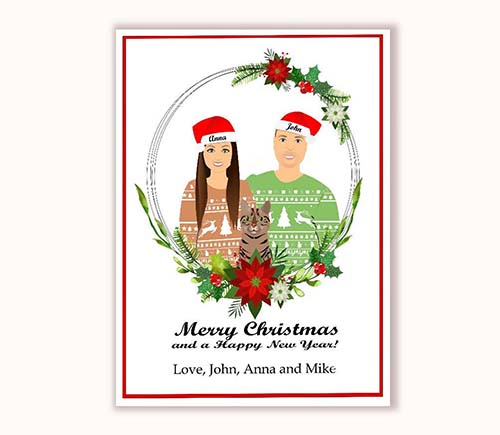 Family portrait? Check. Wishing a Merry Christmas and a Happy New Year in a gleeful holiday card? Check.
10 Best Personalized Christmas Cards for Coworkers
61. Laser Cut Christmas Cards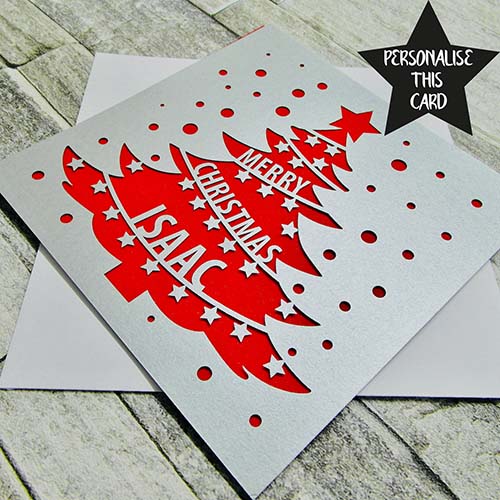 The dual layers of laser cut paper create a delightful effect for a memorable card.
62. Personalized Bauble Family Name Christmas Card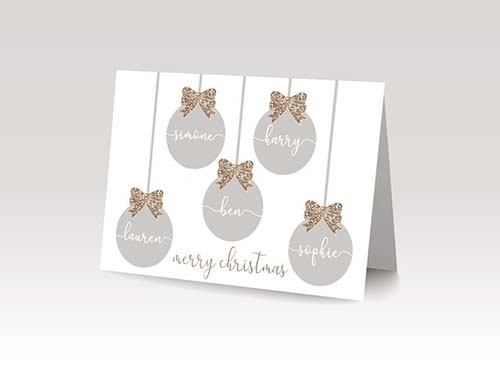 Everyone's name on a silver bauble? Now that is adorbs!
63. Nordic Christmas Card Set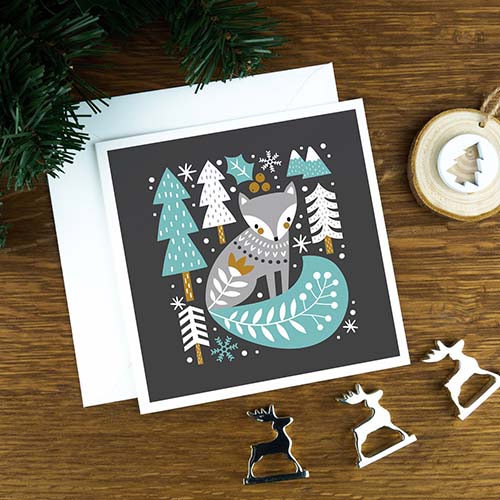 Nothing is cuter than foxes, y'all.
64. Warm Christmas Wishes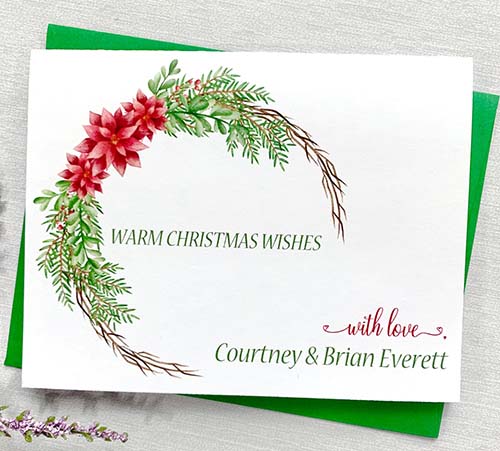 Full of Christmas spirit and warm wishes, your coworkers will delight in receiving something so pleasant.
65. Green Faded Minimal Merry Christmas Card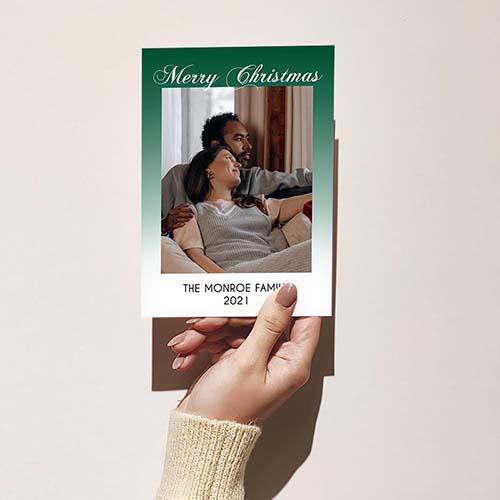 For your coworkers that love to keeps tidying and simple, this fading green Christmas card with your family photo will be sure to find a place on their desk or home this holiday season.
66. Pack of Robins Custom Card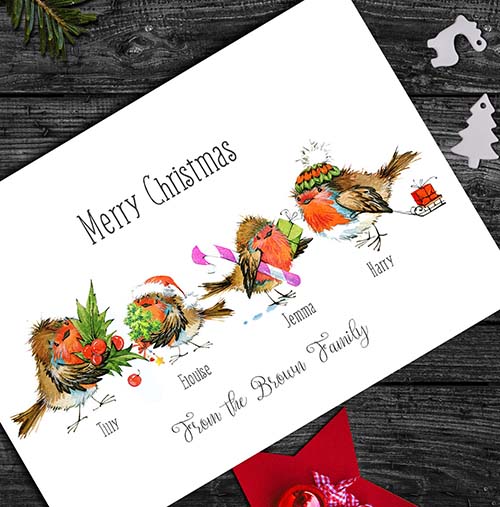 We all have that one coworker that would love to see your family as robins on your next Christmas card. This is so fetching!
67. From Our Home to Yours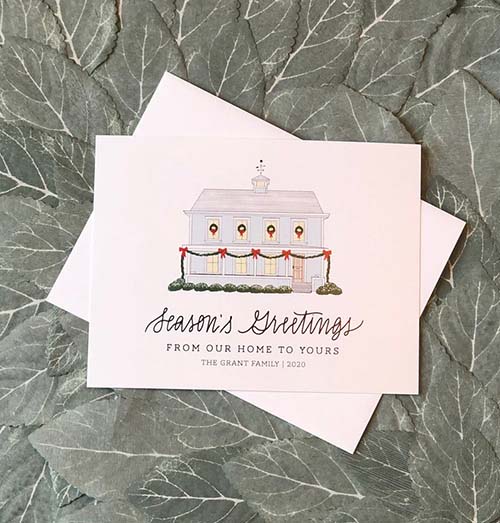 Elegant and classy are the only words to describe this "Season's Greetings" card. From your home to theirs, the holiday spirit is spread.
68. Minimalistic Green Christmas Card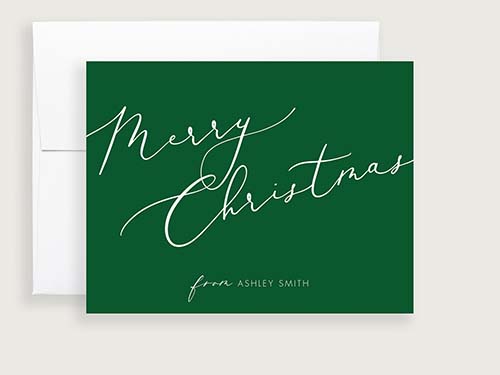 A simple design goes a long way… Merry Christmas.
69. Love, Peace, and Joy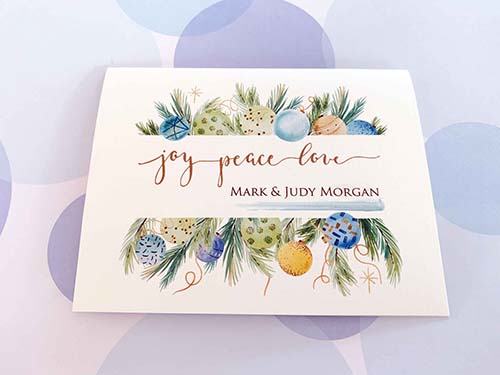 This delicate card will spread joy, peace, and love through it's pleasant design of garland and baubles. Include your names and you are ready to ship.
70. Front Door Merry Christmas Card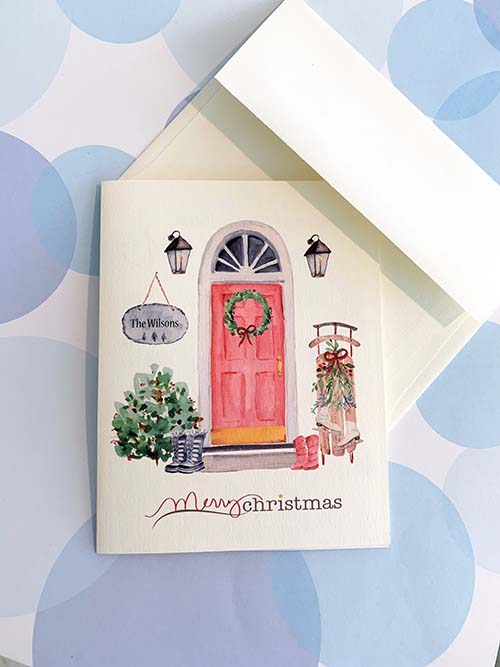 A welcoming way to say Merry Christmas to your coworkers. This front-door, winter filled illustration will get them into the Christmas spirit right away and, with your name on the hanging sign, they'll know right away who's home this is from.
10 Best Personalized Christmas Cards for Her
71. Yoda Only One I Want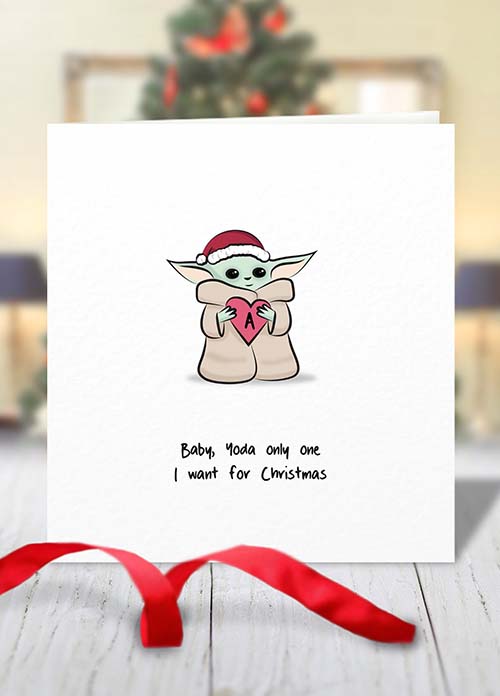 If your girl is head over heels for Baby Yoda, she will fall even more head over heels for you when you give her this Christmas card!
72. Minimalistic Christmas Card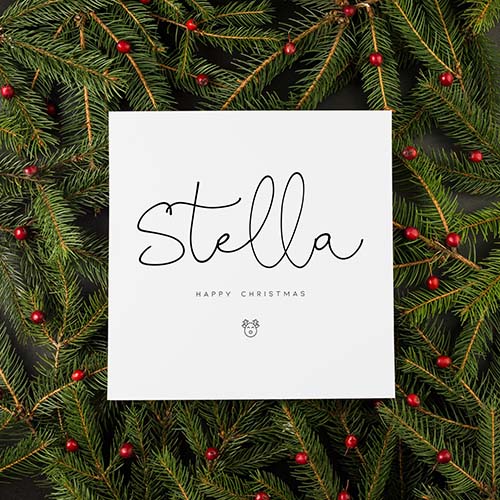 With their name right in the middle, they'll know this card what meant for them!
73. Merry Christmas Beautiful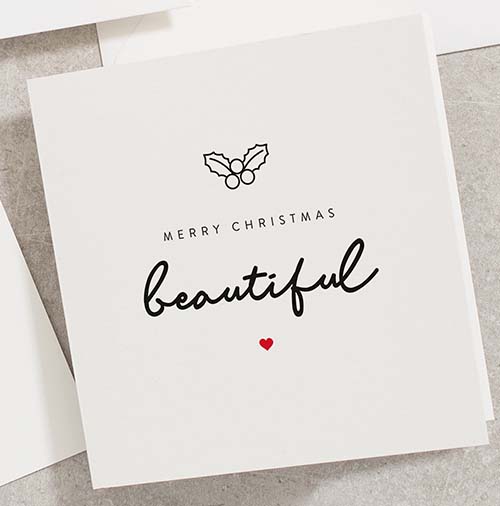 Merry Christmas Beautiful ❤
74. To a Special Granddaughter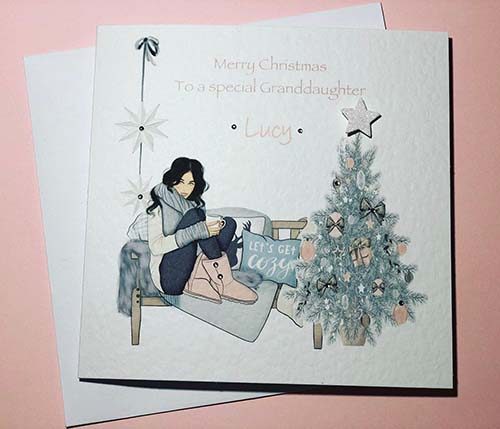 Modern and chic, this personalized Christmas card will be your granddaughter's favorite!
75. To My Wife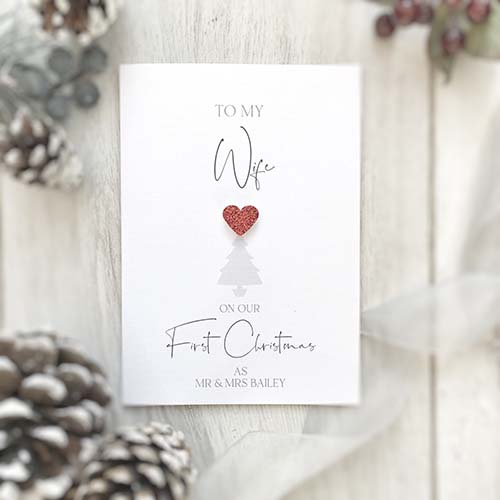 Our first Christmas as Mr. & Mrs. Celebrate the special occasion with this gorgeous card!
76. Merry Ribbons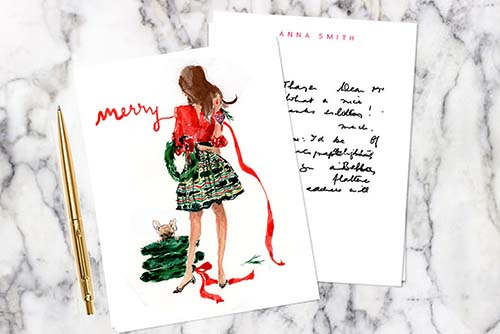 These fashion illustrated Christmas cards are nothing but fancy! With space to write your personal Christmas wishes and the options to customize her so she looks like you, you'll be sharing "Merry Ribbons" to every fashionista you know!
77. With Love At Christmas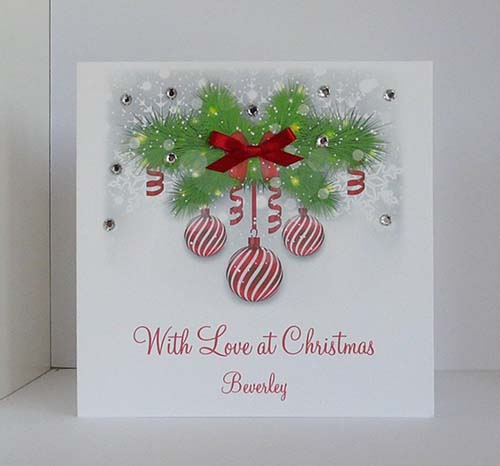 What gal doesn't love bedazzled things? Between the jewels and the message, it's needless to say – she will be feeling the love at Christmas this year.
78. Glitter Effect Initial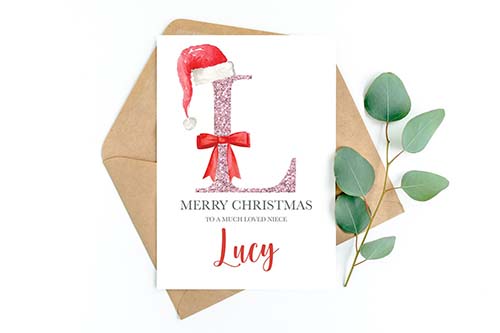 Every girl loves glitter. So mix that with some personalization as well as a Christmas touch and you just got yourself the best card for your nieces!
79. Unconditionally Love You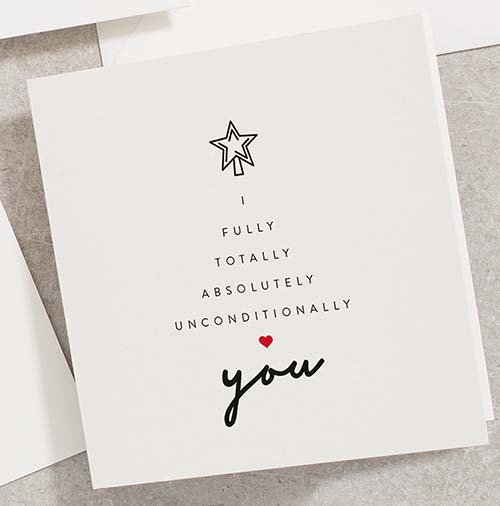 "I fully, totally, absolutely, unconditionally ❤ you."
80. For Mom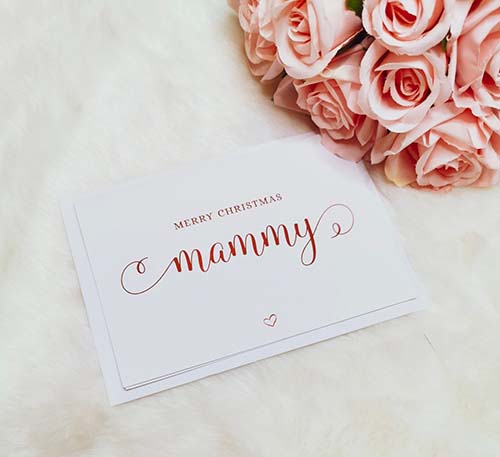 Finally, a Christmas card just for mom.
10 Best Personalized Christmas Cards for Him
81. To My Husband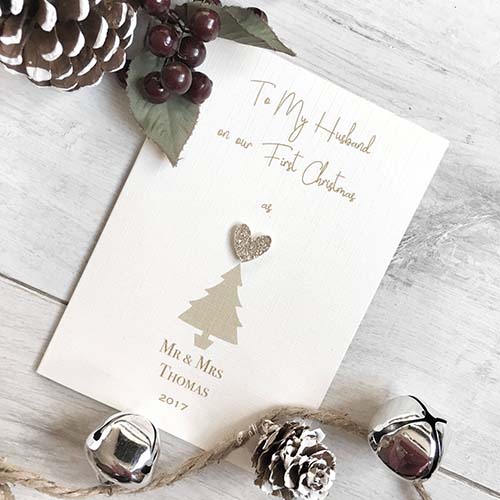 "To My Husband on Our First Christmas."
82. I'm S-mitten With You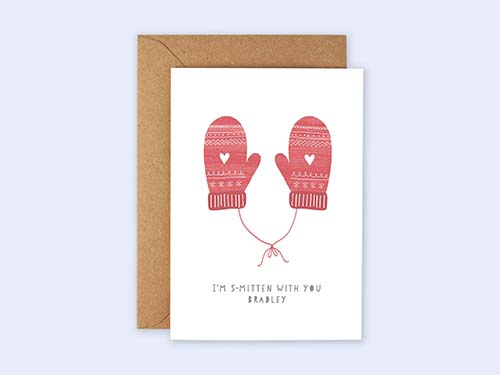 "I'm S-Mitten With You." Get it?!?!
83. Purrfect Christmas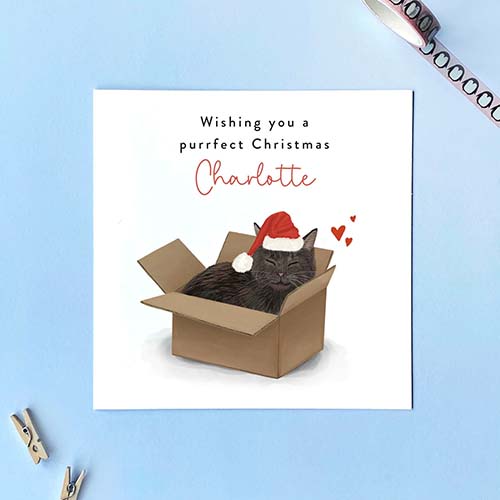 For the men that love his kittens, this card is the purrfect way to wish him a purrfect Christmas.
84. Robins Christmas Card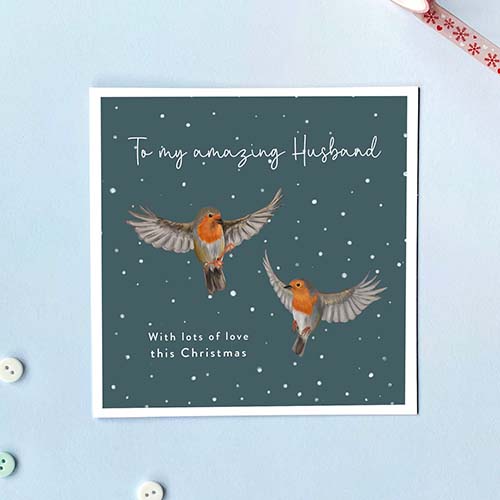 "To my amazing husband, with lots of love this Christmas." If you're not sure how to say it, say it with birds!
85. Wonderful Husband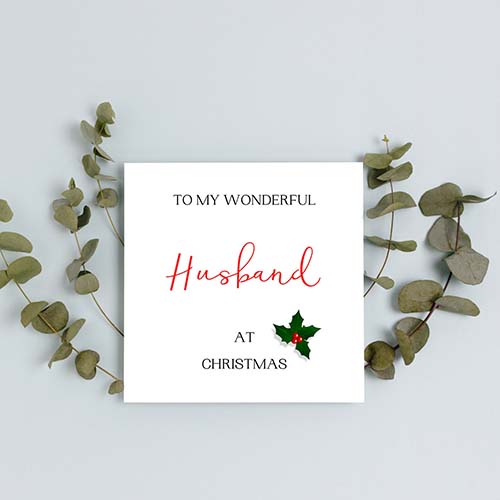 Simple and sweet. Any husband would love to see this card on Christmas morning.
86. Wallet Keepsake Card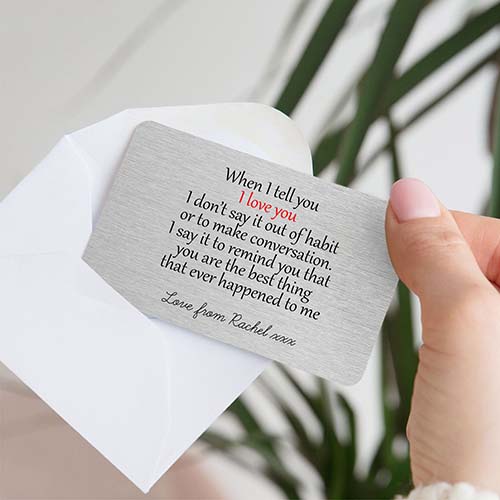 "When I tell you I love you, I don't say it out of habit or to make conversation. I say to remind you that you the best thing that ever happened to me."
87. All I Want is You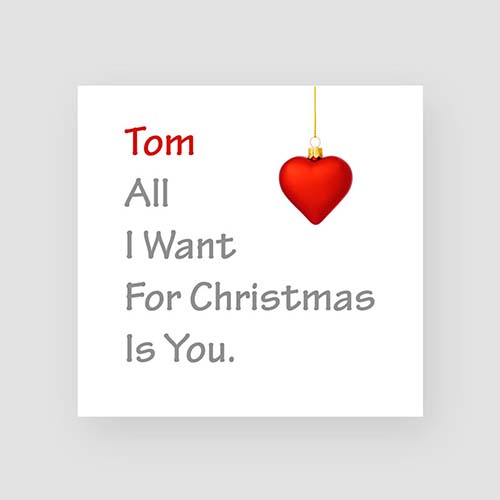 All I want for Christmas is you…
88. For My Husband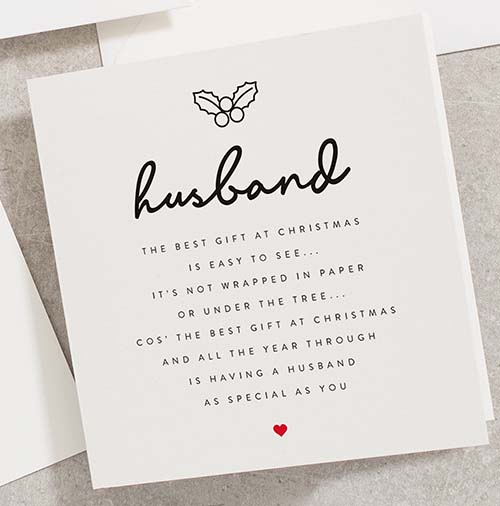 "Husband. The best gift at Christmas is easy to see… it's not wrapped in paper or under tree… 'cos the best gift at Christmas and all the year through is having a husband as special as you."
89. Red Panda Christmas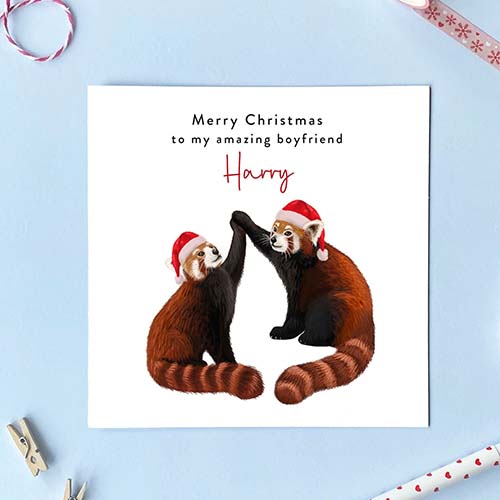 This is just plain loveable. Pandas in Santa hats. Yup. A cute Christmas card perfect for a cute boyfriend.
90. Line Art Christmas Tree Card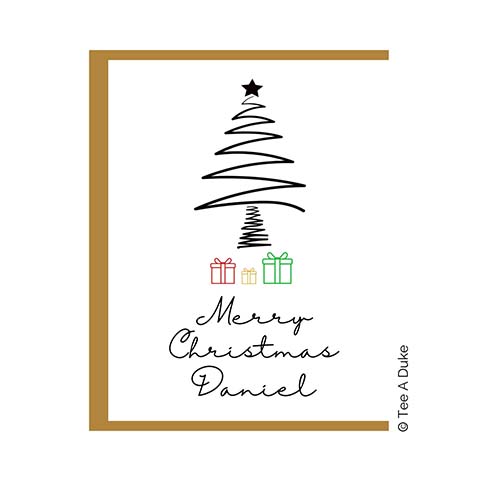 Simple lines create a message of holiday cheer. Merry Christmas!
10 Best Personalized Christmas Cards for Kids
91. May the Force Be With You! Christmas Card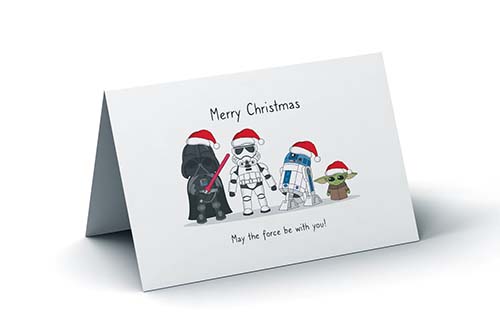 Any kid that just loves Star Wars is going to love getting this Christmas card from you. "May the Force Be With You"
92. Snow Rabbit Merry Christmas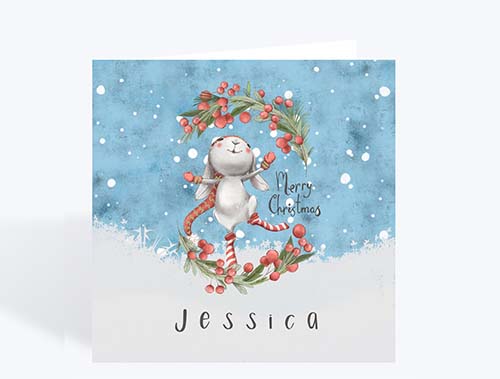 Playful and sweet, your child is going to light up when this bunny frolic in the snow! Her name across the bottom just adds that special touch.
93. Dr. Seuss Holiday Card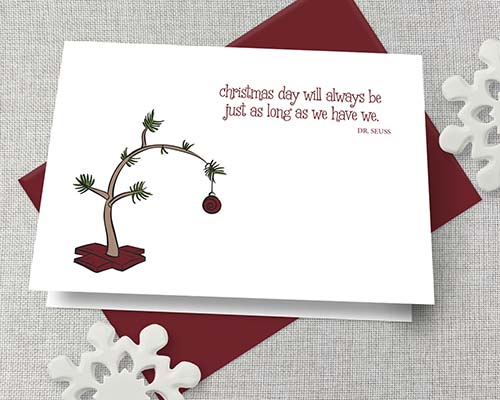 "Christmas day will always be just as long as we have we." – Dr. Seuss
94. Australian Animals Christmas Cards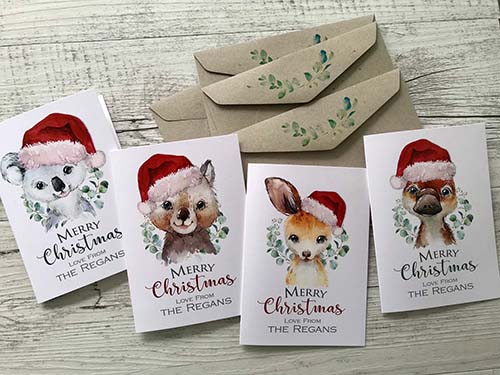 These Australian critter Christmas cards are perfect for any age!
95. Magical Christmas Wishes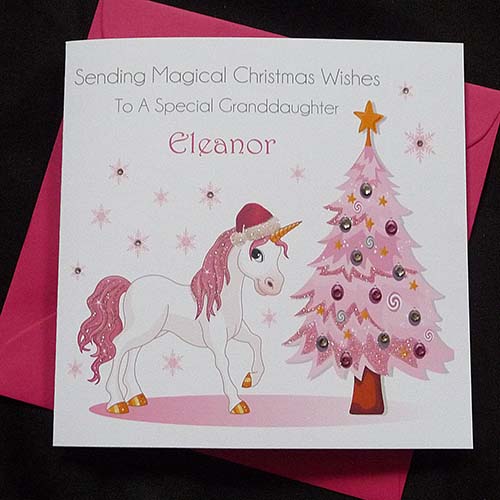 Send magical Christmas wishes to a special granddaughter… with unicorns and lots of pink. It's the best way to let her know you mean business.
96. Super Hero Christmas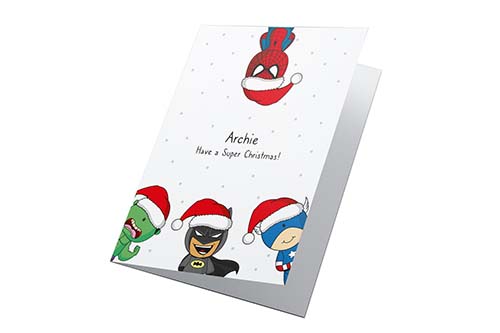 A super Christmas wish from their favorite superheroes!
97. Roar-Some Christmas Card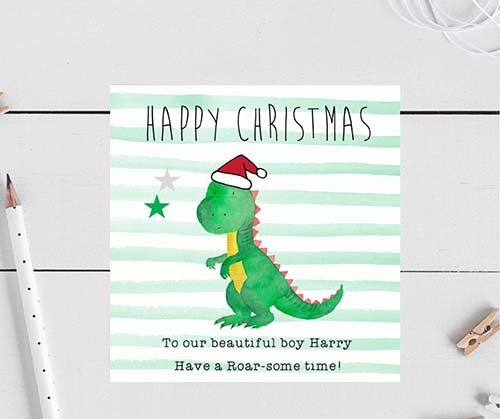 Some kids just love dinosaurs this much! This Christmas card will for sure give them a roar-some time this holiday season.
98. For Cousins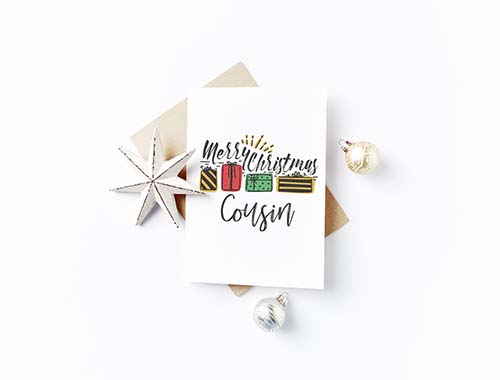 Best Christmas card for cousins anywhere!
99. Gaming Christmas Card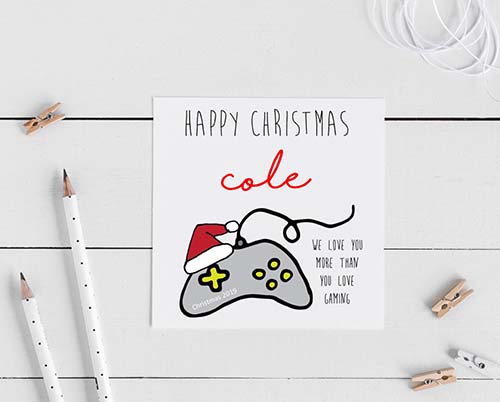 Let your gaming enthusiast kid know how much you love them this Christmas with a card they can relate to.
100. Adorable Gnomes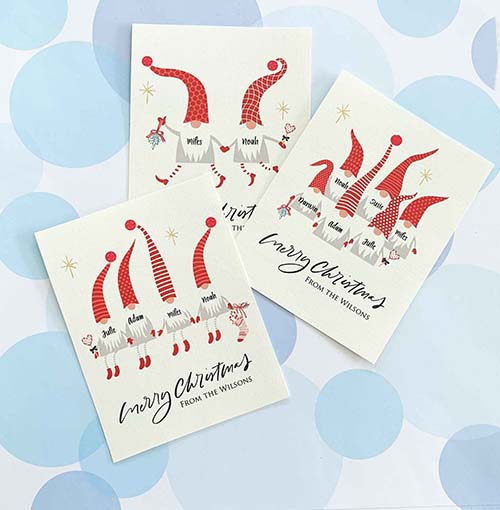 These cute gnomes can represent each of their friends, siblings, or every member of family! Either way, kids are going love this custom gnome card!
Read Next: Best Holiday Gift Exchange Games
Pin It