Last Updated on December 11, 2020
Here are 52 of the most interesting and unique Christmas gift ideas we've found for the home, including home decor, kitchen, man cave, and home bar gifts, gadgets, and accessories.
Unique Christmas Gift Ideas: Home Decor
Our website is supported by our users. We sometimes earn a commission when you click through the affiliate links on our website. Learn more here.
1. Wooden State Home Plaque from Reclaimed Wood
Made from pallets and reclaimed wood in the shape of a state, these home décor plaques are a trending Christmas gift idea for the home.
This one, shaped like the great state of Georgia and painted with a peach inside the word "home", is just one of dozens offered by Campground Production.
3. Personalized Bird Feeder Christmas Gift
This cedar wood bird feeder is handcrafted in the USA from genuine aromatic cedar, and includes a custom inscription.
The engraving includes the recipient's name plus anything else you want – best friend, best nurse practitioner, or even a special message or quote (don't worry, if the text gets longer the engravers will just make it smaller to fit and look great).
Suitable for anyone and everyone, a bird feeder is the perfect gift for the home because it goes outside! Everyone needs less stuff cramping up their indoor areas. So give a gift that won't take up any space inside.
Plus, it will draw the birds and help your friends, family, or neighbors to create a beautiful outdoor oasis. More designs available here.
3. Family Cellars Quarter Barrel Sign with Grapes
This personalized and timeless plaque is made from a real oak barrel head, in what we call a "quarter barrel" since it includes the staves and steel hoops from the top part of a barrel.
The colorful grapes and family cellars design is personalized for you with your name or family name and year established onto the large (19″ round by 3-1/2″ deep) barrel head plaque. Comes ready to hang, and with many additional designs available.
4. Walnut Wood Gramophone for iPhone
The classic speaker horn and vintage style is updated for the new century with the Gramophone Mini for iPhone.
Made from Walnut wood, this sound enhancer uses an acoustic structure to amplify your music with no need for electricity.
Update: The gramophone pictured above is no longer available, but you can get nearly identical versions from ReAcoustic on Etsy. They offer both acoustic and Bluetooth versions.
5. Succulent Christmas Wreath
Gorgeous succulents make up this lovely alternative Christmas wreath.
If you're looking for a beautiful, unique, and sustainable twist on the more traditional holiday wreaths, a succulent wreath is the way to go.
It will not only look stunning during the festive season, but will last (and still look appropriate!) long after the holiday décor has been boxed up and stowed away.
Related: 15 Best Cactus Gift Ideas (to prickle a cactus lover's fancy)
6. Handcrafted Tub Caddy
This Tub Caddy is custom sized to fit your tub, made in the USA from pine wood with your choice of eight different finishes.
An indulgent comfort gift of craftsmanship and utility which will have the recipient thanking you – awash in bubbles!
More tub caddies are available here. This idea will pair perfectly with wine.
7. Toadstool Table & Stools Set
This adorable table and stool set is a fun and unique idea for any child or toddler's room.
The mushroom-shaped playroom set is made from 100% organic resin and styled with a vintage finish.
8. Vintage Professional Wood Sign with Personalized Name Board
Vintage-style distressed wood plaque, personalized with a hanging name board for the "licensed & certified" Nurse Practitioner – or just about any other profession you can think of.
Related: 21 Phenomenal Nurse Practitioner Gift Ideas
The old-fashioned plaque is perfect as a stylish gift with a bit of retro humor for the nurse, physician, engineer, on your Christmas gift list.
This is just one of many professions represented in this series of vintage professional plaques, which includes Attorney at Law, Dentist, Tattoo Artist, Wine Connoisseur, Farmer, and more.
Many more custom vintage signs are available here.
9. Cedar Wood Memory Chest
The Cedar Memory Chest is rustic, spacious, and made to last a lifetime.
Crafted in the USA from premium cedar wood, this heirloom memory chest boasts a simple finish that highlights the bright and natural colors of the cedar wood grain.
The 9″ x 7″ x 5″ interior is accessed by a hinged lid, allowing the recipient to store keepsakes, treasures, or trinkets while adding a stylish wood accent to their home décor.
10. Agate Bookends
Show off a stellar book collection between these gorgeous polished blue agate bookends.
11. Wood & Epoxy River Table
This stunning custom-made wooden coffee table uses a combination of walnut wood and blue epoxy to create the look of a river winding its way through the table.
This one will disappear fast, but the artist will make a special one just for you, taking your input to create the perfect river table.
12. As for Me & My House Family Name Plaque
Handcrafted in America, this solid wood home décor plaque is laser engraved with your family name and the text from Joshua 24:15, "As for me and my house, we will serve the Lord."
Many other styles, including more Scriptures and other quotes, can be found here.
13. Bicycle Home & Garden Decor Iron Plant Stand
A network of wrought iron curlicues crafted in the shape of a bicycle makes this vintage-style planter a fun and unique gift idea for the garden.
14. Vintage Trading Co. Sign Personalized
Wood plank sign, personalized with the name and city/state of your choice. Hand distressed finish and unique lithographic lettering process produces a custom plaque with a truly antique and vintage look.
15. Personalized Beach House Dartboard Cabinet
Your beach house needs a dartboard. This cabinet keeps it tucked away when not in use, and displays your family's name in a fun design to boot.
Plus it includes everything you need for several popular dart games: The board, two sets of darts, scorekeeping on the inside. When you're done, just close it up!
Related: 21 Beach Gifts for Beach Lovers!
Unique Christmas Gift Ideas: Kitchen
16. Elegant Wood Coffee Maker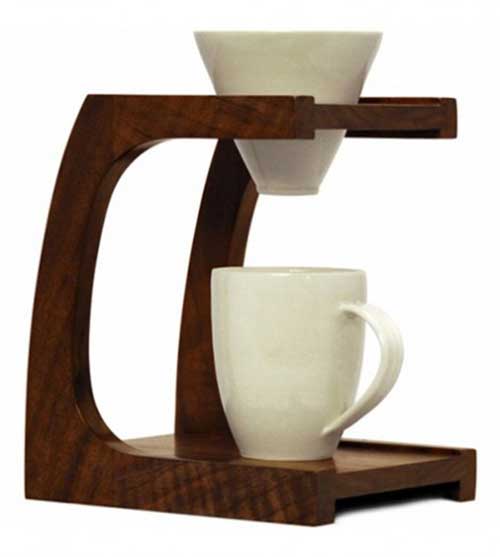 The Clive Stand provides perfect pour-over coffee with a touch of class and elegance. From the manufacturer:
We were looking for a beautiful pourover stand to add to our brewing equipment offerings, but the options left us wanting. We set out to design an iconic, beautiful stand made by a local craftsman that would stand the test of time.

We are proud to introduce the Clive Stand, a culmination of several months of design and prototyping with Delaney Kelly of Carthagh Craft & Design.

The stand is made of salvaged Oregon Walnut that was too small for other purposes and headed for the burn pile. We strived for a design aesthetic that is clean and functional with a focus on composition.
17. Indoor Flameless Marshmallow Roaster
The Indoor Flameless S'mores Maker is a great Christmas gift idea for a fun-loving family with kids.
Designed for use inside during the cold winter months, this roaster is completely safe and includes divided tray for holding 'mallows, grahams, and other s'mores ingredients. It includes two forks for roasting.
Add a personal touch by pre-filling the trays with marshmallows, chocolate, and graham crackers so the family can bust out some Christmas s'mores right away!
18. Personalized Bottle Opener
The perfect gift for someone who always wants a quick and ready way to pop the top off a delicious cold beer.
Made exclusively by Northwest Gifts, this handcrafted wooden bottle opener can be left portable or mounted to your kitchen wall. (Or porch. Or garage, man cave, etc.)
It features a gorgeous two-tone wood backboard, solid cast-iron bottle opener, and personalized engraving along with a fun tractor design – perfect for farmers. There are plenty of additional themes available, too, including home bar, fishing, "best dad ever," and more.
Related: 21 Useful & Creative Gifts for Farmers
19. Gorgeous End Grain Cutting Board
This premium end grain cutting board boasts a stylish fading pattern that is truly original. Made in the USA from solid African Padauk, African Mahogany, Maple, Walnut, and Birch woods, this is a premium gift for the home of someone who loves to cook.
End grain boards are used in professional kitchens, as the construction allows the knife to pass in between the wood grain instead of against it, keeping knives sharper for much longer. Your aspiring chef will love it, guaranteed!
20. Heirloom Family Recipe Cutting Board
The lovely surface of this bamboo wood cutting board is custom laser engraved with an heirloom family recipe – in the original handwriting, no less!
That's right, just scan or take a picture of your family's favorite recipe, and Northwest Gifts will laser etch it onto a beautiful cutting board. Made from sustainable bamboo wood, this is the perfect gift for the home this Christmas.
More personalized cutting board designs are available, too – check them out here.
21. Picnic Basket with Table Top
This picnic basket is made of woven willow with insulated interior, and includes an integrated wood table top tray which is perfect for assembling your meal and holding wine or other drink glasses steady while you eat.
A fun-filled (literally!) Christmas gift for someone who loves to experience the best of summer.
22. Personalized Ring Toss Game
This is a fun activity for the porch or outdoor grill area. While you're waiting for the food to cook, play the classic ring toss game!
Includes personalization and a bottle opener so you can keep the suds flowing.
23. Soft Serve Maker with Sprinkles Dispenser
Cute and delicious. Soft serve anytime you want… at home. With sprinkles. Who wouldn't want their own soft serve maker?
24. Bamboo Charcuterie Board with Serving Knives
Get the party started with this lovely charcuterie board, which includes an assortment of serving and spreading knives tucked away in a secret drawer.
Made from sustainable bamboo wood. Features a divot around the edge specifically designed for crackers and other sundries.
25. Double Sandwich Maker
Everyone loves a hot breakfast sandwich. Making them has never been easier with this Dual Sandwich Maker. It's great as a housewarming Christmas gift.
26. Floral Crock Pot
A crock pot is something that just about everyone actually needs. But since practical gifts can be boring, why not spice it up by giving your Christmas buddy this gorgeous floral crock pot. You'll cover style and practicality with this Christmas gift idea!
27. Personalized Mason Jar Drinking Glasses
A fun and affordable personalized gift idea for anyone's kitchen. Set of four Mason Jar drinking glasses, custom engraved with a block initial, with colorful candy cane straws.
28. Mason Jar Dispenser with Stand
Speaking of Mason jars, how about this picnic-ready Mason Jar Dispenser? With its rustic look and classic glass jar with spigot, this drink dispenser visually transports you back to the good ol' days in the good ol' summertime.
29. 9-Tray Dehydrator
Everyone's into growing, making, and baking your own stuff these days. Whether it's someone who is looking for healthy snacks, an old-school DIYer, or a mom blogger, they'll love this awesome 9-tray food dehydrator and keep it in use for years.
30. Personalized Kitchen Chalkboard Sign
Chalk up the current wine selection, meal plans, current menu, or shopping lists on this fun and functional personalized chalkboard-style dry erase board sign.
This wood dry eraser plaque combines fun aesthetics, everyday functionality, and custom printing for an unique Christmas gift idea for any kitchen.
31. His & Hers Enamel Coffee Mug Set
This matching coffee mug set is the perfect Christmas gift idea for that perfect little coffee-drinking couple on your list. The enamel mugs read "his" and "hers" and includes the couple's names.
Unique Christmas Gift Ideas: Man Cave
32. Keg Fridge
Every man cave needs a refrigerator, so why not go the extra step and get the Keg Fridge with its awesome draft beer dispenser? Your man will love you forever as he fills and glass and becomes the envy of all of his bros.
33. Vintage-Style Beer Connoisseur Plaque
This "Beer Connoisseur" sign is what every microbrew-loving guy needs on the wall of his man cave. Made in the USA from real wood and designed to look like a vintage business sign (complete with optional personalized hanging name board), this beer sign includes a 3-dimensional relief of an overflowing beer mug as the centerpiece of the distressed wood plank sign.
34. Nintendo iPhone Speaker Dock
The classic 1980's NES console is repurposed as an iPhone speaker dock for the gamer man cave. And the controller actually works!!
35. Personalized Pint Glasses
Get your very own set of four personalized pint glasses made to say whatever you like. Easily customized, permanent laser etching, on premium made-in-the-USA glassware that's 100% dishwasher safe.
Oh, and you get bulk discounts for ordering more.
36. Personalized Handmade Shaving Kit Bag
This attractive handmade leathing shaving kit bag is made from real tanned leather and embroidered with the name or initials of your choice. A very classy addition to any man's collection.
37. Personalized Man Cave Plaque
Classic pub sign shape with a fun and trendy Man Cave theme. Custom silkscreened with your dude's name, our most popular Christmas gift for the man cave.
38. Championship Ring Box
The Championship Ring Box includes a custom engraved name plate on a gorgeous walnut wood box, with optional engraving on the glass lid. The box features a sturdy foam insert which is custom cut to hold 1-20 sports rings from your championship teams.
39. Golf Gear Organizer Caddy
This golf gear organizer caddy system is a great addition to any golfer's man cave, and will help him keep his clubs and other golf gear organized! Fits perfectly into most closets.
40. Beer of the Week Brewery Plaque
Any budding home brewer will love listing the current "beer of the week" selection on this personalized wood man cave brewery plaque which is made in the USA and features a handy mini chalkboard.
Unique Christmas Gift Ideas: Home Bar
41. Barrel Connoisseur Kit: Make Your Own Scotch
These Barrel Connoisseur Kits include everything you need to make your own Scotch (or Bourbon, or Whiskey, etc). The Scotch version includes a real oak aging barrel, lovely decorative metal stand, bung, spigot, funnel, cleaning kit, and 3 flavors of Scotch Whiskey essence: Isaly, Speyside, and Highland Malt.
All you have to do is provide the alcohol and follow the simple instructions, and you will be a true connoisseur with your own home distillery.
42. Whiskey Distillery Barrel Personalized
If you like the home distillery idea but want to give a gift with a bit of a personalized touch, look no further. Our line of oak aging barrels can be custom engraved with the recipient's name and more in a wide variety of designs.
Start with our most popular design, the Whiskey Distillery Barrel, and work your way through the entire collection of custom barrels to find the perfect Christmas gift idea. Available in 1, 2, 3, 5, 10, and 20 liter sizes.
43. Corvi Concrete Wine Cooler
The Corvi Concrete Wine Cooler is a modern, sophisticated take on wine chilling. Attractive and useful as a gift idea for a wine enthusiast.
44. Portable Home Bar for Camping
This solid wood travel case holds everything you need to transform your camping trip into pure awesomeness. Handmade from premium wood and elegant brass accents, this portable home bar for camping will bring class and good times to any campfire.
45. British Phone Booth Wine Cabinet
This nifty wine cabinet is shaped and painted like an old-fashioned bright red British telephone booth. You know exactly which family member or friend would love this.
46. Reclaimed Wood Wine Bottle & Glass Rack
Using reclaimed wood, this home bar piece mounts to the wall and holds wine glasses and a collection of bottles. With a rustic finish, these racks make great Christmas gift ideas for any home bar or wine cellar.
47. Vintage Scotch Whiskey Home Bar Sign
Made in the USA from solid wood, this plaque is personalized with the recipient's "distillery name" and more using unique lithograph screen printing techniques, with hand-painted accents and then distressed individually by hand to create and incredibly unique antique gift – which is customized! A terrific gift idea for the home bar that is always well-stocked with quality Scotch Whiskey.
There are many more personalized vintage distressed wood signs available here with different styles and themes.
48. Antique Tabletop Globe Bar
A mini bar in an antique globe. What more can we say?
49. Sidebar Beverage Dispenser
Suddenly, anything you want is blissfully yours at the press of a button. Bourbon? Yep, we got that – on tap. Scotch? Sure, you can have some – on tap. Yes ma'am, the Sidebar Beverage Dispenser is the wave of the future for home bars everywhere.
50. Bag-N-Barrel for Boxed Wine
The Bag-n-Barrel for Boxed Wine is a real oak barrel with a cutout so that the bag in which boxed wine comes can be inserted and attractively dispensed for parties, events, or your own pleasure. The perfect home bar Christmas gift for anyone you know who loves boxed wine.
51. Rapid Wine Bottle Cooler
This Rapid Wine Bottle Cooler chills canned and bottled drinks in minutes, with wine bottles topping out at about 6 minutes so that you can always keep your home bar open for business.
52. Beer Mug Tavern Quarter Barrel Sign
This neighbor tavern sign is engraved with a festive clinking beer mug design which includes personalization of the recipient's name and more. Made from a real oak barrel head, spigot, and top "quarter barrel", this epic and awesome sign is 19″ round and 3-1/2″ deep.