What do you get someone who loves playing the piano? Are there types of gifts that are best for piano teachers or students? What would make great, original piano gift ideas?
If you're looking for the answer to any or all of these questions, then congratulations! You've landed on the right page.
There's nothing more frustrating than aimlessly searching the web (for what feels like ages), only to end up empty handed because you aren't sure what would be suitable.
We've done the research for you, and we've compiled a list of the best gifts: from fantastic must-haves, to necessities, to quirky gifts and more.
If you, your bestie, your spouse, or a family member is a piano enthusiast and loves nothing more than tickling the ivories, read on for some excellent piano gifts for their birthday, Christmas, as a thank you, or as "just because it's Tuesday" gifts.
Our website is supported by our users. We sometimes earn a commission when you click through the affiliate links on our website. See our privacy policy & disclosures for more information.
Best Gifts for Piano Players
These are our very favorite picks of piano gifts for anyone. From kids just starting out in their first lessons, to professional concert pianists.
From neat gizmos and classic tools, to great literature and an inspiring night out — there's a little bit of everything below.
1. Hand Massager
Give those skilled, hard-working hands and fingers a break and a much needed massage with this nifty hand massager. It will knead out all of those knots from their tired, sore digits in no time.
So easy to use, portable, and effective, it will become their favorite go-to item after a long day of practice sessions.
2. Personalized Music Page Holder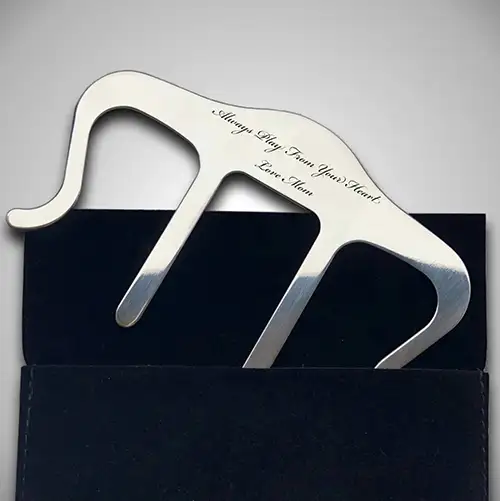 There's nothing more distracting than watching your sheet music blow in the wind, fall off the stand, or crumple in half like an omelet right in the middle of the best part of the aria, right?
This personalized music page holder is here for the rescue. We think it hits all the right notes and would make the perfect gift.
3. Digital Metronome Watch
The future is here with this amazing, digital metronome watch! With this wonderful invention, you feel the beat, instead of listening to that annoying ticking noise piano players always grew up with.
A totally rad and practical gift for a piano teacher, major, or a piano lover!
4. Floral Grand Piano Music Box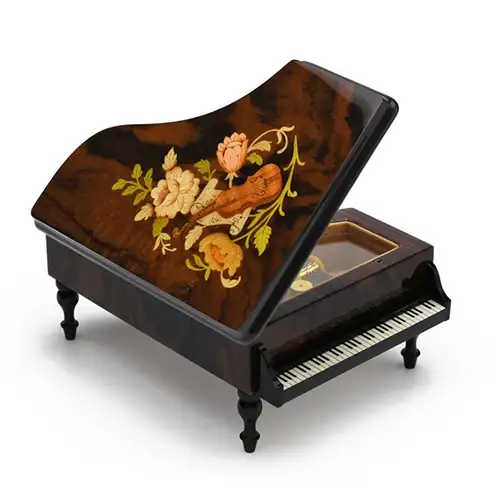 Is your grown child graduating with a music degree? Or maybe your most favorite piano teacher is finally retiring?
This absolutely breathtaking, floral grand piano music box is truly a one-of-a-kind pianist gift!
You can personalize the song and pick their favorite, and the shiny rosewood used to build this music box is simply stunning. What beautiful piano gift ideas for a beautiful person.
5. Adjustable LED Piano Lamp
Unless you're the Phantom of the Opera, no one likes practicing piano in the dark or by candlelight! Sure, the ambiance is nice, but it's hard to see the notes, right?
This adjustable LED piano lamp is here to save those nightly practice sessions. It's nice and ever-so bright, but still has a vintage and timeless appeal with its design. Such a great option no matter what stage of their musical journey they are in.
6. The Creative Act: A Way of Being
A must-read for any type of creative artist, but especially a pianist, this wonderful book will enrich your soul and maybe even your whole life!
Filled to the brim with lovely and practical advice and gentle persuasion, this little gem is a game-changer for those wanting a fulfilling and beautiful life while sustaining their passions. Definitely a favorite on this list of gifts.
7. Stained Glass Piano Suncatcher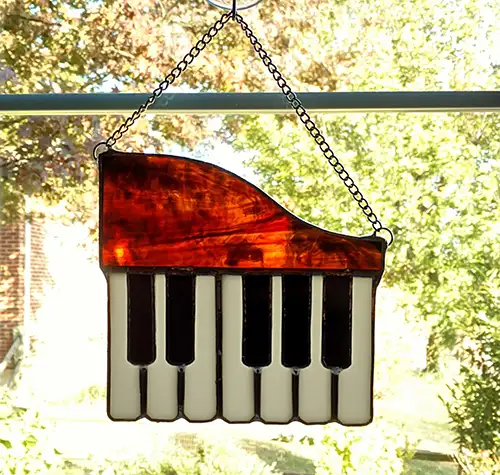 Give them something that will add a little bit of beauty to their home — like this charming stained glass piano suncatcher! It will look so pretty near their clearest window and will reflect all the light and sunniness, even on a dreary day.
This would be just the right gift for a piano teacher to hang in their front window! That way they can let all of their students know they've come to the right place.
8. Tickets to a Local Piano Concert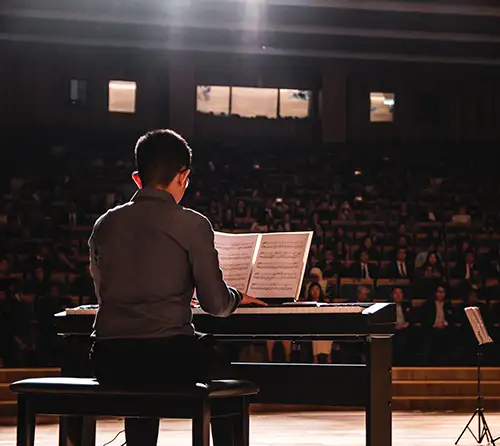 Do a bit of easy research, find out where the next piano concert is, and get them tickets! Plan a fun night out with a dinner package, the concert, and maybe dessert or wine afterward.
Or pack a picnic and hit the park before the music starts! You can't go wrong with this fun idea, and bonus: you can go, too!
9. Casual Piano Shoes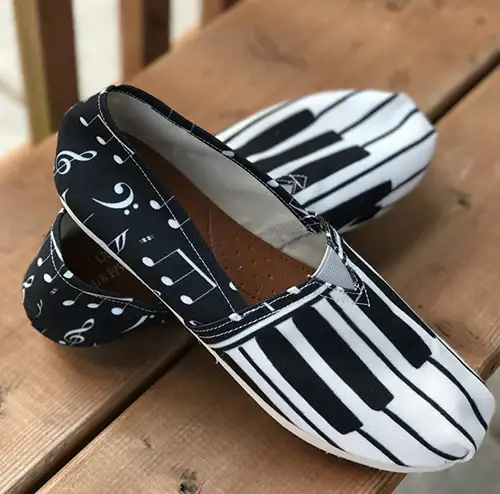 These fun shoes are sure to be their favorite footwear in no time at all! Well, maybe 4/4 time. Or is it 3/4?
Puns aside, these classy but funky shoes will show off their eclectic style, and everyone who gets a peek at them will want a pair, too. How could they not? Such a creative gift idea that's a bit out of the norm.
10. Gripmaster Hand Strengthener
Pianists' hands may look elegant, but we know the truth. They're actually superhero strong! But after all of that practicing and performing, those hands and fingers can get mighty tired.
Help them prevent that digit exhaustion by building stamina with this Gripmaster hand and finger strengthener. They'll be back to Flight of the Bumblebee in double-time before they know it!
Fun Gifts for Pianists
Not all piano gift ideas have to be serious or practical. Pianists may be studious by nature, but that's not to say they don't enjoy a bit of fun and frivolity.
These super fun gift options include a variety of piano-related gifts, unique musical instruments they can tinker with in free time, and a bunch of other great gift ideas. Let's go!
11. Marshall Stanmore II Bluetooth Speaker
Now they can listen to their favorite songs in perfect clarity and quality with one of these Marshall Stanmore bluetooth speakers.
So easy to take along with them when traveling, or just to keep on the kitchen counter to bop to while cooking, organizing, or cleaning.
Now wherever they go, they can take their most favorite concertos, operas, and musicals (or whatever else keeps them inspired) with them!
Related: Must-Have Gifts for Music Lovers
12. Ebony Piano Key Necklace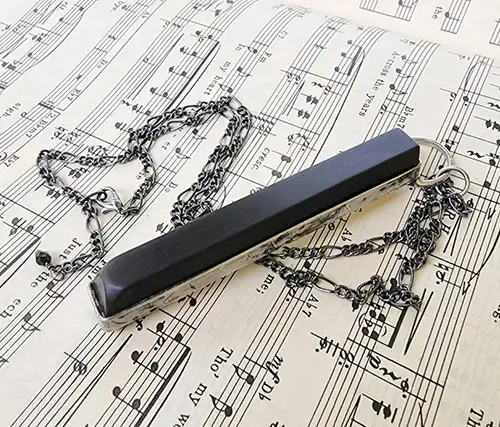 We absolutely love this repurposed gift idea! It's a beautiful and one-of-a-kind necklace that is such a great idea for that special piano teacher or pianist friend!
It would look lovely against a pretty white blouse or an elegant black dress, so this ebony piano key necklace strikes all the right notes.
13. Musical Notes Sticky Notes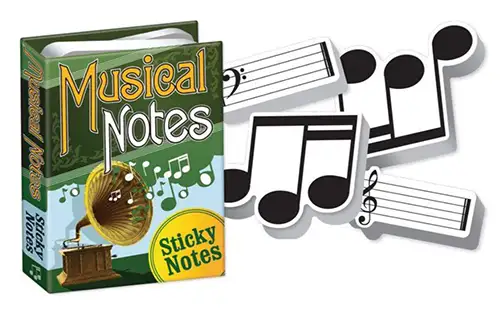 Need something for a music teacher? Maybe something practical but still adorable? How about these fun sticky notes?
They are indispensable for jotting down reminders, corrections, or just a plain-old to-do list. A fun way to bring some organization to your life or theirs.
14. Gourd Thumb Piano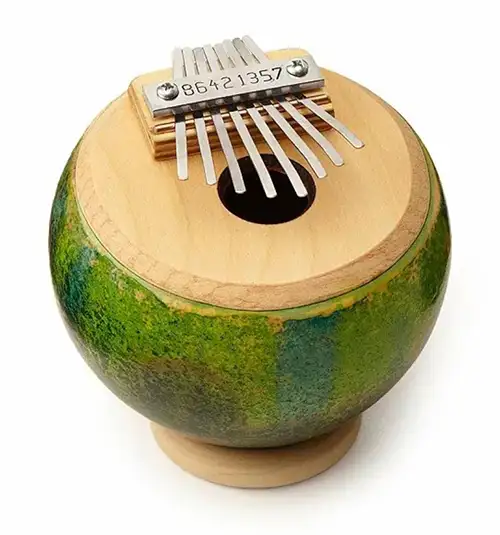 Need something more eclectic? More unusual? A gift for someone who has it all already? Enter in this gourd thumb piano! So fun and unique, this little pick of musical gifts will be a delight.
They'll be tickled pink with such a charming present, and will want to drop everything to learn to play it. Their love of music certainly isn't confined to just the piano, so a gift like this can provide a nice change of pace.
15. Personalized Piano Ornament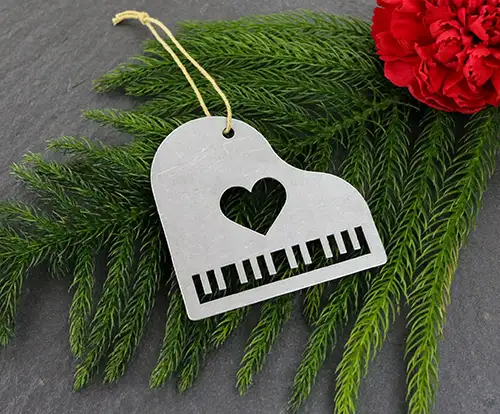 This sweet little piano Christmas ornament is personalized for your music aficionados so it's absolutely perfect!
Great for Christmas of course, but it could also look adorable hanging from their car's rear view mirror so they can enjoy it all year 'round. Who says small gifts can't make a big impact?
16. Piano Socks
Great novelty socks — are they ever a bad idea? We think not! These socks will delight your beloved pianist, and they'll love wearing them with each and every outfit (maybe buy two?).
Comfortable, too, and we love the idea of them slipping them on under a long, black concert dress for her, or with his suit and tie. So cheeky!
17. Piano Player Head Planter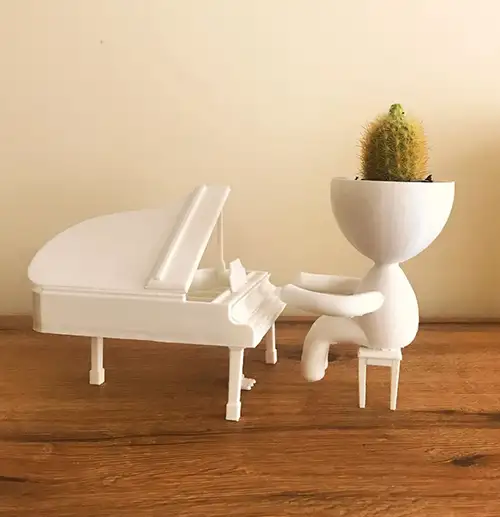 What will they think of next? This adorable 3D printed piano player planter is the bee's knees! It makes for a super charming, funny pick of unique gifts.
Especially once you add a succulent or cactus to complete the picture. We want at least one, or maybe one in each color?
18. Engraved Silver Keepsake Piano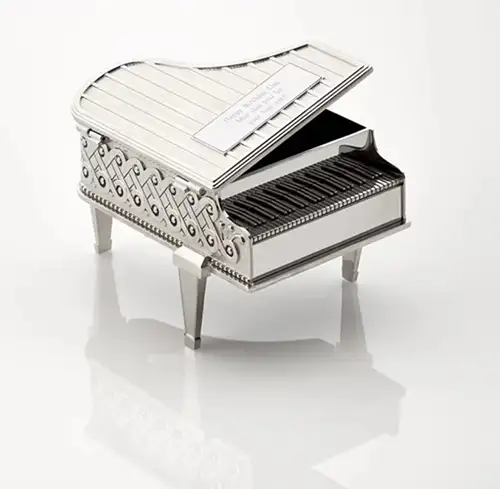 This engraved silver keepsake piano would make a wonderful birthday gift for someone special! You can have it engraved with their name and birthday/graduation date, or however you like best.
Such a sweet keepsake that they will love and treasure for many years to come.
19. Black & White Stripes Pillow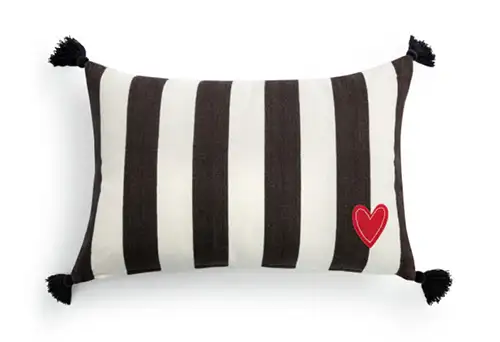 How cute are these black and white striped pillows with the little red heart?
They are reminiscent of piano keys and will really "strike a chord" with your music lover. Cheery and able to effortlessly transform a room into a special space for creating or lounging.
20. Piano Key Artwork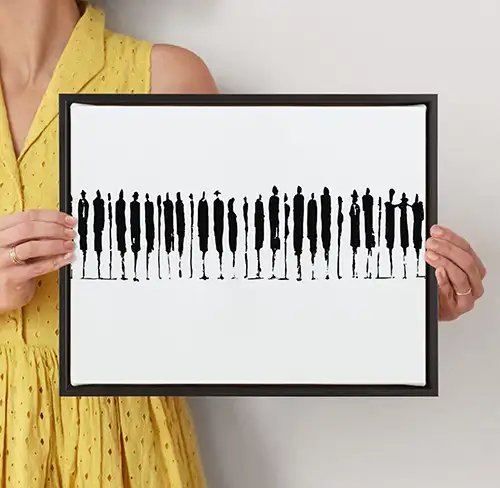 This piano key artwork is strikingly modern and would make such a nice addition to a music conservatory's wall. It's simple, yet complex, and will really make a room pop.
This would be a really good gift for anyone in the music world, but especially for graduating music students or a piano teacher.
Best Piano Gift Ideas for Students
Students will always have a list of items that would be helpful on their piano journey. You could also get them a gift to celebrate their accomplishments or milestones!
We've got some great suggestions below to help you find just the right gift.
21. Congratulations Champagne Gift Basket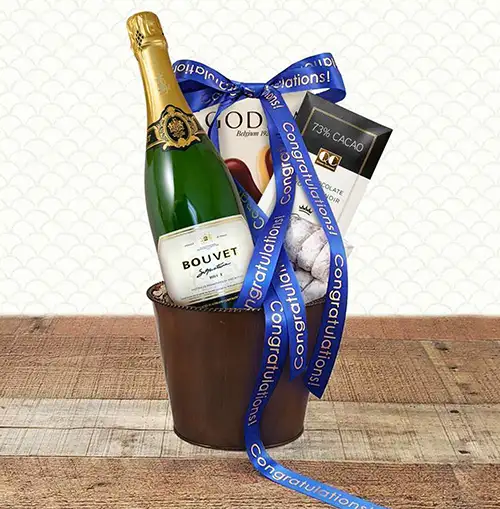 Congratulate them on an amazing performance after the recital or other special occasion with a thoughtful gift basket like this one! It features the bubbliest of champagnes and tastiest of treats.
Perfect for adult students, they'll love taking this home and enjoying it after such an incredible night. Hard work deserves a toast!
22. Hanon: The Virtuoso Pianist
Good music books are always a thoughtful and much appreciated gift! This volume, Hanon: the Virtuoso Pianist has so much in it to inspire your piano player.
It's witty, charming, easy to read, and full of wonderful advice on how to build your technique. A win-win pick of piano gift ideas.
23. Self-Heating Ceramic Mug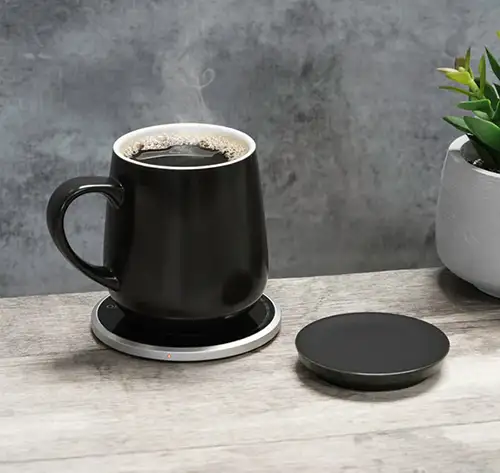 Keep their tea or coffee nice and warm while they master that latest piece of music!
Anyone who has accidentally lost track of time and knocked back some lukewarm (or worse, stone-cold) coffee, knows how wonderful this self-heating ceramic mug would be! And did we mention it also charges their phone?
Related: Best Gifts for Coffee Lovers
24. Compact Digital Keyboard
This compact digital piano keyboard is so portable! Practice anywhere, even while traveling. This easy to use and store keyboard is also great for kids.
It comes with fun removable stickers, over 200 different tones, and a subscription to piano lessons. What a deal and a steal. A great gift for the aspiring musician.
25. Online Piano Lessons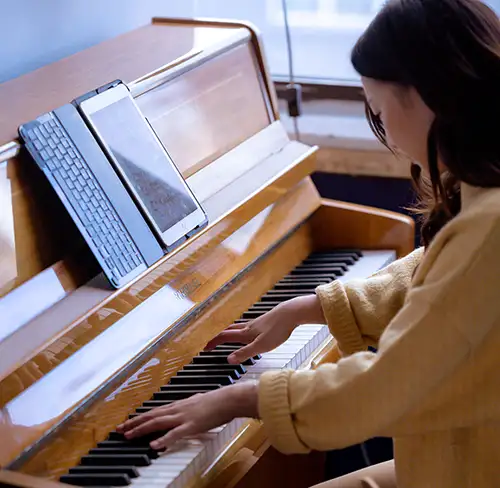 Sometimes we live too far away from a good teacher to make weekly music lessons work. Or there just aren't any near you, or the cost is simply too prohibitive. Never fear!
Gifting some online piano lessons is just as wonderful, and your student can work at their own pace, whether faster or slower. They'll be learning so quickly, you'll be amazed!
Related: How to Give Digital Gifts
Practical Gifts for Professional Pianists
Just because they've been in the music world for a while (or a lifetime), doesn't mean they don't still have things they need or want! Take a look at these great picks of piano gift ideas for professional pianists.
26. Manuscript Music Notebook
If your musician is also a music composer (or an aspiring composer), then they need this beautiful manuscript for their sheet music.
Designed by Beechmore, this is a quality journal that they will love scribbling in, and will find themselves reaching for again and again as inspiration strikes. You can pick from several stunning, jewel-hued colors.
27. Best Piano Teacher Ever Tumbler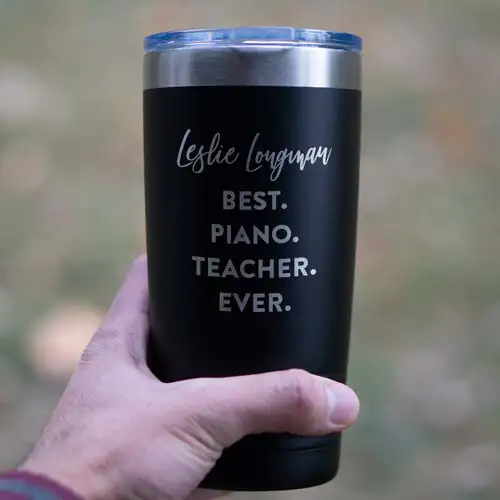 This high-quality tumbler is a no-brainer gift for a wonderful piano teacher, or a professional pianist that also teaches!
Lined with stainless steel, he or she can keep their coffee hot or their iced tea cold for hours and hours, even if they're teaching all day long.
Choose their favorite color and pick your engraving for a unique gift that will knock their socks off.
28. Relaxing Candles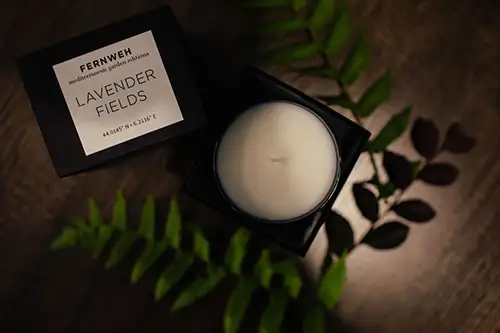 Help them relax before or after their piano performances with these delightful candles.
The scents will transport them to a state of utter calm, and you can't beat the ambiance that candlelight gives! Find their favorite dream destination, then get a candle to match!
29. Washable Piano Bench Covers
Teachers know — that sweet little seat can get awfully dirty after a long week of lessons! These washable piano bench covers are just the thing for that.
So easy to remove and put back on, they make it a breeze to always feel like you're ready for that next student.
30. Pianist Tie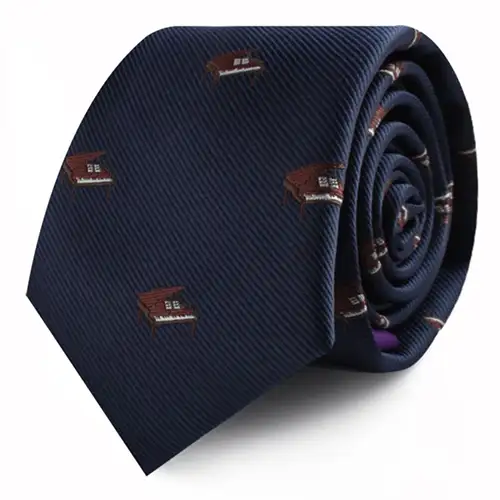 Great for recitals or just as a nod to their favorite hobby/profession when out on a date, this fun pianist tie is a great gift! Totally awesome for Father's Day, too.
It will make his whole outfit come together in a fun and handsome way. Don't automatically leave out how posh it would look on a woman either!
Read Next: Best Gifts for the Musician in Your Life