Welcome to the All Gifts Considered review of the Beer of the Month Club from Amazing Clubs!
Below, we'll walk you through our unboxing of the Beer Club and a description of the experience of receiving beer in the mail.
If you want to know if this is a good gift idea for someone on your list, I'll give you a quick summary in the "mini review" before we get into the unboxing and a full, detailed review.
But first, you need to know that I received a shipment from Amazing Clubs as a free sample, and I may receive a commission (at no cost to you) if you decide to purchase after reading my review.
Beer of the Month Club Mini Review
One of the least expensive beer clubs out there, Amazing Clubs has been around a long time and does a good job selecting, packaging, and delivering each month's 12 pack of craft beers.
You get 3 bottles each of 4 types of brews. Two types are from one small craft brewery, two types from another. These are solid, mid-range brews that include award winners you won't find locally.
I really enjoyed each one. A beer snob might not,* but that's not me so I thought it was great.
*Actually they really kinda don't; as you'll see in the listings below comparing my review of each beer to the big review websites' ratings. But reading the snob reviews and actually tasting the beers kinda shifted my view on the value of those sites… as I've also learned from movie review sites, low ratings from critics has almost zero relation to whether I'll enjoy a movie or not. Same with beers. Maybe this tells you more about me than the beers, but oh well.
The monthly selections are perfect for the novice or casual beer drinker. (FYI, I'd put myself in the "casual" category.)
Sidebar: For the real connoisseur, try the Rare Beer Club.
The club is great gift for just about anyone, and it's a fun way to explore new styles, expand your taste palette, and discover new breweries.
Ok, let's jump in to the unboxing!
Beer of the Month Club Unboxing
It arrived in a sturdy, plain cardboard box.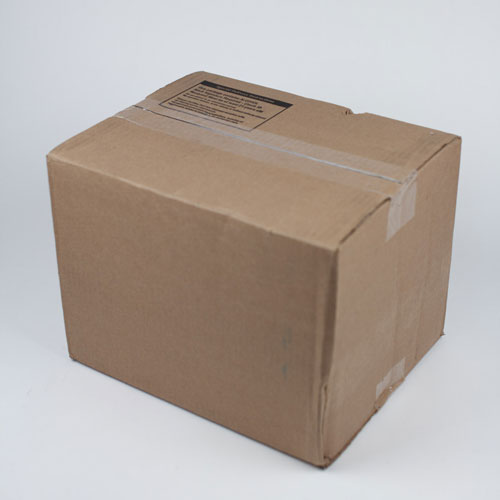 The only noticeable thing was the "Special Delivery Instructions" label that said it contains alcohol, and that someone over 21 needs to sign for it.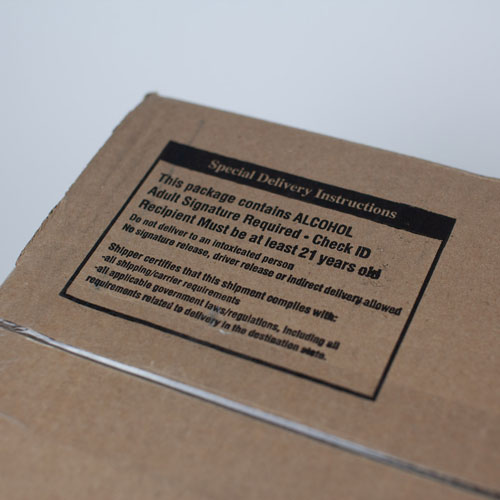 Our FedEx guy knows us, and that we're always around and getting weird deliveries, so he didn't make us sign. Your mileage may vary. They're supposed to have the recipient sign, FYI.
Upon opening the box, the first thing you see is The Frosted Mug newsletter.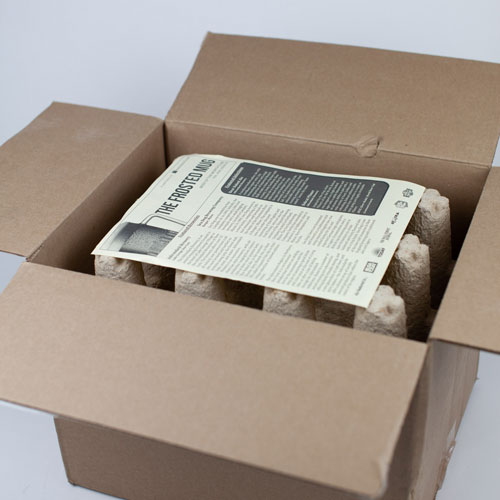 It's a one-page (front and back) printing that has information about:
The two featured breweries (Adirondack and Sea Dog, for this month's box)
The four beer selections (see below for more info)
Customer service info (cancellations, address changes/vacation shipments, damaged packages, etc)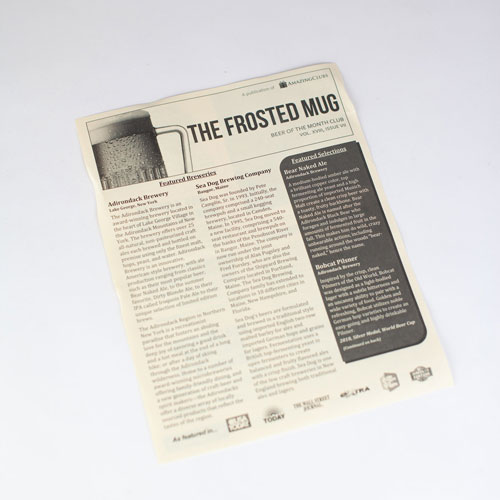 The beers were well-packed in the cardboard divider insert. I doubt they have many damaged shipments.
The beers had a bit of dust on them, you can tell it's from the packaging (those cardboard inserts have a particular feel, you can just tell) and not from sitting around on a shelf somewhere. You can see it on the bottles as I'm pulling them out of the box, in the photos right below. It wiped right off.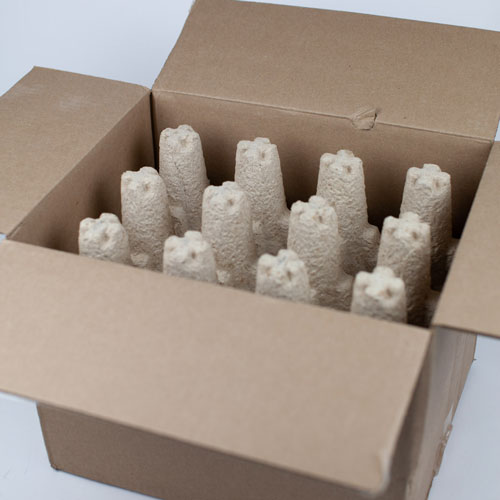 Inside: 12 beers!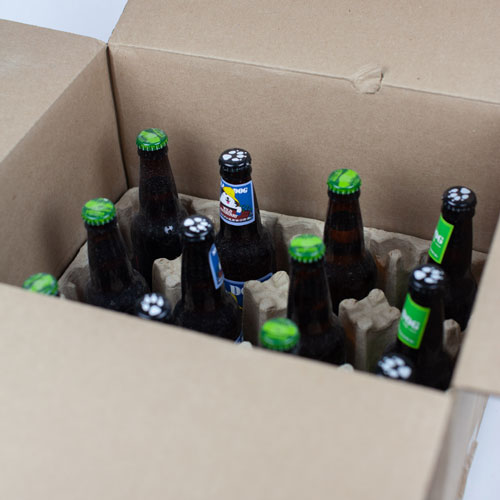 First up: Bear Naked Amber Ale from Adirondack Brewery in Lake George, New Yord.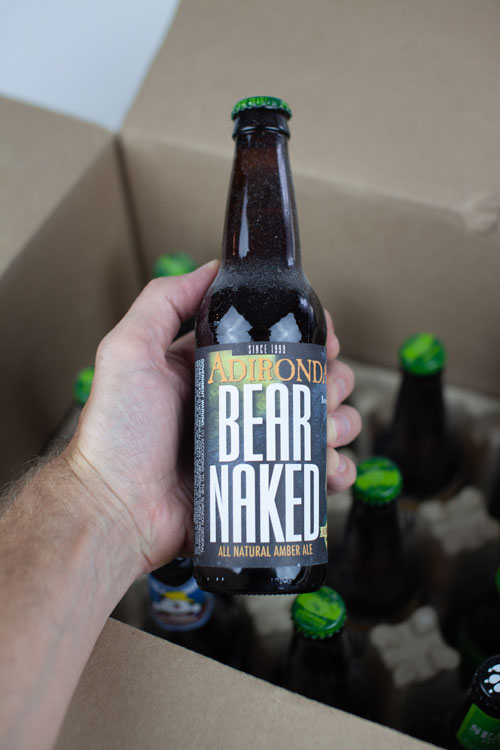 Next, Wild Blueberry from Sea Dog Brewery of Portland, Maine.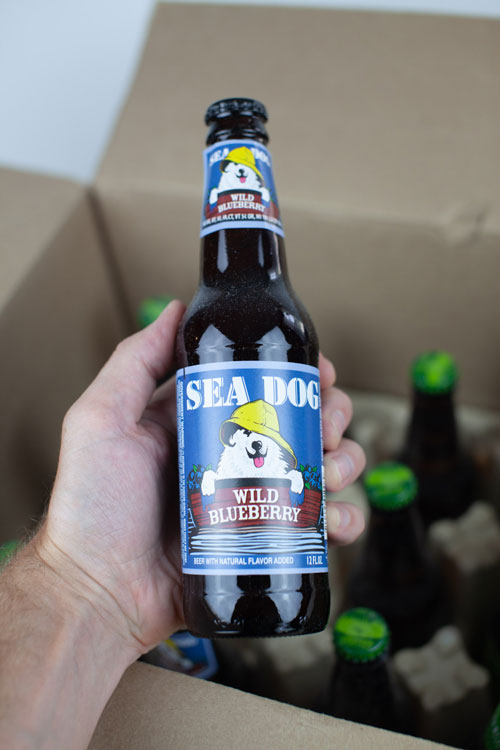 Third: Adirondack's Bobcat Pilsner.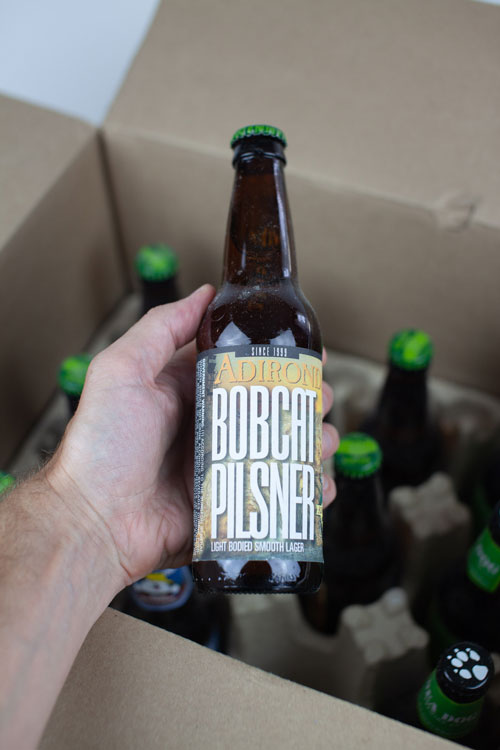 Last, Sea Dog's IPA.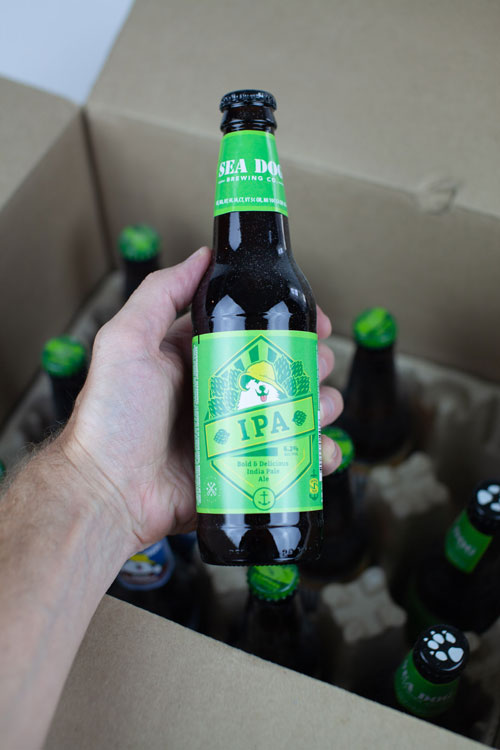 Again, there's three of each beer, for a total of twelve in that month's shipment.
Here are all twelve: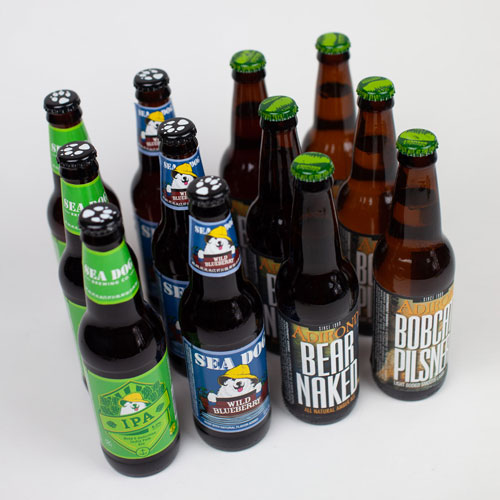 I promptly threw these in the fridge to chill. Next up – taste test!
Amazing Clubs Beer of the Month Club
BEER

Review

Let's talk about the four beers I received.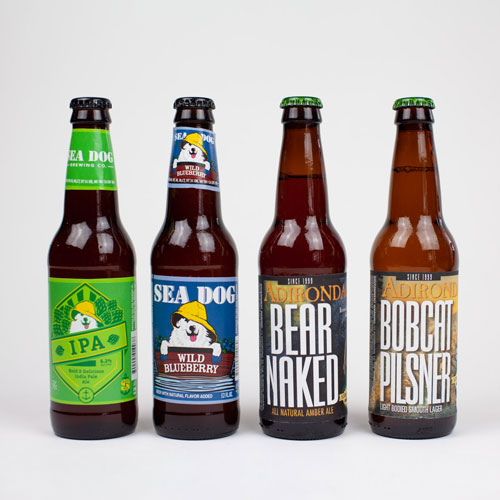 On their site, Amazing Clubs "guarantees delivery of major award-winners every single month." This means that each delivery will contain award winners, not that every single brew will be an award winner.
For my delivery, Adirondack's Bobcat Pilsner (Silver Medalist, World Beer Cup) and Sea Dog's Bluepaw Wheat Ale (Bronze Medalist, Australian International Beer Awards) were the award winners.
If you look through the club's previous selections, you'll see that each month contains 1-3 brews that won between 1 and 3 awards. Some gold winners, and a fair amount of silver and bronze.
As far as taste testing goes… FWIW, I would classify myself as a "moderate" beer connoisseur. I know a bit, have tried a broad range of brews, definitely prefer craft beer to the big brands, I'm from the Pacific Northwest, and I maybe have a six pack per month, often trying something new. Although I'm most partial to browns, reds, and porters, I like IPAs too, which I guess is a sign that I'm legit.
Sea Dog Brewing Company: IPA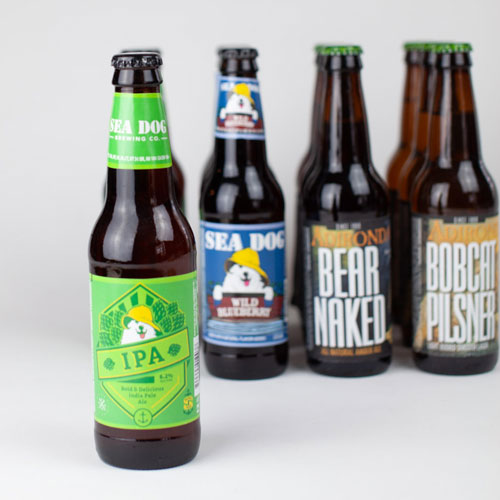 Quick stats:
Type: English IPA
6.2% ABV
My take:
Nice tang at the start, a little flat in the middle as it's going down, finishes smooth without a big aftertaste – which can be good or bad, depending on what you're looking for in an IPA.
I don't drink IPAs all the time, but when I'm in the mood I really enjoy a good one. I liked this one for sure, and would drink it again.
My rating: 4.0 (out of 5)
Other reviews:
Sea Dog Brewing Company: Wild Blueberry Wheat Ale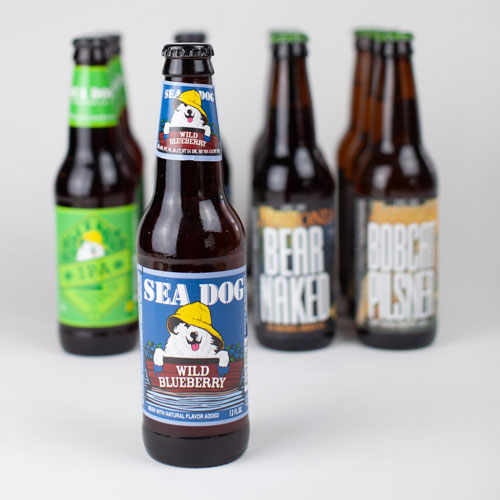 Quick stats:
Type: Wheat
4.6% ABV
Bronze Medalist, Australian International Beer Awards
My take:
I don't typically like the sweet or fruity beers, and I'm also not a big blueberry fan. So I was surprised that I actually enjoyed this one. Like, really enjoyed it.
Flavor isn't too sweet, which I think is what kills most of these types for me (although super-sweetness is probably the draw for a lot of people). For some reason the blueberry hints just worked with the wheat/beer flavors.
My rating: 4.2 (out of 5)
Other reviews:
Adirondack Brewery: Bear Naked Ale (Amber)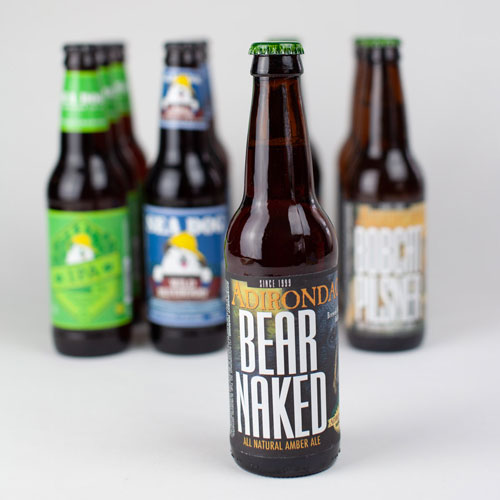 Quick stats:
Type: American Amber Ale (or Red Ale?)
5.2% ABV
My take:
Nice red ale vibe. I like reds and browns, and this was a solid one. Rich malty flavors (but not sweet) with a bit of tang on the back end.
My rating: 4.4 (out of 5)
Other reviews:
Adirondack Brewery: Bobcat Pilsner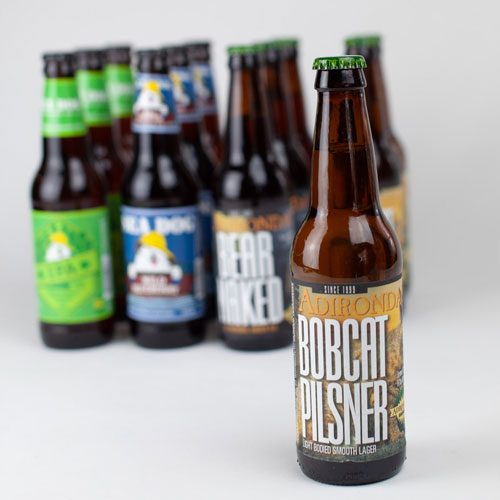 Quick stats:
Type: Pilsner / Blonde Lager
4% ABV
Silver Medalist, World Beer Cup
My take:
Crisp wheaty lager with a deeper flavor than expected, while being still light and smooth. I'm not a huge pilsner fan, but this one was enjoyable. Best with a meal rather than just on its own.
My rating: 3.5 (out of 5)
Other reviews:
My Taste Test Verdict
Overall, I liked it. And that's the point. Each beer was solid, interesting, and tasted good. There was a good variety. It was fun getting it in the mail. I enjoyed having three of each brew; I was able to share a few and still had 2 of each myself.
For a step up, and with a similar price point, you might also consider the Rare Beer Club (read our review)
Amazing Clubs Beer of the Month Club
GIFT

Review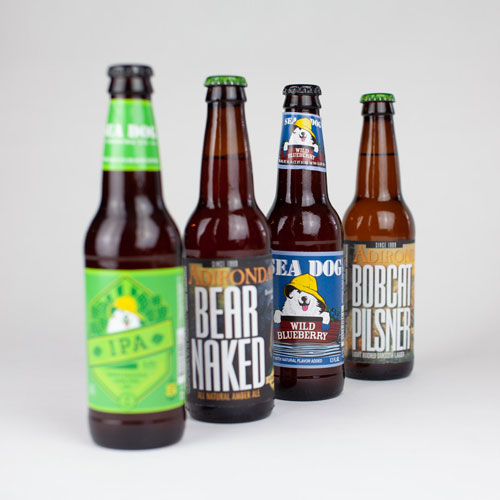 Best for:
Gifting to a casual beer drinker
Yourself if you want to expand your knowledge and palette, or just want to try new craft brews
Pros:
Affordable
Several subscription options from 3 months to a year
Great variety (3 bottles each of 4 different types from 2 different breweries)
Perfect for casual beer drinkers
An excellent way to discover what you like or try different craft brews
Beer delivered to your door – that's always going to be a "pro"
I liked them all
Cons:
Good (but not great) selection – since the price is so reasonable, you get decent mid-range beers
Not for beer connoisseurs, experts, or snobs (this club is better for those types)
No date-specific scheduled delivery (they ship in batches once per month so you won't be able to ensure that this arrives before someone's birthday, for example; it will just arrive sometime that month)
I think that the Beer of the Month Club is great gift to give to someone who enjoys beer (or is new to craft beer) but isn't a seasoned expert. It's one of the most affordable monthly beer delivery subscription services on the market.
As such, they have unique, interesting beers from small craft brewers that are diverse and thoroughly enjoyable. These are brews that won't be available at your local market. Beer snobs typically rate them about 3-4 out of 5 stars, but I liked them all and would probably give a 4.5 for the whole thing.
The delivery is packaged well, and it's fun to have a case of beer arrive at your door. Also, the whole experience is fun – opening a case, seeing beers from breweries I've never heard of before, trying them out.
Get the Beer of the Month Club here.
Subscription Options
The most basic subscription is for three months. It's affordable, and the recipient will still get to try a decent amount of beer (that's 36 bottles, 12 completely different brews, from 6 unique small craft breweries).
I spoke with the company owner, and he said the most popular option is the seasonal club. It's essentially a four month club, it's just delivered quarterly (every three months for one year).
Then you also have six month and one year options. With either of those you'll generally get a discount.
When-to-Start Options
They have a simple drop-down menu with options for when they start shipping. It's usually available for the next month.
Since they don't have any options for a specific delivery (as in, you can't specify that you want them to deliver it on or before someone's birthday, etc), if you're ordering in December as a Christmas gift you'll want to choose January and then give the recipient a card letting them know what you got them, and that it will begin at the start of the next month. Easy.
Shipping
Shipping is free in the continental USA. They do ship internationally; I'm not sure what the cost would be.
They ship out each month's subscriptions towards the beginning of the month. From what the owner told me, they begin shipping at the very end of the month prior to when you want it delivered. Shipping/delivery times vary so I think it's best not to plan on a specific delivery date.
When you order, you'll see the "when should we start shipping?" option. Just choose, and that's the general time that you'll get it.
They sent me a FedEx tracking number. It shipped out on Thursday, 7/23 and was delivered on Monday, 7/27.
How to Give a Beer of the Month Subscription
Subscription boxes are great gift ideas because all you need is 1) an internet connection to order, and 2) a card to tell the recipient what you got for them.
This means you can order the Beer of the Month Club as a super-last minute gift, and they'll never know. You could literally order it as you're sitting in their driveway about to go in for a birthday or Christmas party.
When you order, you'll get to specify a gift message (or receive a gift card) by snail mail (for a physical card) or email (printable/digital). Here are the choices Amazing Clubs provides for gifting:
A physical card by mail sent to the recipient. (Or to you, if you want.) You provide the message and Amazing Clubs mails it out on the date you specify. Arrives in 3-5 business days (or scheduled).
A blank card by mail sent to you. Empty card with no message that they mail to you immediately. You add your own message and give it to the person. Arrives in 3-5 days.
A card by email sent to the recipient. You provide the message (and send-to address) and Amazing Clubs will email the recipient on the date you tell them. Immediate (or scheduled).
A printable card. You provide the message and then print right from your computer as soon as your order is placed. Immediate.
Final Verdict
If you're looking for super high-end and exotic beers for the avid craft beer enthusiast, you'll probably want to look elsewhere (and spend more).
For a thoughtful, ongoing, experience-based gift for the new, average, or casual beer enthusiast, the Beer of the Month Club from Amazing Clubs is a great choice.
The box provides a fun selection of interesting beers, in different styles and from different breweries across the USA. It's affordable, with plenty of options to suit your budget and gifting needs. I think this is a gift that anyone who enjoys a good craft brew would love to receive.
I sure did!
Pin It