For the beer lover in your life, you need some top-notch beer lover gifts that will stand out and make a lasting impression.
Well, we've got you covered! From personalized vintage wall decor to custom growlers, bottle openers to beer books, here are some of the greatest beer lover gifts for your beloved connoisseur.
21 Beer Lover Gifts
Our website is supported by our users. We sometimes earn a commission when you click through the affiliate links on our website. Learn more here.
1. Your Choice of Beer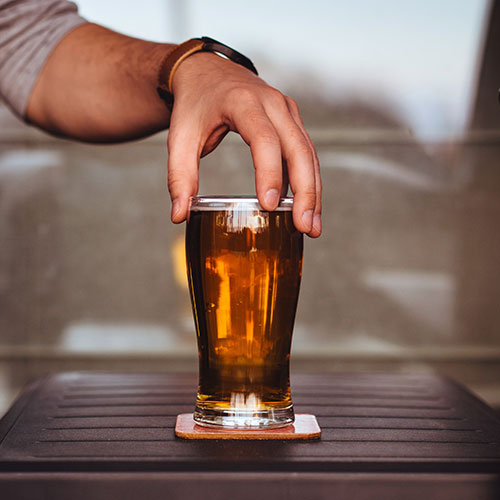 You may think that the last thing the beer connoisseur wants is more beer, but it's patently not so. People who love beer just love beer.
A friend of mine runs a growler fill shop and he's constantly trying new brews and trading out taps. He mentioned that he loves getting beer as a gift because it's something that he didn't pick, but was chosen for him.
So don't be afraid to buy beer as a gift for the beer connoisseur – take a bit of care to pick out something good, and they'll love it!
2. Vintage Beer Connoisseur Plaque
What could be a better gift for a beer connoisseur than a custom vintage plaque that says they're exactly that?!
This old-school-style beer decor sign is made in the USA, custom silkscreened, and boasts an awesome personalized hanging name board. You can even get multiple nameboards and put all the family, roommates, co-workers, or simply list your favorite brews.
3. Beer of the Week Plaque
This round "beer of the week" plaque is personalized with a custom name across the top and includes a chalkboard for your beer-loving friend to list this week's selection of craft beer.
Fun and contemporary, this is a great gift for beer lovers who keep a constant rotation going in the fridge.
4. Personalized Wall Mounted Bottle Opener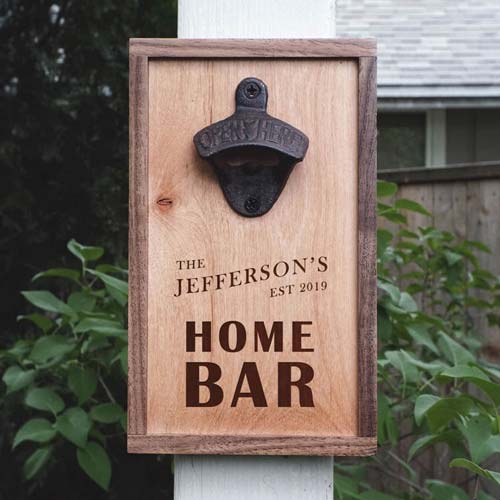 Custom engraved with the initial of your choice, this wall-mounted beer cap popper is perfect for any beer connoisseur's home bar.
Available here, and with tons of designs to choose from including themes like "best dad ever," cars, farmers, retirement, home pub, motorcycles, and more – all personalized!
5. Personalized Home Bar Sign
This classic home bar plaque has been one of our most popular man cave gifts for years. An enduring vintage design on a timeless shape, this home bar sign is personalized, made in the USA, and advertises good times and great friends. Personalize yours here. Cheers!
6. Beer Socks
These beer socks are the perfect way to keep warm while downing a cold one. When your beer connoisseur friend wants more beer, all that he (or she) will have to do is point to their feet.
Now that's living.
7. Beer Tavern Quarter Barrel Sign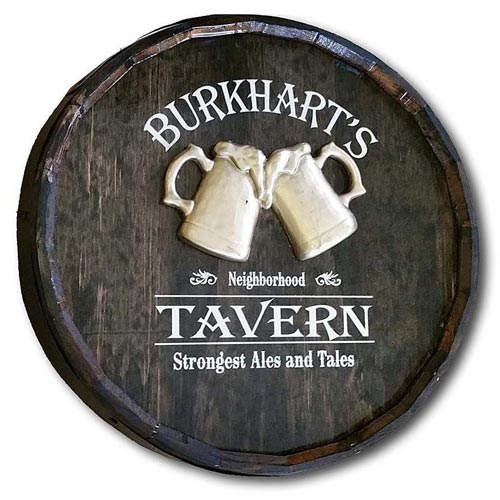 The perfect premium gift for the connoisseur of beer, this designer home bar plaque is crafted in the USA to look like a real barrel head.
Complete with oak staves around the sides and a steel hoop plus bright lettering and a 3-dimensional applique of clinking beer mugs. Includes personalization, comes ready to hang. Cheers!
8. Beer Mitt
Another fun personal warming device, this cozy beer mitt means that anyone can enjoy a cold craft brew at any time of the year, all while staying toasty warm.
9. Custom Engraved Sampler Flight Set with Chalkboard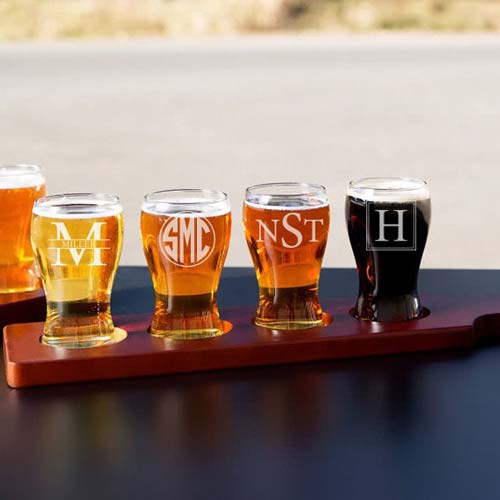 These nifty sampler flight sets include custom engraving so you can personalize the glasses with initials or spell a word (consider: "B" + "E" + "E" + "R"). It's the perfect beer connoisseur gift for someone who likes to try 'em all.
10. Personalized Growler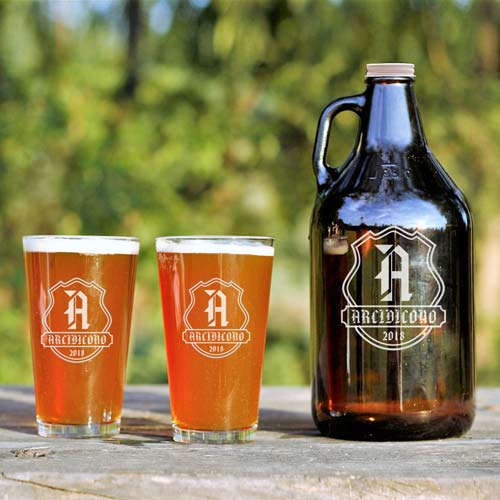 Every beer connoisseur needs a growler so they can enjoy their favorite brews on tap. This one holds a solid 64 ounces and includes personalization, with options for a complete gift set with matching glasses.
11. Growler Cooler & Travel Case
Keep those growler fills cool and safe with a waxed cotton canvas travel case. Features brown faux suede accents and lace-up closure plus adjustable shoulder strap. Available here.
12. Rustic 6-Pack Carrying Case with Bottle Opener
Or maybe go old-school with a tradish 6-pack, fitted into this rustic carrying case complete with bottle opener and custom engraved personalization. Available here.
13. 6-Pack Beer Travel Cooler
Travel in custom style while keeping your beer cool and drink-ready with this nifty travel cooler. Holds 3 wine bottles, 10 beer cans, 6 beer bottles.
14. Funny Beer Quote Pint Glasses
These pint glasses feature beer quotes that the true connoisseur will appreciate.
"Everybody should believe in something. I believe I'll have another drink." – W.C. Fields
"When I read about the evils of drinking, I gave up reading." -Henny Youngman
"Beer is proof that God loves us and wants us to be happy." – Benjamin Franklin
"You're not drunk if you can lie on the floor without holding on." – Dean Martin
15. Personalized Beer Can Glasses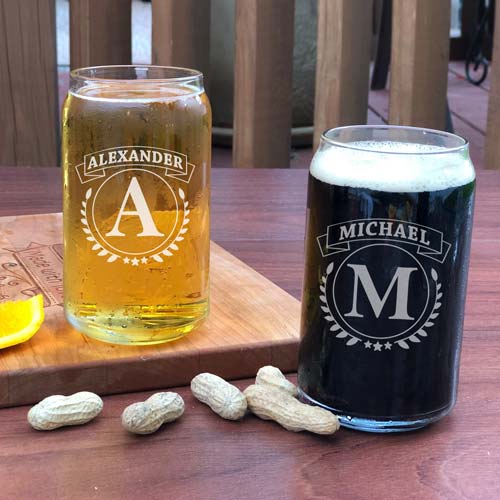 Glassware shaped like a beer can with custom engraving in a "craft brew" logo design. Available here.
16. Personalized Beer Tap Handle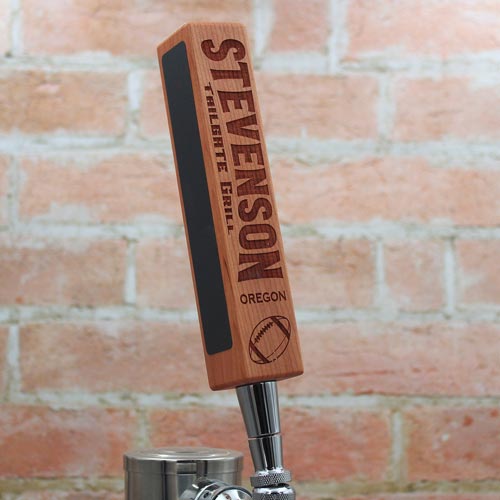 Any true beer lover will have, at least on occasion, a keg. Let them tap that bad boy in style with their own personalized and custom engraved tap handle.
17. Buy Beer Refrigerator Magnet
If you don't get the beer enthusiast something to go in the fridge, better get them something to go on the fridge. Like this reversible magnet that says "Buy Beer" on one side, and "There is Beer" on the other.
Note that the two options are not mutually exclusive. Available here.
18. How Beer Saved the World
This documentary from the Discovery Channel is about beer, and it's a must-see. The documentary tells the amazing story of how beer helped create math, poetry, Pyramids, modern medicine, labor laws and America. Astounding claims? You'll have to watch to find out more! Available here.
19. Beer Books
Some beer connoisseurs love to read about beer. From guides to making and tasting beer to fun histories and children's book parodies, here is our "Top Ten" list of the best beer books for gifting:
20. Craft Beer Making Kit
A homebrew beer making kit is an amazing beer connoisseur gift idea.
21. Whiskey Aging Barrel
Wait, what? Whiskey? In a list of beer connoisseur gift ideas?
Yup… but hear me out. Barrel-aged stouts and porters are a huge deal in the dark beer world.
So a great beer gift for the DIY home brewer type could be a whiskey barrel so that they can infuse their favorite brews with that special barrel-aged flavor. Pretty cool, right? Get your beer connoisseur one here.

Honorable Mentions
Here are some items that either didn't quite make the list, or are heavily featured on other similar lists. Our goal was to help you find truly unique beer connoisseur gift ideas, and the most unique gifts for beer lovers are reflected above. But if none of those quite fit your ideal, here is some further inspiration for your gift giving: