Let's be honest, most of us love getting a Christmas present (or three or four).
Whether they be practical gifts, sentimental gifts, tasty gifts, or — our personal favorites — funny gifts, there's so much joy in both giving and receiving them around the holidays.
Be a miserly miser the rest of the year, if you must, but when the snowflakes are falling, the fudge is cooling, and the tree lights are sparkling, you just have to get down with your gift-giving self!
Impress the jolly old elf himself with this selection of the funniest gifts for everyone on your nice list, and maybe even a few of those on the naughty list.
We've put all of these into helpful categories so you can navigate your way to a perfect gift:
Funniest Christmas Gifts
Funny Christmas Gifts for the Whole Family
Funny Christmas Gifts for Adults
Funny Christmas Gifts for Kids
Funny Christmas Gifts for Co-Workers
Funniest Gag Gifts
Funny Christmas Gifts for Friends
Our website is supported by our users. We sometimes earn a commission when you click through the affiliate links on our website. See our privacy policy & disclosures for more information.
Funniest Christmas Gifts
Few gifts are greater than the gift of laughter, so delight your family, best friends, coworkers and more with a good laugh this Christmas season!
From the best gag gifts to silly gifts — that are still surprisingly practical — we're sure you'll find the perfect funny Christmas gift to tickle their funny bones.
Grant Them Lordship or Ladyship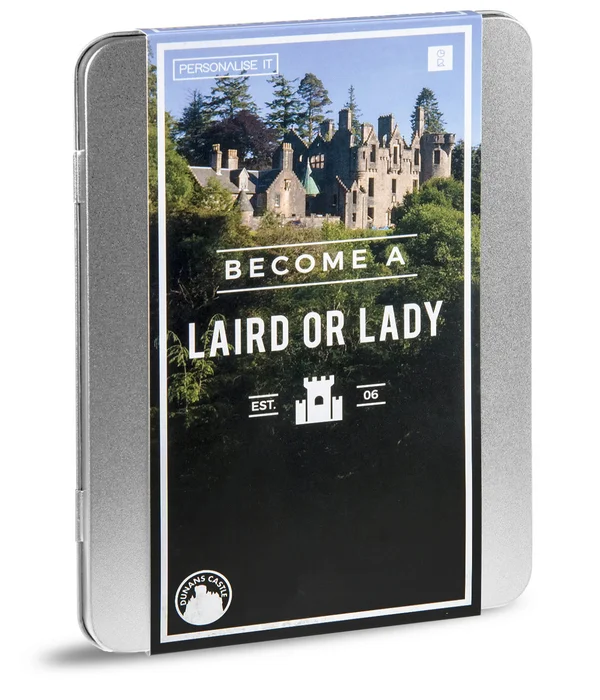 Topping our list is this Laird and Lady "kit" courtesy of Dunans Castle in Scotland! Sure, bestowing regal titles on your friends or family members makes for some seriously funny gag gifts. But the best part is that, well, it isn't really a gag. 
Their new title of Laird (Scottish term for Lord) or Lady will be legally recognized, and even includes perks like access to the grounds at Dunan Castle at anytime, as well as tours of the castle and more.
A great gift for the history buff, and a great way to turn them into the aristocrat they've always felt they should be!
World's Greatest Mullets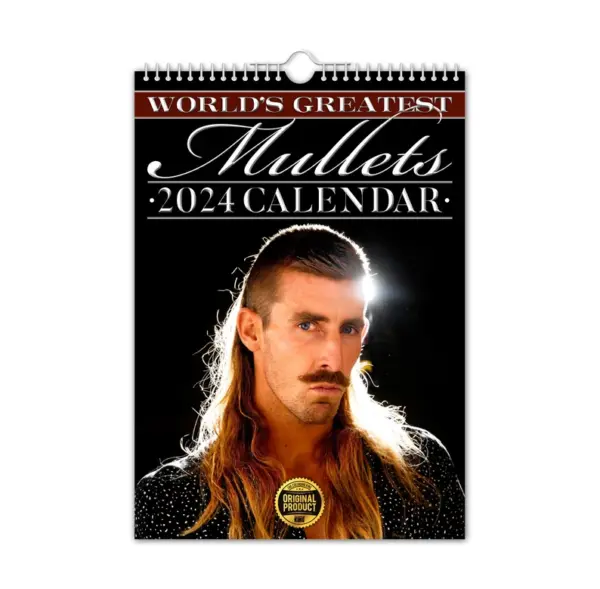 C'mon. You know you want one, too.
A perfect choice for a White Elephant gift, this 2024 Magestic Mullets calendar will be the hit of the holiday party.
You just have to sit back and watch them fight over it. Good times, good times.
3. Customizable Ugly Sweater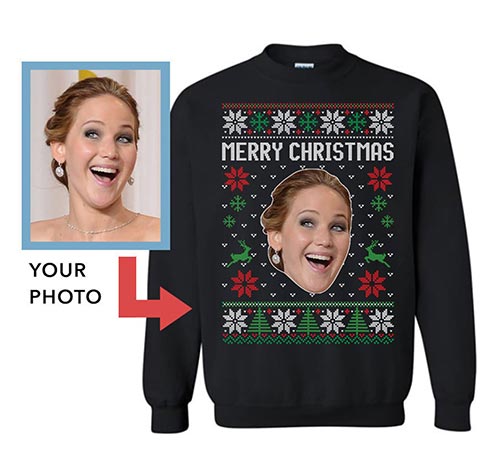 Ugly Sweater Parties are common place these days, and for good reason. They're hilarious, the competition is fierce, and they are usually accompanied by some great prizes for the winner!
Definitely be in the running for ugliest with one of these babies — a personalized sweatshirt with a hysterical photobomb right on front.
4. Nicolas Cage Ornament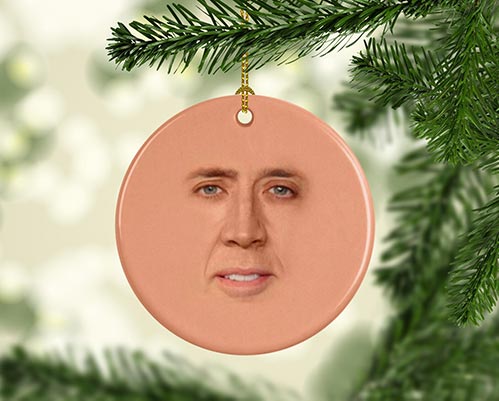 No beautiful Christmas tree is complete without one (or seven) of these epically awful Nicolas Cage ornaments!
Nestled in amongst the sweet cherub angels, the family heirloom set of Nutcrackers, and the romantic couple's "first Christmas together" bauble, every guest will be delighted to find this beauty.
We'd say more about it, but we have to go order a box for all of our siblings, like, right now.
5. Funny Gift Bags
Sometimes the wrapping is better than what's inside, are we right?
Remove any delusions of you getting them anything grandiose or bougie, and let them know ahead of time to lower those expectations with these funny and brutally honest gift bags.
Perfect for packaging up your Secret Santa gifts before the office Christmas party, too!
Funny Gifts for the Whole Family
From the littlest bambino to Great Aunt Irma, any one of these silly items would make the perfect funny Christmas gift idea for a family member. 
6. DaVinci Finger Puppets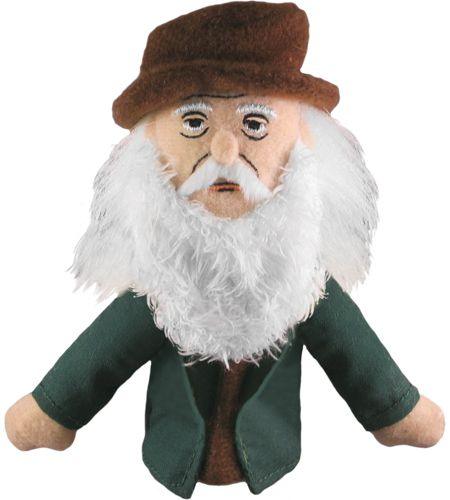 Looking for the perfect present for the family art or history nerd? Then look no further!
These pint-sized DaVinci finger puppets would make a hilarious stocking stuffer or gift.
If you don't have any DaVinci lovers laying around, they also come in all sorts of other fun historical figures and pop icons.
7. Mr. Rogers Magnetic Set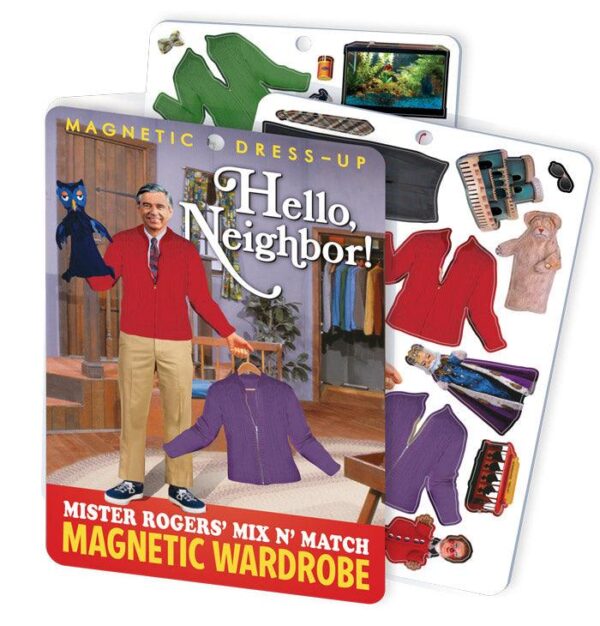 Because who doesn't love Mr. Rogers? Or what better way to introduce the next generation to everyone's favorite neighbor?
Way better than a coloring book, this magnetic activity set is a great present for old and young alike.
8. Cotton Candy Machine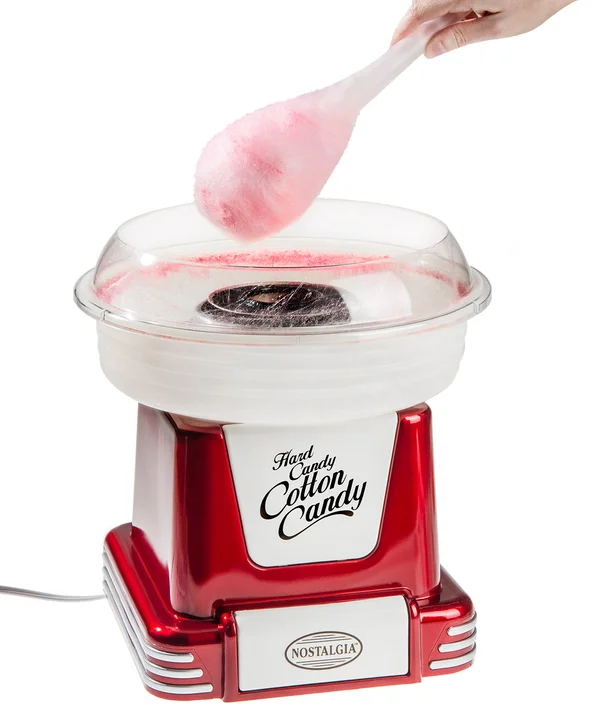 Okay, this cotton candy maker is part joke gift, part practical gift, and part novelty gift. The best of three worlds, so to speak!
A great choice for the candy lover, anyone with a sweet tooth, or that random friend that loves to collect fun kitchen gizmos.
9. Tortilla Blanket
The ultimate gag gift for the foodie, this burrito blanket is sure to elicit many a laugh.
As far as joke gifts go, this one takes the cake… Err, the tortilla.
Funny Christmas Gifts for Adults
Looking for hilarious gifts that are a little more "adult?" No, not that kind of adult. We mean the functional type of "adult."
The stuff that's still practical and enjoyable, but gives them a good chuckle when they see it or go to use it. We've got a great selection, so scroll on. 
10. Probably Watching Christmas Movies Personalized Bird Feeder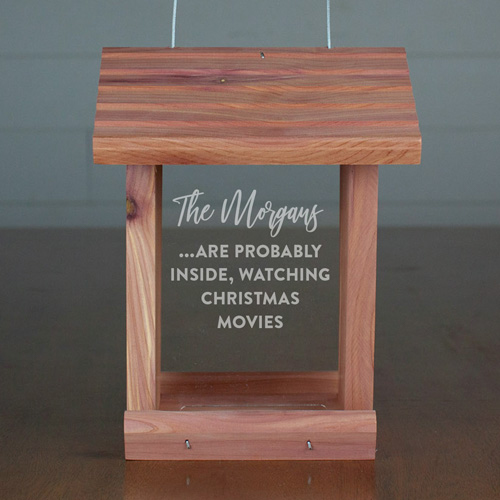 Whether it's all those Hallmark holiday movies, or the umpteenth time they've watched A Christmas Story, you know it's true about at least one of the families on your list!
The movie buffs will so appreciate this personalized cedar wood bird feeder. It's plenty roomy for lots of bird seed to go around in the cold winter months, but we bet they'll keep this up all year 'round (Christmas in July, anyone)?
Related: 10 Old Christmas Movies to Watch Every Year
11. The Garlic Gator
Time in the kitchen doesn't have to equal drudgery. Liven up their cooking sessions with this super fun little Garligator!
They'll have to stifle a giggle every time they use it.
12. Dear Santa… I Can Explain! Holiday Doormat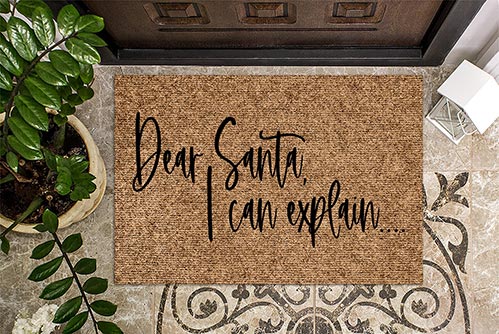 Make the guests giggle and Santa give her a pass, with this cute doormat.
It says all you really need to say about her questionable behavior this year, and it will keep her floors nice and clean, to boot. (Get it? Boots?)
Related: 20 Elf on the Shelf Alternatives to Inspire Your Holidays
13. Monty Python Enamel Pin Set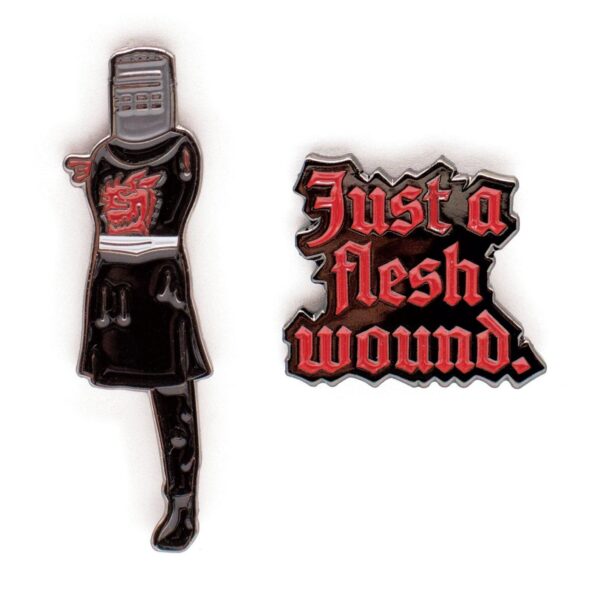 We can't leave out this hilarious enamel pin set for the Monty Python lovers. And there are lots of us…
Sure to be worn with pride for the world to see.
Related: 50 Fun Retro Gifts
14. Jingle Juice Wine Tumbler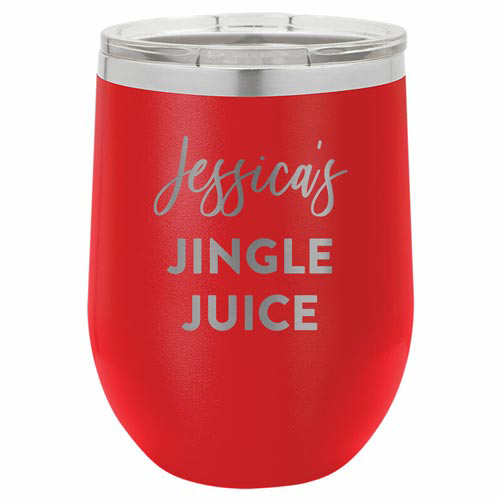 Is it tea? Is it vodka? Only Santa knows, and he's not telling!
This jolly tumbler is insulated to keep her hot spiced rum nice and toasty, or her chardonnay icy cold, for hours… not that it will last that long, ahem.
Personalized with her name so she doesn't have to share.
Related: 150 Best Women's Stocking Stuffers for Christmas
15. Ducky Desk Lamp
Help them fight the overtime/late night blues by adorning their desk with this funny little duck light.
He looks about as done as they probably feel, but his squishy lil butt will bring a smile to their face.
Related: Best Gifts for Hostess
16. World's Smallest Shop Vac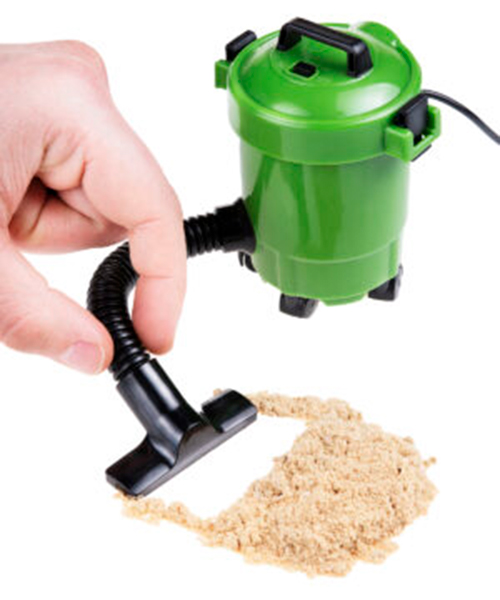 While it's meant to be more hilarious than useful, this world's smallest shop vac might be just the ticket for cleaning up those beard and mustache hairs in the bathroom sink… are we overthinking this?
Well, no matter if he only cracks up at the sight or runs to suck up a pile of pencil shavings, he'll be greatly appreciative of this goofy gift.
17. Christmas Story Leg Lamp
"Fra-gee-lay… it must be Italian!" – Dad in 'A Christmas Story'
Every dad worth his salt knows the story of Ralphie's dad and his magical, slightly inappropriate, leg lamp.
Every house needs one this time of year, and Mom will appreciate the fact that this one is miniature.
18. Only a Morning Person on Christmas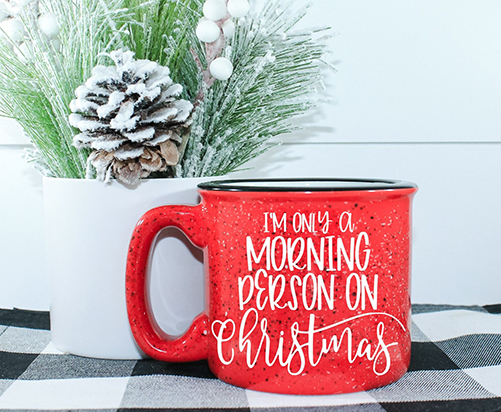 This one will have everyone giggling at the honesty. Let's face it, holiday mugs abound Christmas, but this is sure to become his new favorite when he needs a hot cup of java.
19. Customizable Face Socks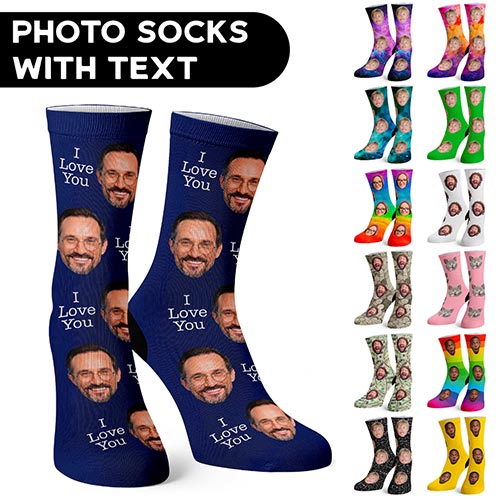 Pick yourself, pick the kids, pick the dog's face, heck, pick Nicolas Cage (if you're going with a theme).
Once that beautiful mug is put onto these amazing socks, they'll beg to be worn everyday of the week! Mix and match and go nuts with the colors. These babies are just meant to be worn with shorts and sandals.
If he loves personalized gifts, he will love these 50 gift ideas!
20. Fireplace in a Jar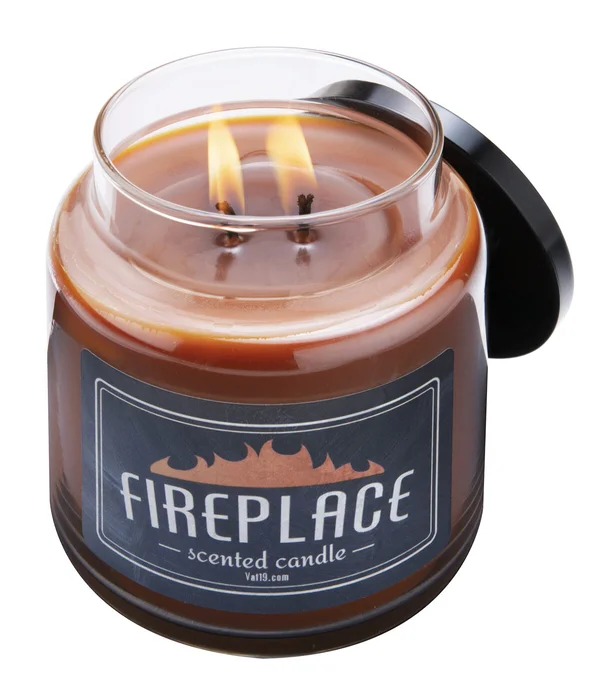 Are they an apartment or townhouse dweller? Then these funny candles scented like "fireplace" are gifts that they can relate to.
All they have to do is close their eyes and use their imagination.
Related: 150 Best Men's Stocking Stuffers for Christmas
Funny Christmas Gifts for Kids
Almost all kids love funny stuff, it's just a fact. We have festive, fun, and downright silly gift ideas for your favorite kiddos below.
21. Christmas Lights Charging Cable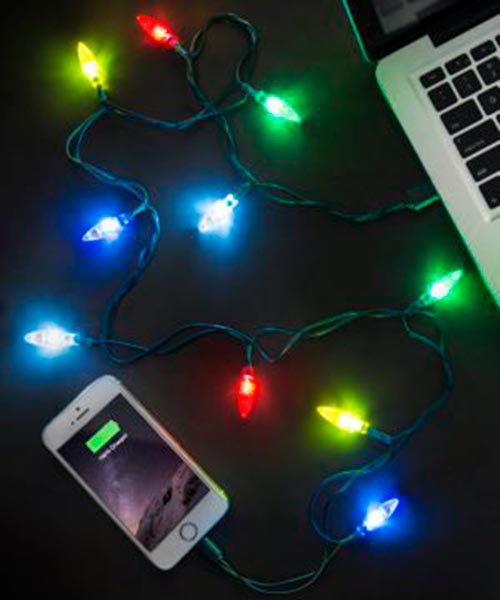 When they said decorate everything, they meant it!
Now your kids can charge their phones in epic holiday style with these bright and cheery Christmas lights charging cable. They really have thought of everything!
When you think about it, they're unnecessary and silly so we'll take three sets.
22. 100 A-maize-ing Corny Jokes
You know how phones aren't allowed at Christmas dinner with the relatives?
Well, make it a good thing (or a bad thing if you hate bad jokes!) with this set of totally corny and cheesy joke cards.
Kids will get a kick out of reading these to each other and to all the adults!
Related: Every Holiday You Can Give Gifts Like This
23. Inflatable Reindeer Game
From the kiddos to the grandparents, this inflatable reindeer game is a hilarious and fun way to spend some time together this holiday season!
Make up your own rules, and have silly prizes for the winners of this ring-toss game. It's a new family tradition in the making!
24. Jigsaw Ninja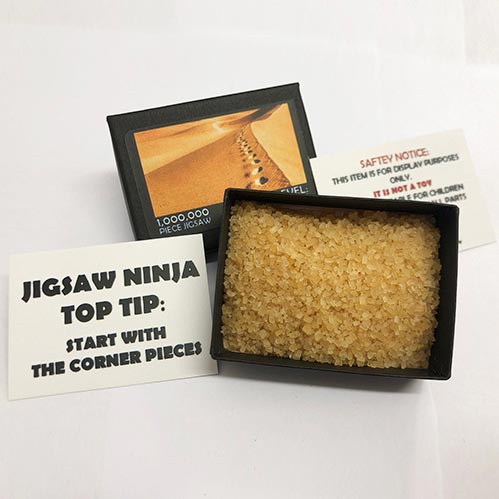 For the puzzle lovers in your life, or just those who enjoy a totally silly gag-gift, this puzzle for experts only is just the thing! Y
our kids will be cracking up while trying to figure out how to put it together! So much for a silent night.
25. Bucket of Dirt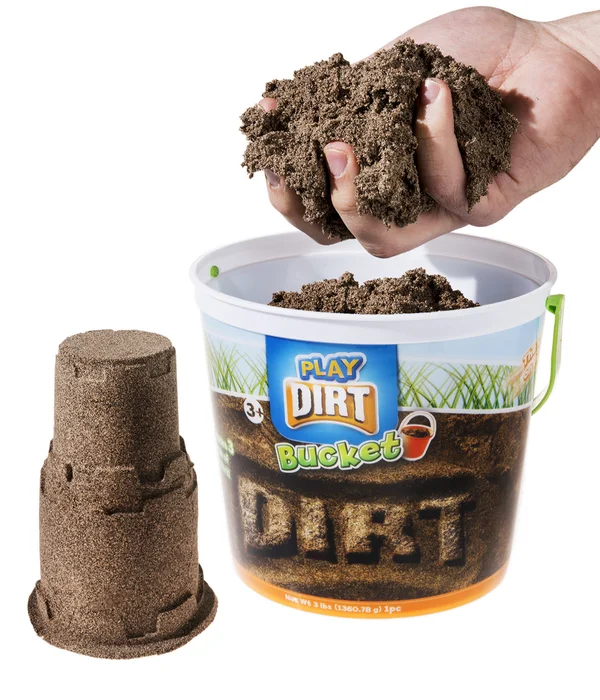 What kid doesn't want a bucket of dirt?
Okay, okay, maybe some of the girly-girls. But this is clean dirt… It's different, fun, and definitely silly. 
Funny Christmas Gifts for Coworkers
Leaving funny Christmas presents on your coworker's desk is one of life's great joys. Spread the holiday cheer in the office with one of these funny gift ideas.
26. HR Approved
Boy-oh-boy, where was this when I was in the corporate world? Just kidding. Sort of.
This hilarious book is perfect for your favorite co-worker, but don't be surprised if they throw a few of these lines back at you in the future. It's bound to happen someday.
27. Emotional Support Coworker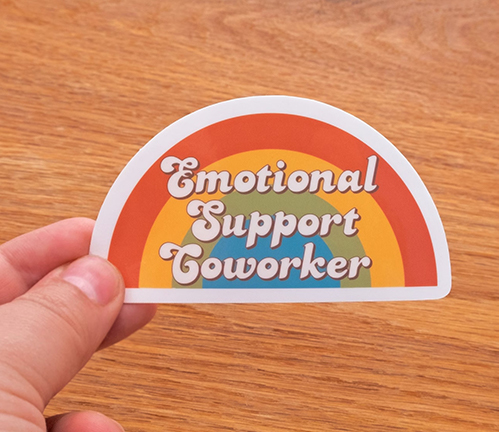 You know it's true, so let them know as well! These cute stickers are perfect ways to show your appreciation for all your favorite shift buddies.
28. Document Dunk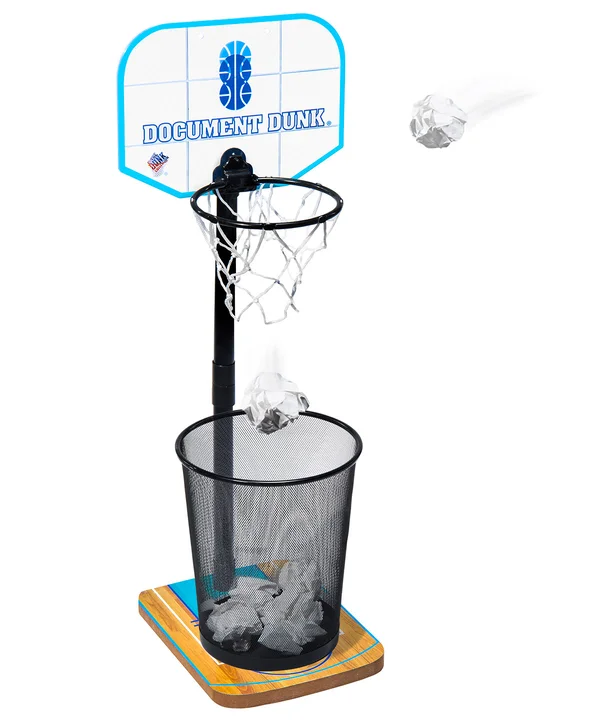 Nothing like a little workplace competition, eh?
This fun Document Dunk game will have everyone competing for the highest score, and cries of "Kobe!" will ring throughout the office.
29. The Office Ornaments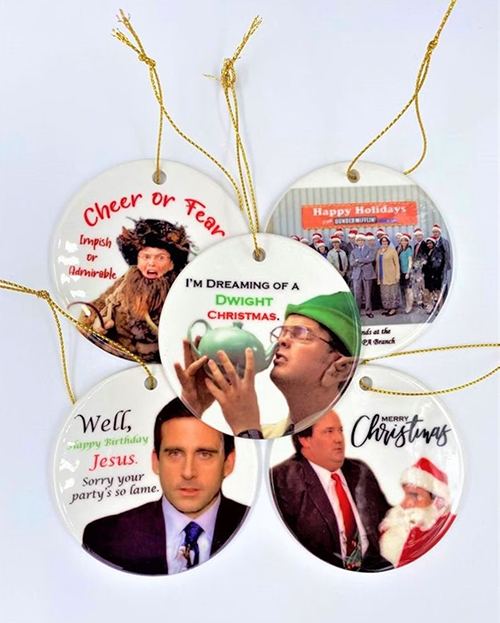 Nothing encapsulates office shenanigans quite like "The Office."
The beloved sitcom is immortalized on these fun ornaments, perfectly suited to your very own Dwight, Michael and Pam. They'll love them!
30. Monday/Friday Socks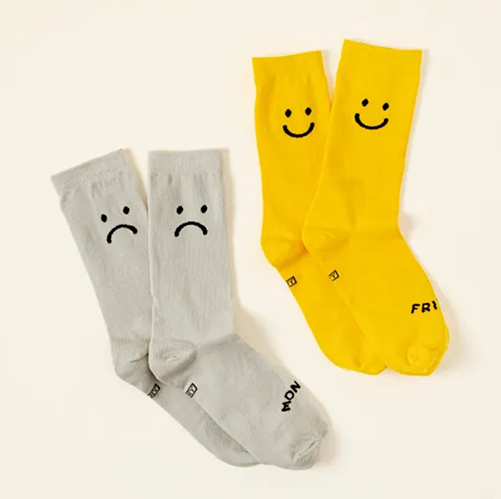 These cute Monday/Friday socks are ironically accurate most weeks. Your coworkers will appreciate these cozy tootsie warmers with their funny faces and fitting colors.
Funny Gag Christmas Gifts
From homemade Christmas gag gifts to obnoxiously silly-themed household items, the gifts below are sure to be accompanied by an eye-roll or two and no shortage of laughs.
31. DIY Candy Cane Puzzle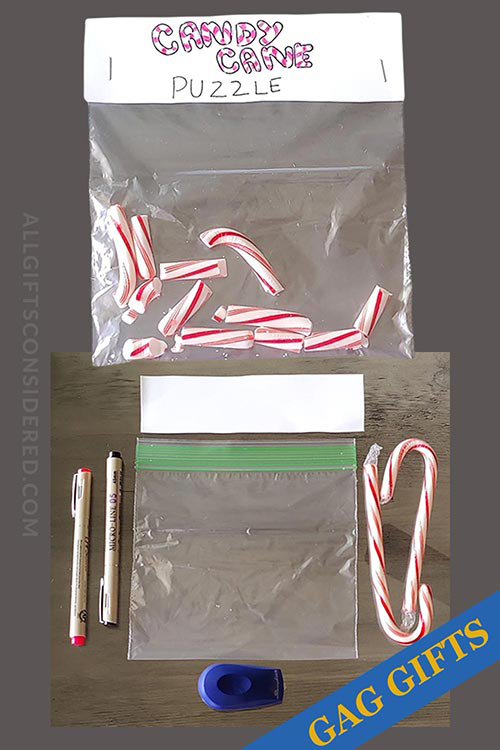 Put it together in minutes, and watch them roll their eyes fondly at your excellent sense of humor!
Great for grandkids, coworkers, neighbors, and the like, this DIY candy cane puzzle will really make them chuckle.
32. Santa Toilet Seat Set
Anyone can decorate the living room for Christmas!
Help them go all out and show that they are, in fact, the King or Queen of the Holidays, with this amazing and totally unnecessary toilet decoration set!
We think Santa would be greatly impressed.
33. Christmas Tree Plunger
And while you're decorating the porcelain commode, get them one of these!
This hilarious toilet plunger looks like a Charlie Brown Christmas tree, and we are so here for it.
34. Nose Warmer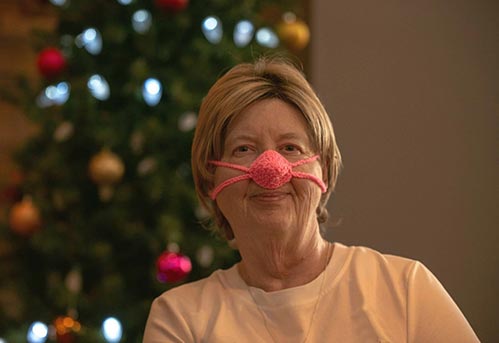 Honestly, they had us at "lots of colors available," so we think your friends will love these too: nose warmers!
How many times have you gone caroling with friends, only to realize all of your poor proboscis is about to get frostbite? Well, no longer! Keep those poor noses warm and toasty with one of these.
35. A Gift You'll Use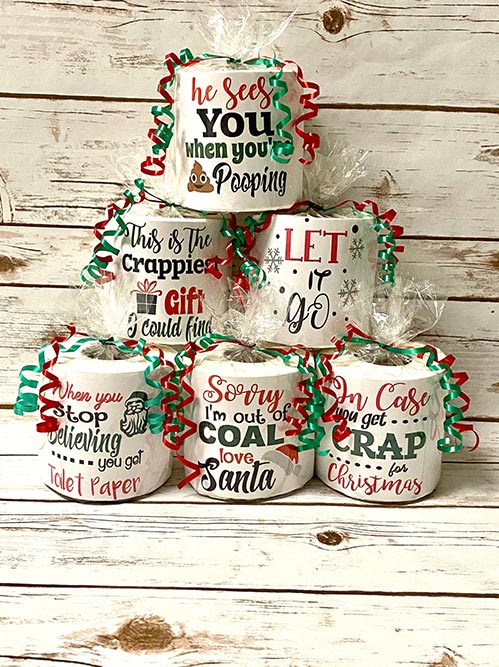 It's the gift you (and they) never knew you/they wanted! But now that you know… you can't just walk away.
These funny gag-gift toilet papers will make everyone who uses the restroom crack up.
Funny Christmas Gifts for Friends
These are the items that you can only get away with when your close friends are the recipients.
You know, the ones who accept you and your unique sense of humor, and won't kick you to the curb no matter how ridiculous your gifts are?
Yeah, these are for them.
36. Potty Putter Toilet Game
When you forget your phone in the bathroom, what are you going to do while dropping off those friends at the pool?
Why, golf of course! This funny toilet game will make them laugh for sure.
Related Article: 21 Best Christmas Gifts for Men
37. Belly Button Lint Brush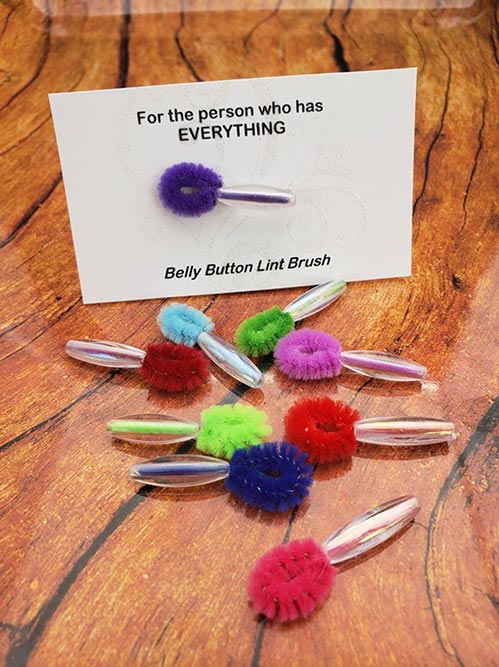 We can bet they've never received one of these before!
A belly button lint brush is just the thing for that friend who already has everything but could use a good belly button sprucing up.
38. Clever Wine Label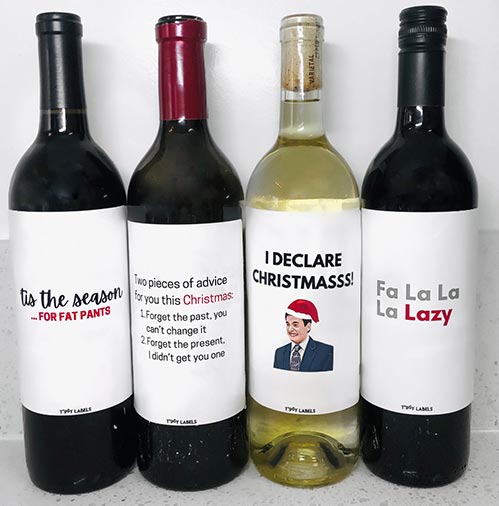 Customizable, these funny wine labels are perfect for all of those holiday parties, so stock up!
They're witty and funny, and most importantly, fit on a bottle of vino of your choice.
39. Outlet 'staches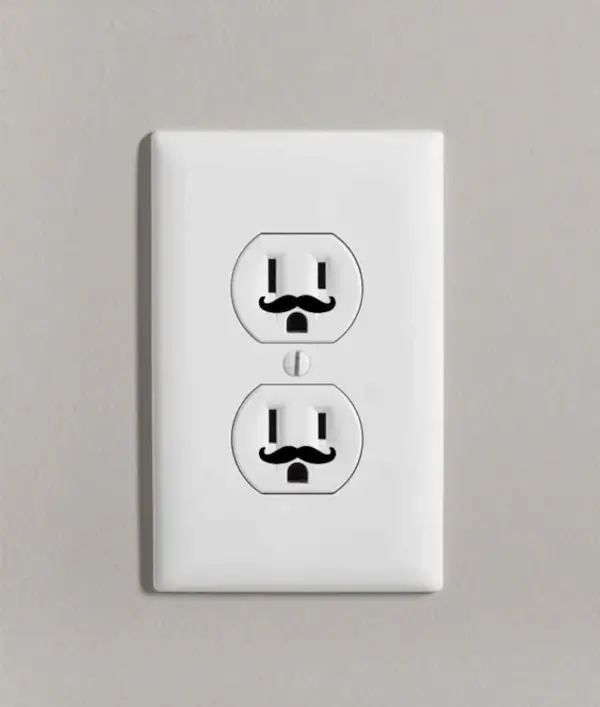 Oiu! Oui! We think these little outlet mustaches are just the cutest gift for your good humored friend.
Also easy on the wallet if you're on a tight budget.
40. Stocking Coal
You've been threatening it for years, so make it happen! Santa approved, this ultimate Christmas surprise of coal will give them utter dismay at first, but then they'll laugh… we're pretty sure they'll laugh.
Witty Christmas Cards
Need a fun card to send with your gift of choice? Don't worry, we've got you covered.
41. Have a Sweet Holiday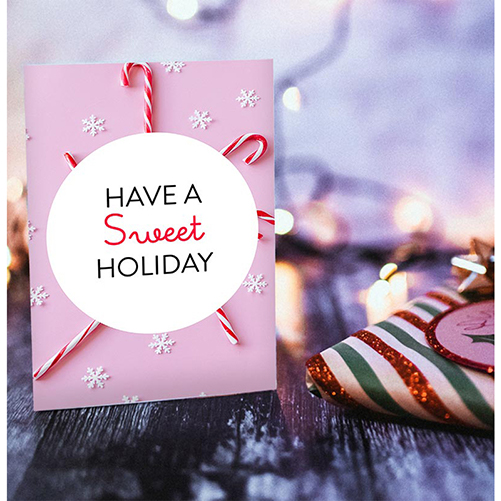 Cards are just the ticket for those far-away family members, or for friends who aren't close enough to receive a gift. This sweet holiday card hits all the right notes!
More Humor: Funny Quotes for Christmas Cards
42. Merry Furrr-mas!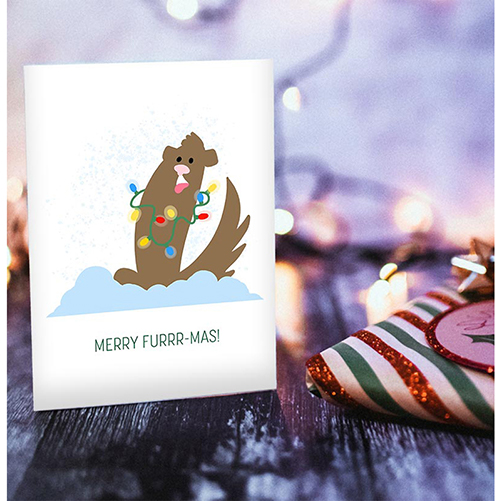 Great for the fur parents in your life, this cute card is just adorable!
43. Hope You Have the Purrfect Holiday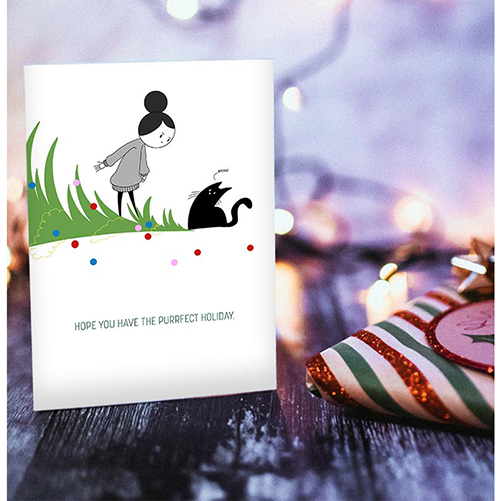 And for the kitty mamas, this one takes the cake!
For some more jolly Christmas cards, check out our 100 Personalized Christmas Card guide!
Read Next: A Fun Christmas Tradition for Kids