When it comes to Christmas, more is always more! More glitter, more bells, more cookies, more tinsel, more fa-la-lala-ing…
Be a miserly miser the rest of the year, if you must, but when the snowflakes are falling, the fudge is cooling and setting, and the carols are played loud, you just have to get down with your gift-giving self!
Impress the jolly old elf himself with this selection of super funny gifts for everyone on your Nice List.
Funniest Christmas Gifts
Our website is supported by our users. We sometimes earn a commission when you click through the affiliate links on our website. Learn more here.
1. Probably Watching Christmas Movies Personalized Bird Feeder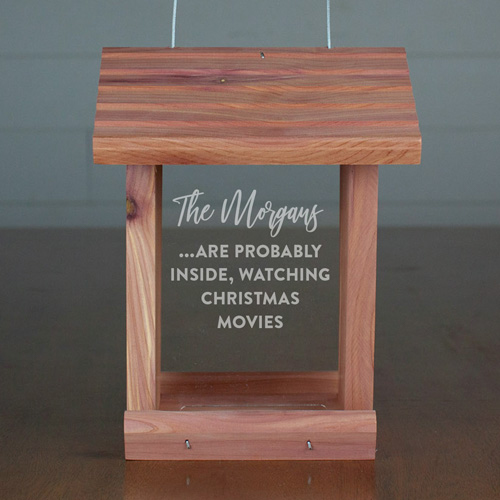 Whether it's all those Hallmark holiday movies, or the umpteenth time they've watched A Christmas Story, you know it's true about at least one of the families on your list!
The movie buffs will so appreciate this personalized cedar wood bird feeder. It's plenty roomy for lots of bird seed to go around in the cold winter months, but we bet they'll keep this up all year 'round (Christmas in July, anyone)?
Related: 10 Old Christmas Movies to Watch Every Year
2. Family Christmas Shirts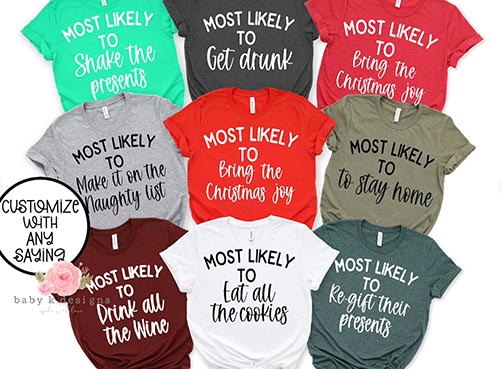 Pair with flannel bottoms for Christmas morning photos or be the best dressed family at the Christmas party this year with these amazing and totally customizable tee-shirts!
You know each family member has a shirt that is just calling to them with an on-point title, like Most Likely to Drink All the Wine, Most Likely to Re-Gift Their Presents, or whatever other funny and hilarious ones you can come up with!
3. Customizable Ugly Sweater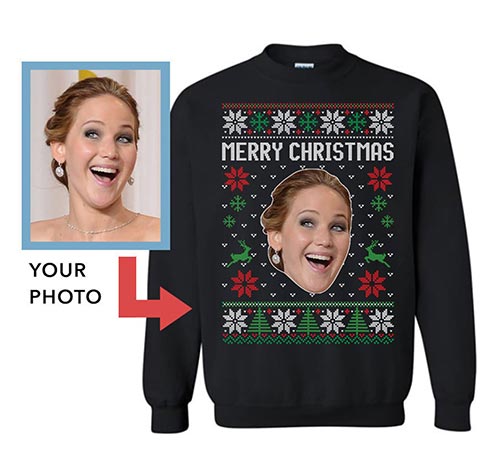 Ugly Sweater Parties are common place these days, and for good reason. They're hilarious and the competition is fierce!
Definitely be in the running for Ugliest with one of these babies – a personalized sweatshirt with a hysterical photobomb right on front.
4. Nicolas Cage Ornament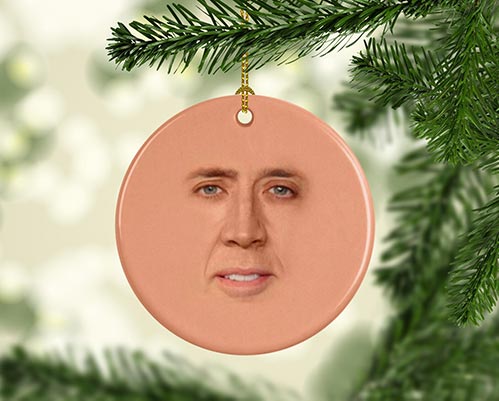 No beautiful Christmas tree is complete without one (or seven) of these epically awful Nicolas Cage ornaments!
Nestled in amongst the sweet cherub angels, the family heirloom set of Nutcrackers, and the romantic couple's first Christmas together 1997 bauble, every guest will be delighted to find this beauty.
We'd say more about it, but we have to go order a box for all of our siblings RIGHT NOW.
5. Funny Gift Bags
Sometimes the wrapping is better than what's inside, are we right? Remove any delusions of you getting them anything grandiose or bougie, and let them know ahead of time to lower those expectations with these funny and brutally honest gift bags.
Funny Christmas Gifts for Women
6. Hallmark Christmas Movie Mug
It's gonna get a lot of use, isn't it? This holiday movie watching mug will barely get a chance to be watched before she's firing up yet another film about an uptight, workaholic city girl, who finds true love in the flannel bedecked arms of a small-town single father.
7. Dear Santa… I Can Explain! Holiday Doormat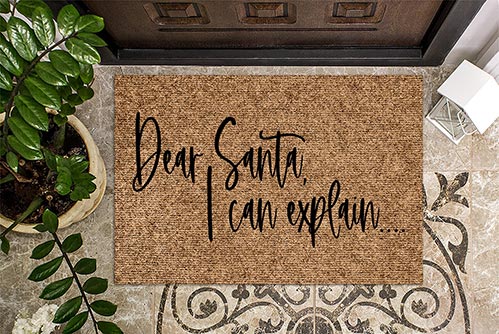 Make the guests giggle and Santa give her a pass, with this cute doormat. It says all you really need to say about her questionable behavior this year, AND it will keep her floors nice and clean, to boot. (Get it? Boots?)
Related: 20 Elf on the Shelf Alternatives to Inspire Your Holidays
8. Witty Housewife Magnets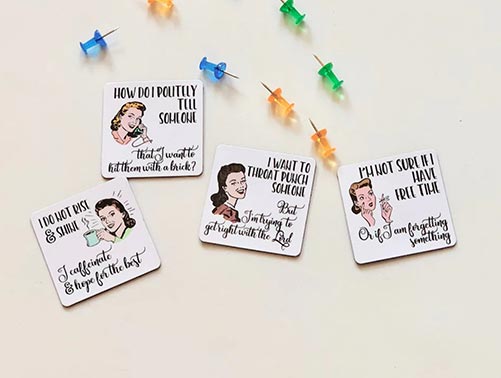 These retro and vintage looking fridge magnets will instantly transform her kitchen into a funny and laidback, anti-housewife, kind of vibe! Each one will make her laugh and they'll look adorable holding up photos of her grandkids, to-do lists, and grocery item needs.
Perfect for the sassy woman in your life!
Related: 50 Fun Retro Gifts
9. Jingle Juice Wine Tumbler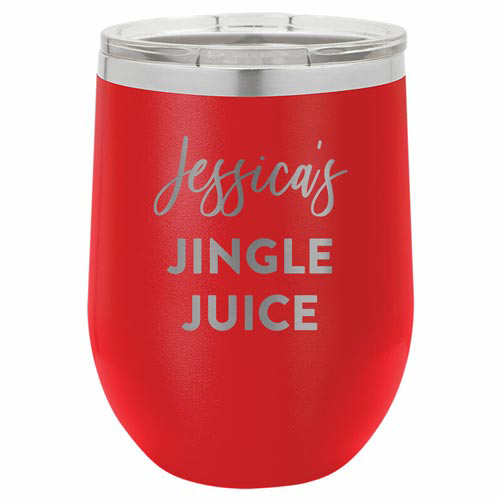 Is it tea? Is it vodka? Only Santa knows, and he's not telling!
This jolly tumbler is insulated to keep her hot spiced rum nice and toasty, or her chardonnay icy cold, for hours… not that it will last that long, ahem. Personalized with her name so she doesn't have to share.
Related: 150 Best Women's Stocking Stuffers for Christmas
10. Funny Hostess Gift: Relax! Napkins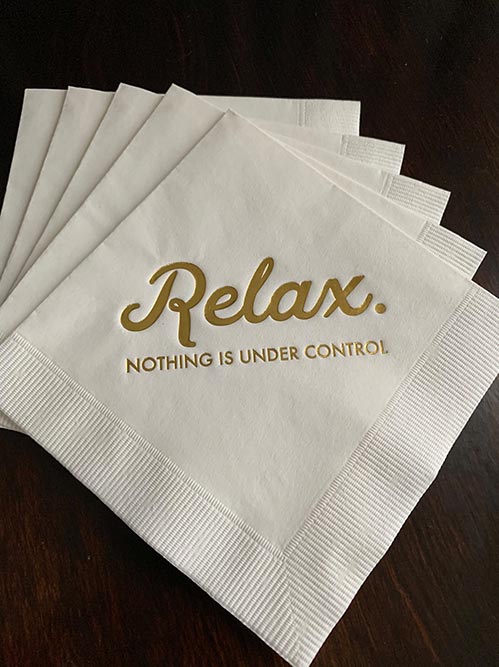 Dispel all doubt with these funny napkins! She will love to be able to keep the mood simple and light, and keep the guests laughing. Forgotten side dishes, spilled wine, soupy apple pie… None of it matters when she has good friends, close family, and a great sense of humor!
Related: Best Gifts for Hostess
Funny Christmas Gifts for Men
11. World's Smallest Shop Vac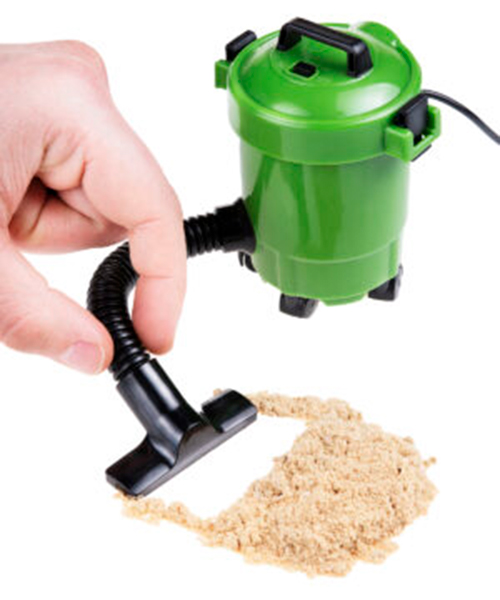 While it's meant to be more hilarious than useful, this world's smallest shop vac might be just the ticket for cleaning up those beard and mustache hairs in the bathroom sink… are we overthinking this?
Well, no matter if he only cracks up at the sight or runs to suck up a pile of pencil shavings, he'll be greatly appreciative of this goofy gift.
12. Christmas Story Leg Lamp
"Fra-gee-lay… it must be Italian!" – Dad in 'A Christmas Story'
Every dad worth his salt knows the story of Ralphie's dad and his magical, slightly inappropriate, leg lamp. Every house needs one this time of year, and Mom will appreciate the fact that this one is miniature.
13. Only a Morning Person on Christmas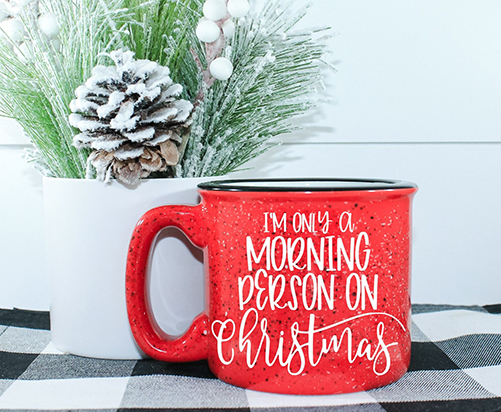 This one will have everyone giggling at the honesty. Let's face it, holiday mugs abound Christmas, but this is sure to become his new favorite when he needs a hot cup of java.
14. Customizable Face Socks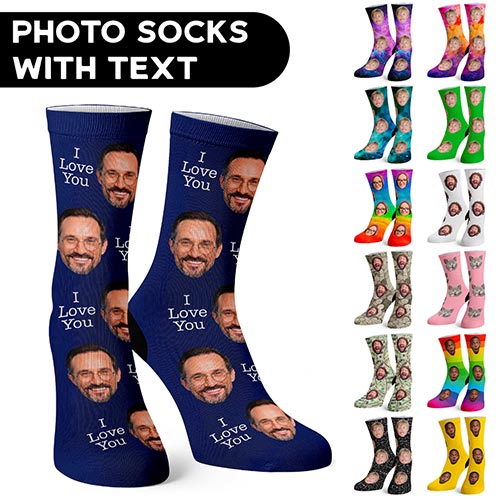 Pick yourself, pick the kids, pick the dog, heck, pick Nicolas Cage (if you're going with a theme). Once that beautiful mug is put onto these amazing socks, they'll beg to be worn everyday of the week! Mix and match and go nuts with the colors. These babies are just meant to be worn with shorts and sandals.
If he loves personalized gifts, he will love these 50 gift ideas!
15. Too Lazy to Jingle All the Way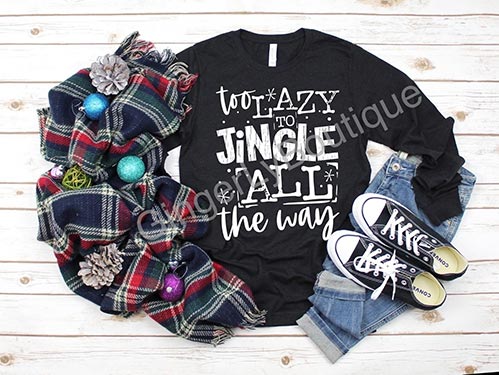 Honest and funny, this cozy long-sleeved tee is perfect for layering with jeans and hats, mittens and scarves. It brings the right amount of funny to an otherwise serious holiday season!
Related: 150 Best Men's Stocking Stuffers for Christmas
Funny Christmas Gifts for Kids
16. Christmas Lights Charging Cable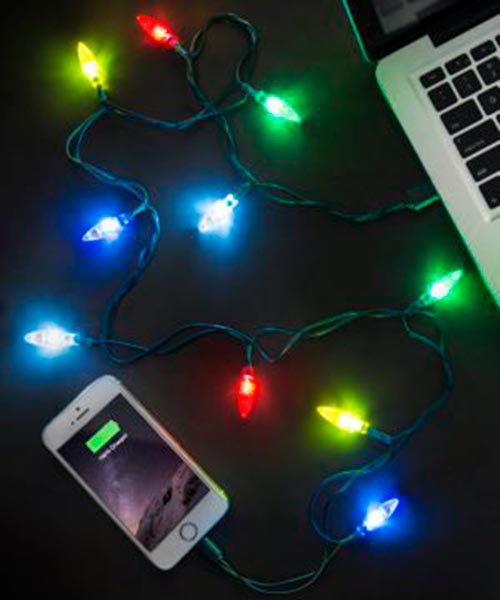 When they said decorate everything, they meant it! Now your kids can charge their phones in epic holiday style with these bright and cheery Christmas lights charging cable. They really have thought of everything!
When you think about it, they're unnecessary and silly so we'll take three sets.
17. 100 A-maize-ing Corny Jokes
You know how phones aren't allowed at Christmas dinner with the relatives? Well, make it a good thing (or a bad thing if you hate bad jokes!) with this set of totally corny and cheesy joke cards. Kids will get a kick out of reading these to each other and to all the adults!
Related: Every Holiday You Can Give Gifts Like This
18. Inflatable Reindeer Game
From the kiddos to the grandparents, this inflatable reindeer game is a hilarious and fun way to spend some time together this holiday season! Make up your own rules, and have silly prizes for the winners of this ring-toss game. It's a new family tradition in the making!
19. Jigsaw Ninja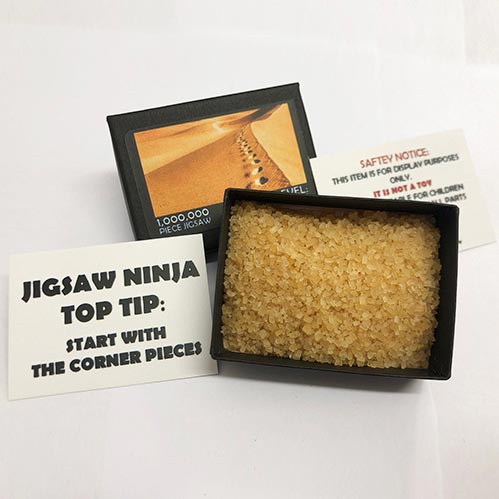 For the puzzle lovers in your life, or just those who enjoy a totally silly gag-gift, this puzzle for experts only is just the thing! Your kids will be cracking up while trying to figure out how to put it together! So much for a silent night.
20. Eat the Naughty List Funny Kids Shirt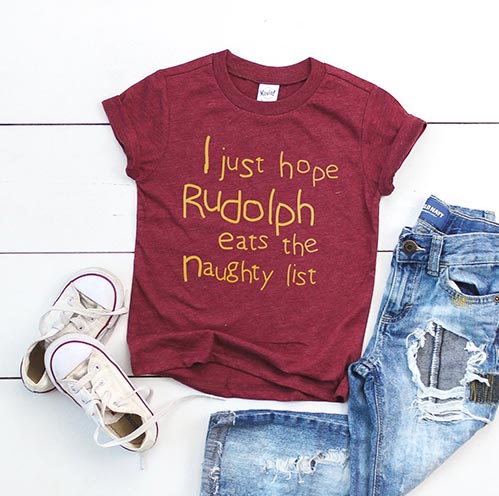 The dog ate the homework, right? So it's fair to assume there is a chance Rudolph will munch away on the naughty list, and your kiddo can get off scot-free! This cute and soft tee will look great with jeans or skirts or shorts, and will make everyone who sees it, smile.
Funny Christmas Gifts for Coworkers
21. DIY Gift: Melted Snowman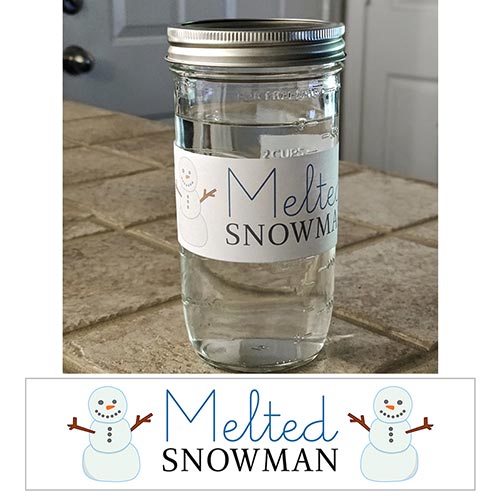 An easy DIY for a White Elephant Party, or just to set on each of your coworker's desk to make them smile. Tell them you stalked it for days in the wild, and finally caught it after a brutal fight…. just for them.
Click HERE to download your free 8″ x 2″ cut outs!
22. Emotional Support Coworker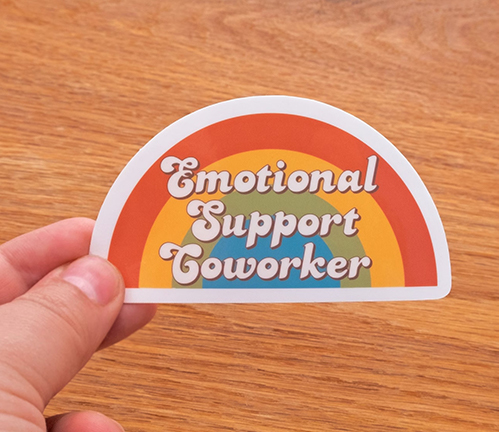 You know it's true, so let them know as well! These cute stickers are perfect ways to show your appreciation for all your favorite shift buddies.
23. When You're Dead Inside But It's the Holidays Shirt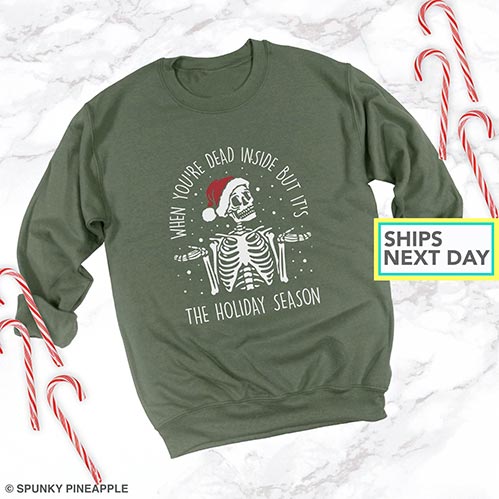 A little bit goth, a little bit punk, and a whole lotta funny, this skeleton Christmas sweater is just the thing for the reluctant Christmas lover.
It's sure to make them smile (not to mention everyone else who sees them wear it) and we bet it's going to get a whole lot of wears before December 25th.
24. The Office Ornaments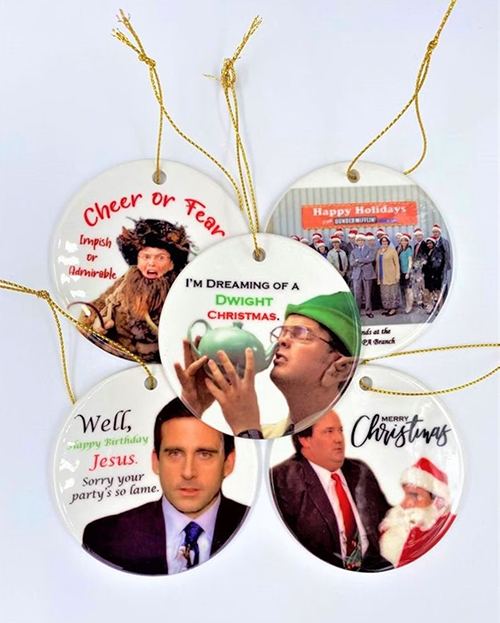 Nothing encapsulates office shenanigans quite like "The Office." The beloved sitcom is immortalized on these fun ornaments, perfectly suited to your very own Dwight, Michael and Pam. They'll love them!
25. Monday/Friday Socks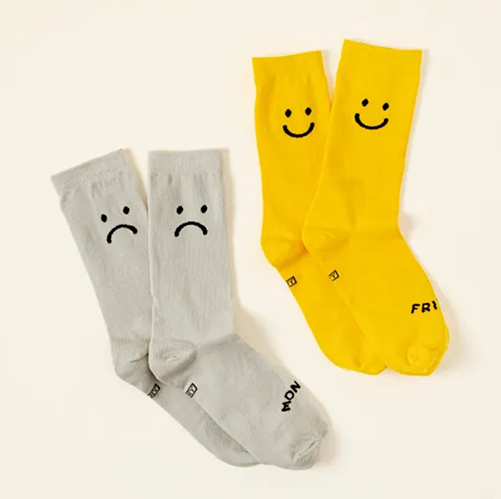 These cute Monday/Friday socks are ironically accurate most weeks. Your coworkers will appreciate these cozy tootsie warmers with their funny faces and fitting colors.
Funny Gag Christmas Gifts
26. DIY Candy Cane Puzzle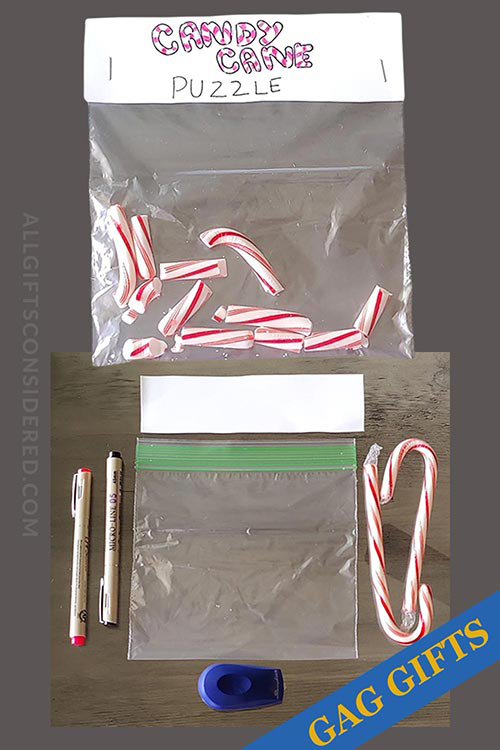 Put it together in minutes, and watch them roll their eyes fondly at your excellent sense of humor! Great for grandkids, coworkers, neighbors, and the like, this DIY candy cane puzzle will really make them chuckle.
27. Santa Toilet Seat Set
Anyone can decorate the living room for Christmas! Help them go all out and show that they are, in fact, the King or Queen of the Holidays, with this amazing and totally unnecessary toilet decoration set! We think Santa would be greatly impressed.
28. Christmas Tree Plunger
And while you're decorating the porcelain commode, get them one of these! This hilarious toilet plunger looks like a Charlie Brown Christmas tree, and WE ARE HERE FOR IT.
29. Nose Warmer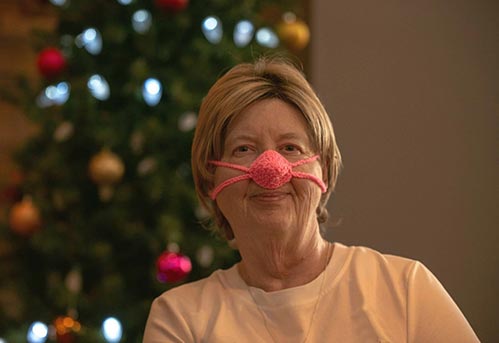 Honestly, they had us at "lots of colors available," so we think your friends will love these too: nose warmers!
How many times have you gone caroling with friends, only to realize all of your poor proboscis is about to get frostbite? Well, no longer! Keep those poor noses warm and toasty with one of these.
30. A Gift You'll Use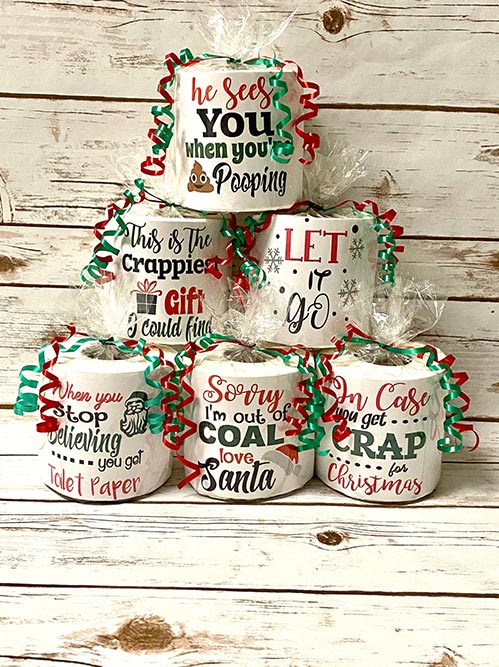 It's the gift you (and they) never knew you/they wanted! But now that you know… you can't just walk away. These funny gag-gift toilet papers will make everyone who uses the restroom crack up.
Cheap & Funny Christmas Gifts
31. Potty Putter Toilet Game
When you forget your phone in the bathroom, what are you going to do while dropping off those friends at the pool? Why, golf of course! This funny toilet game will make them laugh for sure.
Related Article: 21 Best Christmas Gifts for Men
32. Belly Button Lint Brush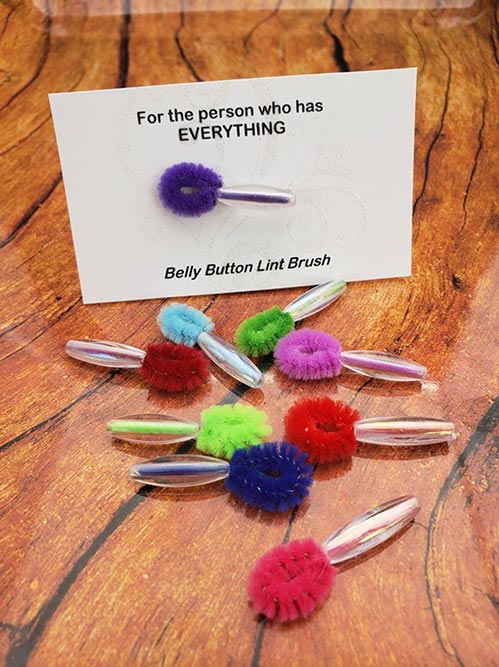 We can bet they've never received one of these before! A belly button lint brush is just the thing for that friend who already has everything but could use a good belly button sprucing up.
33. Clever Wine Label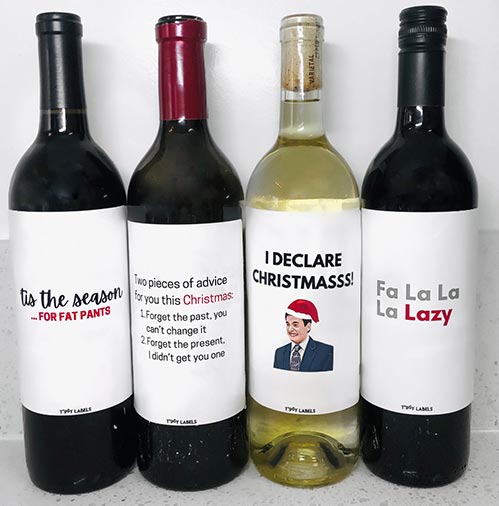 Customizable, these funny wine labels are perfect for all of those holiday parties, so stock up! They're witty and funny, and most importantly, fit on a bottle of vino of your choice.
34. I Can Get You On the Naughty List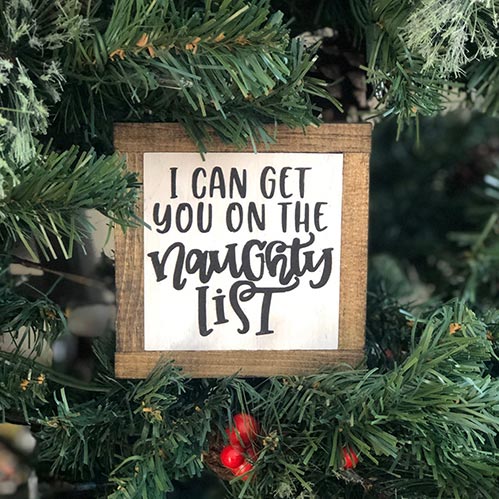 A little wink wink nudge nudge, this cute ornament can be perfect for your bestie and all those shenanigans you get into together, or for the spouse that wants a little spicier holiday season! Either way, it's going to look adorable on their tree.
35. Stocking Coal
You've been threatening it for years, so make it happen! Santa approved, this ultimate Christmas surprise of coal will give them utter dismay at first, but then they'll laugh… we're pretty sure they'll laugh.
Witty & Fun Christmas Cards
Have a Sweet Holiday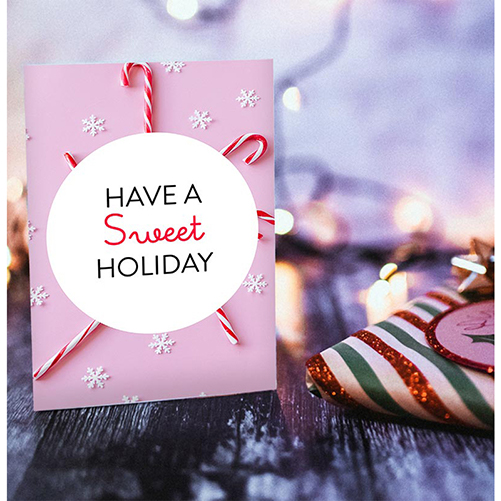 Cards are just the ticket for those far-away family members, or for friends who aren't close enough to receive a gift. This sweet holiday card hits all the right notes!
More Humor: Funny Quotes for Christmas Cards
Merry Furrr-mas!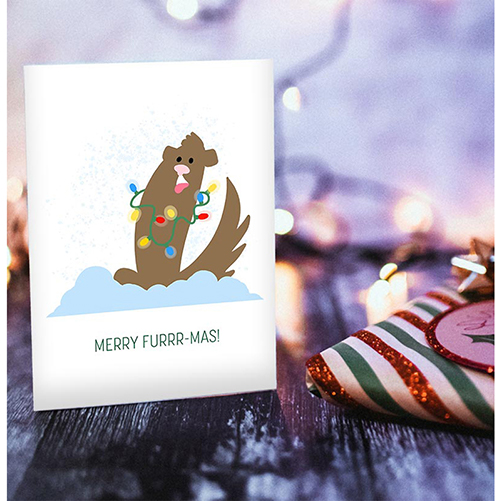 Great for the fur parents in your life, this cute card is just adorable!
Hope You Have the Purrfect Holiday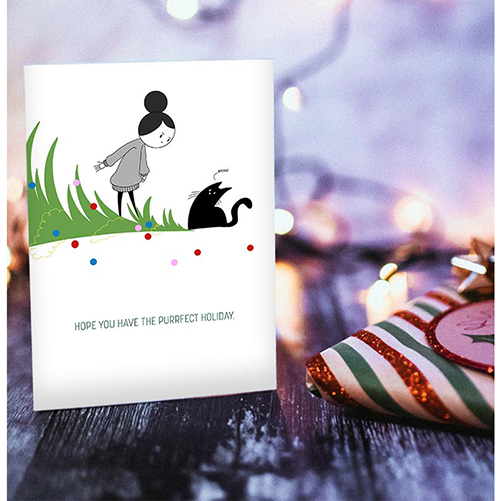 And for the kitty mamas, this one takes the cake!
For some more jolly Christmas cards, check out our 100 Personalized Christmas Card guide!
Read Next: A Fun Christmas Tradition for Kids