It's the Christmas season! Which means it's time to spread some holiday cheer by sending out funny Christmas cards to your family members and friends.
Funny Christmas cards. Because everyone needs a good laugh during the holidays (especially after they see the credit card statement).
If you're sending funny Christmas wishes, hunting down the greatest gifts, and spreading good cheer, you're already off to a solid start.
But if you want to take those cards to the next level with a brief — yet hilarious — message to the recipient, you've come to the right place!
In this article we've put together 100 short, funny Christmas quotes for cards, sayings, and Christmas card one liners. Pick one or a handful and let the good times roll (with laughter).
Our website is supported by our users. We sometimes earn a commission when you click through the affiliate links on our website. See our privacy policy & disclosures for more information.
100 Funny Christmas Card Messages
We've arranged these funny Christmas card sayings into a few helpful sections:
Best Funny Christmas Messages for Cards
Christmas Card One Liners
Funny Christmas Card Messages for Family
Funny Christmas Card Messages for Friends
How do you write a fun Christmas card?
We've purposefully made this list mostly family-friendly.
Yes, we have a few funny sayings about getting tipsy with adult beverages, "what the elf", and being on the naughty list. But that's about as, you know, naughty as we get.
For more typical season's greetings, read our guide to The Best Christmas Wishes to Write in Christmas Cards.
Now, let's get to it.
Best Funny Christmas Messages for Cards
Here are some of the very best, funny Christmas messages for cards.
Whether you send these funny Christmas greetings in a card through the post, pair them with a gift, or pop them on the front of the family photo greeting, they are sure to elicit a chuckle — or two or three.
Mostly, these are funny quotes that can be used for just about any Christmas card situation. Enjoy!
---
This Christmas, go easy on the Pepsi. — Home Alone
It's hard to buy you something for Christmas when you got everything you ever wanted when you married me. [find the card here!]
In a world full of Grinches, just be a Griswold. — National Lampoon
Why is Christmas just like a day in the office? You do all the work and the fat guy in the suit gets all the credit.
I just stole Santa's naughty list! Ironically, it's almost identical to my friends list.
Related: 10 Old Christmas Movies to Watch Every Year
Seriously, what the elf. [matching tees for the family gathering?]
If you can read this, I'm watching Christmas movies.
Happy holidays from someone using environmental friendliness as an excuse for being too cheap and lazy to send a real card.
It's beginning to cost a lot like Christmas.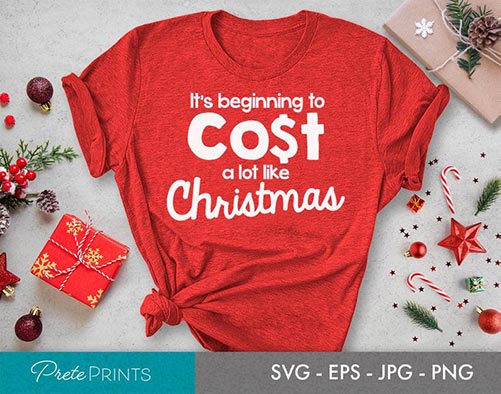 I am only a morning person on December 25th.
This Christmas, I am the gift. You're welcome.
I'm dreaming of a white Christmas. But if it runs out, I'll drink the red. [we love this apron]
Merry drunk, I'm Christmas. [get it on a t-shirt here!]
Dear Santa, before I explain, how much do you know already? [find it here!]
The nice list can't handle me.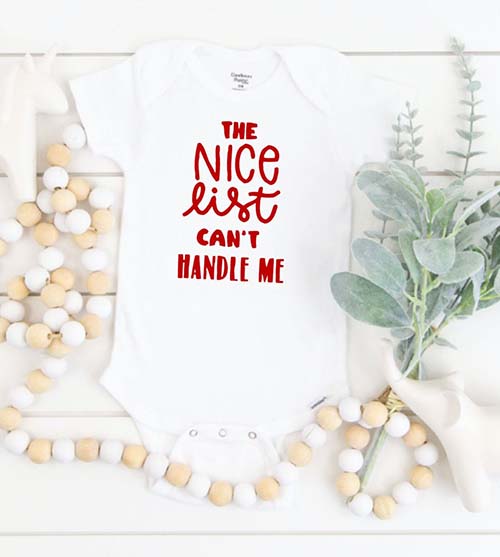 Dear Santa, I'm writing to let you know that I've been naughty — and it was worth it!
When you stop believing in Santa is when you start getting underwear!
You have such a pretty face, you should be on a Christmas card! — Elf
Time to get your "It's just what I wanted" face on!
You're the reason Santa even has a naughty list.
Well, I guess I could use a little… social interaction. — Grinch
In a world full of grinches, be a Cindy Lou Who!
That moment when you realize you grew up to be the Grinch.
Santa, why you be judgin'?
Santa told me you've been very good this year…I told him it was just lack of opportunity. Merry Christmas!
Time to pass the Christmas spirit…gin, vodka, whiskey.
When all you want to do is stay in and watch Christmas movies, but you have to go to work…
Christmas Card One Liners
There's always a place for one liners. Like if you're looking for something witty to send in the gift comment section of your online order, you've come to the right place.
Or perhaps you have two hundred cards to fill out and know your poor hand can't handle more than a single line in each? Understandable.
Whatever the case, we're sure these classic Christmas card one liners will be of great help.
Related:
The options are as broad as your imagination, but to get you started, here are some of our favorite Christmas card one liners to wish them a jolly holiday and a happy New Year.
---
Life is short, eat the Christmas cookies.
I really hope you like this gift that you specifically told me to buy for you. [find it here]
Good tidings & other holiday clichés.
I'd tell you what I want for Christmas, but I would end up on the naughty list.
Let it snow…somewhere else. [get the greeting card]
Dear Santa, I can explain.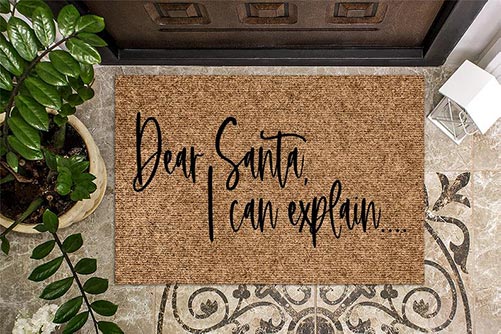 Stink. Stank. Stunk. – Mr. Grinch
Girl, you are sleighing.
I'm dreaming of a wine Christmas.
It's a Christmas movie and hot chocolate kind of day.
Be naughty…we get presents anyway.
I see naughty people. [want it on a t-shirt?]
Drink up, Grinches!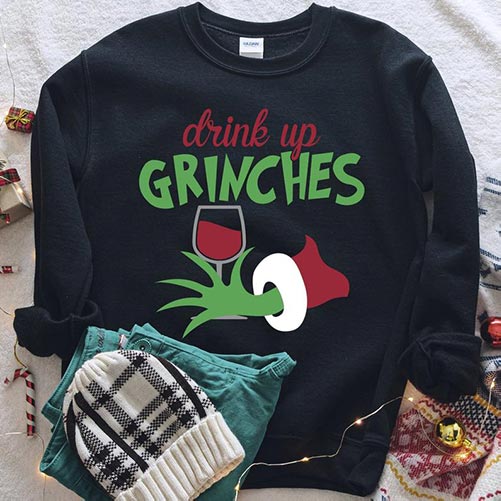 Sleigh all day, then Cabernet.
Let's get elfed up!
It's the most wonderful time for a beer. [t-shirt here]
Will wrap for wine. [printable here]
Don't make me text Santa!
Lucky for you, Santa is my bestie.
My favorite color is Christmas lights. [t-shirt here]
Santa? Oh my god, I know him.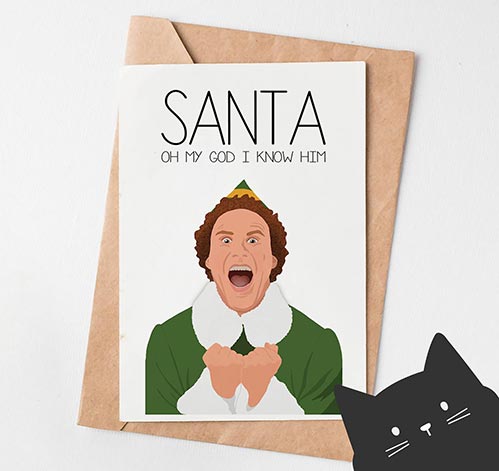 Santa saw your Instagram, you are getting a Bible and clothes for Christmas. [ornament here]
Dear Santa, is it too late to be good?
Dear Santa, define naughty. [decor sign here]
Dear Santa, define good.
May all your gifts be expensive and your nog be extra hard.
This is as jolly as I get. [t-shirt here!]
It's the most wonderful wine of the year.
Be naughty, save Santa the trip.
Merry Christmas to my Significant Otter. [adorable card here]
The Grinch is my spirit animal. [decor sign here]
Don't get your tinsel in a tangle!
Dashin' through Merlot.
Christmas calories don't count.
Read: Here's What to Put on Your Christmas List
Funny Christmas Card Messages for Family
There's a bajillion examples of funny family Christmas cards out there, especially with how the photos are staged (and/or Photoshopped).
Whether you're taking a traditional ("normal") family photo, something awkward, or something creatively original, here are some hilariously wonderful Christmas quotes to go with your annual holiday photo.
---
Future goals: Send one of these cards on time. But just in case: Merry Christmas, Happy Birthday, Congratulations!
Happy holidays from the jolliest bunch of elves this side of the nuthouse. [get the card here]
Proud members of the naughty list!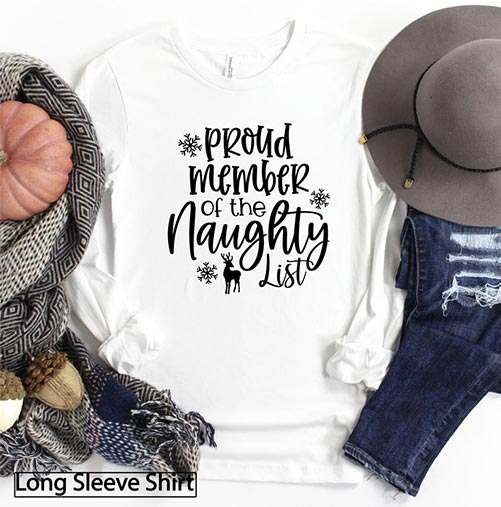 Feast mode! [get the t-shirt]
Dear Santa, it was the cat. [this card is too cute]
Holidazed and confused.
But first, let me take an elfie. [these shirts would be perfect for photos]
We're too cute for the naughty list.
Deck the halls, not your family!
The Santa squad. [how bout these matching pjs?]
Merry Grinchmas! [this is such a fun yard sign]
Nice until proven naughty!
Cookie bakin' crew!
Dear Santa, when you get here, could you please throw a quick load in the washer, vacuum the carpets and wash the cookie plate? Thanks.
Season's greetings. [get the card here]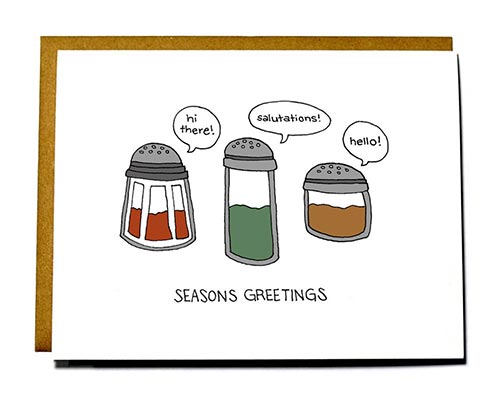 Dear Santa, they are the naughty ones! [these would be fun for photos]
Here's to hoping the reindeer eat the naughty list!
On the naughty list and we regret nothing.
May your family be functional and your batteries be included.
Naughty is the new nice.
Ho, ho, ho, pour that Merlot!
Sending Christmas cards is a good way to let your friends and family know that you think they're worth the price of a stamp. — Melanie White
Don't expect much for Christmas; Santa's sleigh was repossessed, North Pole is in foreclosure, and the elves have all been laid off.
Watch me whip, watch me sleigh-sleigh. [example]
Merry Stressmus.
Dasher, Dancer, Prancer, Vixen, Whiskey, Vodka, Tequila, Blitzen.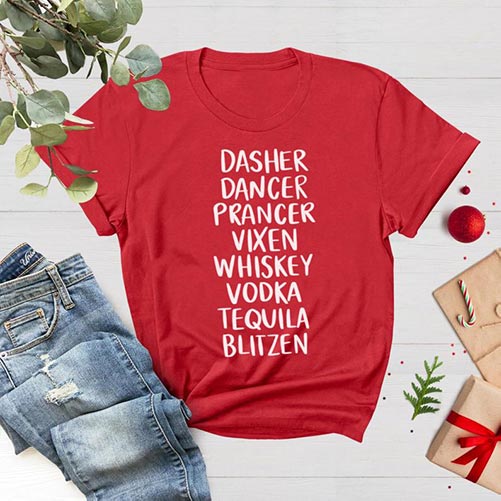 Santa Claus has the right idea. Visit people once a year. — Victor Borge
Naughty or nice? Decisions, decisions…
Christmas is the season when you buy this year's gift with next year's money.
Related: 100 Personalized Christmas Cards
Funny Christmas Card Messages for Friends
Sending best wishes for the coming year? A festive season full of candy canes and good Christmas cheer?
Naaaah. Not when it comes to your best friend(s).
This is your prime opportunity to ham it up and get them laughing it up with your delightfully funny card choice. From references to roasts, we've got you covered.
---
Jingle bells, jingle yay, jingle good for you. — Leslie Knope
Gettin' Blitzened! [with these wine glasses]
Let's get lit! [how great are these stocking hats?]
Money is scarce, times are hard; here is your cheap li'l Christmas card!
I've just received the bad news. Santa had a heart attack from seeing your name on the good list of this year.
Sleigh what? We heard you won't be making it home for Christmas this year — say it ain't snow!
Christmas has been canceled! And it's your fault because I told Santa you had been good and he died laughing.
There are four stages in life: 1) You believe in Santa Claus. 2) You don't believe in Santa Claus. 3) You are Santa Claus. 4) You look like Santa Claus.
Christmas is mostly for children. But we adults can enjoy it too until the credit card bills arrive!
Christmas is season of magic and mystery. All your savings for the year will have vanished and you won't even know it. How awesome!

How do you write a fun Christmas card?
Christmas is one of those rare occasions and possibly the only time of the year that you get to be unapologetically yourself in the cards you send out.
Writing a fun Christmas card mainly boils down to two things: knowing yourself, and knowing your audience.
For instance, you might not send a card that says "Merry Christmas, ya filthy animal" to your 92 year old great aunt Hattie the way you would to your best pal from college. (Or maybe you would. We won't judge.)
But you can pick equally funny Christmas wishes that will make her chuckle, and still display your love of lighthearted Christmas cheer.
So consider picking two or three various season's greetings that you find hilarious, and alternate them depending on the recipient.
Funny Christmas greetings don't have to be long, either. In fact, most expect them to be rather short, considering that you usually have quite a few to make out and the season is already massively busy for everyone.
Bottom line, don't stress it! It's meant to be fun, and people with love hearing from you no matter what you write.
Funny Christmas Card Ideas
Visual inspiration! These are perfect to send out to friends and family, to tag along with a Christmas present, or to deliver gift cards!
All I want for Christmas is Ewe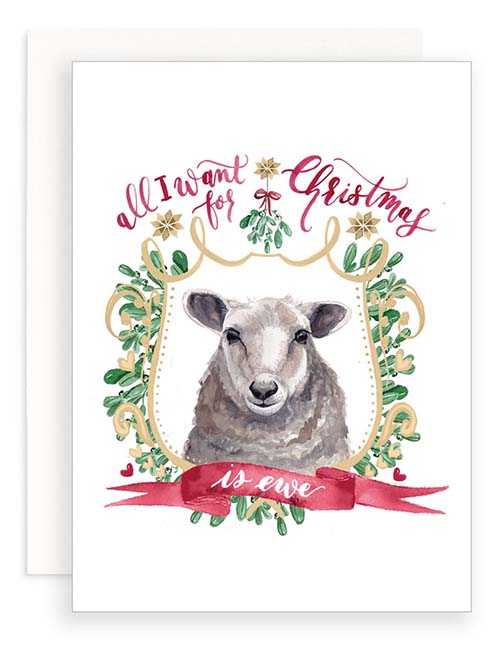 All I want for Christmas is ewe.
Happy Crimus, Merry Chrysler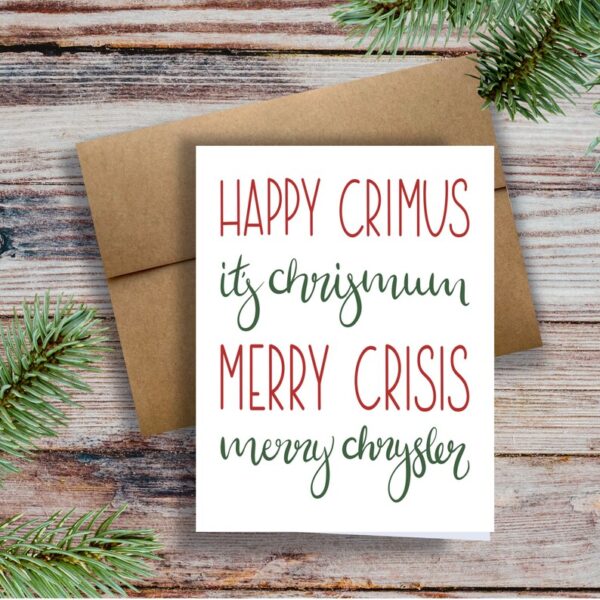 It's chrismum…
Whatever-mas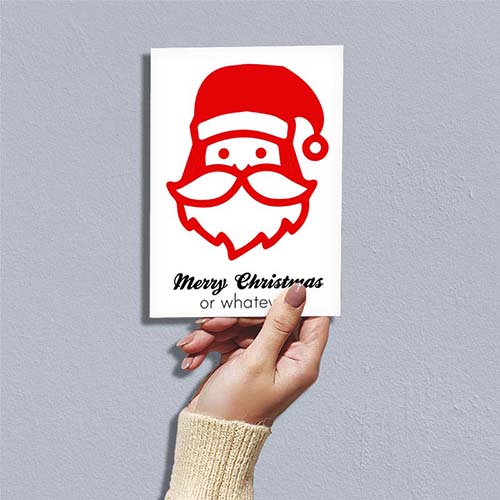 Merry Christmas. Or whatever.
You Otter Treat Each Other Real Good This Holiday Season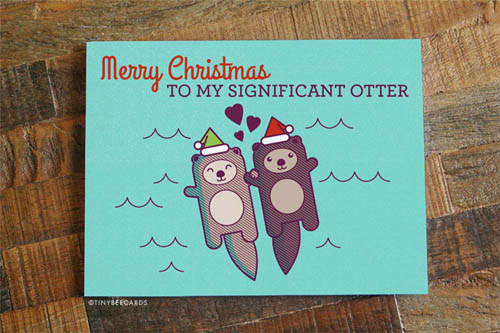 Merry Christmas to my significant otter.
Rudolph in a Blizzard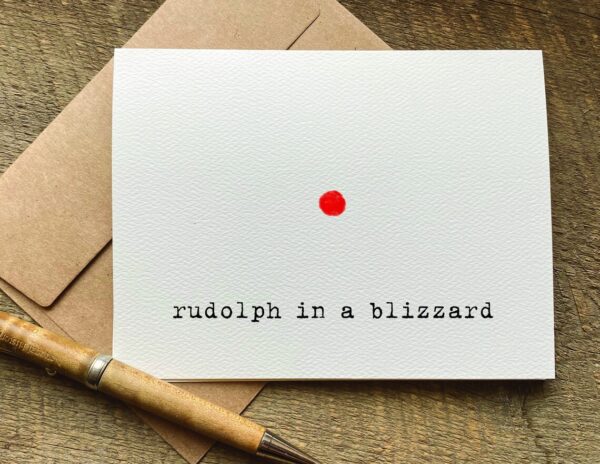 We know you laughed.
Mistletoad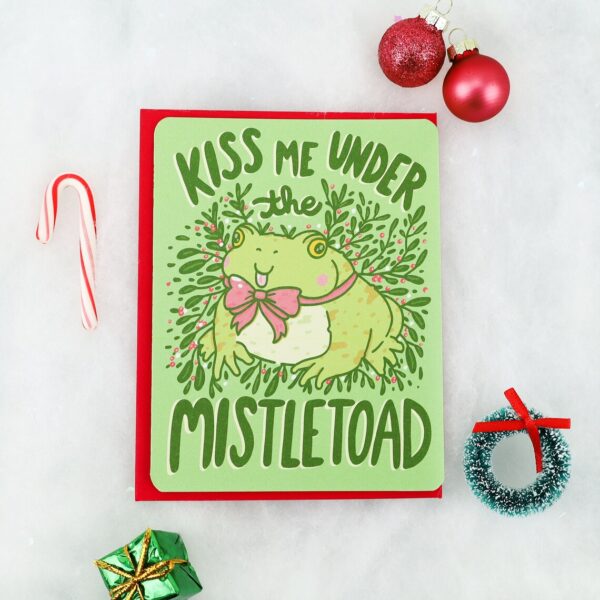 No comment.
Rockin' Christmas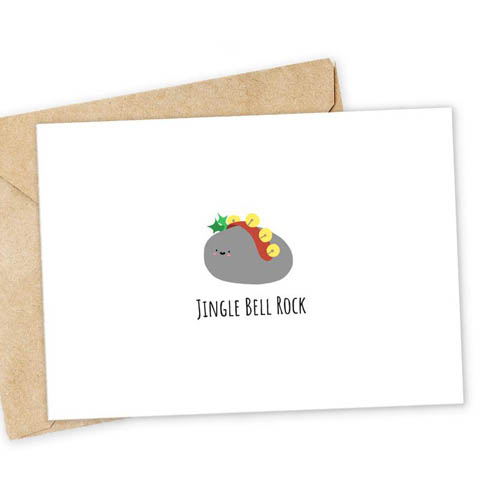 Jingle bell rock.
At Least Golfers Will Appreciate It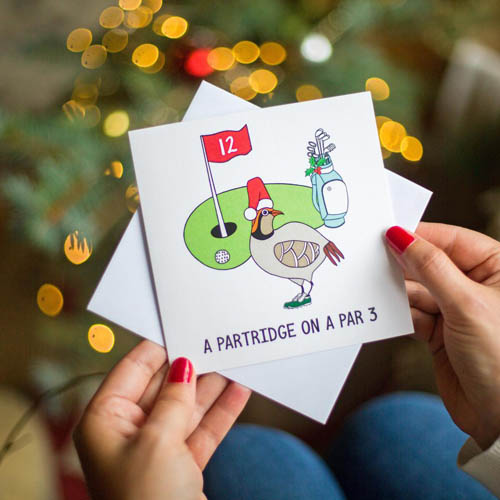 A partridge on a par 3.
Bright & Yeti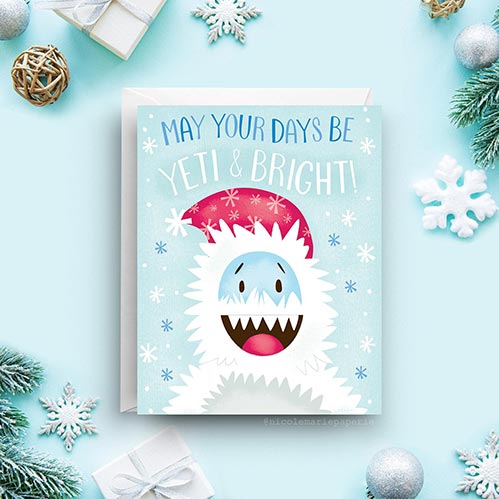 May Your Days be Yeti and Bright.
Obligatory Christmas Card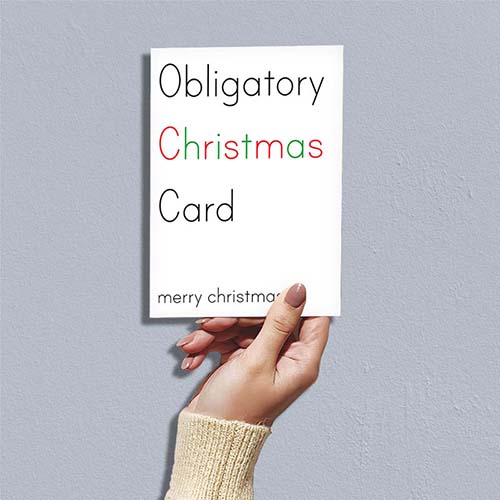 We're just checking off the list here, people.
Book Lover's Christmas Card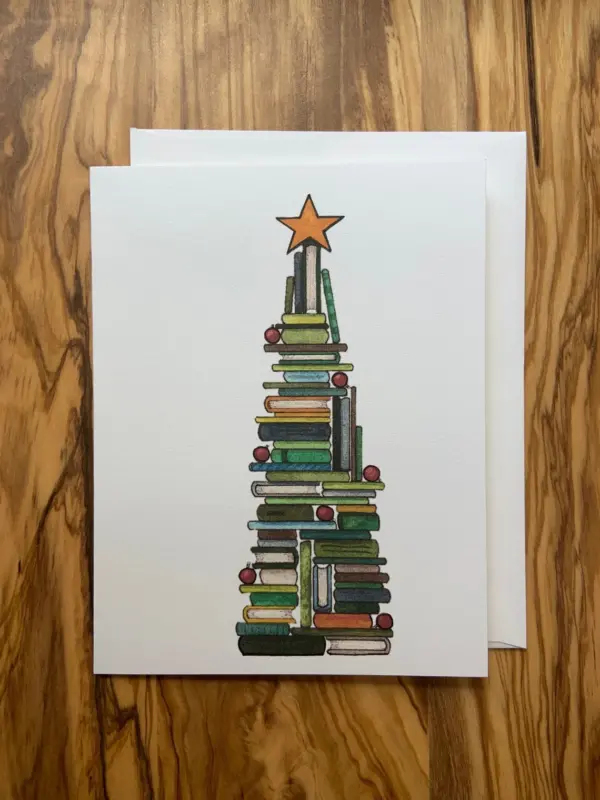 Wishing you a novel-ous holiday season! We love this li'l book Christmas tree.
Related: If you're into reading, you'll love to celebrate the Jolabokaflod tradition this Christmas
Let's Be Honest…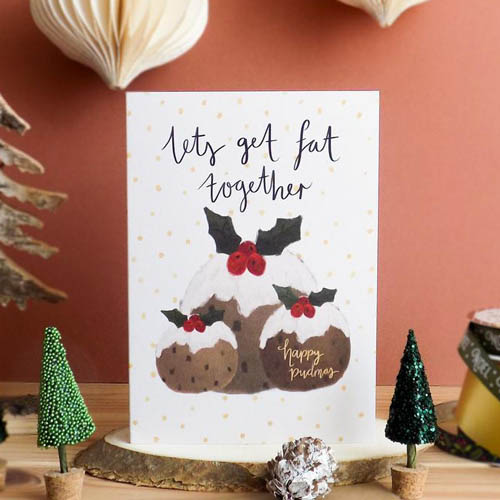 Don't pretend you don't do this. Merry Pudmas, indeed.
The Red-nosed…Cow?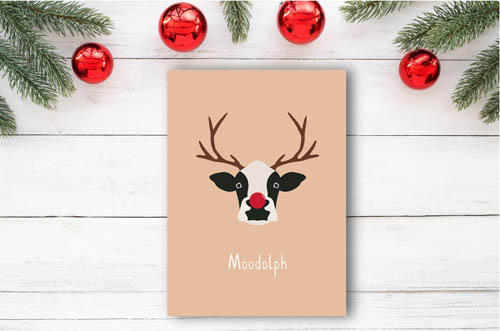 Moodolph. Not sure why that's funny but it's hilarious.
New traditions: 20 Elf on the Shelf Alternatives for Your Family
Elton John Holiday Card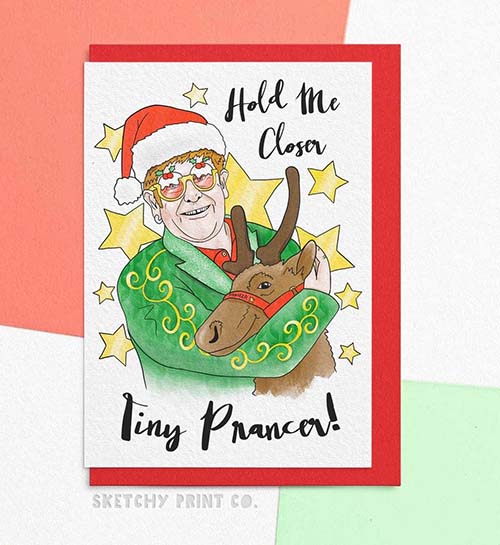 Hold me closer, tiny Prancer.
Fra-Gee-Lay…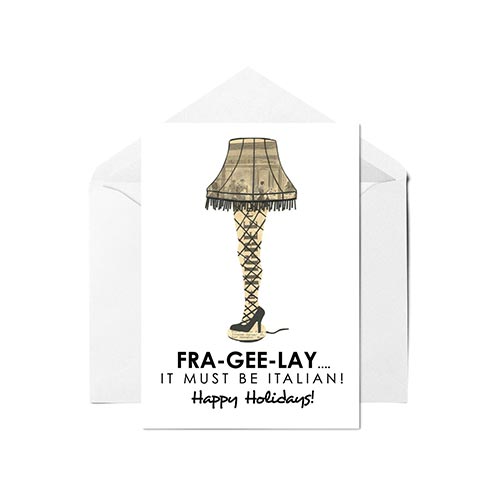 Fra-Gee-Lay… It Must be Italian! Happy Holidays!
'Tis the season…ing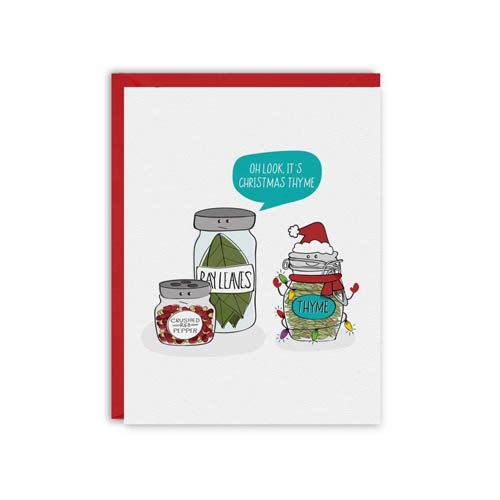 Oh, look, it's Christmas thyme!
A Holiday Card for Dog Lovers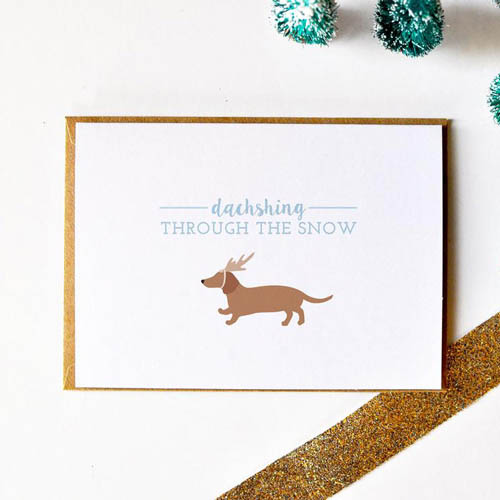 Dachshing through the snow. Because, you know, dachshunds.
More Funny Things to Write in a Christmas Card
More inspiration for what to write in a funny Christmas card can be found by riffing on pop culture, inside jokes, or by adding a holiday flair to anything you and the recipient might find funny.
Here are a few more ideas: