Let's talk about finding appropriate sympathy gifts for loss of father.
It's a delicate task to choose the right sympathy gift for someone who is grieving the loss of their father.
Your goal is to offer comfort, condolence, and support, but you may be at a loss for what to say to them.
After all, losing a parent is one of the hardest things we go through in life, so you certainly wouldn't be alone in feeling that any words of sympathy would be inadequate.
However, everyone appreciates a thoughtful gift.
Whether your friend is ready to meet with others or not, they'll be grateful for your gesture of love and kindness if you have a meaningful condolence gift sent to them.
Our website is supported by our users. We sometimes earn a commission when you click through the affiliate links on our website. See our privacy policy & disclosures for more information.
Best Sympathy Gifts for Loss of Father
We've gathered 40 ideas for thoughtful sympathy gifts for loss of father so you can do your part to make them feel loved during these tough times.
Remember: As long as you make the effort, they'll know you're thinking of them, and that is enough.
1. Engraved Fingerprint Necklace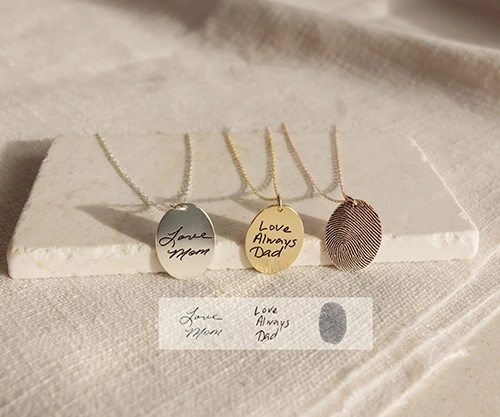 Send them a physical reminder that you care with this engraved fingerprint necklace.
This handmade jewelry can come in multiple finishes and features an engraved message on the front of the necklace as well as an engraving of their father's fingerprint on the back.
You can also choose to have both sides feature the fingerprint engraving. All you need to do is provide the creator with a high-quality fingerprint sample from their father.
The necklace will be a bittersweet memento to remind them that their dad will always be with them in their time of grief.
2. We Shall Meet Again Engraved Glass Frame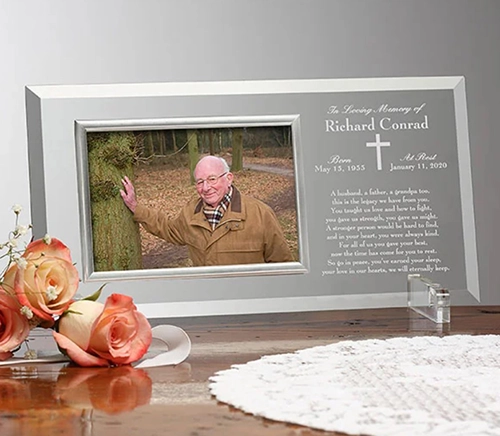 This meaningful gift is a grand, personalized gesture to pay your respects to your loved one's late father. The sturdy glass frame holds a 4" by 6" photo and contains an engraved photo.
The text on the plaque details their dad's name and memorial years and comes with the text of your choice.
You can also choose from 5 different poems if you'd prefer not to send a personalized message. The frame is a fitting tribute to honor the man you both knew and cared for.
3. Voice Recording Memorial Gift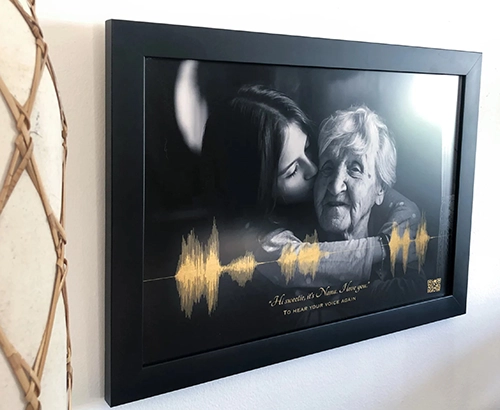 This piece of soundwave art memorializes a special voicemail, song, or other audio clip from their late father.
The gift features a picture of your choice framed in a black or white frame with an artistic rendering of sound waves of the audio that you send via QR code.
The picture also features the text of the voicemail.
Old voicemails mean a lot to your friend or loved one, so this loss of father gift will be a sweet gesture and commemorate one of the remaining pieces of him in their life.
4. So Loved Personalized Condolence Card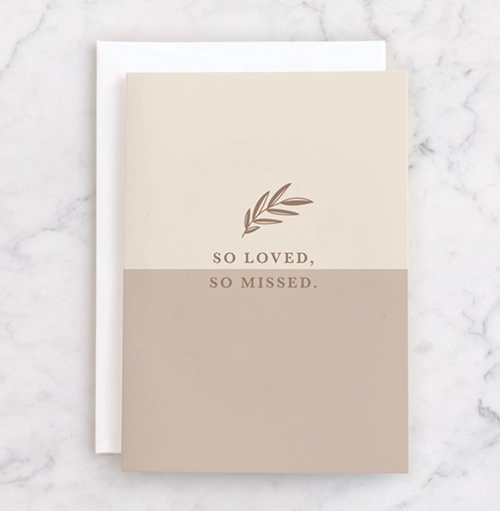 This condolence card is a simple and elegant way to support your loved one in their time of grief.
Each card is lovingly handmade by the seller with sturdy stock paper.
The message and text font on the inside of the card is customizable, and the seller will include the recipient's address on the card for no additional cost.
Sometimes, the simplest gesture is the most meaningful when it comes to being there for a friend, and sympathy cards are just that.
5. Thinking of You Gift Box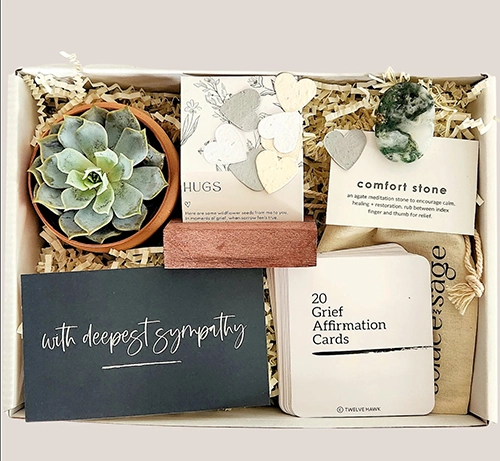 Self-care packages are always a welcome present when you've experienced loss. This one comes with grief affirmation cards, comfort stones, and more.
It also comes with a card so you can share an encouraging message. They'll have everything they need to feel loved with this perfect sympathy gift.
6. Blue & White Sympathy Flower Bouquet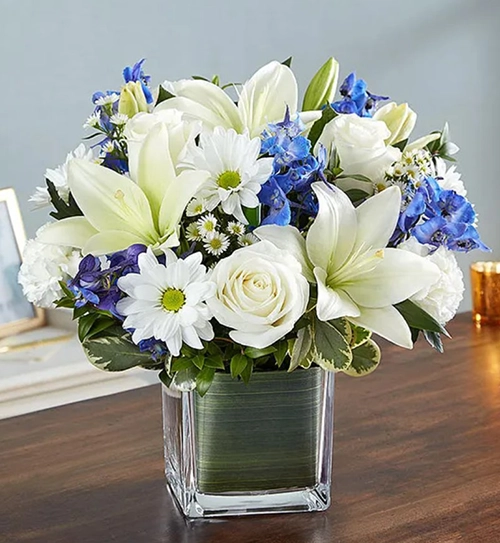 If they appreciate beautiful bouquets, send them this lovely collection of flowers as a great way to brighten their day.
The collection includes blue delphinium, white roses, lilies, daisies, and more and comes in small, medium, or large sizes.
The flowers are arranged so beautifully in a clear glass cube vase adorned with a ribbon.
Although you can't truly soothe your friend's sorrows, you can give them a lovely assortment of blossoms to enjoy as they reflect on their time with their dad.
7. Sympathy & Comfort Food Basket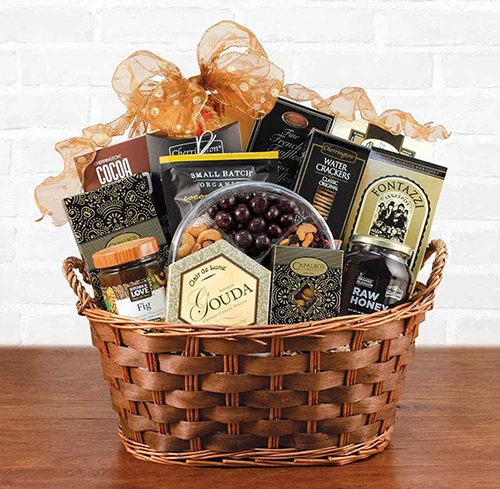 Send them this pick of sympathy gift baskets full of quality finger foods to treat them during this tough time. Sometimes grief causes us to lose our appetite, but maintaining our health is still important.
The gift comes packaged in a lovely woven basket filled with smoked Gouda cheese, crackers, fig preserves, bonbons, nut mixes, and more.
There are sure to be lots of tasty items they'll appreciate in this box.
8. Organize a Sky Lantern Release in His Memory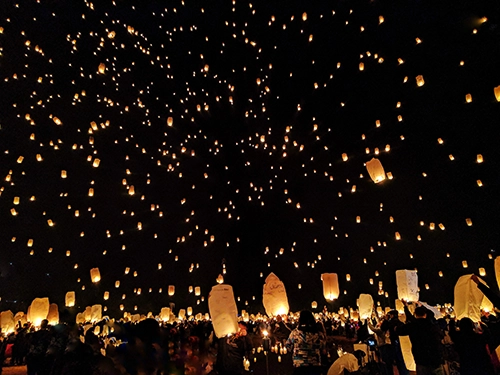 Give her dad a beautiful tribute by organizing a memorial lantern release in his name. This pack of floating lanterns contains 20 lanterns that each contain a tea light inside so you can light them easily.
A moving ceremony with close friends and family would be a thoughtful gesture and a wonderful way to unite people around their dad's memory.
9. Custom Sympathy Bottle Opener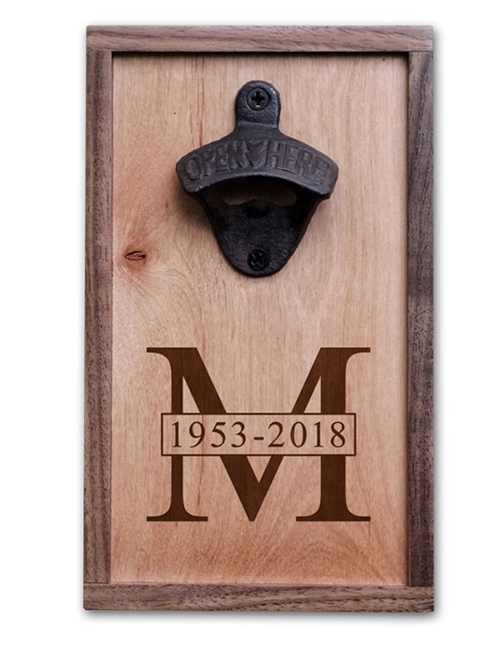 If you want to send a unique and practical gift, look no further than this custom sympathy bottle opener.
This bottle opener comes with a wall mount that features an engraving of their dad's first initial as well as his name or their memorial dates, whichever option you choose.
The wall mount is beautifully handcrafted from alder and walnut wood. Raise a glass to their late father and his memory with this choice of unique sympathy gifts.
10. Custom Remembrance Pocket Knife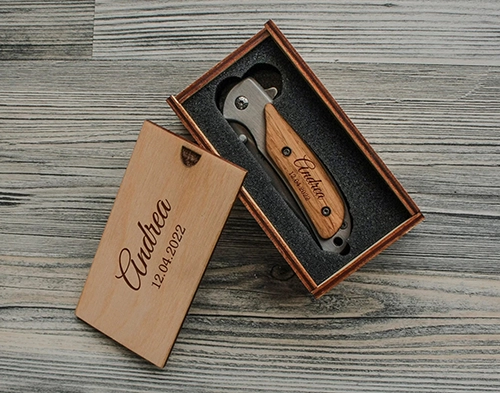 Not all sympathy gift ideas need to be purely decorative. This customizable folding pocket knife looks great and comes with a custom engraving in the font of your choosing.
If your close friend is an outdoorsman, they'll be grateful for this personalized effort to show him you're there for him.
11. Grief Journal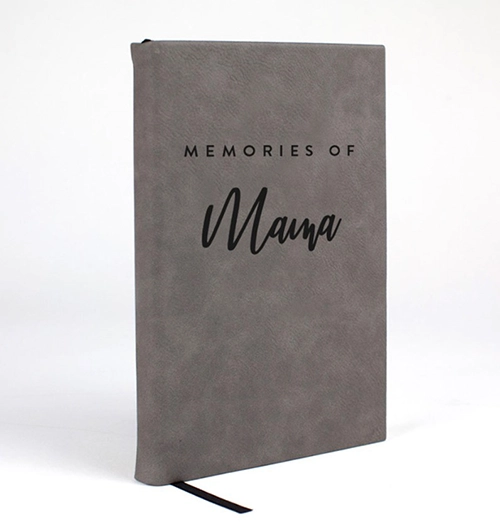 Seeing your friend or loved one experience such a devastating loss like the death of a father may make you feel helpless.
Consider giving them a grief journal to help them process the complicated emotions and events going on in their life.
This faux leather journal can come in gray, brown, or teal, and the cover features personalized text in the font of your choice. An outlet may be just the thing they need to help them through the grieving process.
Check out this article for more ideas about grief journaling.
12. Plated Golden Rose Cremation Jewelry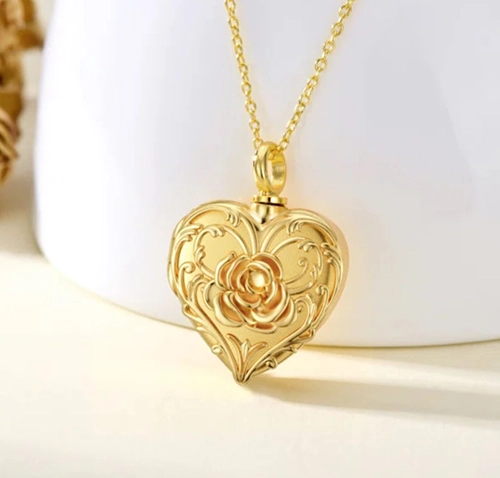 If their father will be cremated, send a considerate and beautiful condolence gift with this plated golden rose cremation necklace.
The necklace can also feature a message of your choice on the backside.
Help them keep their late father close with this gorgeous piece of jewelry that makes a perfect gift.
13. Helpful Care Package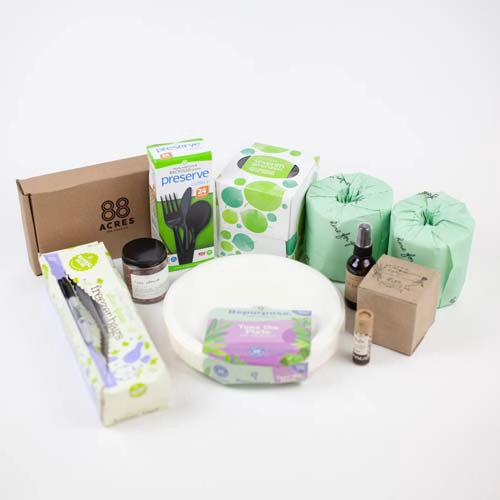 Not sure what to send your grieving friend or family member? It can be nerve-wracking trying to think of just the right gift to comfort them.
By sending them a custom care package from Here for You, you can give them an assortment of self-care items such as books focused on grief and necessities like paper towels, toiletries, bath bombs, and other essential small items.
This gift can encourage them to take care of themselves when it may be challenging to do so.
There is an unboxing review for this gift idea if you would like to learn more.
14. Deliver Sympathy Meals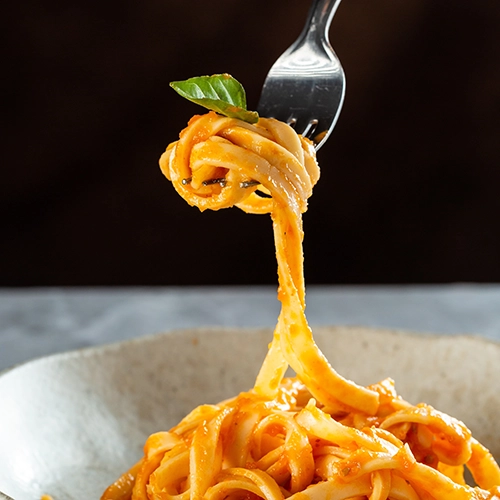 You know your friend must be overwhelmed, so consider sending them a sympathy meal to lessen their load.
Menial yet essential tasks like cooking and cleaning can be hard after the loss of a parent, so step in and make sure your friend or loved one is cared for.
Follow the link above to start planning a special meal for your loved ones.
15. Garden Memorial Stones
This beautiful garden stone has a memorial picture frame to hold a photo of your choice and the text, "Not a day goes by that you are not missed."
The stone can be used as a wall plaque or as a decoration for a memorial garden or graveside.
A simple, tasteful outdoor decoration would be an appropriate sympathy gift to give them solace as they mourn.
16. A Star in Their Dad's Name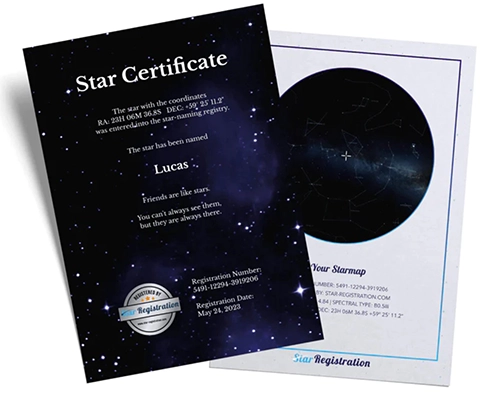 Cement his legacy in the sky with a star named after him. They'll receive a certificate and a star map to locate their father's star in the sky.
This choice of bereavement gifts is something that they can share with their family and loved ones forever.
Related: Star-Themed Gifts for Astronomy Lovers
17. Set Up A Memorial Site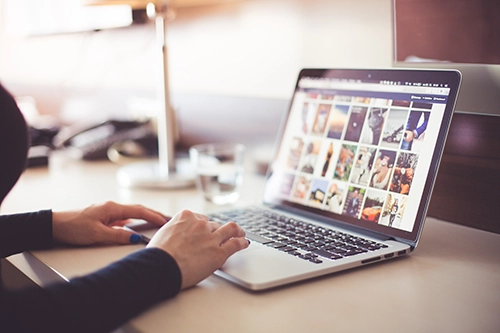 What better way to honor their late father than to set up a memorial website where you can share photos and memories? Through Murial, you can create a special memorial website to pay your respects.
The family can also use this site to share their thoughts, memories, and photos and connect virtually with each other to remember their loved one before, during, or after the memorial services.
Murial features free and paid options.
It's a simple yet profound gesture and a beautiful way to invite friends and family to pay their respects and remember their loved ones well.
18. Memorial Photo Blanket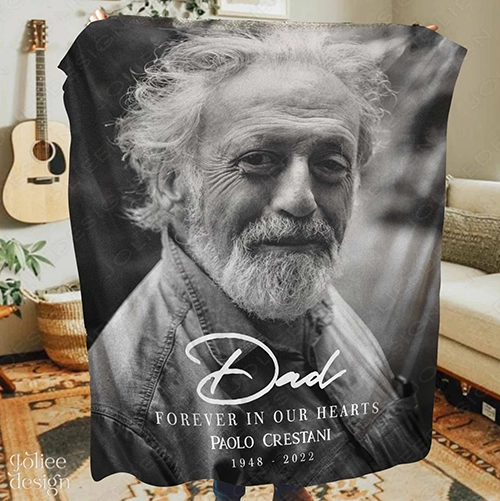 A blanket would be a great gift to comfort your friend, and a blanket with a photo of their dad could feel like a much-needed hug.
This blanket can be made of either fleece or sherpa wool, and comes in three different sizes so you can customize it to your liking.
The blanket comes with a picture as well as their father's name and memorial dates.
19. A Tree Planted in His Honor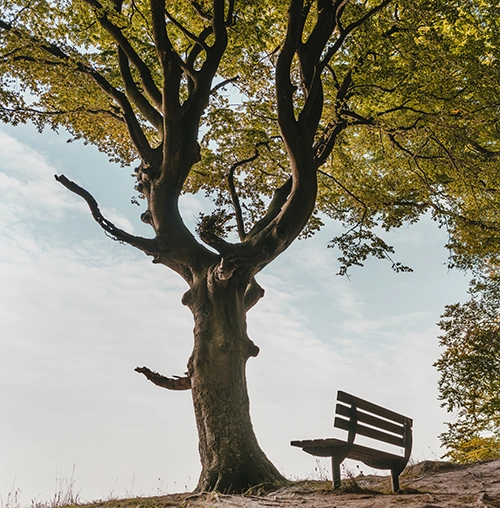 Use his memory to enact positive change in the world and plant a tree in his name.
To give this gift, you must order a certificate from Trees for a Change to send to the family. They'll receive directions so they can visit their loved one's tree in a US national forest.
This is another long-lasting option that will honor their late father for generations. Plus, it's a "living memorial" making it an extra special gift.
20. Custom Photo Memory Pillow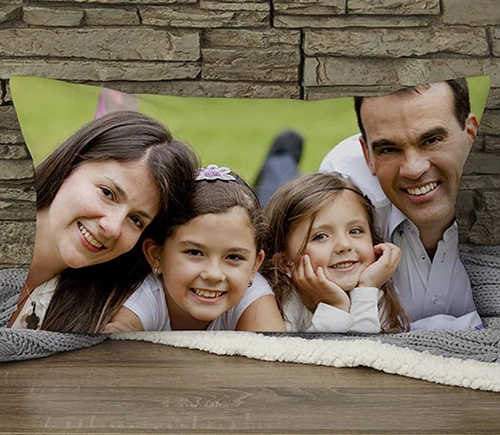 A lumbar throw pillow would make a unique memorial gift that provides comfort and relieves aching limbs.
This pillow comes with a photo of their late father to preserve happy memories and keep him snuggled close.
Make sure they have an ever-present reminder of his smile in their home.
21. Listen To The Wind Memorial Wind Chime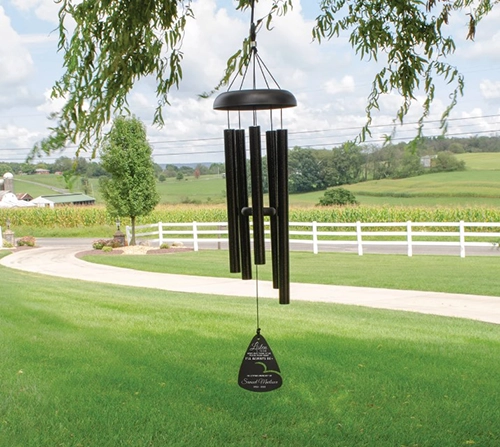 If you want to send an off-the-beaten-path gift, this memorial wind chime is a great choice. The wind chimes come in multiple sizes and in the colors of black, bronze, or silver.
The chimes can come personalized with the name of their father and their memorial years, and feature the text "Listen to the wind and think of me for in your heart I'll always be."
This lovely message can help soothe them as they take the time to grieve and heal.
22. Comfort Bowl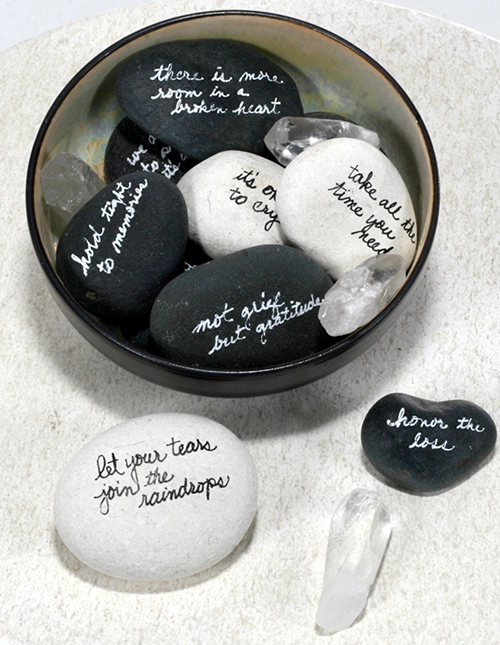 If you're at a loss for words when talking to your friend in-person, you can encourage them with this comfort bowl.
The bowl is filled with handpicked pebbles inscribed with warm sayings like "You are not alone." Remind them that their support system is always there for them with this present.
23. LED Memorial Photo with Stand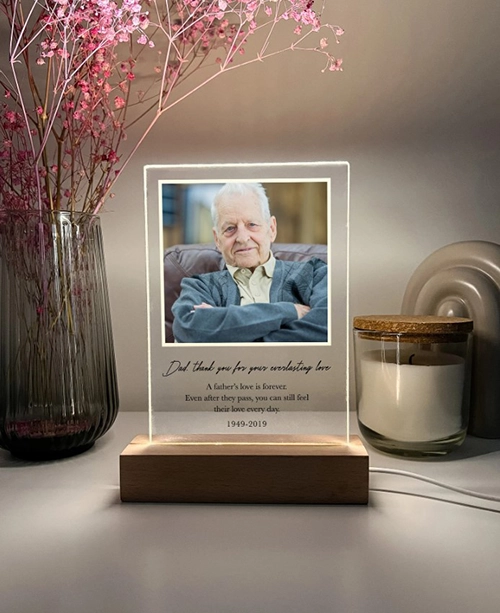 A lamp is a practical gift, and this LED memorial photo table lamp is one that they'll want to put up right away.
This seller works with professional graphic designers to customize this rectangular glass LED lamp with a wooden stand to make each customer's lamp special.
A neat twist on the traditional memorial picture frames.
24. Personalized Watercolor Sympathy Gift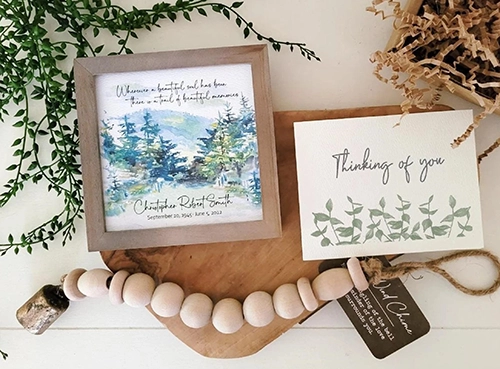 If you think they'd appreciate a painting, consider sending them this framed watercolor sympathy gift.
The watercolor art features the message "Wherever a beautiful soul has been there is a trail of beautiful memories." The frame can come in grey or black and features a glass covering to protect the art.
Each piece of art comes with a card with unique watercolor art and a message of your choosing on the inside. This personalized, lovely gift will show them the depth of your caring.
25. In Memory Of Candle
Savoring the scent of a candle is so soothing to the mind and body, so send them a chance to stop and breathe with this natural soy wax candle.
With a burn time of 33 hours, this ceramic soy wax candle is long-lasting and will fill their home with gentle scents to uplift their mood.
The candle features the message "Because someone we love is in heaven…There is a little bit of heaven in our home."
The candle serves as a timely reminder that their loved one is in a better place.
26. Engraved Birthstone Forever Rose
Send them flowers that last forever with an engraved birthstone Forever Rose. These forever roses are plated in 24-karat gold to ensure they'll never die.
You can choose the rose's color to correspond with their late father's birthstone to send a special memento to remember him.
For an additional charge, you can add a hand-engraved name of their father or his memorial details on the rose's stem. Whatever you decide, they'll love this choice of meaningful sympathy gifts.
27. Remembrance Lantern Picture Frame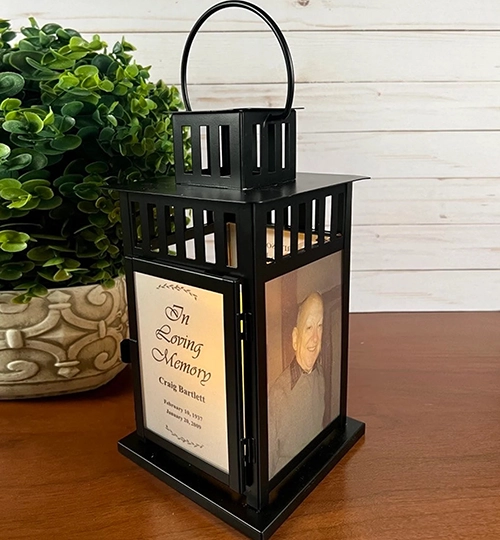 A memorial lantern would be a fitting sympathy present to add a warm atmosphere to an indoor space. It contains an LED candle and a 4×6 picture frame on the inside so they can insert a photo of their choosing.
The text on the lantern reads "In memory of a life so beautifully lived, a heart so deeply loved."
28. Memorial 3D Photo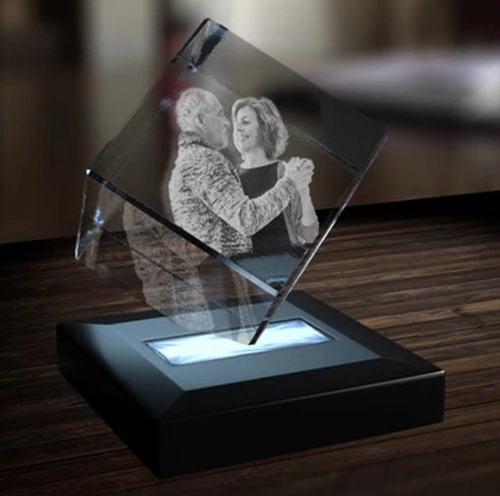 Send an eye-catching way to commemorate one of their favorite photos of their dad with this 3D crystal photo frame from The 3D Gift.
With this special frame, a 2D image can be laser-engraved onto the crystal frame, and multiple shape options exist for the frame such as a heart shape, a diamond shape, or a landscape format.
29. Giving Bear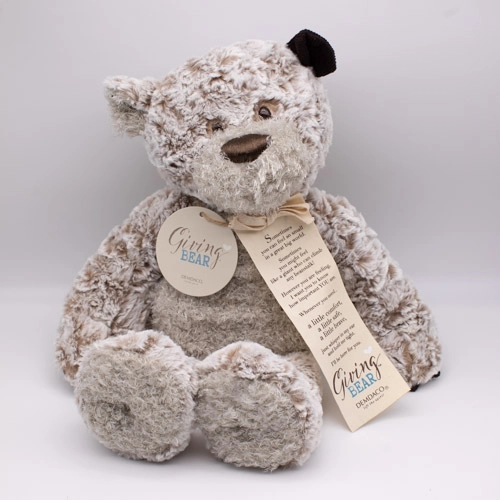 If they like plush toys, this giving bear is sure to provide comfort. It has extra-long arms optimized for cuddles.
The bear even comes with a bookmark hangtag so you can give your friend a special message to soothe them in this difficult time.
A great option for anyone, but especially if the grieved is a young child or teen.
30. Father Memorial Figurines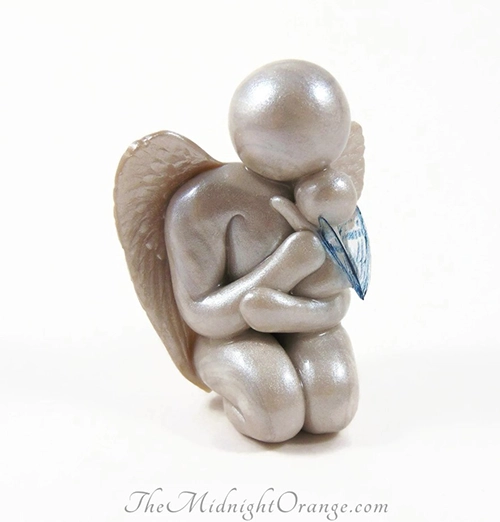 This meaningful piece illustrates a father angel holding a baby angel, conveying the idea that his love remains with your friend.
Knowing that their father's love lives on with them is a touching message that they'll appreciate.
31. Loss of Father Remembrance Watch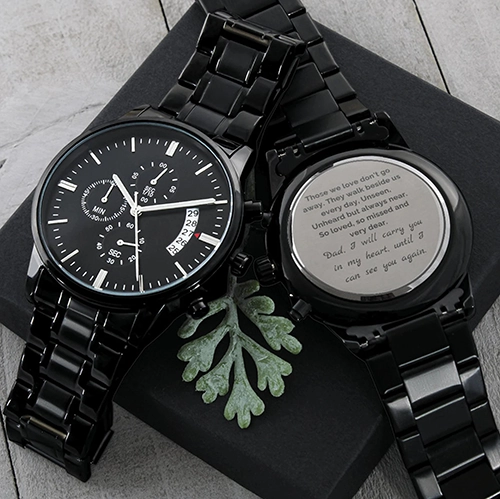 Watches are a popular choice for memorial gifts. Since they're a quintessential masculine accessory, watches can remind many people of their dad.
If you know their dad appreciated watches and passed that trait down, your friend will be grateful to receive this present.
Related: Personalized Gifts for Men
32. Remembrance Willow Tree Figure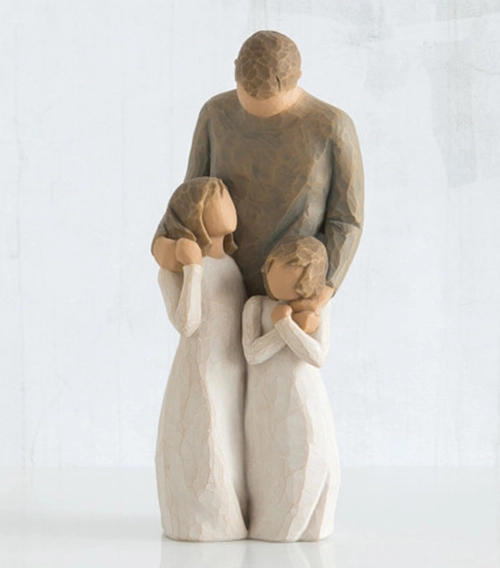 For the daddy's girl, this is a wonderful sculpture to portray her father's position as an anchor in her life. This hand-painted resin figure depicts a man with his arms around two girls.
"My Girls" is a tribute to her late father's strength and resilience in raising his daughters.
33. Rear View Mirror Car Charm
If you're on the market for an inexpensive gift, this rear-view mirror keychain comes with a photo of your choice and angel wings below the photo to remind them that their father is in a better place.
You can also add the text of your choice on the back as well as a custom quote and a photo of their dad to make this a personalized gift.
34. Fisherman Memorial Bird Feeder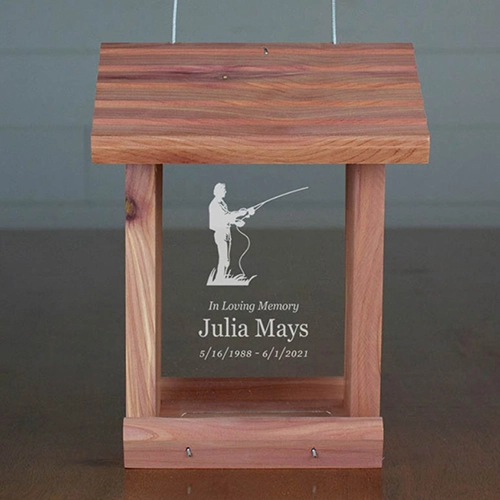 A memorial bird feeder would be the perfect thing to give to a birdwatching friend, especially if their dad liked birdwatching as well.
Customize this birdfeeder with the loved one's name and memorial dates. It's made of genuine cedar wood and features an engraved image of a man fishing along with customizable text.
35. Memorial QR Keychain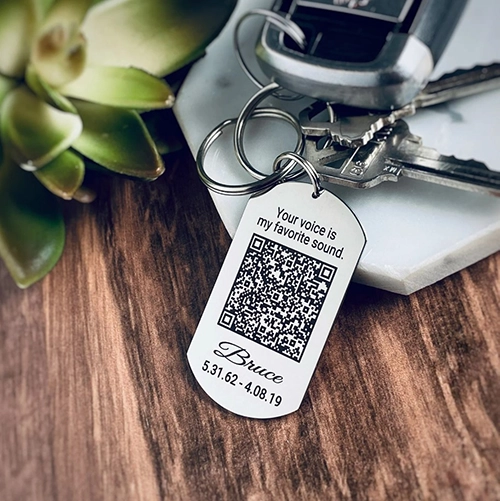 With this present, they can preserve their dad's voice forever.
The QR keychain features a QR code image which, when accessed with your smartphone camera, can play an mp3 audio file of a voice message from their father.
The memorial keychain can also be personalized with her late father's name and memorial dates.
36. 10k Gold Oval Photo Locket Necklace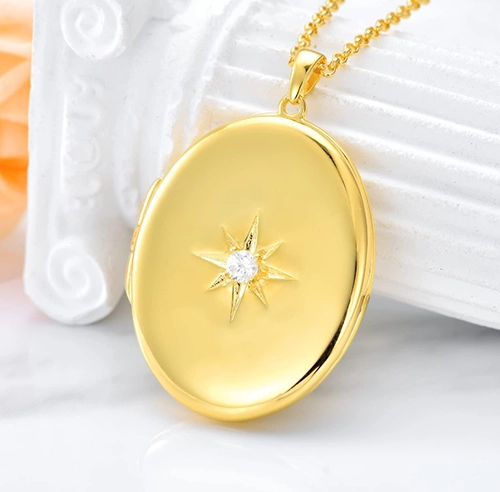 This one-of-a-kind 10k gold locket necklace features a memorial photo inside and a resin covering to protect the photo so it keeps its quality.
Your friend can keep him close to their heart at all times.
37. Memory Photo Book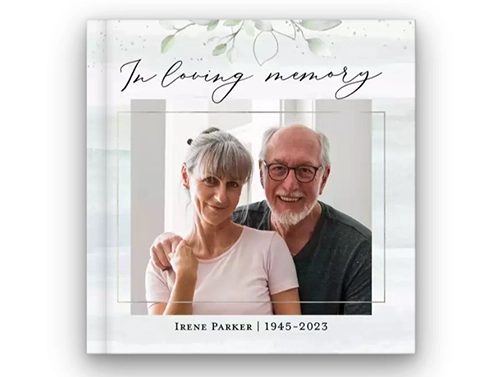 What better way to help them remember him than with a custom photo book full of memories?
Mixbook photo books come with twenty-five pages and more pages can be added for a price. The company provides templates for your memorial photo book or you can start with a blank canvas.
38. Handmade Memory Bear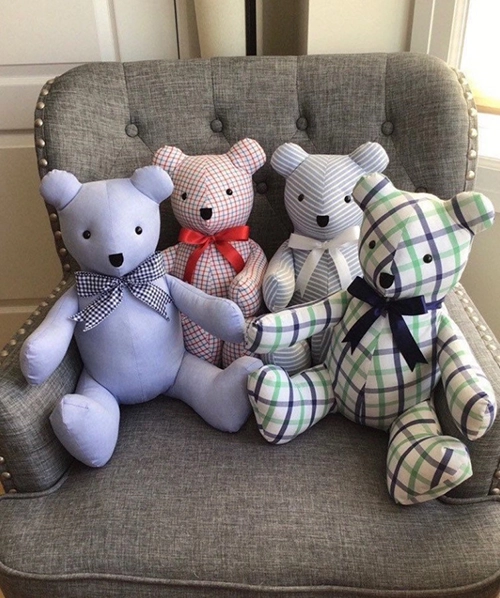 This handmade memory bear is another excellent plushie option. These bears are designed to be made from a loved one's clothing.
With their permission of course, you can use one of his previous favorite shirts to make a sweet memorial gift.
It can sit atop their bed or sofa and serve as a reminder of their beloved dad.
39. Custom Sound Frame Music Jewelry Box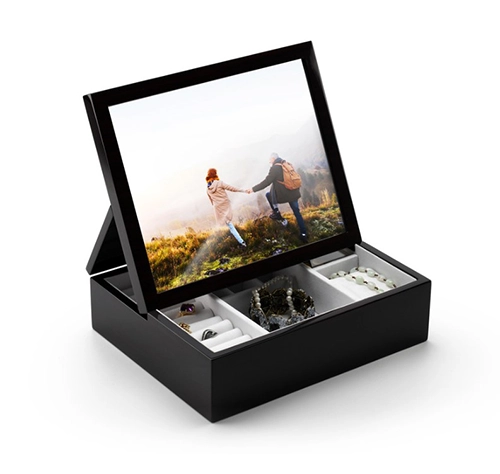 Was their dad a music lover?
You can place their dad's favorite song or a recording of his voice and a photo of him in this custom music box.
They can be reminded of him whenever they take out or put away their jewelry.
40. Engraved Wooden Memory Box Filled With Notes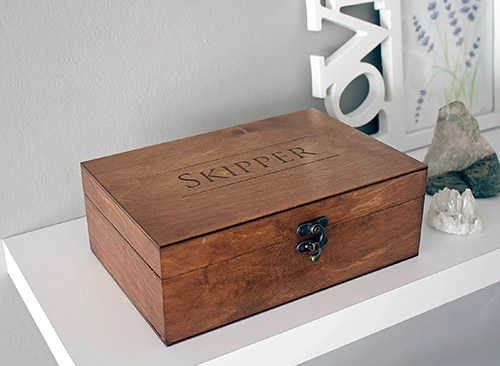 Memorial gifts don't have to be complicated, and you can share something meaningful without getting an elaborate present.
For example, you could buy a memory box to fill with photos, mementos, and small notes from their father for them to remember him by.
The box can be personalized by engraving their father's name or a design on the top. Whenever they want to take a trip down memory lane, they'll have their memory box.
Read Next: Sympathy Gifts for a Grieving Friend