Let's face it, stocking stuffers are usually an afterthought. Most often it's the main present, the big one, the coup de grâce, that gets all the love and attention — not to mention all the pre-planning and forethought. But honestly, we're here to tell you that stocking stuffers are really where it's all at!
And let's confront a tragic truth: women everywhere, especially moms, have been stuffing their own stockings for years because no one else remembers to! So, this year? Blow her mind with some clever, sweet, romantic, and/or silly items that she will absolutely love.
It can be really fun to play Santa, so here to help fill your hypothetical sleigh is our list of the 150 best women's stocking stuffers for Christmas 2022.
Best Stocking Stuffer Ideas for Women
Our website is supported by our users. We sometimes earn a commission when you click through the affiliate links on our website. See our privacy policy & disclosures for more information.
1. Personalized Wine Tumbler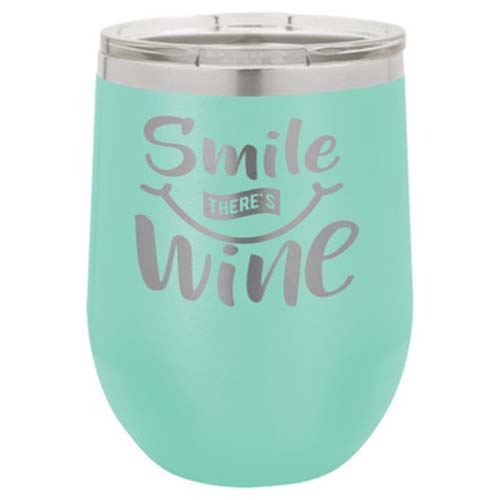 This personalized wine tumbler fits perfectly inside a Christmas stocking! The durable metal means she'll love taking it camping in the summer, or bringing it along with some nicely chilled Chardonnay to the kid's soccer game (Shh. We won't tell if you won't).
2. Eyeglasses Holder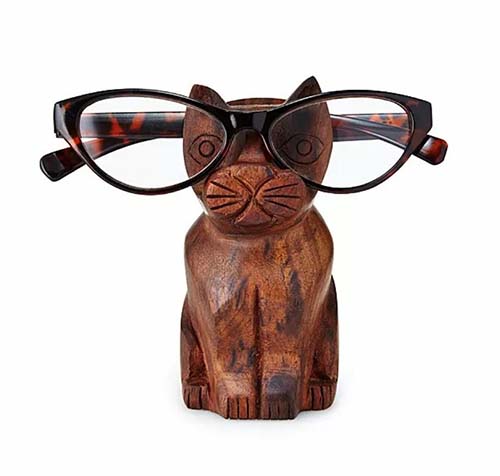 Nothing worse than trying to find where you put your blasted glasses when you're all blurry eyed and in a hurry, right? This adorable eyeglass holder with its kitty cat shape will be her new favorite desk accessory. And she'll always know where her spectacles are located! Hand made in India with Fair Trade practices.
3. Engraved Purse Hanger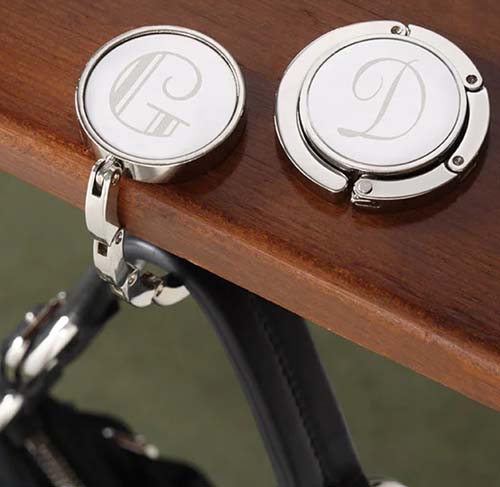 The dudes of the world don't know this, but purses and handbags harbor a huge amount of germs. Why? Because of all of the nasty surfaces we have to set them on! From gas station bathrooms, to dressing rooms, to grocery store shopping carts… it just doesn't bode well for our pretty purses.
These engraved purse hangers are here to save the day. They take up little to no room and really come through in a pinch. The customization makes them extra elegant, too.
Related: Here's How It All Started: The Legend of the Christmas Stocking
4. Frozen Slushie Mix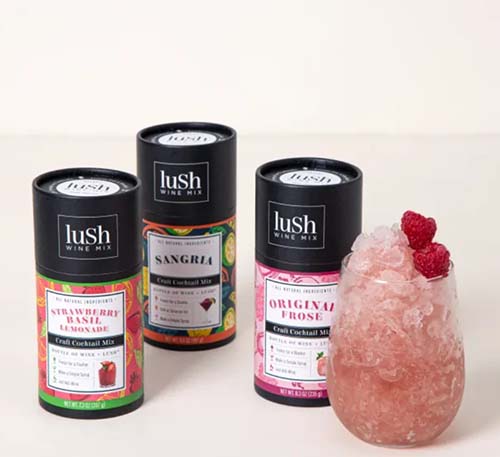 We don't care if it's winter outside, and she won't either! These yummy and delightful frozen slushie mixes are the perfect size for her stocking and will be her favorite gift yet. Finding these flavors in your freezer after a long day at the office or taking care of the kiddos will be the best part of her day.
They come in decadent flavors, like Sangria, Rose, and Strawberry Basil Lemonade. She will love these so much and be so grateful that she might share.
5. Rose Quartz Coasters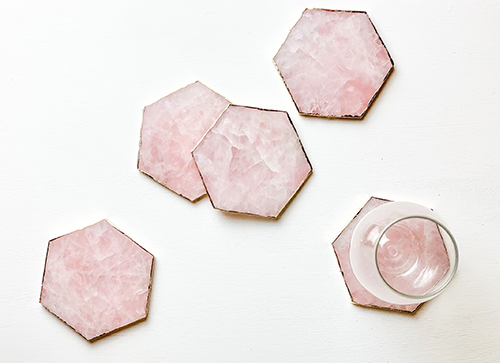 These rose quartz coasters are so lovely. So elegant and sophisticated, they are almost too pretty to put a glass on. So extravagant with their gold edging, too. Can't you just imagine hosting a dinner party with these gorgeous coasters?
Your guests are sure to ask where they came from. And she'll turn her sparkling eyes to you!
6. SOI Handbag Light
Did you know that the average woman spends 76 days of her life searching for something in her purse? I can't even with this information! Eliminate such nonsense with this SOI handbag light. It activates with a simple wave of her hand and makes finding her lost lip balm, keys, or other trinkets so much easier.
7. Christmas Tree Shaped Tea Bags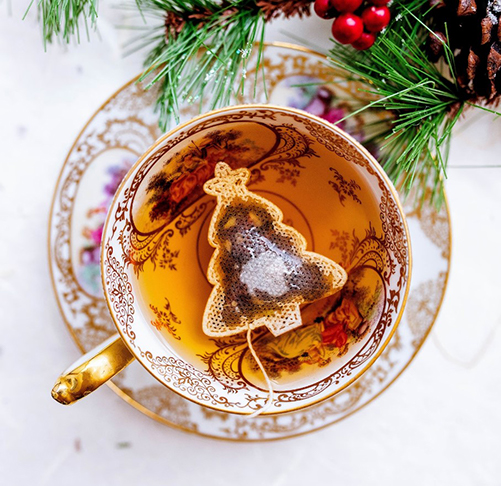 Tea doesn't get much cuter than this! These adorable Christmas tree shaped tea bags come in two seasonal flavors: Christmas tea (a lovely black tea with notes of cinnamon and cloves) and a unique English Breakfast Tea.
Perfect for the toe — or the top — of their stocking.
8. Calming Lavender Heat Pillows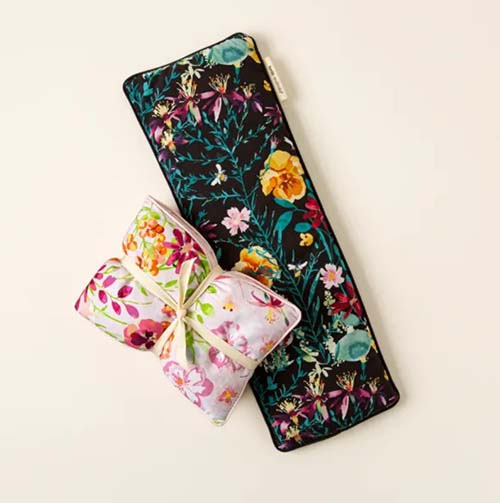 There's nothing like the scent of lavender to make all your stresses of the day melt away! Simply heat this beauty of a heat pillow in the microwave for some instant pampering. From headaches and migraines to sore muscles and pent up frustrations. This little miracle worker will really come through for her again and again.
Available in two fabric patterns, this pillow can also be stored in the fridge for some much needed muscle and bruise relief.
9. Custom Handwriting Ring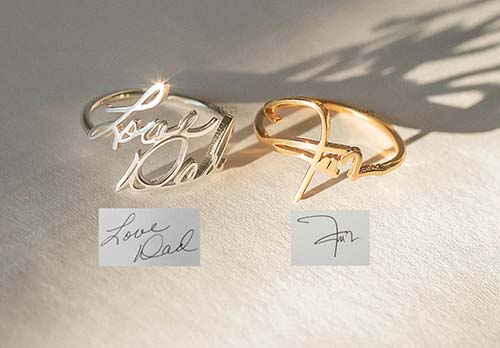 Made of sterling silver or 18K gold, this custom handwriting ring is so unique and sweet! She will love whichever message you choose: from a simple autograph to a tiny inscription that is just for her. It's a sentimental and adorable gift for your wife, daughter, or mother.
All you have to do is snap a photo of the word(s) you want, and the geniuses at McKenzie Treasury will do the rest.
10. Silver Plated Compact Mirror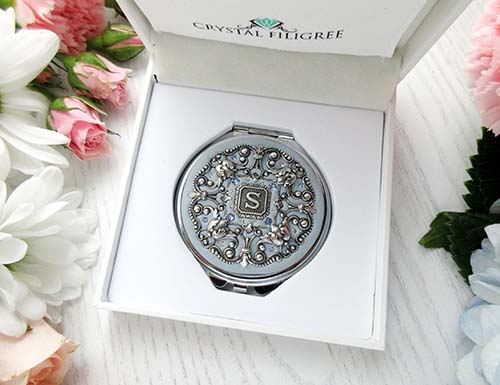 This gorgeous compact mirror comes in different colors, and of course, different initials! It has the loveliest of vintage vibes about it, but is still classy and timeless. She'll love slipping this inside her handbag and using it throughout the work day. It's just the thing to slip in her stocking, and you'll love watching her face light up when she finds it.
Related: 15 Inexpensive Gifts for the Woman Who Has Everything
11. Ceramic Mug Warmer & Charger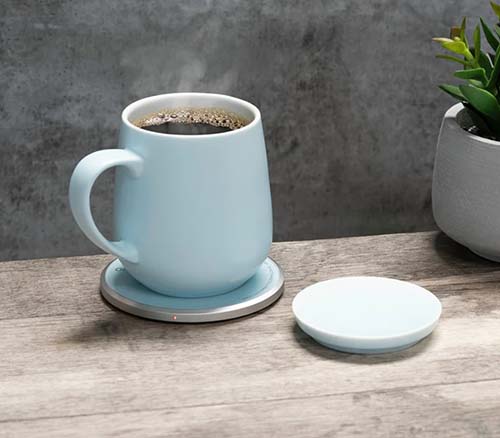 Busy women know how a delicious cup of coffee or tea gets decidedly… less delicious, when you are forever having to microwave it again! This pretty ceramic mug warmer comes to the rescue so that the perfect cup of Joe stays perfect, even if she gets distracted with meetings, fussy babies, or a phone that just won't stop ringing.
Did we mention it also charges said phone? This is magical.
12. Mini Heart Keepsakes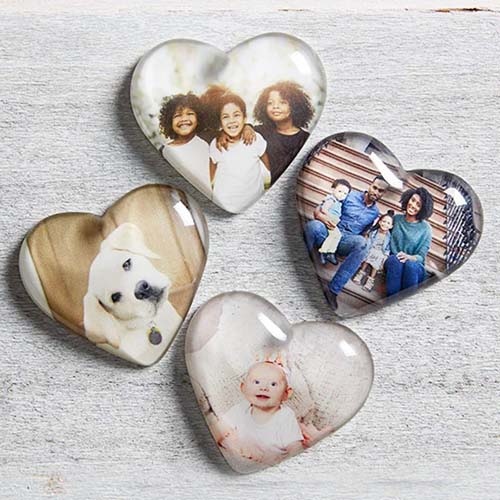 Keep her favorite people (or pets and landscapes) close to her heart with these miniature heart keepsakes. She'll 'ooh' and 'aww' over the sweet design and the photos you picked out just for her.
You can keep them as is, but you could also add a magnet to the back if you like! Either way you go, she's sure to smile every time she sees them.
Related: Christmas Stocking Stuffers for Girls
13. Wine Chillers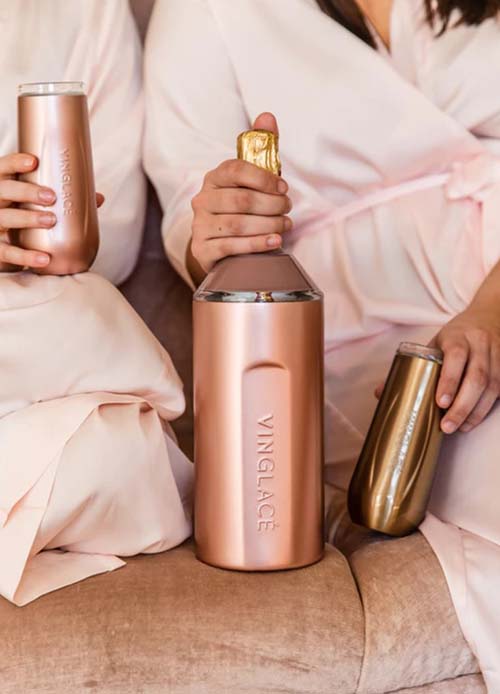 This portable wine and champagne chiller is the original and still the best. She'll feel so posh when she uses this elegant but practical chiller at the next dinner party or tailgating bash. The vacuum sealed metal will keep everything nice and cold as long as you need.
14. Mini Humidifier
This sweet little portable humidifier is perfect for their home, their office, and even their car! The winter season is always so drying and can create lots of sinus issues — enter humidifiers.
Handy and convenient, this one offers relief in the cutest miniature form.
15. Mini Stone Stacking Kit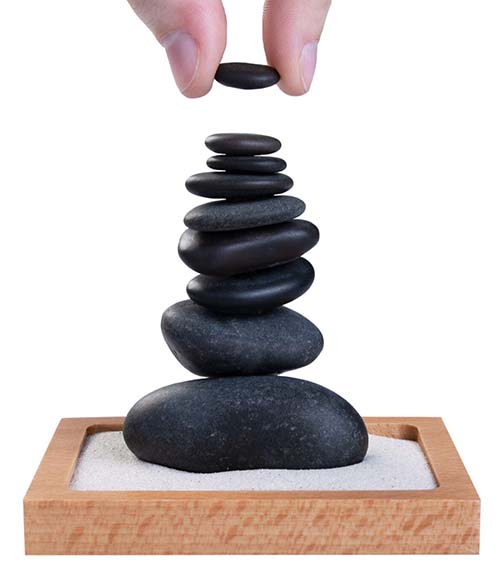 Hurry up, inner peace — I don't have all day! If you've muttered these words, or you've heard her mutter them, you both need a set of mini stone stacking kits. The simple job of stacking the smooth black rocks will calm your frazzled nerves and give your brain something else to do besides panic. It's like a tiny little oasis for your desk.
16. Wine-Infused Dessert Sauce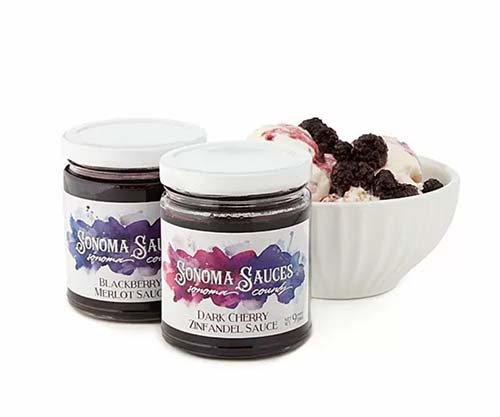 These yummy sauces are just right for the foodie and the wine lover alike. She'll love finding all sorts of new uses and recipes for these delicious sauces: from savory BBQs to sweet frozen treats. They'll make her feel so… saucy!
17. Personalized Leather Bookmark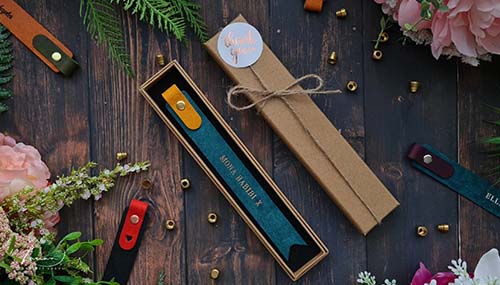 The bibliophile in your life will find this personalized leather bookmark absolutely dreamy! It's chic and posh, but oh-so useful too. We know she wouldn't dream of dog-earing a book, but a girl has to keep her place, right? This beautiful bookmark will get all the uses and make her feel all the feels every time she uses it.
18. Lismore Diamond Perfume Bottle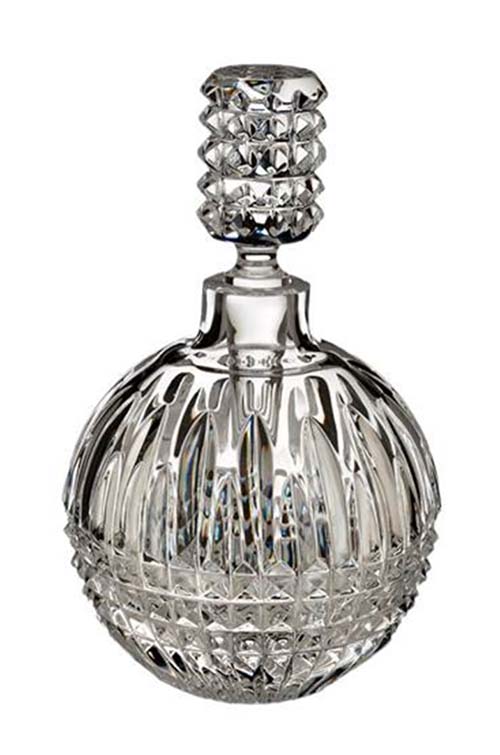 This Lismore Waterford diamond perfume bottle is a throwback to a more refined and chic era. She'll feel so special — even spoiled — with this elegant stocking stuffer. Her favorite scent will smell even better when she stores it in this stunning bottle.
19. Outdoor Safe Smart Wristband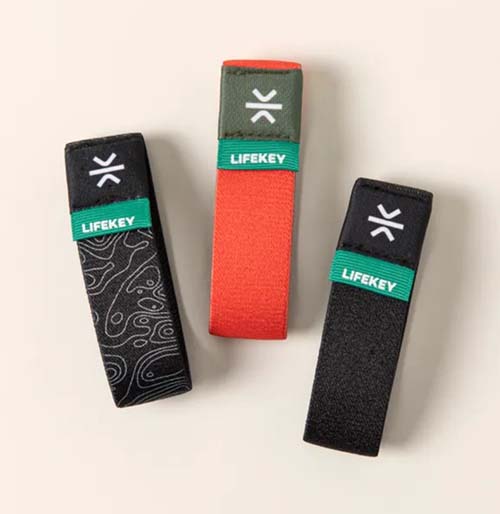 If she's one of those women who loves to solo hike, explore abandoned places, travel, or wander through dark cemeteries at night (*sheepishly raises hand), then she absolutely needs one of these amazing inventions: an outdoor safe smart wristband!
What is it? Well, the better question is, what isn't it? Because it kind of does it all. It keeps her important info like allergies, any medical conditions, blood type, and more. Plus, she can let her loved ones know she's 100% safe on that mountain top with just a tap of her smartphone.
20. Wooden Cooking Utensil Set
This 8-pack of beautiful teak wood utensils will make her eyes light up! So useful and practical, but really pretty too, this set will come in handy every single day. They'd look fantastic displayed in crockery by the stove (they're too nice looking to banish to a drawer).
More ideas: 21 Personalized Gifts for Her (That She'll Adore)
Stocking Stuffers for Mom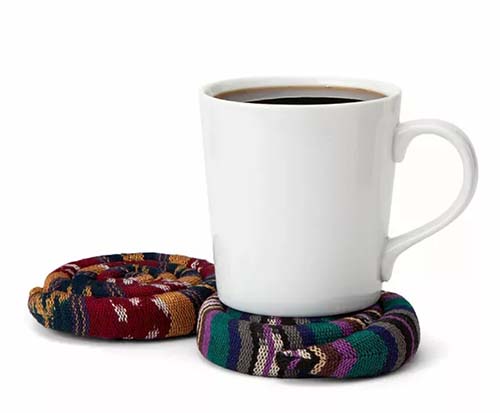 If anyone deserves a holly-jolly Christmas, it's Mom. She's been working all year to make your world go 'round — now it's time to show her some love. Stuffing her stocking to the brim will surprise and delight the most important lady in your life.
Get the kids involved too, and really enjoy the magic as she digs into her stocking! Fill it with all things sentimental, silly, useful, and pampering. Honestly, you can't go wrong with any of these options, and you know her heart will positively melt over whatever you choose.
Made from cinnamon, coffee beans, and cloves, this yummy scented warming coaster is a great place to start when stuffing her stocking. She'll love resting her morning cup of coffee or evening tea on these. Her beverage of choice will stay hot, and the room will be filled with such a Christmas-y scent!
More ideas:
Stocking Stuffers for Wife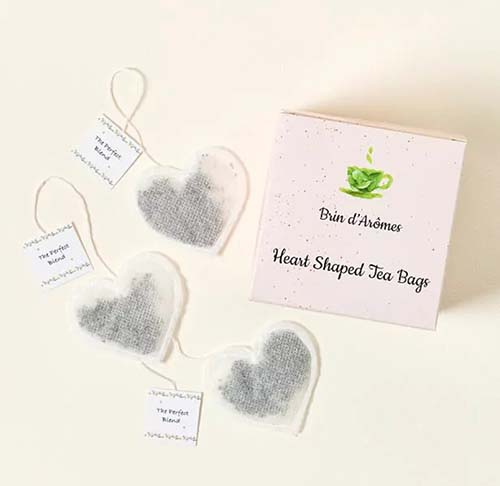 Whether you've been married for ten days, ten years, or a half of a century, show her how much you love her by really coming through in the stocking department! There's a stocking department? Oh yes, my dear man. There is. And you're going to rock it. Pick an assortment of all things witty, romantic, silly, and nostalgic. You can't go wrong with some of these selections.
These heart shaped tea bags are just the thing to get you started on the path to the best Christmas ever! She'll love dipping these into a mug of boiling water and tasting the sweet sensation of her worries melting away.
More ideas:
Related: Best Stocking Stuffers for Your Wife
Stocking Stuffers for Girlfriend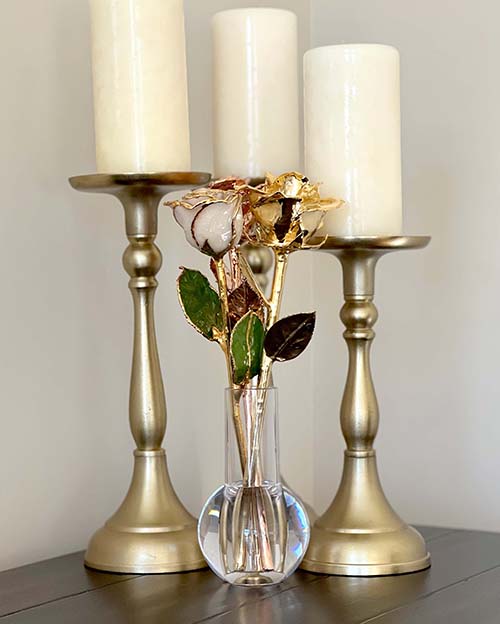 Don't leave her stocking and its contents solely up to her mom and dad. Show up, my dude! She'll be delighted with all things romantic and sweet, personalized and meaningful. She might love digging through her stocking more than what is under the tree (unless what's under the tree is a ring… no pressure).
This list we've compiled for you means an easy-peasy, lemon-squeezy shopping experience that will make you look like Superman.
This Forever Rose will melt her heart and get you all the hugs and kisses! A romantic and a symbol of how much you adore her, this rose is a one-of-a-kind gift that she will keep forever.
More ideas:
Stocking Stuffers for Girls Ages 0-5
They're at that age where Christmas is full of magic! There's nothing sweeter than watching a sleepy-eyed toddler wander out into the living room on Christmas morning. Seriously. Nothing. Sweeter. These fun little trinkets will make her feel like a special princess and she'll love each and every one.
Now, don't forget to video the unwrapping because you're going to treasure these wonderful years for the rest of your life.
These play sets of jewelry in fun colors will make her feel like Mommy! She'll love pairing them up with her favorite outfits (even if said outfit is a dirty Disney Princess dress with moon boots like my kiddo sported 2005-2006). Click here for more timeless jewelry for kids!
More ideas:
Stocking Stuffers for Girls Ages 6-12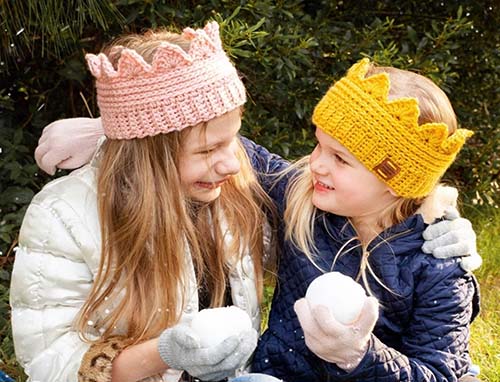 Now they're getting a little more complicated, but that doesn't mean gift giving has to! Your sweet and spunky girl aged 6-12 can be a wonderful and sassy mystery sometimes, but it's okay: you've got some amazing stocking stuffers to buffer the mood swings and growing pains.
She might be loud and saucy, quiet and shy, climbing trees or reading books, pigtails and scraped knees, secrets and songs — or all of the above (sometimes every day). Whomever she is, she's your little girl.
This princess crown is about the cutest thing we've seen all day and we want one in every color! A little more Montessori/Waldorf inspired (instead of plastic Disney-esque and the dreaded glitter), this knitted hat is simply perfect. She may never take it off, and you won't want her to.
More ideas:
Stocking Stuffer Ideas for Teen Girls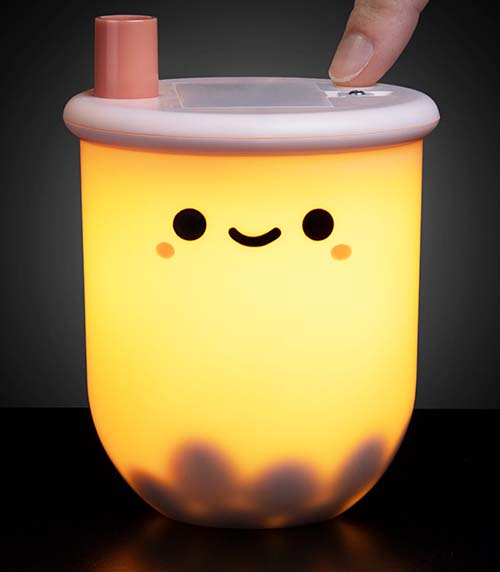 They're getting a little hard to shop for, aren't they? We know, Dad, we know. Teen girls are a whirlwind of drama, stress, hormones, growing pains, long talks, and even longer silences! But you've stayed there for each and every life lesson, and you can show her now just how well you know her.
These gifts we've compiled will show her how much thought and heart you put into each and every stocking stuffer. We think she'll melt like a snowman in the sun.
This Boba Tea Light is so adorable! If she and her friends spend more on their bubble tea than you spent on your first car, this is the stocking stuffer for her. The cute little light is still whimsical and child-like, but grown-up and "spa" like as well.
We think she'll love it, because honestly, even the most sophisticated of teens are still just a little bit afraid of the dark. Just as long as it doesn't light the way for her to sneak out… wait. What?
More ideas:
Funny Stocking Stuffer Ideas for Women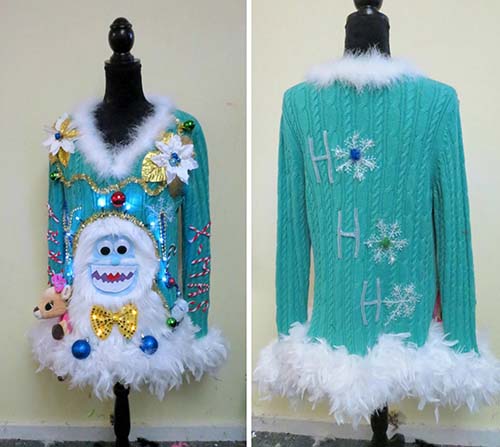 Women love romance, sophistication, expensive trinkets and baubles, and cold hard cash. I mean, yeah, we do and we aren't lyin'! But you know what we also love? Lean in and listen closely, my pupil… funny stuff. We love to laugh! If you can bring some joy into her stocking after a long night of wrapping presents and defrosting the turkey, you will be an absolute king in her book.
So, don't delay, and quit trying to be so serious: get her some stocking stuffers that will tickle her funny bone and make her look at you the way Blake Lively looks at Ryan Reynolds.
Rolling up the world's ugliest Christmas sweater for her stocking is a great idea! Can you imagine the photo ops you are going to get with one of these beauties! Winner, winner, chicken dinner. Dress her up and let's get this party started.
More ideas:
Related: Funny Christmas Gifts that Will Jingle Everyone's Bells
DIY Stocking Stuffer Ideas for Women
DIY Holiday Spiced Apple Cider Mix
This spiced apple cider mix will fill your entire home with the aroma of Christmas! Just a few ingredients, a mason jar and these FREE printable labels and you can craft an inexpensive DIY gift for neighbors, coworkers or teachers.
DIY Infused Olive Oil Gift with Printable Label
The foodie on your holiday list will appreciate and enjoy this homemade infused olive oil.
DIY Sugar Lip Scrub
Check out this simple sugar lip scrub DIY and make a batch for stuffing the stockings of all your favorite gals.
DIY Soothing Oatmeal Bath Bomb
These moisturizing oatmeal bath bombs are wonderful for dry skin and smell fantastic. Homemade bath bombs make a great DIY Christmas gift with an old-fashioned appeal.
DIY Christmas Candle Holder with Air-Dry Clay
This lovely candle holder is a fun DIY project that uses air-dry clay and fits perfectly in the stocking of your choice.
DIY Marbled Clay Ring Dish
Create your own marble effect ring dish using oven-bake clay. Each and every one will be unique, so make one for the whole fam!
Cheap Stocking Stuffer Ideas for Women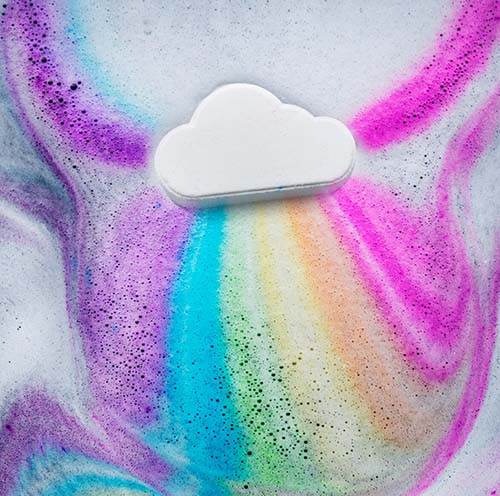 Let's face it. We're not made of money here! But you know what? She doesn't care about expensive price tags. She really doesn't. This list of totally cheap but totally adorable and thoughtful stocking stuffers will make her smile and hug you and hug you and hug you… so really, it's a win-win.
This rainbow bath fizzy will be what she looks forward to all of Christmas day! She'll feel like a kid again with its colorful burst of holiday spirit. Whether the girl in your life is 5 or 95 years old, this is a perfect little gift that will make her feel pampered and adored.
More ideas:
Last Minute Stocking Stuffers for Her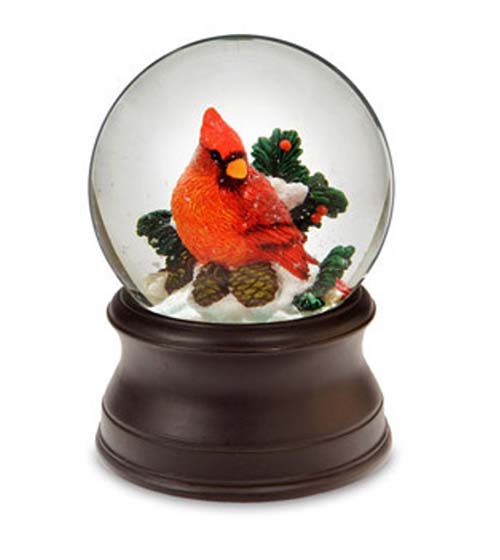 We've all been there. You know the scene: it's Christmas Eve and you assumed everywhere will be open for shopping. Except everywhere is not open for shopping. Don't panic and buy that paper and chocolate rose at the gas station (Ask my husband about this. True story). There are still some last minute options that won't look like you, well, forgot. We've got you.
This lovely cardinal snow globe will get her attention with its Christmas magic and falling snow! She'll love shaking this pretty work of art, and it might just be the start of a whole new collection (better bookmark this site).
More ideas:
Read Next: Christmas Planning Done Right – Organize Your Holidays!