The Rare Beer Club is a premium craft beer subscription box that goes beyond your typical "beer of the month" club.
I recently received a delivery. Read on for my Rare Beer Club review and unboxing experience!
Our website is supported by our users. We sometimes earn a commission when you click through the affiliate links on our website. See our privacy policy & disclosures for more information.
Also, I received a free delivery for review. Of course I'll try to be unbiased, but (writing this before even trying the beers)… what's not to like? It's beer! Jk. I'll provide a little more nuance at the end. This will help you decide if it's worth it, and if it will make a good gift for the beer connoisseur in your life.
How Do Beer Clubs Work?
The Rare Beer Club is one of many "beer of the month club" subscription boxes. This is where you get (or give) a monthly subscription, and the club hand-picks some specialty microbrews and sends you a delivery each month.
A craft beer subscription is a great way to try out new, different, and unique brews from all over the country (and sometimes, the world).
Most of these clubs send a handful of your typical 12 oz bottles from different local breweries, and pretty much any of them are worth trying out:
There are plenty more, too. They all have pretty much the same approach:
Each month, you get twelve beers delivered to your door. Typically, these consist of two kinds each from two breweries (so you get 4 different brews, 3 bottles of each kind).
These clubs go for about $40-50 per month including shipping, and you can generally get discounts for signing up for more months.
So what makes the Rare Beer Club stand out?
The Rare Beer Club: A Standout Subscription Box for Beer Lovers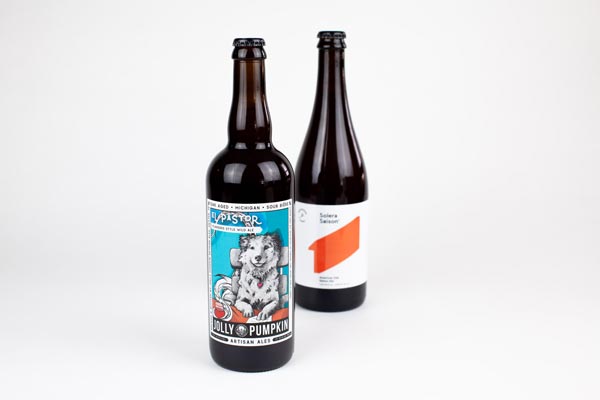 The thing that sets this club apart is simply the quality of the selection. They go out of their way to find truly rare beers from around the world. At times, they even partner with breweries to create exclusives only available to club members!
So you know you'll get something special each and every month, without the trouble of sourcing it yourself, standing in line at a local brewery, or having to buy a case at a time.
Membership
With the basic membership, you'll receive two 750 ml bottles (the large 25 ounce ones) delivered to your door each month.
These two beers will be from two top breweries (one bottle from each) from around the world, domestic or international. Every single one will be an artisan crafted limited release.
Cost
At a little over $50/month, the Rare Beer Club is one of the pricier beer subscription boxes. But for good reason – their selection is pretty darn exclusive.
For example, the two I'll be reviewing today are both Rare Beer Club exclusives, crafted in partnership with select microbreweries. They're so rare you literally can't find them anywhere else!
Other, older selections include:
Brasserie De Silly – Pinot Noir Barrel Aged Scotch Silly ($37.21 including shipping at the only place I could find to order online)
Green Bench Brewing Company – Alice (limited release; no longer available)
Bank Brewing Company – Bankruptcy (limited release; no longer available)
Sudwerk Brewing – Microfauna (about $20, but only available locally)
Plus several other RBC exclusives
Some of these can be ordered directly through the Rare Beer Club's site, typically at $18 per bottle with $15 shipping. So with the club, you're essentially getting a couple of $25 beers.
Oh, and you can order more than one of each kind. If you get two of each (four total per month), your cost-per-bottle goes down to about $18. With three of each (six bottles total), it's about $15 each.
But the cost isn't everything. What matters is the experience. The privilege of trying great beers to which you have no other access, delivered to your door, is a pretty great value.
Rare Beer Club Unboxing
Fedex delivered the beer to my door, as advertised. I had to sign for it. (Yep… Since it's alcohol, an adult will need to sign.)
Eager to get the bottles into the fridge so I could soon enjoy them, I made an unboxing video and took some photos.
Rare Beer Club Unboxing Video
Watch:
If you prefer photos, keep scrolling. After the pics I have a detailed review of the Rare Beer Club.
Rare Beer Club Unboxing Photos
Here's the box I received: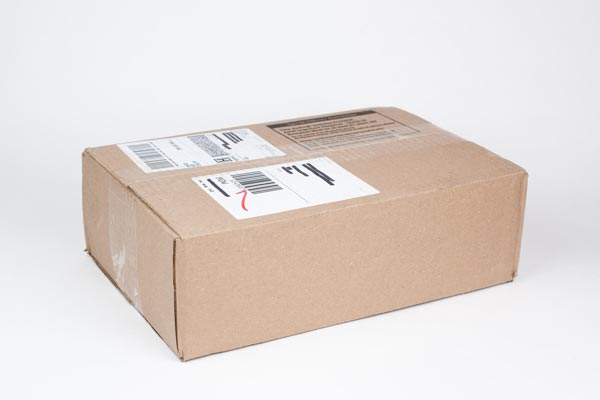 The first thing you see upon opening your first box will be a "Welcome" flyer: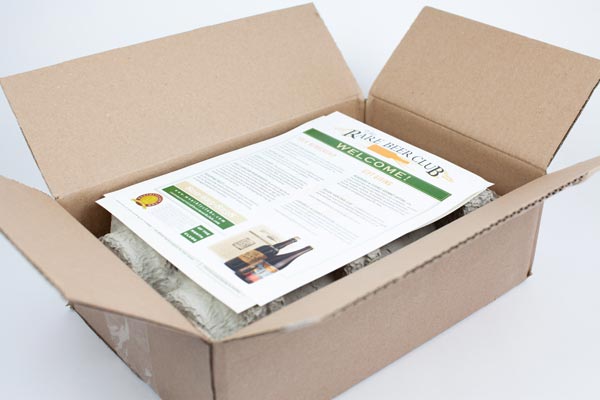 This flyer has membership and gift-giving details. They mention that you can re-order your favorite brews on their site and provide customer service info.
There's also answers to any shipping questions you might: When shipments leave the warehouse each month, how long it takes, what to do if your address changes or you're on vacation, and so on.
Next, you'll see the "Newsletters," which talk pretty extensively about that month's beer delivery.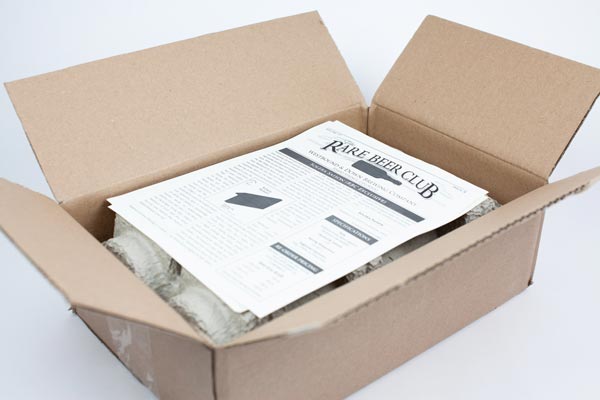 Each bottle gets a newsletter, front and back. If you like knowing about what you're drinking, this is a gold mine of information!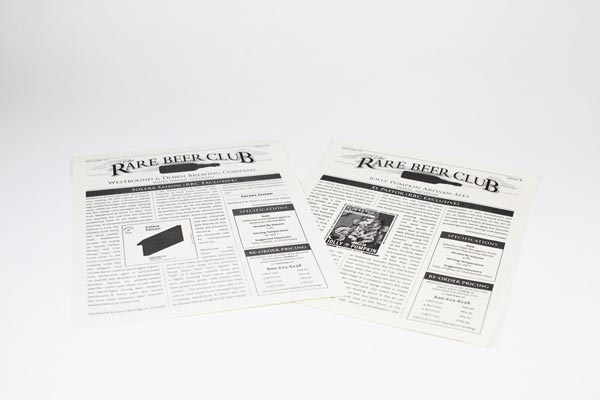 They talk about the brewery, the owners or founders, what makes them unique, specifications for the selection (style, ABV, recommended serving temp, glassware), the inspiration for that particular brew, plus pouring, aroma, pairing, and tasting notes.
Ok, so beneath the literature is the actual beer. It's well packaged. I'm sure they want to avoid any breakage no matter how much the box gets tossed around.
This stuff looks pretty sturdy and well-engineered to me: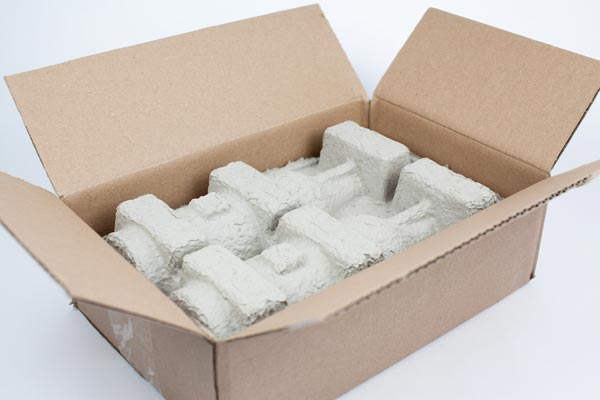 Lift off the top part of the protective cardboard, and finally we see the goods.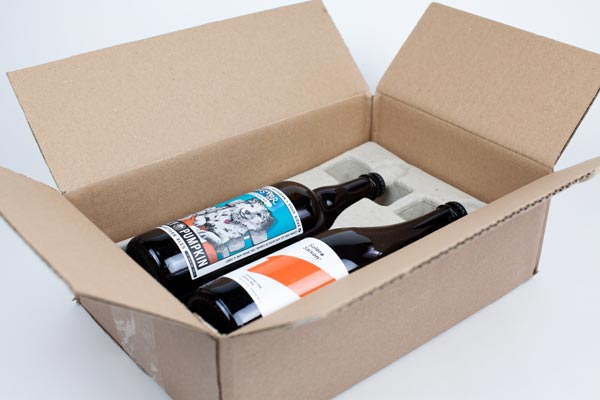 As you see in the video, I had to rotate the bottles to get the labels to face up.
Let's pull them out and take a good look: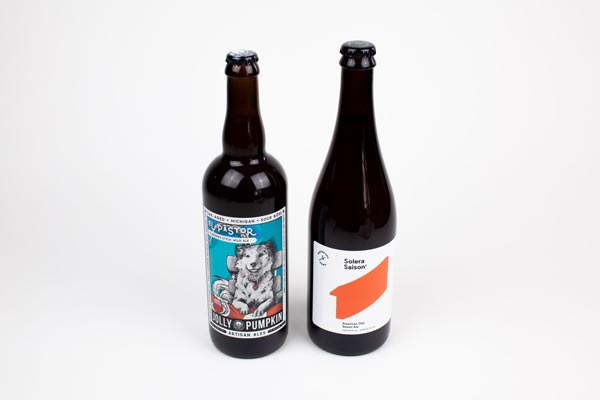 These are big boy bottles. Each is 750 ml, aka 25 ounces.
We have the El Pastor from Jolly Pumpkin Artisan Ales in Dexter, Michigan (about 90 miles away from where I was born):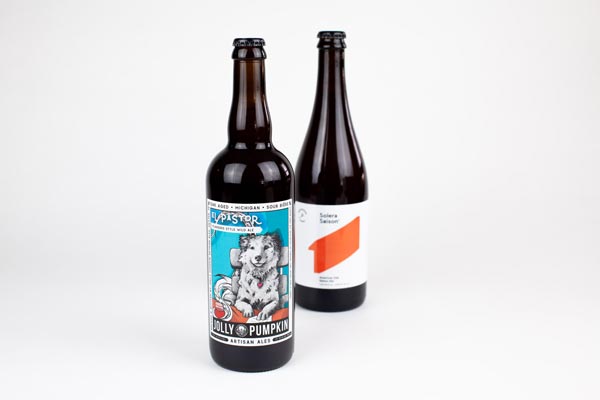 Then a lovely-looking Solera Saison from Westbound & Down Brewing Company of Idaho Springs, Colorado: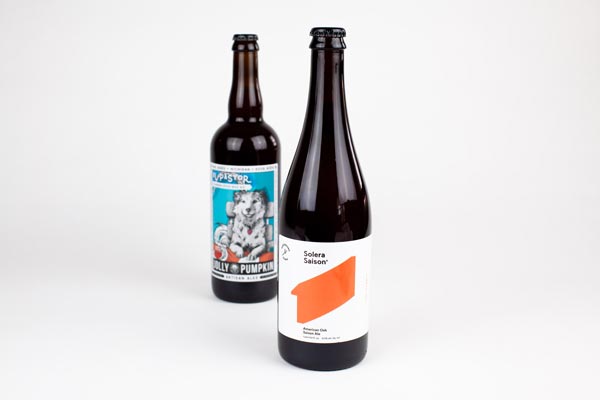 As soon as I was done with photos, those two beauties went into the fridge to chill in preparation for my tasting review… up next!
Rare Beer Club Review
Initial Impression
I think this is a pretty great gift idea for anyone who loves beer. After all, who wouldn't want to receive a couple of unique and unusual premium ales, without the hassle of leaving their home?
The unboxing experience was nice. As you can see there's no fuss. It's simple, and to the point: Here's some great beer, and here's some info about it. Put it in the fridge and enjoy it.
The two I received both have nice labels. They look and feel like they're going to be great.
El Pastor from Jolly Pumpkin Artisan Ales (Review)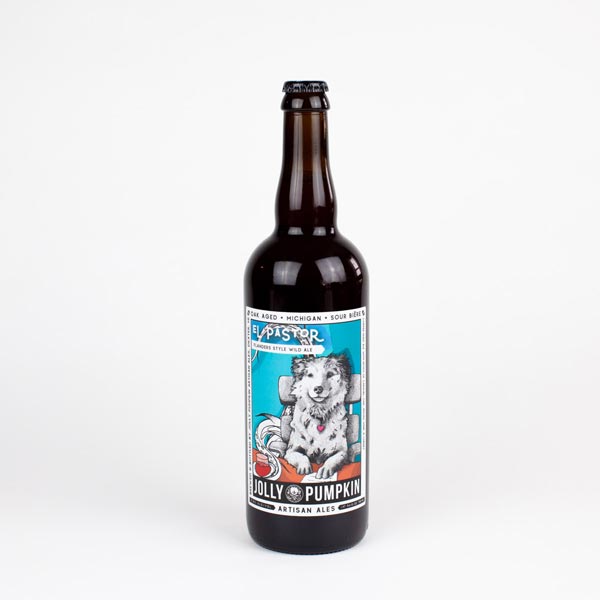 Jolly Pumpkin has produced several exclusives for the Rare Beer Club. This one, the El Pastor, is a Wild Tripel Ale (9.8% ABV) that spent 17 months in fresh California Chardonnay barrels.
"El Pastor" translates roughly to "the shepherd." It's a tribute beer. The dog in image on the label is Murl, an Australian Shepherd who, for years, served as the "columnist" for the Beer of the Month and Cigar of the Month club newsletters. (This is the sort of stuff you'll glean from the newsletter.)
At Jolly Pumpkin's brewery they use open fermentation. This means that they leave the container open to the air, which allow whatever local stuff floating in the air can mix in with the yeast and add special, unique, one-of-a-kind flavors into the brew. Then they cask and age it, and the result is the beautiful and bright El Pastor.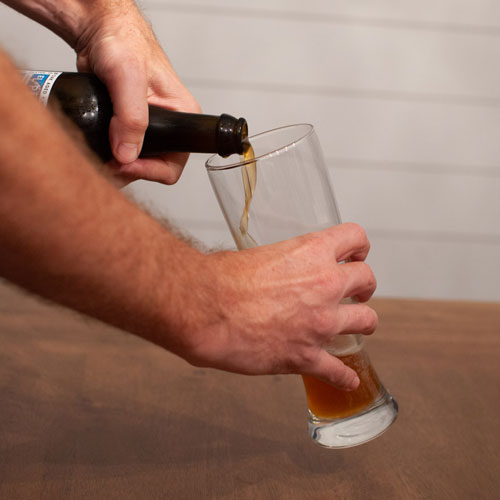 It pours a reddish-copper with a light head. The spices add a nice aroma, reminiscent of all those seasonal ales that pop up around the holidays. But the dominant scent is fruit – tart, with a touch of sweetness. The barrel aging definitely adds a layer of complexity.
Tasting it, you get the sour first, then the fruity flavors, almost like a cider. Apple, with a hoppy finish. They use Perle, Strisselspalt, and Vanguard hops, and you can taste it along with the "natural funk" (their term, from the newsletter) that comes in from the open-air fermentation. I liked it, it was different but not too wild.
Solera Saison from Westbound & Down Brewing Company (Review)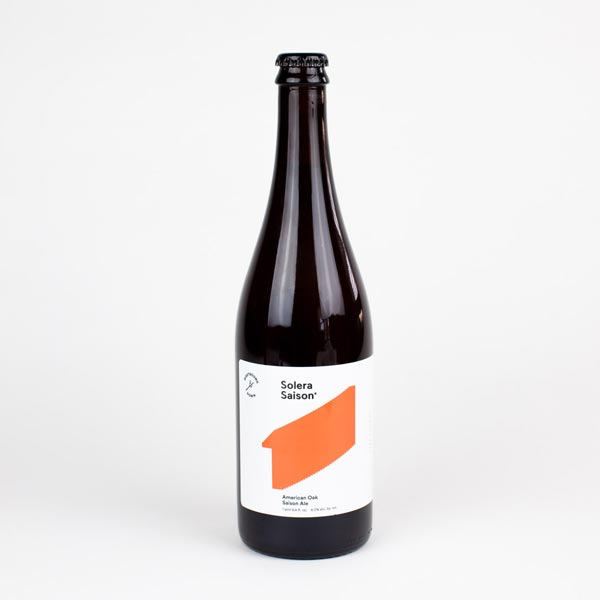 Another exclusive, the Rare Beer Club partnered with Westbound & Down Brewing Company to create this Saison using the Solera-style aging process.
This brewery won the Great American Beer Festival's Midsize Brewpub of the Year in 2019. They use local Colorado mountain snow melt filtered on-site, and all their electricity comes exclusively via wind-powered resources.
Solera aging uses fractional blending, which means that the final brew is a composite mixture of new, older, and oldest stuff. I think a Saison is perfect for this, since it's the original old-fashioned summer homebrew.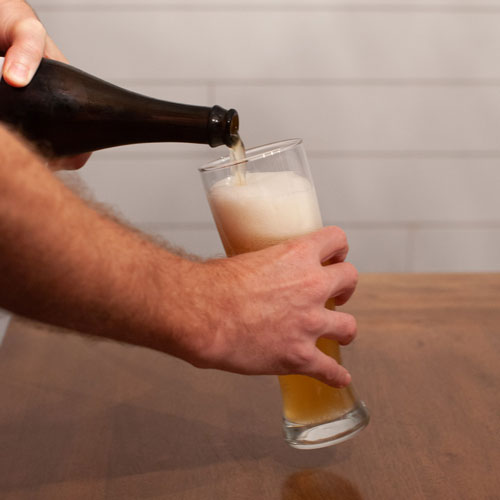 The pour is a thick honey-yellow with a nice sized head. Tart citrus and sweet tropical fruits are the initial aroma, with a subtle presentation of earthy vanilla from the barrels coming through beneath.
Flavor is primarily citrus, with sour notes beneath. It isn't overpoweringly tart, but rather pleasant and lasting as the sweet fruity flavors disappear. That's when the barrel aged notes kick in, nutty with a bit of spice. Overall it's a bold flavor, but smooth and eminently drinkable.
Verdict
4.5 out of 5 stars.
The Rare Beer Club is a fun experience, with great beer, delivered to your door. It can be a bit pricey, hence the 1/2 star dropped off. But for those who value delicious, small-batch artisan beer (or giving an excellent, high-end gift) then it's perfect.
Comparison Chart
Let's compare the Rare Beer Club to two others: The Beer of the Month Club and the US Microbrewed Beer Club.
| | | | |
| --- | --- | --- | --- |
| | Rare Beer Club | Beer of the Month Club | US Microbrew Club |
| Main Feature | Exclusive, hard-to-find beers | Award winning beers from small craft breweries | Selections from lightly distributed US breweries |
| Cost (w/ shipping) | $53/month | $42/month | $45/month |
| Bottles | Two (25oz) | Twelve (12oz) | Twelve (12oz) |
| Ounces | 50oz | 144oz | 144oz |
| Taste | Strong and sophisticated | Quality with a wide variety of styles | Quality with a wide variety of styles |
| Audience | Beer connoisseurs | Someone who likes craft beer | Someone who likes craft beer |
| Gifting options | Yes | Yes | Yes |
| Discounts for longer subscription | No | Yes | No |
| Discounts for more beers per shipment | Yes | N/A | Yes |
| Frequency options (once per month, every other, etc) | Yes | Yes | Yes |
| Order | | | |
Membership Pros & Cons
Pros:
Selection. Well-curated selection of high-end specialty craft beers
Rare. These are genuinely rare, limited run, hard to find brews
Expansive. An excellent way to try new and interesting beers
Exclusive. Several of these are only available through the Rare Beer Club
Simple. Easy to order, their website is very simple and easy to use
Great gift. Makes a great gift for the genuine beer snob connoisseur
Quick. Perfect as a last-minute gift (see below; you can give this from your phone will sitting in the recipient's driveway if you forgot to bring a gift to the party)
Delicious. The beer is good – enough said!
Cons:
Timing. You can give a gift notice instantly via email, but because of their warehousing and scheduling, you can't time a box to arrive, say, on their birthday. (But note that the same thing is true of just about any subscription box club.)
Expensive. I dunno about you, but $50+ for two bottles of beer is a nice chunk of change. You could get about 4 or so six-packs of local craft beers for that price.
Not much beer. Again, it's fifty bucks for 50 ounces. Assuming that same $50 will get you four six-packs at the supermarket, that's 288 ounces.
Two pourings. Once you open a bottle, you don't want it to sit around even if you have one of those beer saver caps. So you get two rounds.
The "cons" are mostly variations on, "How much do you value good, artisan-crafted beer?"
It's another way of saying, "Is the Rare Beer Club worth it?"
Is It Worth It?
Well… yes. Definitely yes. And no. Depends on who it's for and what you value.
Personally, I don't drop $50 on a couple of beers so I wouldn't get this one for myself. After all, I'm the guy who just tabbed up the cost-per-ounce instead of ordering another four bottles of the Saison. Ultimately, my palette isn't developed enough to really want to pay for the privilege (neither is my bank account, for that matter). I can certainly taste the difference in quality, I enjoyed testing it, and would love to receive it as a gift. I just wouldn't buy it for myself.
However, I would certainly buy this for someone else as a gift. In a heartbeat.
Right now I'm thinking of several people – beer aficionados, all – who would love to receive this. For a great gift that lasts for months and provides a one-of-a-kind experience, the Rare Beer Club is a great bang for your buck.
Related: Our favorite "experience" gifts
And of course I would love to receive a subscription. It's fun, it's interesting, it's different from your typical thing-that-you-bought-on-Amazon, and it tastes great.
Who Is This For?
For beer connoisseurs.
If you love to explore new flavors, styles, and breweries, and the $25 bottle of craft beer is at least a semi-regular thing in your life, then this is for you.
For you to give an amazing gift.
If you have someone who is a beer snob in your life, this the really the ultimate gift. Even for someone like myself, who just likes the occasional craft beer, this is a pretty great gift that I'd be thrilled to receive.
How to Give a Rare Beer Club Subscription as a Gift
This is really the perfect gift for the beer connoisseur in your life. But how do you actually give it as a gift, especially when you can't schedule the delivery?
The Monthly Clubs site makes it pretty simple. When you go to customize your membership, the first thing they ask is whether it's a gift or not. If you select "Yes", you have the option to send a gift announcement by email right away, or scheduled for a particular day. Or you can print it out to give it in person. Simple!
To see an example of the gift announcement, click here.
Then you pick what month you want delivery to begin. There are also options for how many months, whether to deliver every month, every other month, or quarterly (every 3 months).
Their checkout is very clear and simple. One nice thing that I really appreciated was that you see the total price right away, so you can make a clear decision about how much you'll be paying in total for the gift.
You can choose to pay all at once or only at the time of each shipment; but either way, they don't try to hide or disguise the pricing to make it look any different than what it is.
So go ahead, order it here!