Let's talk about what makes the best golf gifts, especially for the golfer who has everything.
So there's a special golfer in your life. Maybe his or her birthday is coming up, or maybe they're set to retire soon. Or perhaps you just want to get your golfer a surprise gift "just because."
Problem is, this golf enthusiast you know seems to have just about everything golf-related already, so you're feeling kind of stuck in your search.
Well, now you can sit back and relax, because we've done all the searching for you. We've found 21 amazing gifts (and then some) for golfers who seemingly have everything and don't need anything.
Because really, even if the golfer in your life doesn't need anything, you know they'll still appreciate receiving something thoughtful from you.
Let's get started!
21 Gifts for Golfers Who Have Everything
Our website is supported by our users. We sometimes earn a commission when you click through the affiliate links on our website. See our privacy policy & disclosures for more information.
1. "Hole-In-One" Golf Ball Display Plaque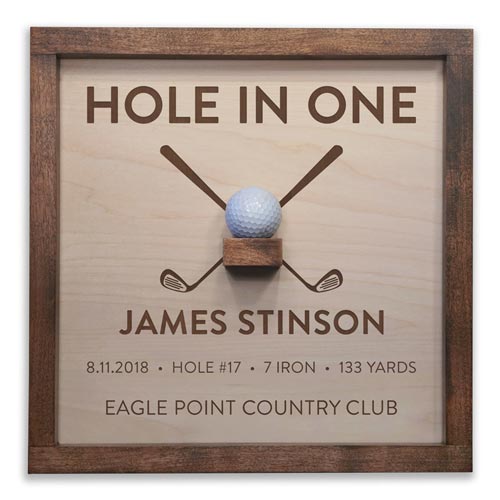 First up on our list of golf gifts is this Hole In One Golf Ball Display Plaque from Northwest Gifts.
The elegant plaque is constructed of white birch and stained alder wood, and features a divoted ball holder in which your golfer can proudly display a prized ball.
Best of all, this plaque comes personalized with your golf enthusiast's name and the logistics that made this particular ball worth displaying.
Related:
2. Personalized Golfer Bobblehead Doll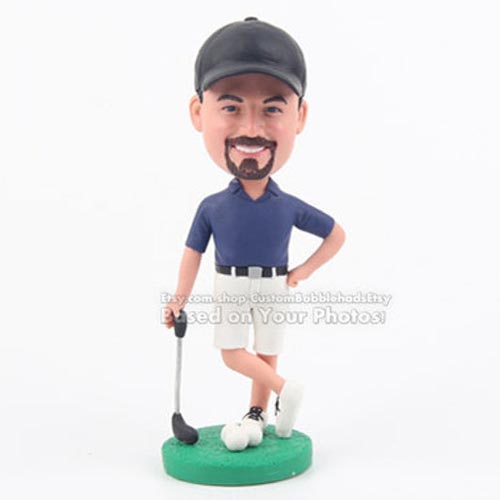 Imagine the look on your loved one's face when they notice the strange familiarity of this bobble head doll!
For the perfect gift for a golfer who has everything, this personalized golfer bobble head is just the thing.
It's made to order; all you have to do is provide the seller with a photo of your loved one so that they can work their magic to create a one-of-a-kind doll the golfer in your life is sure to get a kick out of.
3. Custom Golf Portrait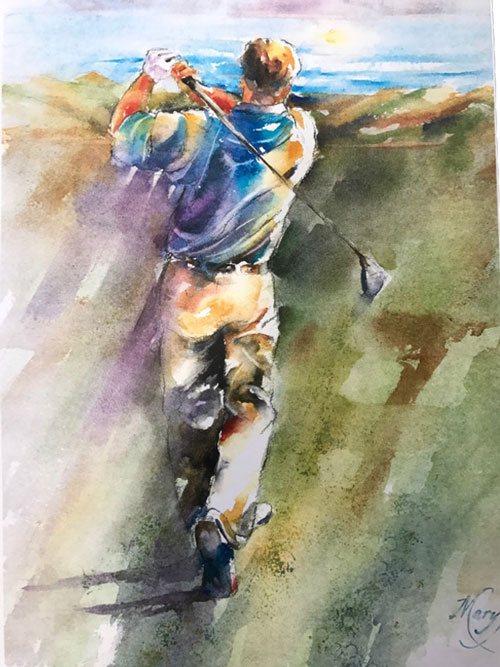 For a thoughtful and lasting gift for the golfer who has it all, consider this idea. Commission a fine art portrait of your beloved golfer, mid-swing, and surprise them with a true museum-worthy piece of art.
Mary Ann Simmons, a professional artist who specializes in watercolor paintings, creates unrivaled masterpieces featuring golfers in a way that truly showcases their passion for life – and golf!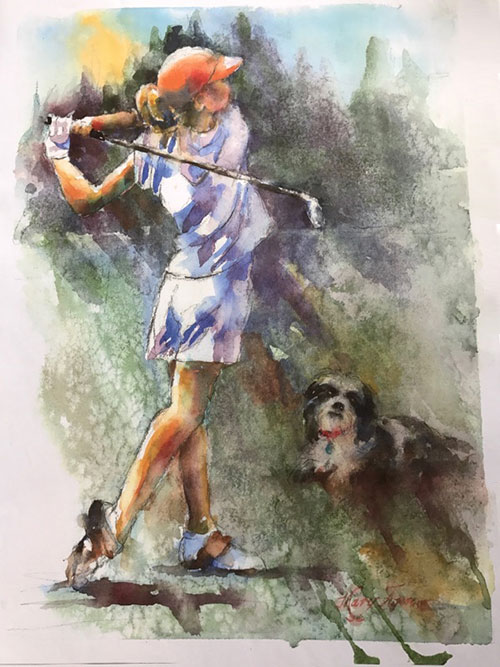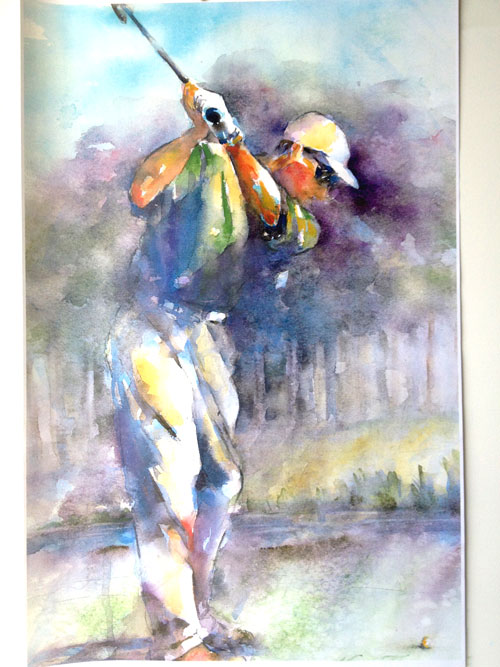 The artist will work closely with you to ensure that you are getting exactly what you want: a custom portrait that captures your loved one's essence – all that they are and love.
It's a timeless gift that they and their family can cherish, and subsequently pass down through the generations.
4. Portable Outdoor Rocking Chair
Golf-themed items are great, but when thinking of gifts for golfers, you don't have to go that route every time.
Consider this portable outdoor rocking chair, for instance…while not necessarily a golf gift, your golf-loving pal can still use it to enjoy their favorite hobby next to playing golf: watching it!
This outdoor rocker comes with padded armrests and a built-in drink holder. It conveniently folds up and also features a carrying handle for easy transport and storage.
5. Personalized Golf Sign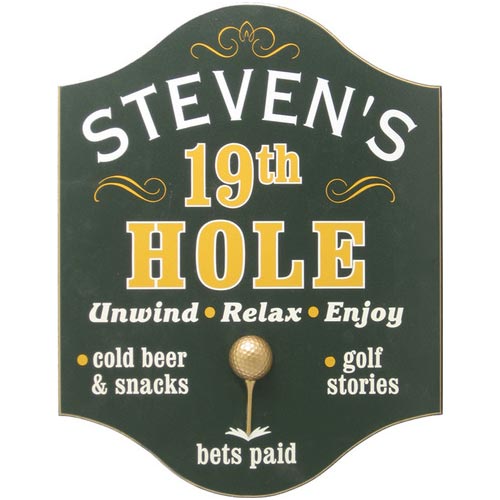 Your loved one can show off their true appreciation for the game by displaying a personalized golf sign in their home, office, man cave or she shed.
This sign is constructed of high-quality, furniture-grade wood and measures an impressive 18″ x 14″. It also features a relief sculpture of a golf ball and tee.
6. Personalized Golfer's Wall Mounted Bottle Opener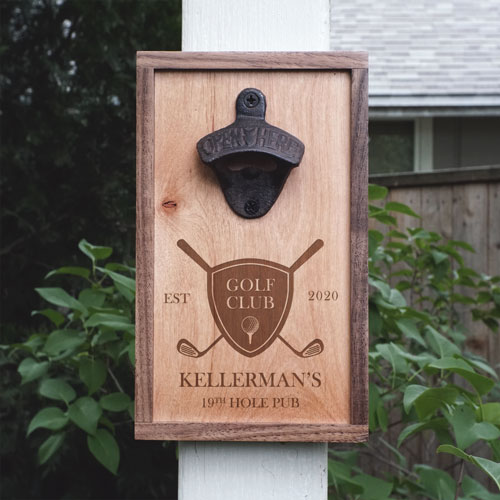 For the golf enthusiast who also likes to chill out after a long day with some cold ones and some friends, choose this golf-themed wall-mounted bottle opener from Northwest Gifts.
It comes personalized with your loved one's name and also features a real cast iron opener. An extra screw is included with your order for easy indoor or outdoor wall-mounting.
Also available in Golfer Silhouette style, with a silhouette of a male or female golfer in place of the golf crest.
7. Golf Ball Whiskey Chillers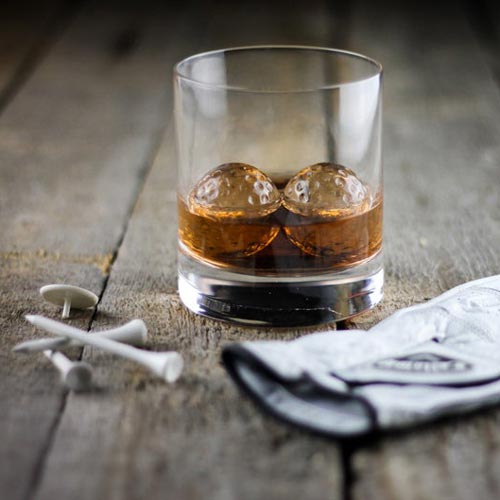 Perfect for the whiskey lover or the wine lover, these golf ball chillers will make a great impression on your loved one and all their other golfer friends.
Golf ball chillers are a great substitute for ice, which waters down drinks and quickly ruins their flavor. No melting here! Just great whiskey flavor and a fun golfing theme.
8. Best Golfer Ever Tumbler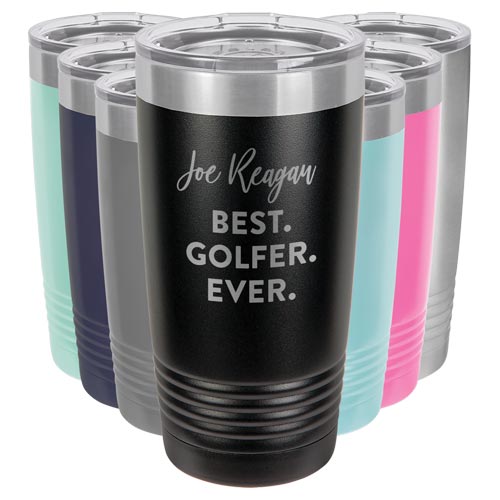 The best golfer ever deserves the best tumbler ever. And they'll have the best of both worlds with this fun, custom-engraved tumbler.
Our Polar Camel tumbler is double-walled and vacuum-sealed for superior insulation, comparable to the much more expensive YETI version.
Personalize your loved one's name on this mug, along with the quote of your choice.
Be sure to choose their favorite color. Numerous size options are also available.
9. Emoji Golf Balls
It'll be easy to put a smile on your loved one's face with a goofy golf gift! This one's for that one golfer friend or family member you know who enjoys a "gag" gift every now and then.
The best part is that these emoji golf balls aren't really a gag at all; they're real golf balls with high performance designed to set your loved one apart from all the rest.
As a bonus, these golf balls won't be so hard for them to find after each round!
10. Monogrammed Golf Towel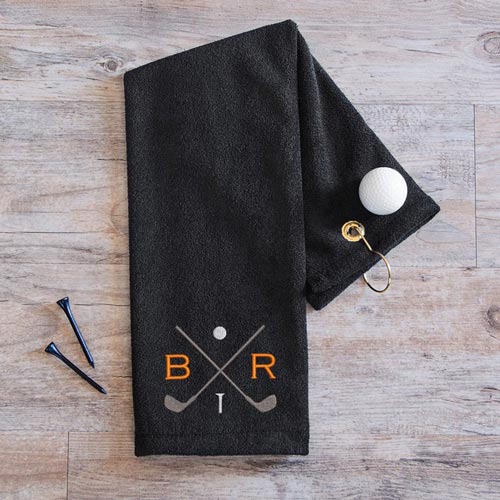 For a classy gift your loved one can use over and over, choose this monogrammed golf towel from Lifetime Creations.
This tri-fold golf towel measures 6″ x 25″ and comes with your loved one's initials monogrammed on the front along with a classic crossed golf club design.
It's made from soft microfiber and includes a hook and grommet for hanging.
Until the golfer in your life has their own monogrammed towel, they won't truly have everything!
11. Golf Brush and Club Groove Cleaner Set
A serious golfer knows that a clean club is everything when it comes to making good contact with the ball.
Even if your loved one has a routine for keeping their favorite clubs clean, this golf brush and club groove cleaner set will help them to easily keep their entire golf club collection in pristine condition.
The set includes a bristle brush with a groove pick and wires on one side for cleaning irons and nylon on the other side for cleaning fairway woods.
They'll also get a retractable zip-line for attaching the brush to their golf bag, plus a groove sharpener and ball marker.
12. Simple Golf Cookies Recipe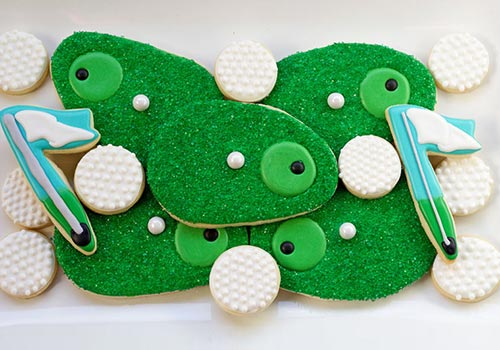 Even if you get through this entire list and your loved one actually does have everything we've mentioned so far, surely they've never tried these golf cookies!
This recipe for baking and decorating simple golf cookies will go a long way in showing your loved one that you care about them (and their passion for the game) without you getting them another golf-themed gift they (probably) already have.
13. Engraved Rosewood Finished Golf Ball Box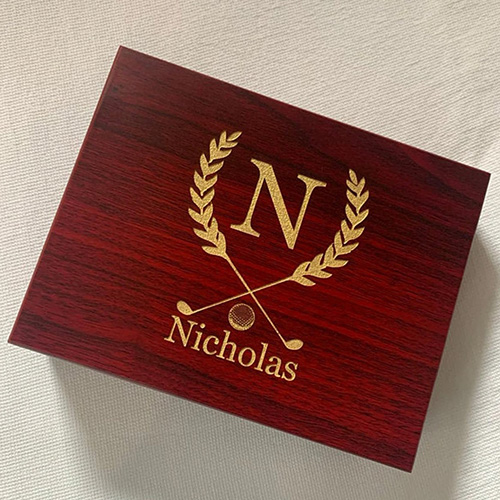 This gorgeous, rosewood box will be just the thing for storing his favorite golf balls, tees, gloves, or all of the above! Have the top engraved with his name or initials to make it extra special, and he'll have a functional keepsake to cherish for years. This pretty box holds up to 12 golf balls comfortably.
At Northwest Gifts, we have even more personalized gifts for golfers available for your special golf enthusiast. Click here to browse our collection.
14. All-Natural Sunscreen Cream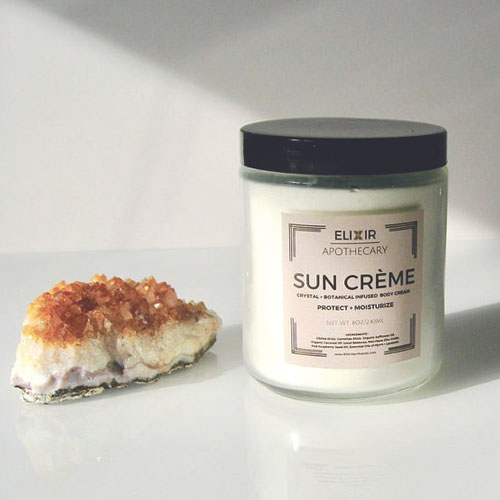 Even the golfer who has everything can never have too much sunscreen.
Help your pal who's always on the course keep their skin protected from the sun's harmful rays by gifting them this all-natural sunscreen cream.
The soothing SPF 20 cream is handmade from zinc oxide and a blend of plant-based oils, and is available in either 4 or 8 ounces.
15. "Ben Hogan's Five Lessons: The Modern Fundamentals of Golf"
When it comes to gifts for golfers, you can't go wrong with a classic read like Ben Hogan's Five Lessons.
In it, the world-renowned golfer explains his tried-and-true techniques for mastering the game both literally and intellectually.
While this book is ideal for beginners just learning the game, it's considered a must-read in the golfing world and would make a lovely addition to any golfer's personal library.
16. Personalized Vintage-Style Golfer Sign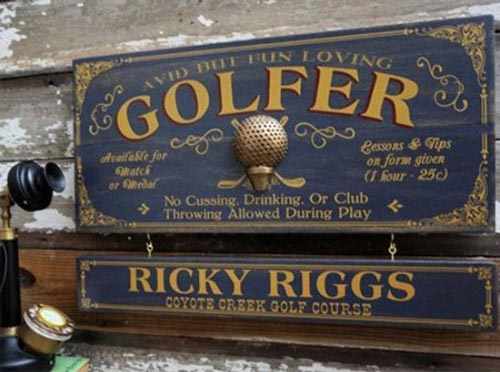 Just like most sports enthusiasts, people who are passionate golfers enjoy displaying their love for the game for all to see. Help them do that by getting them this super unique vintage-style golfer sign.
They are going to love the fact that this old-school plaque comes personalized with their name as well as the golf course they call home (or any other text they'd like).
This wood plank sign, complete with hanging name board, also features a cast relief on a golf ball and tea. It measures a noticeable 24″ x 16″.
17. Personalized Golfer's Essentials Kit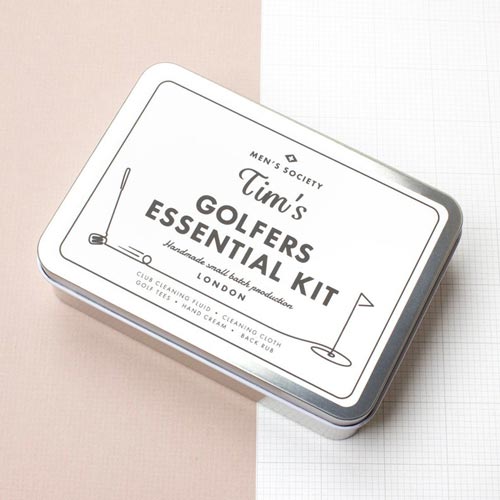 This personalized golfer's essentials kit would make a wonderful accompaniment to the golf brush and club groove cleaner set (gift #11 above).
It comes complete with all your loved one needs to keep their clubs shiny and their body in tip-top golf-playing shape: golf club cleaning fluid, hand cream, soothing muscle rub, and more.
18. Toilet Golf Bathroom Game
If you're really just looking for a golf gag gift, well, your search ends here.
The hilarious "Potty Time Putter" bathroom game has everything your loved one needs to enjoy the game while (not) on the course: mini putting green and putter, two golf balls, cup with flag, and even a "Do Not Disturb" door hanger.
19. "Happy Gilmore" Print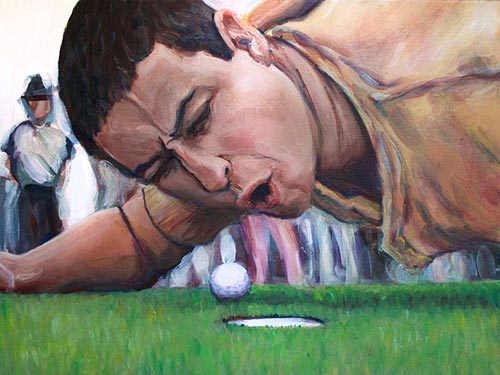 Happy Gilmore is one of those '90s throwback, cult classic films that gets quoted all the time, especially in golfing circles.
That's why this gift – a print of an original painting featuring Adam Sandler's character from the movie (and from a scene that's instantly recognizable) – will be a hit with your loved one and all their golfing pals.
This portrait painting is printed on high-quality matte paper using archival-quality inks. It's available in three different sizes.
20. Personalized Cherry Wood Cigar Humidor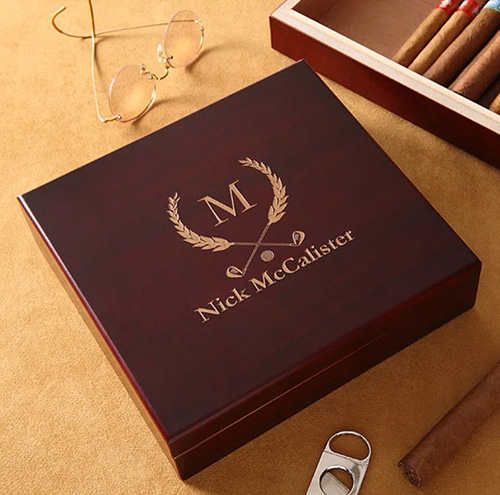 Spoil your posh gentleman with a custom humidor, and he'll love you forever. After all, you can't just leave all those fancy cigars in their original packaging! Unheard of. Humidors are a must. Have the engraving personalized with his name, and let the beauty of the cherry wood do the rest. He'll love displaying it on his desk or in the bookcase next to his trophies.
21. Golfer's Pacific Crest Plaque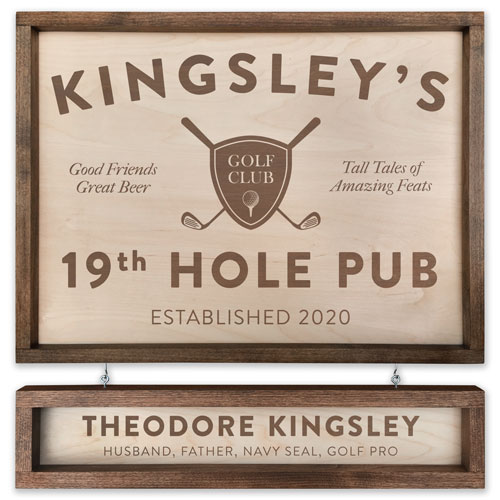 Last but certainly not least on our list of gifts for golfers is this Golfer's Pacific Crest Plaque, a Northwest Gifts original.
And it doesn't get any less original than this. Your loved one's name, as well as the silhouetted golf design featured in the center of the plaque, will be displayed for their friends and family to enjoy right alongside them for years to come.
Your order will arrive complete with sawtooth hangers for easy wall hanging. You'll have two different sizing options to choose from, as well as an optional hanging name board.
Even More Gifts for Golfers
Liked our 21-gift list above but could use a few more ideas just for good measure? Well, here you go.
This "mini list" has some more ideas that are available for purchase, but we've also included a bunch of DIY golf gifts if that's more your thing:
"A Golfer's Prayer" Vintage Style Sign. This beautifully distressed wood sign features a relief sculpture of a golf ball and tee. Measures 15.75″ x 8.75″.
Waterproof Rain Jacket. This women's rain jacket is perfect for a drizzly day on the course! Conveniently machine-washable and available in numerous colors.
Crystal Golf Ball Wine Stopper. A classy gift that any golfer (and wine lover) would appreciate.
Golfer's gift basket. This gift idea is fabulous because it's DIY and therefore 100% customizable. You know what your loved one likes; their favorite snacks, games, drinks, golf-themed movies or books. Throw everything together (well, arrange it neatly) in a basket, tie a bow around it and you're good to go.
Golf ball key chain. Another fun DIY gift! Simply take an old golf ball and drill a small hole in it to attach a key chain. Here's a tutorial.
Create a golf tee picture frame.
Arrange golf tees in the grass outside to say something special, or use them to form a heart shape, etc. Take a picture and print it (and maybe even frame it) for your loved to treasure forever.
Decorate your own set of golf balls (like gift #9 above), however your loved one would like them.
Bake and decorate a golf-themed cake, like this one. So easy!
If you're still not sure what to get for the golfer who has everything, you might want to check out our guide to gifts for the impossible man.
Pin It