Today we're going to show you some great aunt and uncle gifts you'll love to give – and they'll love to get.
Whether they've been playing the aunt and uncle game for awhile or are newbies, in this post you'll find ideas for just about every kind of aunt and uncle out there.
Including great-aunts and great-uncles.
See what we did there?
*Sigh.*
Anyways… Let's take a look.
Aunt & Uncle Gifts
Our website is supported by our users. We sometimes earn a commission when you click through the affiliate links on our website. See our privacy policy & disclosures for more information.
1. Best Aunt and Uncle Ever Tumbler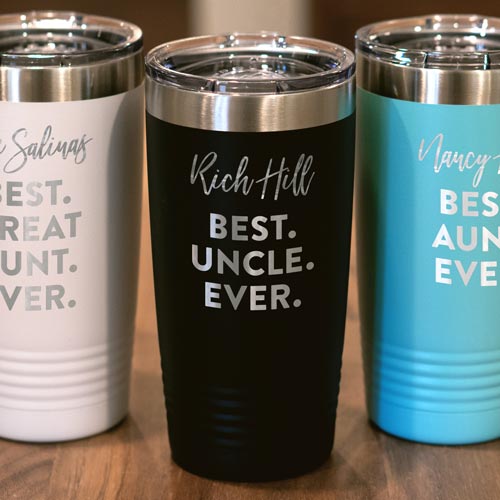 This "Best Aunt and Uncle Ever" tumbler is definitely one of the best gift ideas out there, so it makes it to #1 on our list. Custom-engraved work on a Polar Camel tumbler means that they'll be stylin' AND staying hydrated all day long.
This tumbler is as high-quality as it gets. It's both double-walled and vacuum-sealed, meaning cold or hot drinks are going to stay that way. Various colors/sizes/styles are available, and personalization is included.
2. Keepsake Hand Casting Kit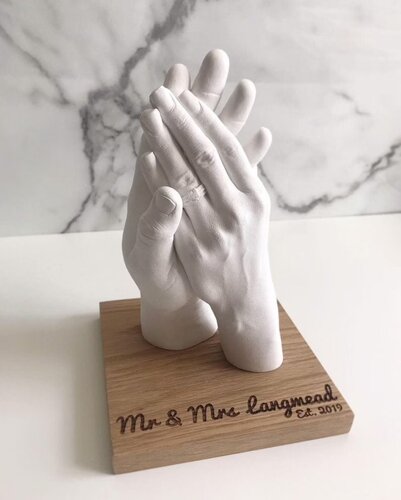 Nothing says true love like getting a sculpture of your hands made together!
You see hand castings made at fairs and other entertainment venues all the time, but did you know that you (er, your aunt and uncle) can make their own from the comfort of home?
Using the SRCasting plaster statue kit, they'll be able to cast their own clasped hands (while maybe getting a little help from you) to make a breathtaking keepsake sculpture.
All materials needed for one cast are included: molding bucket, molding powder, casting stone, and more.
3. Personalized Glassware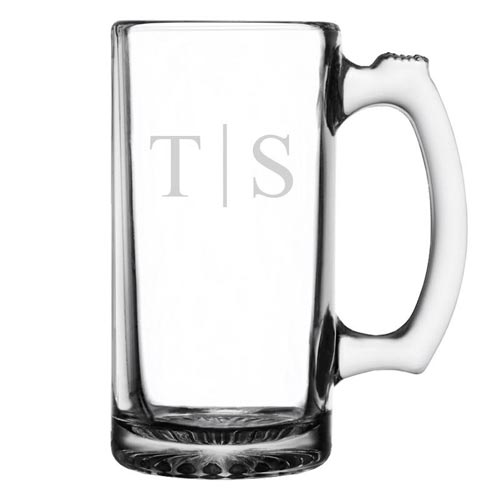 Nice glassware is one of those things in life that makes you feel a little bit fancy when you're drinking from them, even when you're not usually an uber fancy person. Throw in a little personalization and you've got a great gift idea for your aunt and uncle, no matter the occasion.
The made-in-the-USA glassware you see here can be personalized with initials, names, or other text, depending on which glass you get. From Mason jars to beer mugs to wine glasses, you're sure to find the perfect set for your aunt and uncle.
The prices are great (personalization is included) and you get automatic discounts when you orders sets of 4 or more.
Make it even better: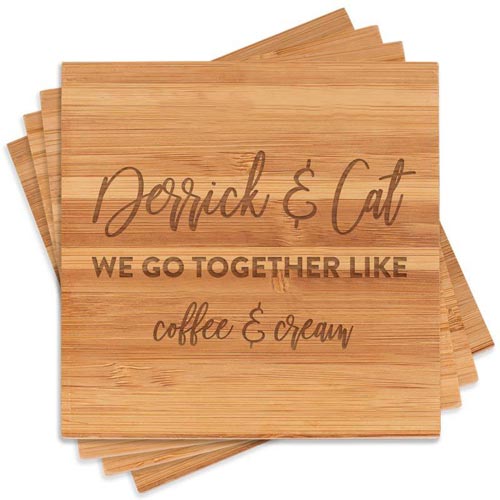 Add a good set of coasters like these to create a perfectly paired gift to go along with the glassware!
Funny: 100+ Cute, Creative, and Hilarious "We Go Together Like…." Quotes
4. Custom Pop Art Portrait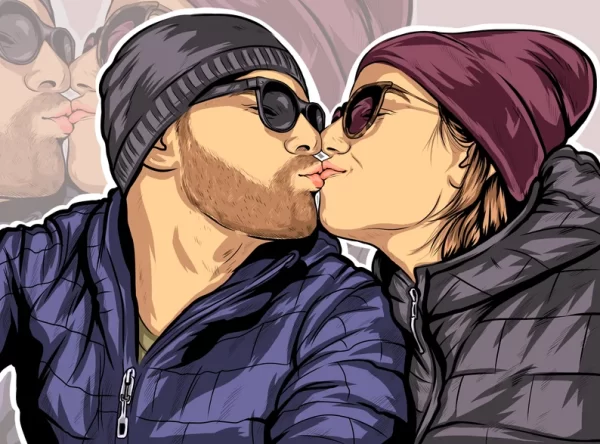 Getting a custom portrait made used to be something reserved for royalty, the rich or the famous. Now, thanks to artists like Portrait by Alisa Niko, anyone can have their darling aunt and uncle turned into a hand-drawn pop-art masterpiece.
Whether you choose to surprise them with a digital file that they can have printed themselves, or gift them a 12″ x 12″ canvas print, they are going to cherish their portrait for years to come.
5. Bamboo Wood Cutting Board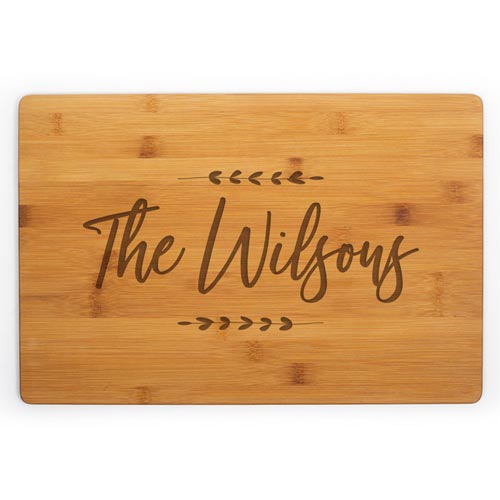 Another beautiful gift idea from Northwest Gifts. This personalized bamboo wood cutting board will be a staple in your aunt and uncle's kitchen for years to come. Whether they choose to use it, display it, or both!
The cutting board comes laser-etched with their family name. It measures 18″ x 12″ and includes the decorative accents you see above. Find this more equally beautiful cutting board designs here.
6. Wine Month Club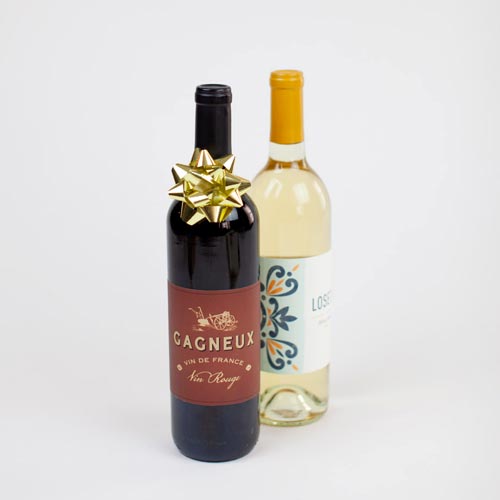 It's a pretty disappointing feeling to look forward to a nice glass of wine after a long day, only to come home and realize you are out.
That's just sad.
Now your aunt and uncle will never have to worry about running dry again thanks to the Wine Month Club from Amazing Clubs.
This is a gift subscription in which you have two bottles of wine (your choice of red, white, or both) delivered right to your aunt and uncles' door each month. The wines are carefully chosen from award-winning wineries around the world, so the recipients will be able to try some unique and hard-to-find new wines each and every month.
If they prefer beer, there's a club for that too… They get 12 beers (4 craft brews, 2 each from two different breweries) delivered per month with the Beer of the Month Club.
7. Best Aunt and Uncle Ever Mugs
Maybe you're needing a surprise gift for the new aunt and uncle in your life – because it's you who's expecting a sweet bundle of joy.
In this case, this idea's just for you! To surprise your brother/sister with the big news, you can't go wrong with a cute pair of mugs like these. This two-pack of coffee/tea mugs are made of ceramic, safe for both dishwasher and microwave use.
Here are a few more new aunt and uncle gift ideas:
8. Two Peas in a Pod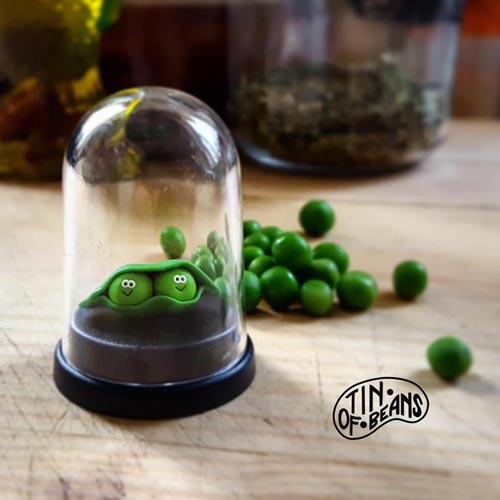 Keep your aunt and uncle gifts cute and light-hearted with this precious Two Peas in a Pod from Tin of Beans.
These silly pet peas can be placed on a kitchen window sill, on the car dash, on the mantle, or anywhere else they'll easily remind the aunt and uncle in your life of their favorite niece or nephew.
Check out these cute Pet Baked Beans, too!
9. Personalized Picture Frame Board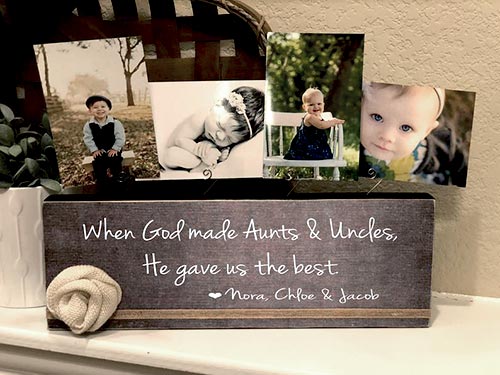 This one's too beautiful not to share, don't you agree?
This personalized picture frame board is the perfect place for any proud aunt and uncle to show off their precious nieces and nephews.
Not only is this frame board "in vogue" with it's farmhouse chic style, it also comes personalized, and you can choose the number of photo clips you want added (up to six). Measures 6″ x 17″.
10. Escape Room & Murder Mystery Games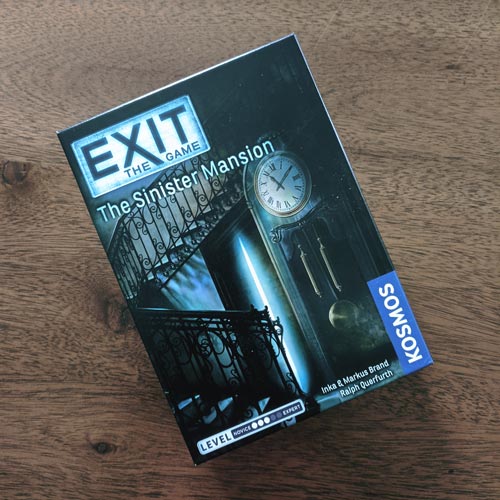 Last but not least on our list of gifts for aunt and uncle is… wait for it….
An experience gift!
We think that a murder mystery or escape room game is the perfect experience gift. The best part about it is that your aunt and uncle can play it together from the comfort of home.
Above, from Exit: The Game is one of their best "escape room" games, The Sinister Mansion. It's simple (although the puzzles and riddles aren't!), affordable, comes in a box with no need for an app or subscription or printouts. They just open the box, read the instructions, and start playing. Perfect for the two of them, or up to four players so you can invite yourself over to play along.
For the more murder-inclined who enjoy a party game, browse through Bespoke Murder Mystery's vast collection of printable mystery games, pick one you know your aunt and uncle will enjoy, and let them come back and tell you how it went!
Experience Gifts for Aunt and Uncle
Let's further explore the experience gift concept! When you give your aunt and uncle an experience gift, you're giving them a) something fun to do together, and b) new memories that will last them a lifetime.
Here are some of our favorite experience gift ideas, that your aunt and uncle are sure to appreciate:
A Tinggly gift box. They get to choose their next big adventure from hundreds of places and experiences, from deep sea fishing in Tampa Bay to a Jazz Cruise in New Orleans.
A couples' cooking class or beer tasting experience with a monthly beer subscription.
Tickets to a museum, amusement park, play, concert, sporting event, etc.
Book them an Airbnb to somewhere uber cool.
Pack them an old-timey picnic basket for a quick mini getaway whenever they feel like it.
Send them to a fancy restaurant (gift certificate) or on a pub crawl (a series of envelopes labeled with names of your favorite bars and twenty-dollar bills inside)
Get them a kit that they can work on (and bond over) together. Like this custom photo puzzle, this custom paint-by-number, or this crazy cool automata kit.
---
Want even more great gift ideas for your aunt and uncle? Check out 10 Best Personalized Gifts for Couples.
Pin It