Looking for some awesome employee gifts for your small business staff?
You know you could always go with cheesy printed frisbees, t-shirts, or beverage koozies. Those are ok gifts for your employees, but hardly awesome.
If you're looking for something super-duper cheap, just do a web search for "logo printed plastic water bottles," or "gifts that no one really wants," or "I'm a terrible employer," or "Why do all my employees keep quitting?" Any of those searches will provide you with some helpful information.
But you're not that type of small business owner. You're looking for next-level stuff – something that your crew will actually use and appreciate. We've got you covered.
Here are 21 awesome employee gifts for your small business.
Our website is supported by our users. We sometimes earn a commission when you click through the affiliate links on our website. See our privacy policy & disclosures for more information.
What Makes a Good Employee Gift?
Honestly, most employees just prefer cash. After all, they don't come in to work each day just for fun. Ultimately, they have the job because they need income.
You could certainly give a nice cash bonus, or maybe paid time off. Bear in mind, though, that cash is still taxable, as are any gift cards or gift certificates. Plus, if you're like many employers you already provide annual or year-end bonuses.
No, you're here because you want to add a special touch. You want to let you employees know that they're appreciated and valued.
So, what makes a good employee gift?
Quality. Don't give your employees junk. Just don't.
Creativity. Everyone does t-shirt and those cheap promotional things like frisbees and drink cozies. Go the next level with something genuinely creative.
Personalization. Something with their name on it shows that you put time, effort, and your personal imprint on the gift.
Value. You want to give them something nice (otherwise they'll just toss it and think of you as a cheapskate) but not too nice (if they're not into that particular thing they'll wish you had just given cash).
Related: How to Give Thoughtful Gifts (Plus 10 Great Ideas)
How much should you spend on employee gifts?
To make sure that it's a good gift, we advise $20-100 per employee. Of course you can go higher, too. $50 is a nice middle ground, while $20-30 fits into most small business budgets.
Talk to your accountant, but last we checked the amount you can deduct for employee gifts as a business expense is $25 per employee.
Check out our gift budget guide for more information.
When should you give employees a gift?
There are many occasions you can give employee gifts:
Employee Appreciation Day (first Friday in March)
Annually to commemorate years of service
Employee of the month/year
Retirement
Holidays, especially during December (Christmas/New Year's)
Individual promotions
Company milestones
Company promo
Top sales awards
Most commonly, employers give out thank-you gifts to employees at the end of the year, around the holidays. A close second is Employee Appreciation Day, or the anniversary of the company's founding.
Other options typically involve personal achievements (retirement, 20 years of service, etc) or to commemorate the end of a busy season (after tax season for an accounting firm, at the end of summer for a tourism company, etc).
Click here to see every holiday you can give gifts.
21 Awesome Employee Gift Ideas
1. Personalized Tumblers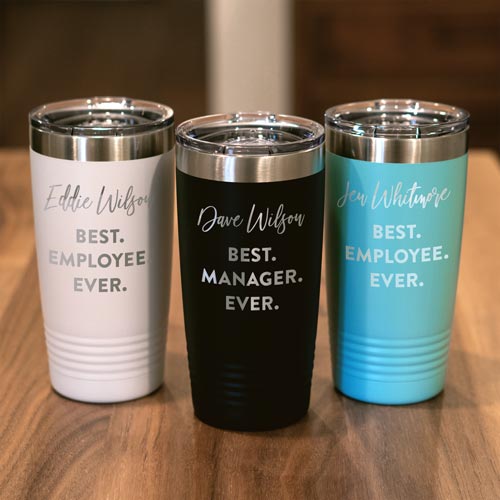 Make it as funny or as true as you like! These custom engraved vacuumed sealed tumblers will not go unappreciated by your employee(s). In fact, the others might get jealous, so stock up.
2. Personalized Bird Feeder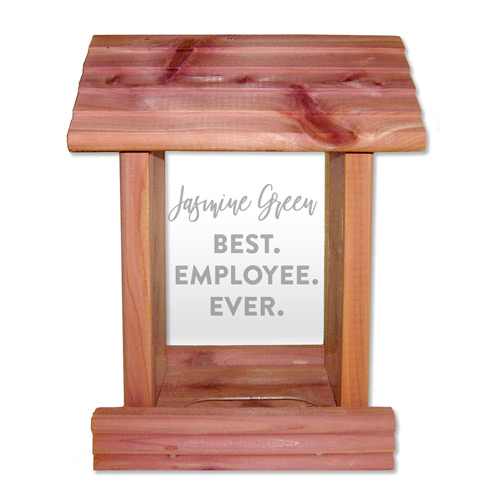 If you know your employee loves to be outdoors and in nature, then this is the gift that literally keeps on giving!
This well-made and custom engraved bird feeder will be their new favorite possession and they'll think of you every time they see that robin redbreast (or let's face it, that squirrel).
3. Personalized Name Plate for Desk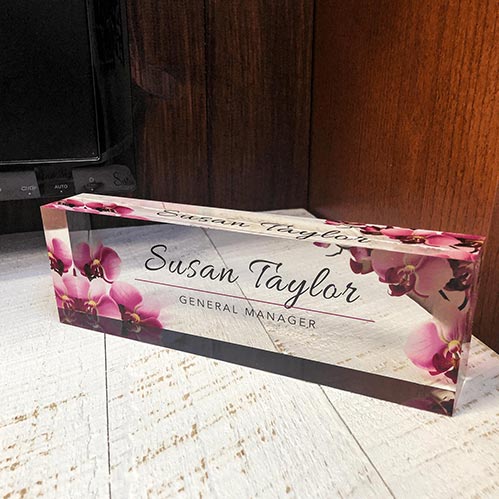 Stunning and unique, this personalized name plate for his or her desk will get the star treatment and the place of honor on their workspace.
Would also be a perfect way to announce their new promotion: from General Manager to Regional Manager, or from Supervisor to Manager.
4. Handcrafted Wooden Bottle Openers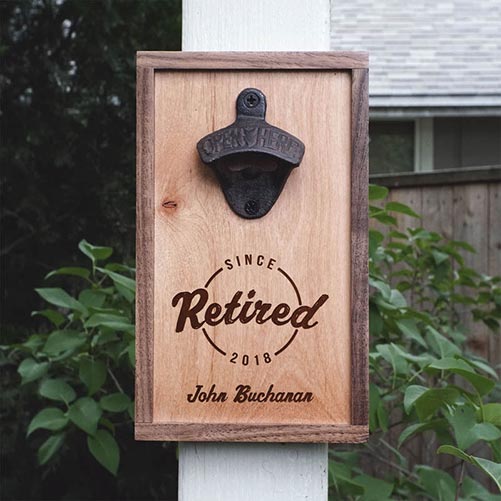 This gorgeous personalized walnut and maple wood bottle opener is one of a kind! And that's even before you custom engrave it with the personalization of your choosing.
They're going to love this!
Related article: 11 Retirement Gifts for Coworkers
5. Custom Portraits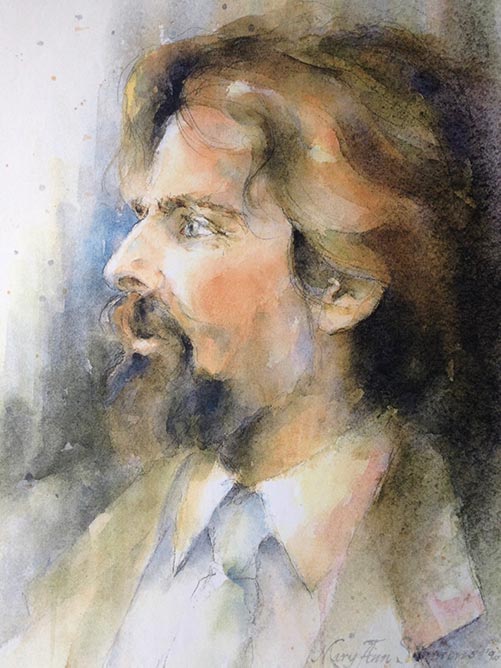 Do you really want to go all out this year? Maybe they're retiring or one of your employees are getting married.
Custom Portraits are sure to wow them. They'll be stunned with a high-quality portrait and know how much you care.
6. Personalized Star Constellation Map
Perfect for company startups, company anniversaries, weddings and retirements, this pretty and personalized star constellation chart is unique in all the best ways!
It's personal without being sappy, and only needs a nice frame to package with it.
7. Old Fashioned Custom Engraved Pocket Knife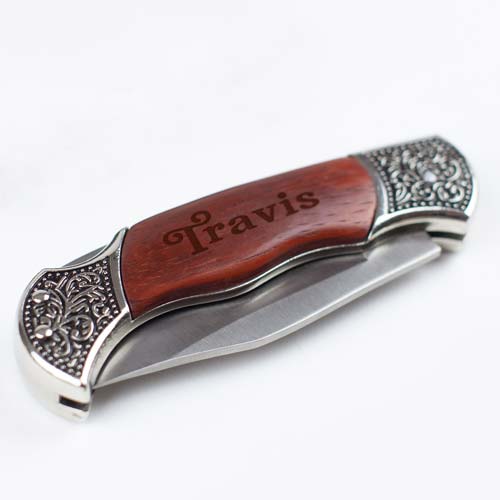 Classy, antique style meets rugged functionality.
Consider having your logo or branding on one side, and the employee's name on the other. Customize yours here.
8. Personalized Pet Blanket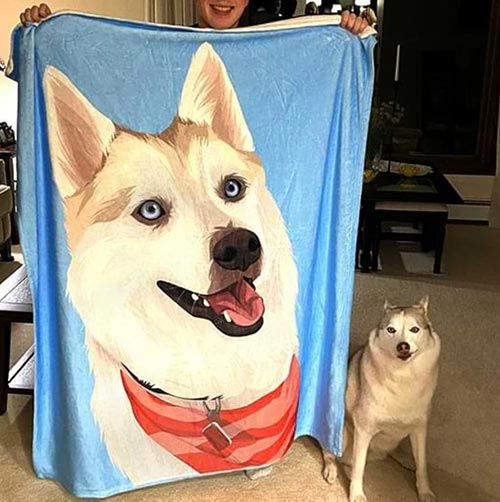 When someone has a fur-baby you'll know about it. Or maybe you have a beloved company dog! Either way, if your employees have a love for animals this is a great gift for them.
Intrigued? Check out our review!
9. Custom Engraved Cutting Board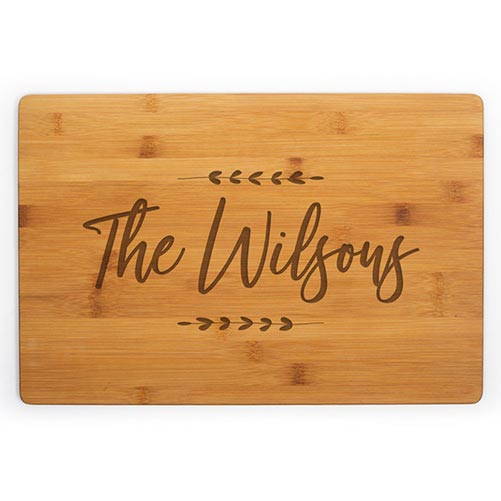 Perfect for when you have several employees you need to give gifts for, but don't want to find yourself reaching for yet another gift certificate for sushi. Make it personal with this custom engraved bamboo cutting board!
10. Personalized State Map Ornament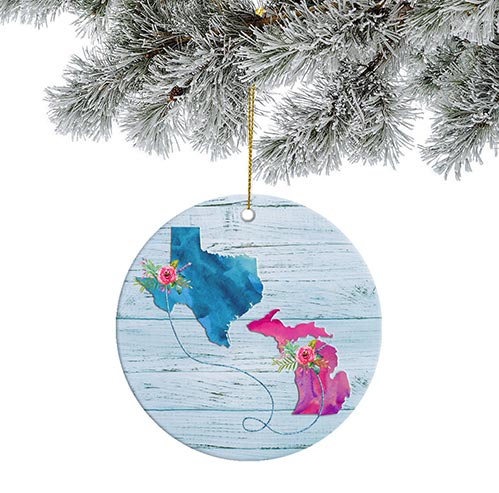 Perfect for remote employees, this pretty personalized ornament will put a smile on their faces.
It connects your two states and will be a favorite when they unpack their Christmas ornaments each year. It would also make a lovely car ornament to hang from their rearview mirror!
11. Custom Bobble Head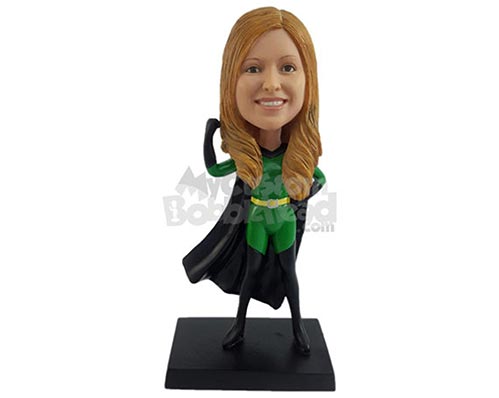 I mean, come on! You know you've really arrived when you're a bobble head! They're going to laugh and then cherish this custom designed bobble head that looks just like them.
12. Laser Engraved Corkscrew Bottle Opener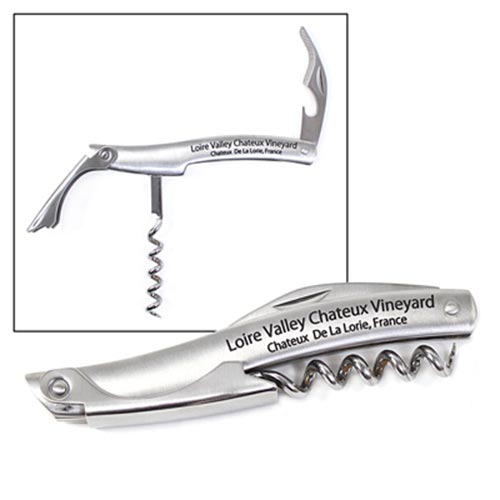 Premium quality (just like your employee's performance), rock-bottom price, AND it includes custom engraving along with four wine/beer/jar opening tools. Customize yours here.
Oh yeah, and bulk discounts too. So, order one for each employee and save!
13. Use Up That Vacation Time!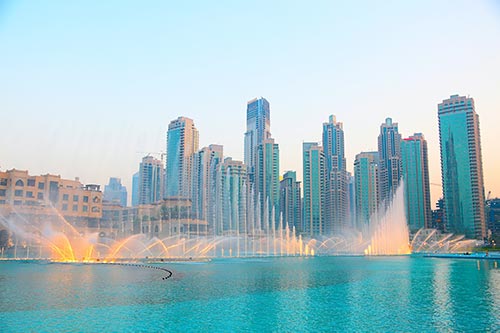 Everyone needs a vacation at some point. Inspire them with that trip they've been dreaming about for years!
From Tinggly, these 'experience gift packages' are affordable yet fun, with hundreds of options.
Here's how it works:
You purchase a gift package, which is essentially a gift card for the experience of their choice
Prices range from (give or take) under a hundred bucks up to about $300
They redeem for whatever adventure they choose, which could be rock climbing at a nearby gym, a wine tour within easy road trip distance or snorkeling in Hawaii/Mexico/Florida Keys (they'd just need to get themselves there)
14. Personalized Wine Glasses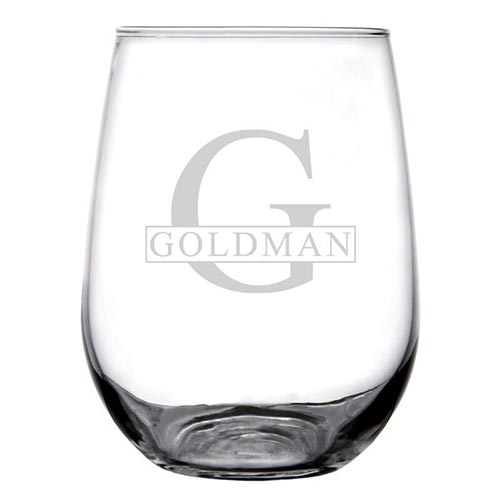 A set of these personalized wine glasses will fit the bill nicely!
Chunky but still chic, they're timeless and elegant, not to mention practical and useful.
15. Personalized Glencairn Whiskey Glasses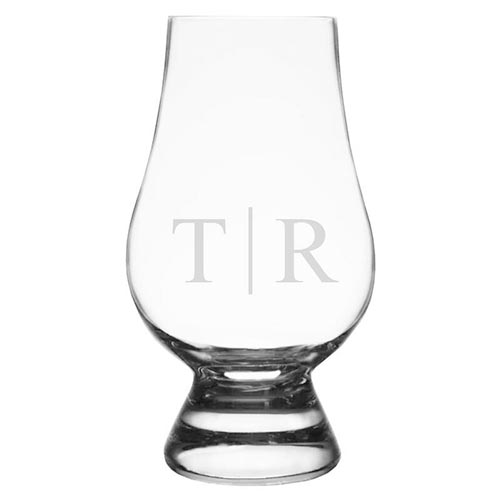 These elegant whiskey glasses would be greatly appreciated on their own, but once you add in your own personalization?
They'll be doubly appreciated.
Get it? Double?! A double whiskey? Oh forget it.
16. Designer Fire Extinguisher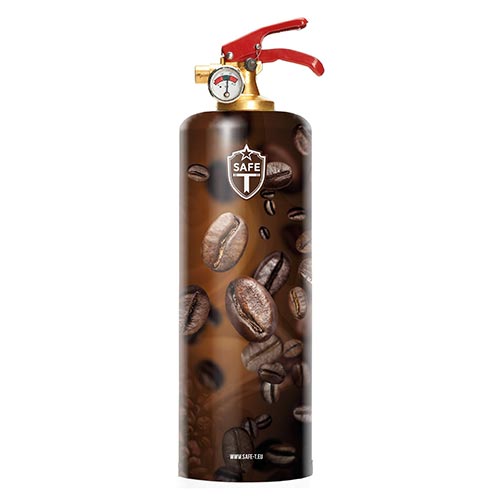 Is safety a top priority in your company? A uniquely designed fire extinguisher to keep your employees even more safe in a style they will love is the perfect choice.
These decorative extinguishers are both practical and trendy. Your employees will be proud to display them in their home, kitchen, or garage!
17. Personalized "Thank You" Necklace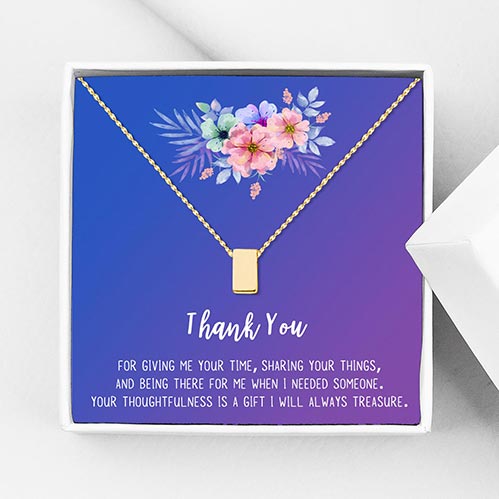 Anyone can gift a thank-you card, and they typically go straight in the trash. Give her instead this personalized thank-you necklace.
We promise it won't end up forgotten in the garbage!
18. "Thank You for Being Awesome" Relaxing Gift Box
Everyone is different- if this relaxing gift box isn't their type here are more to choose from!
You might also consider the Oh! Nuts Chocolate Pretzels Gift Basket, Sweet & Savory Gift Basket, or these thank you cookies.
19. Silly "Because My Boss" Personalized Wine Glass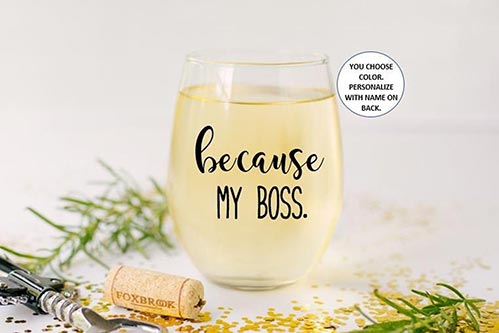 You might as well admit, you might be one of the reasons she needs a glass of wine at the end of a long workday!
She'll appreciate the gesture and the knowledge that you know exactly how demanding you can be (maybe throw in a bottle as well).
20. Custom Gone Fishing Plaque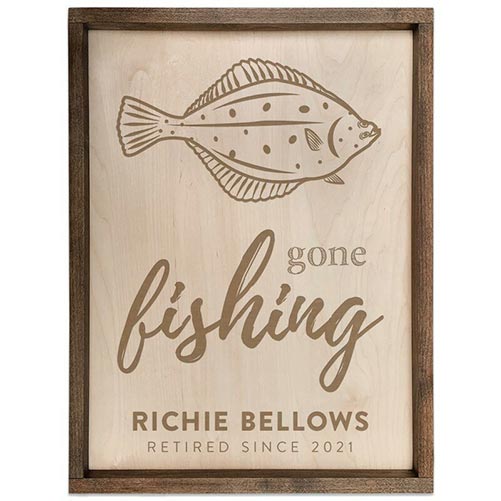 Send him off in style with this personalized Gone Fishing plaque! He'll love the sentiment behind the art and expression, and we bet he'll find the time to hang this gift first before he hits the lake. Made in the USA from real wood and custom engraved to order.
21. Personalized DIY Gift Boxes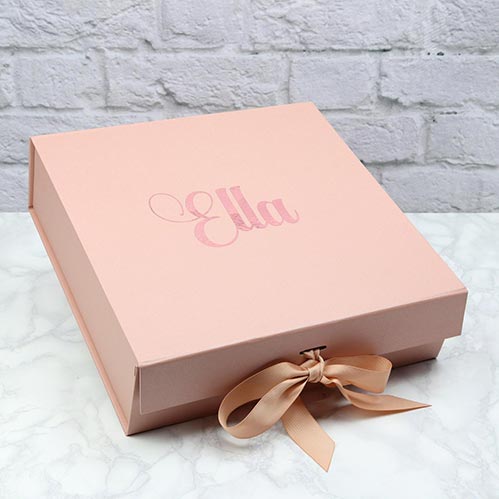 Some ideas to fill up the DIY gift box with – earthy candles, clever tote bags, or small succulents (& don't forget the pots!).
DIY adds a special touch without say, having knitted an entire blanket or patched together a whole quilt. They're still unique, one-of-a-kind, and show how much you care!
Like what you see in the photo? You can get the adorable personalized pink gift box here!
More Employee Appreciation Gift Ideas
Here are some more fun ideas that every employee will be sure to love.
Sports tickets to local pro or semi-pro team
Fine dining gift certificates
Tickets/gift card to a local brewery/pub/vineyard
A stay at a Bed & Breakfast
Rent out the bowling alley for a night of employee fun
A gift certificate to a Wreck It Room, an Escape Room, or an Axe Throwing Room (yep, these are all real!)
A night out taking a culinary class from a master chef
Vintage books in the genre they love best
A class for something they've mentioned being interested in (pottery, baking, sushi making, wine tasting)
The chef's table at a fine restaurant
A day riding horses on a trail ride
Fishing poles and lures (or maybe a fly-tying class)
A scary walk-through at a haunted house
Tickets to the local community theater
Tickets to a coming concert or touring Broadway play
And don't forget the timeless and always very well-received, classic gift of… an extra week of PTO!
Check out our master list of thank-you gifts here.
Read Next: 5 Tips for Client Gifts That Will Win Trust (& More Sales) and Retirement Party Ideas
Pin It