When someone you care about celebrates their special day, you want to wish them the best birthday ever. But sometimes it is just so hard to think of something sweet, funny, meaningful, or even romantic.
Never fear; help is on the way! We have compiled a list of some fun, sweet, and happy quotes for you to sample freely as you write the perfect birthday card.
What to Write in a Birthday Card
It's always nice to write a little something extra on a birthday card. Of course, you can make it short and sweet or more in-depth. But everyone likes that little extra touch of something personal.
Add their name. The first, easiest, and most obvious personal touch is to simply write the recipient's name.
Wish them a happy birthday. Again, it's as easy as writing "Happy birthday!" For more variation, see our first section of short birthday wishes.
Sign your name. You can add "with love," or "best wishes," or "yours," then sign your name.
Add a longer note. The last (and perhaps best) way to express yourself in a card is to write more. You can use the blank left-hand side of the card's interior, or write a letter/note on a separate piece of paper and enclose it. Your friend or loved one will really appreciate it!
Now you might be thinking, "What should I actually say in the birthday card?"
That's what we'll cover the rest of this article! Here are over 100 ideas of what to write in a birthday card.
Best Birthday Wishes
Take your time and read over our best birthday wish suggestions. Use one or two, or you can even combine a few to make your quote say exactly what you want it to say.
20 Short Happy Birthday Wishes
1. Happy birthday to my favorite person in the universe!
2. I hope you treat yourself to something special on your birthday – you deserve it!
3. Happy birthday, beautiful!
4. I hope your day is full of fun and celebration.
5. Congratulations on a year well-lived. And here's to many more!
6. Wishing you the happiest of birthdays.
7. I hope all of your hopes and dreams come true on this extraordinary day.
8. Your birthday allows us to celebrate having you in our lives.
9. I hope your day is full of fun and celebration.
10. I wish you a wonderful, joyful and fun-filled happy birthday.
11. Late in the evening, far, far away, there is a glow beyond the horizon, and I know deep in my heart… It's your birthday cake.
12. Smart, good-looking, and funny?!? Enough about me – happy birthday to you!
13. When I heard it was your birthday I decided to send you something special, but I wasn't allowed to mail myself.
14. Your birthday brings with it a special glow. The glow of so many candles, so hurry and blow them out!
15. Happy birthday. Thank you for always being older than me.
16. You age like fine wine.
17. This year is the year you're too old for presents, right?
18. At our age, drinking and eating cake isn't anything special. That's just called Thursday night. Hope your birthday is extraordinary!
19. At 21, we looked forward to drinking. At 25, we could rent a car. Now the next milestone is… discount dining at Denny's.
20. Happy birthday to a charming, talented and witty person; you remind me a lot of myself.
Happy Birthday Wishes for Friends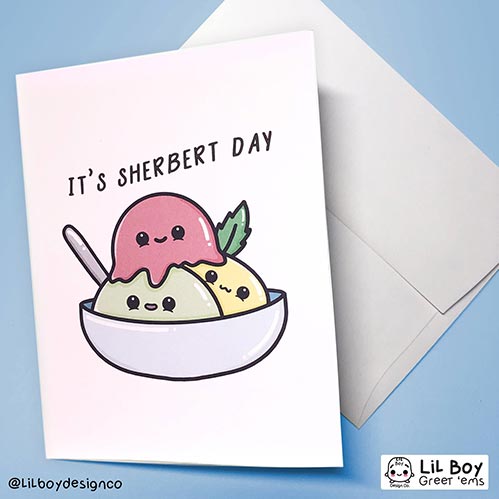 21. Happy birthday to my best friend (and partner in crime).
22. Your birthday is a fresh reminder of the strength of our friendship.
23. I bought an expensive bottle of wine to celebrate your birthday. It tasted wonderful, and I thought of you the entire time.
24. Happy birthday to my best friend! Here's to laughing at our own jokes and keeping each other sane! Love you.
25. Happy birthday to a person who regularly makes me pee myself with laughter. By the way, that's going to happen more and more the older we get.
26. You make being your friend easy. Happy Birthday to my bestie!
27. I'll take any opportunity to remind you that you're getting older, my friend! Happy birthday!
28. Happy birthday to my BFF, the holder of all my secrets!
29. Happy birthday to my sometimes nutty but always amazing best friend!
30. Happy birthday, dear Friend! When life brings me down, all I do is picture your sweet smile, and I can stand up again.
Related: 101 Birthday Wishes for Your BFF
Happy Birthday Wishes for Sister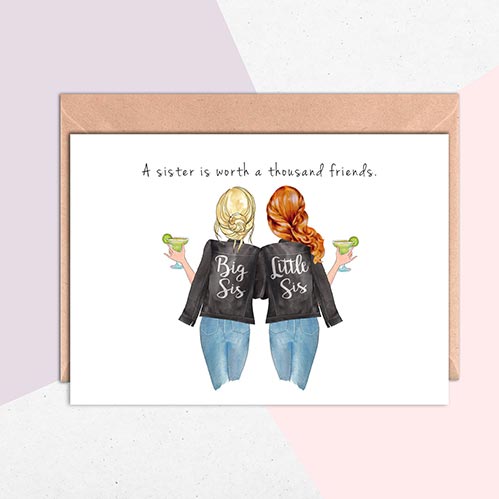 31. Happy Birthday to the most awesome woman in the world.
32. You are the only one in this entire world that I would want for a sister. Happy Birthday!
33. Happy birthday to my favorite sister! You're the best!
34. Sister, on your special day, I wish you only smiles and joy. May this birthday be just perfect for you!
35. You are everything that I could have asked for in a sister and more. I don't know which one of us is luckier! Happy Birthday.
36. I would have been incomplete without you, sister. Happy birthday.
37. I wish you a life full of wonder, joy, and prosperity. It's easy for me because I always want the best for my beautiful sissy. Happy Birthday.
38. I am sending hugs and kisses to my little/big sister on her birthday.
39. You can't compare our sisterhood to anything in the world – especially the millions of memories that I cherish. Happy Birthday.
40. Sisters like you are like beautiful diamonds: Only the fortunate have them. I wish you a beautiful year.
Happy Birthday Wishes for Brother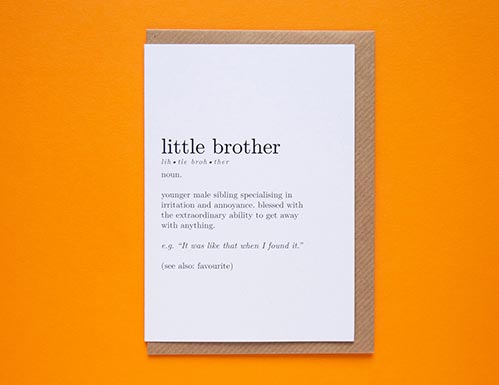 41. Happy birthday to my brother. Thank you for being my built-in best friend for life.
42. Happy birthday, sweet brother! I hope this day is everything you've wished for.
43. Wishing a very happy birthday to our parent's second favorite child, from their first favorite child!
44. Just warning you there will be a party later – I didn't want to throw you a surprise party and give you a heart attack, you old fart.
45. Best birthday wishes to my very visibly elder brother! Have a great day.
46. You're thought of every single day, but especially today. Happy birthday, brother.
47. Today, it's especially important that you know how much I love having you as a brother. Happy birthday.
48. Happy birthday to my brother. You've always deserved the best! Thanks for being such a great brother and friend.
49. To my brother, who is celebrating another year of his life today. I hope your birthday is exciting and fun.
50. A toast to you, brother, for the brilliant, funny, thoughtful person you are. May this year bring health, prosperity, and joy.
Happy Birthday Wishes for Wife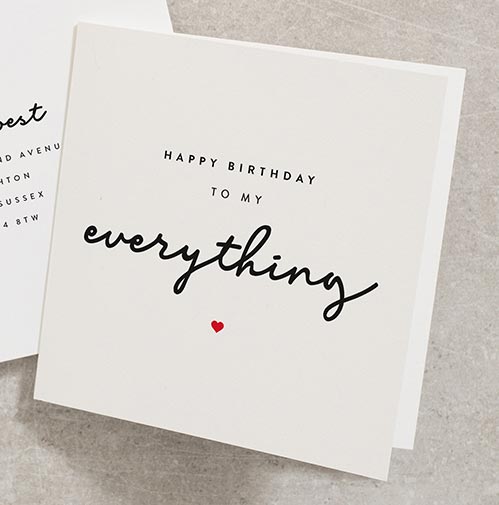 51. My dearest, you make not just me but our whole family complete. Every single day you are the best wife and mother, best friend and most beautiful woman in the world to me. Today, on your birthday, I want you to know that you mean everything to me. I love you!
52. I'll say the same thing to you on this birthday as I will say to you when you turn 100: You are the love of my life. Happy birthday, beloved!
53. This is your special day. Take a look yourself in the mirror, and you will see a beautiful woman with a million-dollar smile. Happy birthday, my love!
54. I can't count the feelings I have for you, but the best one is the love that we've always shared. Happy birthday, my darling!
55. Happy birthday, dearest! Don't worry, today you don't have to wash any dishes. (They'll still be there for you tomorrow.)
56. Happy birthday to the woman I love. I can't believe I get to spend every day loving you. I am the luckiest of men.
57. Happy birthday to an incredible woman. To my wife, my lover, and my best friend.
58. May your day be filled with all the happiness, joy, and love your heart can possibly hold! You are an amazing woman.
59. You make the world more beautiful just by being in it. Today, I celebrate YOU. Let's make your birthday as fun-loving, unforgettable, and wonderful as you are.
60. You are the reason I exist. There is only "one" for me, and that is you. Happy Birthday to my beloved.
Happy Birthday Wishes for Husband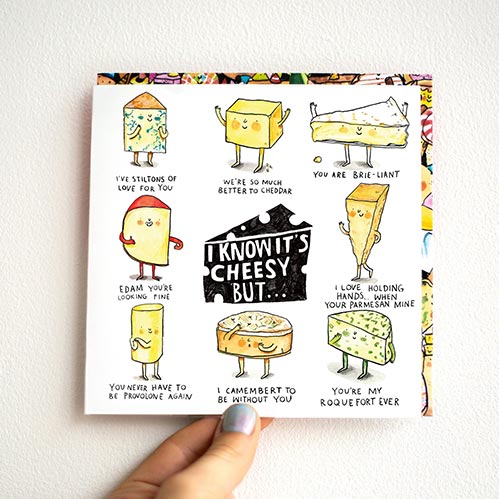 61. Happy Birthday to the man of my dreams!
62. Happy birthday to my awesome husband. Thank you for all you do and who you are.
63. I never knew what a soulmate was until I met you. Happy birthday to my other half.
64. Each passing year is another opportunity for me to let you know what an amazing husband you are! Happy birthday to my sweet love.
65. You are too good to be true. I am so thankful you are mine. Happy birthday to my awesome husband.
66. Happy birthday! I'm so lucky to have a husband like you. Have the best birthday, and know that I love you more than ever.
67. Happy Birthday to my husband. You mean the world to me. You are my all.
68. I am so blessed to have and to hold you as my husband forever. Happy birthday. You are my companion, comforter, and best friend.
69. Best birthday wishes to my sweet and loving husband – Every day is a party with you. You always keep me laughing. Now, let's get this party started.
70. Through all these years, you've always been my favorite person. You are a man anyone would be proud to know. I love you, Husband.
Happy Birthday Wishes for Mother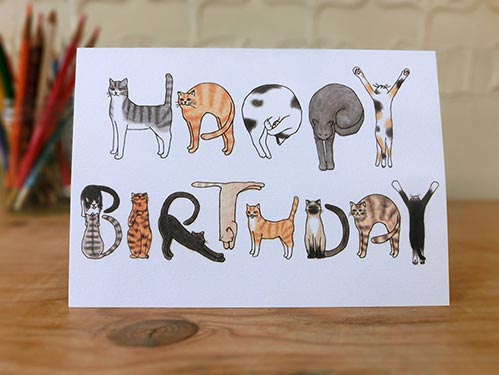 71. Wishing a happy and blessed birthday to the most wonderful woman I have ever known.
72. Mother, I am happy to celebrate this special day with one of the most understanding women I know. Enjoy this sweet day.
73. Wishing my wonderful mother a terrific day. I hope your day is as beautiful as you are.
74. Happy Birthday. Thank you for being such a caring, loving, and thoughtful mother. It's time for you to sit back and relax. Enjoy your day, Mom. You deserve it.
75. Happy Birthday to you, Mom! Wishing you an excellent day filled with all the things you love.
76. Mom, knowing that you are in my life brings me nothing but happiness. I wish you the very best on your special day. Happy birthday.
77. A mom's love is always what you need. Happy birthday to my incredibly supportive mom.
78. Mom, you are still gorgeous after all these years. Happy birthday to my stunning mom, and may your birthday be as lovely as you are.
79. I know you are getting older every year, Mom, but think on the bright side, you will at least always be younger than Dad. It's good to celebrate the little victories.
80. I hope you have a happy birthday filled with sweet surprises, Mom. There is no woman alive that deserves it more than you.
Happy Birthday Wishes for Father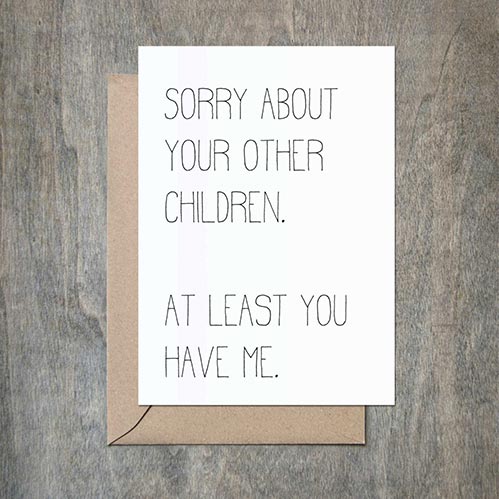 81. Dad, thank you for always being there to lend a helping hand. I wish you the best on your birthday!
82. I hope your day is as unique as you are. I'm so lucky to get to call you my dad. Happy Birthday.
83. Happy birthday, dad. You are the one man who has never let me down.
84. For my sweet Dad, Happy Birthday. Thanks for always being there; I love you, dad.
85. Dad, Happy birthday; I hope the year ahead brings your most exciting adventures yet!
86. Happy Birthday. Before you blow out your candles, take a moment to remember what a wonderful father you are.
87. Happy birthday. Today is all about you, dad. We wish you an exhilarating day and a great year ahead!
88. Happy birthday to you, Dad. Words can't express how much you mean to me. You are an exceptional father and deserve to have a wonderful birthday.
89. I know I haven't said it often, but I really appreciate all the sacrifices and hard work you put into raising me. Happy birthday, Dad.
90. Happy birthday to the hardest working farter I know. Ooops, I mean father! I hope your day is fantastic!
Birthday Wishes for Daughter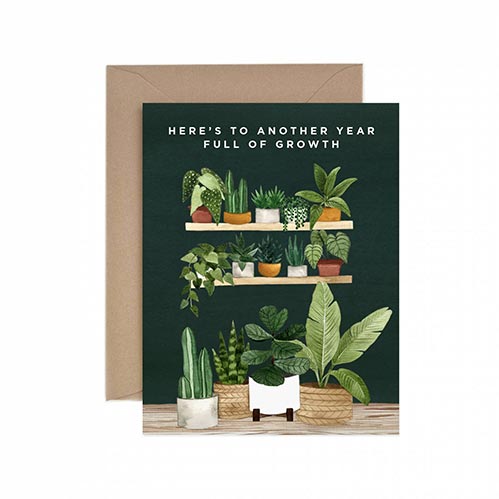 91. Happy Birthday to our beautiful daughter. May your day be full of sunshine, rainbows, laughter, and fun.
92. Happy Birthday to our kind, fun, and crazy girl! We are so grateful you came into our lives!
93. We hope you have a wonderful birthday and that the year ahead is full of many blessings.
94. It's your birthday, let's party! Cake – check. Candles – check. Drinks – check. Gift – check. Coolest birthday girl ever – check! We hope your day fantastic.
95. A daughter is God's way of saying, "I thought you could use a lifelong friend." Thank you for being mine. Happy birthday sweetheart, love from Mom.
96. We hope that your birthday is fantastic and full of joy. Lots of love from Mom and Dad.
97. You are loved for the little girl you were, for the remarkable woman you are, and for the cherished daughter you will always be. Have a wonderful birthday.
98. Enjoy all the beauty this day brings, and surround yourself with all your favorite things—happy birthday to my wonderful daughter.
99. Happy Birthday. For my fun-loving and happy-go-lucky daughter, here's wishing you a day full of celebrating as you turn another year sweeter!
100. Happy Birthday, Daughter. You are the best gift I have ever received. Enjoy your special day!
Birthday Wishes for Son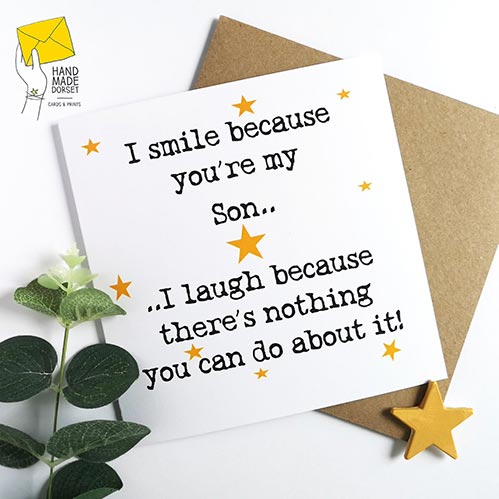 101. I am so very proud of you and the young man you are growing up to be.
102. May the year ahead continue to outshine all of your hopes and expectations! Happy birthday, son.
103. Happy birthday to the little man who stole my heart.
104. Happy Birthday To My fantastic Son. No matter how big you get or how far you go, I'll always be here, right beside you.
105. Son, happy birthday. We are so proud of you, and the road ahead of you holds endless possibilities.
106. Happy Birthday To My Wonderful Son. You are a delight in my life and so many others.
107. I can't imagine life without you, and I am so proud and blessed to call you my son and friend. Happy birthday to my boy.
108. Happy birthday, Son. You may not always hold my hand, but you will always hold my heart. I love you.
109. With every "happy birthday" you have, I am reminded of how blessed I am to have a wonderful son like you.
110. This day is all about you. Go out and celebrate with your friends, have a drink, and have lots of fun!
Funny Happy Birthday Quotes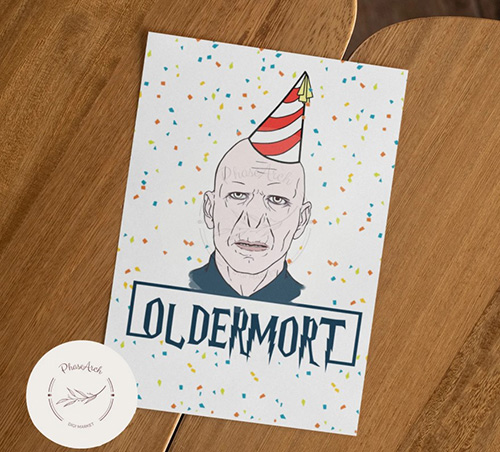 I'm not going to make any age-related jokes because we seriously need to appreciate how genuinely miraculous it is that you've lived to be this old.
Q: What do you always get for your birthday?
A: Another year older!
You don't look your age this birthday. (You look a heck of a lot older.)
Q: How do pickles celebrate their birthdays?
A: They relish the moment!
Birthdays are good for you. Statistics show that people who have the most live the longest! (But it has also been scientifically proven that too many will kill you.)
Q: What goes up but never comes down?
A: Your age.
More ideas for old farts: 101 Best Old-Age Jokes for Birthday Cards
I believe you forgot my birthday present last year, so now I'm returning the favor. Happy Birthday!
A wise man once said, "Forget about your past; you cannot change it." I want to add: "Forget about your present, I didn't get you one."
Congratulations, you've finally reached the wonder years… wonder where your car is parked? Wonder where you left your phone? Wonder where your glasses are? Wonder what day it is?
The secret to staying young is make-up… make up an age, then stick with it!
Those aren't gray hairs you see. They're strands of birthday glitter growing out of your head.
Happy birthday! Don't forget to iron that birthday suit.
Congrats on being one year closer to white sneakers and a fanny pack.
Just imagine all the beautiful birthday wishes you'd want to hear today… and assume I wrote them here!
The best part of being over forty is that you did most of your stupid stuff before the internet.
I spent 3 hours searching the internet for the perfect birthday message for you, and then I gave up. Happy Birthday.
More: 100 Hilarious Quote Ideas for DIY Funny Birthday Cards
10 Sweet Birthday Wishes
May your birthday be as perfect as you are.
Thank you for being you.
You should be so proud of yourself – you a truly an amazing person. It's a privilege to celebrate you on your birthday!
Just being around you makes everything better. Thanks for having me in your life to celebrate your birthday together!
You are an excellent, incredible, amazing friend. May your birthday be just as excellent, incredible, and amazing as you are!
May you receive just a small taste of the love you give on this special day, your birthday.
Your friendship is one of my greatest treasures. I'm so excited to celebrate your birthday with you!
I'm so thankful you came into the world, because you make my world better every single day.
Everything you do is the best, so I already know your birthday is going to be incredible. Happy birthday!
I hope you have a birthday as wonderful as you are.
10 Birthday Bible Verses
This is the day that the LORD has made;
let us rejoice and be glad in it.
Psalm 118:24
For we are his workmanship, created in Christ Jesus for good works, which God prepared beforehand, that we should walk in them.
Ephesians 2:10
The LORD bless you and keep you;
the LORD make his face to shine upon you and be gracious to you;
the LORD lift up his countenance upon you and give you peace.
Numbers 6:24-26
Thanks be to God for his inexpressible gift!
2 Corinthians 9:15
For by wisdom your days will be multiplied,
and years will be added to your life.
Proverbs 9:11
For I know the plans I have for you,
declares the LORD,
plans for welfare and not for evil,
to give you a future and a hope.
Jeremiah 29:11
The steadfast love of the LORD never ceases;
his mercies never come to an end;
they are new every morning;
great is your faithfulness.
"The LORD is my portion," says my soul,
"therefore I will hope in him."
Lamentations 3:22-23
You make known to me the path of life;
in your presence there is fullness of joy;
at your right hand are pleasures forevermore.
Psalm 16:11
Beloved, I pray that all may go well with you and that you may be in good health, as it goes well with your soul.
3 John 1:2
Teach us to number our days
that we may get a heart of wisdom.
Psalm 90:12
Every good gift and every perfect gift is from above, coming down from the Father of lights.
James 1:17
Happy Birthday Images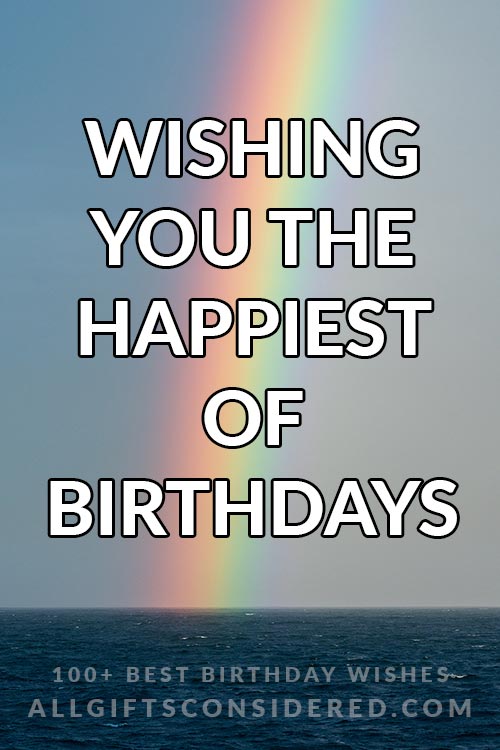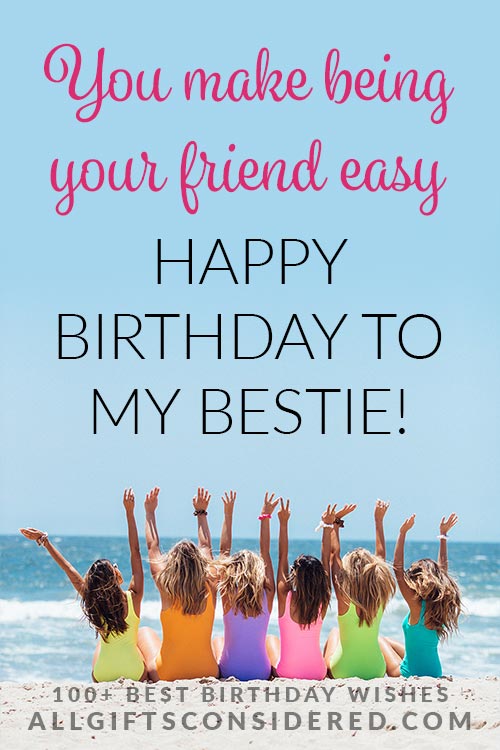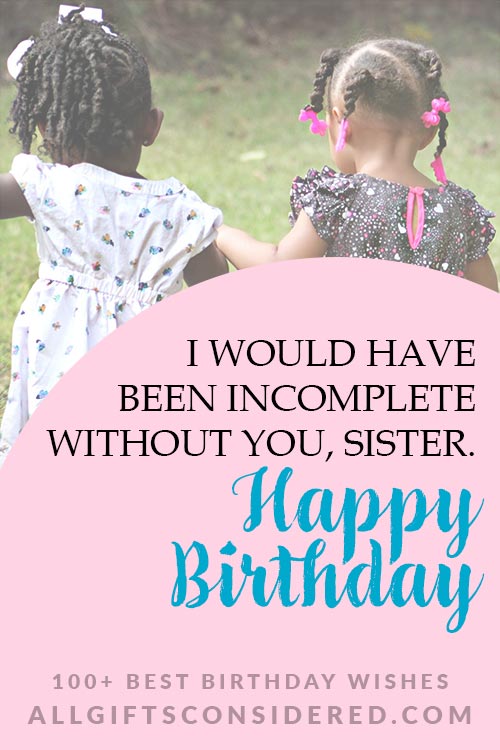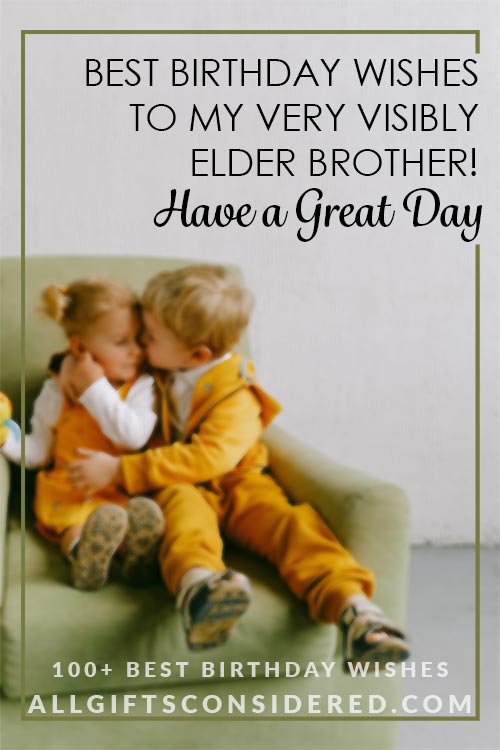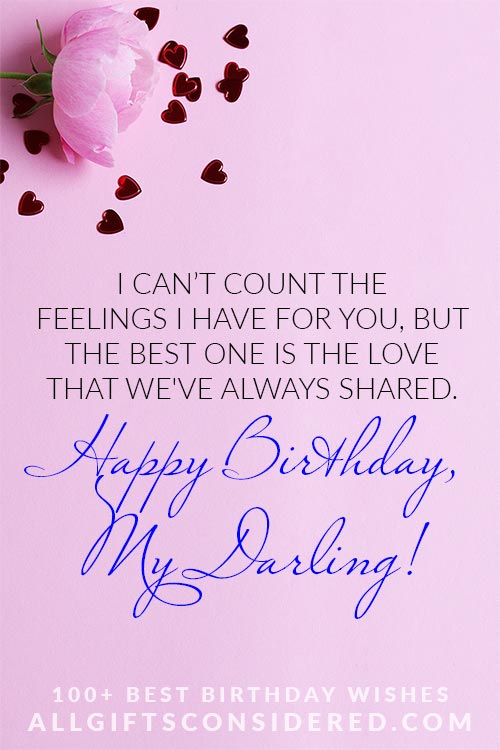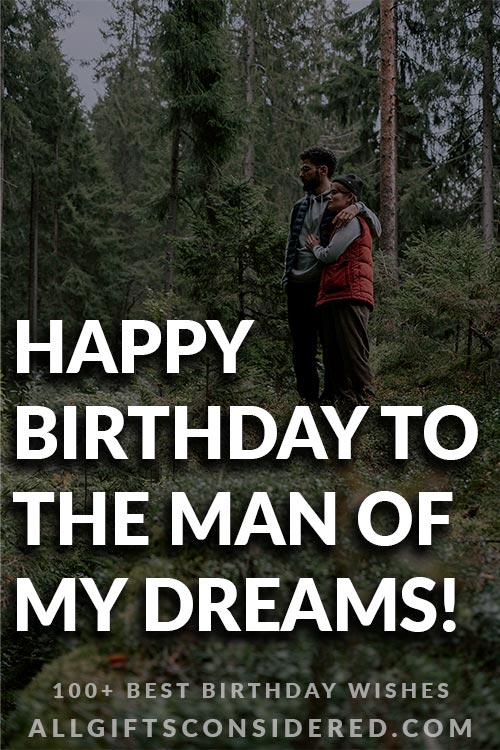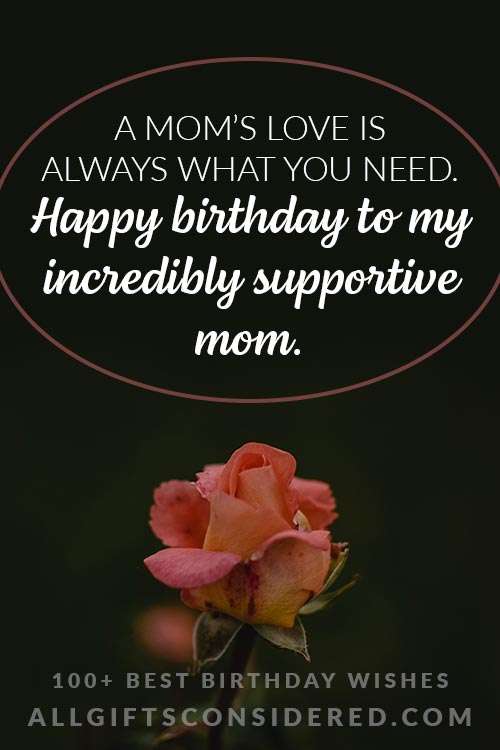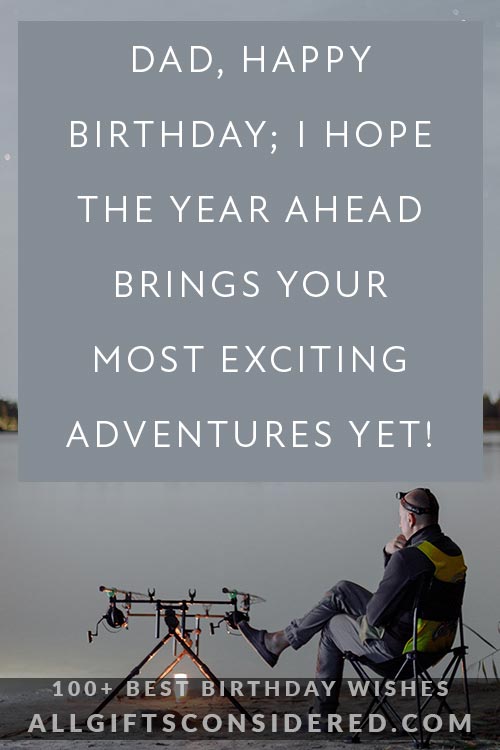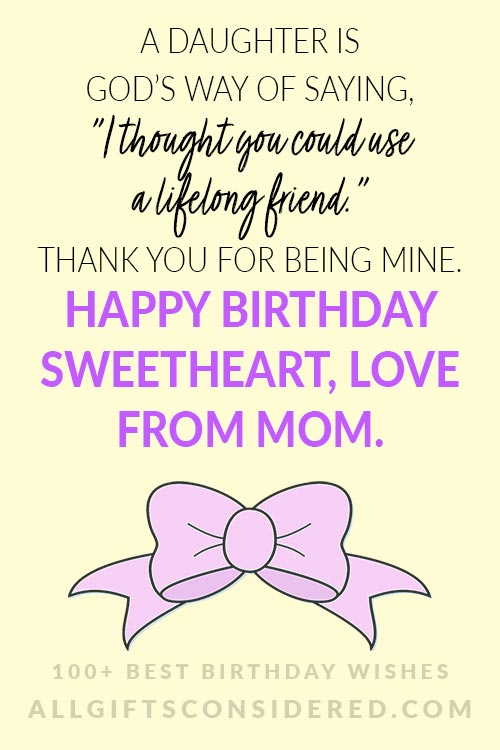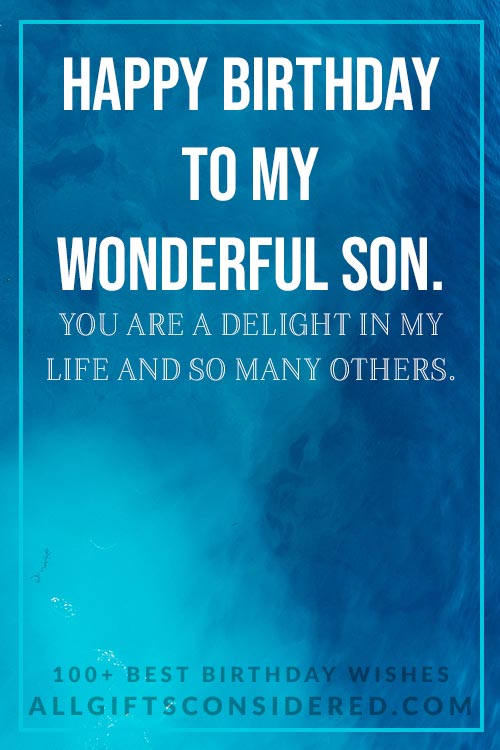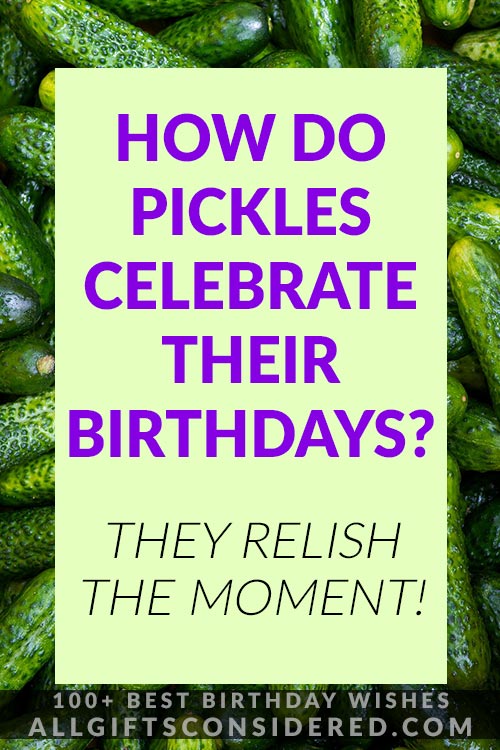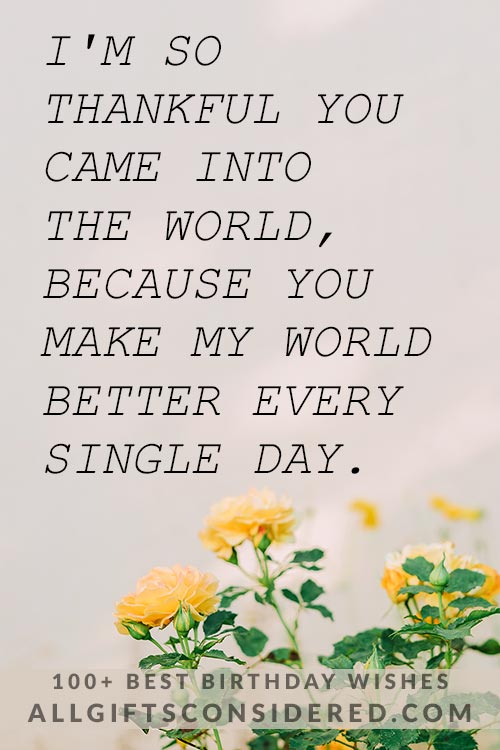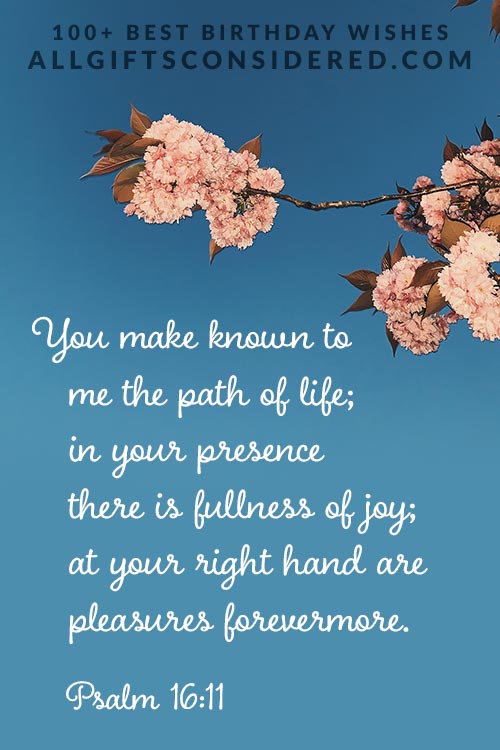 Read Next: 200 More Birthday Wishes for Everyone
Pin It