Veterinarians: They're needed, they're essential, they're so very loved by those of us with fur babies! They give us so much for our beloved pets; so, when it's time to find that perfect veterinarian gift, what do you do?
From the nail clippings to the teeth cleanings to the full-on "you just saved Buster's life" moments, your favorite vet needs to know just how much they're loved and appreciated by you. How to show them? Read on.
Our website is supported by our users. We sometimes earn a commission when you click through the affiliate links on our website. See our privacy policy & disclosures for more information.
10 Best Veterinarian Gift Ideas
We'll start with our ten all-around favorite veterinarian gifts, and then focus on appreciation, graduation, retirement, and more themes in the remaining 11 ideas.
1. Fun Scrubs
Comfy and soft, clever and punny, some new scrubs for your vet will always and forever be appreciated! Plus, these particular ones are unisex, making them great for both Dr. Sally and her assistant, Tim.
These will definitely be worn to shreds due to how much they'll be shown off.
2. Stethoscope Cover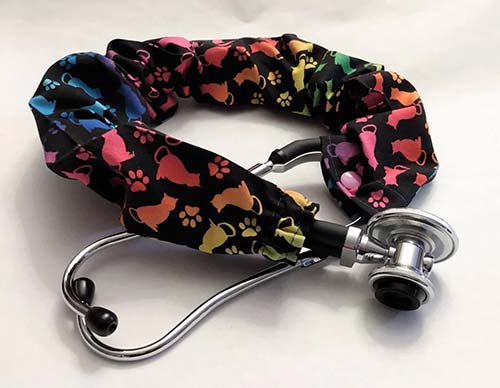 Who wants a heavy, cold, metal necklace around your neck when you could have a soft, cute, warm one instead?
Get them this adorable stethoscope cover and get ready to hear oohs and ahhs of gratitude.
Sometimes the practical and useful is the most loved!
3. Exotic Candles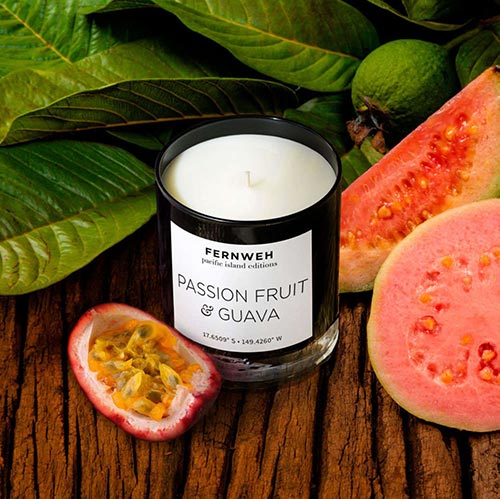 After those long days of working, coming home to a nice relaxing candle may be just what they need.
Better yet – get a collection of three, so at least one can stay at work (after all, Wet Dog isn't the greatest odor ever for a waiting room). These candles are inspired by the spirit of travel and wanderlust, with exotic scents based on locales in the Pacific Islands, the Mediterranean, and more.
Hand-poured in small batches right here in the USA, the soy-wax blend features ZERO synthetic dyes, parabens, or other toxic junk. Just clean, long-lasting, nuanced aromas with self-trimming wicks that will transport your vet to their dream getaway.
4. Personalized Paw Map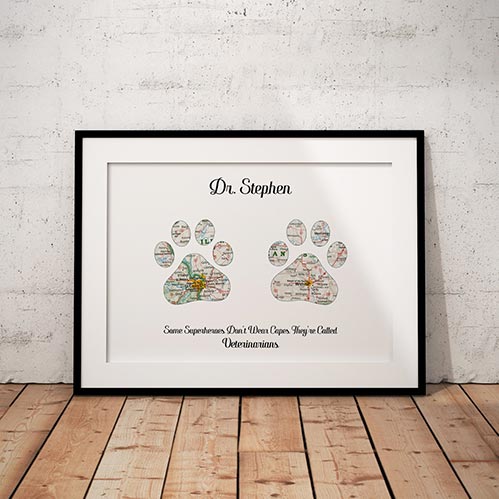 This is a perfect office addition for vets who have more than one office to call home. It's fully customizable and will look great with any décor or wall color.
Some superheroes don't wear capes!
5. #VetLife Coloring Book
It's a fact that coloring reduces stress, and vets well… they have a lot of stress. Make them laugh with this clever, witty, and self-proclaimed snarky coloring book.
Don't forget to pick up a pack of colored pencils or markers too! It's the ultimate veterinarian gift for someone with a healthy sense of humor.
6. Bird Feeder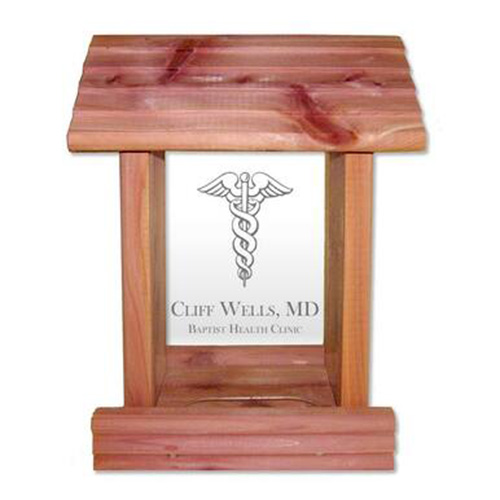 Perfect for right outside the office door, this personalized bird feeder is beautiful to look at.
The only ones who will love it more than your vet is the birds themselves!
7. Personalized Fur Blanket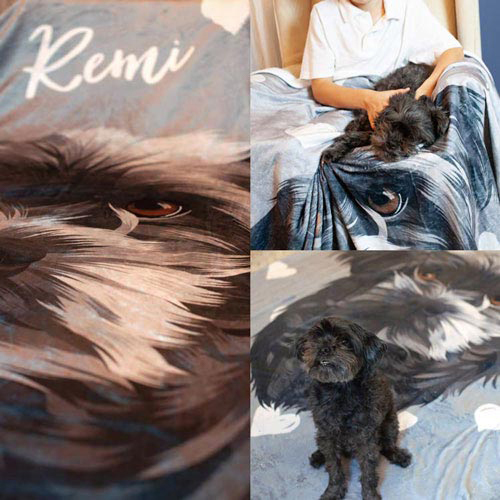 Simply start with a photo of their most beloved pet and you'll soon have a cozy, snuggly blanket to give them! This is a gift that will be cherished for years.
8. Cutting Board for Horse Vets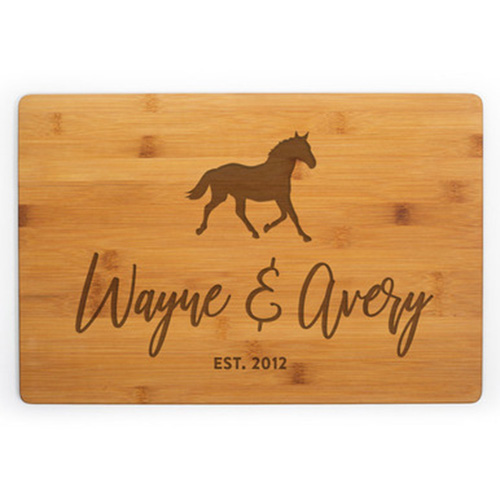 Useful as well as practical, this bamboo wood cutting board can be customized to say whatever you like. Their name is the obvious choice, but their veterinarian practice is another option. Works well as a graduation or retirement gift, too!
9. Veterinarian Poem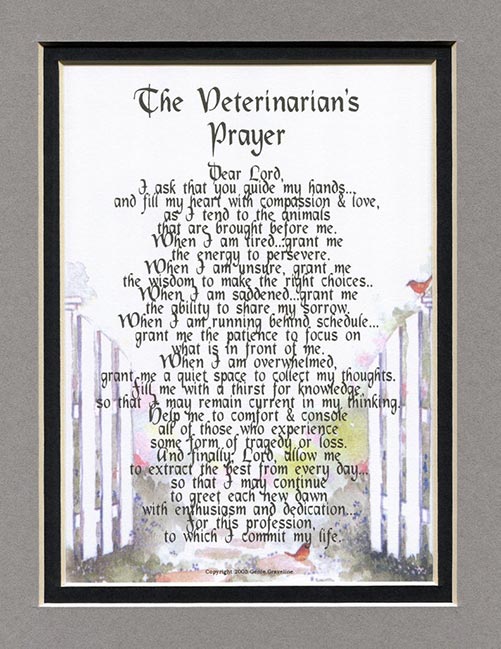 This will be treasured by not only your vet, but by all the fur mamas and dads who come into the office and read it.
Sweet and sentimental, and more importantly, ever-so true, this poem is a keeper.
10. Copper Cow Pour Over Coffee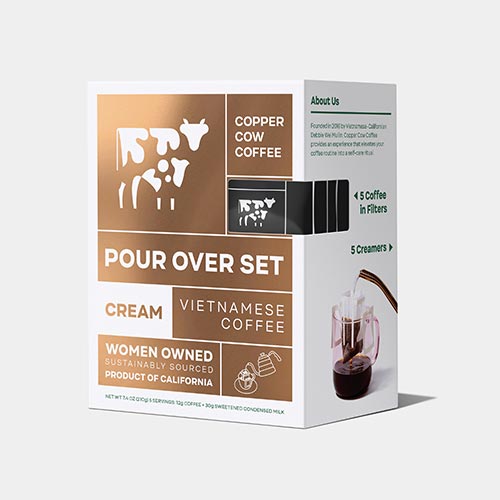 If you think normal people have hectic lives, in need of some coffee, try shadowing a veterinarian for a few days!
This pour-over coffee set is sustainably sourced and women-owned, which makes it not only a great present for them, but for the company and women you just supported by your purchase. We think that's a win-win, and your (fully caffeinated) vet will, too.
Gifts for Aspiring Veterinarians
It's a stone cold fact: vet school is no joke. Maybe you know someone who is in the process and is up to their eyeballs in homework, exams, interns, and school loans?
Give them a little break with a gift just for them that shows you already appreciate their chosen field… and that you will be first in line to be their first patient/client when they graduate!
11. Custom Bobblehead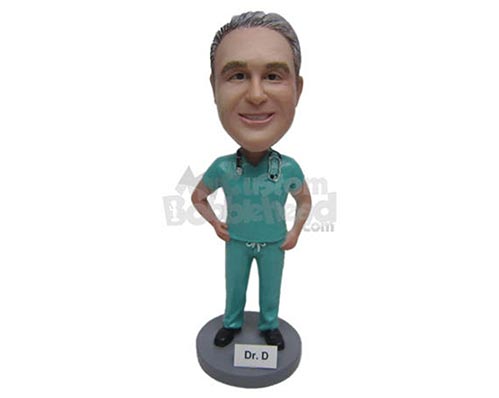 Let them know how much you believe in their goals, and make them giggle at the same time. Who doesn't want to be a bobblehead? Um, no one, that's who.
12. How to Become a Veterinarian Book
Sure, it's simple, but it may have the answers they're looking for! This practical book is just the ticket for someone is considering a career in the animal field.
Gifts for Veterinary Students
The papers, the thesis (thesises? thesisi??), the grades, the headaches! When they're enrolled in school for something as challenging as veterinary medicine, they need a special gift. It may just give them that extra boost of energy to finish at the top of their class.
13. Cardinal Tumbler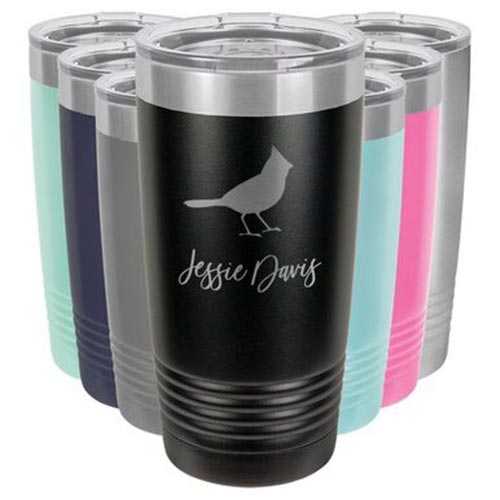 Every time they take a drink of water this will help remind them of their big goals while studying for those big tests.
This tumbler may be even better if they are studying to be a farm veterinarian, or if they are dreaming big of working with ocean life- they now they have the tumbler to cover it!
14. Digital Notebook
Fulfill both their creative and techy sides with this Rocketbook digital notebook. It's pretty much the coolest thing ever. We think they'll agree!
Here's how it works:
Jot down notes by hand using the special (included) pen
Scan the QR code to upload it to the cloud
Set up rules so that you can automatically put, say, art in your Dropbox folder, work notes in your shared Google Drive, and your to-do list into Evernote. Tons of integrations mean that you can get your life organized like never before
Erase, then use again!
Veterinarian Graduation Gifts
They did it, and you're so proud! Show your support, respect, and continuing adoration for their chosen profession by picking one of these awesome gifts.
And if they didn't plan their own graduation party, by all means, step up and do it for them! They totally earned it.
15. Personalized Pacific Crest Veterinarian Sign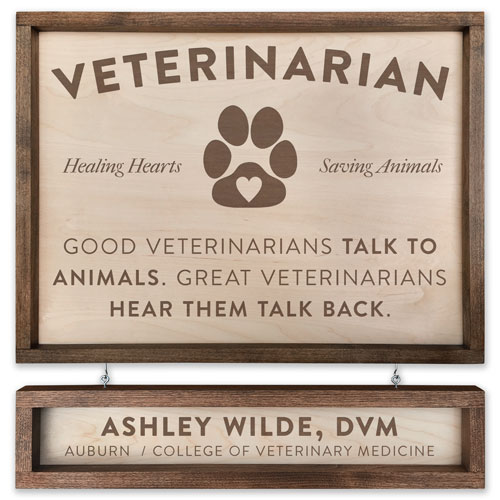 Getting through vet school is no picnic, and they definitely deserve a plaque (and a party). Customized and personal, this one fits the bill nicely.
Handcrafted in the USA from premium furniture-grade wood, the freshly-minted veterinarian in your life is going to love her new office sign! Choose top plaque only, or top plaque with custom hanging name board for a timeless, old-fashioned look.
16. Veterinarian Pin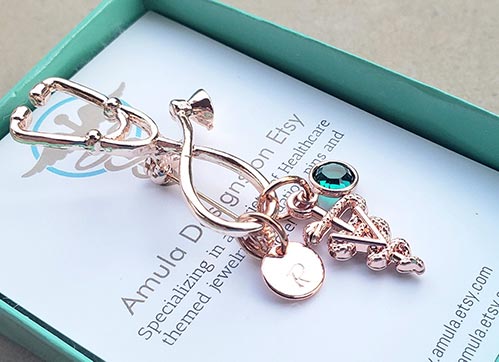 How to dress up ordinary scrubs? With this shiny bauble! This pretty veterinarian pin will spruce up their outfit and make them smile.
Plus, it is a beautiful gift to hand them after they walk across the big stage.
Veterinarian Appreciation Gifts
Whether you're the crazy cat lady in the neighborhood, or your 19 year old Cocker Spaniel has been your vet's apple-of-his-eye since he was a pup (um, the Cocker Spaniel, not the vet), sometimes you really need to show your appreciation.
Maybe they just saved your guinea pig's life, or helped design a homemade wheelchair for your 3-legged rabbit. Whatever the occasion is, we've got just the gift ideas.
17. Personalized Vet Scrabble Name Plate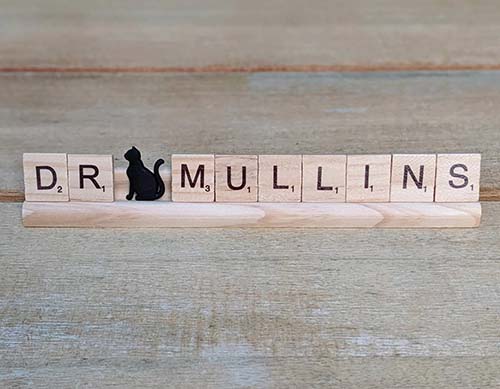 For the nerdy vet who likes to wind down to a quiet evening of board games, this personalized veterinarian scrabble tile name plate will show them how much you care. They'll be proud to display it in their office!
Related: 21 Best Gifts for Cat Lovers & Cat Parents
18. A Tree in Their Name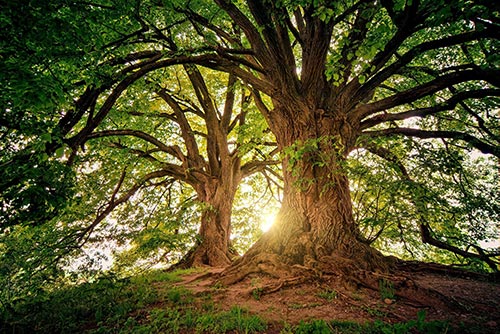 Some vets just aren't gift-wrapped, materialistic type. When that's the case, try a gift like this one: a tree planted in their honor.
Related: 21 Thank You Gifts for Doctors
Funny Veterinarian Gifts
Smarmy and sentimental has its place, but oftentimes a funny gift is the way to go.
If your vet and you have shared some laughs over your pet's antics (remember when Fido got his head stuck in the mini trashcan trying to get that piece of ham sandwich?), it's time to give back with a gift that's humorous as well as useful.
19. Vet Tech Wine Glass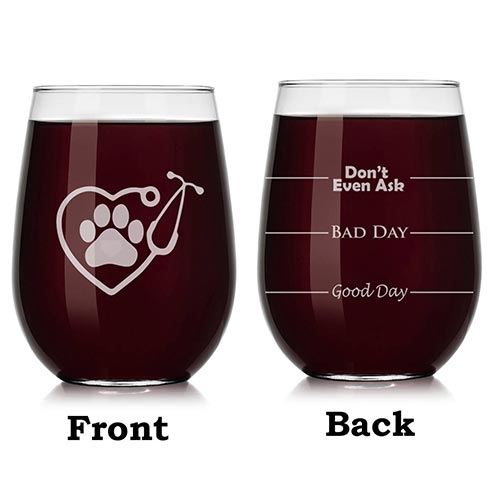 It's funny because it's true! These clever wine glasses are stemless and adorable (and will be much appreciated). Maybe include a bottle of vino to go with?
Related: Best Vet Tech Week Gift Ideas
20. Trust Me… I'm a Dogtor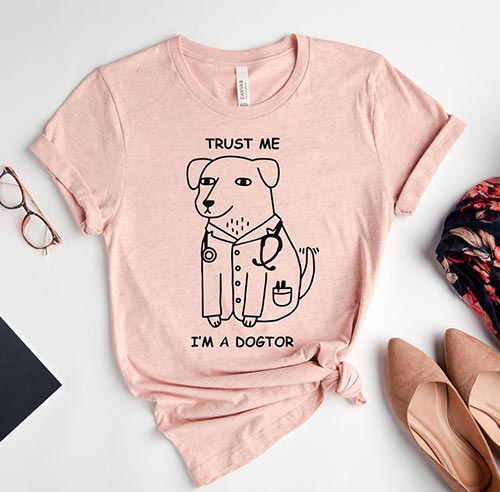 Woof woof! For off days when they finally get to take off the scrubs, they'll be reaching for this soft pink tee again and again.
Veterinarian Retirement Gifts
How many sick bunnies have they seen? Pregnant llamas? Neutered doggies? Homicidal cats? We'd say they have earned a nice retirement!
Here are some suggestions for stellar gifts that will commemorate the occasion of their retirement.
21. Retired Vet Mug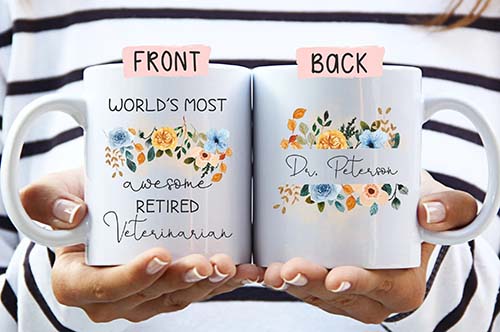 After all these years they can finally sit down and enjoy this mug. And for once, maybe the coffee will be hot when they drink it!
Bonus: Vet Retirement Bottle Opener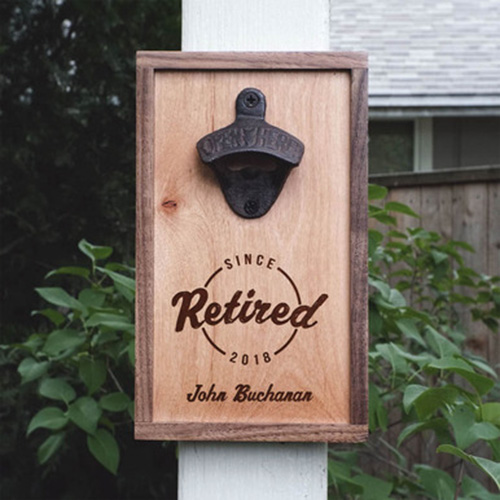 Made of walnut and fully customized by you, their loyal and most favorite ex-client, this bottle opener is going to look great in their dining room or back porch and is sure to get plenty of use!
You may also enjoy: 10 Gifts for Doctors that have Everything
Pin It