One of the good things about having a feline enthusiast as a friend or neighbor is it's relatively easy to find a great, crazy cat lady gifts — it just has to be cat themed!
Another fun thing about buying gifts for animal lovers is that you can take it a couple different directions. You can buy gifts for them, their pets, or both! Some classic go-to's could include:
Treats
Collars and toys
Giftware (cups, tumblers, mugs, etc.) with kitty's picture
Cat themed decór for their house or apartment
Matching items (think collar tags & keychains, sweaters, blankets)
There are just so many options out there! But we've scoured the interweb so you don't have to (unless you REALLY want the algorithm to give you nothing but cats for the rest of your eternity). Whether your crazy cat lady is a beloved pal — or perhaps it's you — these gifts are sure to make everyone purr with delight.
Cat Mom Gifts
Our website is supported by our users. We sometimes earn a commission when you click through the affiliate links on our website. See our privacy policy & disclosures for more information.
1. Personalized Cat Face Shirts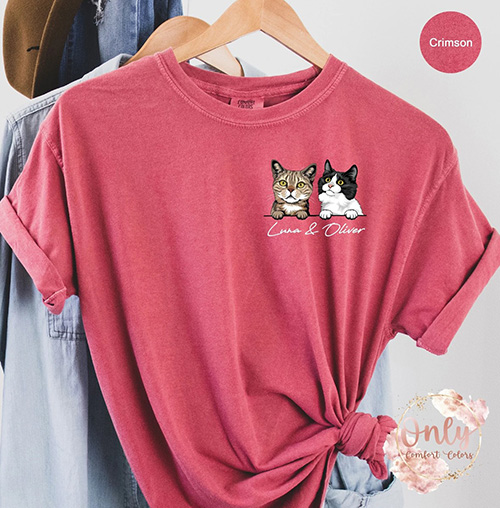 This tee shirt will be worn until nothing is left but rags. She'll love having a cozy and soft tee in her favorite color, decorated with her favorite kitties.
They'll even personalize it with their names! This is one for the record books when it comes to great gifts.
2. Willow Tree Cat Figurine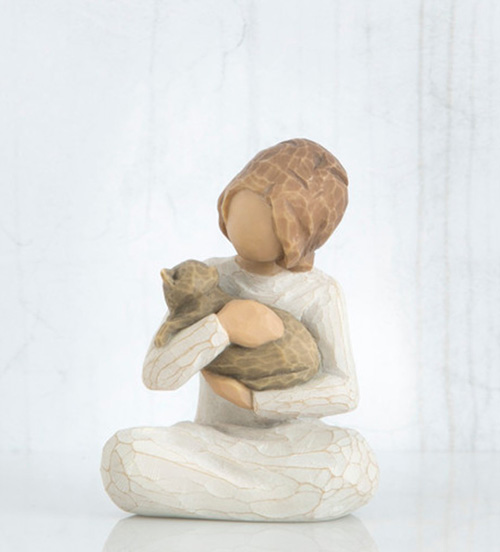 This sweet Willow Tree cat figurine is so darling! It's a gentle nod to how much we love and cherish our feline companions.
Perfect for the cat lady in your life for her birthday, a holiday, or after the passing of her loveable, furry family member once they've crossed that rainbow bridge.
3. Cat Mom Life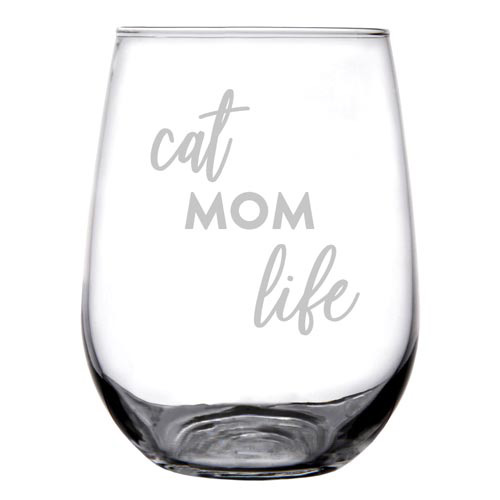 It's like the thug life, only…well, it's not like that at all actually. Those of us living the cat mom life know we need a great glass like this one.
After all, once Fluffy has wreaked havoc in the living room and kept you up half the night with her zoomies, you need a little sip of wine!
4. Regal Cat Portraits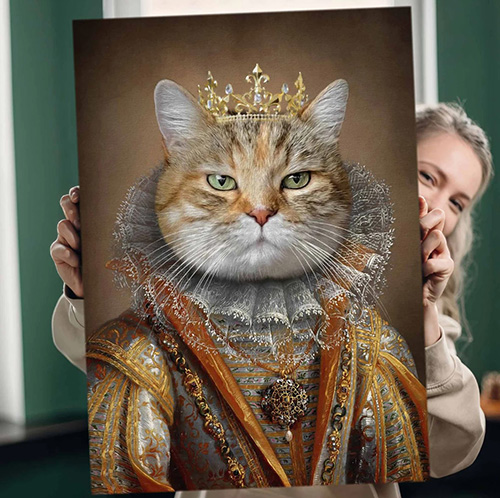 Turn your goofy kitty into a regal feline monarch! The sillier the better when it comes to these royal works of art, so pick your derpiest photo.
Your cat might roll her eyes and demand lunch, but your guests will crack up when they see this awesome present.
5. Cat Mom Tunic
This soft tunic has pockets for plenty of Kitty's favorite treats. When it comes to lazy weekends or curling up on the couch in the evenings, both your favorite cat lady and her furry friends will love snuggling up with this cozy shirt.
Great to pair with leggings, it could also double as a nightgown!
6. Custom Cat Photo Blanket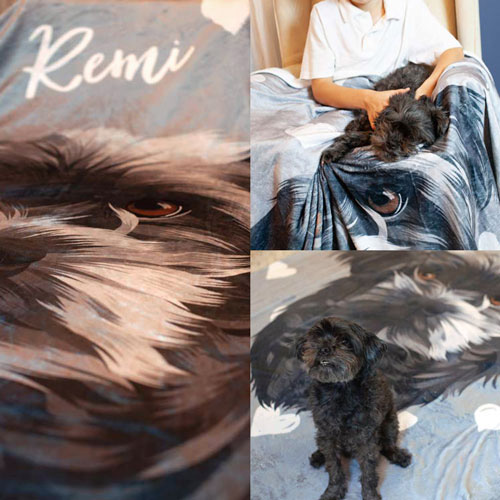 This soft and oversized pet photo blanket is just the thing for your feline loving friend. And we have a sneaky suspicion that her cat will love it too.
Great for cuddling and snuggling on chilly evenings, this is truly a one-of-a-kind present that no one else will have!
Click Here to check out our personal review.
7. Things To Do Today Cat Notes
We're all just working for our kitties to have all the best in life! Right?
This cute notepad is a simple little gift that packs a big punch. It's totally unique and adorable, not to mention really useful as well. Great for list making — everything from groceries to appointments to doodles.
8. Organic Cat Grass Kit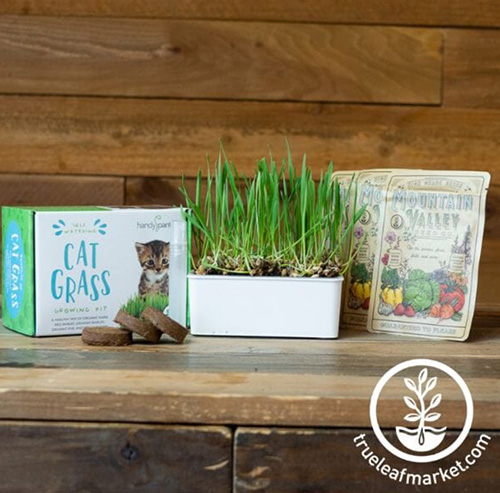 They had us at "self-watering!" If you're unlucky with plants like I am, this great organic cat grass kit is a lifesaver. Your kitty will love it, too, of course. And did we mention it's organic?
You can't go wrong when you're looking for a natural, functional gift for your favorite feline fanatic.
9. Cat People Pens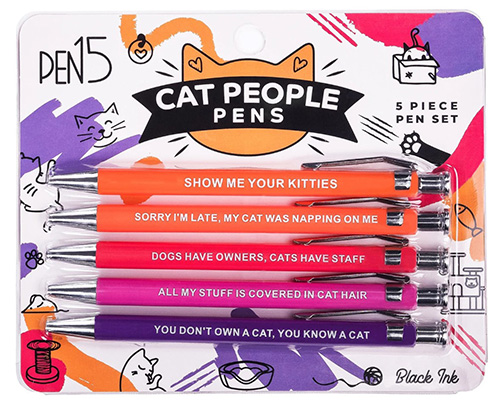 This funny cat people pen set is oh-so punny! She'll get a kick out of the clever phrases and will love having a great pen at her fingertips.
Perfect for tucking into her journal, backpack, purse, or keeping in the car. Anyone who loves kitties will smile when they open this cute gift set.
10. Engraved Cat Face Necklace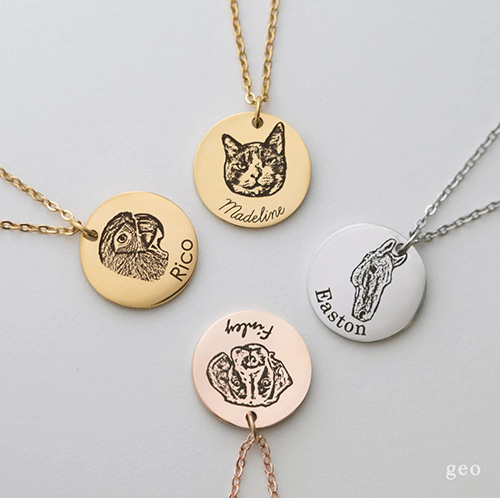 This engraved cat face necklace is perfect for any occasion. Your cat lady will love dressing up, going out and still having a bit of Miss Meow with her wherever she roams.
A sweet gift that is really unique and personalized, it also makes a wonderful memorial present for someone grieving the loss of their pet.
Unique Gifts for Cat Lovers
11. Custom Pet Bobblehead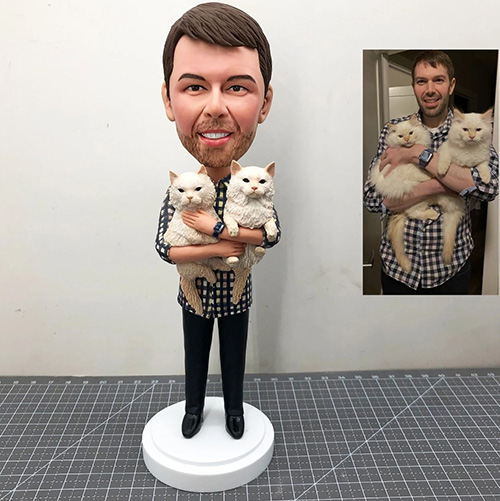 You know your cat has "arrived" when they become a bobblehead. This funny and one-of-a-kind gift will crack up your kitty crazed pal. And we bet her cat will love bopping it on the head and making it wiggle, too!
12. Neon Cat Room Decor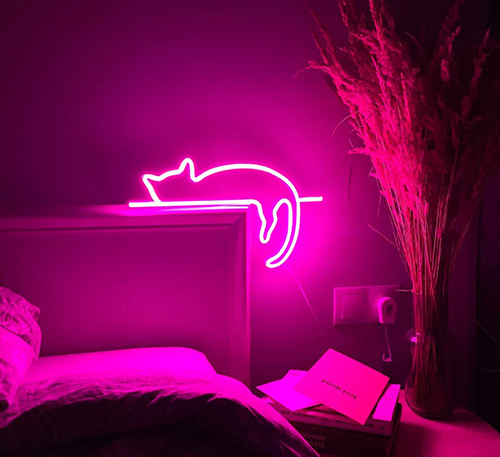 Make your lazy cat a work of neon art with this cute room decoration! It will softly light up your bedroom with a little bit of electro-pop funk in its bright pink color.
An adorable way to jazz up your space with a bit of cat-loving decor.
13. Fuzzy Cat Socks
Everyone loves a great pair of socks, and these ones are the bomb-diggity! Does anyone say that anymore? Unsure. Anyway, these great socks are fuzzy to the max. They are so warm and plush, and are a fun nod to their favorite feline.
14. Digital Picture Frame
Whether it's for their office or at home, they'll get to cherish all their favorite fur baby's photos!
It's so easy to add in new snapshots and it's so fun to watch them rotate through. You don't even have to be in the same room — or even the same state — to add/delete photographs. So clever.
15. Cat Cappuccino Cup Set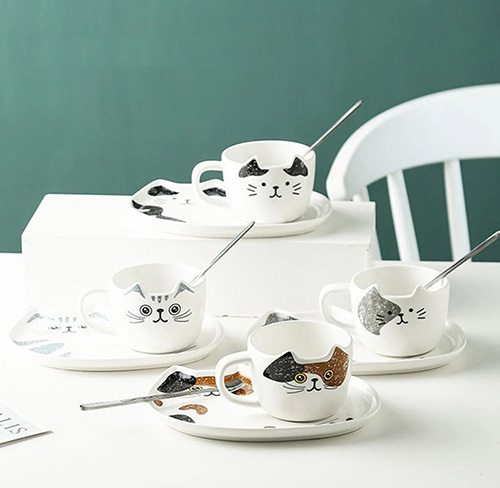 You know your cat lady drinks coffee because Snookums gets her up at the crack of dawn by making biscuits on her back, right? Or by knocking their dish around the kitchen waiting for some kitty breakfast…
Keep her caffeinated with this adorable cappuccino (or should we say cat-puccino?) cup set. She'll love mornings with her kitty cat even more when she has this cute set.
Related: Best Gifts for Coffee Lovers
16. Black Cat Butter Dish
No one likes cold butter on their morning toast, but you'd best believe you need a cover for it or else that curious kitty will help herself!
This fun and adorable black cat butter dish is here to save the day (and your breakfast). So whimsical and sweet and a perfect choice of crazy cat lady gifts.
17. Yes I Really Do Need These Cats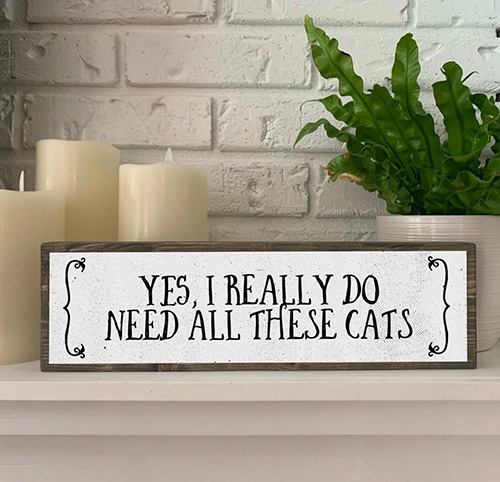 What better way to answer the question that everyone asks without getting into a boring conversation, right?
This funny sign is here for some cheeky and sassy fun. It will blend in perfectly with your decor, no matter your style. All it needs is some cat hair and a few scratches!
18. Hold On I See a Cat Shirt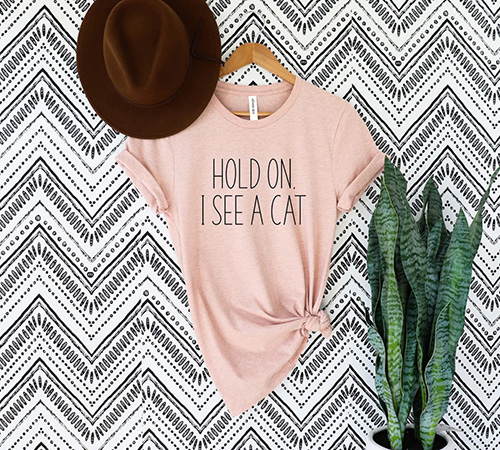 Available in lots of great colors, this cute cat shirt says what we're always thinking!
Great for the day-in day-out routines, hikes and walks around the neighborhood, but it's also stylish enough to wear to brunch or out to dinner. Pairs perfectly with jeans or joggers.
19. Cat Butt Refrigerator Magnets
These cat butt refrigerator magnets are a bit ridiculous but oh-so hilarious! Your cat lady will crack up over these fuzzy butts and will love hanging up photos or lists or coupons with these.
All her friends will want to know where she got them. And that's you, oh great gift picker…
20. Toe Bean Soap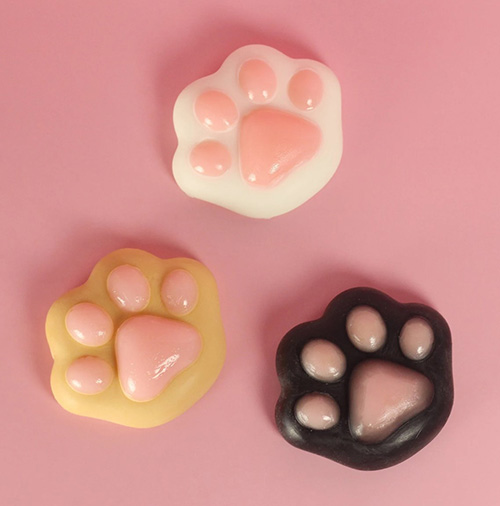 Ack, is there anything more adorable than little toe beans? Maybe these soaps, perhaps? We think they're pretty close.
Perfect for the guest bathroom, they smell great and work hard, all while looking adorably chic. And they smell like coconut, caramel, and coffee!
21. Car Dashboard Figurines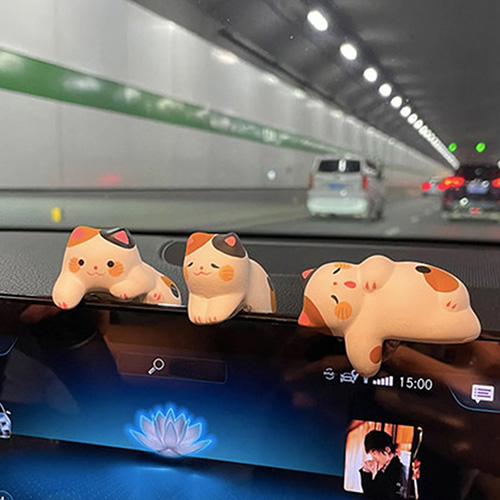 Most cats would rather stay home than go on a road trip, but you miss the little guys!
These car dashboard figurines will help you feel not so lonely as you adventure around town, picking up cat toys and food for your little prince or princess back at home.
These just may take the cake for cutest crazy cat lady gifts on the list…
22. Fat Cat Candle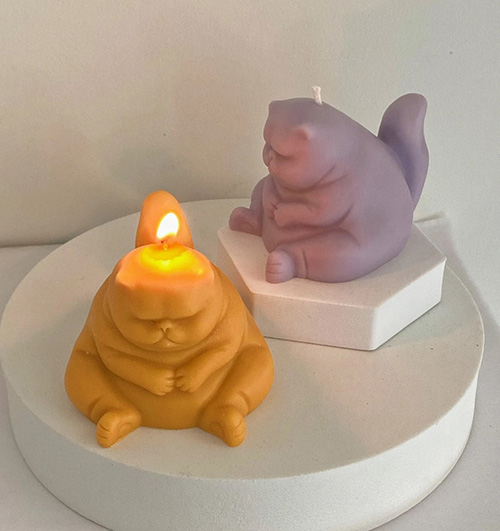 These candles are a little bit weird, a whole lot of odd, and we are so here for them!
So cute and whimsical. If their cat is a fat cat (or even if not), they'll love these funny candles. Pick from a ton of scents and colors until this gift is perfectly suited to your feline fanatic!
Related: Weird Gifts for Quirky People
23. Hope You Like Cats Doormat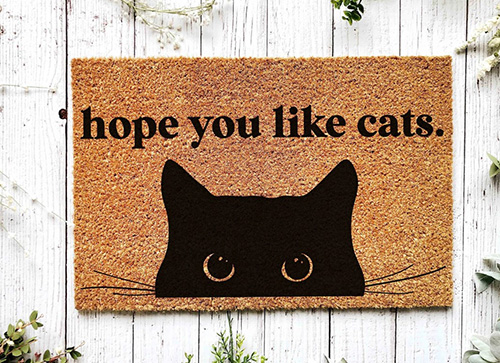 Get the awkward conversation out of the way before they even come into the house with this funny 'Hope You Like Cats' doormat.
Even dog lovers will get a kick out of this useful and clever gift. You can even pick the size! A high-quality doormat that will keep everyone's paws clean.
24. Monet Water Lily Cat Print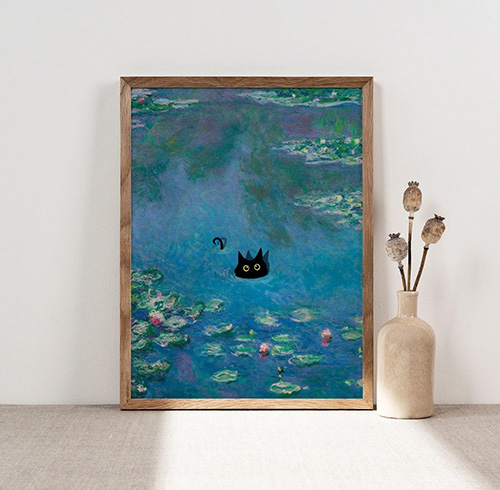 You know what this Monet print needs? A cat, of course! This hilarious Water Lily and Cat print really is a crowd pleaser.
Adorable and wide-eyed, the little black cat cheerfully brightens up Monet's classic painting.
25.Cat Pizza Cutter
Cat lovers and pizza lovers, rejoice! These super cute cat pizza cutters make great crazy cat lady gifts and will last forever.
No matter how many Pepperoni Supremes, Cheese Lovers, or stuffed crusts are thrown its way. It's purr-fect for family movie nights and late night college shenanigans!
Cat Lady Gifts
26. Cat Key Cover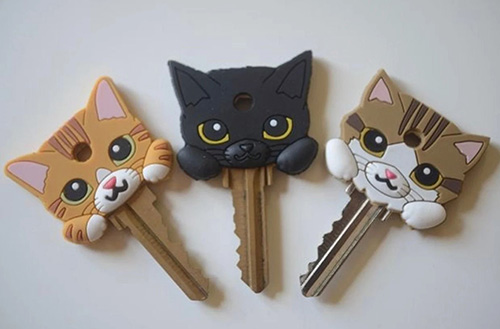 Crazy cat lady gifts don't have to be expensive or extravagant. A great gift for your house/cat sitter, these adorable cat key covers will keep everyone's key collection organized in a fun way.
Choose the one that looks the most like your favorite kitty-cat, or buy a few to really make your key collection pop!
Related: Best Housewarming Gift Guide
27. Custom Paw Print Coasters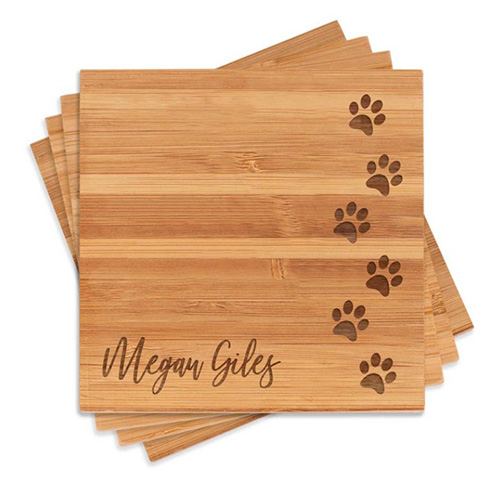 These wooden coasters are great for keeping those pesky water rings off your coffee table! And you can customize them with the cutest paw prints and engraved names.
A totally sweet gift that won't break the bank and will get lots of uses on a daily basis.
28. Cat Lady Card Game
Embrace your inner cat lady with this fun card game! You'll love having guests over when you have something witty and clever to play. Brew some tea, set out some snacks, and grab a kitty for your lap — let's play!
29. Cat Paw Mouse Pad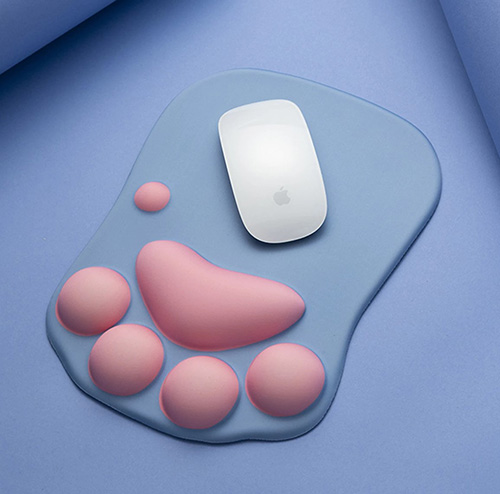 You know how much your cat loves to cuddle up on your laptop? Well, now she can shake things up by taking a snooze on this cutest of cute, cat paw mouse pads!
Just like her squishy, velvety soft little paws, this great mouse pad will cushion your wrists and elbows (and cat), and protect your desk from scratches and spills.
30. It's Not Cat Hair Pillow
Kitty glitter it is! We feel so much better calling it that… This funny pillow embraces the messy cat life.
Cute and simple, it is the perfect size for the couch and an afternoon nap, or for your bed to add some pizazz and kitty-ness. And the versatile black and white means it will match any decor!
31. Cat Flower Basket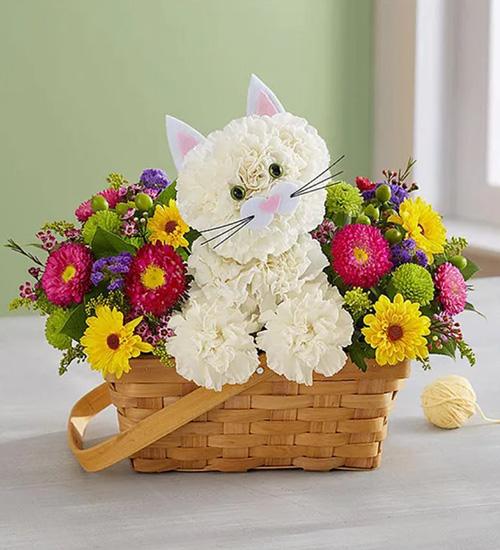 White carnations make up this purr-fectly delightful cat flower basket! Having this delivered will be such a treat for your crazy cat lady — she'll love displaying it front and center.
Such a cute and clever flower arrangement that isn't your typical boring bouquet!
32. Cat Reminder Sign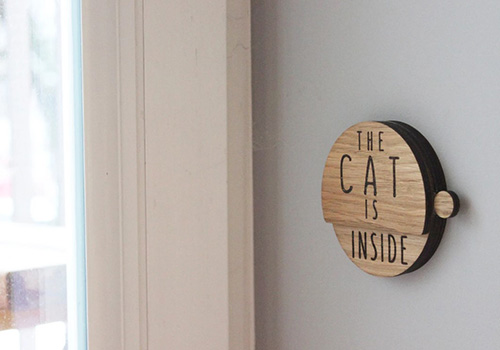 Cats are on the wrong side of every door. Isn't that the truth? This clever magnet is flippable so you and your family can keep track of where the little fur baby is during the day. Easy to use and really practical for those indoor/outdoor kitties.
33. Peeking Cat Metal Garden Sign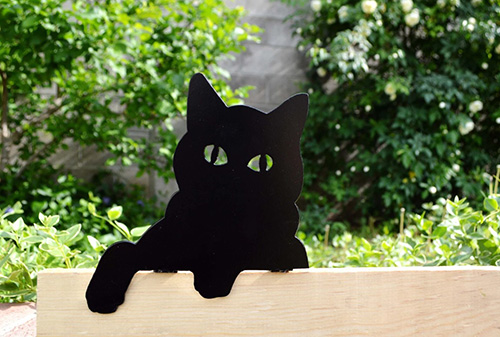 This adorable, peeking cat metal garden sign will transform your garden space into something whimsical and cheerful.
It's playful and sweet and we think every backyard could use at least one of these fun signs. Of course, you don't have to put it outside — it would also be quite cute in a bookshelf or window box.
34. Cat Lady Slippers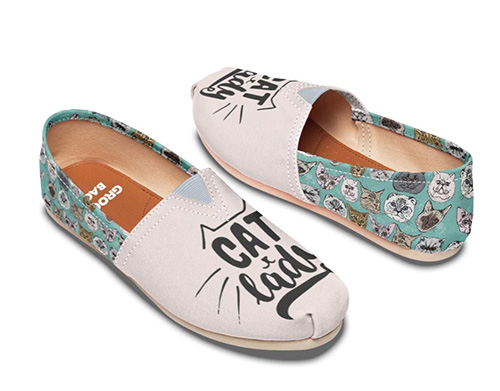 If you happen to know her shoe size, then these cute cat lady slippers/slip-on shoes are just the thing to bring to the party.
She'll love the fun colors and print. Made of high-quality canvas, these shoes are built to last and will go with everything from jeans to pajamas!
Check out our crazy cat lady unboxing review here!
35. Standing Cat Suncatcher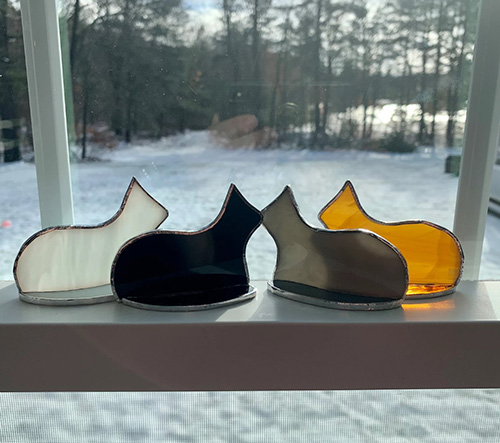 These striking cat suncatchers come in a wide variety of colors so you can get the one that looks most like your little sweetie!
They'll brighten up a dull winter's day for sure, and will look so adorable all lined up in your windowsill. Made of stained-glass and just right for the crazy cat lady in your life, even if that's you.
Read Next: Best Gifts for Cat Lovers