Finding the best gifts for cat lovers: If there's one thing Mr. "I'm a dog person," and Ms. "#CatMom" can agree on, it's the need for a good gift for those fur parents!
Whether it's to celebrate Fifi and Spot's wedding anniversary, Sadie Lou's return home after adventuring too far, or Midnight's Gotcha Day, we have some great ideas for presents.
You might say, they're all purr-fectly adorable!
What? Too much?
21 Amazing Gifts for Cat Lovers
Our website is supported by our users. We sometimes earn a commission when you click through the affiliate links on our website. See our privacy policy & disclosures for more information.
1. Custom Pet Regal Portrait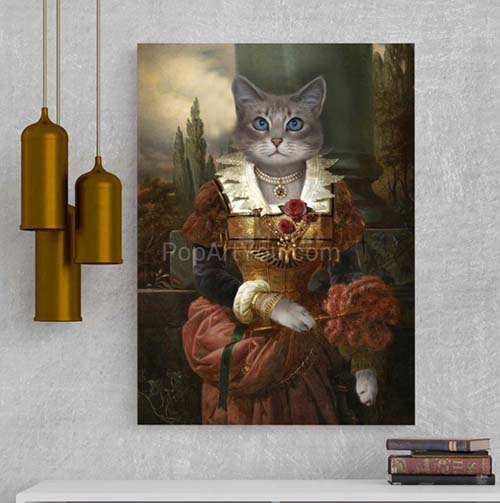 Well, this is probably the most ridiculous gift for your cat-obsessed friend.
And we are SO here for it!! We'll take two, please.
Do they also do calendars? These absolutely hilarious and yet oddly exquisite works of art, modeled after your darling little minx, are completely perfect for your cat loving friend. Seriously, it'll be hanging in a place of honor in no time.
When you need a laugh-till-you-cry kind of gift, look no further. I mean, I can't look away and it's not even my cat.
2. Black Cat Fire Extinguisher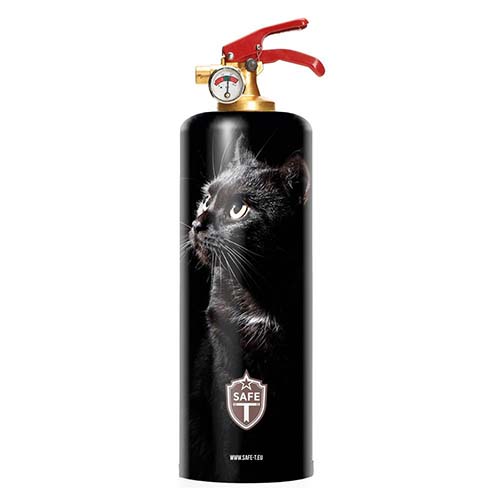 If you're looking for a fire extinguisher to hide away in a cupboard, behind random pots and junk, never to appear unless in an emergency (in which case you'll be desperately trying to remember where you stashed it, give up, and run outside, yelling FIRE), this is not that fire extinguisher!
No way, ma'am. This fire extinguisher is so flat-out lovely and sleek and delightful (much like your cat), that it's meant to be SEEN. We see you, fire extinguisher. Oh, we see you.
And we heart you.
So much.
PS Did you know house fires occur every 24 seconds in the United States? Um yeah. Be prepared. In style.
3. Pet Portrait Custom Necklace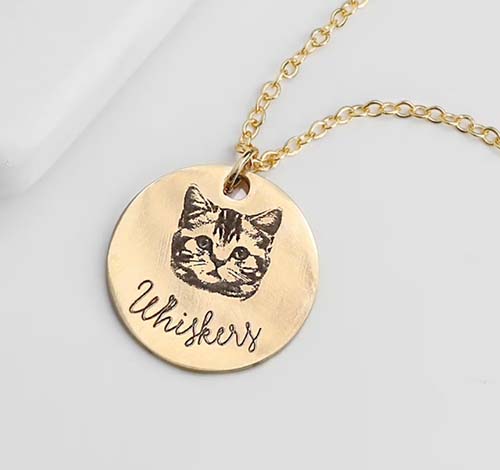 Such a lovely way to commemorate the passing of a loved kitty over the Rainbow Bridge, but also just a fun little trinket to give for no particular reason, this charming gold pendant of your very own fuzz-bucket is perfect!
It's one-of-a-kind (no Claire's shopping needed, or dull, unimagined, generic etching here). Finished off with their name in a pretty font, this necklace is just the best, whether paired with a little black dress, or the most casual of outfits.
Hint: It's also a lovely gift when you have to mail one. Have you seen the price of shipping these days? I mean, sure, they'd love a hand-carved bust of Whiskers too, but that would cost you an arm and a leg just to ship. This is a win-win for everyone!
Related: Heartwarming Pet Sympathy Gifts
4. Personalized Paw Print Coasters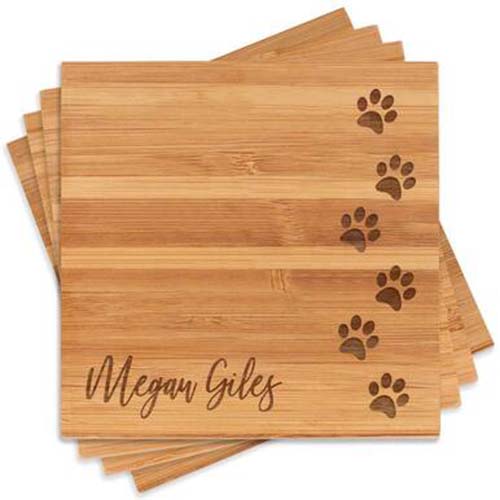 Made of bamboo and personalized with your cat mama or daddio's moniker, these coasters are the cat's pajamas! (You know we'd throw that expression in eventually, now you can quit waiting with baited breath. Get it? Bait? Like catnip? No? Sigh.)
Everyone needs a set of coasters. Might as well make them as sweet and adorable as your cat is. Also doubles as a good place for serving Sir Marmaduke's nightly crystal dish of diced livers on.
Yum.
5. Unique Gifts for Cat Lovers: Personalized Wall Mounted Cat Bed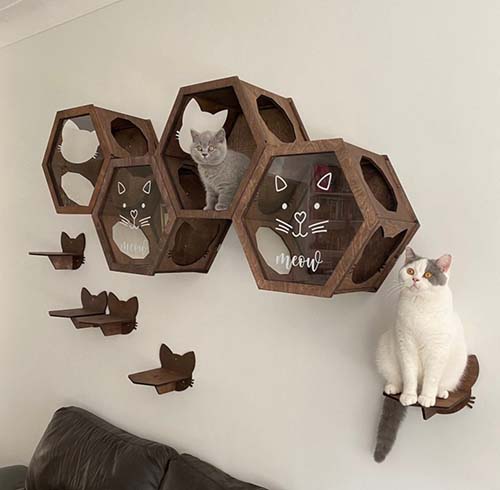 Indoor kitties get a little bored. Bored kitties equal destruction and mayhem, not to mention chaos and possible world domination. They need some stimulation and a bit of a American Ninja Warrior: Cat Edition on the wall!
Enter this utterly fabulous wall-mounted cat bed and obstacle course. Whether you multiple kitten warriors or just one epically rambunctious meow-er, this is just the ticket for sweet naps and much-needed exercise. Probably in the reverse order.
6. Custom Cat Face Socks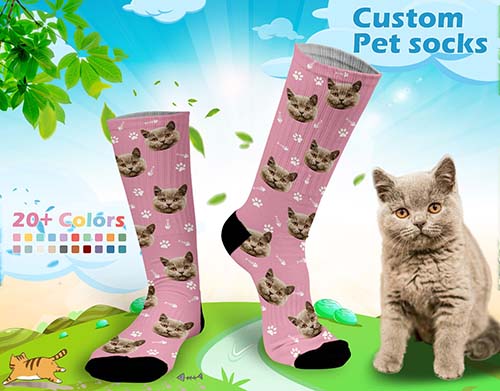 You know who owns avocado socks? PORTLAND PEOPLE CIRCA 2017, THAT'S WHO.
Your style is way beyond that. You know what's cool these days.
So you want socks with the most cunning, the most delightful, the most darling, the most slightly evil, sidekick ever: your cat! You might want to buy a couple of pairs, because after experiencing these on your feet, your toes will most definitely shun any other sock of the argyle, striped, checkered, or polka-dotted variety.
PS The only way to wear these is with shorts and sandals. Don't argue.
7. Fur Parents Shirts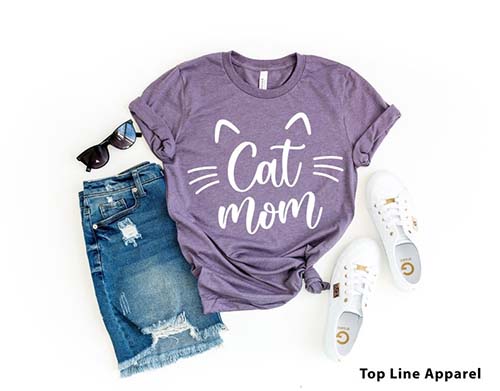 Leave no doubt with one of these Cat Mom shirts. It explains away the stray fur and hair and that liver pate stain, all while looking adorable and stylish! It's going to pair perfectly with jeans or skirts, and is strong enough to withstand a few kitty claws during bath time.
Also available as Cat Dad! Matching set for newlyweds? We think yes.
8. Best. Fur Mom. Ever. Personalized Bird Feeder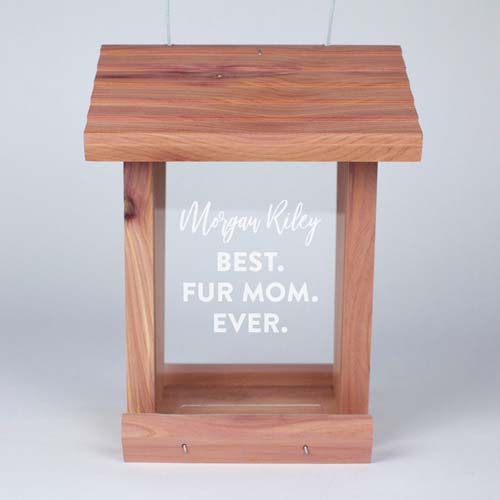 Give those whisker-faces something to look at out the back window! Like this: a totally personalized and amazing bird feeder. It's made of cedar and engraved however you specify.
It's roomy enough to hold food for a crowd and easy to hang from a tree, the porch, or mounted on a holder. Not only do the birdies get some yummy food, but the cats get something to amuse them!
It's like dinner and a show…
9. Personalized Tiny Cat Earrings Gift for Cat Lovers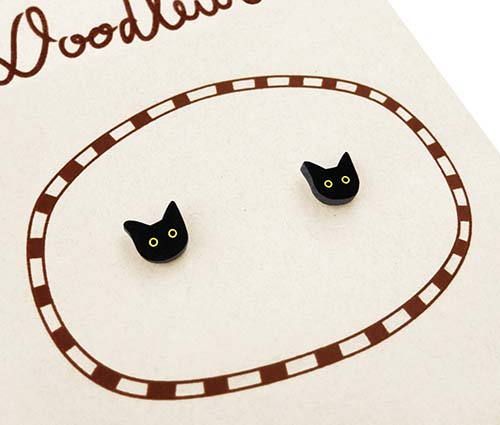 Each image of these adorable earrings is hand-drawn using colored pencils and markers, to your baby's specifications! Earrings that look exactly your very own kitty? That's the cat's meow.
We're trying to stop, we swear.
Hypoallergenic and cute, to boot, these make such a sweet gift for your kitty loving friend.
Related: 100 Meaningful Friendship Gifts
10. Fabulous Feline Flower Basket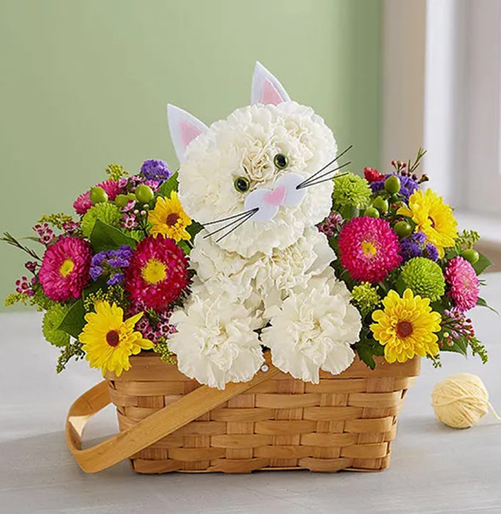 It doesn't get much sweeter than this. For your favorite feline enthusiast, this precious flower basket will make them grin ear to ear with delight. The fresh, floral blossoms come together to form the cutest little kitty, and the crafted wooden basket is the perfect playground for puttie-tat.
Each arrangement is handcrafted to order, and therefor it's unique and special.
11. Cute Cat Candle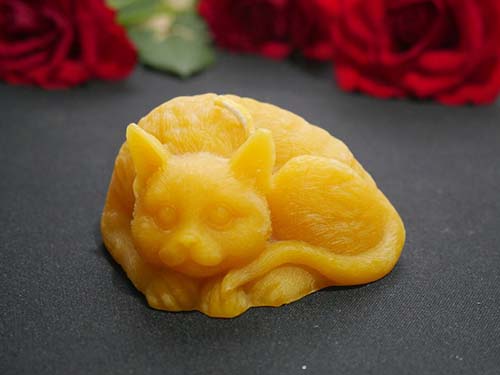 Don't even think about burning this charming cat shaped candle! But if you must, it's made of beeswax and will burn evenly and slowly. This sweet little candle will look so cute on a bookshelf, in a bathroom, or dead-center on the coffee table.
It comes in recycled packaging and it is so affordable we think you should definitely purchase more than one. Kind of like how you purchase cats. Ahem.
Did we mention it's organic?
12. Personalized Cat Tumbler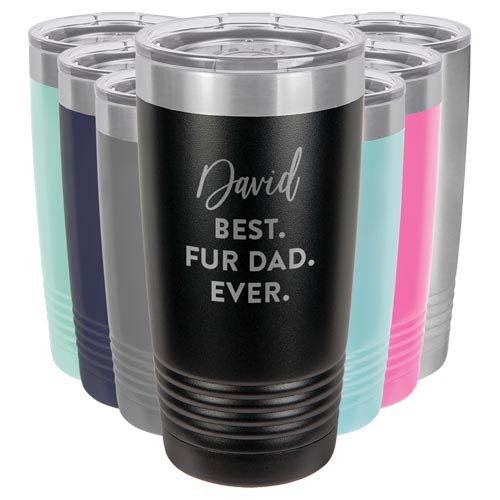 Coworkers won't be "accidentally" taking home your tumblers anymore with this SAWEET personalized mug! It's vacuum sealed, available in a wide range of colors, and engraved with whatever you see fit (although we really like Cat Dad).
Keep your icy beverages frost cold, or your steamy drinks piping hot, all while telling the world, "I'd rather be home with FooFoo and Lady Tickles than here with you."
Related: 15 Personalized Gifts for Dads
13. Cat Illustrated Phone Case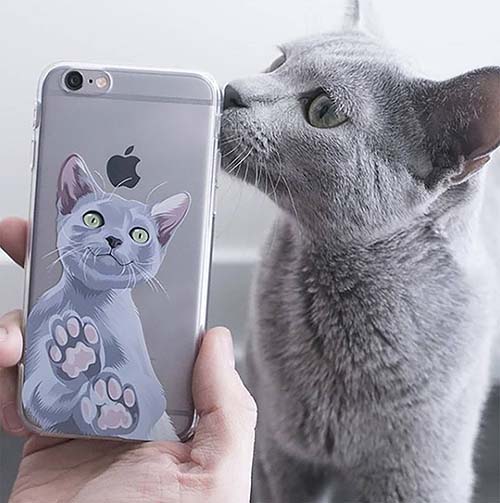 For those sad and lonely days when Kitty can't be with you, you need a little something to keep your spirits up! Enter in this cat illustrated phone case. The only thing cuter is when you turn it around and show your unsuspecting audience all the cat pictures in your photo roll!
Oh, you think this illustration is cute? Umm no, you're missing the point! Send them your photo of your very own Meow Mister and they'll sketch it out and make your very own photo case.
(Also available for any other pet. Cuz we still haven't written up a Top Ten Gifts for Llama Lovers yet.)
14. Christmas Custom Cat Ornament Gift for Cat Lovers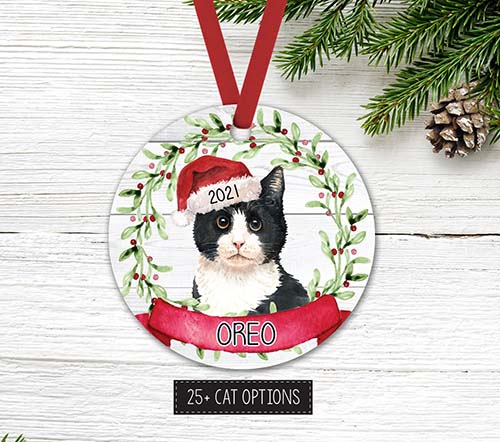 It's just not Christmas cheer without Fluffy being permanently engraved on a holiday ornament, am I right?! This super cute custom cat ornament is going to make the Christmas tree POP.
Hopefully he won't go all Rambo on the tree again this year, right?
15. Funny Cat Kitchen Towels
For the cat lover who also loves to spend time in the kitchen (and not just prepping the furry queen's latest meal demands), these cute and clever towels are just purrfect! I know. We said it was the last time. Apologies. Let's start again.
Get some cute and clever cat towels here!
16. Custom Pet Photo Blanket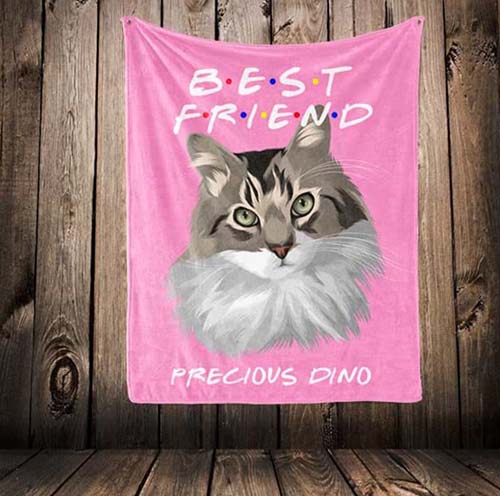 Ironic wit to make them laugh, or sentimental sweetness to make them cry? You choose when you pick out the photo and caption for the this utterly soft and cuddly blanket.
You know you are gonna love a gift from a company named Fur Baby Prints! If Sir Meow-Mix-a-Lot is still with them and wants to snuggle along with, or he has passed on to the great field mice pasture in the sky, this blanket is sure to please.
Check out our own personal unboxing review!
17. Photo Cat Bookmark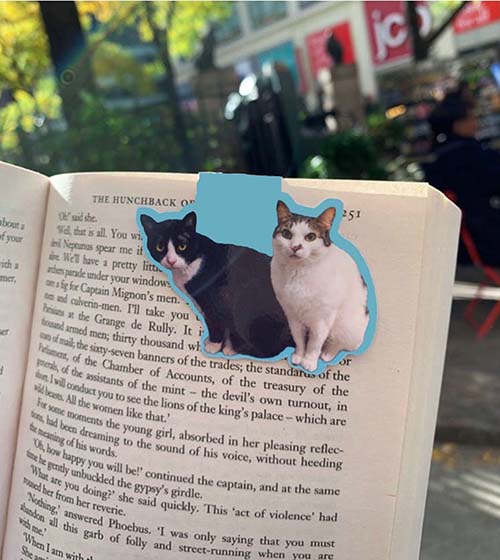 They basically say "Stop your incessant reading and make us dinner," don't they? I mean, in the most lovable and least-murder-y way possible, naturally. These cute custom bookmarks are so great for including inside a card or passing out at your next cat bar mitzvah.
What?
Yeah, well, YOU'RE weird if you don't order one immediately.
18. Ceramic Cat Mugs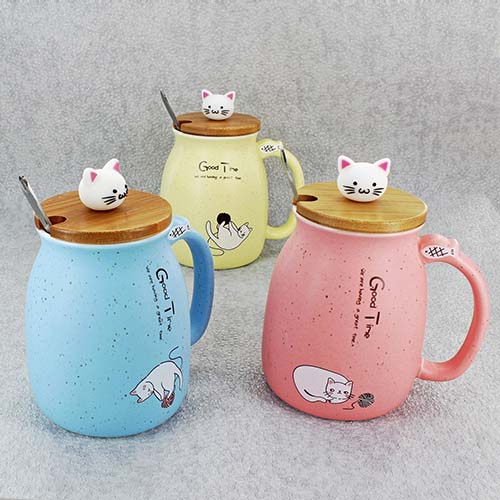 The key to a good cuppa tea? You have to keep it hot while it steeps! Good things come to those who wait, we're told, and who minds waiting when you have a mug as adorable as this one?
Available in assorted colors and with the most delightful lid ever invented in the history of lids (we've researched), these darling little cat mugs are totally the perfect gift.
Also, if you don't like tea, they keep your coffee hotter longer. And keeps the flies out of your wine. Whatever. We don't judge.
19. Cat Butt Magnets
Because that important memo, your child's artwork, and the baby announcement all need to be held up in a place of honor on the fridge by a cat butt! It's imperative.
When you have things to display and need a magnet, reach no further than a set of these hilarious cat butts. They bring class and sophistication to everything they hold up.
20. Love My Cat – Willow Tree Sculpture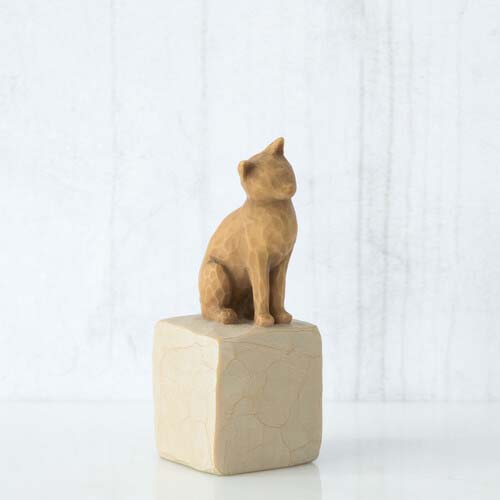 If you're looking for something more serious and stunning, this little piece of art from Willow Tree is just the thing.
Looking amazing in a vet's office, on a bookcase, or set upon a nightstand, this little "love my cat" sculpture really says it all without saying a word.
21. Custom Cat Face Pillow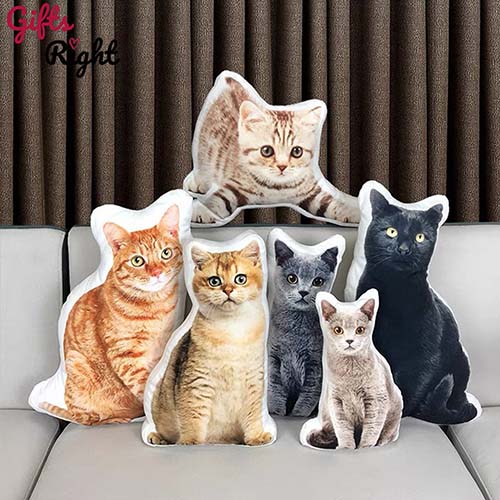 When you can't cuddle the real thing (because he's being a royal pain and just bit the hand that fed him), these pillows come to the rescue!
Send in your animal's "best side" and their headshot (you know they have one) and you will get in return an amazing pillow of your darling little partner in crime.
Read Next: Best Crazy Cat Lady Gift Guide