If you search the web for "unique gifts for doctors," you're sure to find a plethora of great ideas.
With the internet being the internet, of course, sometimes the search can get overwhelming. There's just so much to sift through!
But finding the best gifts for doctors shouldn't have to be time-consuming and stressful. So today we've narrowed the search down for you by finding these 10 unique and memorable gift ideas for doctors that have everything.
Maybe there's a certain doctor in your life who has gone above and beyond to care for your health (or for someone you love). So of course you want to find a great gift for him or her!
While physicians and other medical professionals certainly don't expect any gifts from their patients, you can imagine their face lighting up whenever they do receive something special.
Or perhaps you have a family member in the medical profession or who is a medical student, but you aren't sure of what to get a doctor for Christmas?
Even if you're sure your doctor has everything, it's the thought that counts (and the element of surprise that's so fun). Showing your appreciation is the goal, and with this list of gift ideas for doctors, we hope to help you meet it.
If you like what you see in this article, and want to browse even more gift ideas for doctors or other medical professionals, just take a look right here.
Let's get to it!
10 Gifts for Doctors That Have Everything
From the touchingly personal and thoughtful to the informative and thought provoking, these are our top picks of unique gifts for doctors.
Our website is supported by our users. We sometimes earn a commission when you click through the affiliate links on our website. See our privacy policy & disclosures for more information.
1. Custom Portrait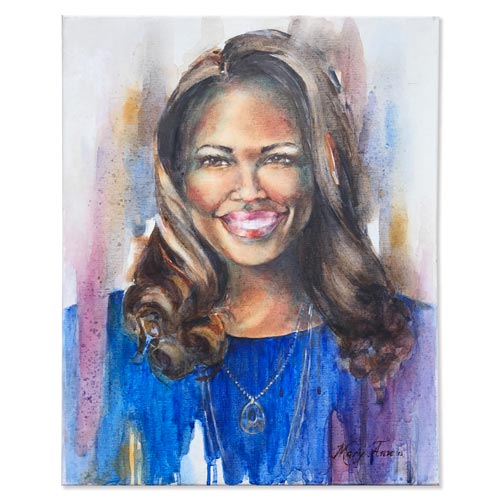 With the help of a single photograph, watercolor artist Mary Ann uses her God-given talent to create beautiful works of art.
Commission Mary Ann to paint a one-of-a-kind likeness of your favorite doctor for a memorable heirloom gift. This is a fine art portrait they will be proud to display in their home or office.
2. Being Mortal
Considered by some to be required reading for medical professionals, Being Mortal takes an up-close look at end of life care and the future of medicine surrounding it.
Surgeon Atul Gawande offers an often very personal approach to answering the hard questions like:
How much treatment is too much? What and how much information should doctors give patients about their conditions? Should the medical field evolve away from a medical model with extension of life as the only goal toward a more holistic approach driven by how our loved ones wish to spend their remaining time? And many more.
3. Custom Doctor Bobble Head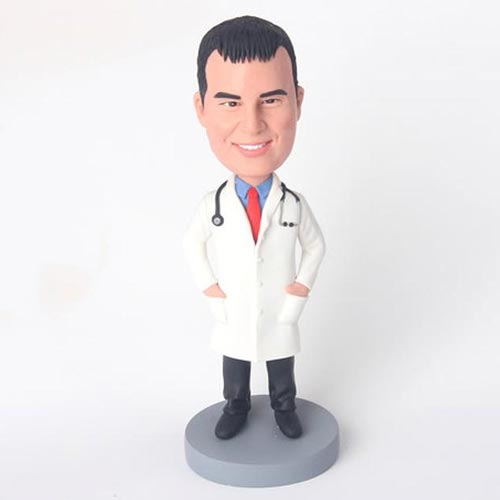 Gifts for doctors can be funny, too! Show your favorite doc your humorous side with this custom bobble head doll.
This bobble head will be handmade from polymer clay to look like your doctor, right down to the hair color, outfit and shoes.
A fun gift for graduations, an office party gag gift, or just because, and it's sure to make them smile at the end of their long shifts. 
4. Personalized Tumbler Mug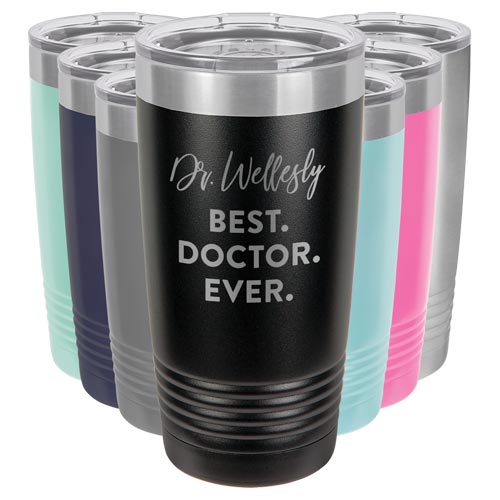 Even the doctor that has everything still has to take a drink now and then. Help them stay hydrated (or caffeinated) in style with this durable and beautiful personalized tumbler.
Available in multiple sizes and a variety of colors, these tumblers keep beverages blazing hot or freezing cold for hours on end.
Each one includes free personalization, which you can modify however you like to add or change the text from what is shown above. A wonderfully useful gift that he or she will truly appreciate.
Plus you can get great bulk discounts when ordering tumblers for the entire staff. (And yes, the bulk rates apply even when you are personalizing each individual tumbler!)
5. Caduceus Pen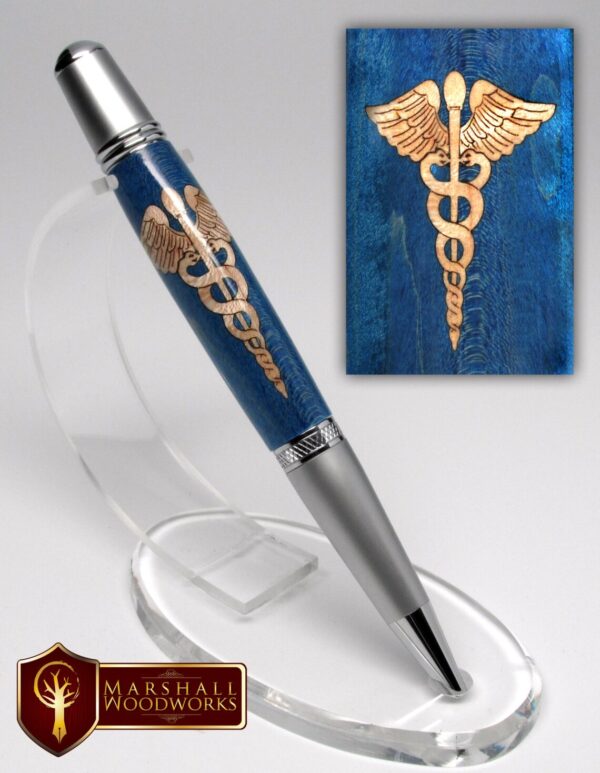 An elegant, custom woodcraft pen? Why, yes! The better question is, why not?
Doctors write quite a lot, whether it's prescriptions, special instructions or explanations, research papers, you name it. And they need a pen to do it!
Of course it's really easy to lose pens, too…so help your doctor keep track of theirs with this pretty wooden pen and case from Etsy.
This set includes a beautifully crafted pen as well as a lovely wooden box that can be engraved with their initials for a personal touch, or the emblem of the Caduceus staff on the top.
6. Personalized Leather Portfolio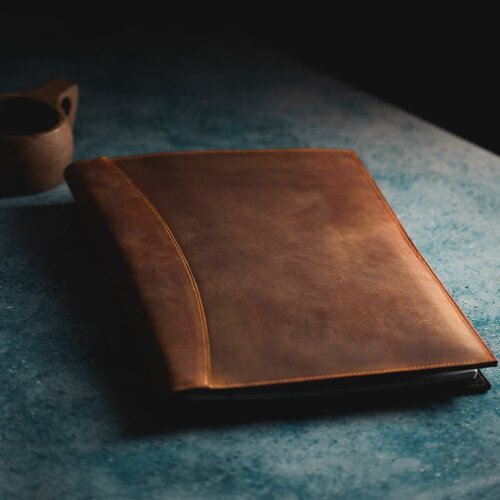 Any professional can benefit from a quality portfolio to keep track of significant documents.
Technology makes that super easy to do, but there's still nothing quite like a physical place to keep important papers and records safe. Portfolios are also a great way to keep things organized at their desk and to make note of changes in their busy schedule. 
This stunning leather craft portfolio can be personalized with your doctor's name, making this heartfelt gift that much more special. The genuine leather has such a beautiful, natural finish that will only get better with time.
7. Custom Engraved Bird Feeder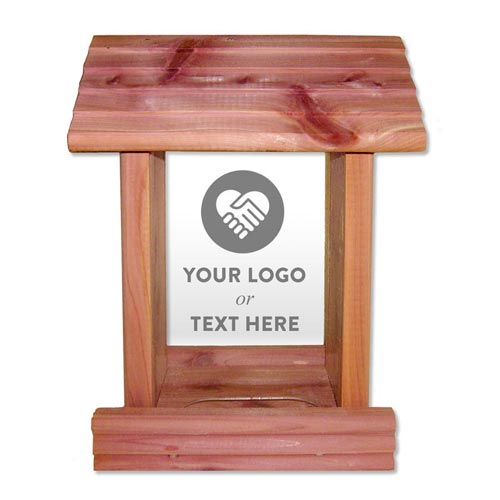 After a trying, long day at the office taking such good care of others, what could be more relaxing than to sit back on the porch and watch the birds?
Give your beloved doctor the gift of nature-filled early mornings or peaceful evenings with this personalized cedar bird feeder from Northwest Gifts.
Made to withstand the outdoor elements for years, this bird feeder can be custom engraved on both front and back panels, with a logo and/or any text your want.
This bird feeder is also a special gift idea for healthcare professionals who are getting ready to retire.
8. Kiehl's Ultimate Strength Hand Salve
Practical and thoughtful, this is one of the best gift ideas for doctors.
Between the constant hand washing and sanitizing and long hours in those powdered medical gloves, their hands get dry by the end of the day. Like, super dry.  
Kiehl's has been a trusted name since 1851, and this ultimate strength hand salve is sure to heal and protect their dry, cracked skin and makes a thoughtful gift.
9. Vintage Style Doctor's Plaque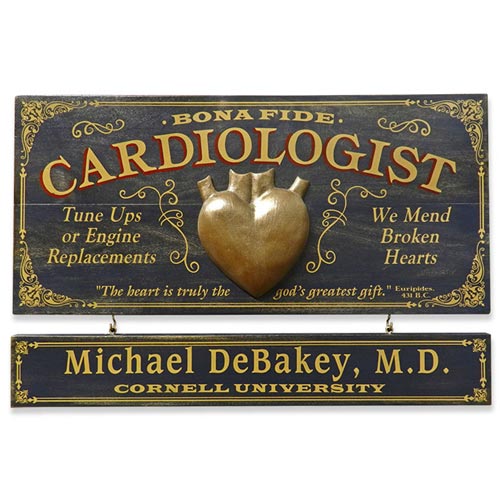 From A Simpler Time, this series of doctor and medical specialty plaques are crafted from real wood planks and distressed by hand for that vintage feel.
This particular plaque is for a cardiologist, and features a relief-carved heart in the center along with memorable quotes.
Choose the optional hanging name plate for an added, personalized touch to this truly meaningful gift. Mounting hardware comes with your order so it will be ready to hang.
Does your doctor specialize in something besides cardiology? Browse through many other vintage-style medical plaques right here.
And for medical-themes plaques that have a more contemporary look (and can be customized more as well!) check out the Pacific Crest series from Northwest Gifts.
10. Floral Anatomy Poster Art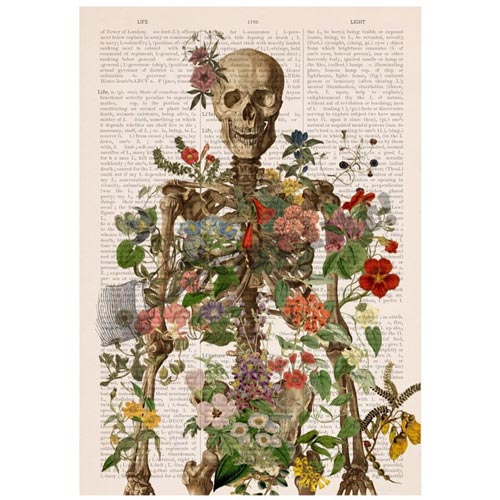 This interesting anatomy poster art is equal parts beautiful and quirky, making it the perfect gift for that doctor whose personality matches!
Each poster measures 11.7″ x 16.5″ and features a skeleton wrapped in a colorful floral design, atop a classical text background. Bonus points if you decide to have this unique gift framed before you gift it!
Bonus Gift Idea: Funny Doctor Mug
Doctors dedicate years and years of their life to the hard work of studying and understanding a particular field of medicine.
But when it gets right down to it, even the very best of them aren't always appreciated for all they know and do.
Using humor, show your doctor how much you respect their knowledge and care by gifting them this funny mug as the perfect present.
Even the doctor who has everything would find this coffee mug funny, and would most likely accept it with no problem!
We hope you found it helpful to browse these 10 (well, 11) gifts for doctors who have everything!
---
We hope you found it helpful to browse this gift guide of 10 (well, 11) great options of gifts for doctors who have everything!
If your search for a unique or practical gift continues, please be aware that at Northwest Gifts we have many more ideas for you to consider.
Almost all the gifts we offer can be personalized with your doctor's name, office logo, or anything else you would like, so keep that in mind as you browse.
And be sure to let us know what you think about these gift ideas (and any new ones from your own experience) in a comment below.
Thanks for reading!