You're on the hunt for the perfect thank you gift for your doctor. But, what is a good thank you gift for a doctor?
Your doctor is amazing and has always been there for you, keeping your health in check and you informed. Maybe they've even saved your life, or the life of someone you love!
What in the world could you possibly get them to show your appreciation?
We have completed the search for you. Below you will find 21 of our favorite thank you gifts for doctors. These gift ideas are perfect for anyone in the varying doctoral professions.
21 Best Thank You Gifts for Doctors
From keepsakes to plushies, there is a little something here for everyone.
Look through this list of gift ideas for doctors, and you just may find that one special gift the doctor in your life is sure to treasure forever.
Our website is supported by our users. We sometimes earn a commission when you click through the affiliate links on our website. See our privacy policy & disclosures for more information.
1. Walnut Wood Keepsake Box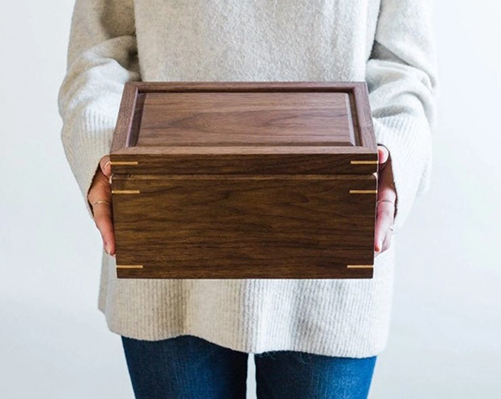 One of these gorgeous, handcrafted keepsake boxes would make a wonderful appreciation gift for your favorite physician.
Expertly crafted from beautiful hardwoods, each box is brought to its finest natural finish and embellished with antique brass hardware.
Perfect for keeping their special memorabilia, pictures, awards or tokens safe and secure, this is one gift they will cherish for a lifetime.
2. Specialty Coffee Maker
This Ninja coffee maker may be the perfect thank you gift for a doctor if they also happen to be an avid coffee drinker.
Whether your doc prefers to start their day with an iced coffee or a cappuccino, this lovely machine makes them all. It brews everything from single serve up to a full 10-cup pot, allowing your doc to share the caffeine with the whole office if they'd like.
For the sought-after texture of a high-quality coffee, this particular Ninja has a fold-away frother that turns any added milk into creamy froth.
3. Personalized Pen Set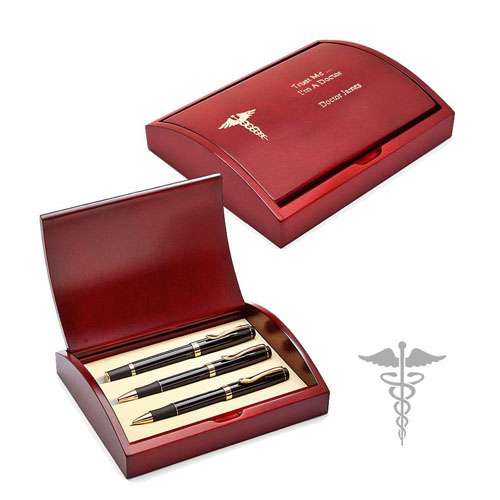 Stumped on what to give a doctor as a thank you? Well for any professional, a personalized pen set is always a nice gift to receive. For the doctor with a sense of humor, this pen set adds just a touch of humor with the lines, "Trust me…I'm a doctor."
The set comes with three writing utensils: roller ball pen, ballpoint pen, and mechanical pencil. The wood keepsake box allows for up to five lines of engraved personalization, and also features the traditional Caduceus symbol.
Show a valued MD your appreciation with this popular keepsake gift for doctors!
4. Wall-Mounted Bottle Opener Doctor Thank You Gift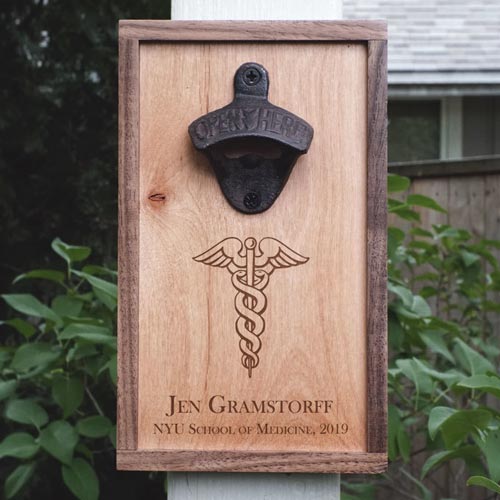 Let's say you just found out that your favorite doctor is retiring! You want to get them a custom retirement gift that they'll enjoy for years to come, but what could that gift be?
Well, have a look at this stunning bottle opener. We construct this beautiful retirement gift from rugged walnut and maple wood, ensuring that it will last for years. We also provide custom laser engraving that includes your doctor's name, a medical symbol, and any other text you like.
The bottle opener itself is cast iron, and comes with a screw for the optional wall mount. Other personalized designs are available here, including one specifically for retirement.
Related: Best Physician Assistant Gift Ideas
5. Custom Engraved Tumbler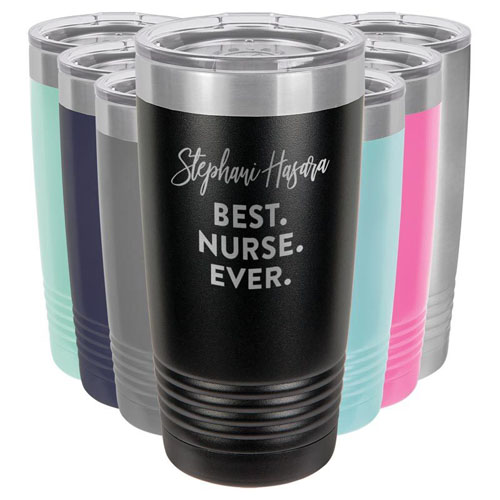 These custom engraved tumblers are another thoughtful gift idea from our own collection at Northwest Gifts.
Say thank you to your doctor with one of these personalized Polar Camel tumblers, which can also be customized for those of any medical profession.
Our tumblers come in an array of sizes and colors, including in black, gray, pink and teal. They are vacuum-sealed to keep drinks steaming hot or chilled for hours.
6. Much Needed Vacation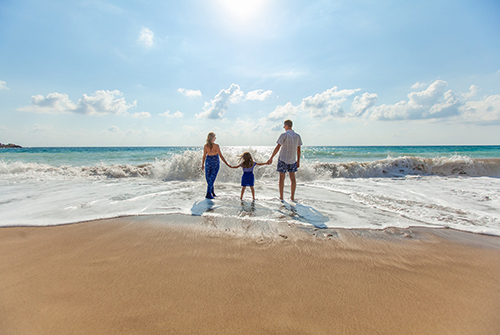 As we know, many doctors and physicians are Class-A workaholics. Whether by choice or by necessity. Those long shifts and sleepless nights can really wear on an individual after a time, and what they really need most is an escape.
Enter getaways from Tinggly! Choose from so many fun options and destinations, and give them the gift of rest and relaxation.
7. Custom Engraved Bird Feeder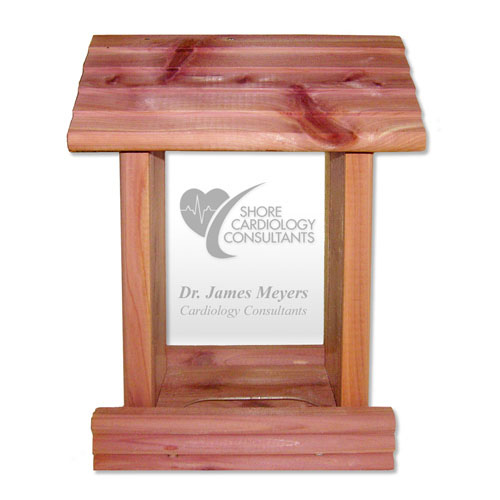 Bring a smile to the face of any doctor with our custom engraved bird feeder. Whether the doctor in your life is retiring, or you just to show them your appreciation for years of quality care, consider this high-quality piece.
We are able to laser engrave any name, design or logo of your choosing onto this bird feeder. It is made of sturdy cedar wood and the panels are acrylic, allowing it to withstand the outdoor elements for years.
8. Anatomy Coasters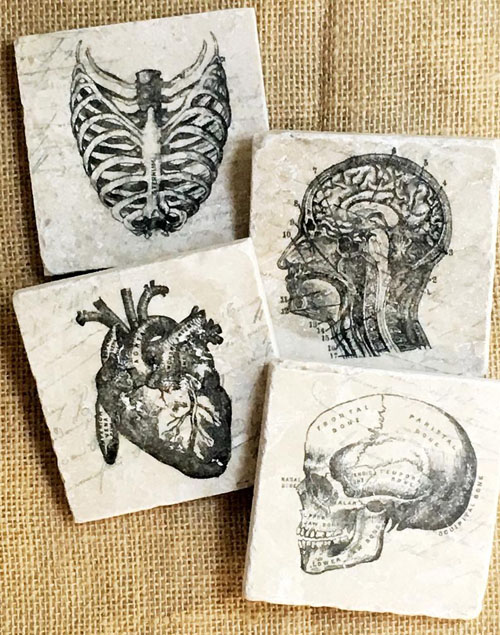 Any doctor would love to have this quality set of anatomy coasters to decorate either their office or their home. This detailed coaster set features sketches of a skull, brain, heart, and rib cage. The sketches are hand printed on tumbled marble.
You have the option of selecting individual coasters, or ordering them as a set. Additionally, you can order the coasters with or without a holder.
9. Gray's Anatomy Leatherbound Book
Henry Gray's classic textbook "Gray's Anatomy" has been staple reading material for doctors since its original publication in 1858.
Say thanks to your doctor by gifting them this keepsake leather bound edition. They can enjoy reading it, or may choose to display it in their office or home library.
10. Self-Heating Ceramic Mug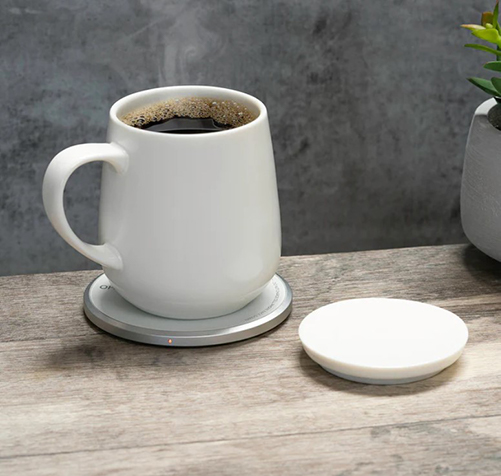 Physicians and caffeinated beverages… is there really much difference? Are they separable even?
Bottom line is that doctors need their coffee (or their tea) and they need it hot. Enter this super cool, self-heated ceramic mug from Brookstone.
They can easily keep their favorite brew piping hot with the innovative coaster, and even better? They can charge their phone with it, too! Now we're talking.
11. Personalized Pediatrician Cartoon Print
Pediatricians have a special place in our hearts, for they care for the most precious people in our lives.
Your child's pediatrician has cared for them since the day you brought them home from the hospital. This adorable cartoon print comes matted and is completely customizable to your doctor.
You can also order it as a magnet or keychain. You get to choose the cartoon doctor's gender, hair color, and skin tone. Add text to customize their name and place of work. A delightful and affordable doctor thank-you gift!
Related: Best Pediatrician Gifts [Ever!]
12. Eye Chart Tie
Optometrists and ophthalmologists don't get near the recognition they deserve! But their work is just as important as the work of other physicians. They know that our eyesight is a precious gift that should be properly cared for.
This cute Snellen eye chart tie makes for a thoughtful thank you gift for your eye doctor. He or she can wear it to jazz up any workday outfit. It is made of 100% microfiber polyester and is standard adult length.
Related: 21 Great Optometrist Gift Ideas
13. Personalized Desk clock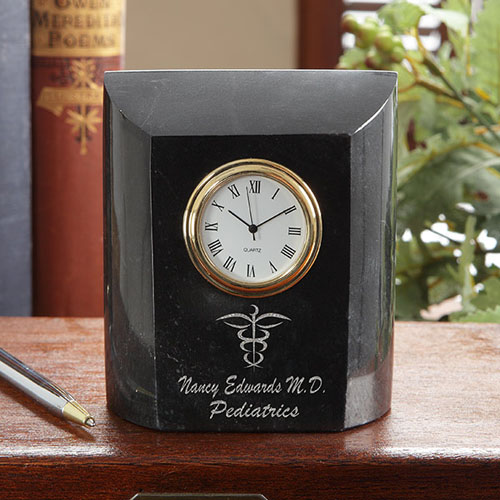 Every good doctor needs to arrive to appointments on time, or risk losing their patients!
To help your doc stay on schedule, gift them this beautiful desk clock. It's made of genuine marble and features a quartz timepiece. It can be customized with any two lines of your choosing.
This marble clock is a thoughtful gift for the doctor in your life, whether they are just starting their practice or retiring.
Related: The 13 Best Doctor Retirement Gifts
14. Stethoscope Brooch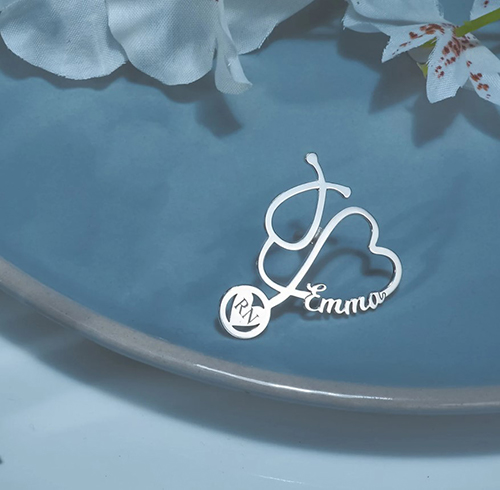 When you think of doctors and the critical work they do, what do you picture? Most likely you see a man or woman in a white coat wearing a stethoscope around their neck!
Stethoscopes have long been the symbol for medical care, and now your doctor can wear it with pride right on their lapel.
This stunning brooch comes in gold, silver, or white gold and is personalized with their name for a sweet touch! This is the ideal thank you gift for doctors!!
15. Dermatologist's Plush
Who doesn't love a super-soft, huggable plush? Your dermatologist is sure to love this one, which is designed to look like a layer of skin with a single hair popping out the top. (Okay-that may not sound cute, but just take a look at that adorable picture above!)
This smiling "skin" plush is made of 100% polyester and comes with a cute educational booklet.
Other types of plushes that will work for other medical specialties:
16. Floral Brain Print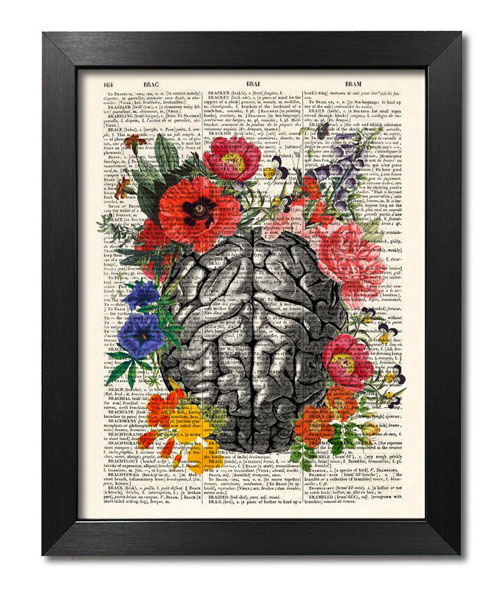 If your doctor is one for vintage style, check out this handmade work of art. A colorful floral design surrounds this detailed sketch of a brain, which sits on a background of classical dictionary paper. Choose from several different sizes.
This makes for a thoughtful gift for your doctor whether he or she is a neurologist, neurosurgeon, psychologist, or psychiatrist.
17. Framed Serenity Prayer
The Serenity Prayer is a classic prayer spoken not only in places of worship, but in schools, at sporting events, at addiction meetings, and in hospitals all over the world. It was first written by theologian Reinhold Niebuhr, and ever since then has become one of the world's most well-known prayers for peace and guidance.
The Doctor's Serenity Prayer is from Peter Townsend's Irish Collection and is available in four different sizes. You may personalize it with your doctor's name upon request. It arrives set into a dark walnut frame.
18. OBGYN Tote Bag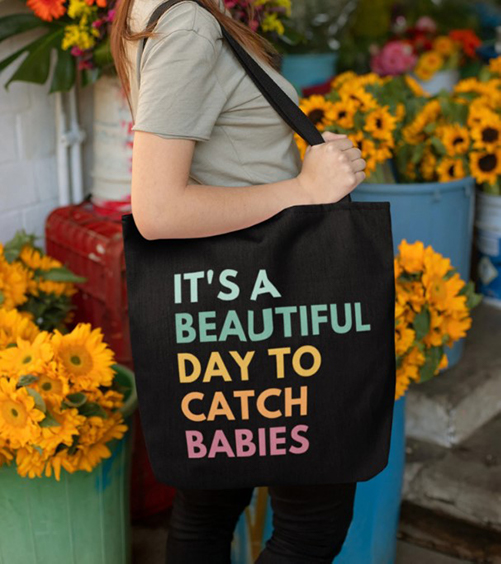 A good OBGYN is hard to find! You know for sure that you have found the best one when he or she safely delivers your precious bundle of joy into the world. Show your doc your great appreciation with this adorable "baby catcher" tote bag.
More: 21 Brilliant Obstetrician Gifts for OB/GYNs
19. Personalized Vintage Veterinarian Plaque (Other Professions Available)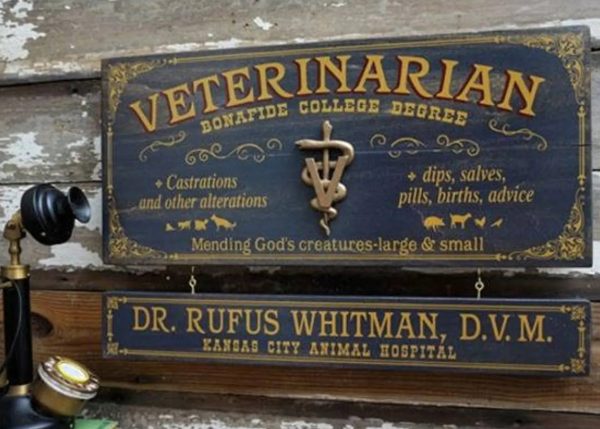 We can't forget to say thank-you to all the wonderful veterinarians out there! This beautiful vintage-style veterinarian's plaque will get the job done. It is hand-distressed to antique-style perfection, and comes with a hanging name board which can be customized with up to two lines.
This stunning medical sign is crafted right here in the USA. It includes a beautiful relief carved centerpiece featuring the Rod of Asclepius.
They have a variety of other medical professions available as well, including:
20. Plagues from History Keychains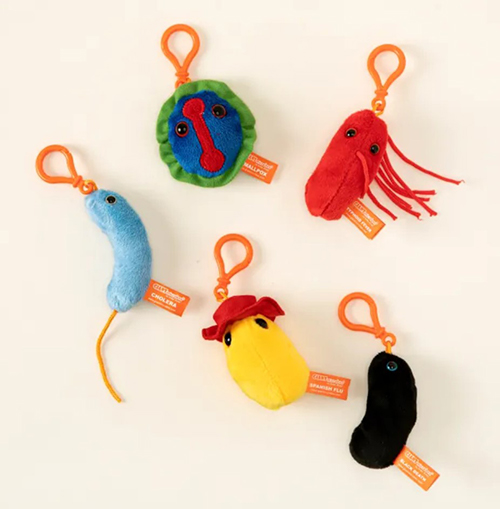 21. Personalized Shadowbox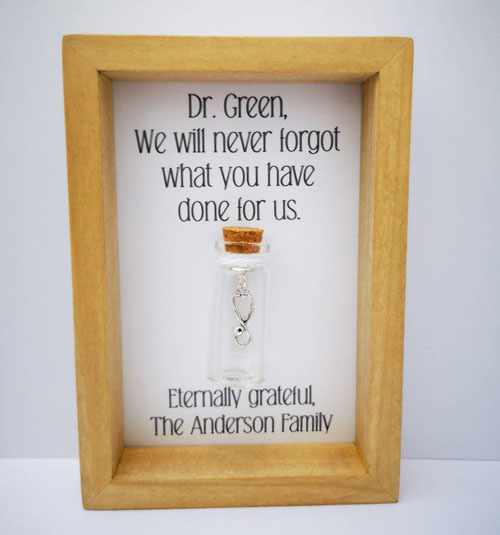 When words fail, this beautiful shadowbox will serve as a lasting thank you to the doctor in your life whom you are especially grateful for. You are able to customize the text however you like. It will arrive in a pretty tulipwood frame and will also feature the universal symbol of the stethoscope, held carefully within a little glass bottle.
This little shadowbox is only 15 centimeters in height, making it easy to add it to any office wall or shelf.
Okay, now these are cute. And hilarious. And adorably unsettling. The Plagues from History backpack clip collection is a fun addition to anyone's bag, especially if they have penchant for the quirky things in life.
More Gifts Ideas for Doctors
These are all wonderful, high-quality thank you gifts for doctors to show them your great appreciation.
But for more ideas, just think outside the box! Items such as gift cards, edible creations, wine and snack trays that the whole office will enjoy would also surely be a welcome surprise.
DIY gifts are also a good idea. Put together a gift basket for your doctor, create a candy jar full of their favorite snacks, or put your own artistic skills to use with a beautiful drawing or painting.
Even just writing your doctor a simple thank you note would brighten their day, and serve to remind them that what they do makes a big difference.
We have a massive list of thank you gifts for all occasions, browse that for more great ways to show your appreciation.
If you would like to browse through even more unique and quality gift ideas, take a look at our website, Northwest Gifts! We have many more customizable ideas for you to peruse.