Hiking is a great hobby. Hikers, walkers, and nature lovers know: it's cheaper than therapy, less fussy than enrolling in a self-help course, and not as intimidating as a gym membership. You get to go outside, exercise, connect with nature, and see beautiful sights.
This is why hikers are such a fanatical bunch! If someone in your life (or maybe it's you) needs a most excellent hiking gift, we've scoured the globe (from our perch atop a lofty mountaintop) to get you started.
Ready, set, hike!
10 Best Gifts for Hikers
Our website is supported by our users. We sometimes earn a commission when you click through the affiliate links on our website. See our privacy policy & disclosures for more information.
1. National Parks Checklist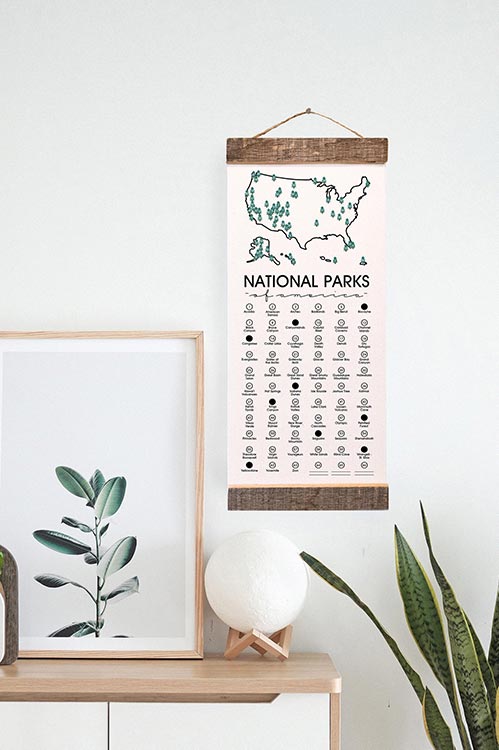 National Parks are a hiker's dream. They're lush, laden with wildlife, and well maintained by your friendly local park ranger.
Crossing off the ones you've been to, and daydreaming about where to head next, you fearless wanderer, you, is a cinch when you have this amazing National Park Checklist. It even comes with its own pen! And it's smallish size means it will fit perfectly in your RV or van (although it would also look cheery and sweet on your home wall).
2. Personalized Pocket Knife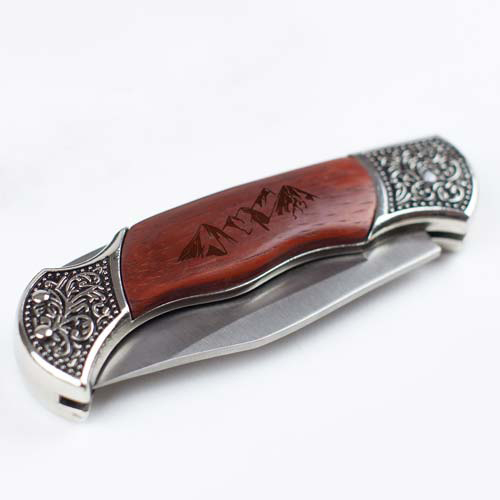 It's always a good idea to be perfectly prepared when hiking, we all know this! After all, you may encounter the perfect fishing hole, a friendly bear who is after your picnic basket, or you know… a crazed serial killer. Ahem. (I watch a lot of crime dramas, don't mind me.)
But in all seriousness, this old fashioned pocket knife, with its beautiful mountain etching, is a great hiking gift for any nature lover. It can be personalized on the back side with their name or initials. Fitting perfectly inside any pocket (hikers have a LOT of pockets, y'all), this hiking knife will be endlessly useful. They'll wonder how they ever got along without it!
3. Trekking the National Parks Board Game
Some days (occasionally months) it's simply too dang cold or wayyyy too hot to go for a hike. What is the avid outdoorsman or woman to do? Well, they hunker down with some trail mix and a good old fashioned board game, like this one! Trekking the National Parks game is a hit with families everywhere, and it's even a Parent's Choice Gold Award winner, plus recommended by Mensa!
4. 52 Hikes a Year Tracking Board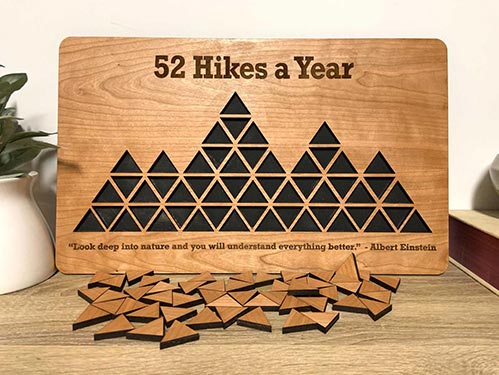 The 52 Hikes a Year Tracking Board is a hit with hikers, and for good reason: it's a fun and beautiful way to keep track of all of your hikes! 52 hikes a year – sounds dreamy, eh? The pieces are snug enough not to fall out, but also easily removable so you start all over next year.
Made from Cherry, Maple, or White Oak, it will be a much-beloved prize for any hiker's birthday, anniversary, or Christmas.
5. Tactical Bracelet
This tactical bracelet is a must-have for hikers! Not only does it include all the gadgets you need for a long trek, it looks cool doing so. Comes with an emergency flashlight, a thermometer, a compass, a fire starter, and a whistle, plus more. Great for kayakers, horseback riders, and campers, too.
6. Custom Trail Map Print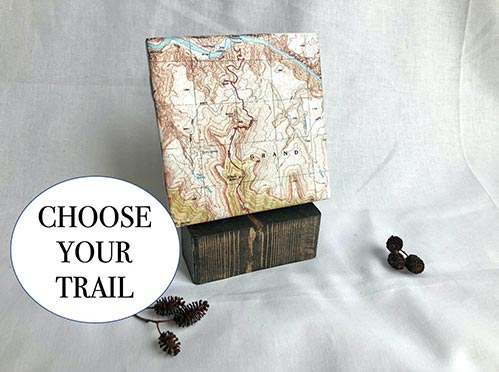 The cool thing about this amazing map gift is how personalized it is: choose your own favorite hiking trail, and the artist will map it out for you to display! This is a gift that will blow your beloved hiker's mind. The pretty wooden stand is also included. Doesn't it look so charming? It will instantly brighten up your space.
7. Personalized Hiking Tumblers with Slide Lid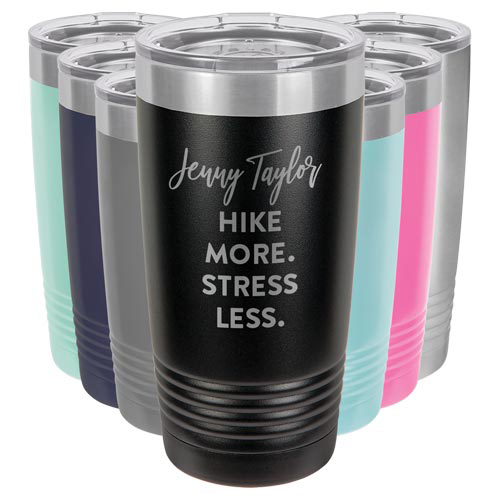 Once you choose from a wide variety of colors, personalize their name on the front, and maybe include some drink packets, you will – voila! – have the perfect gift for your favorite hiker! Whether they use it on cold camping mornings for their cocoa or coffee, or keep your water chilly all day throughout that long summer hike, they'll use this tumbler again and again.
8. Portable Hiking Games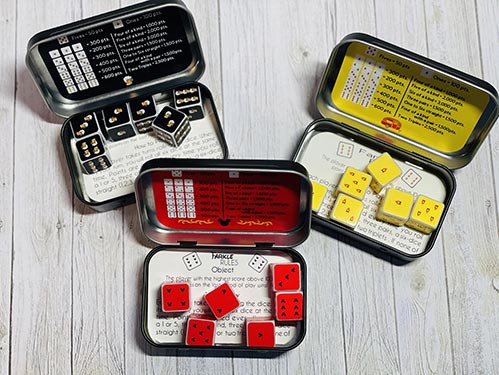 When you need to take a break from the hike, it's fun to have something to occupy your mind! These little travel games are perfect for the picnic table, sitting in your comfiest camp chair, or to tuck inside the RV cabinets. Also fun for road trips!
The little metal tins they come in are perfect for slipping inside your pocket or hip bag. They'll even survive a quick dunk in the water, unlike cardboard (speaking as someone who may or may not have slipped in the river with a pack of cards in their pocket).
9. State Hiker Ornament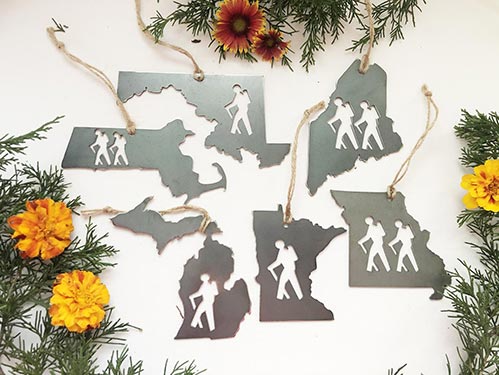 These state hiker ornaments will be a hit with your hiker! They'll look fabulous on their Christmas tree, but don't be surprised if they want to keep them up year 'round, and hang them from their car windshield, in their home window, or dangling from their ceiling fan.
The possibilities are endless! Just know they'll totally love this unique gift.
P.S. They're made from recycled metal!
10. Candles Inspired by the World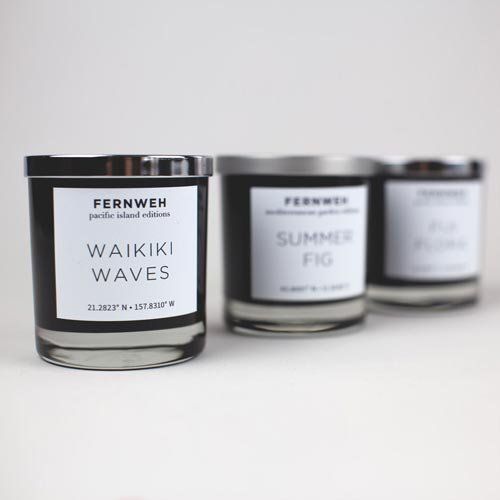 When they ARE at home (which may not be frequently) your hiker will love having one of these delicious scented candles lit. Inspired by the scents and locations all around the world, a set of Fernweh Candles will keep their dreams of travel alive and well, all from the comfort of their own living room!
Gifts for Walkers
11. Redwood Walking Stick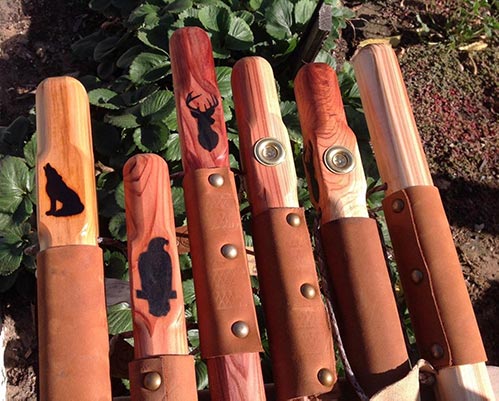 A high quality walking stick is a must-have for every hiker! These rugged-terrain walking sticks are completely gorgeous, and hand-made from redwood. Customized the way you love it most, this will be a much appreciated gift. They'll wonder how they ever got along without one! Don't be surprised if they ask where you found it, as they might want a backup, or to purchase one for their hiking buddy.
12. Personalized Sun Hat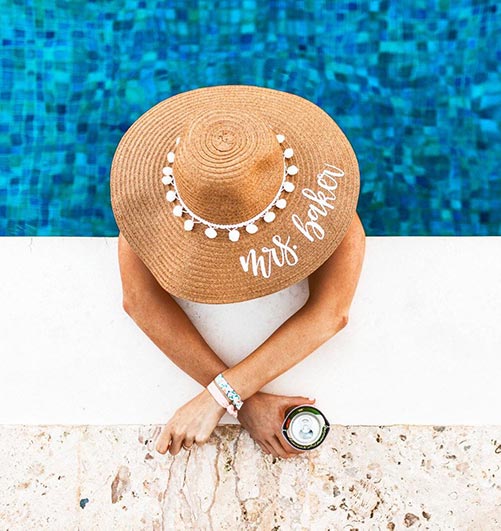 The only problem about a summer hike is the gorgeous sun beating down on your noggin! If you're allergic to sunscreen, or hate the way it drips down in your sweaty face, then a sun hat is the perfect alternative. Plus, you'll look absolutely stellar and oh-so chic wearing this adorable floppy beach hat.
13. Personalized Shoelace Tags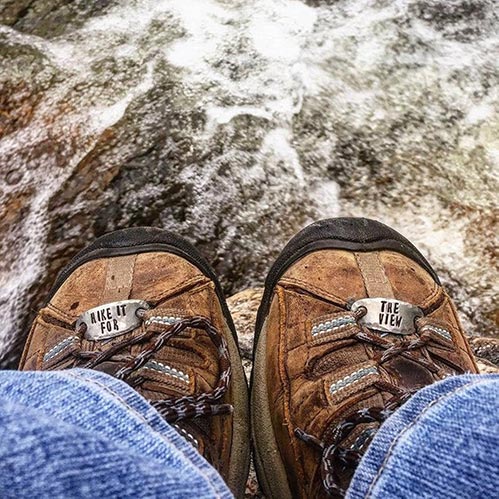 Hand-stamped to say something delightful of your choosing, these cute shoelace tags will take your ordinary hiking boots and make them extra special. A fun and easy way to show someone how well you know them! It would also be fun to get matching ones for your hiking buddy, so even if you are hiking separately, you'll think fondly of one another.
14. Designer Rain & Winter Boots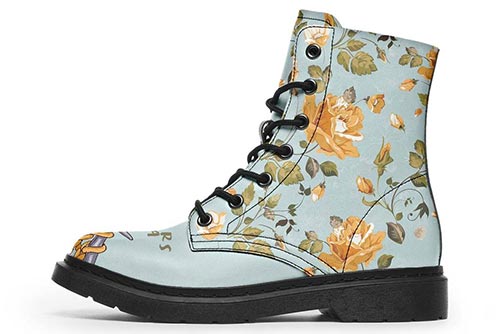 Just because you're an enthusiastic walker doesn't mean you have to leave fashion at home during a rainy day walk! These gorgeous rain boots are all the rage, and for good reason: they're functional and a real eye-catcher. Keep your nature lover's feet toasty, dry, and comfy on those unpredictable autumnal or springtime walks with this fun gift.
15. Hands Free Leash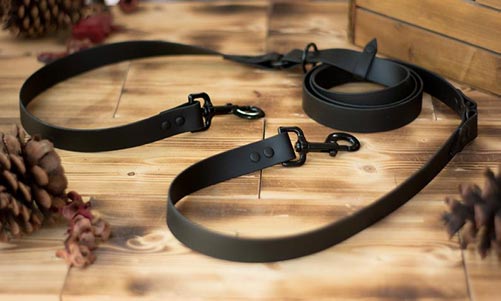 Taking man's best friend is a must as a hiker! But the holding on the leash can be a real drag, especially when you're trying to:
A. open a granola bar,
B. take a selfie on a mountaintop, or
C. need to tie your shoe.
So this hands-free leash comes to the rescue! Keep Fido close but safe, and keep both your hands free to do other things (cuz sometimes you need TWO granola bars).
16. Handheld GPS Navigator
Hikes are so much more fun when you don't get lost, envision being on the five o'clock news, and wonder if you can make a shelter… not that we've ever had that happen… ahem.
This handheld navigator by Garmin is a total life-saver. We didn't necessarily mean that literally, but then again, you never know! Feel free to explore and go on adventures, knowing you can find your way safely back to your car whenever you like.
17. Bear Bell
Guess who's coming to dinner? Um, not you!! Warning bears and other animals of your presence can be a lifesaver when hiking in the wilderness. This bear bell won't take up much space as you enjoy a forest hike. Also great to attach to your dog's collar, or little one's backpack.
18. Trail Journal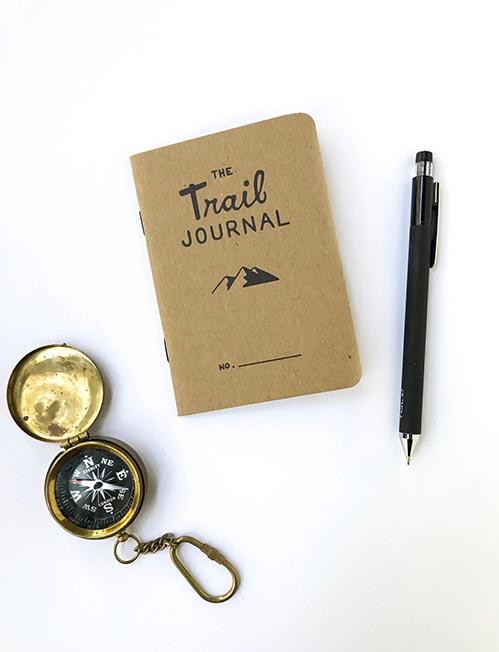 This trail journal is such a fun new tradition to add to your hikes! Keeping track of your trails, maps, thoughts, and even sketches, brings to life all of your best hikes. Easily tucked inside your backpack or kept in your glove box, you'll find yourself referring again and again to what you've jotted down.
19. Flip Belt
Who wants to bring along a bulky backpack when walking, hiking, or trail running? On the other hand, where are you going to stash your water bottle, car keys, and phone? Not to mention, lip balm, and a snack?! To the rescue comes this amazing FlipBelt.
Often replicated, but never quite duplicated, this clever belt will hold all of the aforementioned, plus any other necessities you might need (a poop bag for Spot, a pocket knife, pepper spray, etc). They come in a variety of colors and sizes, making them perfectly unisex.
20. Dog Walking Bags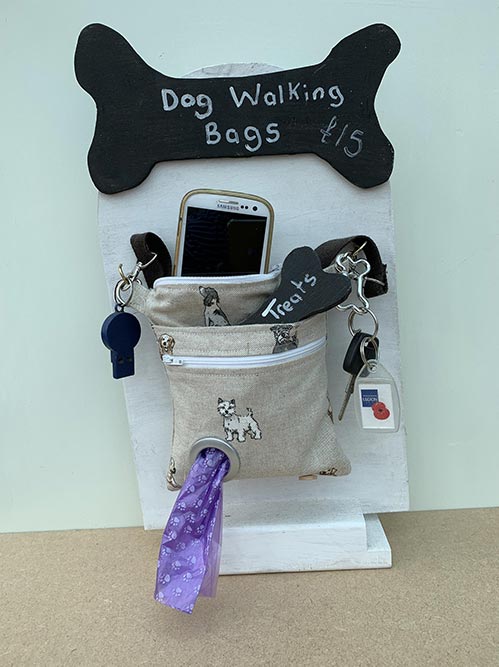 If your best hiking bud is your doggo, you'll love owning and using this great dog walking bag! It holds everything you need for your BFF, plus maybe a snack or two for yourself. Keep your phone and keys safe, have a poop bag at the ready, and tuck in a collapsible water bowl, too.
Related: Best Dog Walker Gift Ideas
Hiking Gifts for Him
21. Personalized Bottle Opener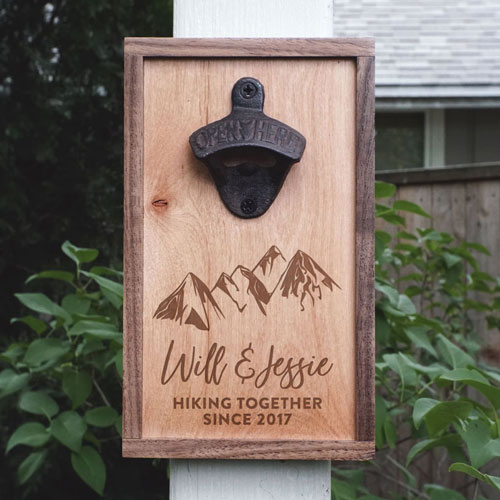 When he DOES stay home for a weekend, he'll love having this custom engraved bottle opener at the ready! Whether a cold soda is his thing, or a craft brewsky (does anyone call them that anymore? Dang, sorry… I apologize), he'll be using this fabulous opener for years and years to come. Made of walnut and maple wood, and personalized with his own name/nickname/logo.
22. Favorite Hiking Buddies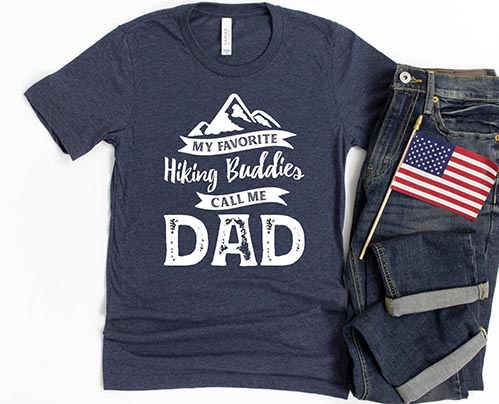 A great gift for Father's Day or his birthday (or just because you love him), this sweet shirt is sure to be his new favorite! The soft cotton won't chafe on a hot day, and it will look great with his cargo pants or shorts. He'll love boasting about his loving family with this tee, which reads, "My favorite hiking buddies call me DAD."
Related: Best First Father's Day Gift Ideas
23. Ultra Thin Wallet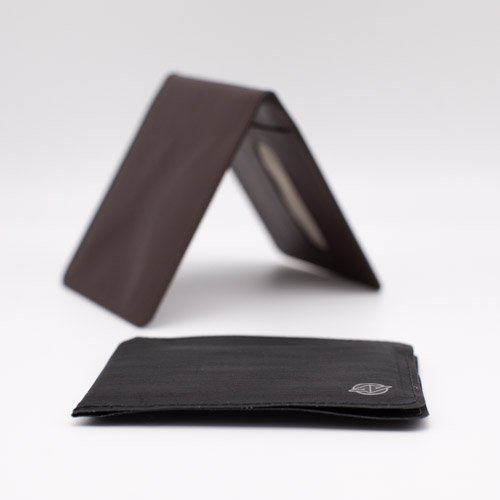 Sure, you might not need a wallet where you're going (there's no Starbucks at the top of this mountain), but it's not the safest to leave it in your car either. Enter in this ultra thin and lightweight wallet. Easily keep your valuables in your pocket without sacrificing too much pocket space, or having a bulky, heavy wallet weighing your down.
24. Ultra Light Weight Sleeping Bag
For the hiker who likes to make a whole weekend out of it, a lightweight sleeping bag is just the ticket! Make your camp spot anywhere you like when you have this compact sleeping bag with you. It makes sleeping under the stars just a little more doable.
25. Personalized Canvas & Leather Backpack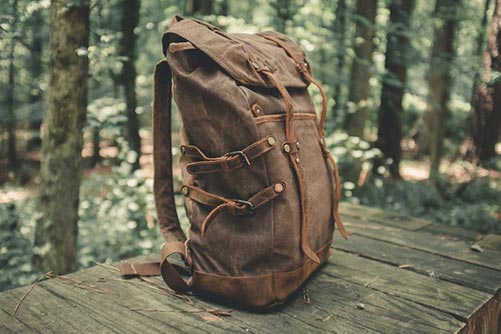 This personalized leather backpack will make him feel (and look) like a model for J. Crew! It's as good looking and striking as it is functional and useful. With plenty of pockets and space for all your necessities, you'll wonder how you ever got caught dead with that old ugly backpack you used to lug around. Plus, you can choose from free personalization on the pack itself, or a customized key chain.
Hiking Gifts for Her
26. Walk More Worry Less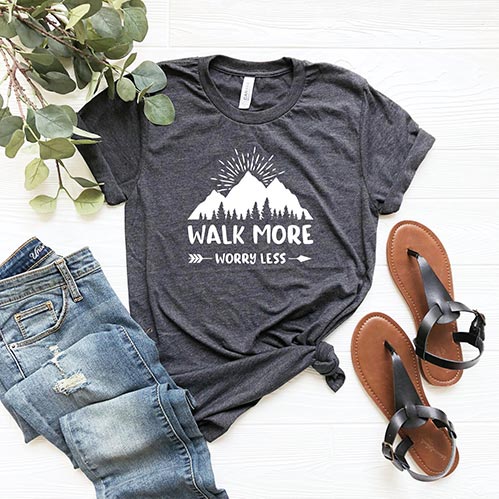 This soft and comfy tee is sure to be her new favorite. A gentle reminder and oh-so true – walk more, worry less. Amen to that!
Easily slipped on over a bathing suit, or paired with her favorite hiking pants, this cute shirt will go with everything. She might want another just for the day this one is in the wash!
27. High Ponytail Cap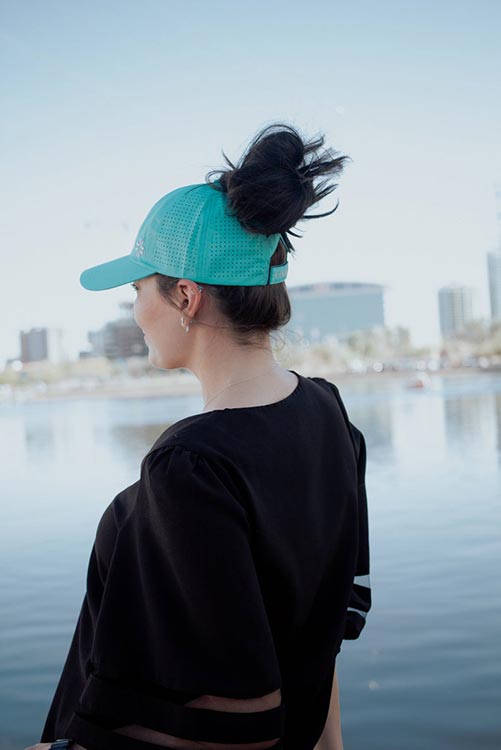 Caps are so great for hiking, but when you have a lot of hair, they're nearly impossible to get comfortable in! This cap, made for a high ponytail, solves the problem and looks so cute while doing so. Highly breathable and comes in a fun Caribbean green color.
28. Hiker Girl Sticker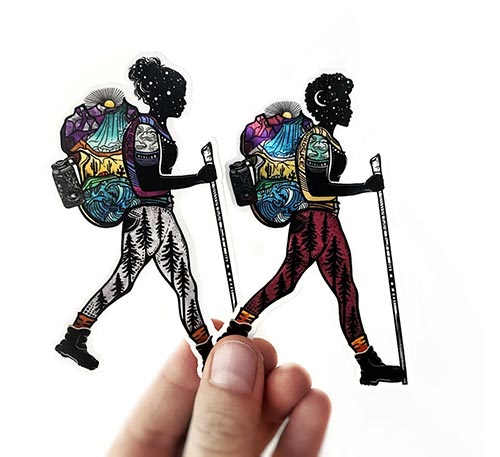 These stickers are a fun way to groovy up your car as you hit the trail! Leave no doubt about what your favorite hobby is. Available in a few different designs, you may as well buy a few. Also, this can be a sweet bonus gift when tucked inside a birthday card. Don't know about you, but we're always looking for mailable gifts that won't break the bank!
Related: 100 Meaningful Gifts for Friends
29. Oversized Scrunchie Wallet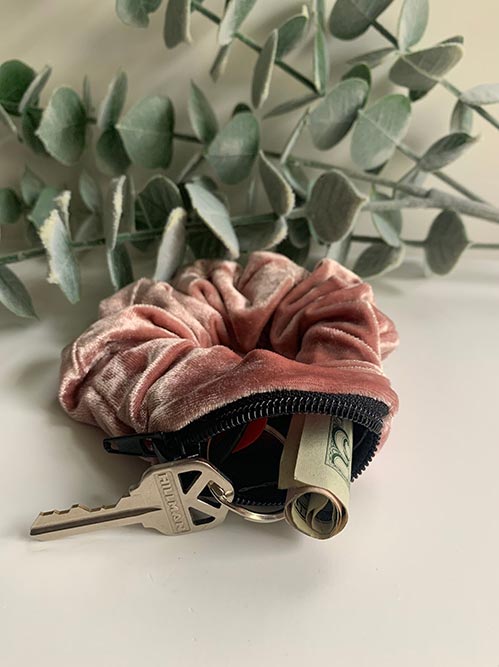 Why did it take so long for someone to invent this?!?!?! I'll take three of every color, puh-leeze and thank you. This oversized velvet scrunchie doesn't just hold your hair, it holds you keys! No more being stabbed in the pocket (or in the bra, can we get an amen?) with your car keys while hiking.
30. Personalized Sunglasses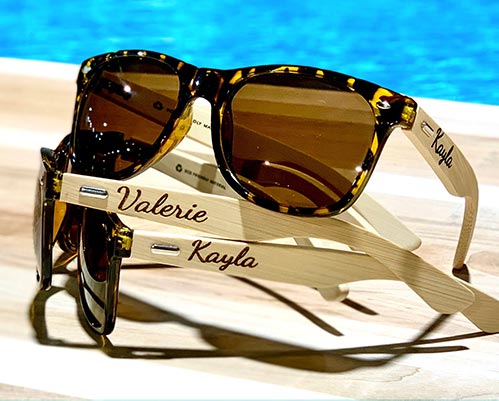 Having a good pair of sunglasses is a must for an avid hiker. These ones aren't just cute and stylish, but they're personalized with her name! She'll love this pair, and love even more that you were thoughtful enough to have them customized.
Hiking Gifts for Couples
31. Personalized Hiking Print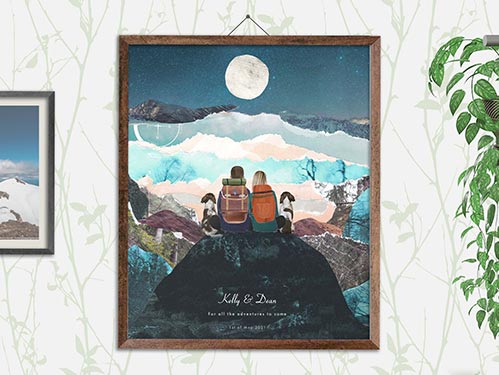 Great for a wedding or an anniversary, if you have a hiking couple in your life, they'll love receiving this adorable print of them! Personalized with their name and date, and you can even add in details, like the color of their hats/hair, or add in their pets or children. A really unique piece of art that they are sure to treasure for years and years to come.
32. Skylight Picture Frame
Keep all of those hiking and adventuring memories alive with the Skylight Picture Frame. Via the magic of wifi, you can swap your latest pics in and out, always updating with snaps from your most recent hike. It keeps all of your memories fresh as a daisy, and won't take up the space that an old-fashioned photo album does.
33. Engraved Bamboo Cutting Board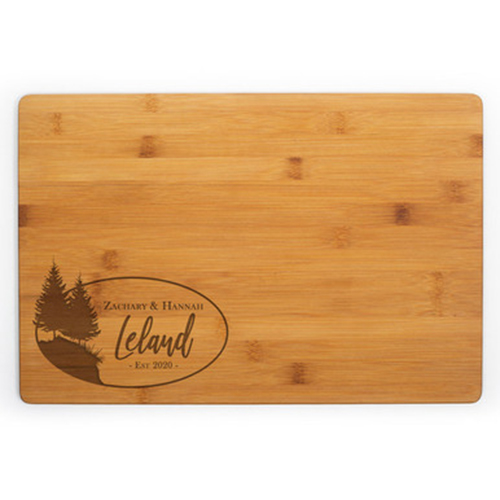 The perfect size to tuck inside the RV or van cupboard, this personalized cutting board is totally useful and also pretty to look at. Made from bamboo and with the sweetest rustic looking tree, it makes slicing cheese, chopping apples, or dicing garlic a breeze.
34. Paid Hiking Vacation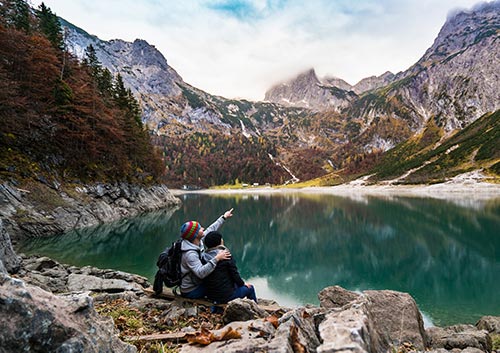 Give them an adventure instead of a gift-wrapped present! This particular one is in Rocky Mountain National Park and includes:
Local expert hiking guide
Transportation
Tasty sandwich lunch
Water Refill
Lunch
Snowshoes/YakTracks if needed
Entry/Admission – Bear Lake
Entry/Admission – Gem Lake
The "experience gifts" from Tinggly are even more flexible because it allows the recipient to choose their own adventure, whether near or far. With thousands of thrilling tours and activities all over the world, the options are limitless! It just might be the perfect gift for hikers.
35. Couple's Hiking Ornament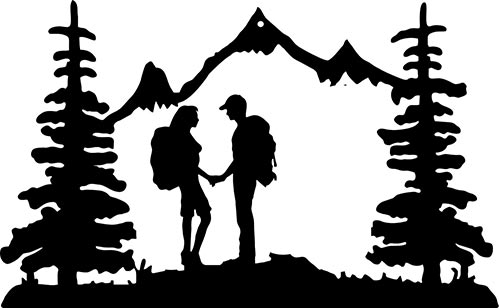 They'll love this gorgeous forest-and-mountain themed ornament! It's totally "them," with its rustic, rugged metal outline and the silhouette of the adventuring couple. It will definitely make them want to plan their next hike!
Unique Hiking Gifts
36. Carabiner Mug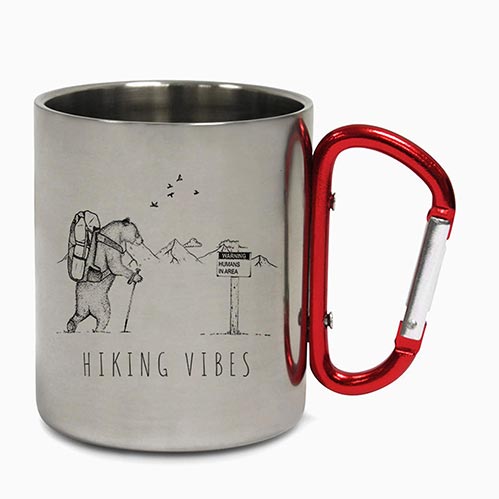 This cute mug with its carabiner handle will make them smile! The sweet etching and the metal mug make for the perfect drinking buddy. Whether it goes along on the camping trip, or stays in the home kitchen where it inspires the next journey, is up to them.
37. Outdoor Personal Hygiene Pack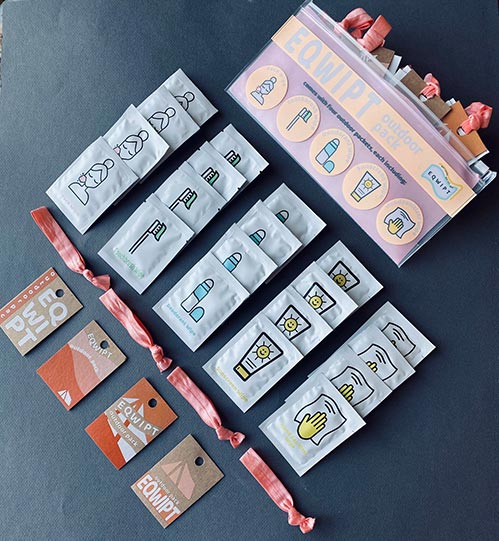 Easy to slip inside your fanny pack or pocket, these indispensable little pouches are a God-send! Have everything you need for a personal hygiene "emergency" right at your fingertips. Totally great for anyone, but we can really see a mom of littles finding these to be a must-have!
38. Pocket Spice Kit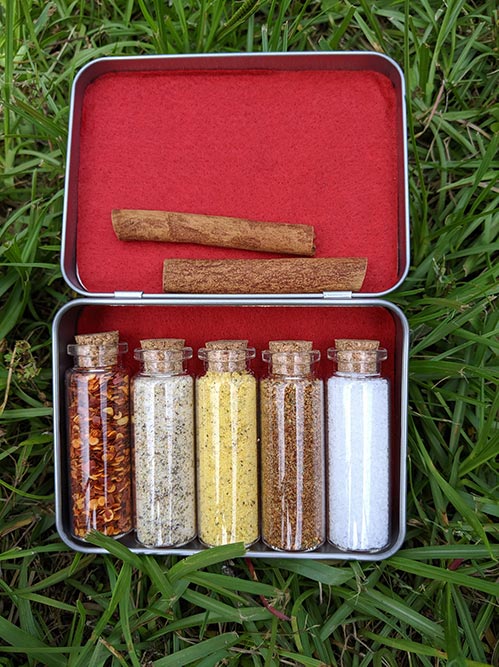 This cute little tin of spices is a great gift for the fisher-person, hunter, or scavenger! Just because you're in the wilderness doesn't mean you won't get hungry, and if you're hungry, you need some seasonings to spice up your life. This little collection won't take up a lot of space and will be enjoyed for many, many hikes.
39. Make-Anywhere Pour Over Coffee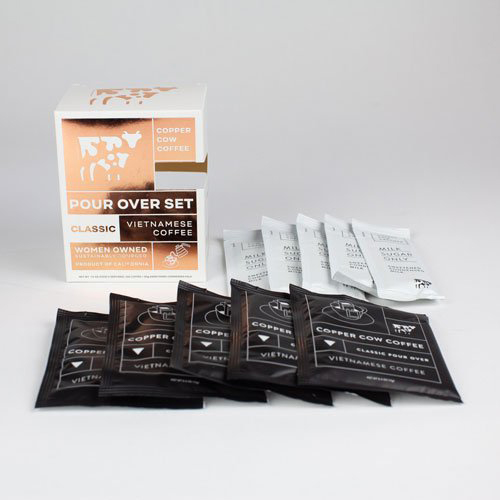 Java, java, java! When you need a cup, you NEED a cup. This pour-over coffee set makes brewing a fresh mug easy-peasy. And it's delightfully rich and tasty!
40. Freeze Dried Starburst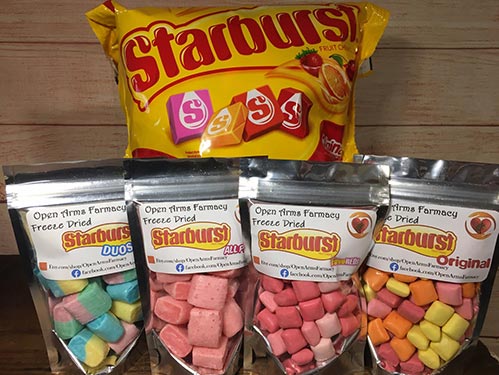 A pop of sugar might be just what you need to get the energy to make it over that last hill top! These freeze dried Starburst candies are perfect for a quick snack. The yummy flavors are melt-in-your-mouth.
10 More Must-Have Hiking Accessories
Bonus: Our Favorite Gift for Nature Lovers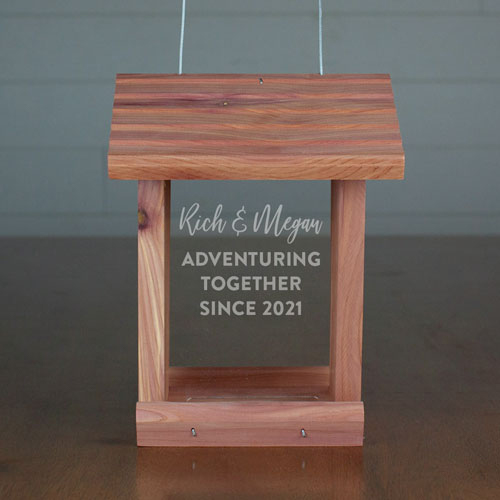 When your favorite DOES stay home once in a while, they still love to outdoors more than most, right? Keep them swinging on the porch happily, when they have some lovely birds to feed and admire. This personalized bird feeder is made of cedar wood, and has a nice large compartment for the yummiest of seeds.
Read Next: Camping Gift Guide + Printable Checklist