Writers are a funny breed, aren't we?
Getting one of us a gift isn't as easy as it seems, either.
First of all, if the gift is remotely distracting, we'll just procrastinate our deadlines away and you'll be in hot water. Secondly, we're a bundle of witty, funny, romantic, tragic nerves. So don't get us anything that we'll be too attached to.
I know. It's hard. And it doesn't make any sense.
That's why we did the footwork for you. So, from one writer to… uh, whoever you are… mom? Is that you? Anyways, if you have a writer somewhere in your life, scroll down for some great ideas that they'll love!
(And yes, I not only write here and elsewhere on the internet, I also write books. Sometimes.)
25 Best Gifts for Writers
Our website is supported by our users. We sometimes earn a commission when you click through the affiliate links on our website. See our privacy policy & disclosures for more information.
1. Tea Inspired by Books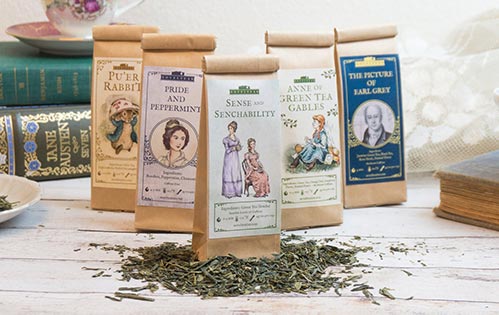 Sure, coffee is nice, but a cup of tea hits all the right notes for a busy writer! Whether they need to soothe their nerves after killing off their favorite character, or get a boost of energy when writing a sleepy chapter, your favorite author will love this adorable tea gift set.
The witty titles are worth the price alone, but the tea itself is delicious, AND it comes with a bookmark!
2. Best. Author. Ever. Tumbler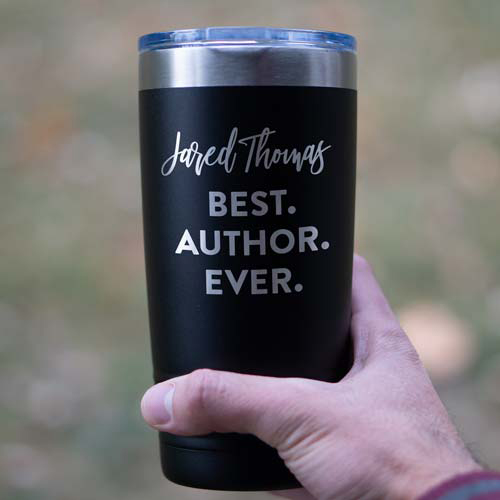 When a bad review gets them down, have them reach for this sweet reminder: they're the best and most favorite writer around!
This custom engraved and vacuumed sealed tumbler is available in a wide variety of colors. It will keep their morning coffee hot all day when they're barely looked up from the keyboard, or their ice water cold when they need to stay hydrated as they churn out that final chapter.
3. Future Bestselling Author Sticker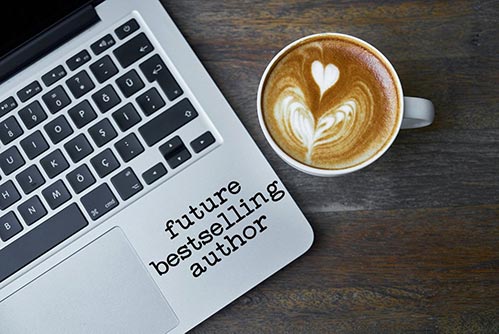 This future bestselling author sticker/decal will make them smile every time they see it! From your lips (er, sticker) to God's ears, right?
It would be sweeter than sweet to sneak a couple of these onto surfaces, and watch their reaction!
4. Electric Hand Massager
Side effects of being a writer: headaches from staring at the screen, bemoaning bad reviews, carpal tunnel syndrome from too much typing, a peculiar search engine history, and cramps from sitting in one position for too long!
That's right, we can't do much about the other things, but this nifty little electric hand massager will smooth out all the knots in their hunched shoulders and back. Perfect for when they need a little them-time.
5. Personalized Bookends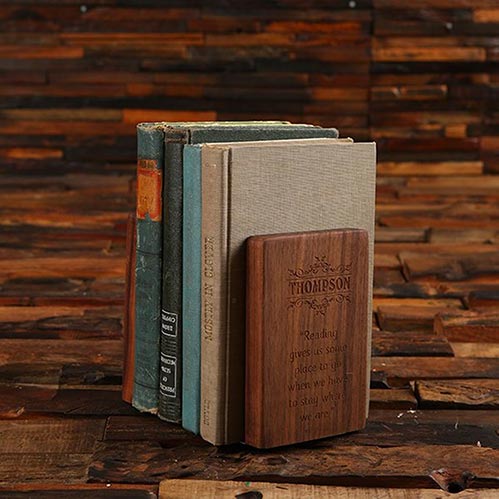 Bookends are a must for the bookworm, and these ones are just so beautiful! Made of black walnut and accented with pretty etching, you can personalize them with their name and a quote from their favorite novel.
They'll definitely want to put these at eye level; all the best to admire.
Related: 23 Awesome Books to Read to Your Son
6. Home Office Lap Desk
Staying organized is key for a writer! They have deadlines, emails, blurbs, query letters, and a million other things to juggle. Why not take a few things off their spinning plates, like an easy-peasy way to comfortably work from a couch, an airport, in the car, or at the hotel?
This clever little desk keeps their mouse, phone, and laptop all in one place.
7. Inspirational Vacation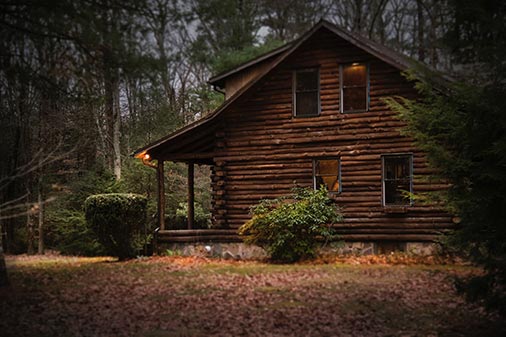 When writer's block rears its ugly old head, sometimes you just need to get away! No, not you, your writer. Well, maybe you too, but this is about them, okay?
Whether you choose something tropical or something local, something elegant or something modern, something outdoorsy or something pampering, we're sure they'll come back home ready to write that great American novel! And maybe dedicate it to you.
Here's how it works:
You purchase a gift package, which is essentially a gift card for the experience of their choice
Prices range from (give or take) under a hundred bucks up to about $300
They redeem for whatever adventure they choose, which could be rock climbing at a nearby gym, a wine tour within easy road trip distance or snorkeling in Hawaii/Mexico/Florida Keys (they'd just need to get themselves there)!
8. Hey Girl Just Write Pillow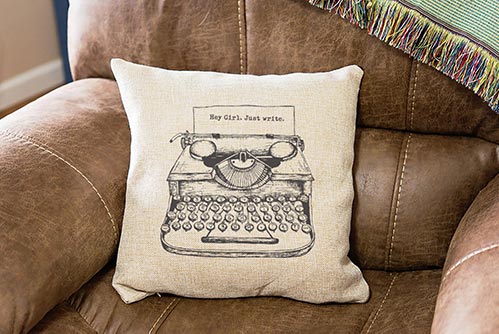 A good reminder, and also a charming and pretty pillow! Whether it's tossed on their bed, the couch, or the rocking chair by the fire, it will bring a bit of charm and whimsy to their décor.
9. Rocket Book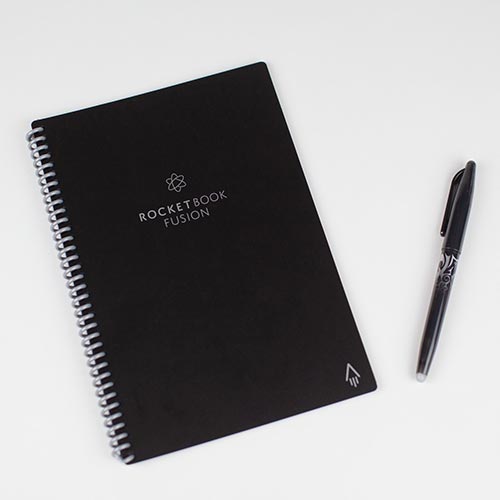 Gone are the days of outlining a book with post-it notes or graphing paper. Who wants to fill up paper notebooks of to-do lists? Nobody, that's who.
Enter in the Fusion, an amazingly smart way to organize all of your lists and ideas: seven different templates connect to their favorite cloud services, while the smooth pen's writings can be wiped clean once they've accomplished their tasks. And it's available in a variety of colors!
10. Stylish Watch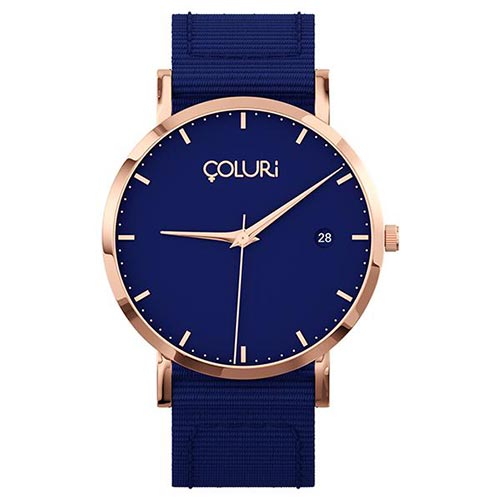 Writers, especially authors, like to remove their pesky and tempting cell phones from the room altogether when they're writing. Not getting distracted by Words with Friends, Facebook, and Goodreads is a good thing, but losing track of time and forgetting to eat is another!
Get them a stylish watch so they can keep an eye on the time, but still not get sucked into a Twitter debate or start pinning recipes for pumpkin spice bread.
Related: Inexpensive Gifts for the Woman Who Has Everything
11. Typewriter Coasters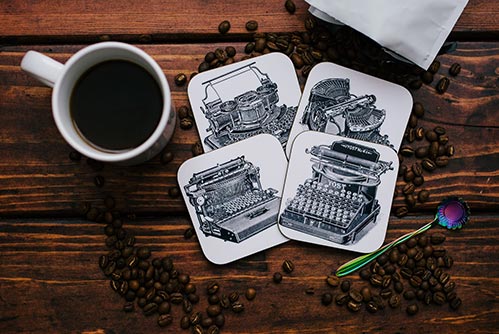 These old-fashioned looking coasters are going to look so great on their coffee table! The vintage design and black and white drawings will go with everything in their house, and they'll love serving drinks to their guests when they have these handy coasters around.
12. Literary Postcard Set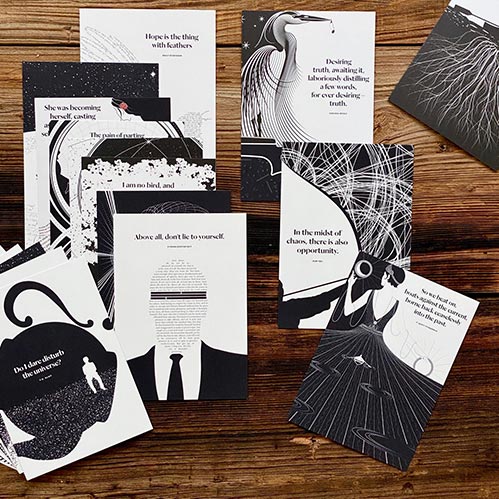 Postcards with best-selling quotes and illustrations? Um, yes, please! This set is so gorgeous we're not sure if they'll want to actually write on them and mail them, or frame them! Maybe get two, just in case?
13. Personalized Leather Journal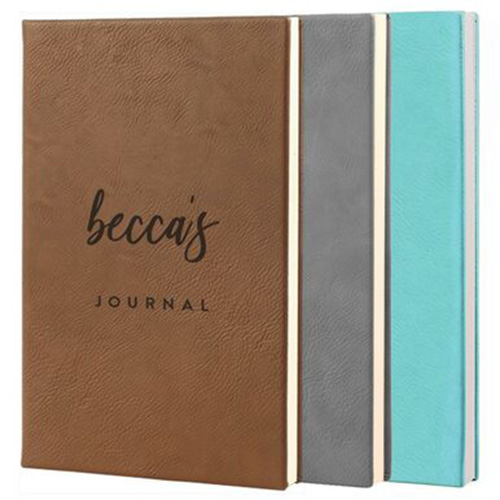 Journals are a prettier way to tuck in all those notes and outlining and to-do lists then the normal notebook. Keep all the random scribbles and doodles at bay with one of these leatherette, personalized journals!
Pick their favorite color and of course, make sure you know how to spell their name.
14. Sony Noise Canceling Headphones
If your writer is working from home alongside a spouse who also works from home, or some children who homeschool, tuning out the noise can be a challenge! Help make it Zen for them with a great pair of noise cancelling headphones like these.
They can listen to soothing Chopin while the kids shout at the X-Box, screen their calls, chat with an important client, or download that podcast about how to become a better writer in twelve easy steps… they might not ever want to take them off!
15. Matte Black Fountain Pen
A fountain pen just oozes creativity and sophistication, especially this one, which is matte black! Somehow that just makes it even better looking.
Whether they use it for signing autographs in their books, take up calligraphy, or simply display them near their vintage typewriter, they'll love this pen.
16. Custom Ex Libris Owl Stamp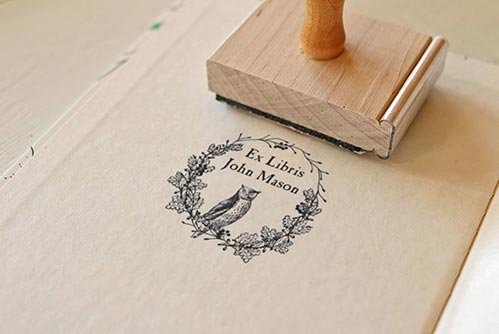 It's old-fashioned, yet adorably in-the-now. This library stamp will make sure all of their book collection never strays too far from their own shelves (a writer and bibliophile's worst nightmare).
17. Famous Writers Tote Bag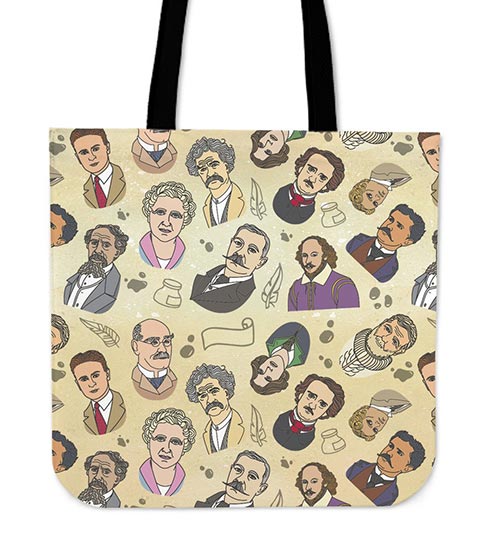 The perfect size for a quick trip to the bookstore, or for using on the beach, this cute linen tote has all of their favorite authors pictured. Let's see how many they can name!
18. Custom Mini Book Necklace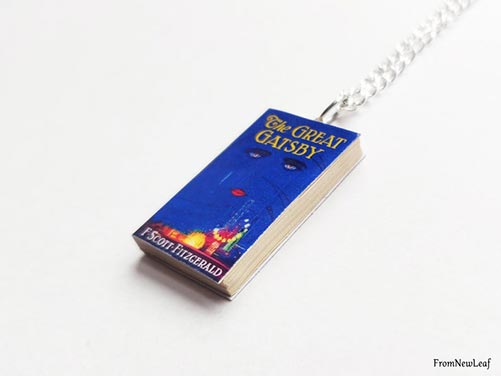 This cool necklace will get so many compliments! The miniature little book hangs from a gold chain, is hand made, and can be made with absolutely any book cover! That's right: choose their favorite novel, or their own novel.
Now, that's a novel idea! Sorry, I couldn't resist.
19. Novel in Progress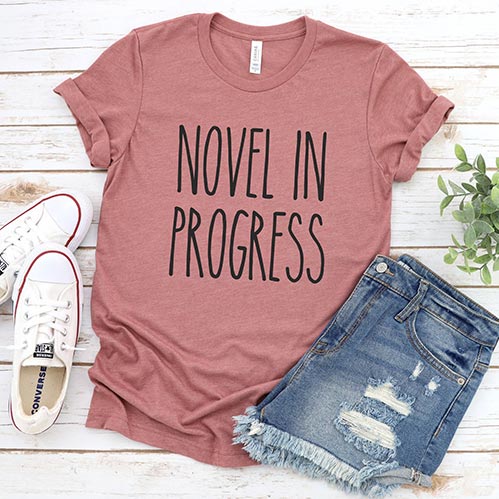 A cheeky way to advertise that she is in fact writing the next bestseller! Soft and cozy with its rosy hue, this shirt is sure to become her new favorite writing uniform, whether she pairs it with jeans or a skirt.
Related: 23 Delightful Books to Read to Your Daughter
20. Mug Warmer for Desk
There's not much worse than taking a sip of what you thought was hot coffee, only to realize you've been writing so intently for three hours that your joe got cold (and that icky film the cream makes at the top? Ew).
This is the perfect solution! Keep it near the laptop and your hot beverage will stay toasty, even if you're trapped in a hideous loop of nonsensical editing.
Related: 50 Warm & Cozy Gifts for the Best Snuggles
21. Writer is a World Trapped in a Person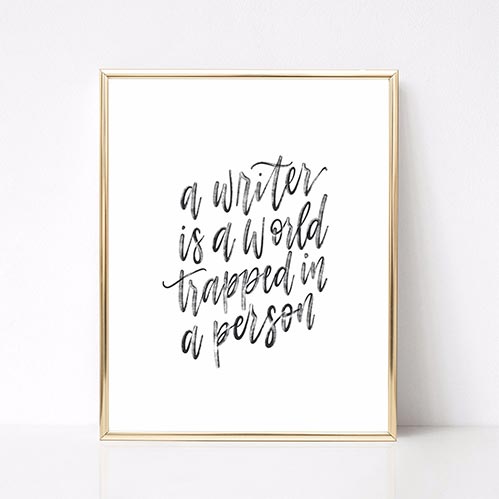 Good to know, and great to remember! A writer IS a whole world trapped in one little person, so make sure they know you see them. This pretty print will look great mounted above their couch, desk, or bed.
22. Prompt Me: Creative Writing Book
Sometimes you have to put away the serious stuff, and journal it out to get those creative juices flowing again! This notebook of writing props is just the thing when they find themselves fighting writer's block, or need a new idea for Chapter Seven.
23. Travel-Inspired Scented Candles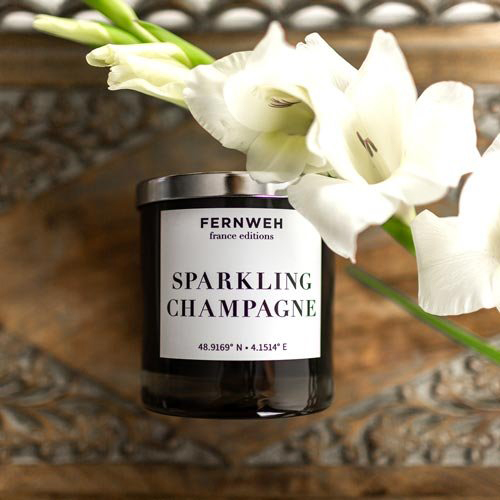 Travel from the comfort of their own bed or chair with these delightful travel-inspired candles!
Whether you choose one that you think they'll fall for, or a whole set to place around the house, we know they're going to love these and the way they light up a room with a soft glow. And the smells!
24. Work-In-Progress Guidebook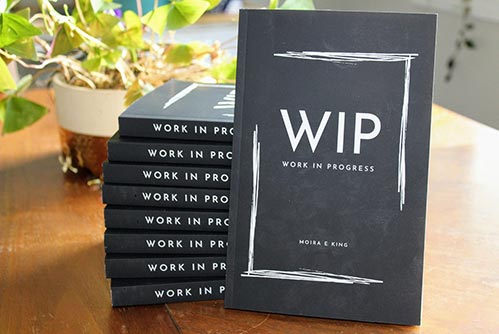 Get out of your head and onto the page with this clever and unusual journal.
It's meant to be scribbled in, doodled in, bent backwards, dogeared, and all of the other things you'd normally never consider doing to a beloved book! What it does is get some fabulous ideas brewing, some questions answered, and some motivation sparked.
25. Writer's Block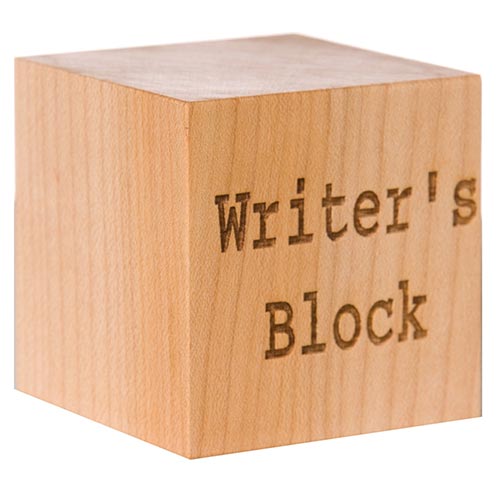 When in doubt, make 'em laugh with an amusing and "punny" gift. Plus, they can use this to smack their heads into when they really do run into a bad case of writer's block. In the meantime, it makes a funny decoration and a great paperweight!
Read Next: 21 Best Librarian Gifts for Book Lovers and Bibliothecaries
Pin It