Last Updated on July 31, 2020
Today we're going to be talking about Father's Day gifts, because it's just about that time of year again.
Hard to believe, right?
If you're like a lot of people, sometimes it can seem difficult to shop for your dad. That's because, well, you love your dad, and each year you strive to find that one special gift that you just know he'll love… instead of the same old hair pomade, tie or gift card.
Not that there's anything wrong with any of those items if that's what your dad really likes!
But if you feel like you always come up short in the gift-giving arena (even though your dad always says he loves what you get him no matter what it is), take a look through these awesome Father's Day gift ideas we've curated for you.
We've searched high and low on the interwebs to come up with this list featuring 21 of the best and most memorable Father's Day gifts we could find. These are creative ideas perfect not only for your own dad, but for any other amazing fathers in your life that you want to recognize.
If that sounds good to you, let's get started!
Our 21 Favorite Father's Day Gifts
Our website is supported by our users. We sometimes earn a commission when you click through the affiliate links on our website. Learn more here.
1. Official Wilson NFL Football
Unless your pops just isn't into ball games, when it comes to Father's Day gifts, you just can't go wrong with anything sports-related.
Amirite?!
When it gets down to it, the most basic of all sports-themed gifts may just have to be a good, old-fashioned football.
If you're going to give your dad a football, make sure it's a real one, like this official size Wilson NFL super-grip football. Your dad will enjoy throwing around this brand new pigskin in the backyard with you…talk about nostalgia!
2. Custom Engraved Wall-Mounted Bottle Opener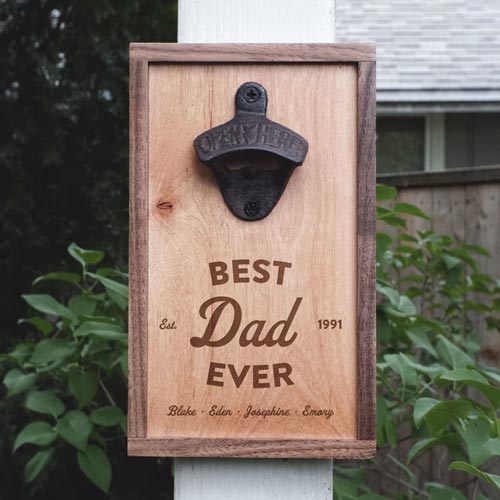 The best Dad ever deserves the best gift ever for Father's Day. If your dad loves to kick back his feet with a cold one in hand after a long day, this wall-mounted bottle opener from Northwest Gifts will take the cake.
Our hand-crafted and personalized bottle opener comes ready to mount, and is custom engraved to read "Best Dad Ever" along with your father's name and/or the names of his kids.
This is just one of many designs, and we can also completely customize these openers with any text you want. Shop all designs here.
3. "Best Dad Ever" Personalized Tumbler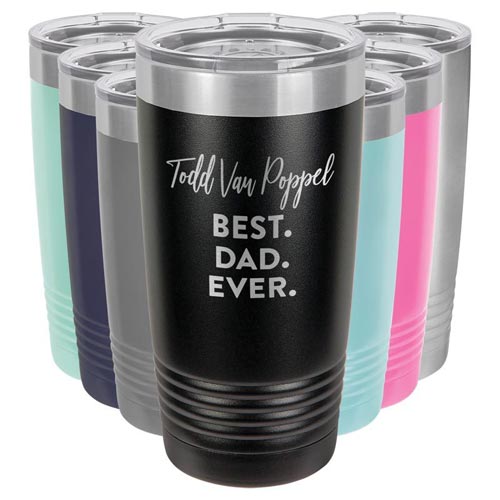 Another great gift idea for the world's greatest dad this Father's Day is this high-performance tumbler from Northwest Gifts.
The mug includes free personalization to feature your dad's name as well as the moniker "Best Dad Ever." Or anything else you like:
First Father's Day 2020
Best. Farter. Ever.
Dad of the Year
The Man. The Myth. The Legend.
This tumbler is comparable to the more expensive YETI brand tumblers. It is both vacuum-sealed and double-walled, which means that it will keep drinks hot or cold for hours on end, and it comes with a transparent lid.
His new Father's Day gift tumbler will make him smile every day as he uses it to keep his coffee hot or his ice tea chilled. It's the perfect gift!
4. Custom Engraved Bird Feeder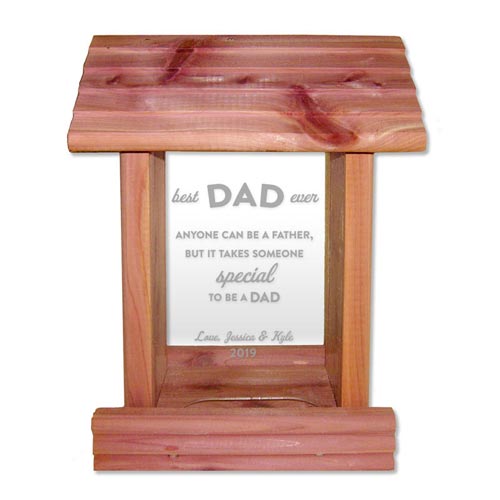 For the dad who enjoys being one with nature (or just sitting on the back porch listening to the birds sing), choose this custom-engraved bird feeder also from Northwest Gifts.
The spacious bird feeder is constructed of aromatic cedar wood to ensure that it lasts for years to come. "Best Dad Ever" is laser-engraved on the front acrylic panel, along with any other text you'd like it to say. Get yours here.
5. Personalized Whiskey Distillery Barrel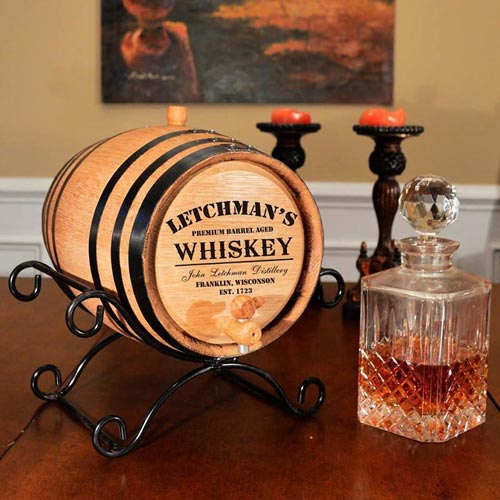 Looking for something a little more fancy to show your appreciation for good ol' Dad on Father's Day? Then take a close look at a gorgeous piece of woodwork.
This oak whiskey distillery barrel is 100% functional, meaning that your dad could totally age his own whiskey using it. It also comes personalized, making it that much more cool. Choose between several different sizes with different stand options.
6. Commissioned Portrait from a Talented Artist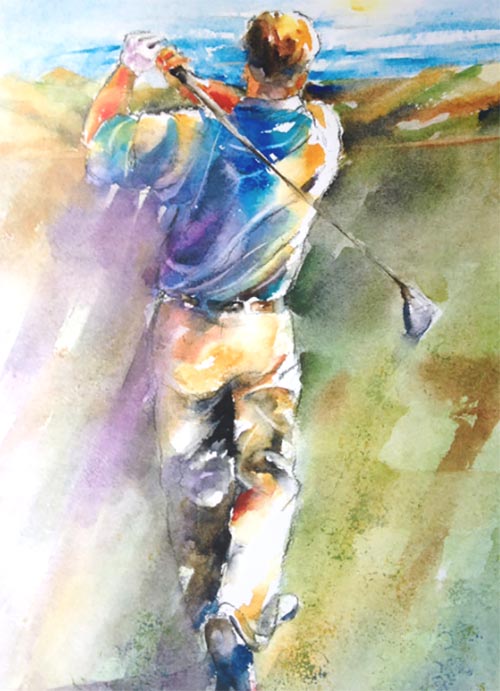 The artist Mary Ann uses her God-given talent to create stunning custom portraits for her clients. All you have to do is provide a photo from which you would like for her to base her work, and she will in turn create for you a one-of-a-kind watercolor masterpiece.
Here's a favorite father-daughter portrait: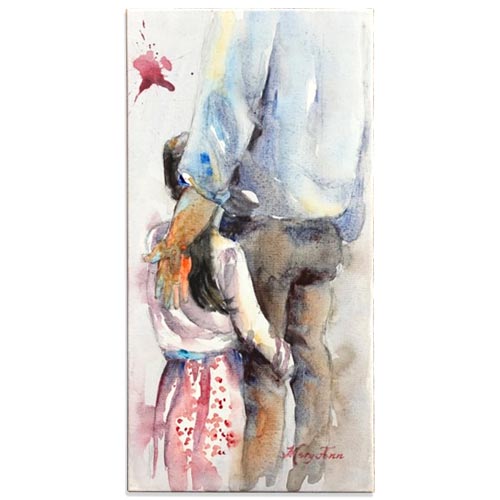 This is the type of gift that your dad is sure to cherish not only on Father's Day, but for a lifetime. If you can't afford to commission Mary Ann or a similar local artist, consider one of many talented but much more affordable artists found on Etsy.
7. Wireless Meat Thermometer
Whether your dad is a certified grill master or just likes to be in charge of the turkey on Thanksgiving, this is the Father's Day gift for him.
This digital cooking thermometer from ThermoPro implements a light and audio system letting him know when the meat has reached optimum temperature, making it super easy to use.
Among other cool features, it has a built-in wireless range of up to 300 feet, meaning that he can relax in the living room or wherever while waiting on the oven or grill.
8. Restaurant Grade Propane Grill
Okay… a propane grill may seem like a stereotypical Father's Day gift, we get it. But when it's as awesome as this one, you may not be able to pass it up.
Here we have a restaurant-grade Blackstone grill with a removable flat-top instead of the typical grilling bars. This makes it so much easier for your dad to cook up (and clean up) whatever his heart desires, plus the griddle top gives him so many more options for cooking the perfect dishes!
The grill includes four adjustable stainless steel burners as well as an electric start button.
9. Whiskey Bar Quarter Barrel Coffee Table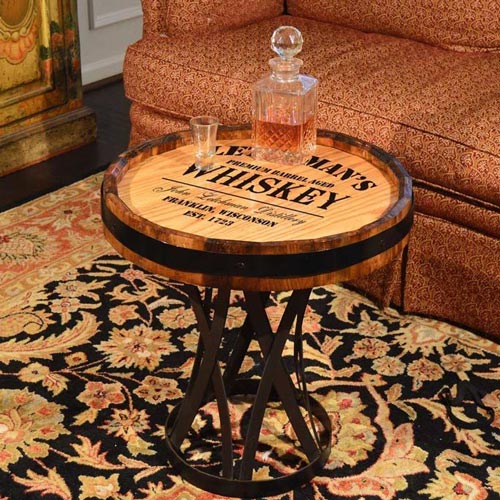 Here is another classy Father's Day gift idea that has just a touch of fancy and a whole lot of rustic.
This whiskey bar quarter barrel coffee table will add an old-style pub feel to your dad's man cave or home bar… a touch he is sure to appreciate!
You have the option of personalizing it to feature your dad's name as well as the name, location, and establishment date of his "distillery." This unique coffee table measure 21″ in diameter and is sure to garner him many compliments.
10. Vinyl Record Bookends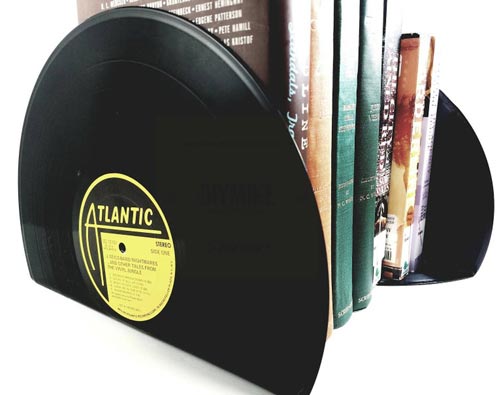 Is your dad a music lover? Does he have an expansive collection of albums that he still enjoys playing on his old record player? If so, then imagine his face when he sees what you got him this Father's Day: a pair of bookends made from real vinyl records.
If you go with this gift, you can choose between two different bookend styles, both perfect for showcasing either books or other records.
11. Memory Book for Dad
It can be hard to think of our fathers as individuals who once had a life before us, but it's true.
Your dad was once a little boy, then a teenager, then a young adult. During those years he collected unforgettable memories that you probably know absolutely nothing about.
This Father's Day, let him know that you want to know more about him and his life's journey by gifting him this thoughtful memory book.
He can do the writing, or you can ask the questions from the book directly to your dad and fill in the answers yourself. Either way, your bond with him will be strengthened and you will have a record of your father's legacy to pass down to your own children one day.
12. Personalized Golf Cooler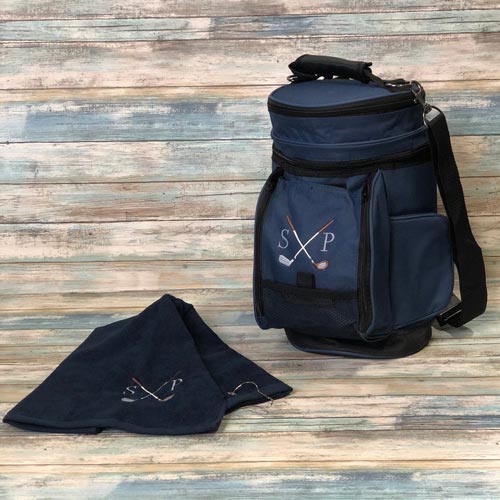 The dad who also plays golf is going to need some refreshments while out on the course.
This Father's Day, think ahead by giving him this golf-themed cooler to hold all his ice-cold drinks while playing a round of eighteen holes.
Your order will come personalized with his initials embroidered onto the fabric along with a motif of two golf clubs. A matching personalized golf towel is also included.
13. Funny T-Shirt for Dad
Father's Day gifts don't all have to be serious or sentimental, of course! Although to be fair, this t-shirt could be taken as either serious or humorous, depending on the dad.
Either way, show your dad that you recognize and respect his greatness with this ultra-soft cotton t-shirt from Texas Tees. Dad: The Man. The Myth. The Legend.
14. Personalized Night Stand Organizer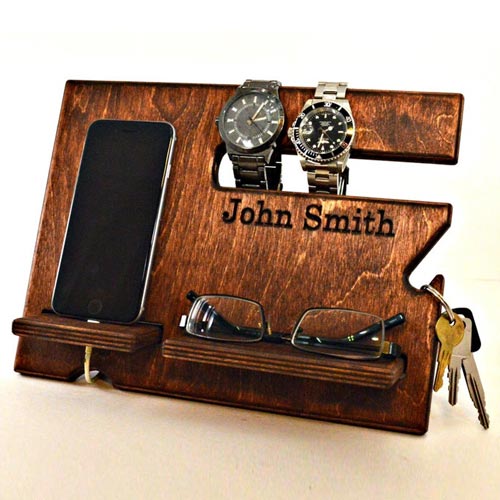 These days it can be difficult to juggle life, work, and all the odds and ends that come with both territories.
So to help out your dad or another dad you know this Father's Day, and surprise them with this night stand organizer so that they can keep all their essentials in one place, ready to go for the next day. There are spots for keys, glasses, watch, cell phone and charger, and anything else they can't do without.
Oh, and it comes personalized, too.
15. Beer Cap Collection Map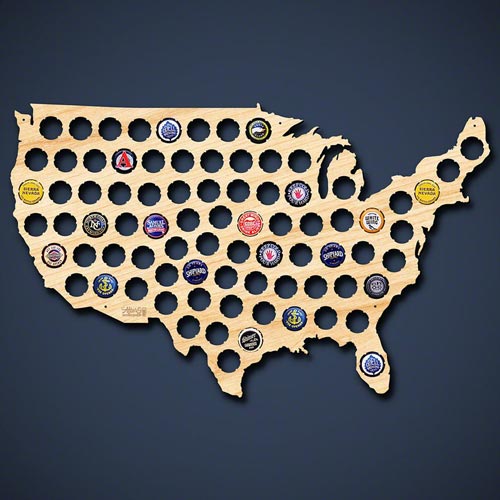 Does your dad have a pretty hefty beer cap collection, but no where to properly display it? Or do you think he might have a collection, if only given the slightest push? Help him out in that department with a unique Father's Day gift idea that he'll have tons of fun organizing.
This handcrafted beer cap map is made of quality birch plywood and implements a five-point locking mechanism to ensure that the caps stay in place for years to come. It measures an impressive 24″ x 15″.
16. Personalized Whiskey Decanter Set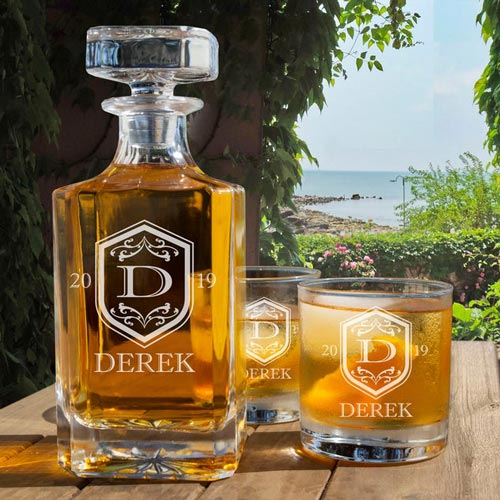 A whiskey decanter makes a classy gift for Father's Day, or any other special occasion, really.
This particular glass decanter comes as a gorgeous gift set, complete with matching glasses and laser-engraved personalization for that extra special touch.
17. Personalized Leather Bible Cover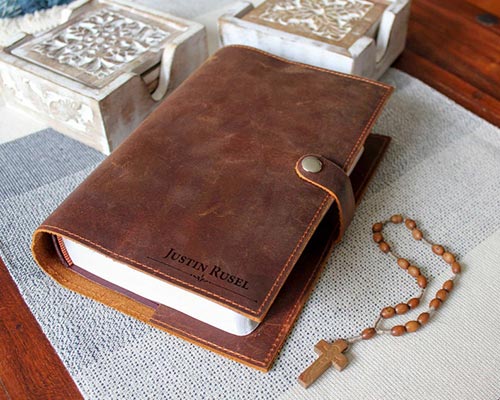 Perhaps your dad is a man of God who has inspired you to stay true to His Word your whole life. Or maybe he's a new Christian just starting out his own walk with the Lord.
Either way, this Father's Day he's sure to appreciate this genuine leather Bible cover (personalized with his name) which will serve to protect his most prized possession.
18. Calligraphy Pen Set
If your dad is a writer or more the artistic type, make it a Father's Day to remember with this stylish and old-fashioned calligraphy pen set.
No matter if he's done calligraphy before or is a newbie, this beginner set comes with everything the artsy father needs: two high-quality dip pens (rosewood and glass, respectively), six different nib styles and five jars of rich, colored ink.
19. Custom Map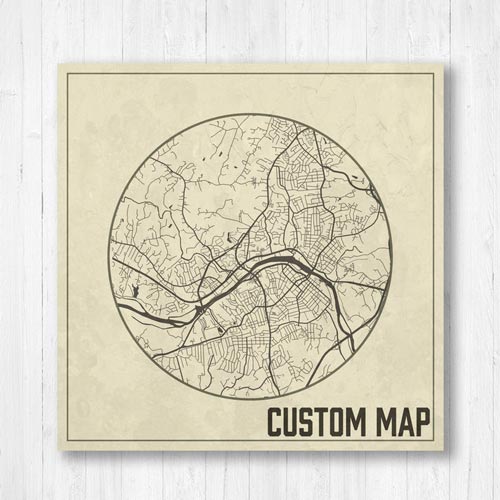 Everyone, including your pops, has that one place that they'll always love and be drawn to.
Whether it's the town they grew up in, the city they went to college in, or where met the love of their life, this place holds a special place in their heart and always will.
This Father's Day, give your dad a gift that he can not only feel in his heart, but see with his eyes every day: a stunning custom-made map of his beloved city.
20. Engraved Wooden Suit Hanger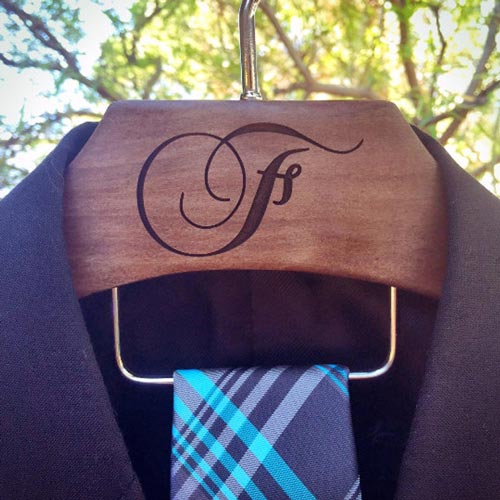 Many men have a special suit or two kept neatly in the back of their closet for when the occasion calls for formal dress.
But not all of them have a suit hanger befitting of their classy garb.
On Father's Day this year, your dad finally will should you choose to give him this custom-engraved wooden suit hanger. The stylish and timeless hanger includes a bar for hanging pants, as well as an accessory bar for coordinating ties.
21. Smartphone Sanitizer and Charger
Now here's a Father's Day gift idea which is both practical and thoughtful.
This smartphone sanitizer and charging set uses the power of germicidal UV light to disinfect the entire surface of a cell phone. It eliminates up to 99.99% of bacteria while simultaneously charging the phone…so you'll be helping your dad to stay both healthy and powered up throughout his day.
More Father's Day Gifts
Want to keep looking? For even more great Father's Day gifts (or gift ideas for men in general), take a look at what we've put together in our ultimate Best Gifts for Men post.
At our parent site, Northwest Gifts, we have a wonderful collection of personalized products in our Father's Day Gift Guide.
Here are a few more Father's Day gift ideas that we just couldn't pack into this post:
That's it! Thanks for reading through our top 21 gift picks for Father's Day! We hope we've helped you find the perfect gift to give your dad this year, or at the very least helped you with some fresh inspiration should your search continue.
Lastly, if you have any other great gift ideas for Dad that you want us to know about, feel free to share them in a comment below.
Pin It