What are the best gifts for movie lovers? Don't worry – we have got you covered.
Sure, an upgrade of Casablanca from DVD to Blu-ray is good too, but here are some more unusual and unique gifts for that film buff in your life.
And if the movie lover is you… well, happy birthday! Treat yo'self!
Top 21 Gift Ideas for Movie Lovers
Our website is supported by our users. We sometimes earn a commission when you click through the affiliate links on our website. See our privacy policy & disclosures for more information.
1. Custom Movie Poster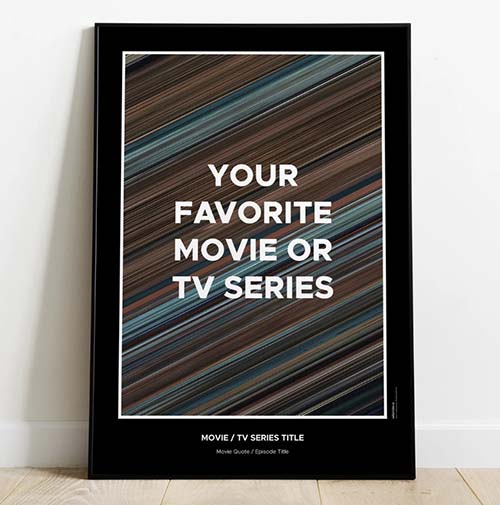 How genius is this custom movie poster? We've certainly never seen one like it! Each colored line of the print represents a frame from the movie or TV series, and the title and/or their favorite quote is printed below.
This is one gift that even the most devoted of movie aficionados probably lacks, but not for long!
2. Popcorn Machine, Movie Theater Style
It's nearly impossible to watch a movie without the best theater snack: popcorn! In fact, we're willing to bet it's scientifically impossible, or at the very least, would be utterly dismal to do so.
Enter in this fabulous popcorn trolley! The whole house will smell amazing as you pass around buttery dishes of salty popcorn.
All you need now is a soda machine and a candy bar!
3. Top 100 Movies Scratch Off Poster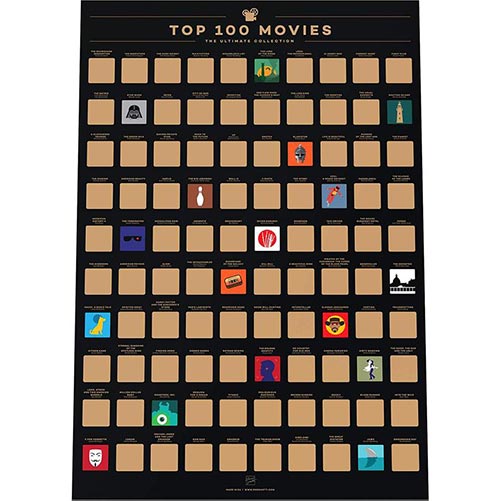 Whether you scratch them off as soon as possible because you just can't help yourself, or save them to scratch off after you've seen them, this poster is super rad!
And it solves that pesky problem of "what do you want to watch?" not to mention the endless game of scrolling until death.
For people who prefer the book to the movie, there's a Top 100 Books Scratch Off Poster as well!
Related article: The Clean Movie Guide – A Massive List of Family-Friendly Movies That Grownups Love Too
4. Personalized Movie Ticket Stub Shadow Box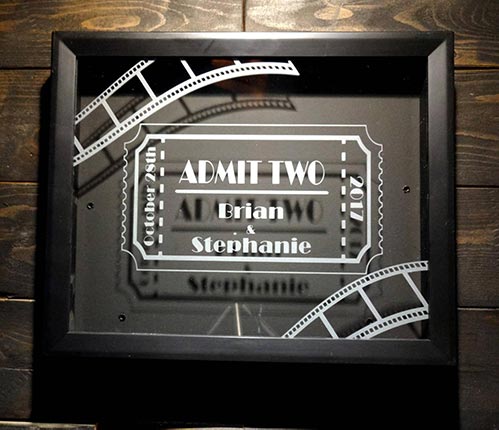 How cute is this shadow box? Etched with their names and wedding date (or swap the wedding out for a birthday), this is a great gift that will look so nice on a wall near the movie collection.
They can fill it up with souvenirs from travels inspired by films, ticket stubs, or even their own handwritten movie reviews, whatever they like!
Also a good gift for concert and music lovers.
5. We Go Together Like [Lois & Superman / Bella & Edward / Bacall & Bogie / etc.]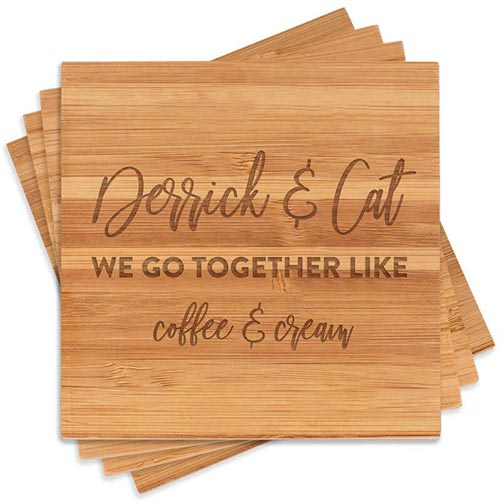 Great for weddings and anniversaries, these customizable bamboo coasters are so cute. You can personalize them however you like, but we love the idea of putting in their favorite movie couple names.
Rhett and Scarlet, Bogie and Bacall, Wesley and Buttercup, Jack and Rose… the list goes on!
To find more cute "we go together like…" quotes check out this amazing article!
6. Inflatable Jumbo Screen for Outdoor Movies
You will officially be gift master when you give them this fantastic inflatable outdoor theater projector! The parties in their backyard will never be the same with this beauty, not to mention date nights.
All you need now is a comfy blanket, warm beverages, and some snacks!
7. Thor Hammer Bottle Opener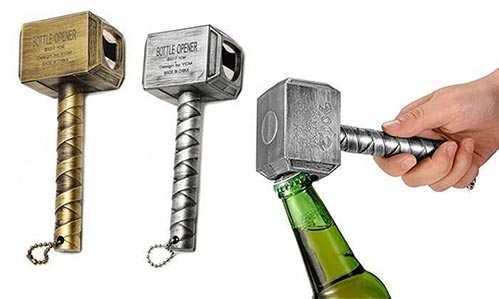 For the Marvel lover who also loves a good craft beer, you can't go wrong with this great Thor bottle opener!
He'll be cracking open a cold one one after another, smiling all the while with this one. And it's way too good looking to keep in the junk drawer: nope, this definitely gets a place of honor out on the counter top!
8. Movie Dice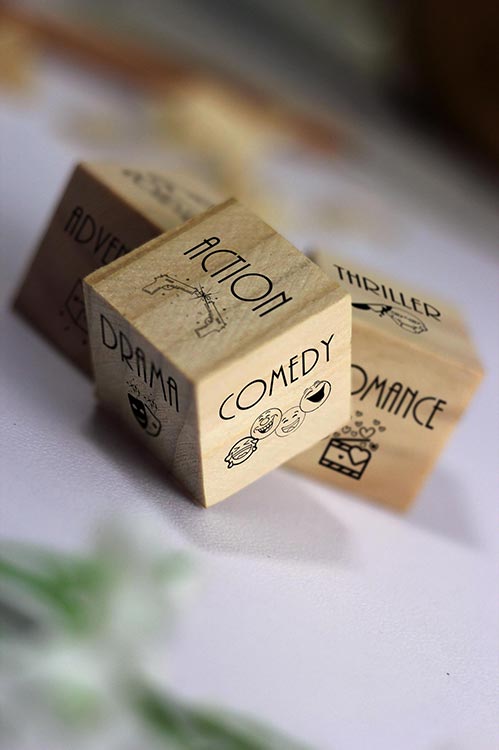 When you just can't decide what to watch for date night or family movie night, this dice set is the answer.
Making the decision a little easier and a lot more fun, you can choose from all the genres, like Romance, Drama, Action, Comedy, etc.
Of course, once you pick the genre you still have to pick a movie, but hey, we can't do all the work for you!
Related: 50 Best Movie Night Ideas
9. Personalized Home Theater Sign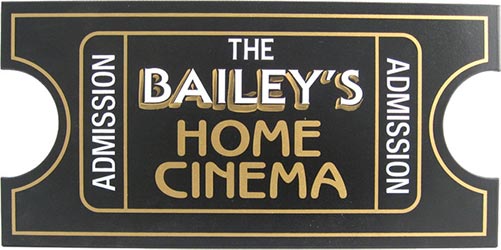 For the family who has everything – including that impressive room with the big screen, epic speakers, and surround sound – this personalized movie ticket plaque will make their day!
Personalized with their names and made to look like a vintage ticket, it's going to look amazing hanging on their wall.
10. Save Ferris T-shirt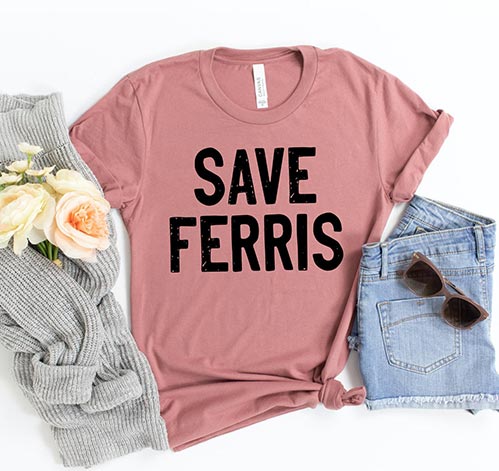 80s lovers, we see you! Everyone needs this vintage Save Ferris tee-shirt, so make sure to buy yourself one as well. The smiles it will bring to passerby's faces will be priceless, because if you know, you know.
After all, life moves pretty fast. If you don't stop and look around once in a while, you could miss it. ~ Ferris Bueller.
11. Movie Lover Log Book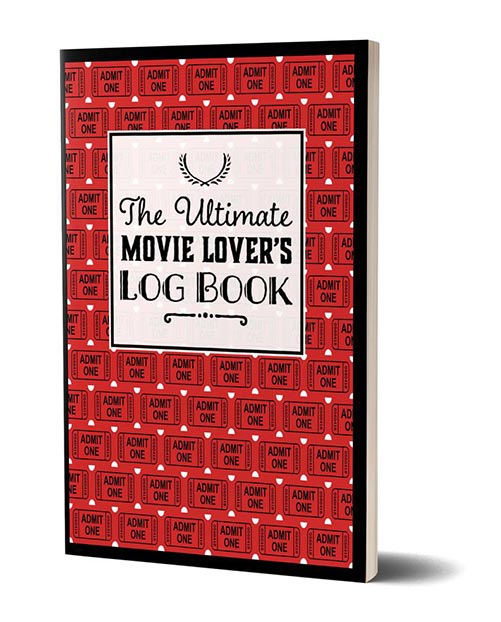 Keep track of all the movies you see – whether you loved them or hated them – with this super useful journal.
I don't know about you, but I can't watch a film without looking up all the actors on IMDB. This is almost like having your own bunny trail of actors and films at your fingertips!
So next time your spouse says "Hey honey, what was that movie we watched that one time in that one place that had that one guy in it?", you can confidently flip a couple of pages and answer victoriously.
12. Movie Poster Cards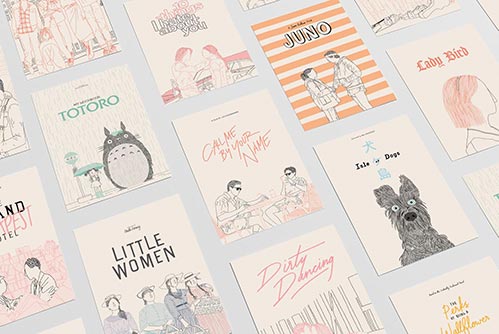 These movie poster cards are just perfect for collectors. They can be framed and rotated out for instant wall décor, left out as bookmarks, or used as coasters.
For a creative use, send them as postcards when traveling (you know you're going back to the hotel to watch more movies anyways, so it fits with the theme).
Lots of films to choose from, and you can add customization as well.
13. Quilted Lightweight Blanket
I really can't imagine a movie night without my go-to blanket. It's an absolute necessity when it comes to fully enjoying an at-home viewing experience (or theatre… no judgement here). This quilted, lightweight blanket is sure to become your new favorite, and will keep you cozy movie after movie after movie.
Utilize it as a comforter or an oversized couch-cuddler and pick from five beautiful colors to best suit your space.
14. Hobbiton Movie Set Tour for LOTR Fans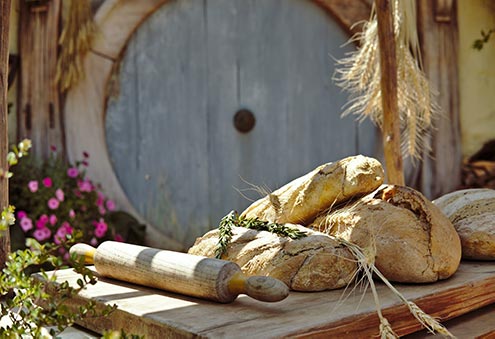 Tour Middle Earth? Um, yes please! This fabulous and oh-so epic tour takes two hours and has your own tour guide (we hope he's Samwise Gamgee, but can't guarantee it).
If you're looking for the perfect honeymoon for LOTR lovers, look no further than this trip from Tinggly.
15. Movie Nights Menu Cook Book
Dinners and drinks inspired by your favorite films? What a great idea! This Movie Night Menus book puts date night on a whole other level, when you are sipping cocktails from classic Hitchcock films, or planning dinner around My Big Fat Greek Wedding.
Plus, the lovely cover makes it a great coffee table book as well.
Related: Casablanca Gift Ideas for the Movie Buff
16. Studio Ghibli Kodama Tree Spirit Earrings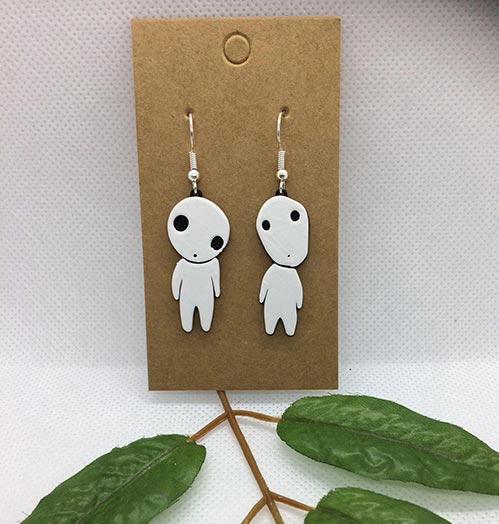 What fan of Studio Ghibli's doesn't love the tree spirits from the famous anime Princess Mononoke? They will love to show off these handmade tree spirit earrings every chance they get!
Pro Tip: Give them these earrings right before you re-watch Princess Mononoke together for a wonderful surprise. Search up other movies too – for instance, how about Jurassic Park earrings?
Related: Cosplayer Gift Guide
17. Old Time Candy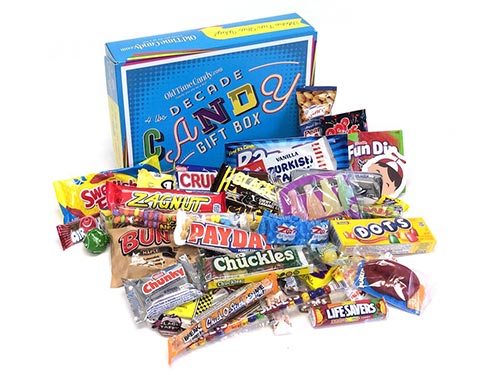 Movies are always better with a good snack, and you just can't beat mouthwatering candy! This selection is full of unusual and tasty treats, making it the perfect choice for film buffs who love staying home on a Saturday night.
Or you can sneak a few into the theater… we won't tell.
18. Make Your Own Stop-Motion Lego Movie Set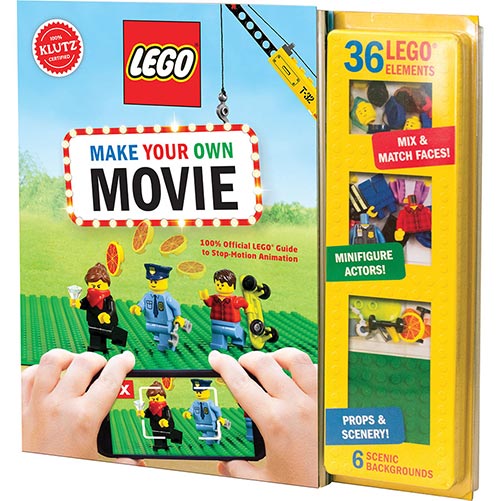 Everyone loves Legos and who doesn't want to make their own movie?! We've all daydreamed of the flick we'd love to direct, and now you can with this whimsical Lego stop motion set.
This is amazing for all ages, from the tiniest Sofia Coppola to the wizened Alfred Hitchcock! And if you are a real Lego fan, you'll want to check out this completed list of every single Lego set ever made!
19. Ultimate Movie Chair
When it comes time to re-watch the Director's Cut of the Lord of the Rings, or some of the classic musicals that are so long they actually have intermissions built in, you need a comfy place to put your bones!
Enter in this leather overstuffed massage recliner! Seriously, if you need a gift for your favorite hubby, you will officially be Wife of the Year with this one.
But you know you want one for yourself too, so best consider a matching pair…
20. "I'd Rather Be Watching Movies" Shirt
Film buffs need clothes (they're not *that* kind of buff), so give them something that they can wear to show off their love of movies. This fun t-shirt reads "I'd rather be watching movies," which is no doubt true, illustrated by a rather inviting-looking couch.
21. Personalized Popcorn Bucket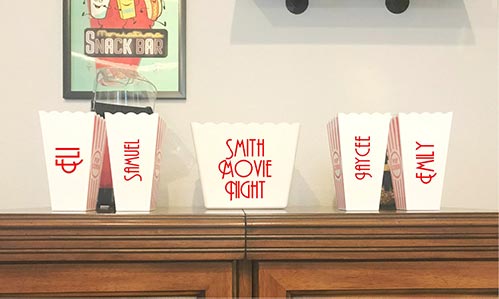 That's right, we said bucket.
Ain't nobody got time to refill tiny little bowls when you're in the midst of an epic battle, a romantic kiss, a swoon-worthy rescue, or the funniest scene ever. These personalized buckets make family movie night complete.
Settle in and get comfy – the show's about to start!
Read Next: 12 Amazingly Clean Movies You've Probably Never Seen